Hello May! The sun is shining, and we are ready for summer! My May 2020 Instant Pot Meal Plan has lots of easy and delicious recipes for you. I also included some super yummy sides and desserts to complement your meals.
Hopefully, you can find all the ingredients to make all these delicious recipes considering that most of us are still in lockdown. If not, you can always try to work with what you have and use the meal plan as a guide. Here's what you can expect: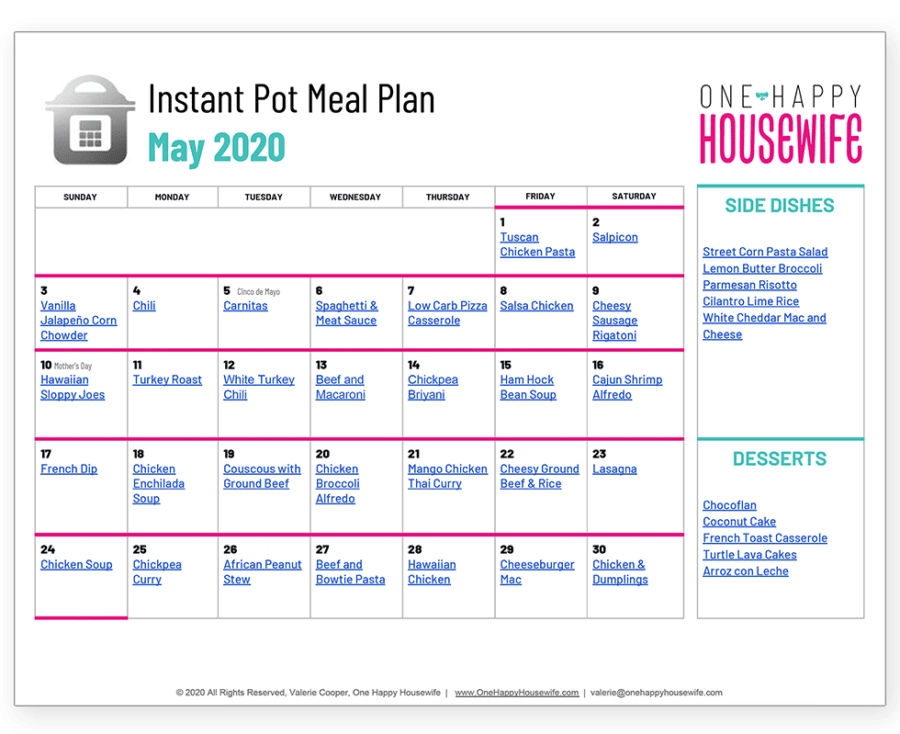 Easy Instant Pot Recipes
In this May Meal Plan, you'll find so many quick and easy recipes. Some recent additions are the Cream Cheese Pasta with Sausage, and the Cajun Dirty Rice. Both are simple to make, delicious, and must-tries. Some other super easy recipes are my Salsa Chicken and my Hawaiian Sloppy Joes. These two recipes are perfect for those nights when you're running around to all the year-end school events.
Cream Cheese Pasta with Sausage
This Instant Pot Cream Cheese Pasta with Sausage is a super easy dump-and-start meal and is sure to be a weeknight favorite. It's creamy, flavorful, filling, and crazy easy to make. It has all the makings of the perfect weeknight family meal.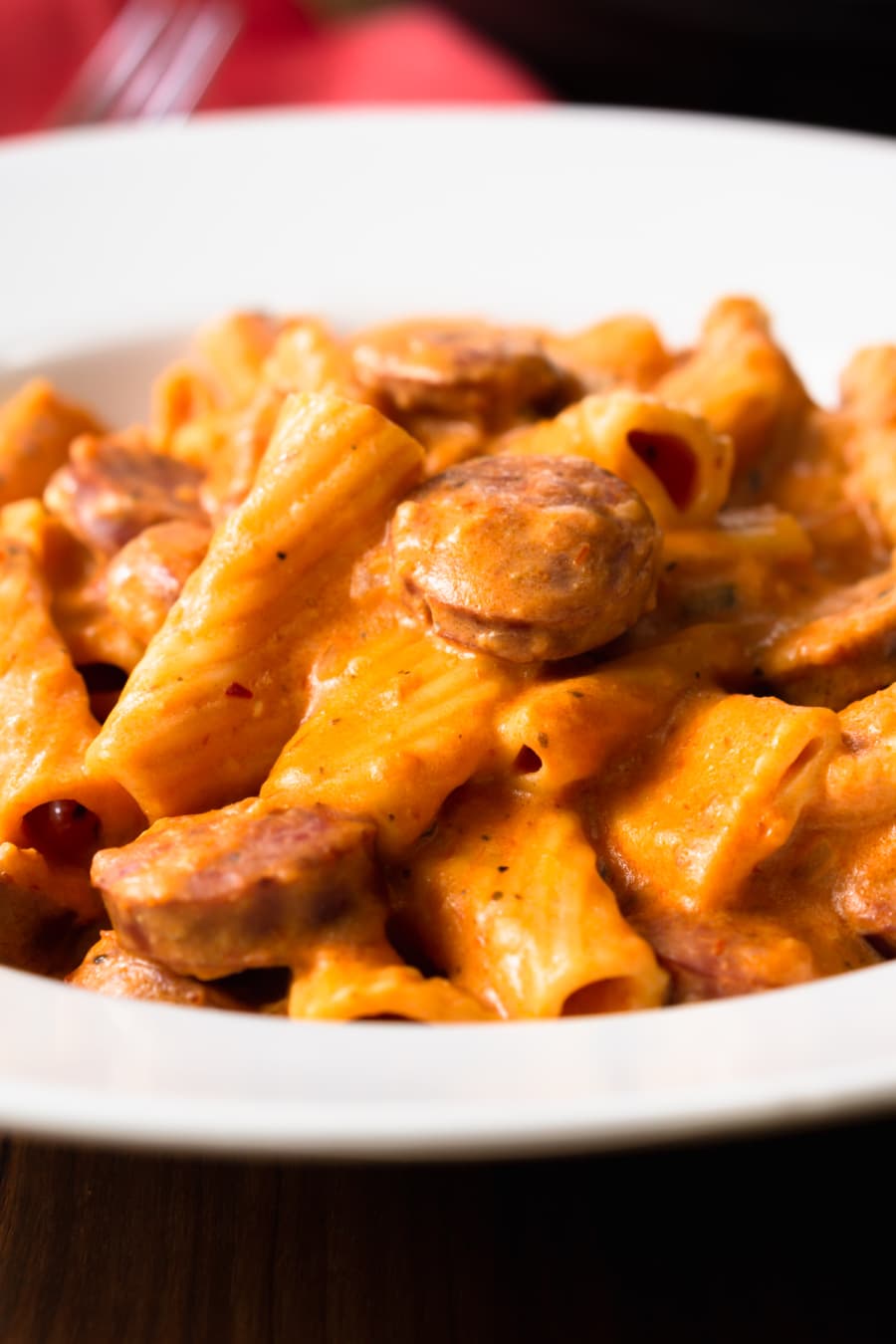 Cajun Dirty Rice
Chock full of the flavors of New Orleans, this Instant Pot Dirty Rice is a delicious Cajun dish that the entire family will love. This easy recipe is made with rice, a mixture of ground sausage and ground beef, chopped veggies, and Cajun spices. This recipe is quick, simple, and extremely flavorful.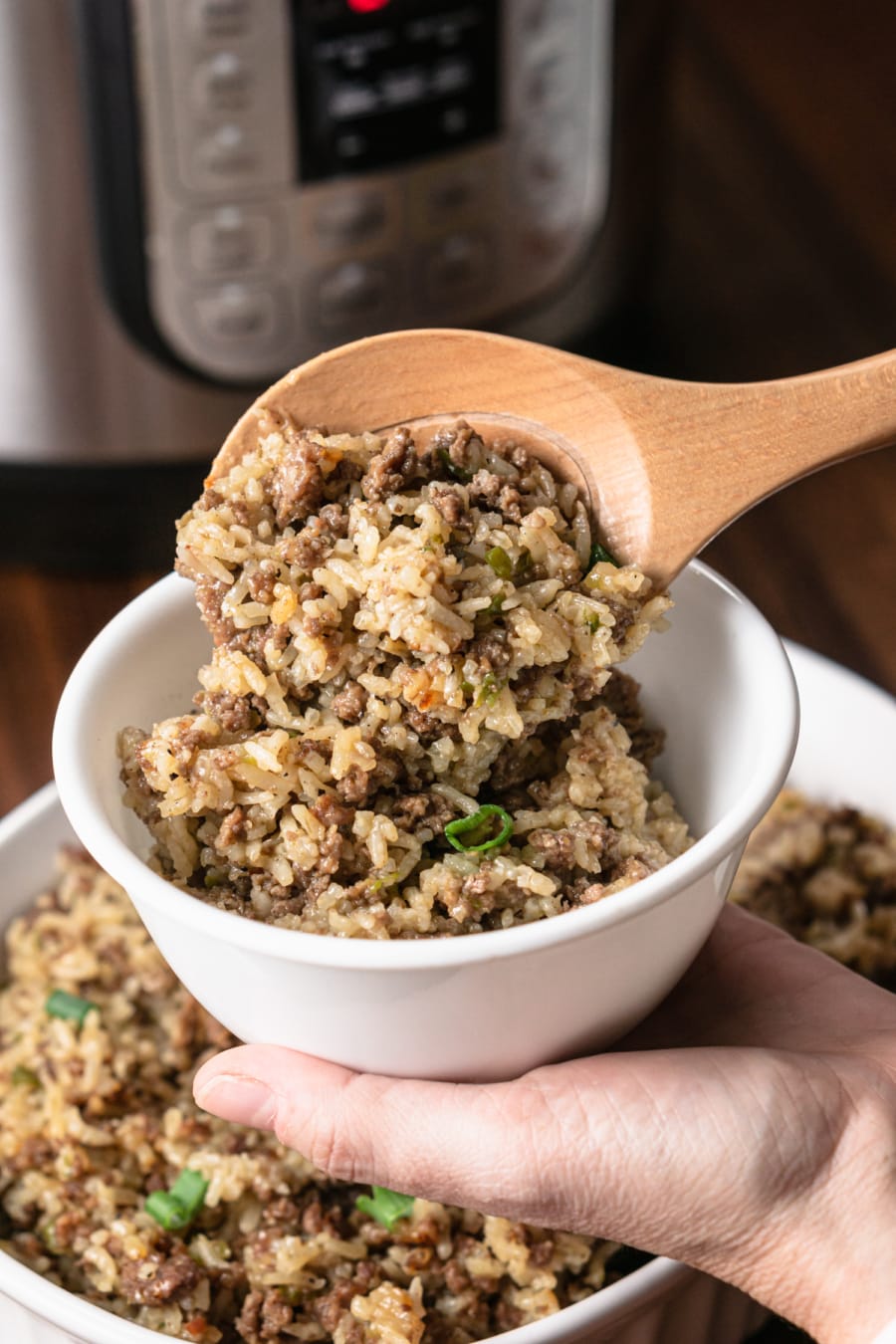 Salsa Chicken
The Instant Pot Salsa Chicken is a dump-and-start meal that cooks quickly and is perfect for making tacos, wraps, sandwiches, or even salads. All you have to do is add some chicken breasts, a jar of salsa, and a few spices to the pot and cook for 10 minutes. It couldn't be any simpler. I love this recipe for busy nights.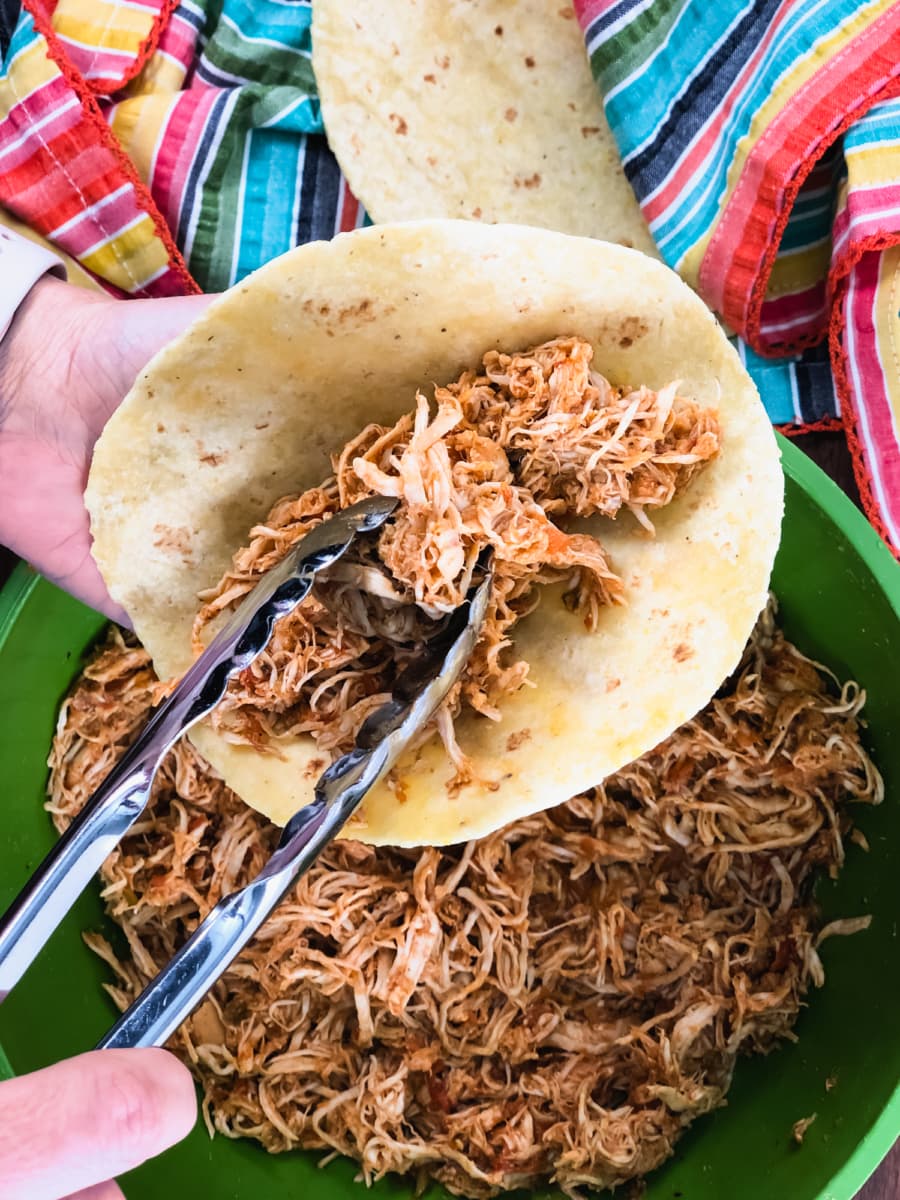 Hawaiian Sloppy Joes
The Instant Pot Hawaiian Sloppy Joes are a kid favorite. Since the ground beef is made with mild sweet peppers and pineapple, it has a distinctly Hawaiian sweetness to it. Scoop some of the ground beef on some sweet Hawaiian hamburger buns and watch those hungry kiddos devour them.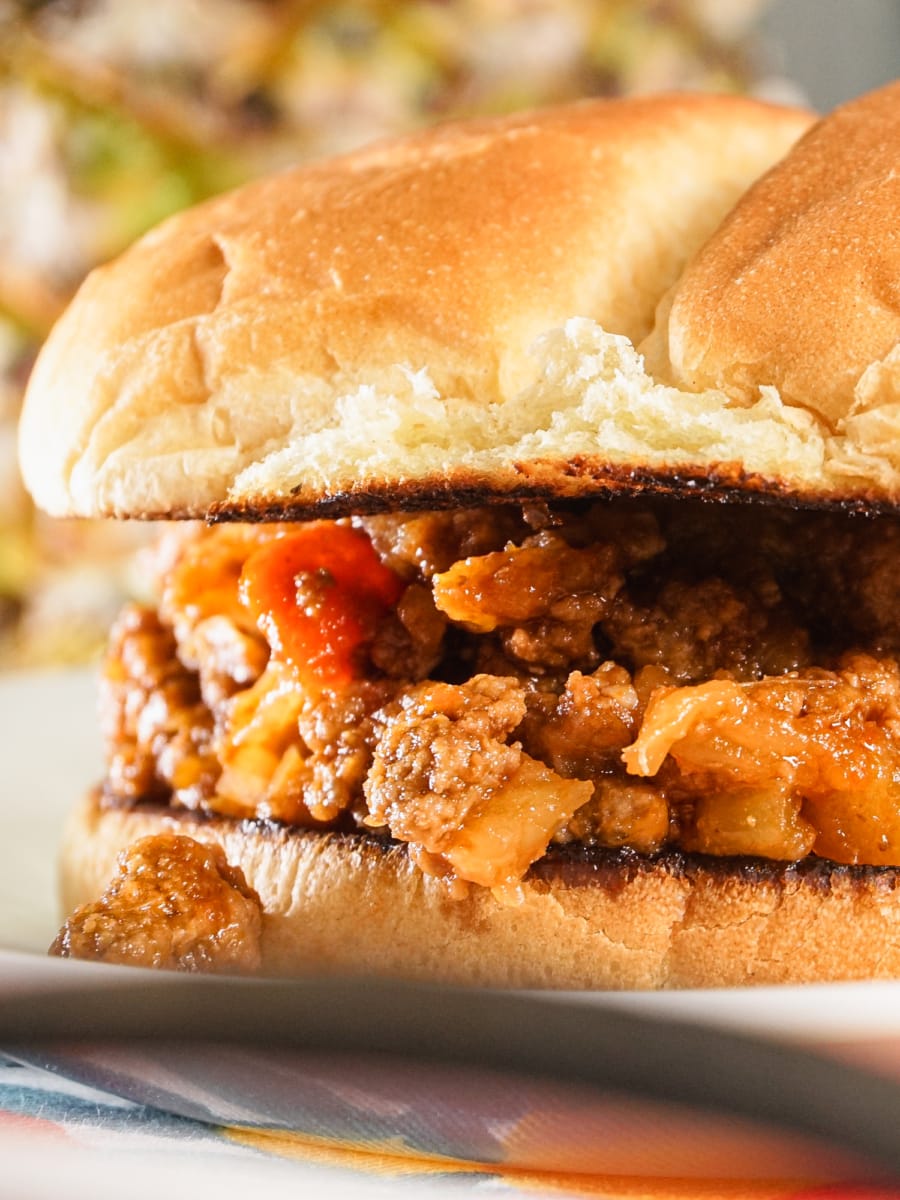 Instant Pot International Recipes
If you're in the mood for something with international flare, I have you covered. I have some great blogger friends that focus on international cuisine. Especially Indian, Asian, and African recipes. Some of the wonderful international recipes that you'll find on the May meal plan are Chickpea Biryani, Mango Chicken Thai Curry, and African Peanut Stew.
Instant Pot Cochinita Pibil
I've been getting a lot of positive feedback on my Cochinita Pibil recipe. I guess Cinco de Mayo had lots of people looking for authentic Mexican taco recipes that they could make in their Instant Pots. Well, my Cochinita Pibil definitely delivers on that authentic Mexican taste. You must try it. And when you do, serve it with my Pickled Red Onion and Habanero Salsa.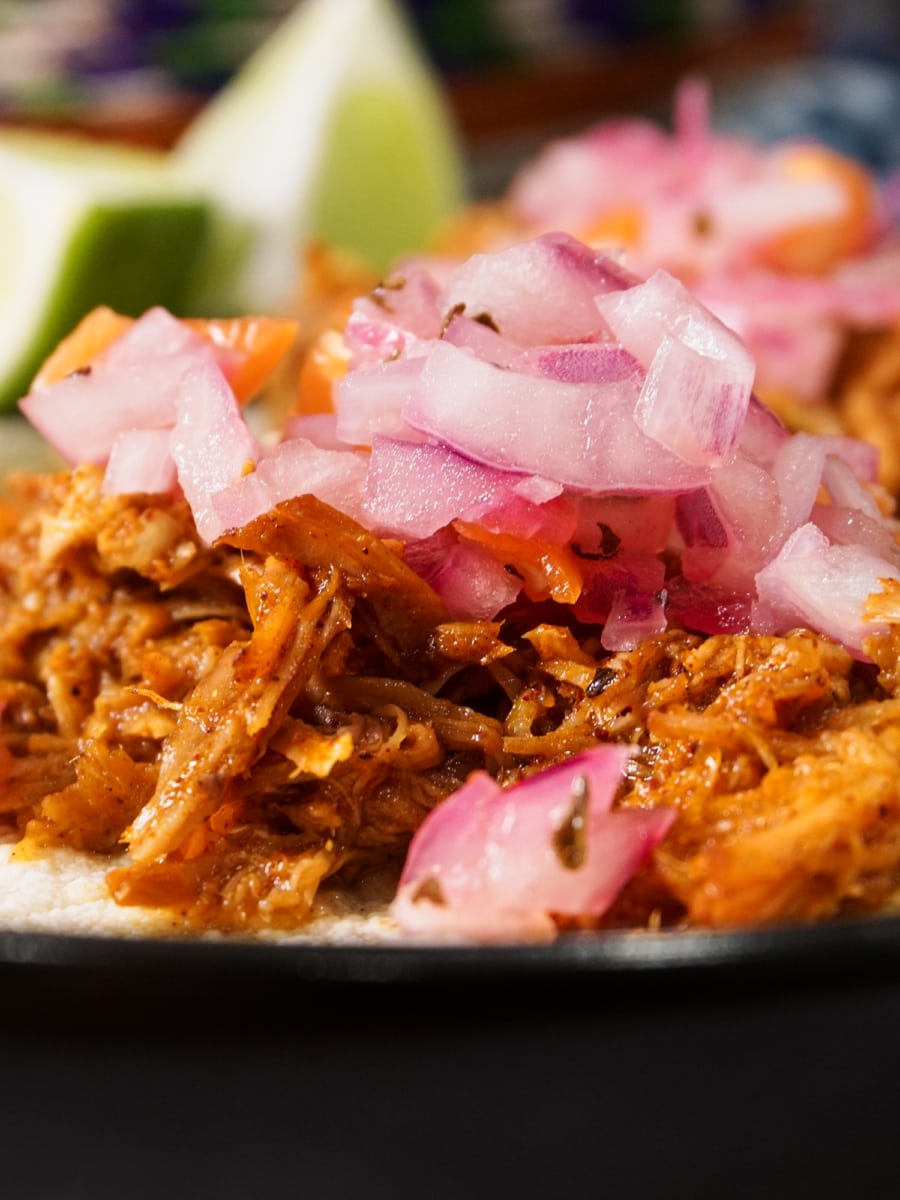 Instant Pot Side Dishes
As usual, my May meal plan has plenty of Instant Pot Side Dishes to choose from. You'll find delicious sides like Parmesan Risotto, and Cilantro Lime Rice. I always want to make sure you have plenty of options to serve alongside your main dish. A delicious side dish always makes a great meal even better.
Parmesan Risotto
The Instant Pot Parmesan Risotto is a must-try with its creamy parmesan flavor. The flavor makes it an outstanding side for beef, chicken, or pork. And, making it in the Instant Pot is fast, easy, and produces perfect results every time.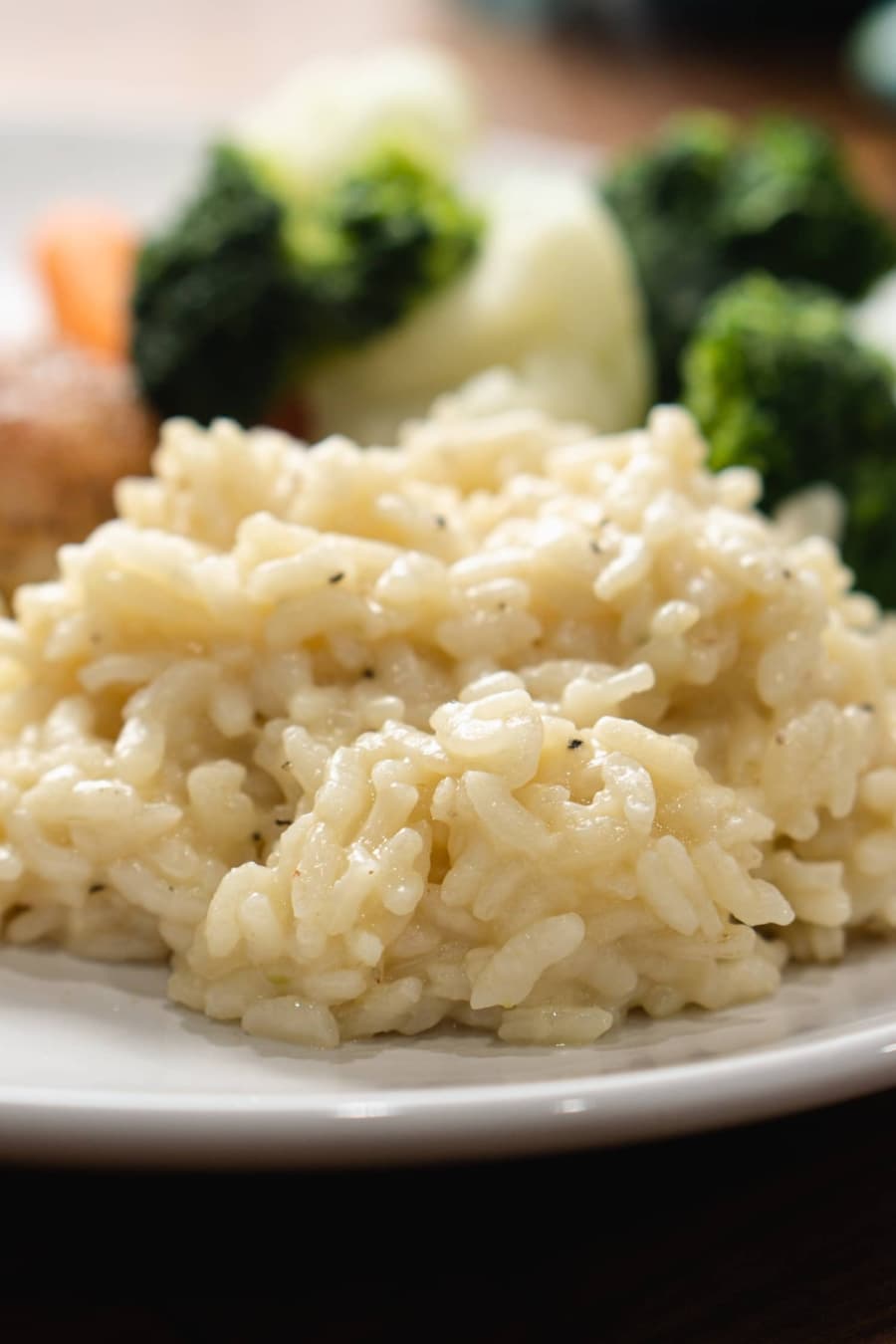 Cilantro Lime Rice
The Instant Pot Cilantro Lime Rice is a light and fresh side dish that goes particularly well with any Tex-Mex or Hispanic dishes like my Carnitas, or Salsa Chicken. It's also perfect for adding to tacos, burritos, and salads.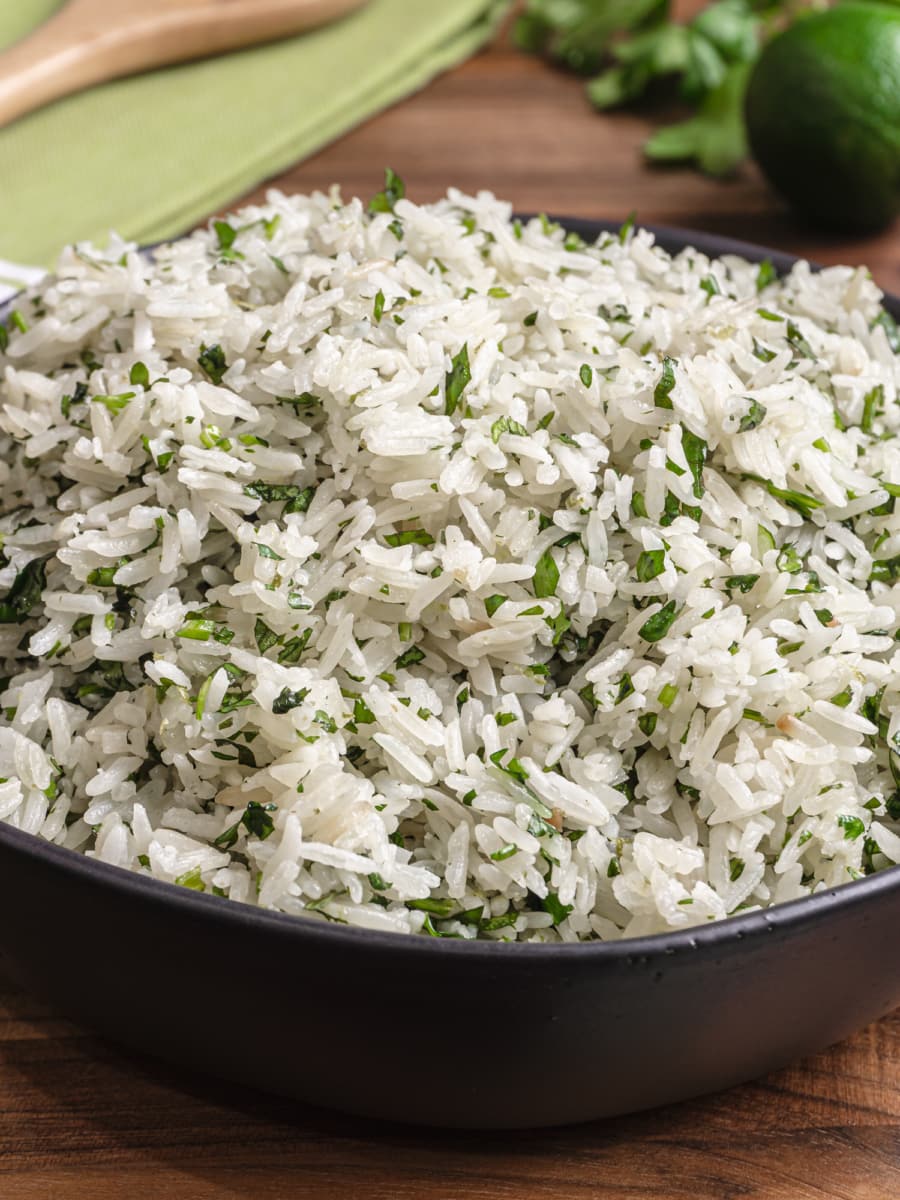 Instant Pot Desserts
For the desserts, I'm including some of my readers' absolute favorites. You'll find my wonderful Flan and Arroz con Leche recipes. They are some of the most popular dessert recipes on my blog. So, if you haven't tried them yet, then don't wait any longer! They are so delicious!
Coconut Flan
This month, you'll find my Instant Pot Coconut Flan in the meal plan. This flan has all the deliciousness of the original, it's rich and creamy smooth, but also has the added delight of coconut.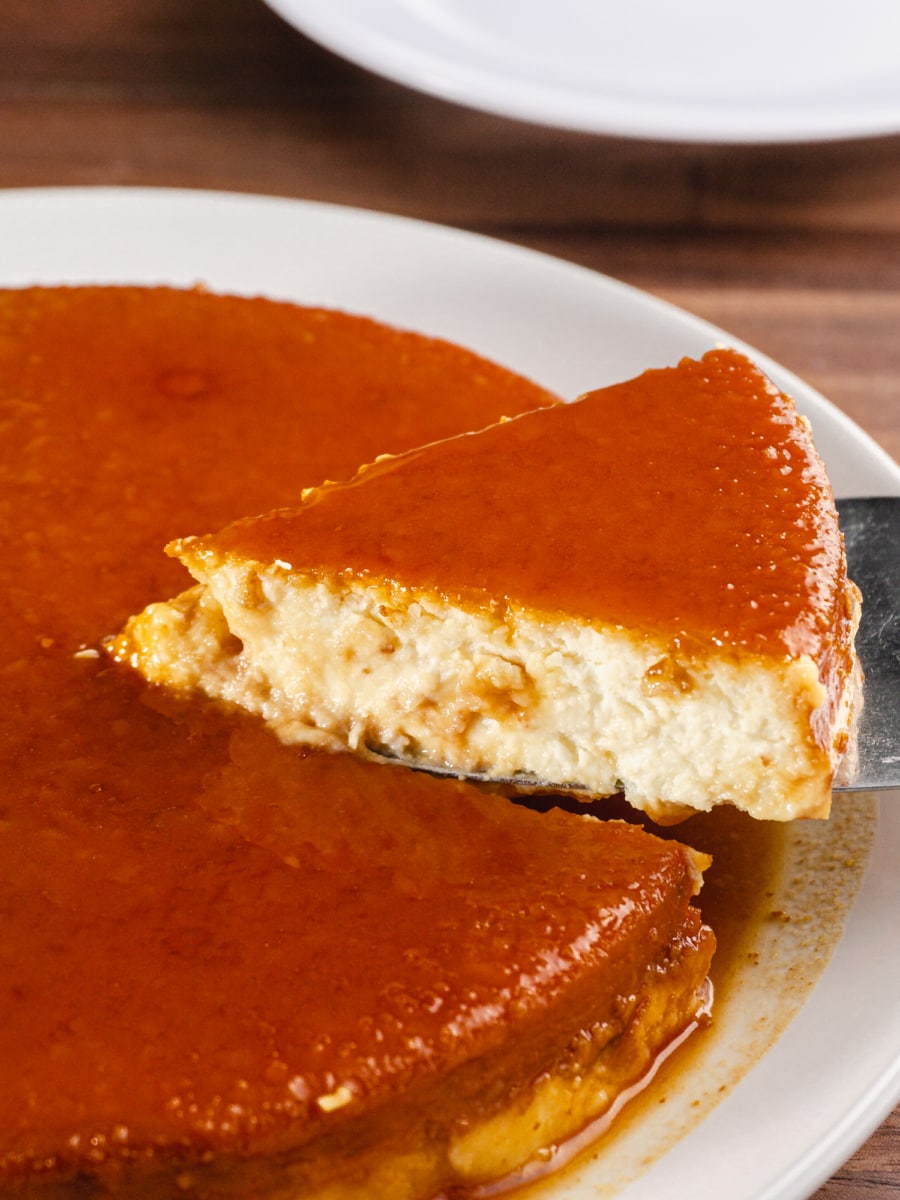 Enjoy the last month of school!
Make sure you also check out my latest Instant Pot Meal Plan.
May 2020 Instant Pot Meal Plan
Below the list of recipes, you will find a link to the downloadable calendar and links to all my monthly Instant Pot meal plans.
Download the May 2020 Meal Plan Calendar.
For more Instant Pot Meal Plan ideas for the month of May, check out my archive of May Instant Pot Meal Plans.
Past Instant Pot Meal Plans
Each month I publish a new, updated Instant Pot Meal Plan. So don't miss out on seeing what wonderful dishes I've included in my latest one.
LOOKING FOR A PAST MEAL PLAN?
You can also access all of my previously published Instant Pot Meal Plans through the links below. I handpick the recipes that appear each month, so you will find that each month is unique with its own set of recipes geared specifically toward that month. Plus, on each meal plan page, you can download the printable calendar for that month.