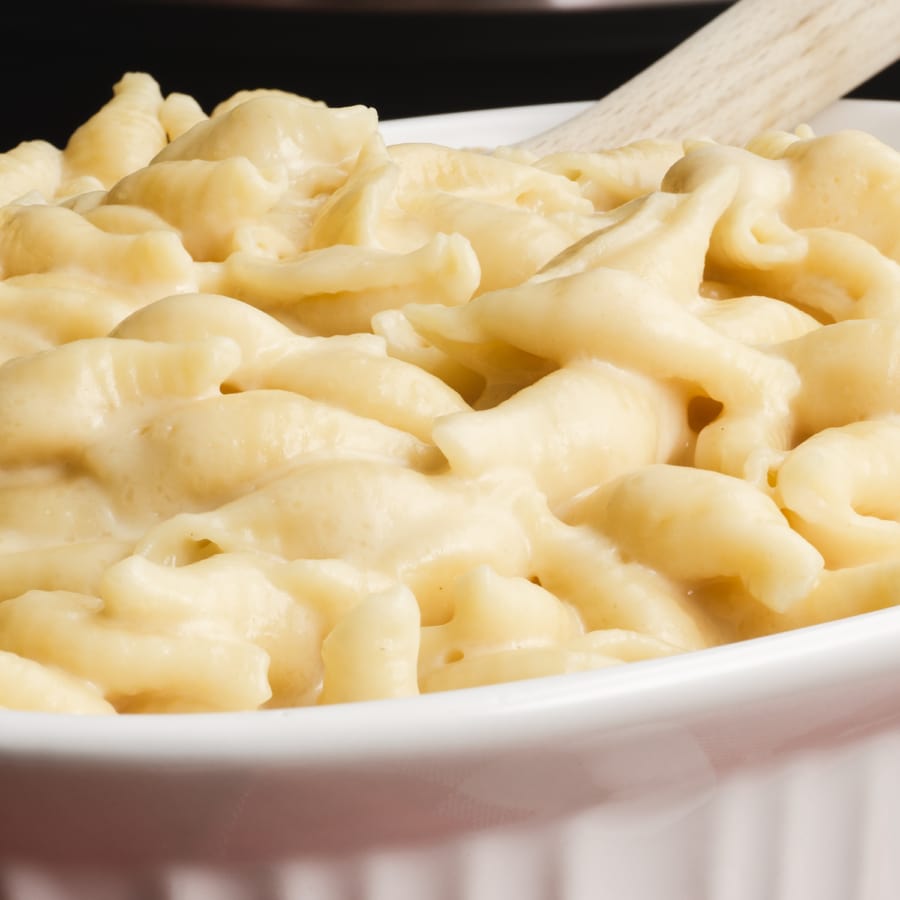 SAVE THIS RECIPE
This recipe for Instant Pot White Cheddar Mac and Cheese is creamy perfection! The delicious combination of sharp white cheddar with parmesan and cream cheese makes it cheesy, creamy, and so flavorful. The perfect comfort food if you ask me. It's ideal for a busy weeknight meal since it has very little prep and a one-pot clean-up.
This post contains affiliate links. For more information, see my disclosure.
Making Pasta in the Instant Pot
If you're familiar with my blog, then you know I love making pasta in the Instant Pot. It all started with my original Instant Pot Mac and Cheese. It's delicious! Make sure you try it if you haven't already. When I was creating that recipe, we found out sometimes pasta can be messy when releasing the pressure. We came up with a perfect solution to eliminate the mess.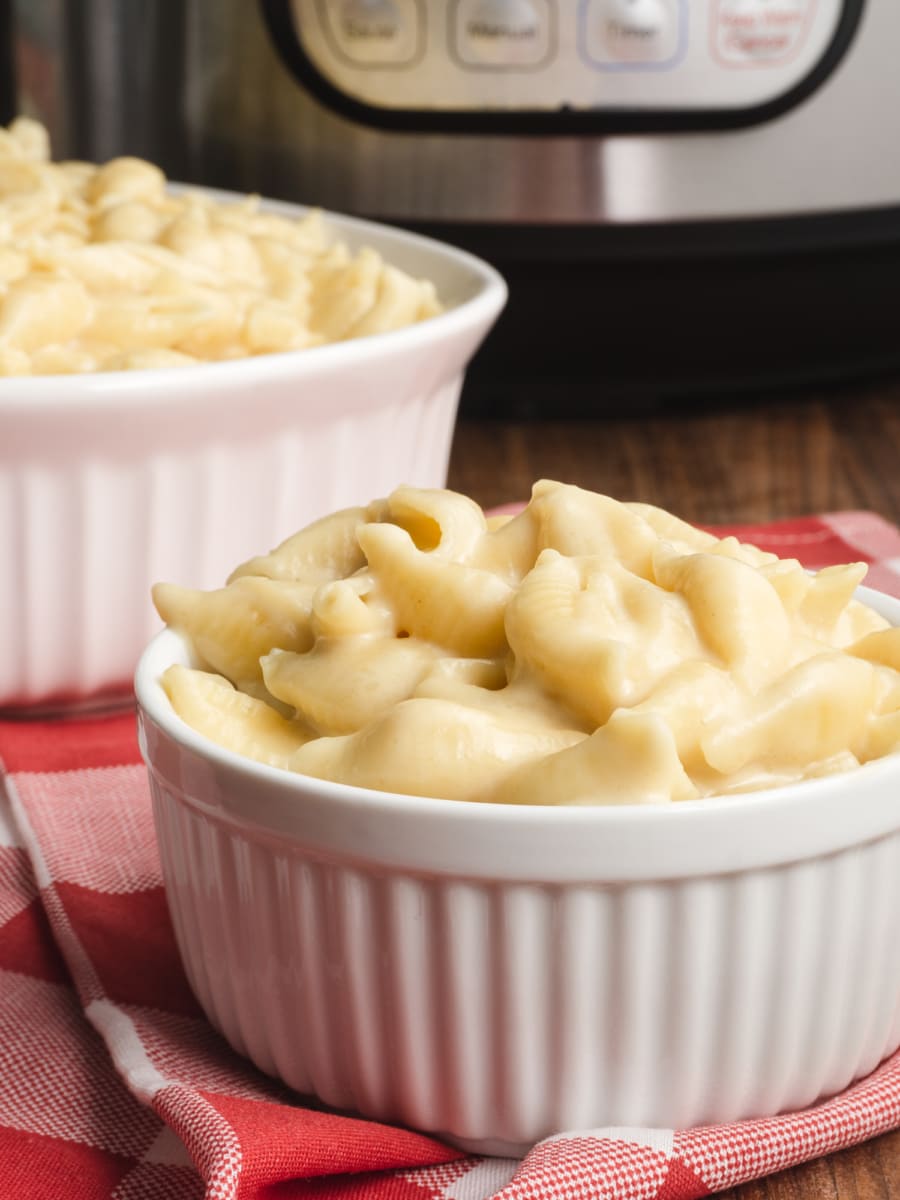 Since you will be making plain pasta for the first part of this recipe, make sure you check out my trick for cooking it in the Instant Pot. You'll find that making pasta in the Instant Pot is not only easy but the clean-up is a breeze since there's no need to strain the pasta.
Ingredients for Instant Pot White Cheddar Mac
You don't need a lot of ingredients for this amazingly delicious recipe. I like using shells for this version of mac and cheese, but feel free to use elbow pasta as a substitute. You'll need a pound of pasta. You'll also need some unsalted chicken broth, garlic powder, salted butter, and a bit of salt. You can use water instead of broth if you must, but the broth makes it more flavorful.
After the pasta is cooked you'll need ground mustard, evaporated milk, a block of sharp white cheddar, cream cheese, and parmesan cheese. Make sure you buy sharp white cheddar as they also sell mild. The sharp one has a lot more flavor.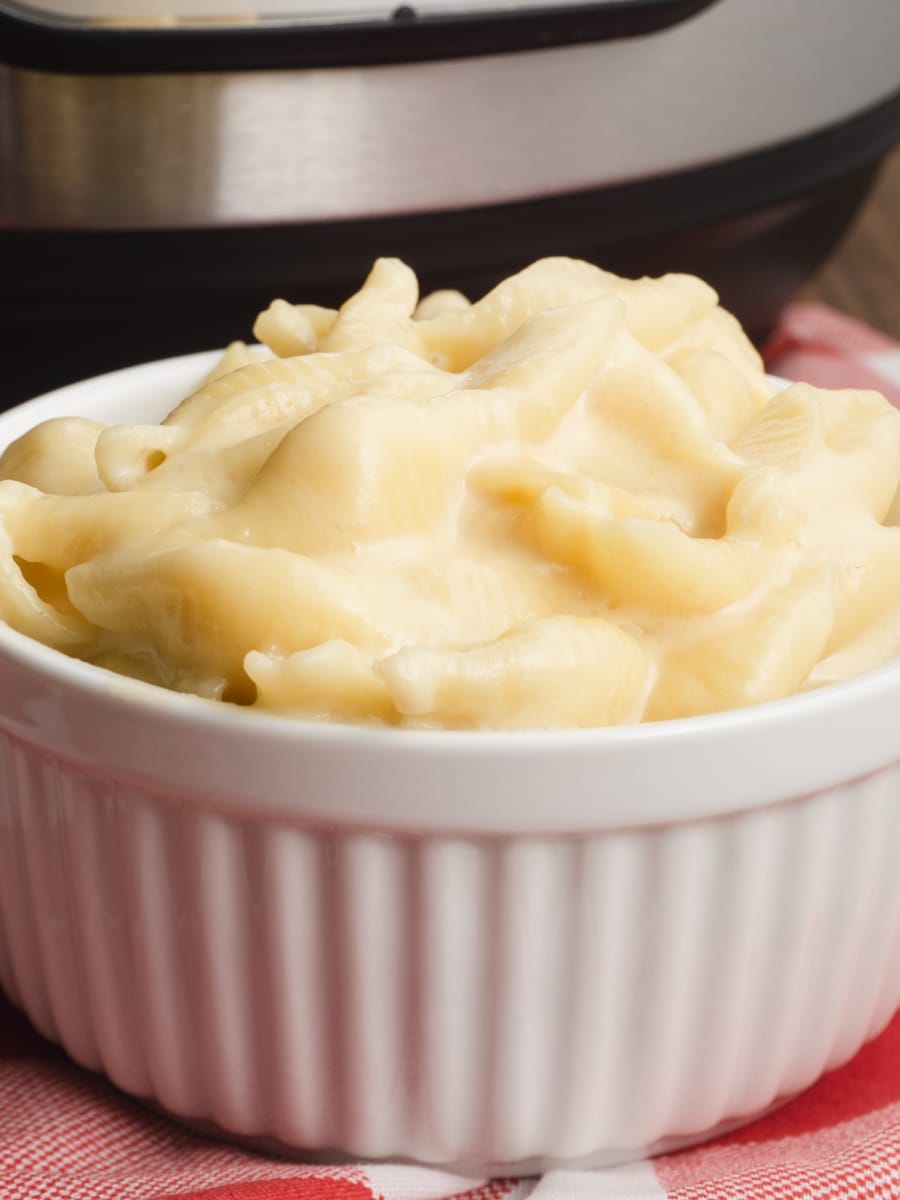 Essential Items
Here are some essential prep tools, utensils, and appliances I used to make this recipe.
Featured Items
Here is a list of the products featured in this post or products similar to those featured in this post:
12 Must-Have Instant Pot Cookbooks
If you're looking for a cookbook with easy and reliable Instant Pot recipes, then check out my list of approved Instant Pot Cookbooks.
How to Make White Cheddar Mac and Cheese in the Instant Pot
To get started you will pour the chicken broth into your pressure cooker. Next, put the pasta in the broth and add the salt, garlic powder, and butter. At this point, if you're using my trick to less mess pasta, you will place the trivet in the pot as stated in that post. Close your pot and set it to "Sealing".
Cook the pasta for a short 2-minutes on high "Manual" or Pressure Cook". While the pot is coming to pressure, you can shred your white cheddar and measure out the other cheeses and the ground mustard. I highly recommend shredding your own cheddar to avoid stringy cheese.
When the 2-minute cook time is finished you will allow for a 2-minute Natural Pressure Release. After that, turn the knob to "Venting" and release the pressure. When the pin has dropped, you may open your pot.
Finally, add your evaporated milk, shredded cheddar, cream cheese, parmesan, and ground mustard and stir everything well until all the cheeses have melted. If the sauce needs thickening, allow your pot to sit on warm for an extra 10 minutes or until you reach your desired thickness. Keep in mind, it will thicken a lot as it cools. Serve and enjoy the creamy, cheesy goodness!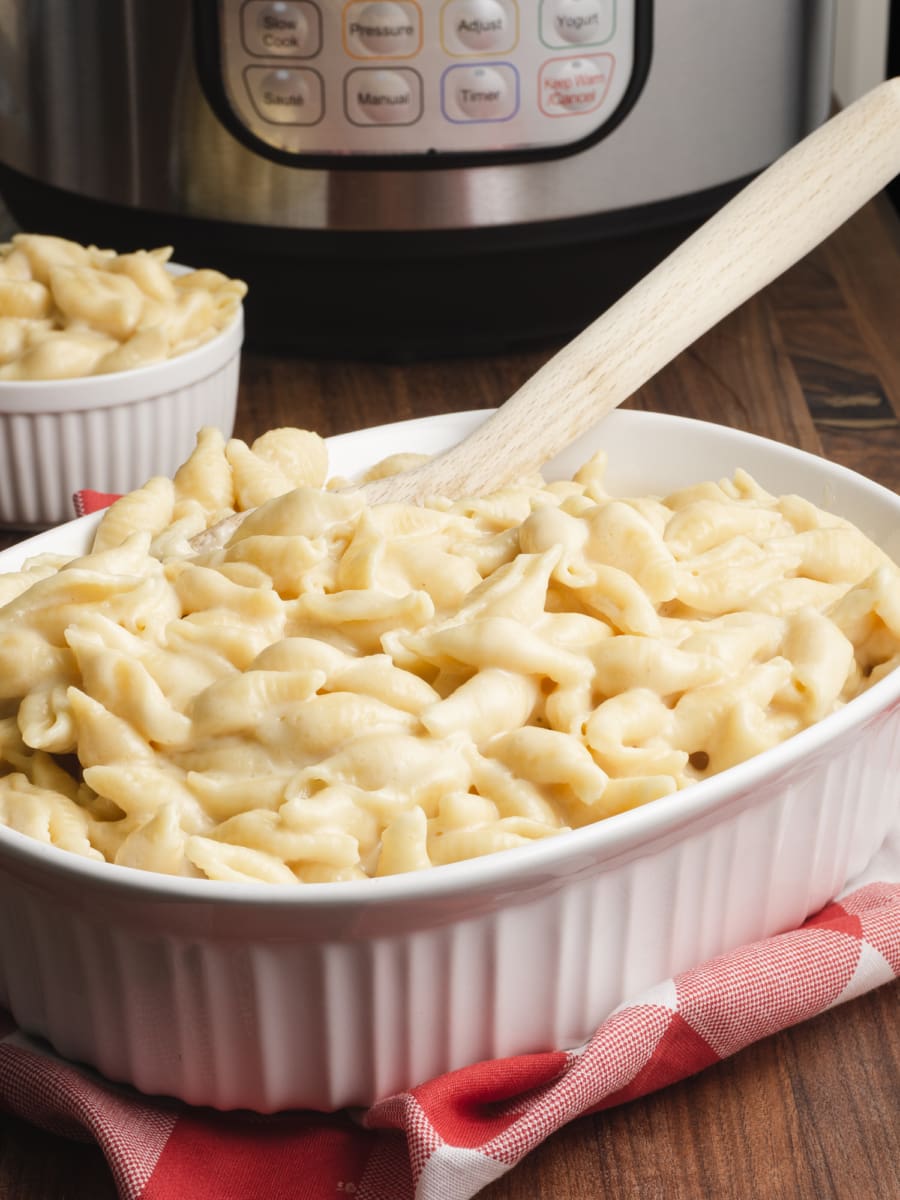 I know you will love this easy and creamy recipe for Instant Pot White Cheddar Mac and Cheese. Let me know in the comments when you try it. If you're a pasta fan like me, then check out all my other Easy Instant Pot Pasta Recipes.
Instant Pot White Cheddar Mac and Cheese
PASTA SHELLS, EXTRA-SHARP WHITE CHEDDAR, PARMESAN, AND CREAM CHEESE
A creamy and delicious white cheddar macaroni and cheese made quickly and easily in the Instant Pot. The perfect combination of white cheeses with a hint of garlic makes this mac and cheese incredibly flavorful.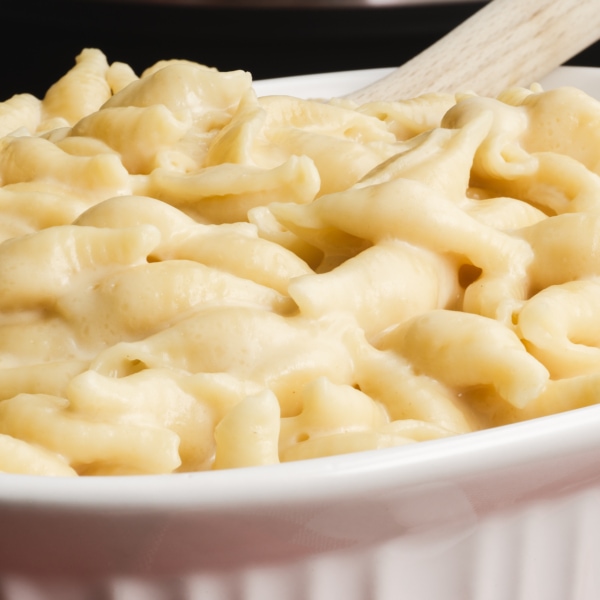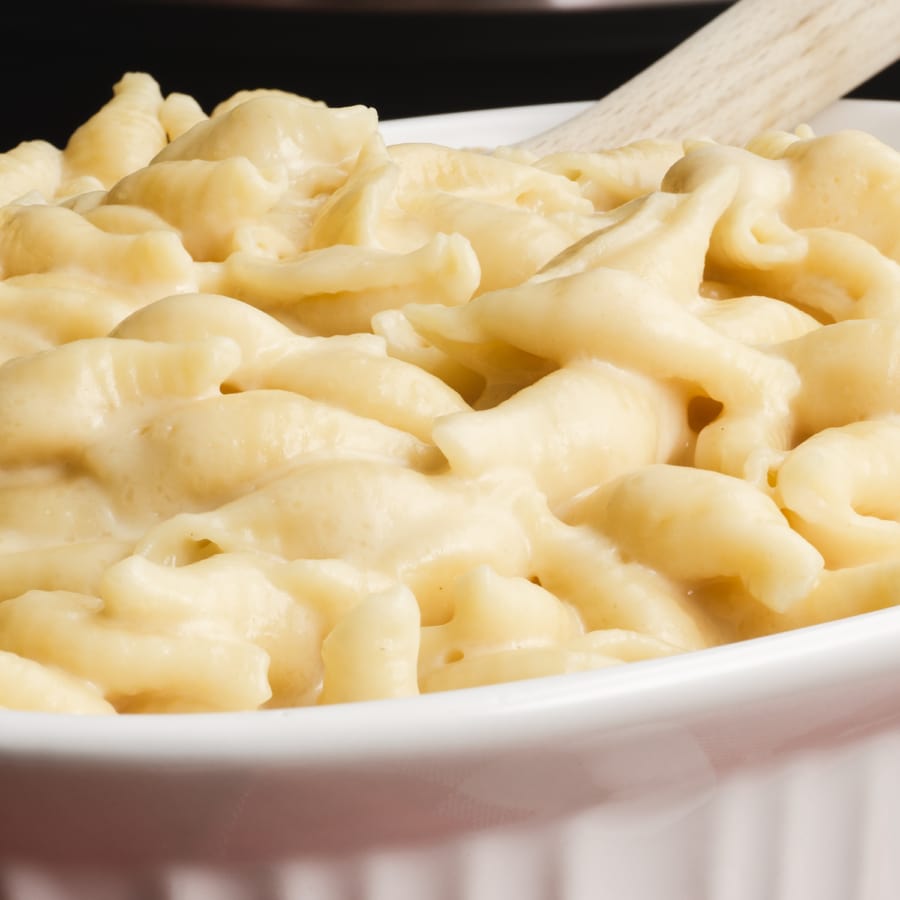 Instructions
Add the chicken stock, pasta, salt, garlic powder, and butter to the Instant Pot.

Cook for 2-Minutes: Close the Instant Pot, adjust the pressure release valve to 'Sealing' and set the pot to cook on 'Manual' or 'Pressure Cook', 'High Pressure' for 2 minutes. To avoid a mess when releasing the pressure, you can use my Flip-The-Trivet for Mess-Free Pasta Method.

Shred Cheese: While the pasta cooks, shred the white cheddar.

2-Minute NPR: Once the cooking time has finished, allow for a 2 minute NPR (natural pressure release) and then release any remaining pressure. After the pressure has been released and the pin has dropped, open the pot. Leave on 'Keep Warm'.

Add Remaining Ingredients: Add the evaporated milk, parmesan cheese, cream cheese, ground mustard, and white cheddar to the pasta and mix until the cream cheese and cheddar have fully melted.

Allow to sit on 'Keep Warm' to thicken for up to 10 minutes or until the pasta has reached your desired consistency.

Serve and enjoy!
Nutrition Facts
Calories: 209kcal | Carbohydrates: 7g | Protein: 11g | Fat: 15g | Saturated Fat: 9g | Cholesterol: 47mg | Sodium: 926mg | Potassium: 275mg | Fiber: 1g | Sugar: 5g | Vitamin A: 492IU | Vitamin C: 1mg | Calcium: 273mg | Iron: 1mg
Tips & Tricks
For a mess free pressure release. Make sure to check out my Flip-the-Trivet Method for a mess-free pressure release after making pasta.