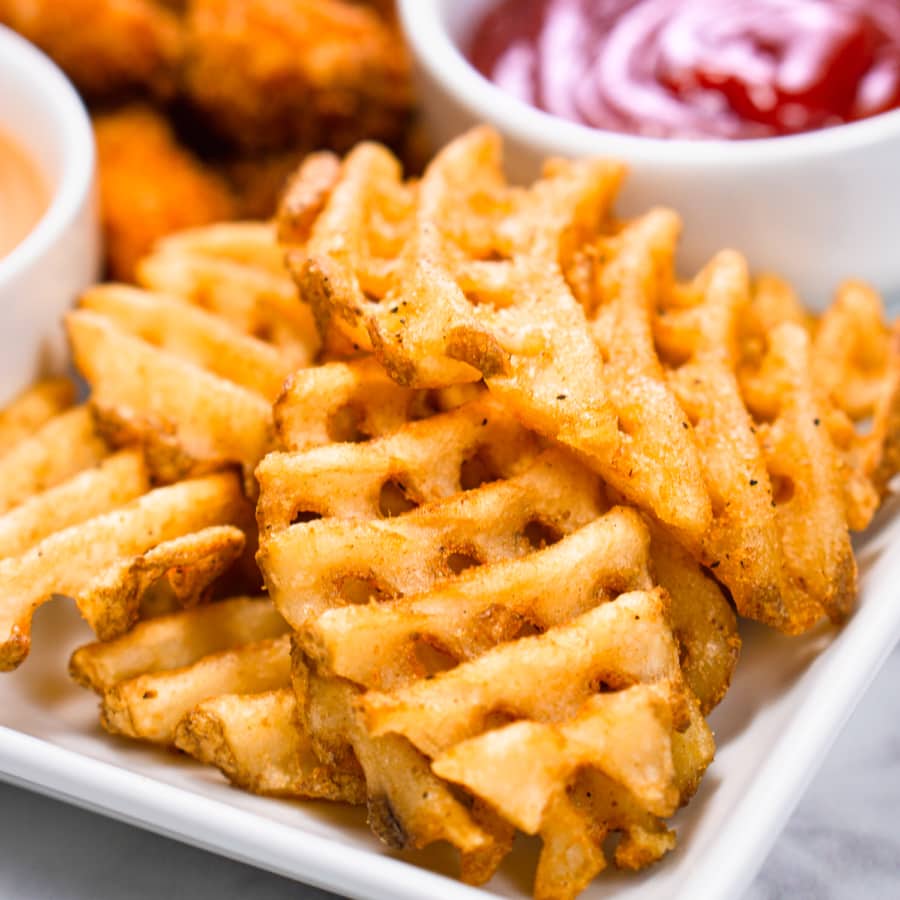 My kids absolutely love it when I make air fryer waffle fries for them. It is such a quick and easy side dish for me to prepare. My family especially loves having waffle fries with my super easy Air Fryer Chicken Nuggets, they are a perfect pair!
This post contains affiliate links. For more information, see my disclosure.
In this post, I'll go over the steps to make air fryer waffle fries, as well as give you some tips to make sure they are as crispy and delicious as possible. I've also answered some common questions you may have about cooking waffle fries in the air fryer. You will also find some great ideas for what to serve with your air fryer waffle fries. Hint: You don't want to miss dipping them in some homemade Sriracha Mayo!
Table of Contents
tips for Perfect Air Fryer Waffle Fries
Use a Good Quality Avocado Spray Oil: I love using Chosen Foods Avocado Oil Spray. The only ingredient is avocado oil. It's not only better than non-stick spray for you, but it's also better for your air fryer.
Cook Fries in a Single Layer: Don't stack the fries in the basket. Make a single layer, and leave some room between the fries. This will allow the air to circulate better and the fries will cook perfectly.
Give the Basket a Shake Halfway Through Cooking: Shake the basket midway to ensure even cooking of all the fries.
Ingredients for Air Fryer Waffle Fries
You'll only need two items to make these waffle fries, so let's get to it!
Frozen Waffle Fries: I like buying Alexia waffle fries because they are non-GMO. There are lots of brands to choose from though, I just recommend you check the ingredients for unnecessary items. The ones I use are already seasoned to perfection so it makes it even easier.
Avocado Spray Oil:

As mentioned above, I like using avocado oil spray. It's very neutral in flavor and helps the fries have a perfect crisp. You will be using very little oil!
How To Make Waffle Fries In The Air Fryer
Waffle fries are a delicious and easy-to-make side dish that everyone in your family will love. This is a simple recipe and I will show you everything you need to know to make them in the air fryer. Let's get started!
Step 1:

Gather The Ingredients

Start gathering the ingredients. Here's exactly what you'll need:
Avocado Spray Oil: a light spray
Frozen Waffle Fries: 1 bag
Step 2:

Spray The Air Fryer Basket

Lightly spray the bottom of your air fryer basket with the avocado oil.
Step 3:

Add The Frozen Waffle Fries To The Air Fryer

Add a single layer of the waffle fries to the air fryer basket. Make sure to not overfill the basket, leaving some space between fries so that the warm air from the air fryer can easily circulate around the fries. This will result in a perfectly crispy exterior.
Step 4:

Cook The Waffle Fries

Close the air fryer and set it to cook at 400° for 10 minutes.
Toss The Fries
Halfway through cooking (at 5 minutes) pull the basket out of the air fryer and give it a shake to toss the fries.
Check The Crispiness
Once the 10-minute cook time has completed, check whether the fries have reached your desired crispiness. If the fries are not yet crispy enough, cook them for an additional 2 minutes or until they reach your desired crispiness. After you have finished cooking, remove the fries from the air fryer basket.
Step 5:

Repeat For Additional Batches

Repeat for any additional batches you make. One 20 ounce bag of waffle fries will make 2 batches of fries.
Step 6:

Enjoy Your Waffle Fries

Now that you know how to make air fryer waffle fries, it's time to enjoy them! They're perfect for a quick and easy snack or side dish. Serve them with your favorite dipping sauce or just eat them plain. Enjoy!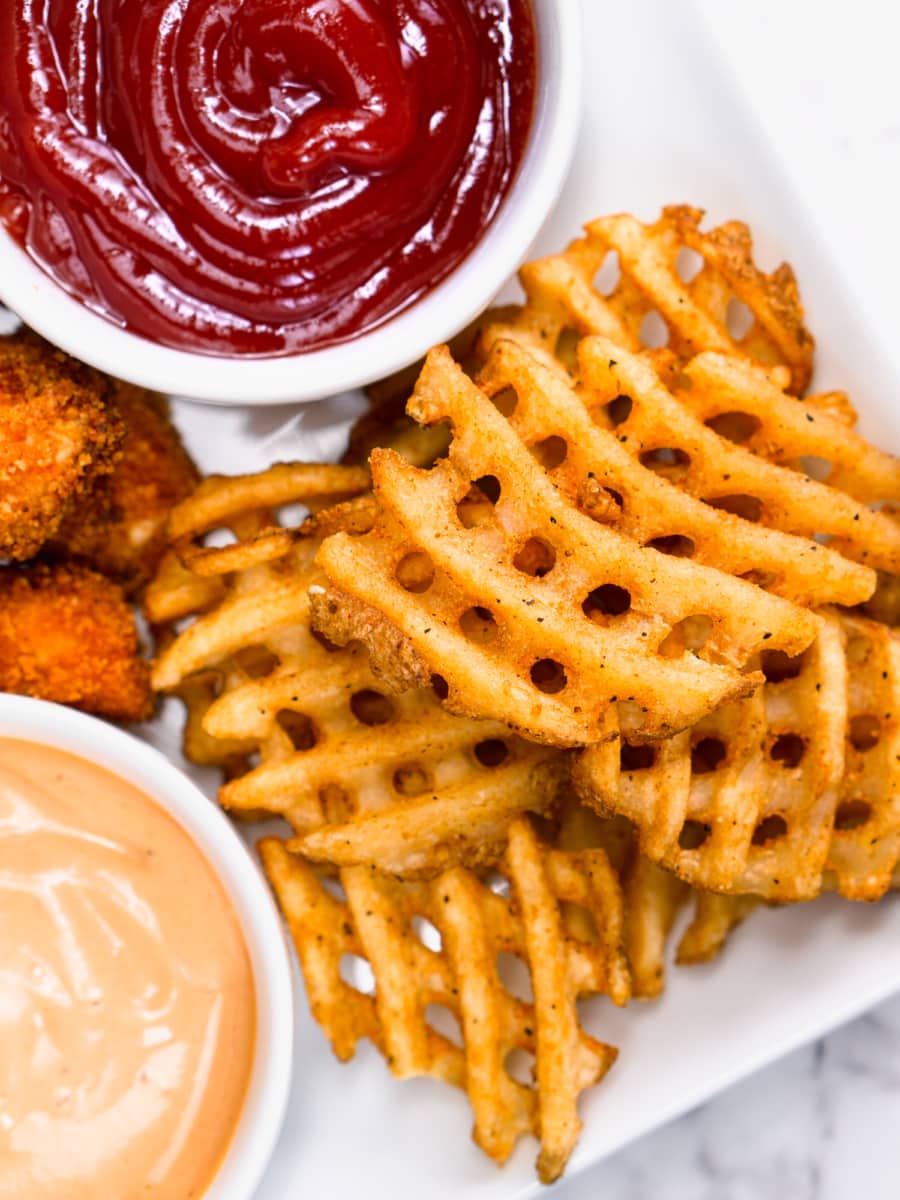 Essential Items
Here are some essential prep tools, utensils, and appliances I used to make this recipe.
Featured Items
Here is a list of the products featured in this post or products similar to those featured in this post:
Common Questions About Making Air Fryer Waffle Fries
is air frying healthy?
Air frying your food is a much healthier alternative than deep frying. You will use little to no oil for most foods, yet your food will be crispy and delicious. It's definitely an easy and quick option for so many of your favorite fried foods!
how can I store and reheat leftovers?
If you manage to have leftovers, you can store them in the fridge in an air-tight container. You can reheat the waffle fries in the air fryer as well. Just cook them for 2-3 minutes. I don't recommend the microwave for reheating, as the fries can get soggy.
Do I have to use oil?
You don't have to spray the basket with oil, but I highly recommend it. The oil will prevent the fries from sticking and will help with the perfect crisp. Keep in mind that you will use very little oil, and if you use avocado oil it's actually good for you.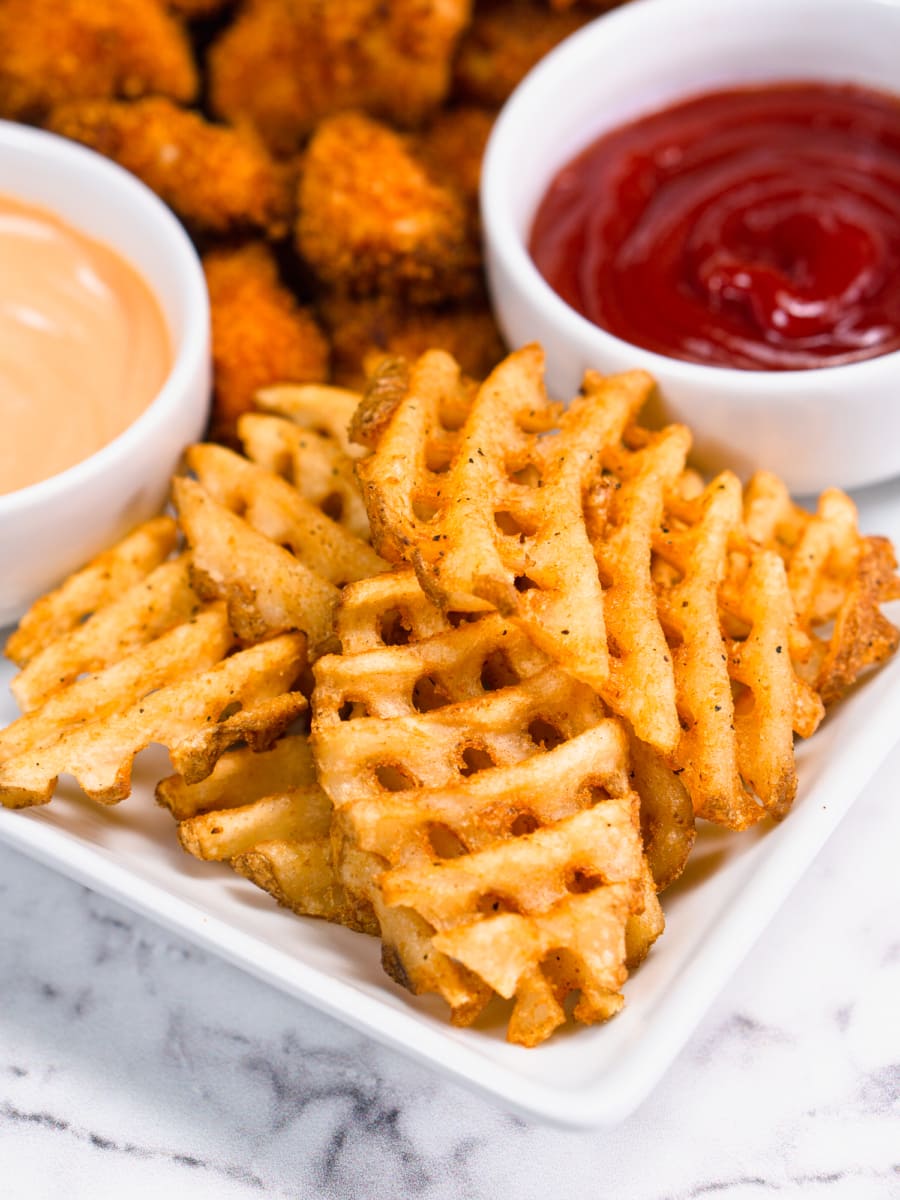 IT'S YOUR TURN TO MAKE THese waffle fries!
Did you make this Air Fryer Waffle Fries recipe yet? I know you will absolutely love it! Let me know in the comments section below when you make this recipe and how much you enjoyed it.
5-Star Rating: If you loved your Waffle Fries, I'd appreciate it if you could give this recipe a 5-star rating to show how much you loved it.
MORE easy RECIPES
Looking for more easy Air Fryer Recipes? Here are some that I know you'll love:
Need a main dish to serve with these Air Fryer Waffle Fries? If you're looking for a perfect complement for this recipe, then try one of the following:
Air Fryer Waffle Fries
Fluffy On The Inside, Crispy On The Outside
These waffle fries are crispy on the outside and fluffy on the inside. They're a delicious alternative to traditional fries, and they only take 10 minutes to make using the Air Fryer! Enjoy these fries as a side for your next family dinner.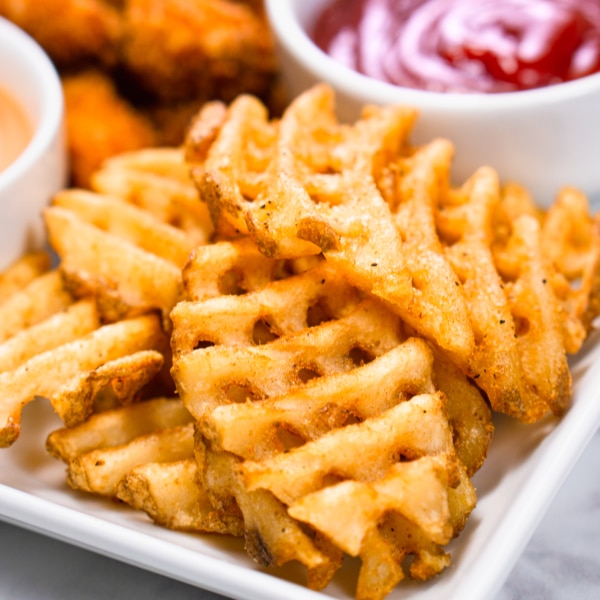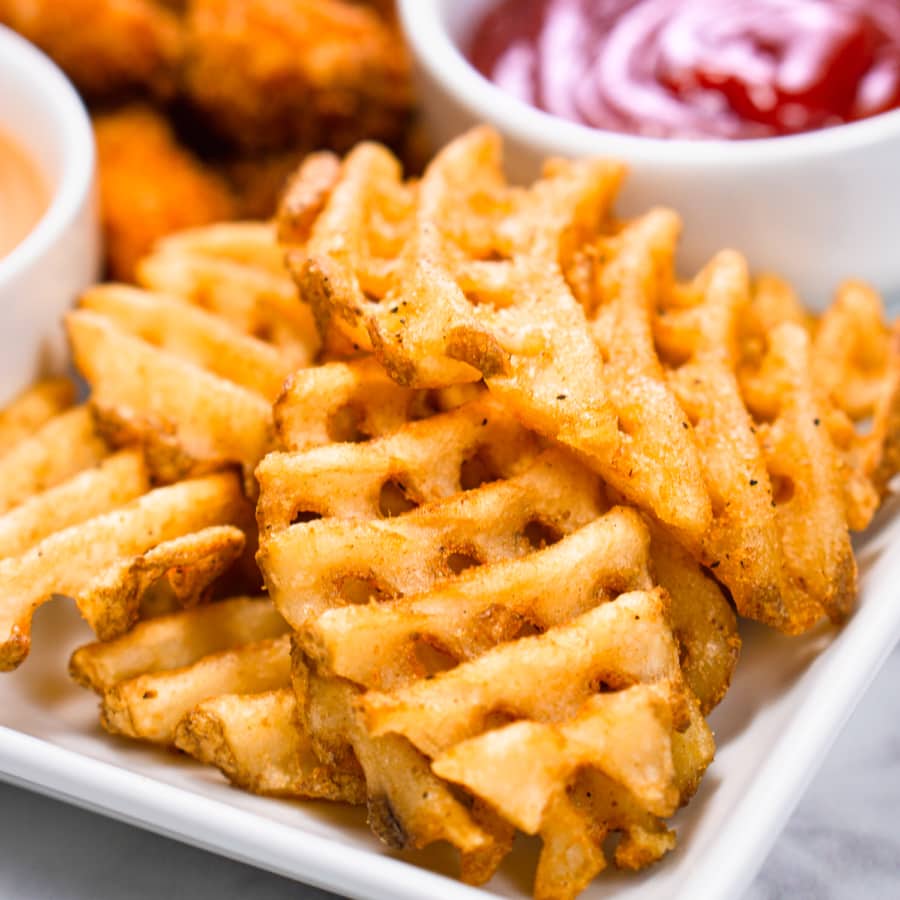 Instructions
Lightly spray Air Fryer basket with avocado oil.

Add frozen waffle fries to basket in one layer, leaving some space between fries.

Set Air Fryer to cook at 400° for 10 minutes, shaking basket halfway through cook time.

Repeat for additional batches of fries.
Nutrition Facts
Serving: 1cup | Calories: 160kcal | Carbohydrates: 21g | Protein: 2g | Fat: 7g | Saturated Fat: 0.5g | Monounsaturated Fat: 4.5g | Sodium: 330mg | Potassium: 300mg | Fiber: 2g