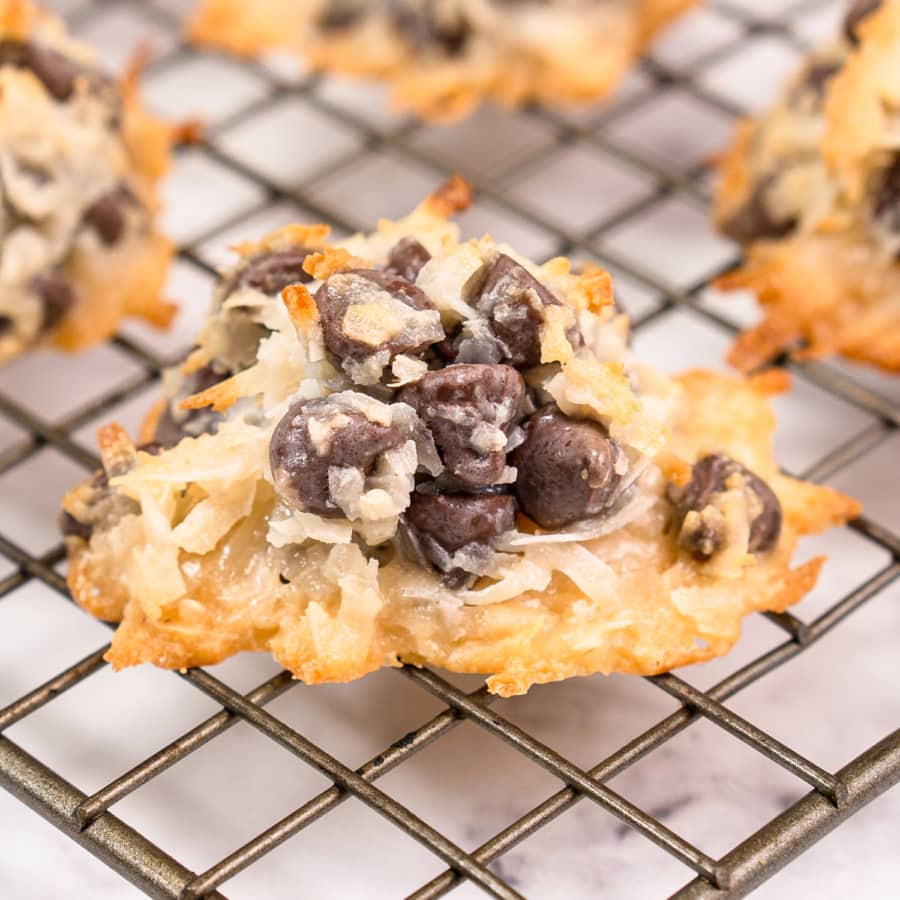 If you love coconut and have a sweet tooth, these Chocolate Chip Coconut Macaroons will be your new go-to recipe! These little treats are incredibly delicious, super easy to make, and require only 3 ingredients! I know this recipe for macaroons will become your new favorite!
This post contains affiliate links. For more information, see my disclosure.
If you've ever tried my Soft and Chewy Chocolate Chip Cookies, you know I mean business when it comes to cookies! This new recipe for coconut macaroons ticks all the boxes. Few ingredients, quick and easy, and absolutely delicious! In this post, I'll tell you exactly what ingredients you need, and walk you step by step through the process of making them. I will also answer some questions you may have.
Table of Contents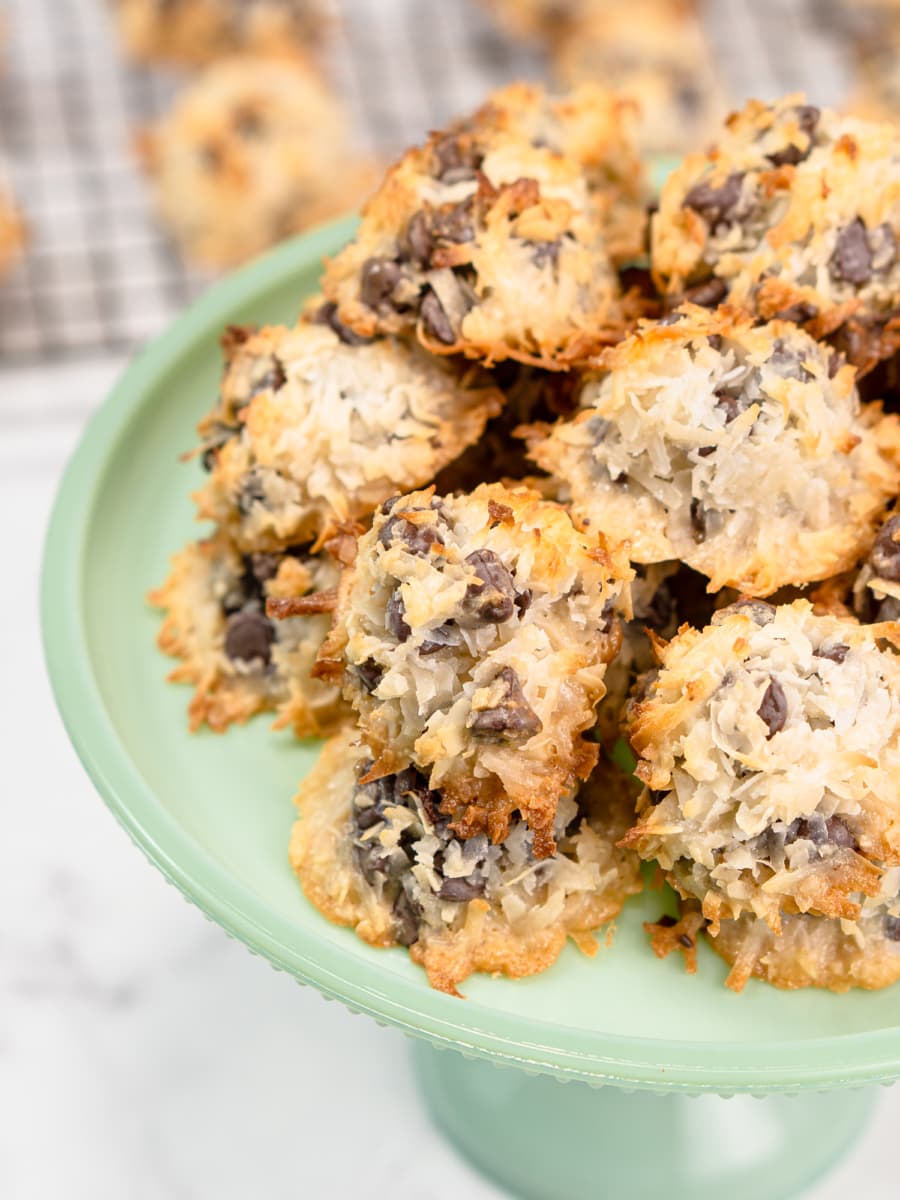 Quick Tips for perfect macaroons
Use Parchment Paper or a Silicone Baking Mat: You don't want to skip this! The parchment paper or the silicone mat will prevent your macaroons from sticking.
Use a Cookie Scoop for Even Sized Cookies: I love my mini cookie scoop. Makes my macaroons all the same size, and makes the forming of the macaroons easier.
Use a Wire Rack to Cool the Macaroons: Let the cookies cool for a few minutes on the baking sheet and then transfer them over to the wire rack to cool completely.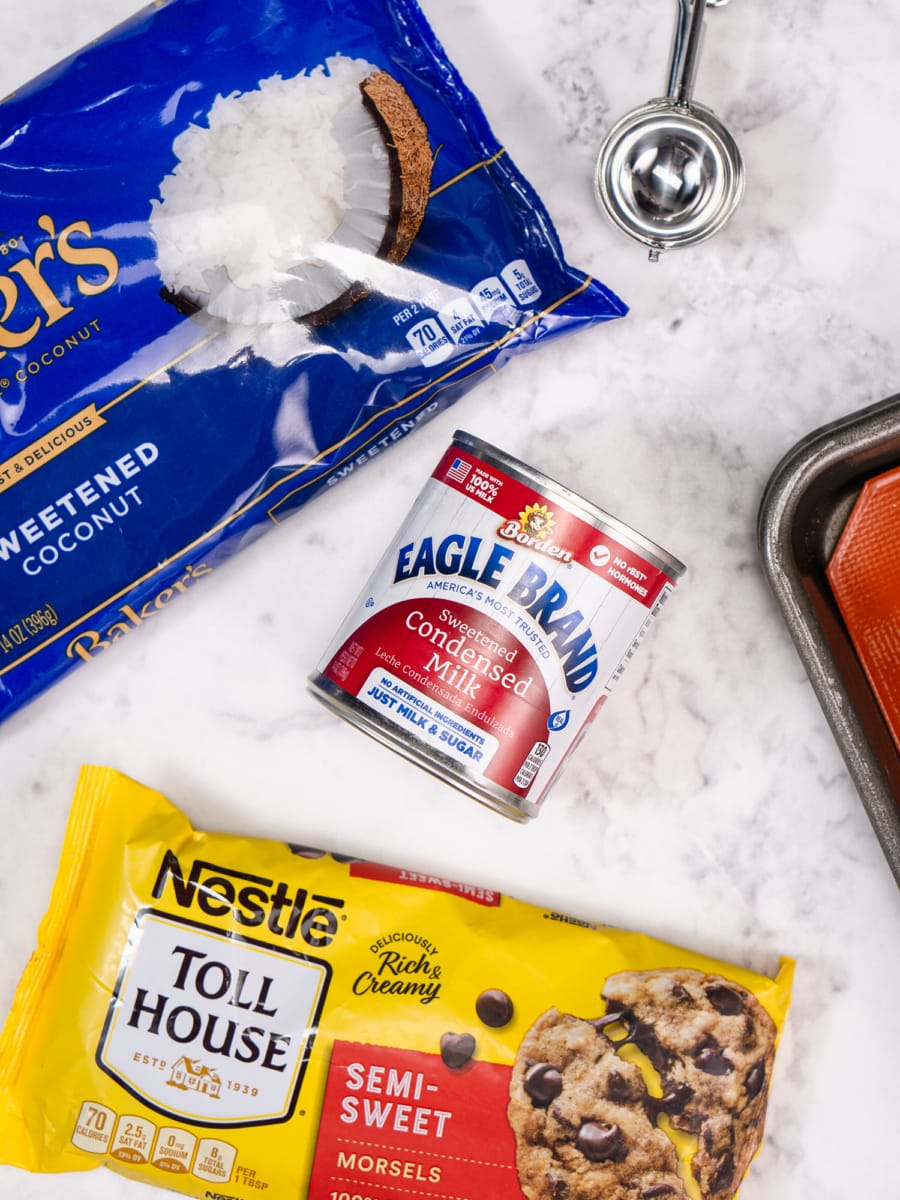 Ingredients for Chocolate Chip Coconut Macaroons
Here are the 3 ingredients you need to make these macaroons:
Sweetened Coconut Flakes: I have only tried this recipe using Baker's Angel Flake Sweetened Coconut. You will need a full 14 oz bag. Make sure it's a fresh, unopened bag.
Semi-Sweet Chocolate Chips: You will need one 12 oz bag of semi-sweet chocolate chips. Any brand will do, but I prefer Nestle or Ghirardelli.
Sweetened Condensed Milk: You'll use one can of sweetened condensed milk.
How To Make Chocolate Chip Coconut Macaroons
Chocolate Chip Coconut Macaroons are a delicious and easy-to-make treat that the whole family will love. Here, I'll walk you step-by-step through the recipe so that you end up with the most amazing macaroons ever. With only three simple ingredients, these macaroons are a snap to make and only take minutes to bake. So, let's get started!
Step 1:

Gather The Ingredients

Start gathering the ingredients. Here's exactly what you'll need:
Sweetened Flaked Coconut: a 14-ounce bag
Semi-Sweet Chocolate Chips: a 12-ounce bag
Sweetened Condensed Milk: a 14-ounce can
Step 2:

Preheat The Oven

Place your baking racks in the middle two slots and then set your oven to preheat at 325°.
Step 3:

Mix The Ingredients

Add the coconut flakes, chocolate chips, and condensed milk to a large mixing bowl. Then with a spoon or spatula, mix the ingredients until they are completely combined.
Step 4:

Arrange The Macaroons On The Baking Sheets

Line two baking sheets with parchment paper, or a silicone liner. Then, using a cookie scoop, form the macaroons into small balls and place them on the baking sheet evenly spaced about 1 inch apart. You should be able to fit 20 macaroons on each baking sheet.
Step 6:

Cool The Macaroons

Once the baking time has completed, remove the macaroons from the oven and allow them to cool on the baking sheets for a few minutes. Once they are cool enough to handle, transfer them to a wire cooling rack and allow them to cool completely.
Step 7:

Enjoy Your Macaroons

That was simple right? Not only are these wonderful treats easy to make but they're even easier to enjoy! Now that you know how to make macaroons that will rival any bakery, it's time to enjoy one. I hope your family loves them as much as my family does.
Essential Items
Here are some essential prep tools, utensils, and appliances I used to make this recipe.
Featured Items
Here is a list of the products featured in this post or products similar to those featured in this post:
23 Best Bakeware for the Well-Equipped Kitchen
Love baking? Make sure you check out this list of the Best Bakeware every serious baker should have in their kitchen.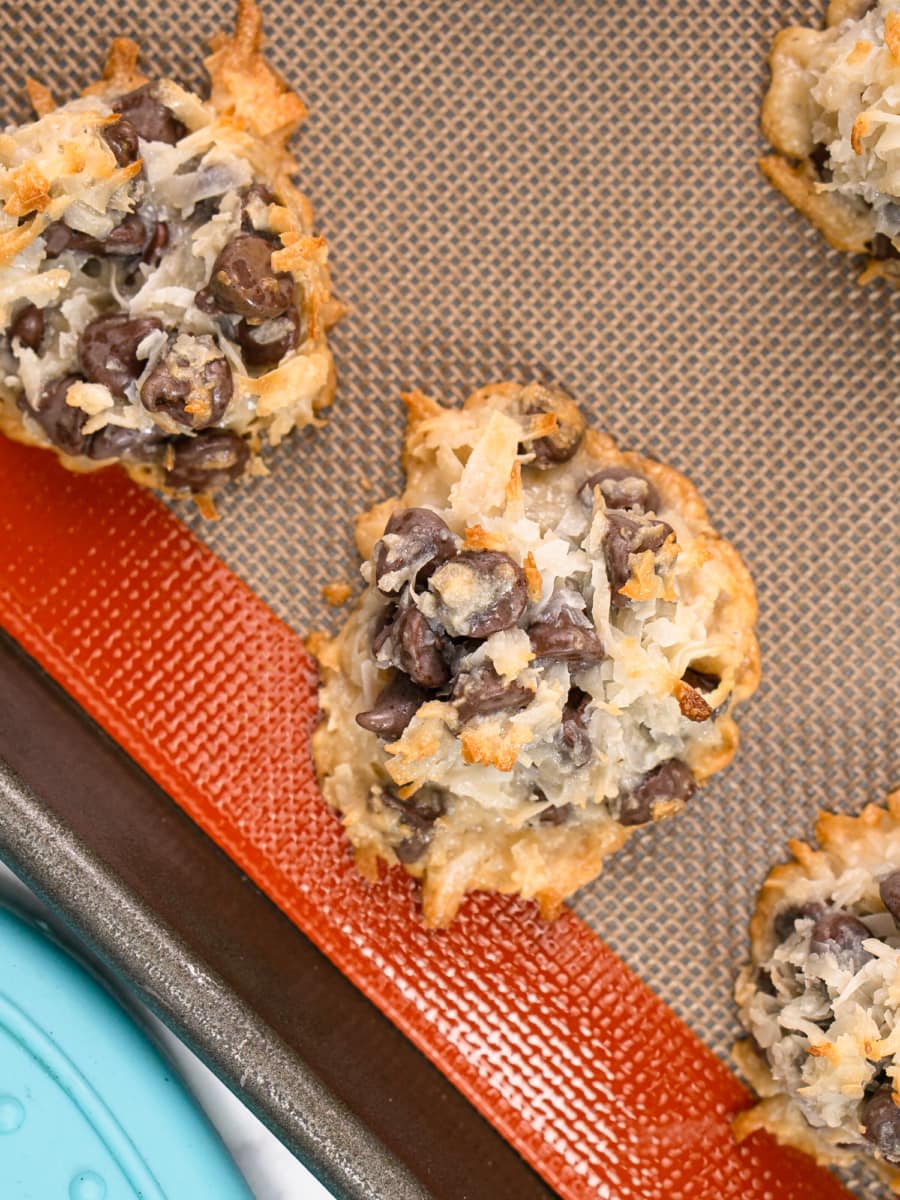 Common Questions About Making Coconut Macaroons
What's the difference between macaroons and macarons?
There is a lot of confusion when it comes to macaroons and macarons. Though both delicious and two of my favorite cookies, they are not the same by a long shot! Macaroons are made with shredded coconut, while macarons are made from almond meal. Macaroons are fairly easy to make (especially my recipe!), on the other hand, macarons are a bit more complicated, require patience, and they are something I still haven't mastered! Working on it! If you'd like to read more on the subject, Masterclass does a great job at explaining the differences between macaroons and macarons.
how can I store my chocolate chip coconut macaroons?
I keep my macaroons at room temperature in any of my covered cookie/cake stands. You can also keep them in an air-tight container. I don't personally keep them in the fridge since they only seem to last a couple of days around here! The kids always attack them. If you don't think you'll eat all of them in a couple of days, then you can place them in your fridge.
what can I drink with coconut macaroons?
These sweet treats can be enjoyed on their own, or accompanied by a cold glass of milk. I also enjoy them when drinking some hot tea, or even some coffee. You can serve these at a get-together, make them for your family, or keep them all to yourself! Any way you choose, they are delicious!
Quick Tip
Make sure to use the full 14 oz bag of coconut flakes or the macaroons will become runny in the oven.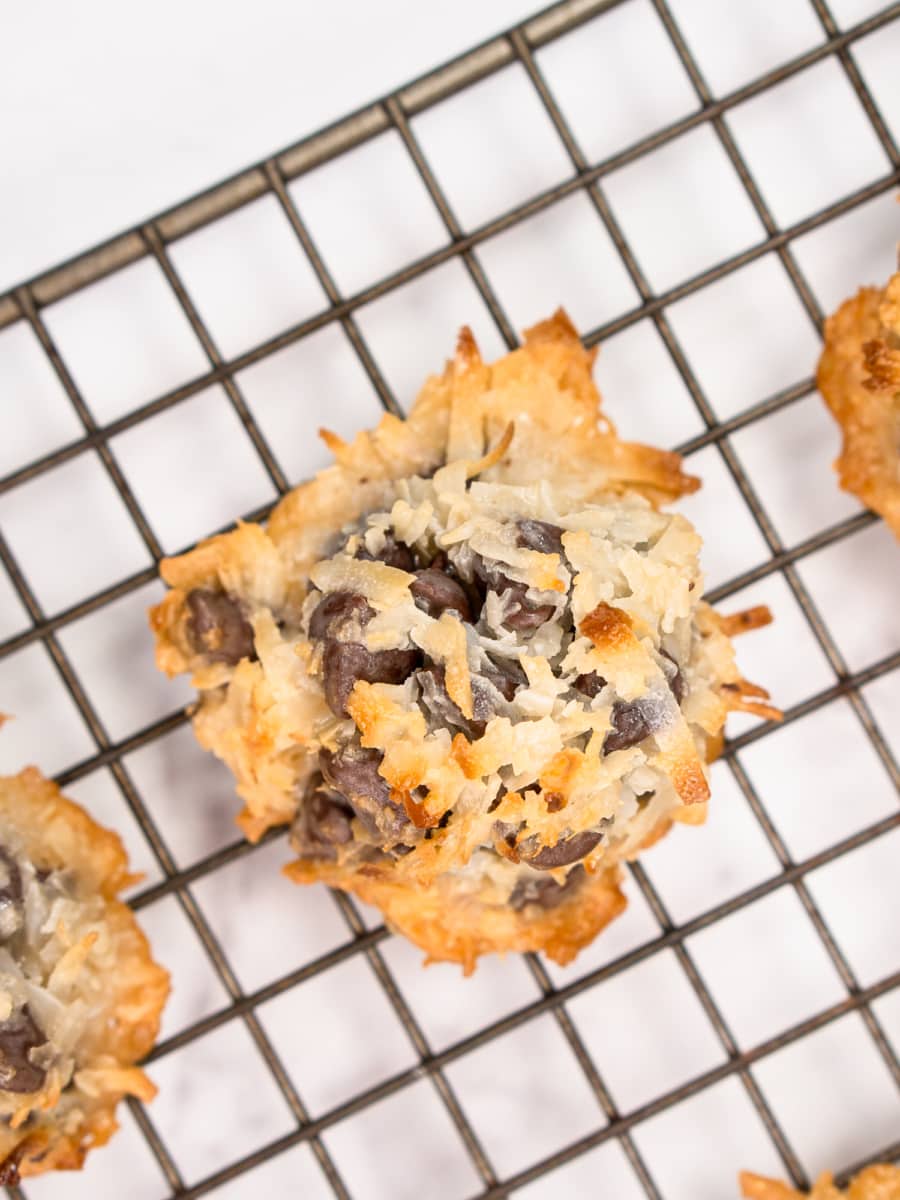 IT'S YOUR TURN TO MAKE THIS RECIPE for chocolate chip coconut macaroons!
Did you make these chocolate chip coconut macaroons yet? I think that this is the easiest and most delicious macaroon recipe out there, and I know you will absolutely love it! Let me know in the comments section below when you make them and how much you enjoyed them.
5-Star Rating: If you loved your Chocolate Chip Coconut Macaroons, I'd appreciate it if you could give this recipe a 5-star rating to show how much you loved it.
MORE easy dessert RECIPES
Looking for more easy and delicious desserts? Here are some that I know you'll love:
Chocolate Chip Coconut Macaroons
Semi Sweet Chocolate Chips, Sweetened Coconut Flakes, And Sweetened ​Condensed Milk
Tired of the same old cookies? These heavenly hybrids of two classic desserts are loaded with delicious chocolate chips and shredded coconut. Crispy on the outside and chewy on the inside these macaroons are made with only three simple ingredients and require little preparation. So if you're looking for a quick and easy sweet treat, these can be whipped up in no time!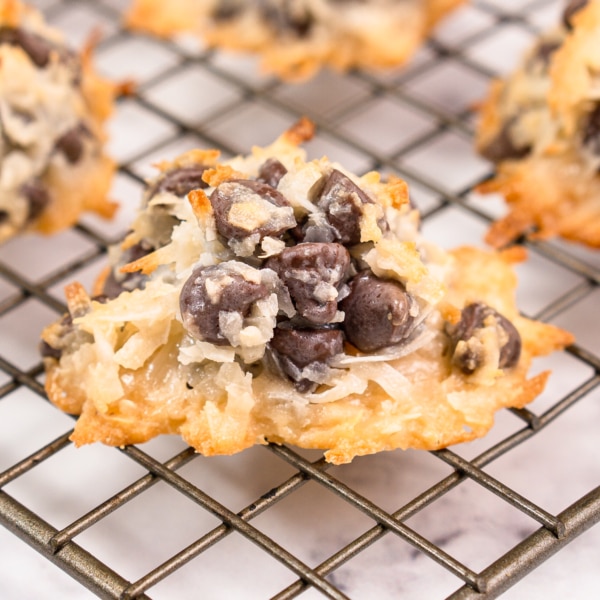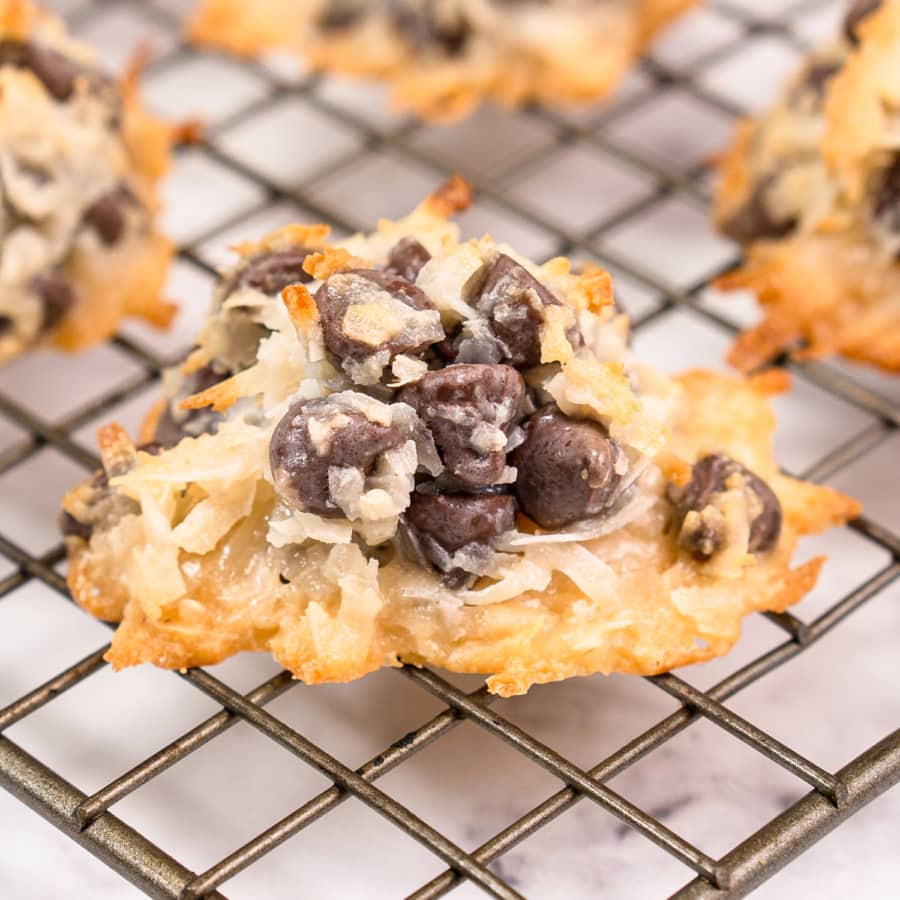 Instructions
Preheat oven to 325°.

Mix the coconut flakes, chocolate chips, and condensed milk in a large bowl. Make sure the mixture is well incorporated.

Line two baking sheets with parchment paper, or a Silpat silicone liner. Then use a cookie scoop to form the macaroons and place them on the baking sheet approximately 1 inch apart. You will make 2 baking sheets with 20 macaroons each.

Bake in middle rack for 18 minutes.

Let the macaroons cool on the pan for a few minutes, then transfer to a cooling rack and cool completely. Enjoy!
Nutrition Facts
Calories: 81kcal | Carbohydrates: 10g | Protein: 1g | Fat: 4g | Saturated Fat: 2g | Polyunsaturated Fat: 1g | Monounsaturated Fat: 1g | Trans Fat: 1g | Cholesterol: 4mg | Sodium: 13mg | Potassium: 85mg | Fiber: 1g | Sugar: 9g | Vitamin A: 31IU | Vitamin C: 1mg | Calcium: 33mg | Iron: 1mg