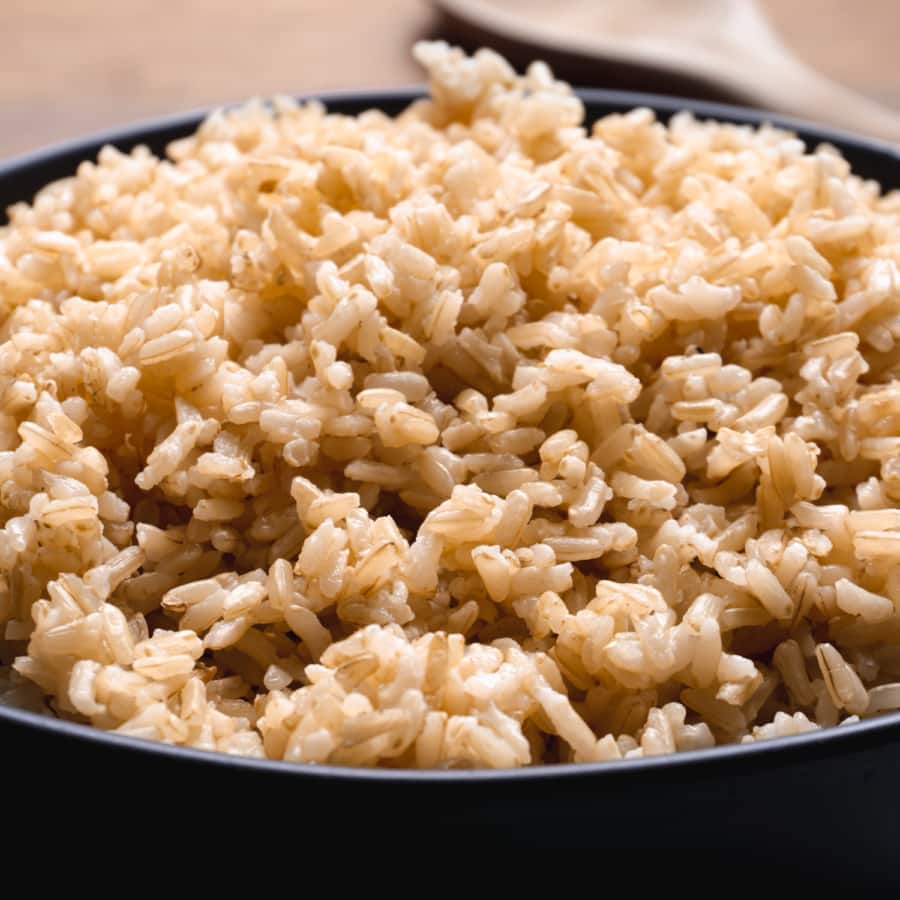 I have the habit of never picking brown rice when given a choice between white and brown. Recently, my husband has been trying to eat a healthier diet and he asked me to give brown rice a try in the Instant Pot. Of course, I was up for it!
This post contains affiliate links. For more information, see my disclosure.
Brown Rice vs White Rice
We're used to eating jasmine or basmati rice at home, so when my husband requested brown rice, I was worried the kids wouldn't go for it. Also, from what I've heard, brown rice takes a long time on the stove, and that's certainly not my idea of fun!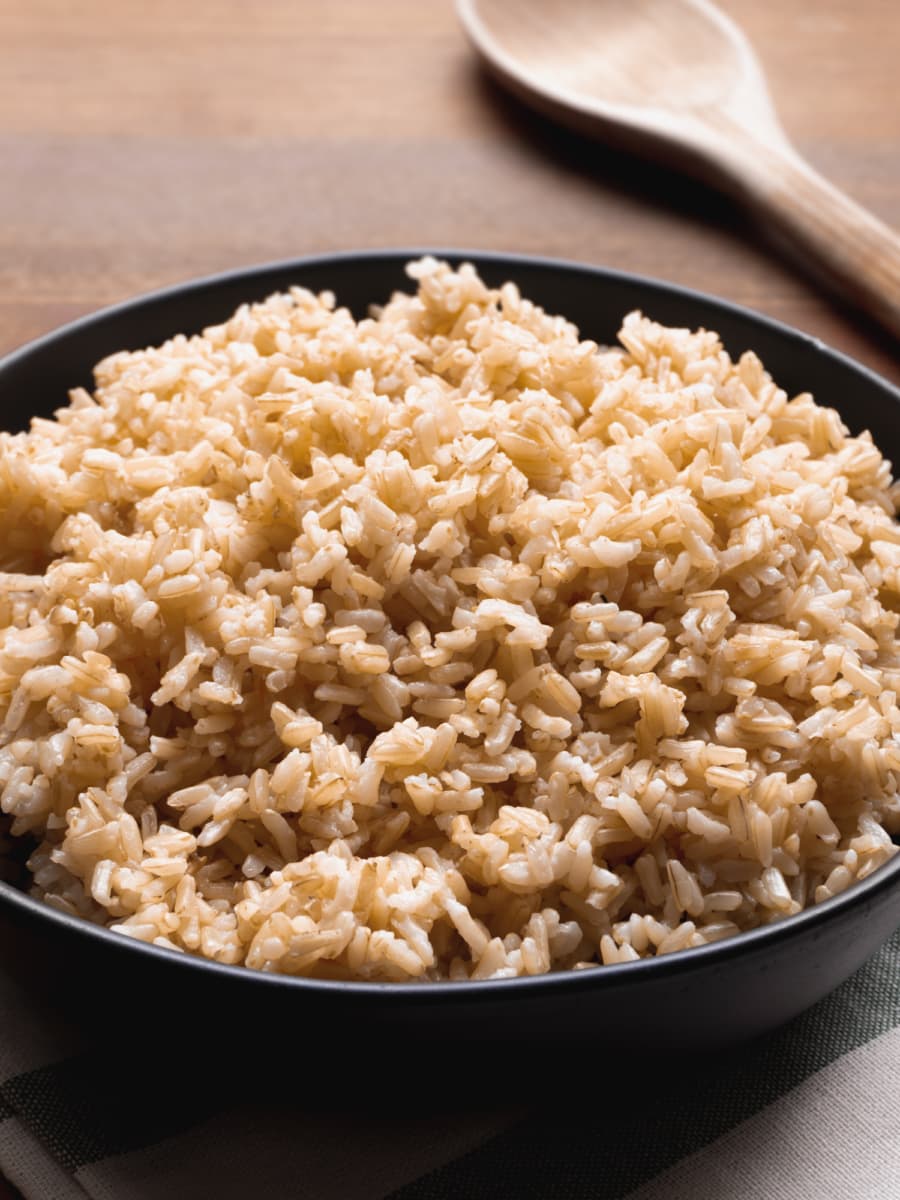 But I also know that brown rice is a healthier option since it contains more nutrients and has been processed less than white rice. So I decided it was worth it to at least try it out in the Instant Pot.
How Long Should I Cook Brown Rice in the Instant Pot?
Lucky for me, cooking brown rice in the Instant Pot is much easier and faster than on the stove. After several attempts, I found my perfect time to be 22 minutes high pressure with an added 10 minutes of Natural Pressure Release (NPR). This gave me a perfectly cooked and fluffy Instant Pot Brown Rice.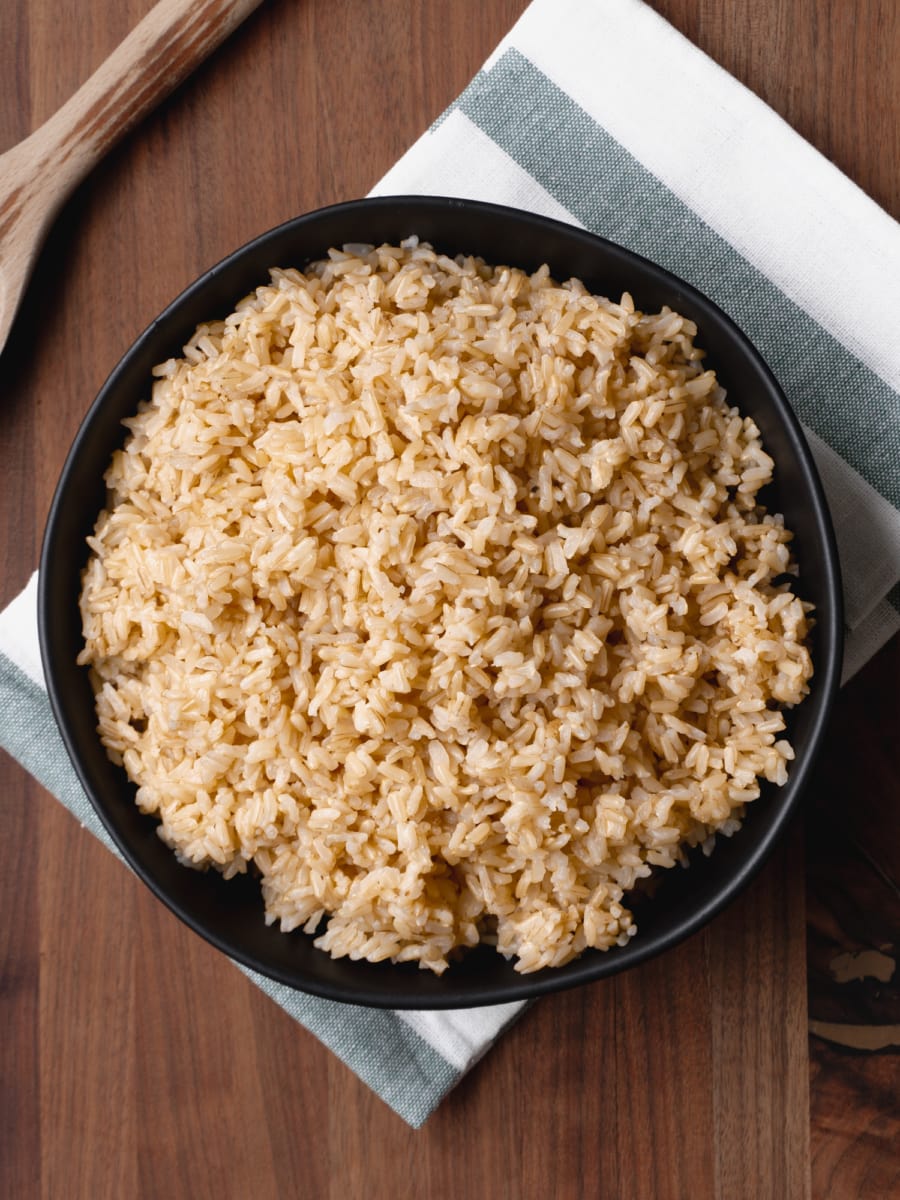 I felt 20 minutes of high pressure was OK, but it was still a bit undercooked for my liking. My husband agreed. So we're sticking with 22! I suggest you start with 22 and then you can adjust it a bit if needed according to your preferences.
What Does Brown Rice Taste Like?
Honestly, the results pleasantly surprised me! I loved the way the Instant Pot Brown Rice tastes! I tried making it with chicken broth and I also tried with just water. To my surprise, I preferred the taste of the brown rice when I made it with plain water and a bit of salt.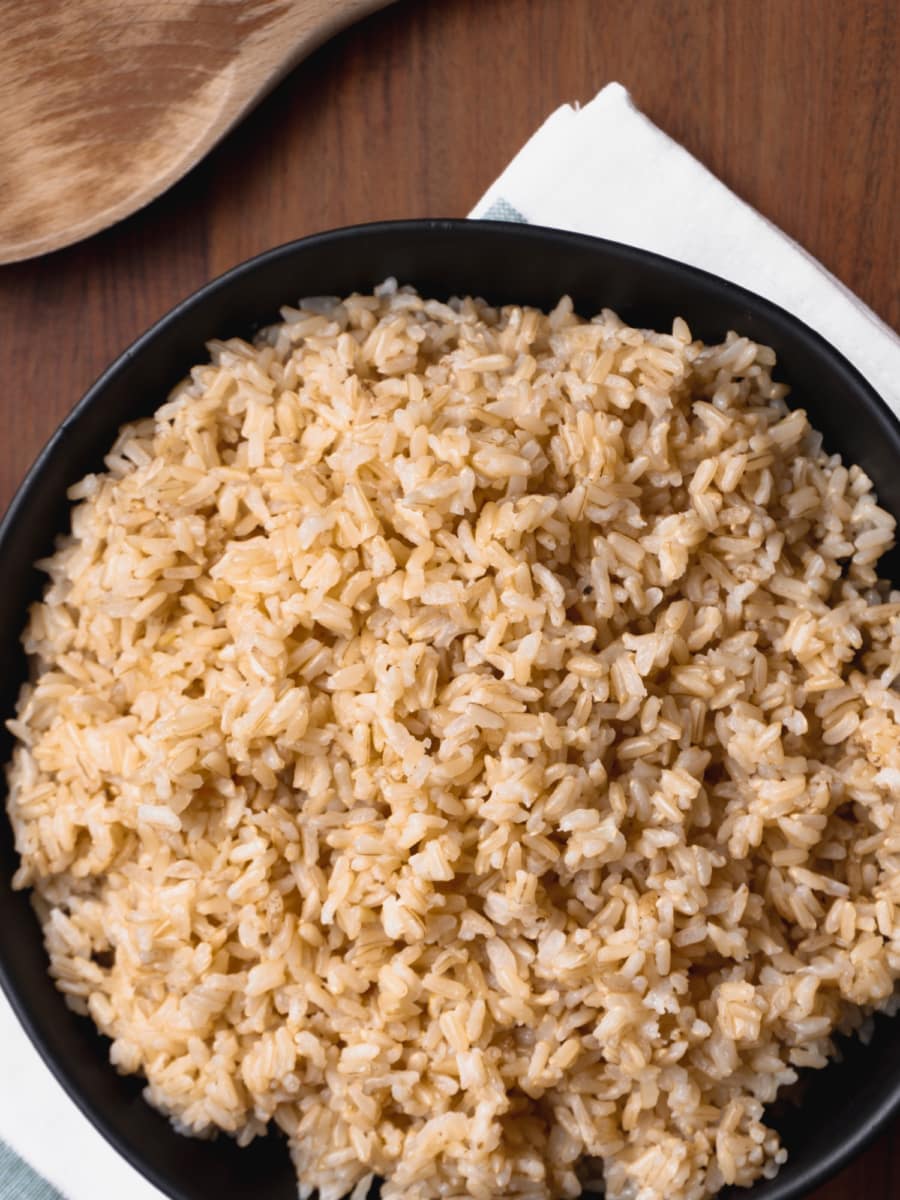 Also to my surprise, my kids ate the brown rice without batting an eyelash. My husband and I both loved it and I will definitely be making it more now that I know the whole family approves of brown rice!
Shopping List
Here is a list of the kitchen prep tools, utensils, and appliances I used to make this recipe.
Appliances & Cookware
These are the appliances and cookware that I used to make this recipe:
Prep Tools & Utensils
Here are the prep tools and utensils that you'll need:
28 Must-Have Instant Pot Accessories
Make sure to check out my Ultimate List of Instant Pot Accessories! I've included everything you could ever need to help make your pressure cooking quicker, easier, and even more convenient.
I found the taste to be delicious! I'm not really sure where I got the idea that it wouldn't taste as good as white rice. I added just a bit of salt and for us that was perfect. If you want to omit the salt entirely, it will also taste great.
I hope you and your family enjoy this easy and delicious Instant Pot Brown Rice. Below I've included a quick step-by-step. If you don't need it, just scroll to the recipe below. If you try this Instant Pot Brown Rice, I'd love to hear what you pair it with in the comments below!
How to Cook Brown Rice in the Instant Pot
Brown rice is usually a pain to make but it is fast and easy to make in an electric pressure cooker like the Instant Pot. You'll have a pot of rice ready in a little over 30 minutes with very little effort. Plus, it comes out absolutely perfect!
I make lots of rice in my house and always keep a container of rice in the refrigerator. With lots of hungry kids to feed – most of those being teenagers – rice is perfect for bulking up just about any dish. Let me show you how to make brown rice in the Instant Pot.
Step 1: Gather The Ingredients
This recipe is crazy simple and calls for very few ingredients: brown rice, water, and salt. That's it!
Step 2: Rinse the Brown Rice
Place the two cups of rice in a strainer and rinse under cold water. This removes any dirt or debris that may be on the rice. You certainly don't want any of that on your plate.
Step 3: Add the Rice, Water, and Salt to the Instant Pot
Next you'll add the brown rice to the Instant Pot. Pour the water over it and then sprinkle the teaspoon of salt over the rice. Give the rice a few gentle stirs to mix everything well.
Step 4: Cook the Rice
Close the Instant Pot and then set the pressure release valve to 'Sealing'. Then, set the pot to cook on 'Manual/Pressure Cook', 'High Pressure' for 22 minutes.
Once the cooking time has completed, allow for a 10-minute natural pressure release. Once the 10 minutes have completed, release any remaining pressure until the pin drops. There should be very little pressure left in the pot.
It's Time To Enjoy Some Delicious and Nutritious Brown Rice!!
That's it! Who knew that cooking perfect brown rice could be so simple? Brown Rice can be tricky but the Instant Pot really does make it no fail. Now it's time to serve your brown rice however you like. There are endless possibilities!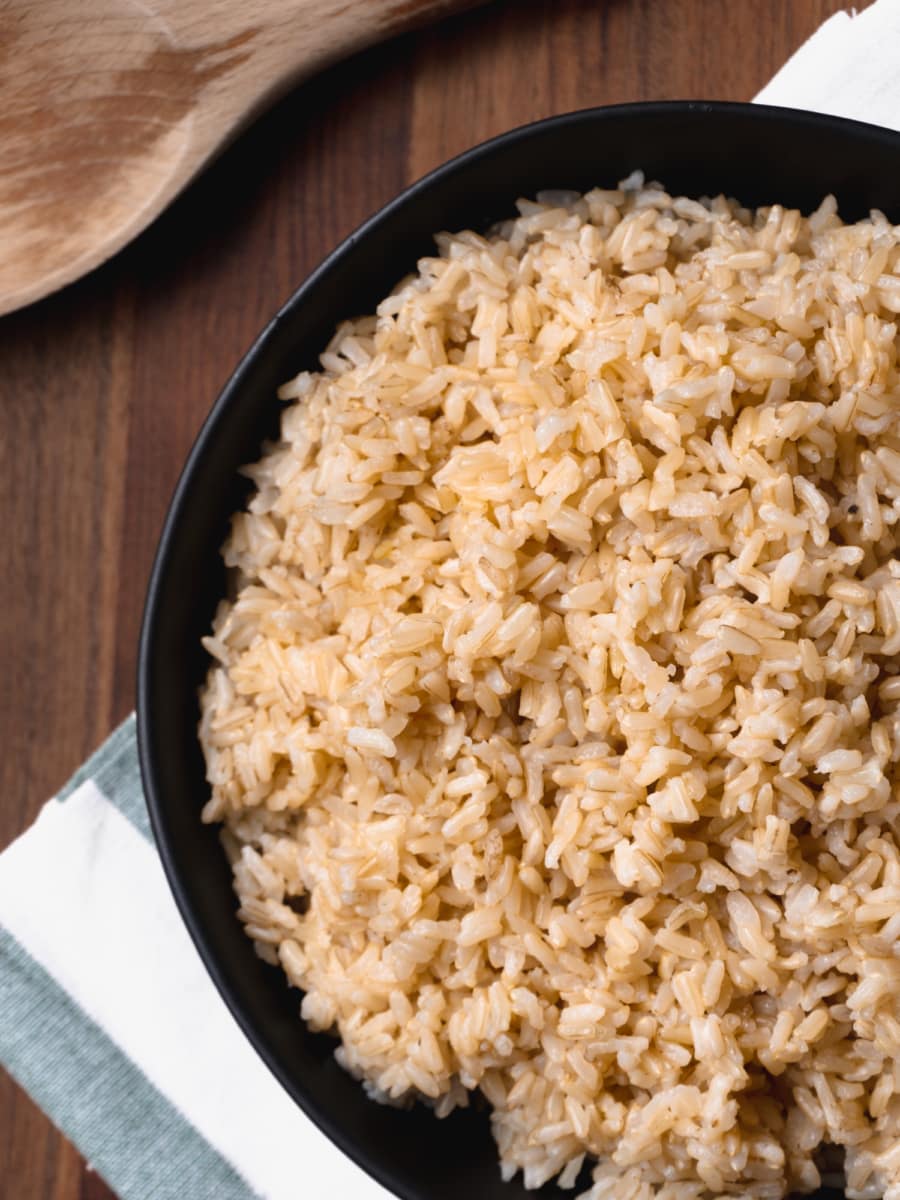 Did you make this Instant Pot Brown Rice? I know you will love how easy and convenient it is to make Brown Rice in the Instant Pot. When you have a chance to make this recipe, please rate it and leave a comment below to let me know how you liked it.
More Instant Pot rice recipes that you may enjoy:
Looking for even more rice recipes to make in the Instant Pot? If you want to make regular white rice in the pressure cooker, check out my recipe for Instant Pot Jasmine Rice. And for a delicious alternative to plain rice, try my Cilantro Lime Rice.
For a full list of all the pressure cooker rice recipes on this blog, make sure to check out my Instant Pot Rice Recipes post.
Have you tried Instant Pot Couscous? If you're looking for an alternative to rice, then try my Instant Pot Couscous and Ground Beef or Instant Pot Chicken & Couscous recipes. They're absolutely delicious!
Need more side dish ideas? If you need more ideas for delicious side dishes that you can make in your Instant Pot, check out my easy Instant Pot Side Dishes post.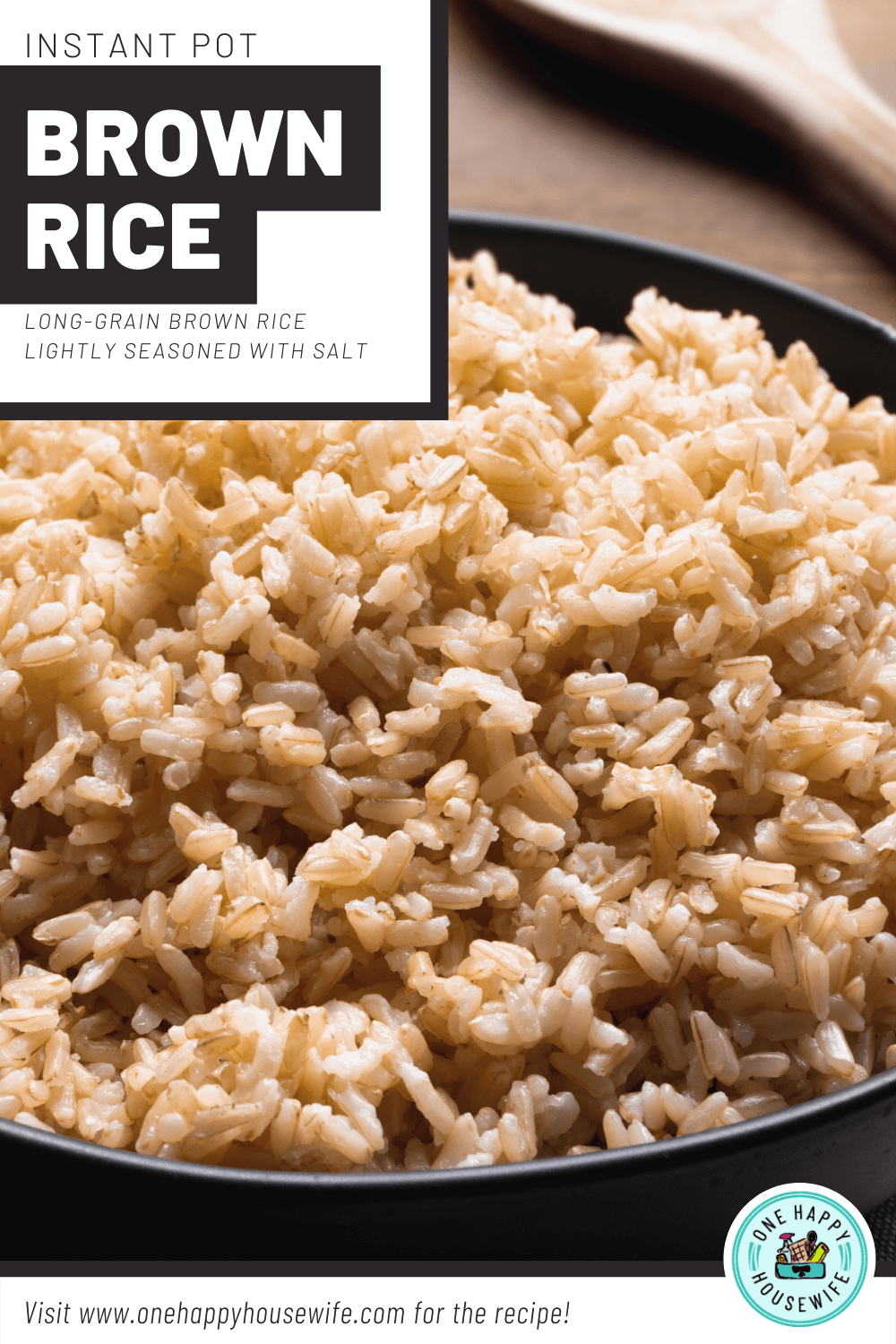 Instant Pot Brown Rice
LONG GRAIN BROWN RICE LIGHTLY SEASONED WITH SALT
Instant Pot Brown Rice is a healthy and delicious side that is easy to make and will be ready in about 30 minutes.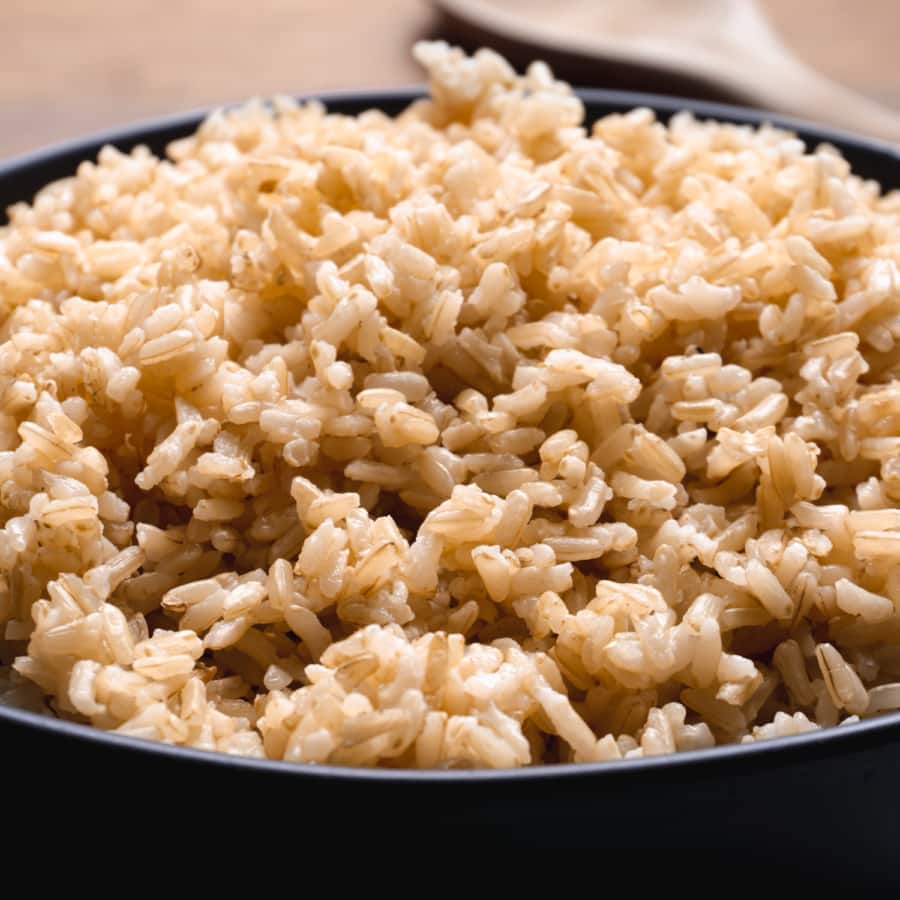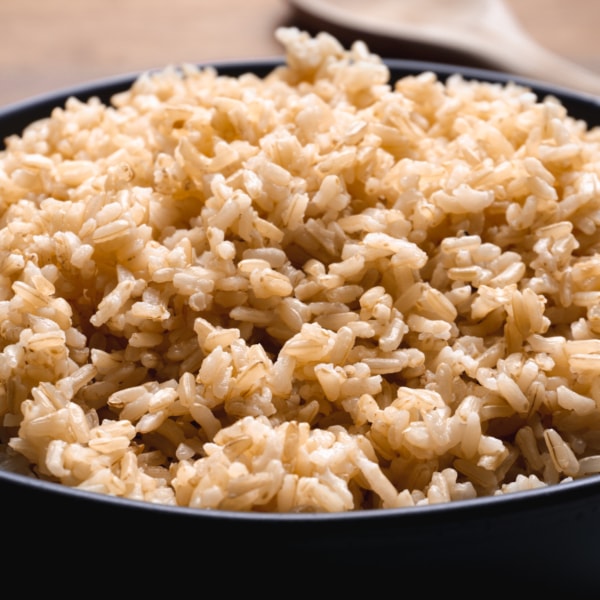 Instructions
Rinse the brown rice in a fine mesh strainer for a minute or so, to remove any dirt or debris.

Place rice, water and salt in Instant Pot.

Close the pot and set the knob to "Sealing".

Cook on Manual High Pressure or Pressure Cook for 22 min.

Once the cooking time is complete, allow for a 10 minute Natural Pressure Release and then release the remaining pressure.

Once the pin has dropped, open the pot and fluff the rice with a fork.

Enjoy!
Nutrition Facts
Calories: 172kcal | Carbohydrates: 36g | Protein: 4g | Fat: 1g | Saturated Fat: 1g | Sodium: 296mg | Potassium: 127mg | Fiber: 2g | Calcium: 18mg | Iron: 0.9mg
Common Questions & Answers
What size pressure cooker did you use? I've tested this recipe in my 8-Quart Instant Pot Duo, 6-Quart Instant Pot Duo, and 6-Quart Mealthy Multipot with great results.
Is brown rice healthy? Is it better than white rice? Brown rice is generally considered to be a much healthier substitute for white rice because it's a whole grain that retains the fiber, vitamins, minerals, and antioxidants that white rice lacks.
Tips & Tricks
Lower the sodium. For the most flavorful rice, use the full 1 teaspoon of salt. For a low sodium version of this rice, cut the salt in half. Or, you can completely omit the salt for a sodium-free brown rice.
Use chicken stock for extra flavor. You can replace the water with chicken stock to add more flavor to the rice. I'd recommend using an unsalted chicken stock so that the rice doesn't end up being too salty. I swear by Kitchen Basics Unsalted Chicken Stock. To me, it has the best flavor and I love that they offer an unsalted version. That way I can control exactly how much salt is going into my dishes.
Boost the flavor even more. Adding herbs and spices is a great way to enhance the flavor of this rice. Aromatics like garlic and shallots make a great addition to brown rice. Spices such as cumin and chili powder or herbs like cilantro and chives can really make this brown rice extra special.
Serving Suggestions
Serve it as a side. You can serve this brown rice as a side to just about any meat or fish dish. This recipe pairs perfectly with my Salpicón.
Add as an addition to your dish. You can add this brown rice to tacos, burritos, beans, soups, stir-fry, casseroles, salads, and much, much more. Try serving this rice with my Instant Pot Taco Soup or my Quick & Easy Texas Chili Beans. It'd also make a perfect addition served on tacos along with my Instant Pot Salsa Chicken.