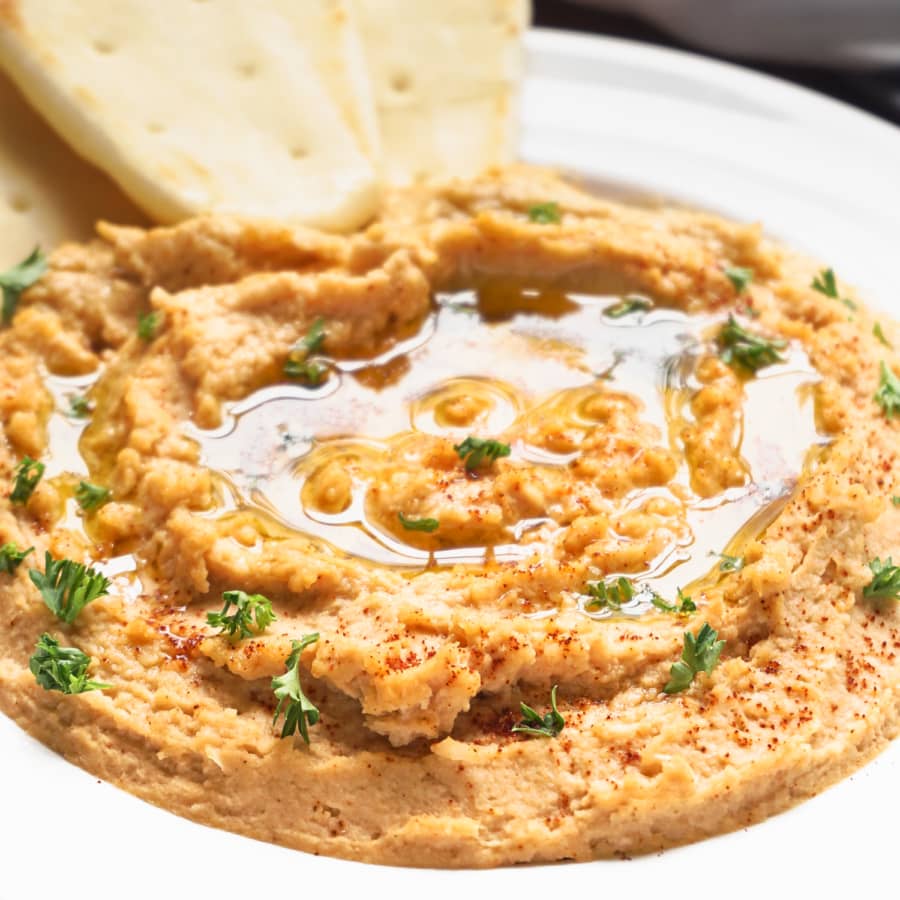 Hummus is a delicious Middle Eastern spread made from chickpeas (garbanzo beans). The word "hummus" means chickpeas in Arabic. If you haven't tried hummus yet, you are missing out!
This post contains affiliate links. For more information, see my disclosure.
Better Than Storebought
I'm a big fan of hummus. In fact, most of my family enjoys it. We used to buy the expensive little containers at the supermarket until I found out how easy it is to make it at home. Things are always better and healthier (a lot less junk in there) homemade and hummus is no exception!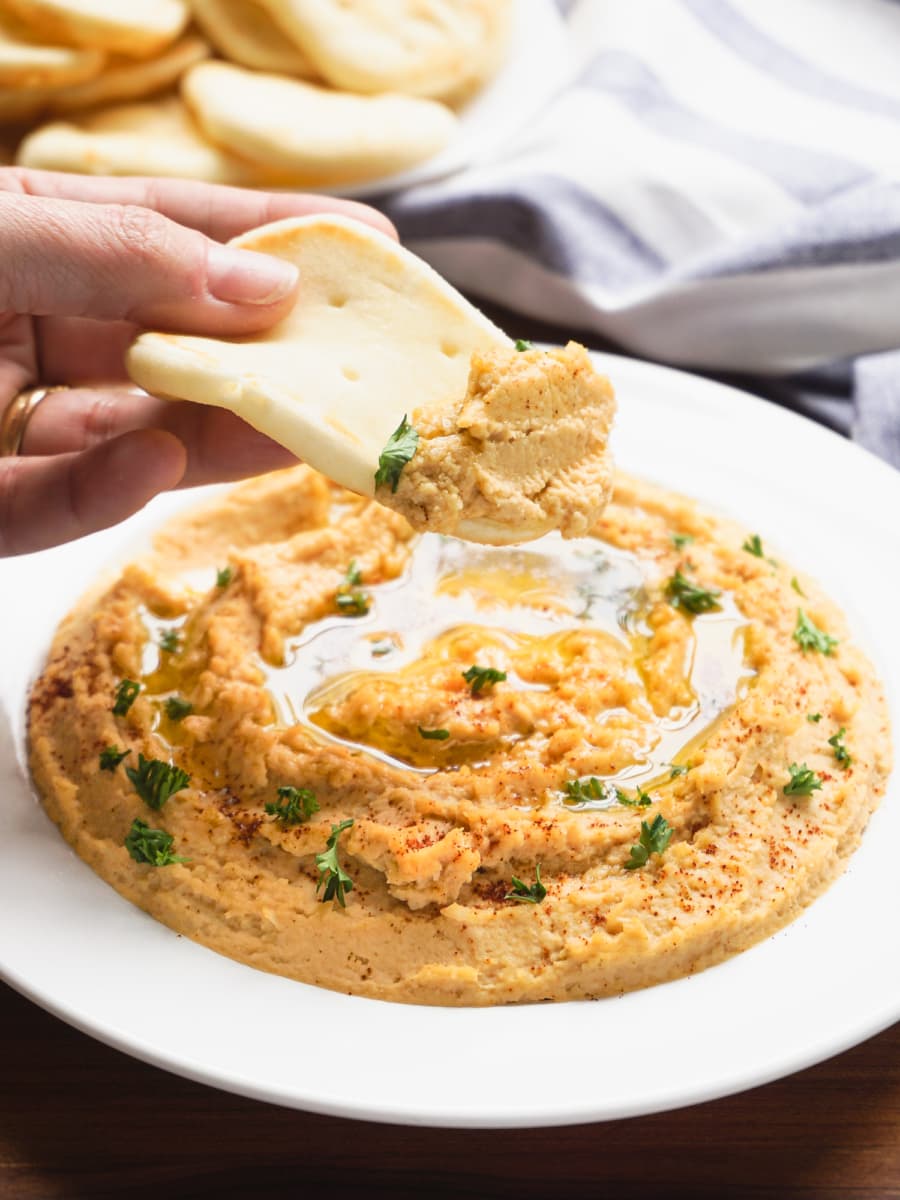 All it takes is a few ingredients and a few minutes and you'll have a fresh batch of delicious homemade hummus you'll probably get addicted to! I now keep all the ingredients handy and make a batch per week. It's a perfect snack for any time of day!
What Can I Serve Hummus With?
In my opinion, homemade hummus is so versatile! I eat it with so many things. The traditional way, of course, is to enjoy it with some pita bread. But you don't have to limit yourself since the possibilities are endless!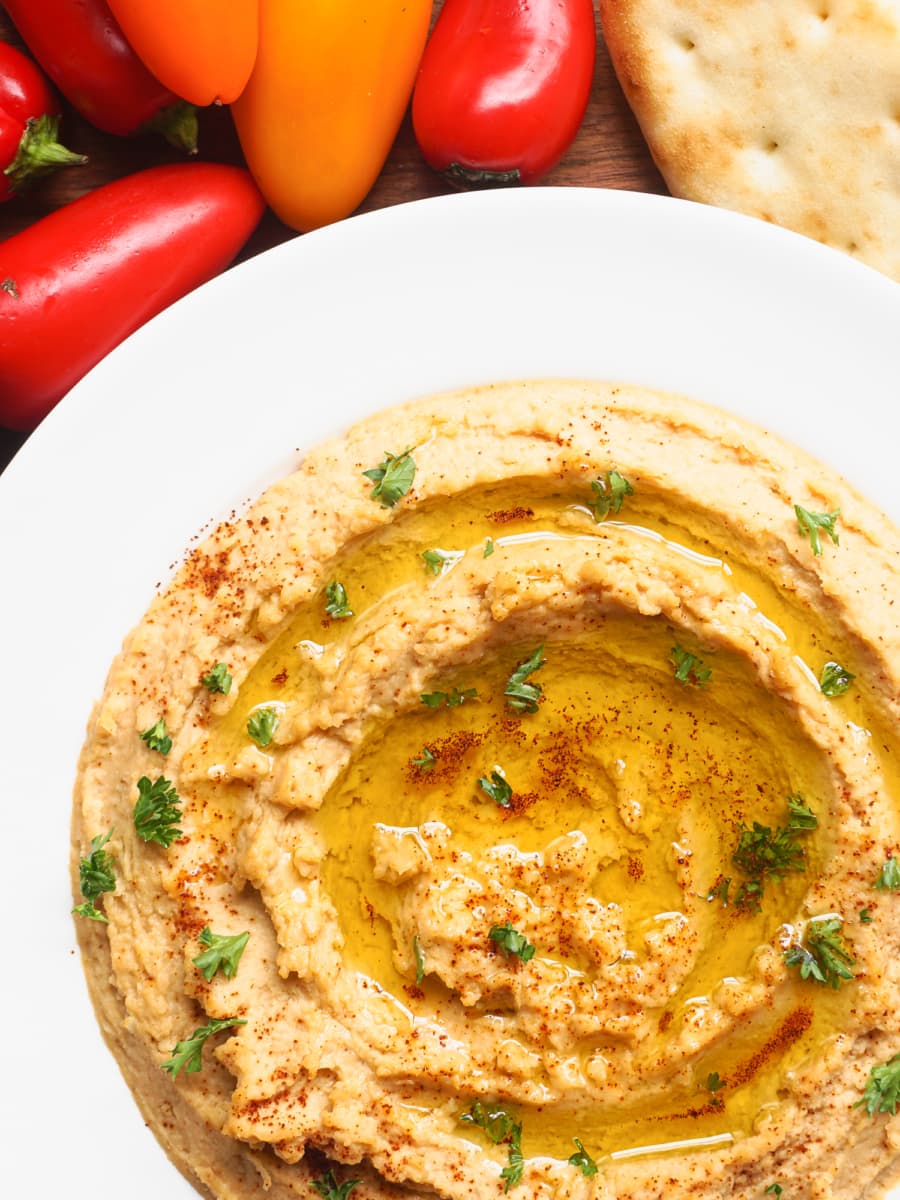 We enjoy our hummus with pita bread, chips, carrots, peppers, crackers, as a spread on chicken wraps, on sandwiches, and so much more. This morning, I even made myself a bagel with scrambled eggs and hummus and it was amazing!
What Ingredients Will I need to Make Homemade Hummus?
You'll want to keep the ingredients for making hummus handy since I guarantee, once you make it and see how easy and delicious it is, you'll want to make it all the time!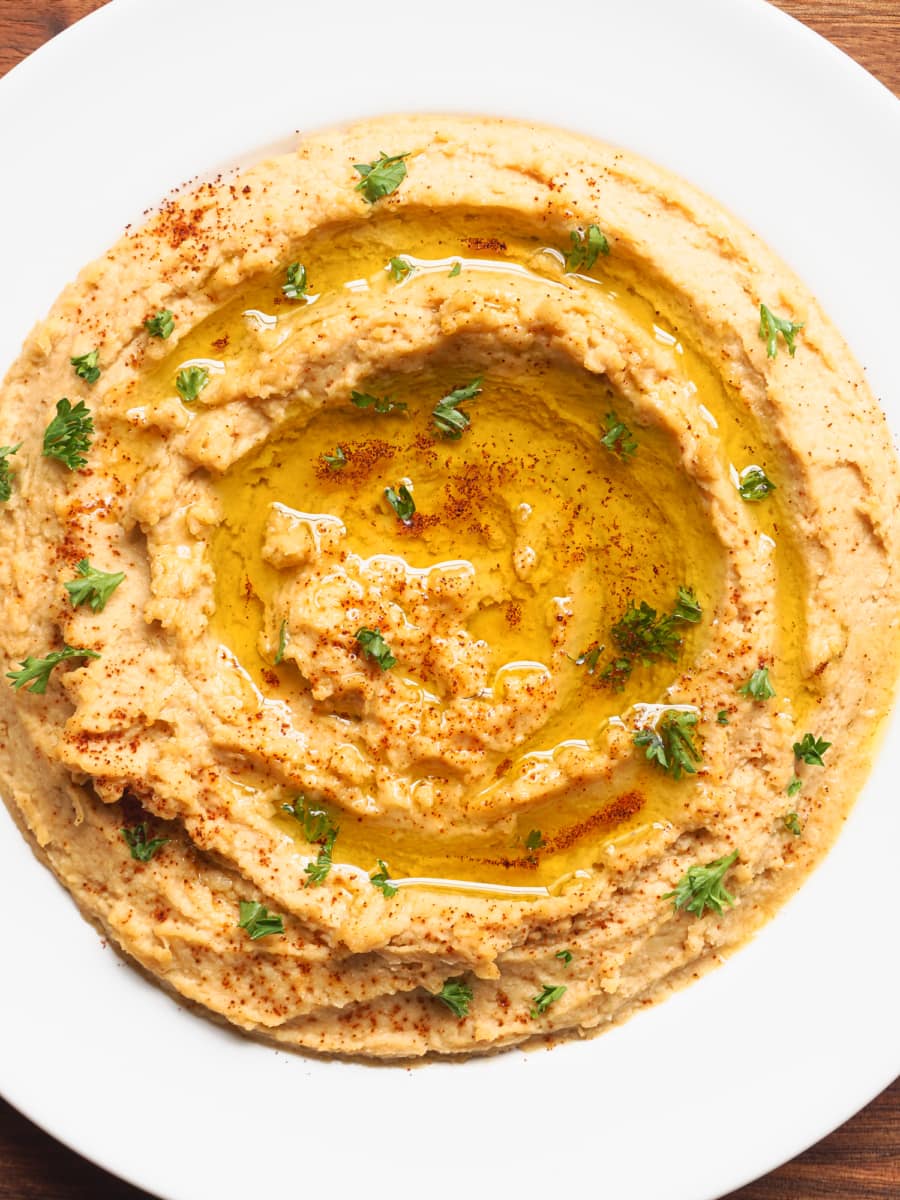 I buy the large cans of Goya Garbanzo Beans and keep several in my pantry at all times. As far as the spices, all you need is salt, paprika, and cumin. You'll need a lemon, some olive oil, and a little water. Finally, one of the most important ingredients you'll need is tahini. Tahini is a paste made from ground sesame seeds. You can find it at most supermarkets in the international section.
Essential Items
Here are some essential prep tools, utensils, and appliances I used to make this recipe.
Featured Items
Here is a list of the products featured in this post or products similar to those featured in this post:
Those ingredients and a food processor are all you need to become a hummus-making machine! It really is as easy as throwing everything into the processor and blending. Now, there are a few things you can do to make your homemade hummus extra creamy, but they are completely optional.
How Can I Get a Creamier Hummus?
For the creamiest homemade hummus, you'll need to peel the garbanzo beans. I know that sounds insane but there is an easy way. All you need to do is soak your garbanzo beans for a few minutes and then grab a scoopful in your hands and gently rub your hands together. The shells will come off and float to the top of the water, making it easy to remove them.
Taking the shells off the chickpeas is easy but it will add an extra 10 minutes or so to the hummus making process. I have personally tried it both ways and I have concluded it's not worth it to peel them. Yes, the hummus is creamier and smoother, but my family enjoys it just the same when they have the shells on.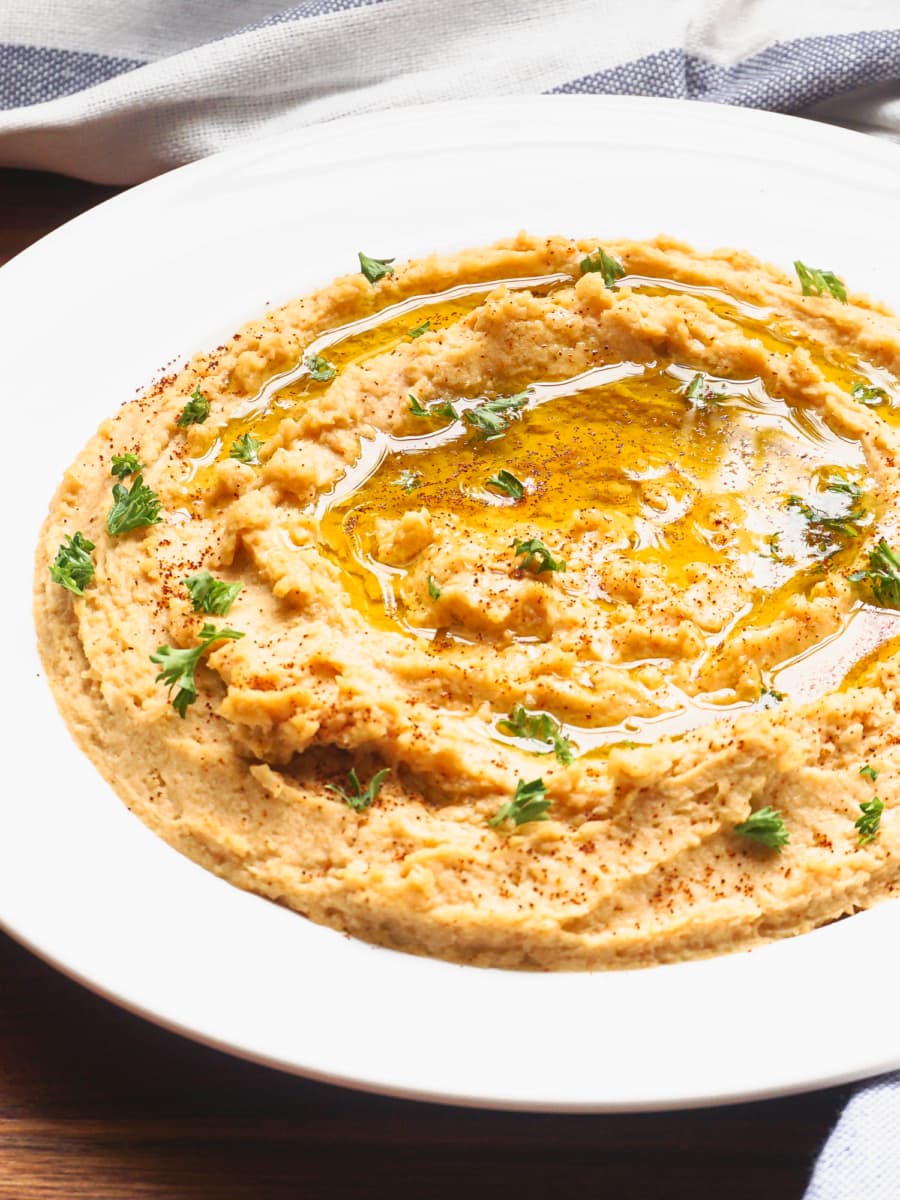 I know you and your family will also enjoy this easy and delicious classic hummus recipe! Let me know in the comments when you try it.
You may also want to check out these other delicious dip ideas.
Homemade Hummus
CHICKPEAS, TAHINI, LEMON JUICE, AND A BLEND MEDITERRANEAN SPICES
This homemade hummus makes a wonderfully delicious snack or appetizer. It's so easy to make and tastes just as good as any hummus you'd get at a restaurant.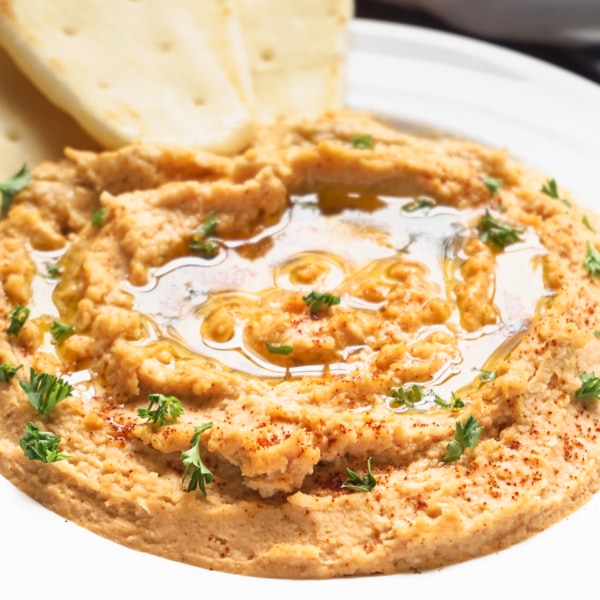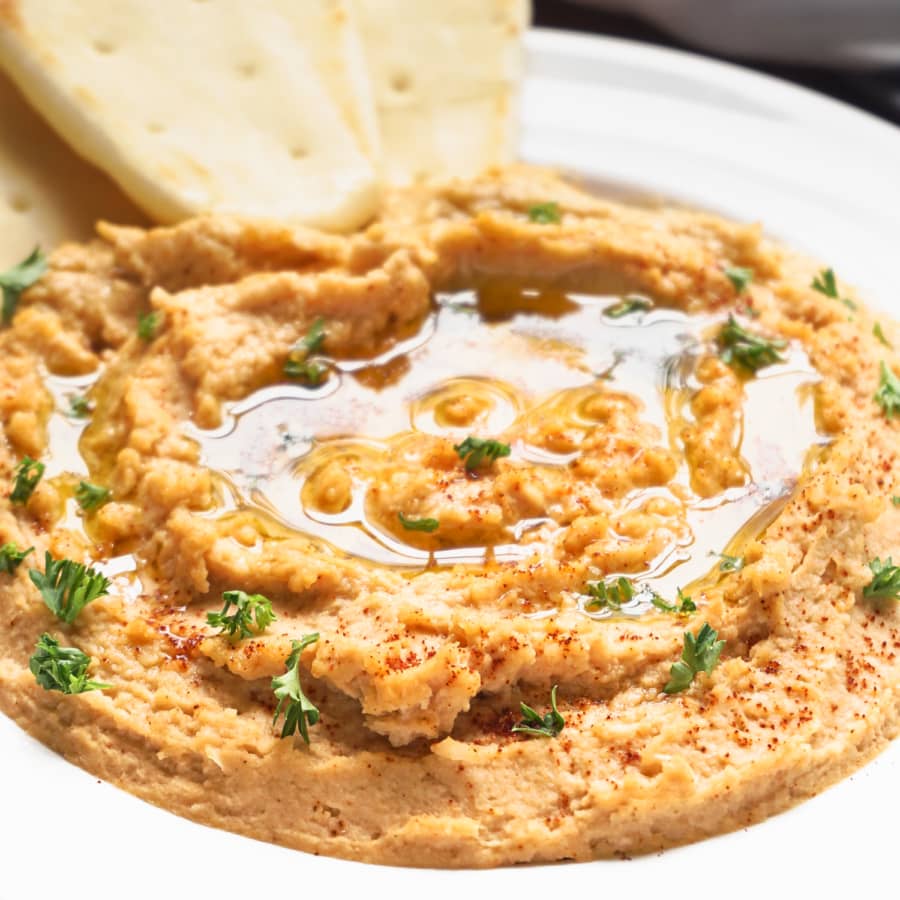 Instructions
Drain and rinse the chickpeas.

Pour the chickpeas and the rest of the ingredients into a food processor.

Blend until smooth.

To serve, sprinkle with paprika and a bit of olive oil and enjoy!
Nutrition Facts
Calories: 303kcal | Carbohydrates: 33g | Protein: 11g | Fat: 15g | Saturated Fat: 2g | Sodium: 204mg | Potassium: 374mg | Fiber: 9g | Sugar: 5g | Vitamin A: 125IU | Vitamin C: 6.7mg | Calcium: 68mg | Iron: 3.7mg