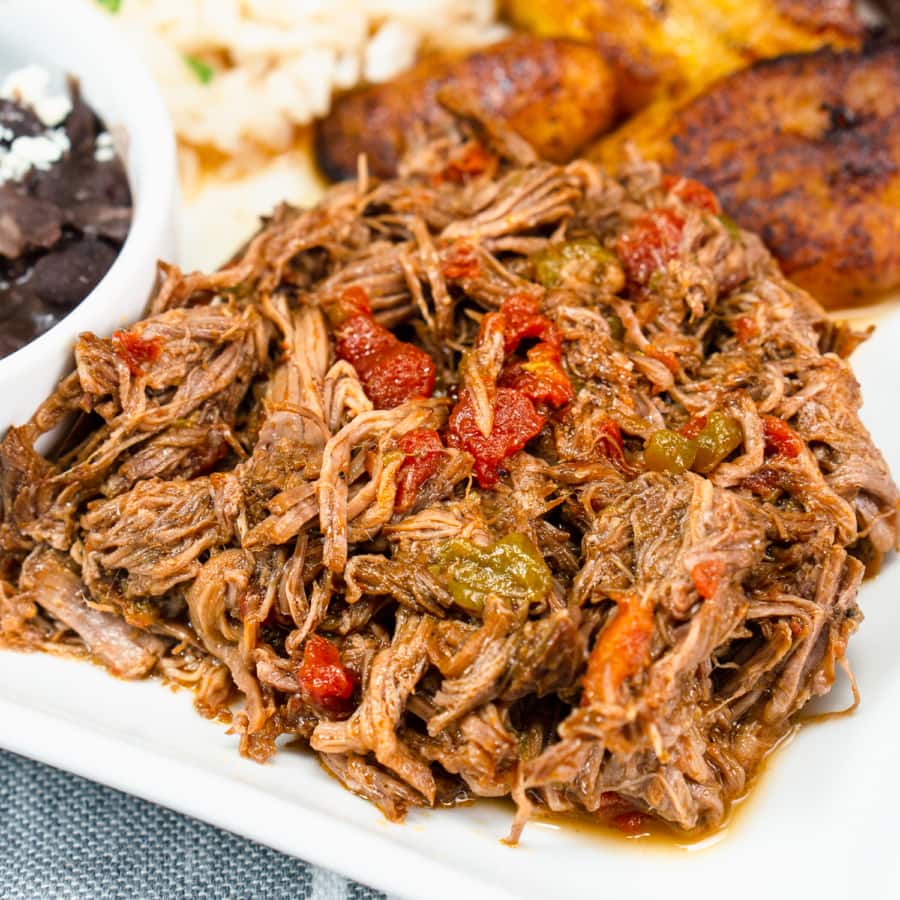 This Instant Pot Carne Mechada is insanely delicious! You won't believe how a few simple ingredients will turn into this flavorful and hearty meal. This recipe is very versatile and can be eaten in so many ways. My family loves it when it's carne mechada day in our home!
In this post, I'll give you all the information you need to make the best Instant Pot Carne Mechada – I also have a Slow Cooker Carne Mechada in case slow cooking is your jam! This Instant Pot recipe is so easy to follow and requires no effort! Read below for tips and suggestions as well as a step-by-step on how to make it. I will also answer some common questions you may have and give you my recommendations for side dishes and ideas on how to eat this delicious meal. Hint: serve it on top of some creamy mashed potatoes for a comforting meal!
This post contains affiliate links. For more information, see my disclosure.
Table of Contents
What Is Carne Mechada?
Carne Mechada is a delicious Hispanic dish made with shredded beef and vegetables. It's most commonly known for being Venezuelan, but I enjoyed carne mechada growing up in Honduras as well. The beef is cooked in a flavorful tomato sauce and then shredded once it has finished cooking. You end up with a slightly tangy, rich, stewy shredded beef that is tender and so full of flavor.
In Venezuela, this dish is often served with rice, beans, and plantains. It's called Pabellon and it's a delicious combination! I grew up eating it in tortillas as tacos, or with a side of rice or mashed potatoes. But, my favorite way to enjoy this wonderful Venezuelan shredded beef is on an arepa.
Carne Mechada is also ideal for meal prep since it can be made ahead of time and frozen for future meals. It's a great addition to many other recipes.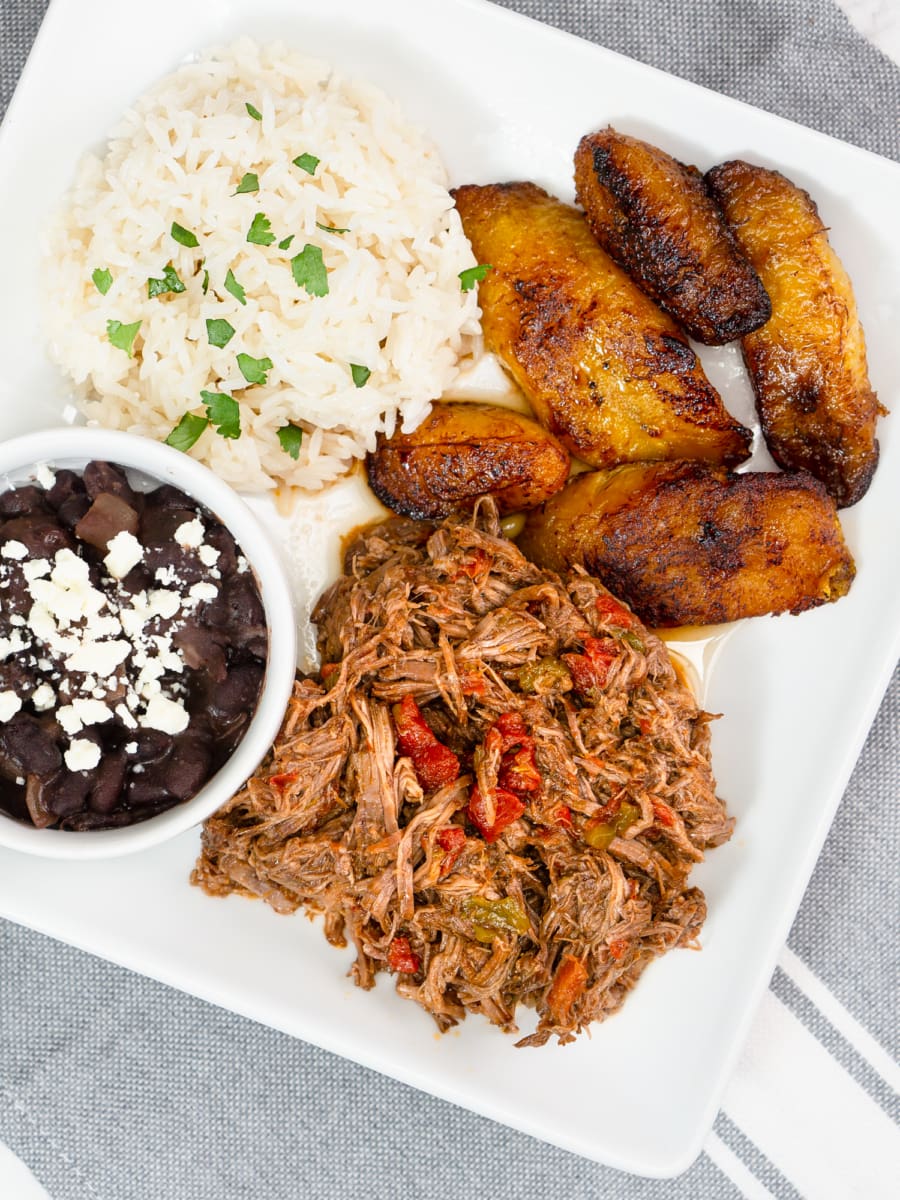 Tips for a Perfect Instant Pot Carne Mechada
Choose A Nicely Marbled Chuck Roast: You'll want to use a chuck roast that is well-marbled and fatty all the way through. This will ensure that the meat turns out tender and juicy. You will remove the fatty pieces after cooking.
Make it With Beer: A stout beer or dark lager adds so much depth and flavor to this dish. It will also help to tenderize the meat. You do not end up with a beer taste in your meat.
Allow for a Longer Cook Time: Chuck roast is tough and needs a long cooking time to become tender. I recommend you cook the roast for the full recommended time. This will allow the roast to become fall-apart tender, and it will give enough time for the flavors to meld together, and create a really flavorful shredded beef.
Brown The Meat: This one is completely optional and my recipe does not call for it. I have to admit, I usually don't have the time to brown the meat or the desire to clean an extra skillet. However, browning the meat will add depth and richness to the flavor. I recommend it if you have time but it's not necessary. Either way, you'll end up with a delicious, flavorful meal.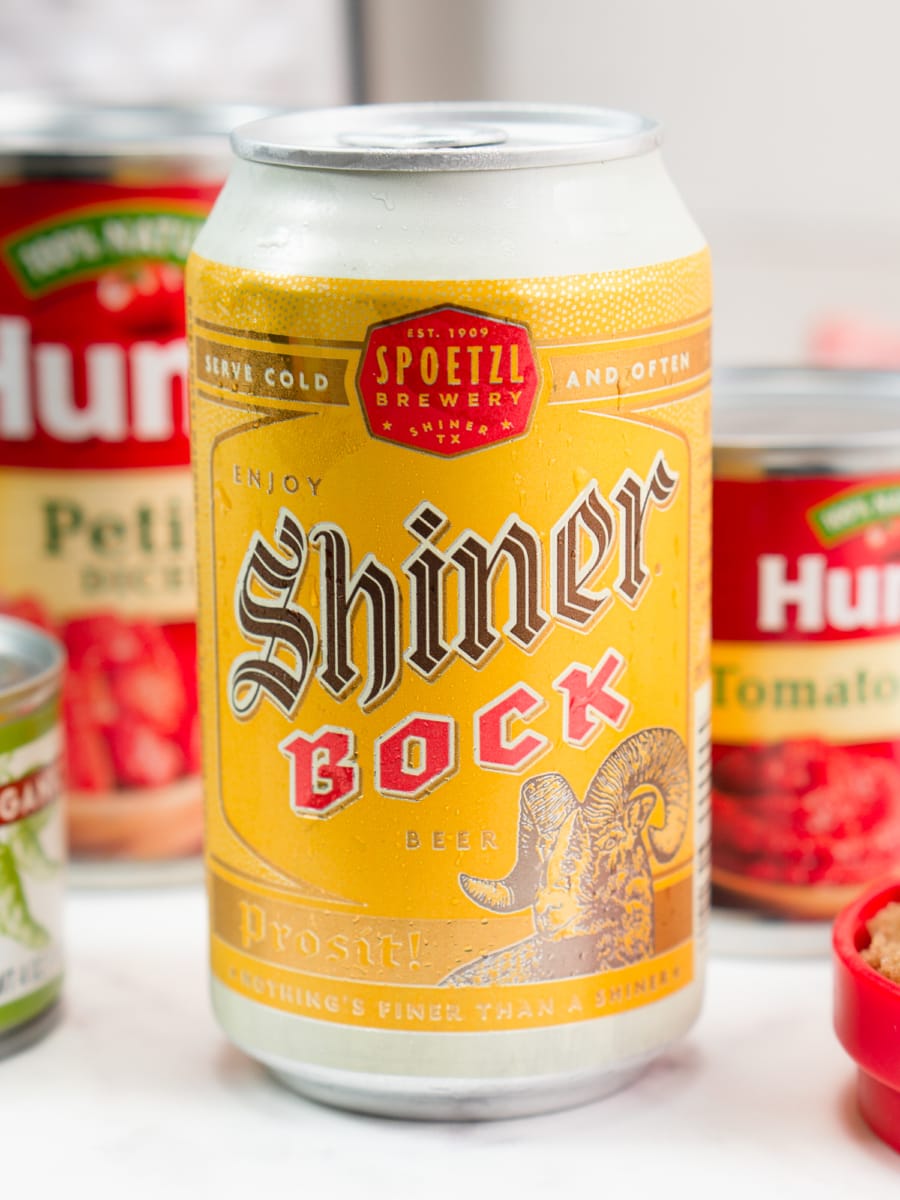 Ingredients for Carne Mechada
You know I like to keep things simple, and this one is as simple as they come. There are just a few ingredients you'll need for this recipe. But don't be fooled by the simplicity. When you're done, you'll have a delicious, juicy, tender shredded beef bursting with flavor. Here's everything you'll need:
Chuck Roast:

Chuck roast is perfect for making Carne Mechada because it's a tough cut that becomes incredibly tender when cooked properly. It's also pretty inexpensive, which makes it a great choice for budget-conscious families.

You'll need a 2 ½ to 3-pound chuck roast for this recipe.

Herbs & Spices: A mix of garlic powder, kosher salt, and black pepper is what you'll need to season the roast.
Tomato Sauce: The tomato sauce adds tanginess and moisture to the dish. It also thickens the sauce and binds the other ingredients together. Without it, the meat would be dry and bland. The recipe calls for one 8-ounce can.
Diced Tomatoes: Diced tomatoes add flavor and moisture to the meat and also help thicken the sauce. Make sure to select a quality brand of tomatoes. I usually prefer Muir Glen Organic Fire-Roasted Diced Tomatoes but have also used other brands. You will need a 14.5-ounce can for this recipe.
Diced Green Chiles: Green chiles add flavor and spice to the dish.

A 4-ounce can is all you need for the recipe.

Brown Sugar:

Tomato sauce can be acidic so brown sugar helps to balance out the acidity by adding a touch of sweetness. The sugar also enhances the natural flavors of tomatoes.

You'll need ¼ cup of brown sugar.
Beer:

Beer adds a depth of flavor that other liquids cannot replicate. The beer also helps to tenderize the meat, making it super tender and juicy.

You need one 12-ounce can of your favorite beer. I prefer using a dark lager or stout.
How To Make Carne Mechada In The Instant Pot
This easy dump-and-start recipe for Carne Mechada is made using the Instant Pot. You'll just dump a handful of ingredients into your Instant Pot and set it to cook. Before you know it, you'll have tender shredded beef ready to be served over rice, mashed potatoes, on a tortilla, or over nachos. I love how versatile this recipe is. Let's get started making it.
Step 1:

Gather The Ingredients

Start gathering and prepping the ingredients. Here's exactly what you'll need:
Chuck Roast: a 3 pound roast
To season the chuck roast:
Kosher Salt: 2 teaspoons
Black Pepper: 2 teaspoons
Garlic Powder: 1 teaspoon
To layer over the chuck roast in the Instant Pot:
Beer: one 12 ounce can
Diced Tomatoes: one 14.5 ounce can
Tomato Sauce: one 8 ounce can
Diced Green Chiles: one 4 ounce can
Brown Sugar: a ¼ cup
Step 2:

Season The Roast

Mix the kosher salt, black pepper, and garlic powder together in a small bowl. Sprinkle, and rub in, the seasoning mix evenly over both sides of the roast. Then place the roast inside the Instant Pot.
Step 3:

Add All The Remaining Ingredients

Dump the rest of the ingredients into the Instant Pot over the top of the roast. Add each ingredient in the order they are listed – beer, diced tomatoes, tomato sauce, diced green chiles, and brown sugar. Do not mix.
Step 4:

Cook The Roast

Once all the ingredients have been added to the pot, close it and set the pressure release valve to 'Sealing'.
Set the cooking time.
Set the Instant Pot to cook on 'Manual' or 'Pressure Cook', 'High Pressure' for 1 hour and 40 minutes, or 100 minutes.
Allow for a 25-minute natural pressure release.
Once the pot beeps and it's done pressure cooking, allow it to naturally release (NPR) for 25 minutes. After 25 minutes, press the 'Cancel' button and release any steam remaining in the pot. Once the pin drops, open the pot.
Step 5:

Shred The Meat

Once the roast is finished cooking, remove it from the Instant Pot and place it in a serving dish. Shred the roast with a pair of forks. The roast should be very easy to shred – practically falling apart.
Remove any fatty pieces.
Remove and discard any fatty pieces while you're shredding the meat. I use a pair of tongs to help pull the fat from the meat.
Step 6:

Add Some Liquid To The Serving Dish

Once the meat is shredded and the fat has been removed, pour some of the liquid from the pot over the meat. Add enough liquid to nearly submerge the shredded meat.
Step 7:

Serve And Enjoy Your Carne Mechada

I love how simple and delicious this recipe is. There is nothing better than a dump and start Instant Pot meal to help make dinnertime painless. The end result is a hearty and flavorful dish that everyone will devour. It's time to grab a plate and enjoy this tender and juicy shredded beef!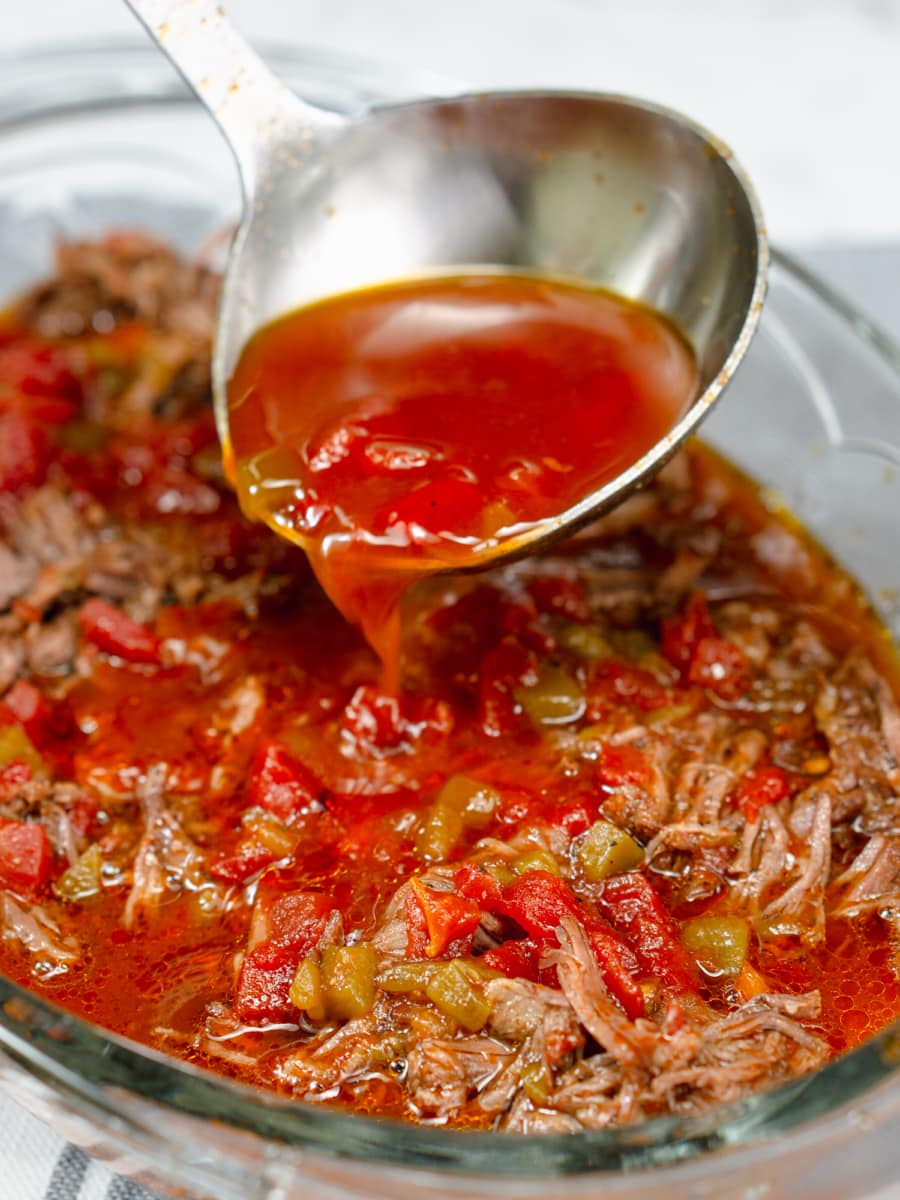 Substitutions for Carne Mechada
I anticipate that you'll have some questions about substitutions so I've answered some common ones below. If you have any other questions please leave them in the comments section at the bottom of this post.
what can I use instead of chuck roast?
Carne mechada is traditionally made with flank steak, skirt steak, or chuck roast. I prefer using chuck roast because it's economical and it comes out super tender and flavorful. That being said, you can substitute the chuck roast with a flank or skirt steak. Please note that cooking times will vary depending on the type and cut of meat you choose.
what can I substitute the beer for?
You can replace the beer with several things. My first recommendation would be to replace it with a good-quality chicken or beef broth. A full list of suggested replacements would include:
Beef, Chicken, or Vegetable Broth/Stock
Coca-Cola
Apple Juice
Pineapple Juice
Red Table Wine
Grape Juice
Water
Essential Items
Here are some essential prep tools, utensils, and appliances I used to make this recipe.
Featured Items
Here is a list of the products featured in this post or products similar to those featured in this post:
28 Must-Have Instant Pot Accessories
Make sure to check out my Ultimate List of Instant Pot Accessories! I've included everything you could ever need to help make your pressure cooking quicker, easier, and even more convenient.
Questions About Making Carne Mechada In The Instant Pot
Here are some of the most common questions I get asked about making this recipe. If you don't see your question below, feel free to visit the comments section to ask your question.
How long do I cook instant pot carne mechada?
Cooking Carne Mechada in the Instant Pot is a very easy and straightforward process. As mentioned above, chuck roast needs to be cooked for a long time to become tender and be easily shredded. I have found that cooking a 2-3 pound roast in the Instant Pot on high pressure for 100 minutes (1 hr 40 min), plus a 25-minute natural release gives me a perfectly tender, fall-apart roast.
Will the beer add alcohol to the Meat?
Generally, when beer or wine is used in cooking, the alcohol will cook off and there will be little to no traces of it left in the food. Of course, the amount of beer or wine that is used in the recipe and the cooking method will determine how much, if any, alcohol is left in the food after it's finished cooking.
For this particular recipe, since it only uses one can of beer and cooks for 100 minutes on high pressure, it is likely that all the alcohol is cooked off. Of course, you can always substitute the beer with one of my suggested substitutions above if this is something you're concerned with.
What are the benefits of making carne mechada in the instant pot?
The Instant Pot is a great way to make carne mechada. It's much faster than using the stove or the slow cooker. It also makes the roast incredibly tender and flavorful. The best thing about it is that you will only have one pot to clean. This is a "dump and start" recipe, so you simply put everything in the pot, set it, and that's it!
How can I eat carne mechada?
There are so many delicious ways to enjoy this recipe! Here are a few of my favorites:
Pabellon: Shredded beef, fried plantains, rice, and black beans.
With Arepas: Warm arepas stuffed with carne mechada.
Tacos: Add to a corn or flour tortilla, and top with cream and guacamole.
Breakfast Tacos: Eggs combined with carne mechada in a warm flour tortilla.
With Mashed Potatoes: Carne mechada served on top of a bed of mashed potatoes.
Quesadillas: Flour tortillas stuffed with carne mechada and shredded cheese, grilled on the stove.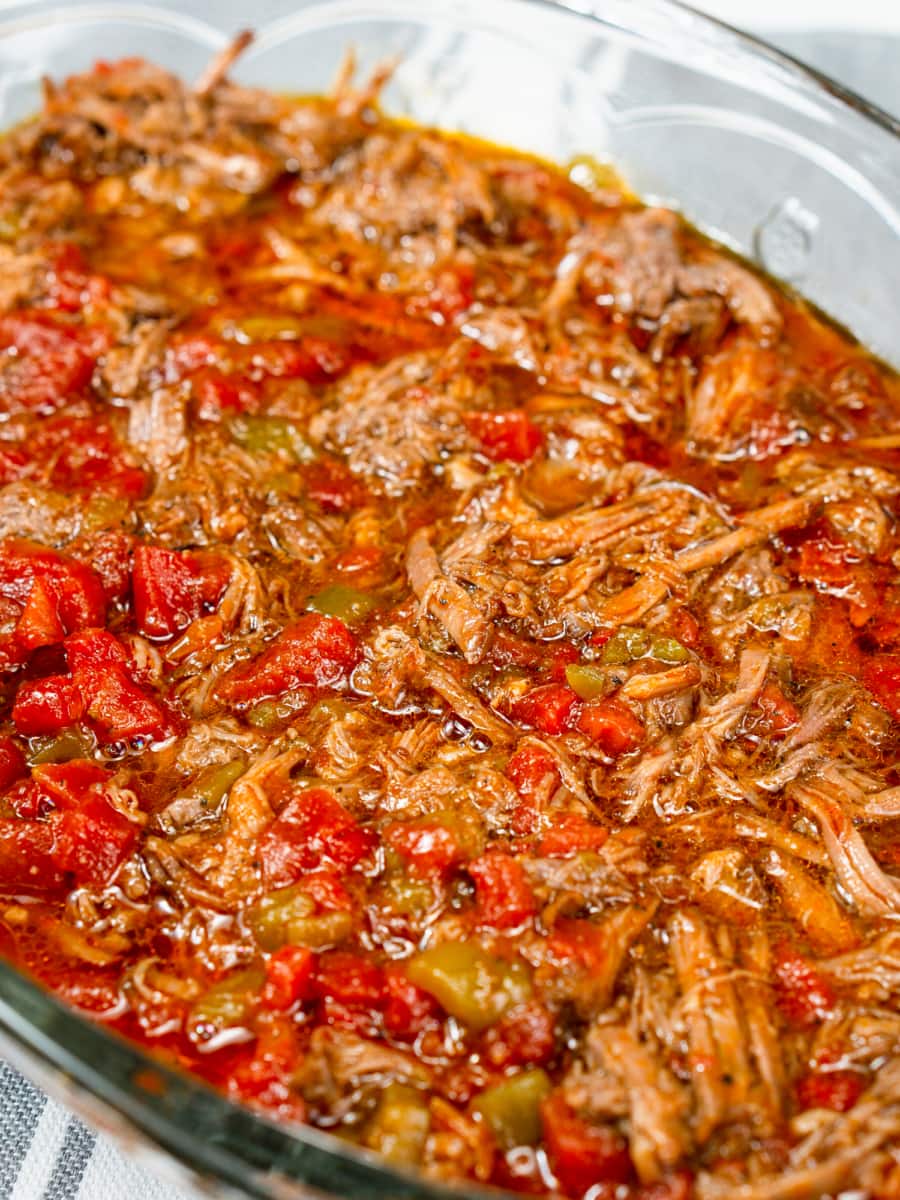 Storing and Reheating Carne Mechada
Storing and reheating Carne Mechada leftovers is easy and can be done in a few different ways. Here is everything you need to know about storing your leftovers safely and keeping them tasting great.
How long will carne mechada leftovers last?
Refrigerator: Carne Mechada will last in the fridge for 3-4 days. For storing in the refrigerator, place in a sealable glass or plastic container.
Freezer: Carne Mechada will stay fresh in the freezer for up to 2-3 months. When storing in the freezer use airtight freezer-friendly containers, resealable freezer bags, or a vacuum sealer. Before vacuum sealing, however, make sure to let your leftovers cool to room temperature.
How Do I Reheat Carne Mechada?
Here are some common and easy ways to reheat Carne Mechada:
Microwave: If you're crunched for time, you can microwave your Carne Mechada. Place the shredded beef with its juices on a microwave-safe plate or container. Loosely cover it and cook at 50% power for a minute at a time until the meat reaches your desired temperature. Times will vary depending on the amount of meat you are reheating, but it shouldn't take more than a few minutes.
Oven: Place the shredded beef along with its juices in an oven-safe baking dish and let it sit out at room temperature while you preheat your oven to 325°F. When the oven is ready, tightly cover the dish with foil and cook it for 10-15 minutes or until the meat is heated through. Reheat time will vary depending on the amount of meat you need.
Stovetop: You can also reheat the Carne Mechada on the stovetop. Place 2-4 cups of the shredded beef along with its juices in a large skillet and cook it over medium heat for 5-10 minutes, stirring occasionally, until the juices start to simmer and the meat is heated through.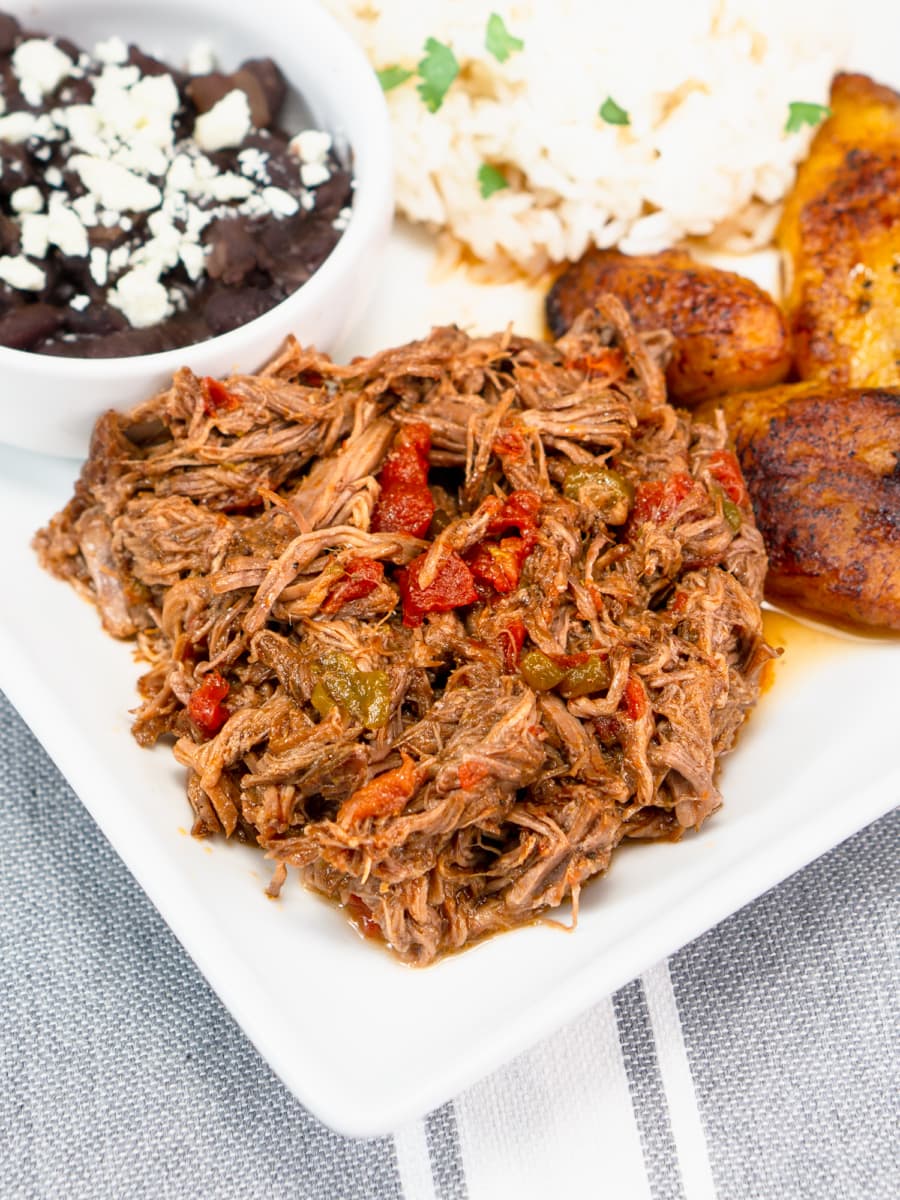 Did you make this recipe yet? I truly believe that this is the best Instant Pot Carne Mechada recipe out there because it's so simple and so incredibly flavorful! I know you will absolutely love it! Let me know in the comments section below how much you enjoyed it.
5-Star Rating: If you enjoyed this recipe, I'd appreciate it if you could give it a 5-star rating to show how much you loved it.
More Recipes for Shredded meat
Looking for more shredded meat recipes? Here are some of my favorite recipes for shredded beef, shredded pork, and shredded chicken. I know you will love them all:
Need a side dish for Carne Mechada? If you're looking for a perfect complement to this recipe, then try one of the following side dishes:
Instant Pot Carne Mechada
Tender Shredded Beef Simmered in a Flavorful Sauce Made From Tomatoes, Green Chiles, Herbs, and Spices
Total Time
2hours:10minutes
Looking for an easy and delicious Instant Pot recipe? Look no further than this Carne Mechada! This dish is made with shredded beef, tomatoes, green chiles, herbs, and spices, and it's perfect for a quick and hearty meal. Give it a try today!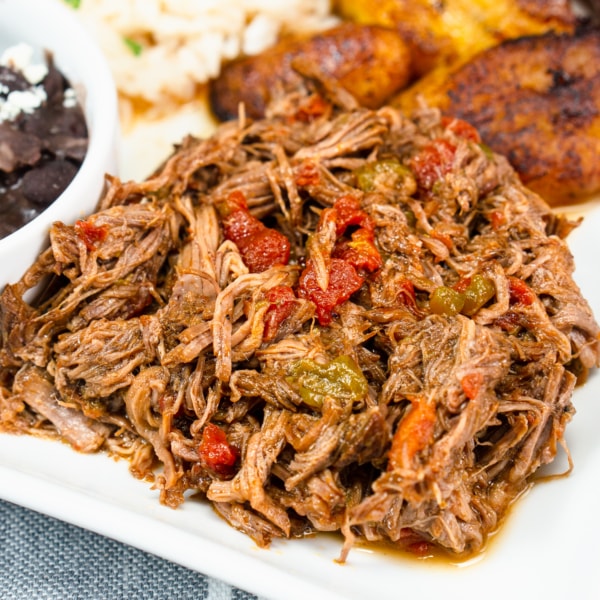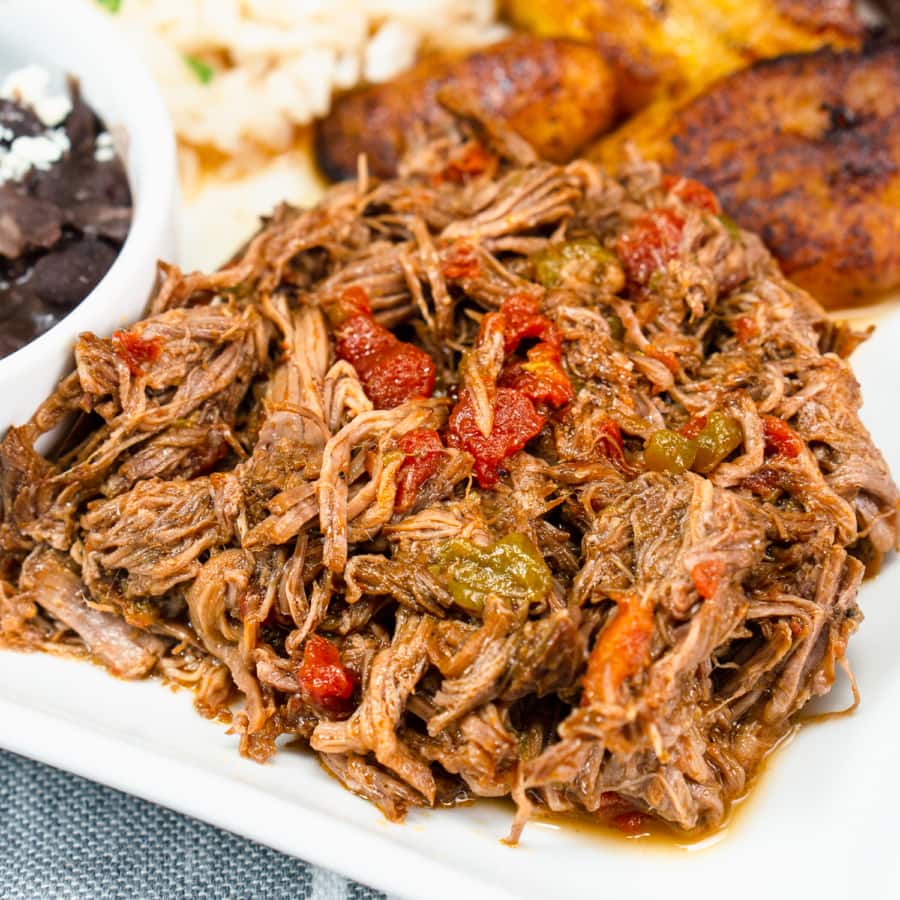 Instructions
Season Roast: Season chuck roast with salt, pepper, and garlic powder on both sides and place in Instant Pot.

Add Remaining Ingredients: Add the rest of the ingredients on top of the roast in the order listed – beer, diced tomatoes, tomato sauce, diced green chiles, and brown sugar. Do not mix.

100-Minute Cook Time: Close the Instant Pot, set the pressure release valve to 'Sealing' and set the pot to cook on 'Manual' or 'Pressure Cook', 'High Pressure' for 100 minutes (1 hour 40 minutes).

25-Minute NPR: Once the 100-minute cook time has completed, allow for a 25-minute Natural Pressure Release. When the 25-minute NPR has finished, release the remaining pressure and then open the pot.

Shred Roast: Move roast to serving dish and shred with two forks, discarding any fatty pieces. Once shredded, pour liquid from the pot over the meat until the meat is almost submerged.
Nutrition Facts
Calories: 391kcal | Carbohydrates: 17g | Protein: 35g | Fat: 20g | Saturated Fat: 9g | Polyunsaturated Fat: 2g | Monounsaturated Fat: 10g | Trans Fat: 1g | Cholesterol: 117mg | Sodium: 1136mg | Potassium: 1041mg | Fiber: 2g | Sugar: 12g | Vitamin A: 513IU | Vitamin C: 16mg | Calcium: 83mg | Iron: 5mg