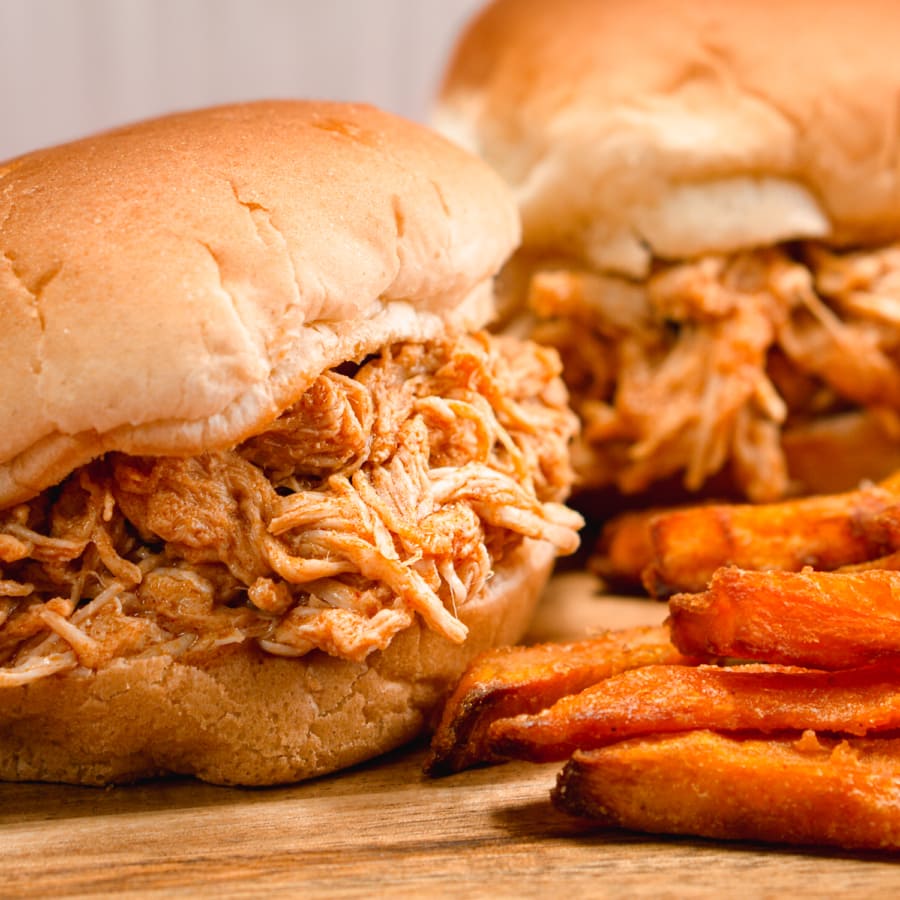 You are going to fall in love with this simple recipe for Slow Cooker Buffalo Chicken. With only two ingredients and virtually no prep, it's perfect for those days when you don't feel like spending all day cooking.
This post contains affiliate links. For more information, see my disclosure.
In this post, I'll go over the ingredients you'll need, as well as answer some questions you may have about making buffalo chicken in the slow cooker. I will also give you some ideas on how to use the shredded buffalo chicken. Spoiler alert… serve it up as sliders, over rice, or with a side of mashed potatoes for maximum yumminess. You are going to LOVE this recipe, so let's get to it!
Table of Contents
Ingredients for Buffalo Chicken
This Slow Cooker Buffalo Chicken recipe is as easy as they come! You only need two ingredients for this one. Here's what you'll need:
Boneless, skinless chicken breasts:

I like using boneless chicken breasts that are organic, which means they are fed with non-GMO feed. I prefer regular-sized breasts and not those

ginormous ones you find in some places. This ensures more even cooking.
Buffalo sauce: For this particular recipe, I recommend using Primal Kitchen No Dairy Buffalo Sauce (Get 10% Off By Using Code: ONEHAPPYHOUSEWIFE). It's made with avocado oil, and only a few other wholesome ingredients. It is the creamiest most delicious buffalo sauce! My entire family loves it, and it stands on its own, without having to add any other seasonings or ingredients like butter.
How To Make Buffalo Chicken In The Slow Cooker
You're about to make an easy and delicious meal for your family. In just a few simple steps, you will have a dish full of tender and flavorful shredded buffalo chicken ready for dinner. And everyone will love it! I'll provide all the information you need to make this dish successfully. Let's get started!
Step 1:

Gather The Ingredients

To make slow cooker buffalo chicken, you will need to gather the following ingredients:
Boneless Skinless Chicken Breasts: 5 to 6 breasts, fully thawed
Primal Kitchen Buffalo Sauce: One 16.5-ounce bottle or two 8.5-ounce bottles
Step 2:

Add The Chicken & Buffalo Sauce To The Slow Cooker

Lay the chicken breasts in the bottom of the slow cooker and pour the buffalo sauce over them, covering them entirely in the sauce.
Step 4:

Shred The Chicken

Once the cooking has completed, open the slow cooker and shred the chicken using a pair of forks.
Step 5:

Enjoy Your Buffalo Chicken

Enjoy your buffalo chicken on slider buns, tortillas, over a bed of rice, or however you prefer. There are a ton of different options for enjoying this tasty shredded chicken.
Substitutions and Additions for This Recipe
If you have questions about substituting or adding ingredients to my recipes, please read below. I have answered some questions I think you may have. If you have any others, please leave them in the comments section at the bottom of this post.
can I use boneless chicken thighs?
You can use boneless thighs instead of breasts in this recipe. My family prefers white meat for most recipes, but this is an easy substitution that won't affect the recipe negatively.
can I use another buffalo sauce?
You can definitely use your favorite buffalo sauce instead of the one I suggested. I do insist that you try the Primal Kitchen one though. Don't let the fact that it's 'No Dairy' keep you from trying it. It is incredibly flavorful, super creamy, and contains only a few wholesome ingredients. You won't be disappointed!
can I add ranch seasoning?
You can add a packet of ranch seasoning mix to this recipe if you'd like. I recommend trying it as is first, but if you must, then go for it. What we like to do, is add ranch sauce to individual sliders before eating them.
can I use frozen chicken breasts?
I highly recommend thawing your frozen chicken breasts the night before or using fresh chicken for this recipe. The USDA recommends against using frozen chicken in a slow cooker.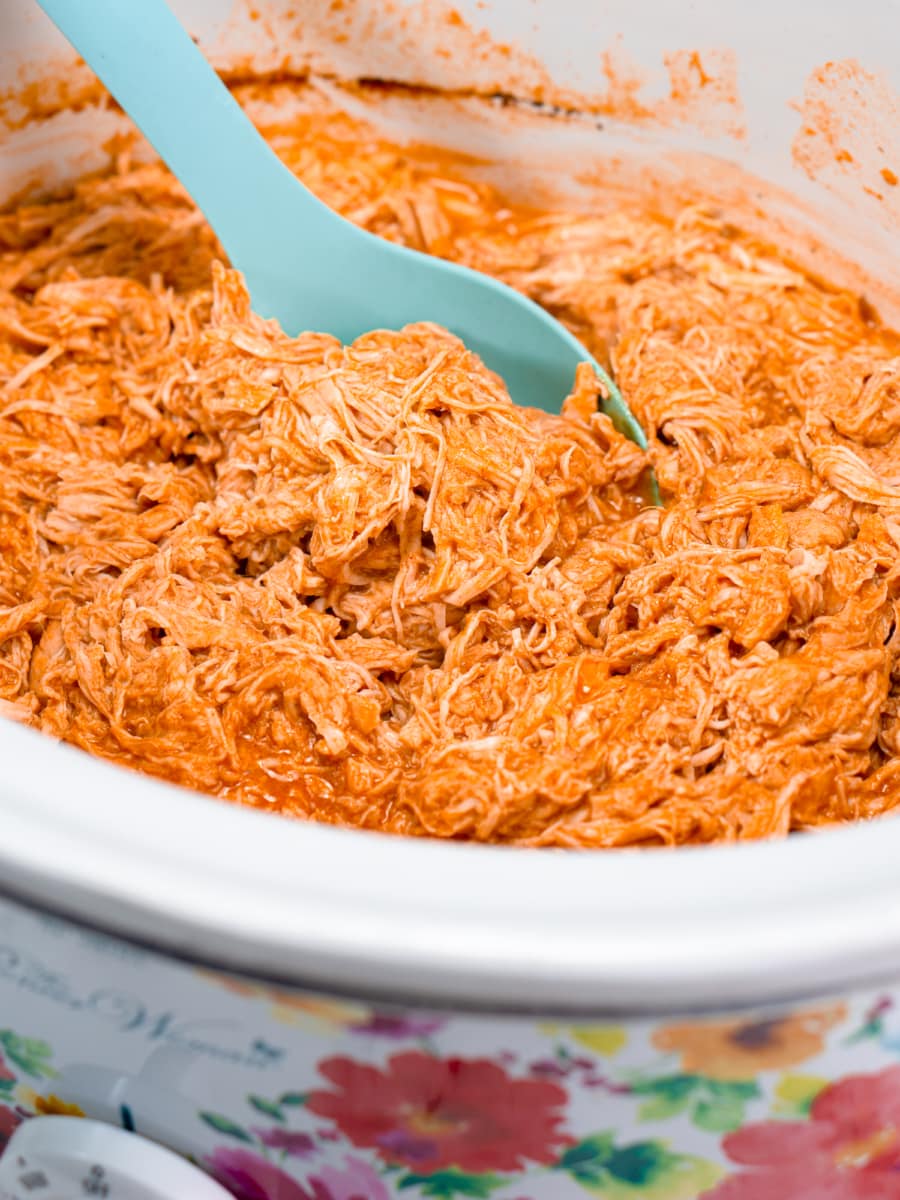 Essential Items
Here are some essential prep tools, utensils, and appliances I used to make this recipe.
Appliances & Cookware
These are the appliances and cookware that I used to make this recipe:
Featured Items
Here is a list of the products featured in this post or products similar to those featured in this post:
Common Questions About Making Buffalo Chicken
how do I store shredded buffalo chicken?
You can store your cooked and shredded buffalo chicken in an air-tight container in the refrigerator. You can also freeze the shredded chicken for later use.
how do I reheat the chicken?
The easiest way to reheat this shredded chicken is in the microwave. Place the amount you need on a microwave-safe plate or container and heat it up for 30 seconds to a minute and a half, depending on how much chicken you need.
what does buffalo chicken taste like?
If you have never tried buffalo chicken or buffalo sauce for that matter, you're in for a treat! Buffalo sauce is spicy, tangy, and delicious! It has cayenne peppers for a nice kick. You can tone down the spiciness by topping it with ranch dressing, blue cheese dressing, or even blue cheese crumbles. If blue cheese is not your cup of tea, you can use crumbled feta.
how to use shredded buffalo chicken
There are so many possibilities with this recipe! Here are a few of my favorite ways to enjoy this Buffalo Chicken:
Sliders
Nachos
Salad
Pizza
Over rice or mashed potatoes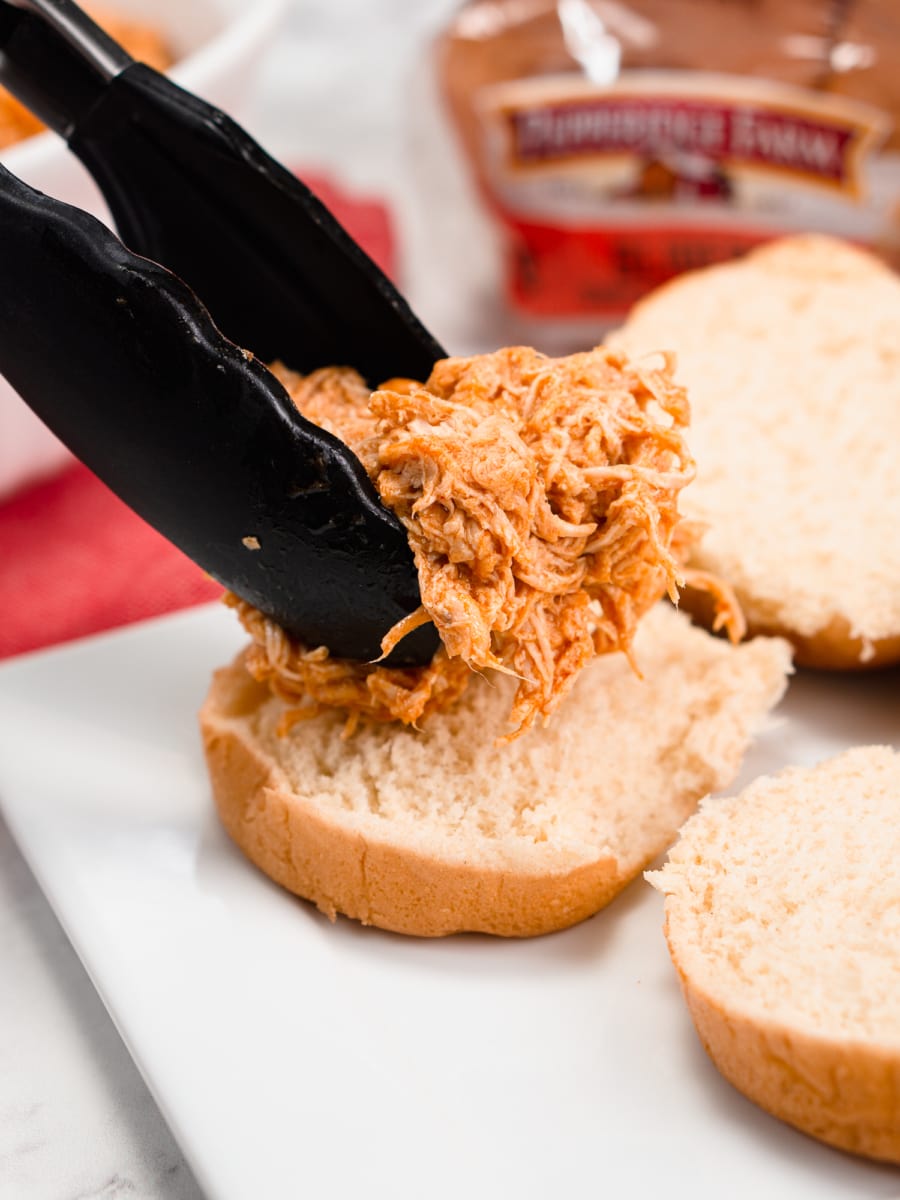 IT'S YOUR TURN TO MAKE THIS slow cooker buffalo chicken!
Did you make this Slow Cooker Buffalo Chicken? I truly believe that this is the best Buffalo Chicken recipe out there, and I know you will absolutely love it! Let me know in the comments section below when you make this recipe and how much you enjoyed it.
5-Star Rating: If you loved your Buffalo Chicken, I'd appreciate it if you could give this recipe a 5-star rating to show how much you loved it.
MORE RECIPES
Looking for more easy recipes similar to this one? Here are some that I know you'll love:
Slow Cooker Buffalo Chicken
Tender Shredded Chicken In A Tangy Buffalo Sauce
Total Time
4hours:3minutes
This combination of tender and juicy shredded chicken smothered in creamy buffalo sauce is irresistible. The best part is that it's so easy to make in the slow cooker. This recipe is perfect for busy families who want a delicious meal without spending hours in the kitchen.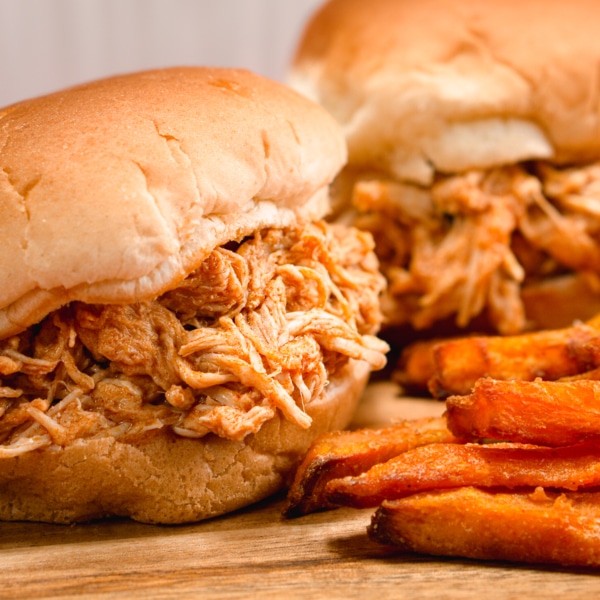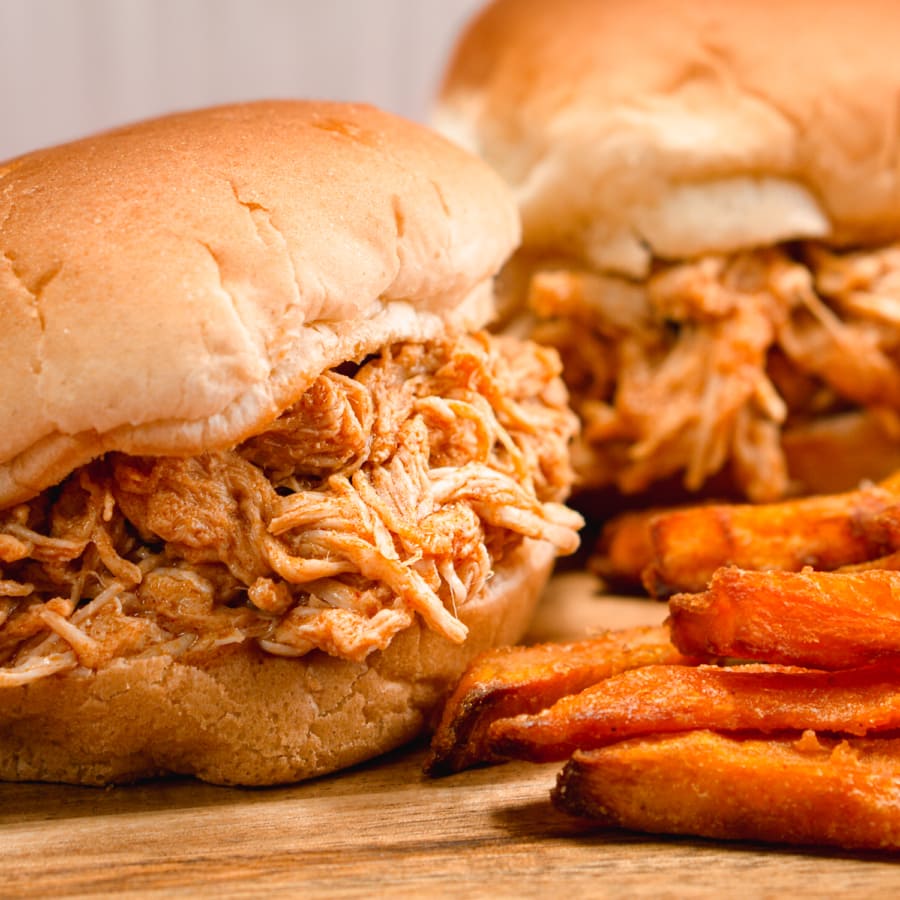 Instructions
Place chicken breasts in slow cooker.

Cover chicken entirely with buffalo sauce.

Set the slow cooker to cook on 'High' for 4 hours.

Shred and mix.

Serve on slider buns, tortillas, over rice, or however you like. Enjoy!
Nutrition Facts
Calories: 81kcal | Protein: 10g | Fat: 4g | Saturated Fat: 1g | Polyunsaturated Fat: 1g | Monounsaturated Fat: 2g | Trans Fat: 1g | Cholesterol: 30mg | Sodium: 32mg | Potassium: 104mg | Vitamin A: 39IU | Calcium: 5mg | Iron: 1mg