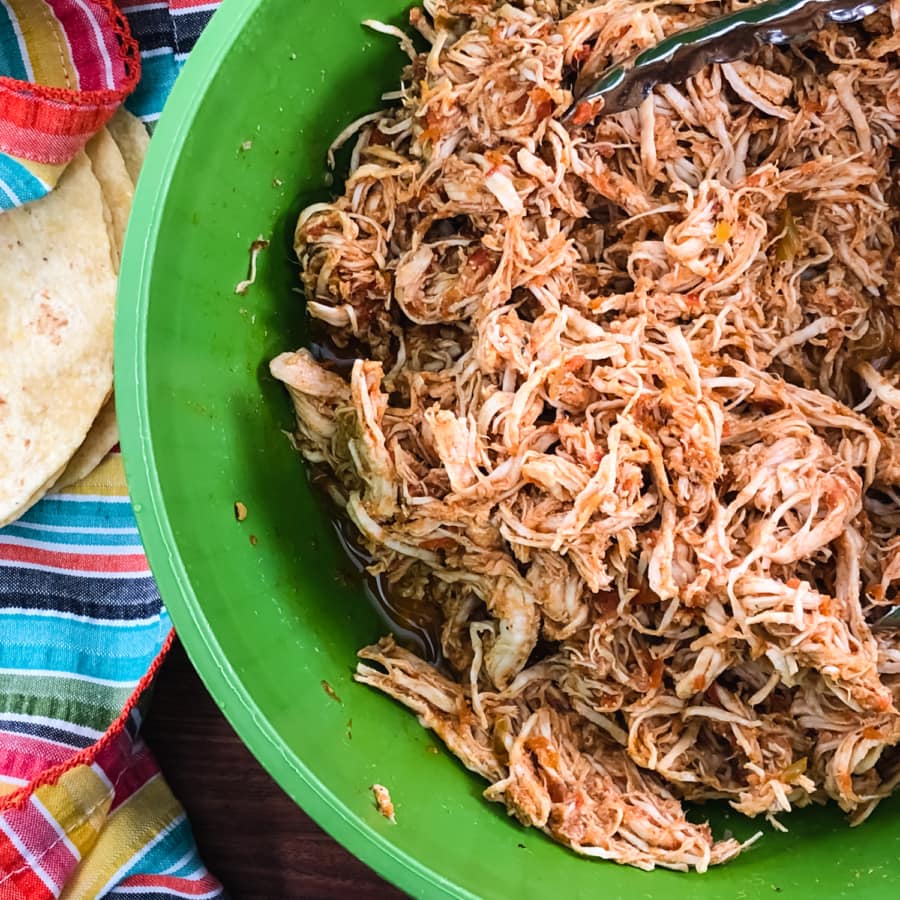 If you have an Instant Pot you've certainly heard everyone talk about salsa chicken. You're probably wondering "What is salsa chicken and how can I make it in my Instant Pot?" Well, wonder no more. I'll walk you through one of the easiest and most versatile meals you can prepare in your Instant Pot.
This post contains affiliate links. For more information, see my disclosure.
Salsa Chicken is actually the very first thing I made in my Instant Pot when I got it several years ago. I asked a friend for the easiest thing to make in the Instant Pot and Salsa Chicken is what she recommended. I used frozen chicken breasts and was amazed at how easy it was! You can visit my Instant Pot Chicken Tacos post and see my first meal in the Instant Pot.
So, What Exactly Is Salsa Chicken?
Salsa Chicken is exactly what it sounds like. Chicken with salsa! All you need is chicken breasts, a jar of salsa, and a few spices and you'll have a nice pot of shredded chicken that can be used in so many ways.
The best part about this recipe is that you probably always have the ingredients on hand. Plus, you can use this salsa chicken as a base for an almost unlimited number of easy dinnertime meals. What other recipe can give you so much with so little?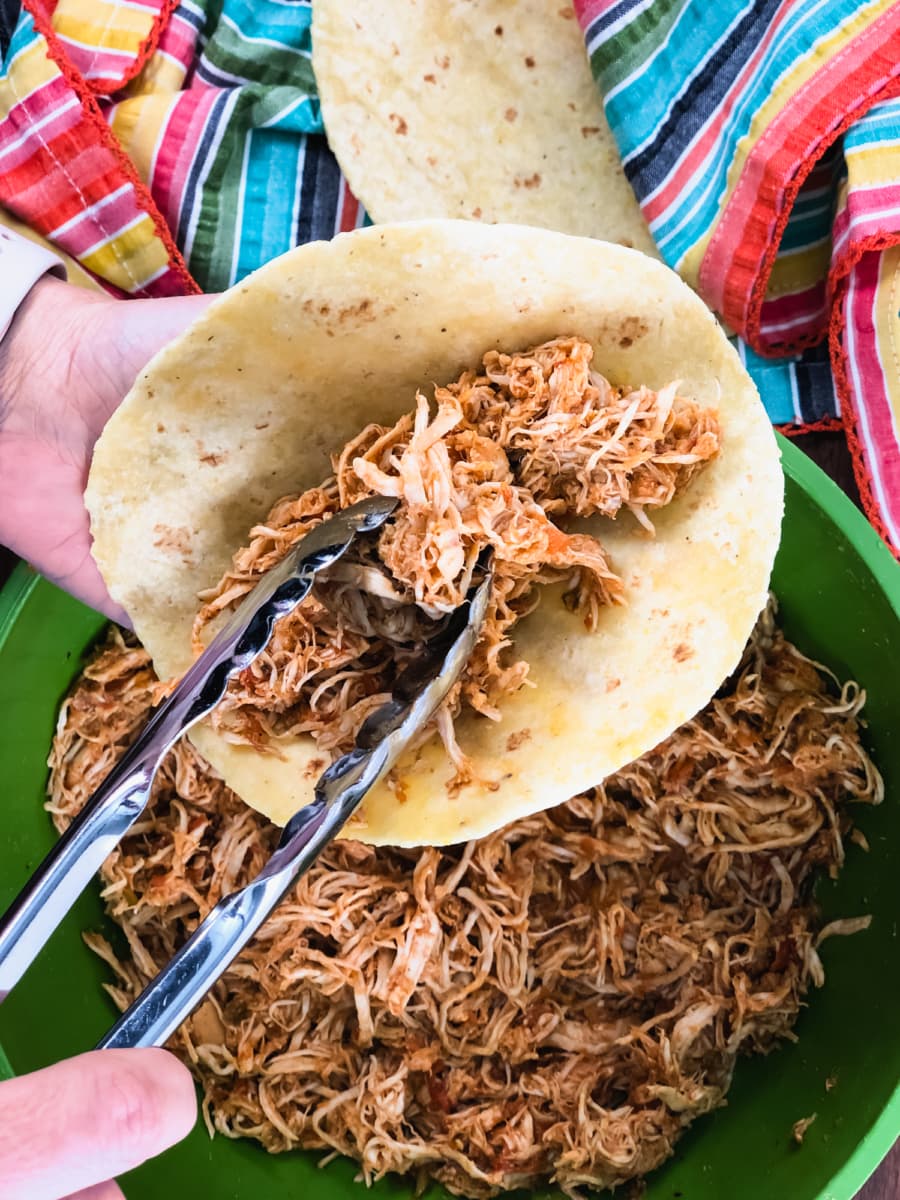 In the recipe card below you can read all my suggestions for how to serve Salsa Chicken. But just to give you an idea, you can make tacos, nachos, quesadillas, burritos and so much more!
An Easy Meal For Busy Days
I know how it goes… You've been running around all day, from this place to that place. Shuffling kids back and forth to and from school and activities. Grocery shopping… Paying bills… Cleaning house… etc. etc…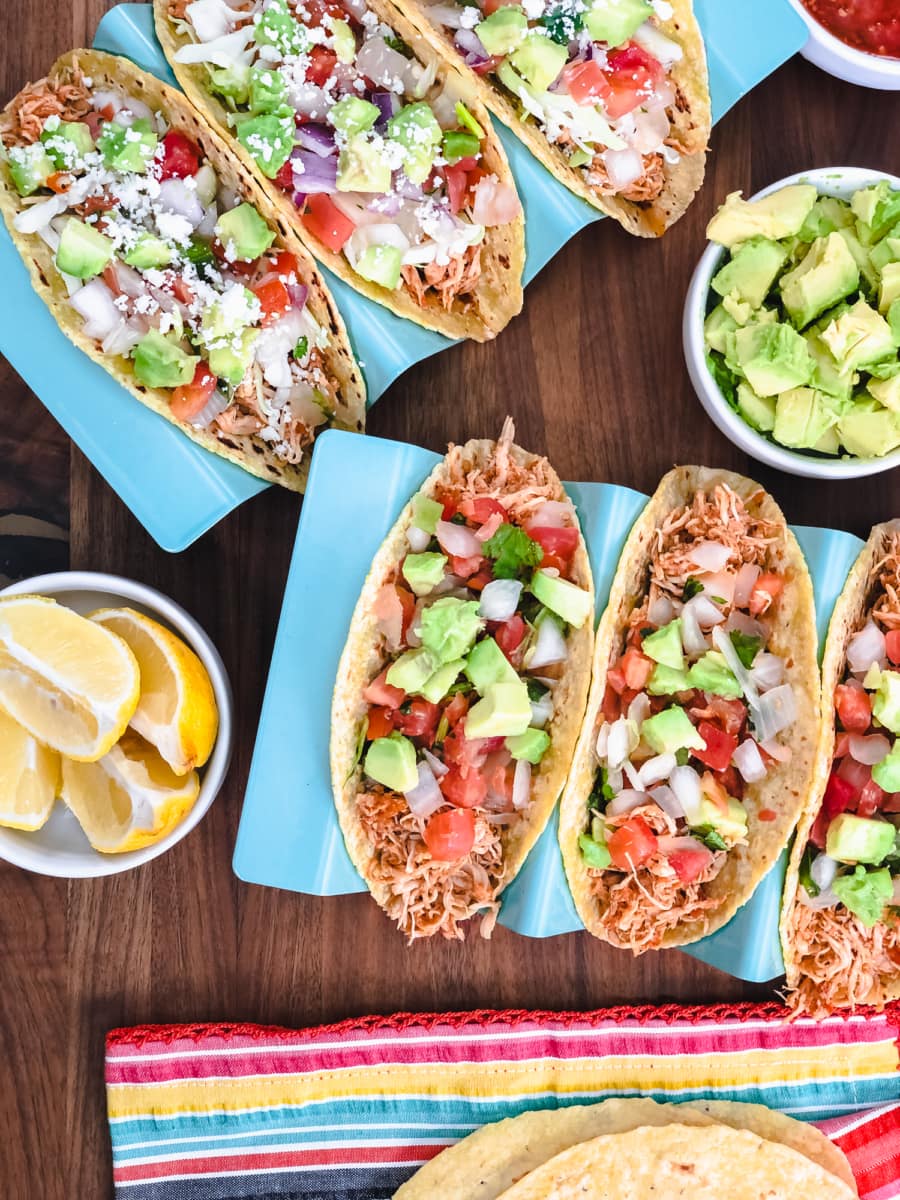 Once the end of the day rolls around, you're exhausted. And, by the time the whole family is back home, settled in, and ready for dinner, the last thing you want to do is spend a lot of time in the kitchen trying to put together dinner. You need something easy that can be ready in no time. This Instant Pot Salsa Chicken recipe is here to save your day! It's so fast and so easy that you'll regularly come back to this recipe on those crazy weeknights.
Ingredients for Salsa Chicken
This recipe uses super simple ingredients that you likely already have in the pantry and refrigerator. Chicken, salsa, and a few spices. Really, that's all you'll need. Here's a breakdown of all the ingredients with some additional useful information:
Boneless, Skinless Chicken Breasts: The recipe calls for 4 boneless, skinless chicken breasts. I always try to pick out a medium to large-sized chicken breasts at the supermarket. I avoid those super giant breasts that look like they've been pumped full of hormones and sodium solutions. These enormous breasts take forever to cook through.
Salsa: One jar of your favorite salsa is all you'll need. If you're like us, you likely always have a jar of salsa in the pantry. We like to use a very flavorful salsa for this recipe and have found that Mateo's Gourmet Salsa really packs a punch. When the entire family (included little ones) will be eating from the chicken, I'll use the mild version but when it's just me, my hubby, and the older kids, we always go for the Habanero Hot.
Chili Powder, Cumin, and Ground Black Pepper: You don't have to use these spices, but I feel that they amp up the flavor that much more. The chili powder and cumin really add a flare of Tex-Mex.
See, I bet you already have these ingredients.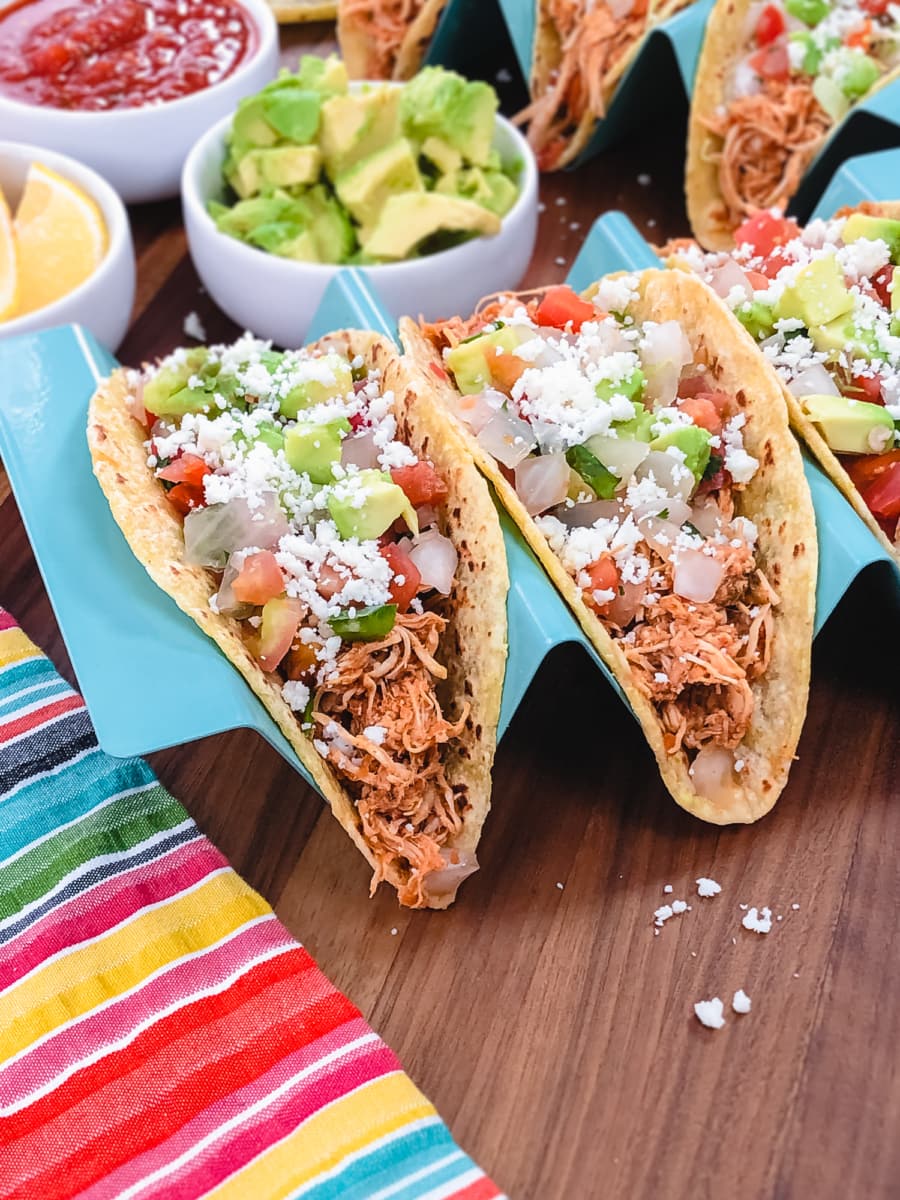 Frequently Asked Questions About Salsa Chicken
I love this recipe because it's crazy easy. It's a true dump-and-start recipe and is hard to mess up. However, just like with any recipe, I know that you may have a few questions. Here, I will answer the questions that readers have already asked and questions that you're likely to have about this Instant Pot Salsa.
What Kind of Salsa Is Best for Salsa Chicken?
The beauty of Salsa Chicken is you can use your favorite salsa. The only thing I would tell you to be aware of is you don't want to use a salsa that is mostly chunky with no liquid. The salsa is the only liquid you will be using in this recipe so you want to make sure it's not too thick. Our favorite salsa to use when we make Salsa Chicken is Mateo's Gourmet Salsa.
Should I Use Frozen or Thawed Chicken Breasts for Salsa Chicken?
You can use either frozen or thawed chicken breasts when you make Salsa Chicken in the Instant Pot! This recipe I usually make with thawed, but once in a while I'll throw some frozen breasts in the pot and make it that way.
Technically, you can use the same cook time for either frozen or thawed chicken. The only difference is your pot will take longer to come to full pressure when using frozen.
Does Salsa Chicken Freeze Well?
Another great thing about Salsa Chicken is it freezes well. You can make a big batch and separate it into smaller portions and freeze them. The problem I have in my house is with 7 people, we never have leftovers so there's never anything to freeze!
Is There an Easy Way to Shred the Chicken?
Yes, there is! I used to dread shredding chicken but that is no longer the case. Some genius figured out you can shred chicken with a hand mixer! Game changer! It is so incredibly easy to simply shred the chicken while it's still in your Instant Pot.
My only recommendations are to wait for a bit for the chicken to cool down and when you first start the mixer, start it at a slower speed and gradually move it up. You don't want chicken flying everywhere!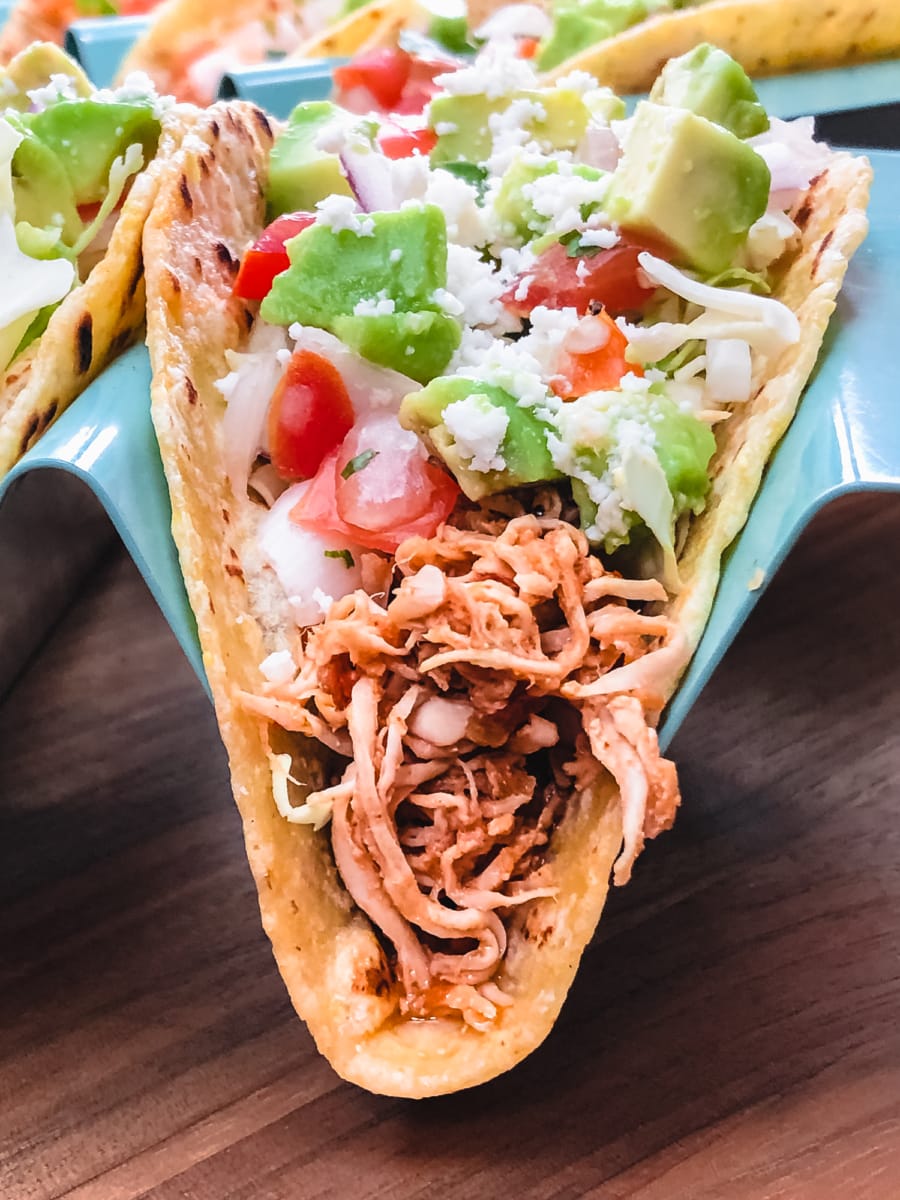 Substitutions for Salsa Chicken
I get tons of great questions about substitutions for my recipes. So, I'd like to address the most likely questions you'll ask about substitutions for this Salsa Chicken recipe. If there is a question that I've missed, ask it in the comments section at the bottom of this page.
Do I Have To Use Chicken Breast?
No, you don't. You could also make this recipe using boneless, skinless chicken thighs. That will make a much tastier salsa chicken. Plus, you'll probably be able to pick up a pack of chicken thighs at a better price. Even so, I like to stick with the chicken breasts because they are lighter and the ingredients in this recipe add plenty of flavor to the meat.
Can I Use Any Salsa?
Yes, as long as it's 16 ounces. I might not recommend an avocado based salsa, but any red or green salsa will work perfectly.
Do I Have To Add The Spices?
No, you don't. I do feel that the spices add some good additional flavor to the chicken, but if you're in a hurry or don't have one of the spices on hand, you can skip them. The chicken will still have great flavor and will be perfect for serving on tacos, sandwiches, and more.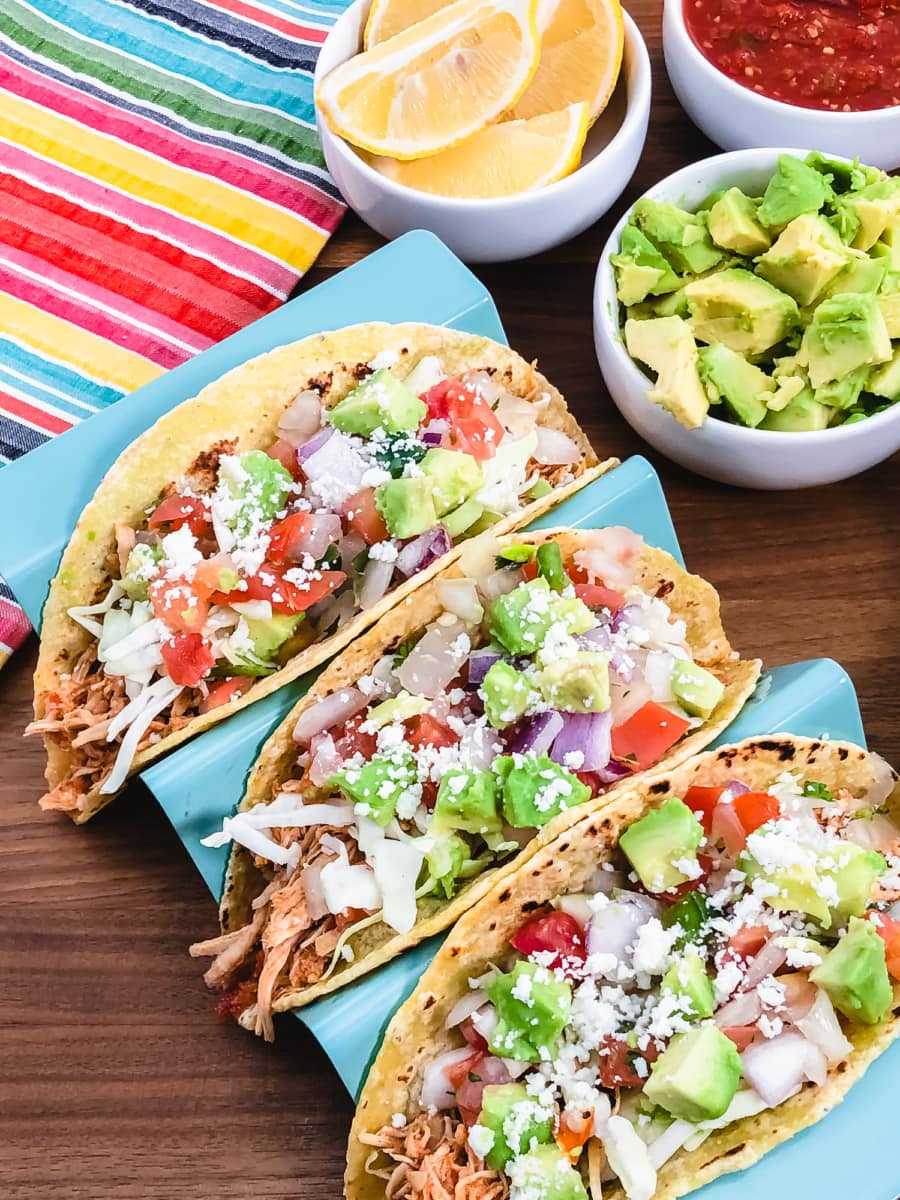 Essential Items
Here are some essential prep tools, utensils, and appliances I used to make this recipe.
Featured Items
Here is a list of the products featured in this post or products similar to those featured in this post:
23 Must-Have Electric Pressure Cooker Accessories
Make sure to check out my Ultimate List of Electric Pressure Cooker Accessories! I've included everything you could ever need to help make your pressure cooking quicker, easier, and even more convenient.
How To Make Instant Pot Salsa Chicken
Whether you're an Instant Pot beginner or you just like to follow visual step-by-step instructions, here you'll find detailed instructions along with some other great tips and suggestions.
This is one of those recipes that you will always keep in your back pocket, ready to use on those days when you just don't have a lot of time to spend cooking in the kitchen. Or, maybe you have the time, but you're not in the mood to spend a lot of time in the kitchen. That happens too! Well, this recipe is here to save you on those days. Let's get started making this easy Instant Pot dump meal.
Step 1: Gather the Ingredients
Gather all the ingredients together. You'll likely already have most, if not all, of these ingredients in your pantry and refrigerator already. Here's what you'll need:
4 large boneless, skinless chicken breasts
1 jar of salsa, 16 ounces
1 tablespoon of chili powder,
1 teaspoon of ground cumin
½ teaspoon of ground black pepper
½ teaspoon of kosher salt
Step 2: Add the chicken to the pot
First, add the four chicken breasts to the Instant Pot. I use a pair of tongs when handling raw chicken because I hate touching it with my bare hands. It's just too slimy and gross for my liking 🙂
Step 3: Add the salsa
Next, take your jar of salsa and dump it into the pot on top of the chicken breasts. This will be all the liquid that you will add to the pot. Don't worry, you won't get a burn message. As the chicken heats up, it also releases a lot of liquid. With the juices released from the chicken plus the salsa, there will be more than enough liquid in the Instant Pot.
Step 4: Add the spices
Now it's time to add the chili powder, cumin, ground black pepper, and salt to the pot. Just sprinkle them over the salsa in the pot. There is no need to mix anything. All the ingredients will mix as the chicken cooks in the pot.
Step 5: Close the pot and set the cook time
Place the lid on the pot, close it, and then set the pressure release valve to "Sealing". Set the Instant Pot to cook for 10 minutes on "Manual" / "Pressure Cook", "High Pressure".
Step 6: Perform a 5-minute natural pressure release
Once the cooking time has completed, allow for a 5-minute natural pressure release, and then release any remaining pressure from the pot. Once all the pressure has been released, open the pot and then let the cooked chicken breasts sit for about 5 to 10 minutes before attempting to shred them. This will give the liquid in the pot a chance to stop boiling and allow the chicken breast to cool down a little. Otherwise, you can end up burning yourself when shredding the chicken.
Step 7: Shred the chicken
Using a hand mixer set to medium speed, slowly begin shredding the chicken. Once about half of the chicken has been shredded, you can adjust the speed on the hand mixer higher to speed up the process. Continue shredding the chicken until all the breasts are fully shredded and there are no longer any large pieces of chicken left in the pot.
Serve and Enjoy Your Salsa Chicken
See, that was super fast and simple. Now it's time to serve up this salsa chicken however you like. And that's the wonderful thing about this chicken. There are so many ways to serve it. On those crazy nights where I'm really in a rush, we'll usually serve it up on warm tortillas with some pico de gallo and cheese.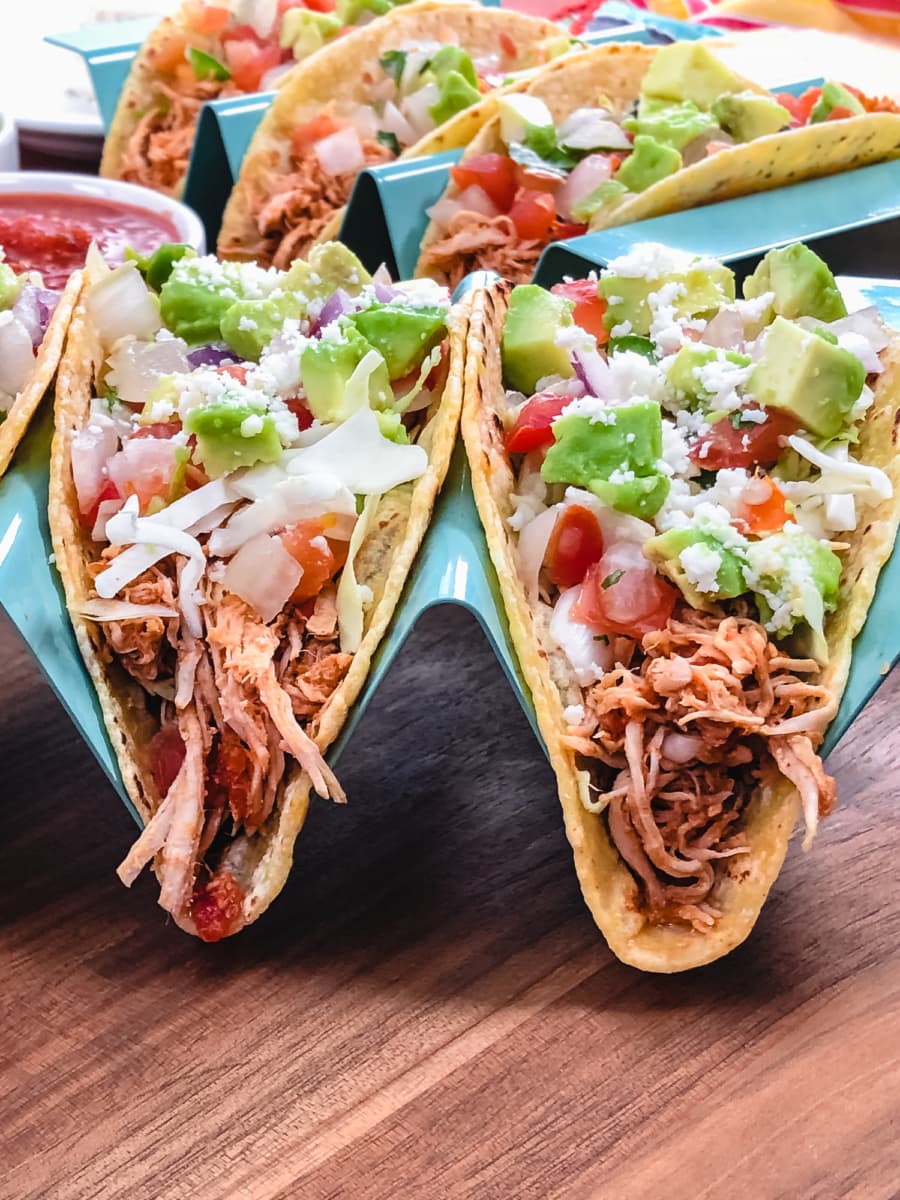 Did you make this Instant Pot Salsa Chicken? I know you will find this recipe easy, quick, and delicious! Your family will love all the different things you can make with it! It really has saved me on so many nights when I didn't know what to make for dinner. I'd love to hear in the comments when you try it.
MORE INSTANT POT RECIPES
This Salsa Chicken recipe is an incredible option for weeknights when you need something fast and easy to serve for dinner. I have so many more simple and delicious recipes for the Instant Pot. Here are some of my reader's favorites.
More dump-and-start pressure cooker recipes you'll enjoy:
Looking for chicken recipes to make in the Instant Pot? If you want a chicken recipe that will leave everyone asking for more, try my Instant Pot Tuscan Chicken Pasta recipe. Another chicken recipe that's loved by many of my readers is my Instant Pot Chicken Soup. This soup is made using a whole chicken and lots of wholesome vegetables and herbs. It's so comforting and flavorful.
For a full list of all the pressure cooker chicken recipes on this blog, check out my Instant Pot Chicken Recipes post.
Instant Pot Salsa Chicken
CHICKEN BREASTS, SALSA, AND A BLEND OF SPICES
This quick and easy Instant Pot dump meal is so delicious and so versatile. Just dump all the ingredients in the pot and within minutes, you'll have dinner served.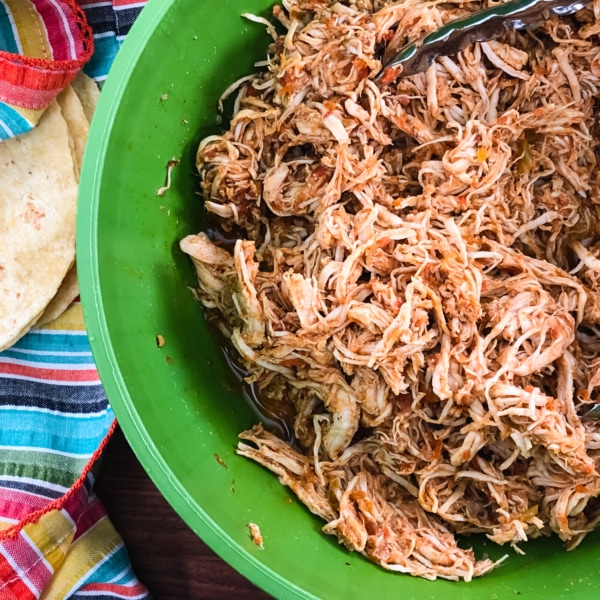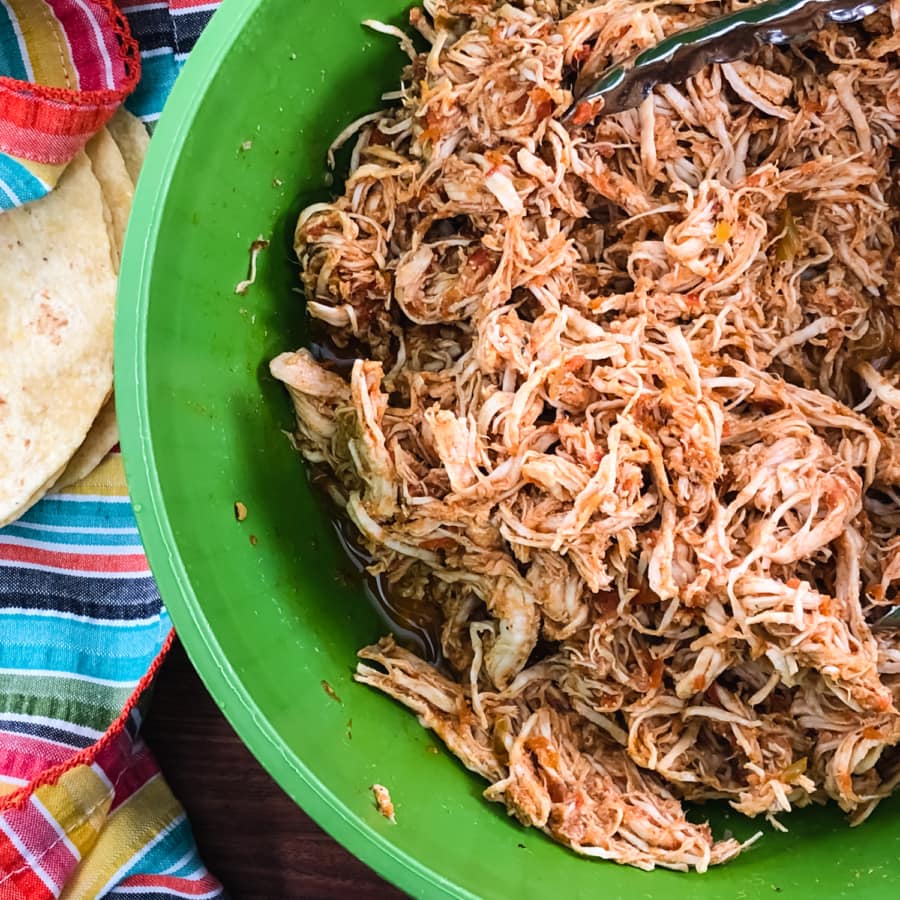 Instructions
Add the chicken breasts to the pot and dump the salsa and spices on top of the breasts.

Close the pot and set it to cook on 'Manual' / 'Pressure Cook' for 10 minutes and allow for a 5-minute natural pressure release (NPR).

Release any remaining pressure, open the pot and allow the cooked chicken breasts to sit for 5 minutes before shredding.

Use a hand mixer set to medium speed and begin shredding the chicken. Once some of the chicken has shredded, you may wish to adjust the mixer to medium-high for quicker and more complete shredding.

Serve and enjoy.
Nutrition Facts
Serving: 0.5cup | Calories: 119kcal | Carbohydrates: 3g | Protein: 20g | Fat: 2g | Cholesterol: 57mg | Sodium: 554mg | Potassium: 482mg | Fiber: 1g | Sugar: 1g | Vitamin A: 480IU | Vitamin C: 2mg | Calcium: 23mg | Iron: 0.8mg
Notes
Start slow. You'll want to start shredding with the hand mixer on medium speed or lower. Otherwise, you'll have pieces of chicken flying all over the place. Once about half of the chicken breasts have been shredded on the lower speed, you can then adjust the mixer speed up to a higher setting to speed up the process.
Chicken breast cook times can vary. I cook the chicken breasts for 10 minutes and allow for a 5-minute natural pressure release. This should be long enough to cook even the thickest breasts all the way through. For thinner breast, you may wish to reduce the cook time to maintain juiciness. Since chicken breasts come in all different sizes and thicknesses, it's always safest to use an instant-read thermometer to ensure that the internal temperature has reached 165°Fahrenheit.
So many ways to serve. What I love most about this salsa chicken is that it is so versatile. You can use it in an endless number of dishes. Make sure to check out my serving suggestions below for a handful of ideas.
Freezer friendly. This shredded salsa chicken is a perfect freezer food. You can make a batch or two in the Instant Pot and then divide it up in quart-sized or pint-sized freezer bags and freeze for later.
Juicier, tastier, cheaper. If you want a juicier, more delicious salsa chicken, then use boneless, skinless chicken thighs. Not only will the dark meat of the thighs make this salsa chicken tastier but they are usually cheaper than boneless, skinless chicken breasts. The only caveat – chicken thighs have much more fat and calories.
Tips & Tricks
Choosing a salsa. I recommend just going with your favorite salsa. We use Mateo's Gourmet Salsa because it's very flavorful. We get the Mild version when making salsa chicken for the whole family. On special occasions when it's just me, my hubby and the older boys, we'll go for the Habanero Hot version.
Serving Suggestions
Chicken tacos. This is our favorite way to serve this salsa chicken. It's so perfect for tacos. We'll serve it on hard taco shells or warm up some corn or flour tortillas to serve it on. We'll also make sure and prep all the fixings like shredded lettuce or cabbage, pico de gallo, cilantro, avocado, cotija cheese, and a few wedges of lemon.
Chicken quesadillas. Add the salsa chicken and a handful of Mexican style shredded cheese on half of a tortilla. Fold the tortilla over and then cook over medium heat on a lightly oiled skillet until the cheese has melted and each side of the tortilla is lightly browned.
Cheesy chicken nachos. Layer tortilla chips, salsa chicken, black beans, jalapenos, and pico de gallo on a baking sheet. Cover generously with shredded Monterrey Jack or Colby Jack and place in a 350° oven for 10 minutes or until the cheese is nicely melted.
Serve over rice. This chicken is perfect served over a bed of warm rice. This makes for a perfect light lunch.
Add it to a soup. This chicken is perfect for adding to a chicken tortilla soup or a chicken chili. Cook your soup as usual and just throw in the shredded chicken at the end.
Add to a salad. Make an awesome Southwest Salad by adding some of this chicken on top of a bed of lettuce with some black beans, corn, shredded cheese, and tortilla chips. Top with a Ranch or Southwest dressing.
Bowls, burritos, and fajitas. Just throw some of your favorite Tex-Mex ingredients in a bowl or wrap them up in a flour tortilla for a burrito or fajita. Makes a great school lunch or lunch on-the-go.