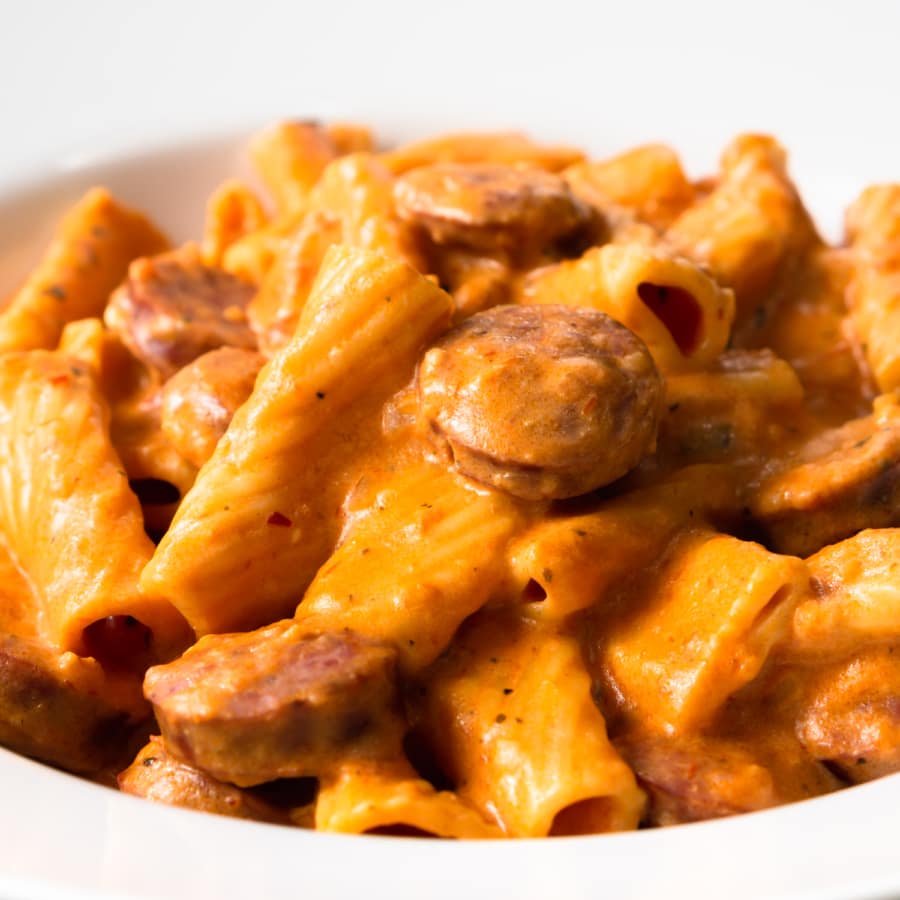 SAVE THIS RECIPE
This Instant Pot Cream Cheese Pasta with Sausage is so easy to make! It's a dump-and-start recipe, so the only prep will be to slice some sausage and gather the rest of the simple ingredients. You'll have a creamy and oh so delicious pasta dish that will be ready in no time and your entire family will love it!
This post contains affiliate links. For more information, see my disclosure.
If you're new to pressure cooking, or cooking in general, take a few minutes to read all my notes below. I will answer questions you probably will have about making this and other recipes in your Instant Pot. Let's get right to this delicious Instant Pot pasta recipe!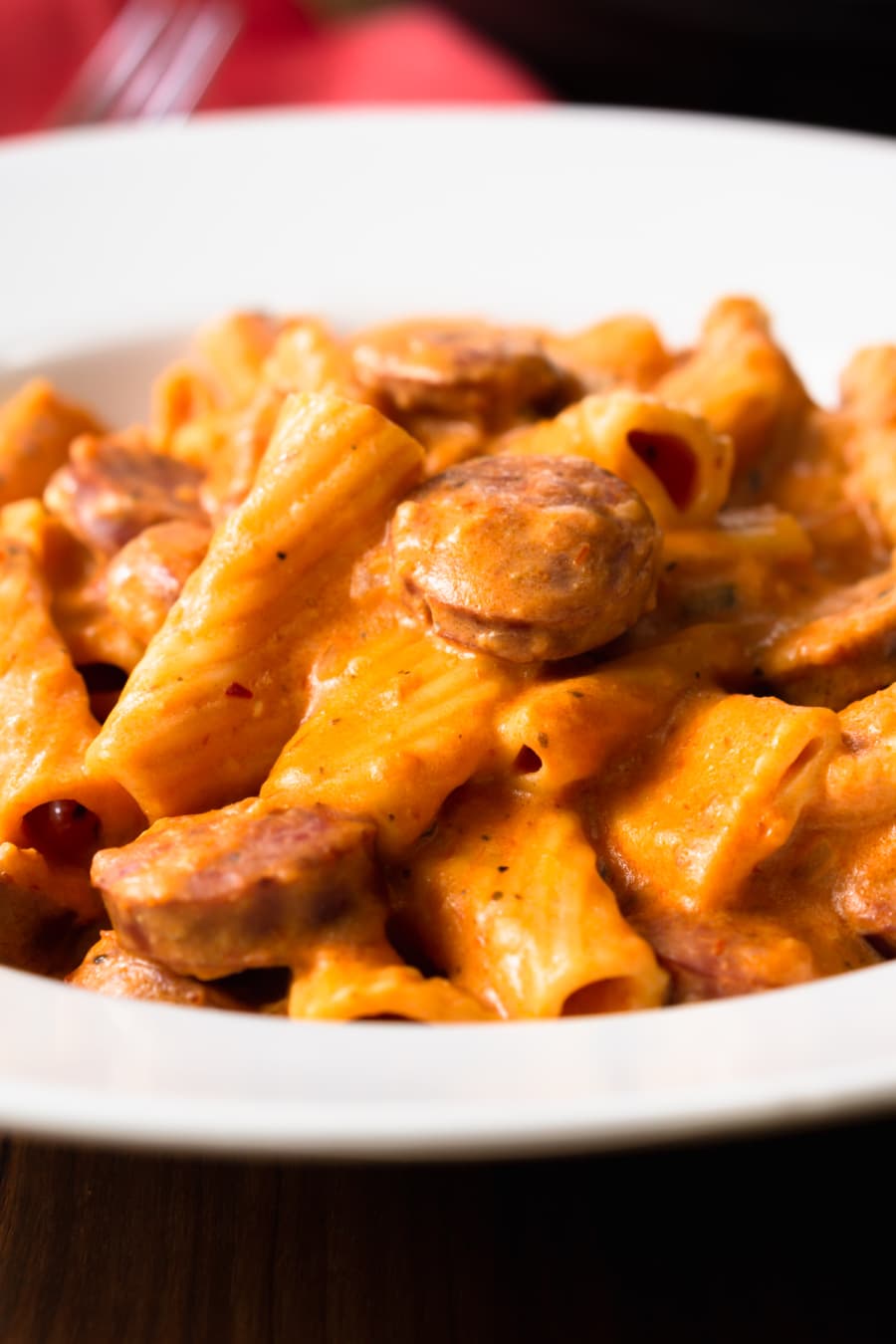 What Ingredients Do I Need for Cream Cheese Pasta with Sausage?
This is a quick and easy pasta recipe with few ingredients. All the ingredients for this Instant Pot Cream Cheese Pasta with Sausage are simple and easy to substitute. Below you will find the full list of ingredients.
Rigatoni: You will need one pound of Rigatoni pasta and any brand will do. I've made it with Barilla and Great Value and it turns out perfect either way!
Pre-Cooked Beef Sausage: I made this recipe with beef sausage, however, you can read below for substitutions. You'll need about 14 ounces of sliced sausage.
Marinara Sauce: You can use your favorite Marinara Sauce for this easy recipe. I used Barilla Marinara Sauce, and have used their Traditional sauce as well with great results.
Cream Cheese: You will need 8 ounces of cream cheese, which is a full block. The cream cheese will be added after pressure cooking. I like to set it out when I start prepping, and I also cube it before adding it to the pasta.
Unsalted Chicken Stock: I always use unsalted chicken stock. My usual go-to is Kitchen Basics Unsalted Chicken Stock. But any brand will do.
Spices: You'll need dried minced onions, garlic powder, ground black pepper, red pepper flakes, and kosher salt. I use dried minced onions in this recipe to keep the recipe simple and 'dump and start'.
That's it! All pretty basic ingredients most of us have on hand.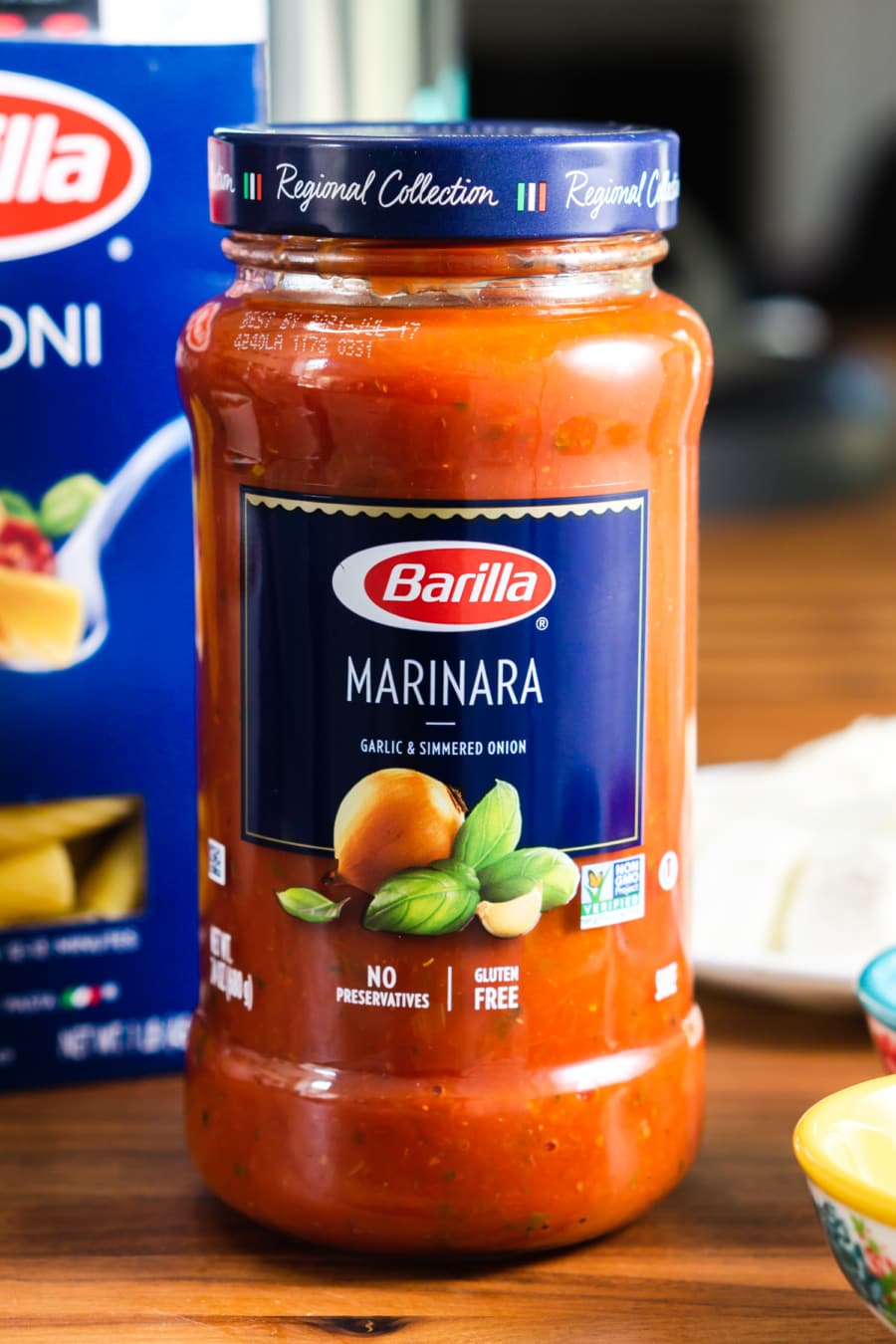 Substitutions for Cream Cheese Pasta with Sausage
I always get lots of questions about substituting items in recipes. Below are some questions that you may come up with, so I've gone ahead and answered them for you. If you have any other questions, please leave them in the comments.
Can I Use Fat-Free Cream Cheese?
I would not recommend using fat-free cream cheese. If you really don't want the fat from the cream cheese, I suggest leaving it out altogether. You'll still have a delicious and savory pasta dish, however, it won't be creamy.
Can I Use Any Kind of Sausage?
Yes! I created this recipe with what I had on hand that particular day. You can use any cooked sausage, even hot dogs!
Can I Use Any Pasta Sauce?
Yes! This recipe is very versatile and will work with what you have. You can use any pasta sauce you have on hand. I recommend keeping it a red sauce like marinara if you can help it, but it will work fine with other sauces.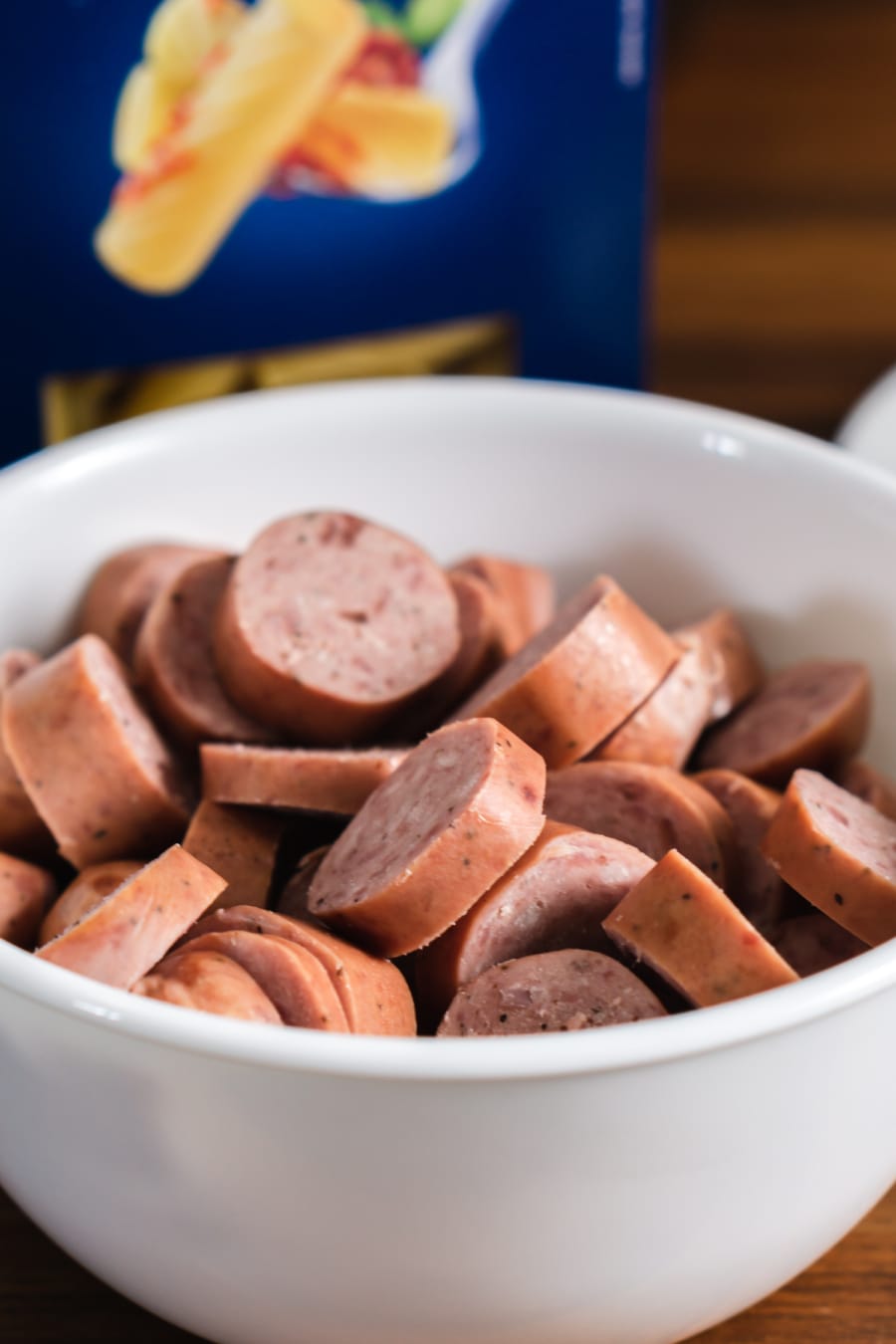 Can I Make This Recipe on the Stove?
Yes! You would need to cook your pasta per the instructions on the box. Heat up your pasta sauce, sausage, and spices and then combine this with the drained pasta. Finally, add the cream cheese and mix everything together well. You'll have several pots to clean though, which is why I prefer making it in my pressure cooker!
Essential Items
Here are some essential prep tools, utensils, and appliances I used to make this recipe.
Featured Items
Here is a list of the products featured in this post or products similar to those featured in this post:
23 Must-Have Electric Pressure Cooker Accessories
Make sure to check out my Ultimate List of Electric Pressure Cooker Accessories! I've included everything you could ever need to help make your pressure cooking quicker, easier, and even more convenient.
How To Make Instant Pot Cream Cheese Pasta with Sausage
Your family will love this easy homemade pasta recipe! Below is a step by step on how to make it. It is a dump and start recipe so it's a fairly simple process. Just pay attention to the layering.
Step 1: Add the Stock, Pasta, and Sausage
Start by adding your chicken stock to the pot. Next, add the pasta spreading it out evenly in the bottom of the pot so that most of the pasta is submerged in the chicken stock. Then, layer the sliced sausage on top of the pasta.
Step 2: Layer the Marinara and Spices
Next, pour the pasta sauce over everything. Make sure that you don't mix any of the ingredients together. Finally, sprinkle all the spices on top. That's it! Time to start cooking.
Step 3: Cook the Pasta
Close your pot and set it to 'Sealing'. If you're using a Mealthy MultiPot 2.0, just close your pot. It will set itself to 'Sealing'. Cook on Manual High Pressure for 7 minutes. After the cooking time is finished, you will allow for a 2-minute Natural Release. When the two minute NPR is over, release the rest of the pressure, and when the pin drops, open the pot.
Step 4: Add the Cream Cheese
Give everything a good stir and add the cubed cream cheese. Mix the cream cheese into the pasta until it's fully melted and integrated into the marinara sauce.
Enjoy a Plate of Creamy Pasta and Sausage!
That's all there is to it! This has to be one of the easiest dump and start pressure cooker pasta dishes ever! Oh, and your family will absolutely love it! And it only took about 20 minutes from start to finish, including the come to pressure time. This recipe is perfect for a busy weeknight meal. Don't you love fast, easy, and delicious meals like this?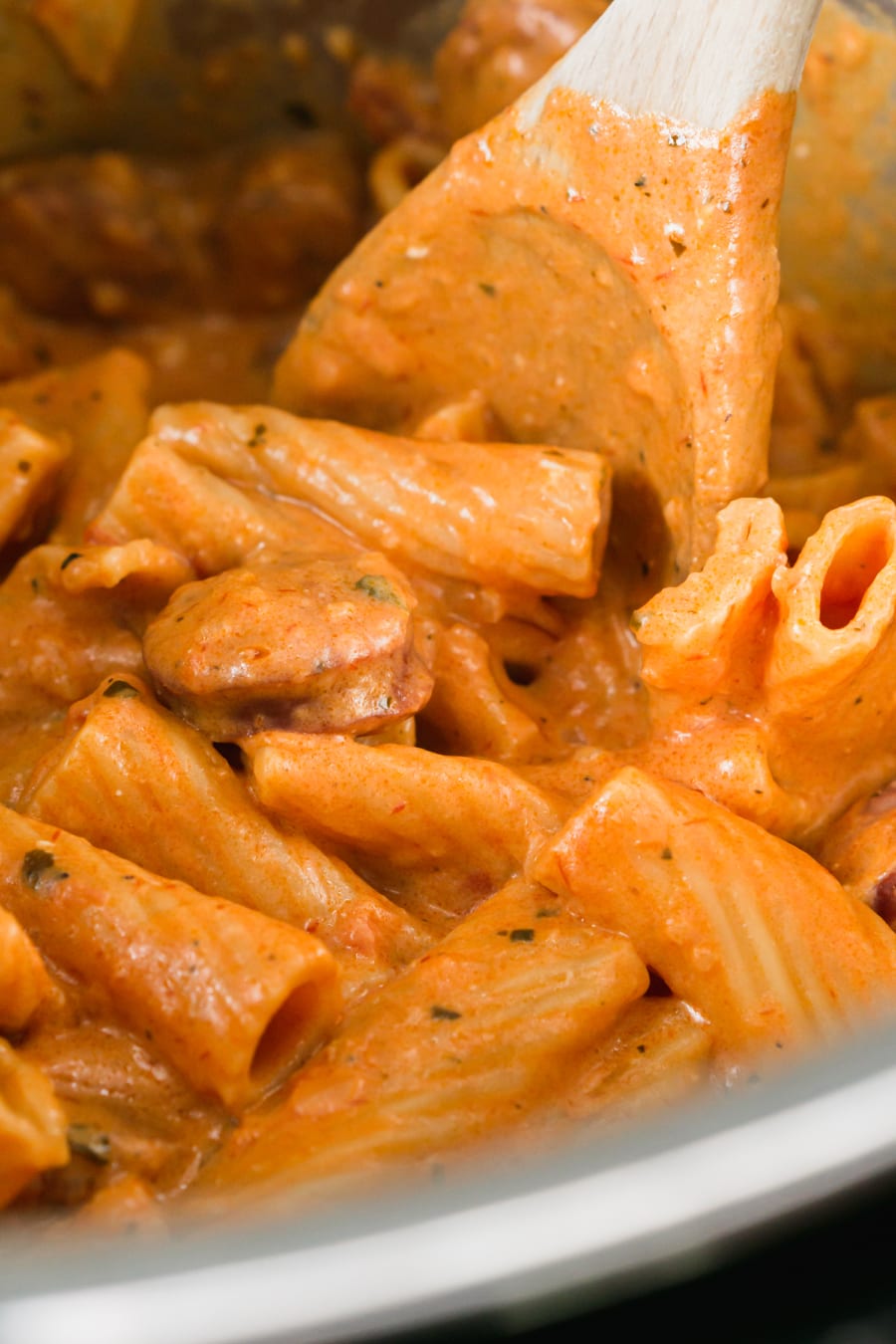 Did you make this cream cheese pasta recipe? I know your family will absolutely love this Instant Pot Cream Cheese Pasta with Sausage as much my family does! Make sure to let me know in the comments when you try it.
More Instant Pot Pasta Recipes that you may enjoy:
Looking for even more Pasta Recipes to make in the Instant Pot? If you want to try making a pasta dish in the pressure cooker that's a bit fancier, then check out my recipe for Instant Pot Chicken Tetrazzini. And, if quick and simple is more your thing, then try my Instant Pot Beef & Bowties.
If you want a list of all the easy pressure cooker pasta recipes on my blog, then make sure to check out my Instant Pot Pasta Recipes post.
Need a side to go with this pasta dish? If you're looking for a perfect side dish for this recipe, then try my Homemade Garlic Bread. This garlic bread is quick, easy, and so delicious. I love soaking up the extra creamy red sauce with this bread and it really is the perfect complement to this creamy pasta!
Instant Pot Cream Cheese Pasta with Sausage
RIGATONI PASTA, MARINARA SAUCE, CREAM CHEESE, AND BEEF SAUSAGE
This quick, easy, and delicious dump and start pasta dish for your pressure cooker will be a favorite go-to for those busy weeknights.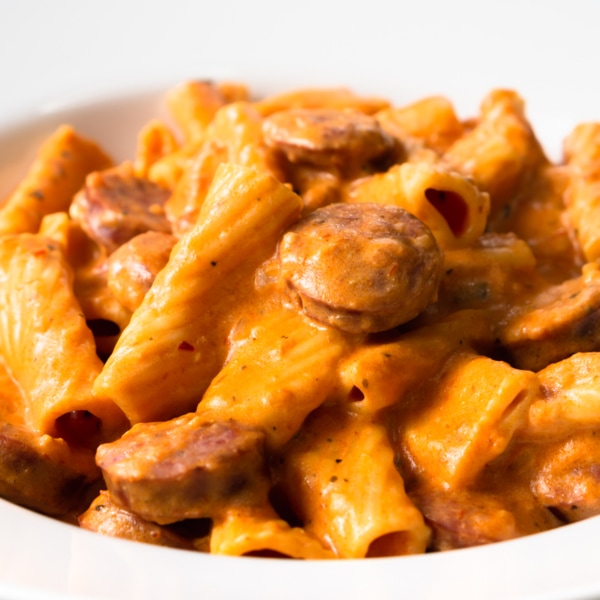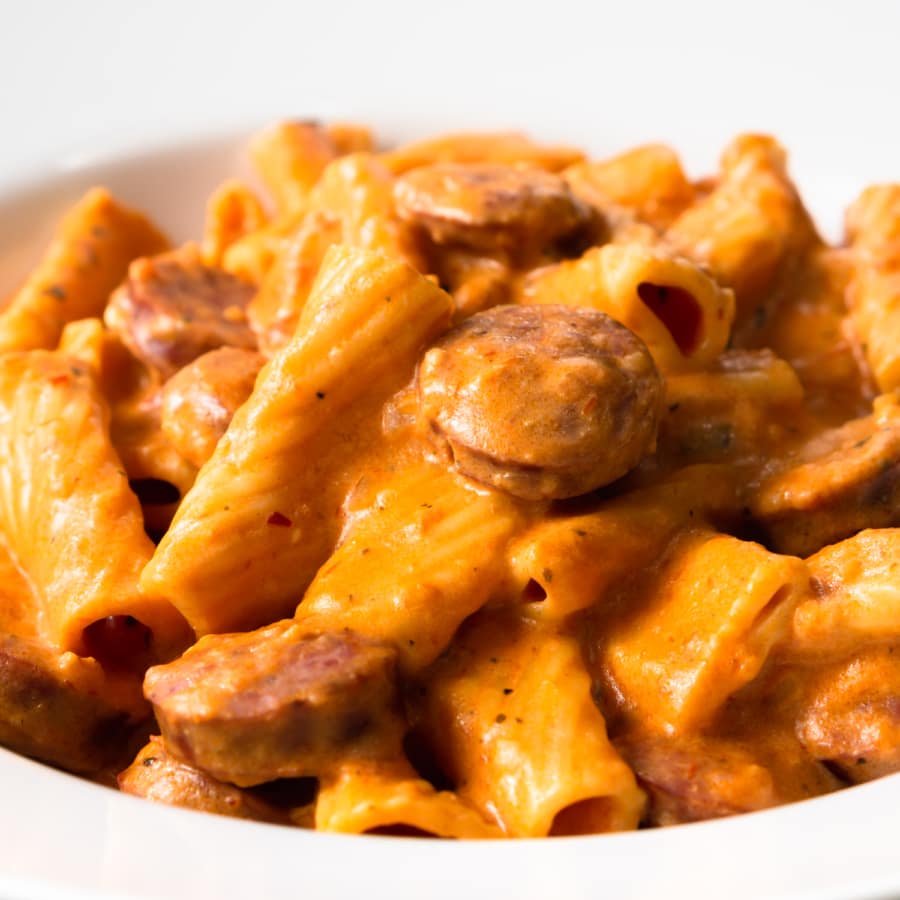 Instructions
Layer Stock, Pasta & Sausage: First pour the chicken stock into the pot. Then add the pasta pushing it down into the stock so that most of the pasta is submerged. Finally, layer the sausage over the pasta.

Add Marinara & Spices: Pour the marinara sauce evenly over the pasta and sausage. Do not mix the ingredients. Next sprinkle the spices over the marinara sauce.

7-Minute Cook Time: Close the Instant Pot and set the pressure release valve to 'Sealing' and then set the pot to cook on 'Manual' or 'Pressure Cook', 'High Pressure' for 7 minutes.

2-Minute NPR: Once the cooking time has completed, allow for a 2 minute NPR (natural pressure release). Release any remaining pressure after the 2-minute NPR has completed.

Add Cream Cheese: Open the pot and mix pasta and sausage well. Next, add the cream cheese and mix it into the pasta until fully incorporated.

Serve and enjoy!
Nutrition Facts
Calories: 463kcal | Carbohydrates: 67g | Protein: 16g | Fat: 15g | Saturated Fat: 8g | Cholesterol: 42mg | Sodium: 1048mg | Potassium: 724mg | Fiber: 4g | Sugar: 9g | Vitamin A: 1023IU | Vitamin C: 9mg | Calcium: 77mg | Iron: 3mg