UPDATED FOR DECEMBER 2023
Meal planning is one of those things that I've never been 100% successful at. I always start with the best intentions and somehow after a short while I fall back into old habits.
It's always the same story:
We get all excited, plan out a week of meals and buy all the ingredients. For a whole week, we eat delicious pre-planned meals, and there's no eating out. (That means $$ saved!!) Then comes week two and then life happens, and we forget to plan the meals for the week and then it's over.
Who wants Chick Fil A?
I Finally Have a Plan
So this year, I'm making it a goal to meal plan. Once I make it a goal, it's ON!! I'm going to try to be as intentional as possible to stick to a meal plan every month.
By putting these meal plans together every month, it will make it easier to know exactly what to cook each day and what ingredients to have on hand. I also really feel like the Instant Pot can help me keep up with a monthly meal plan.
Time to Conquer This Meal Planning Thing
Ok, so with 5 children and life, in general, I have to be realistic. Maybe I won't be able to follow the plan perfectly. Maybe you won't either. The beauty of it is, you can tweak it when you need to, and you can move things around to suit your needs. The key is to try to be as consistent as possible and when you go off track, just try to get back on it as soon as possible. Let's be as intentional as possible, and we can conquer this meal-planning thing together!!
December 2023 Instant Pot Meal Plan
Welcome to the December Instant Pot meal plan! This meal plan is designed to help you make delicious, healthy, and easy meals using your Instant Pot. I'll provide you with meal ideas that you can make in minutes!
With this meal plan, you don't need to spend hours slaving away in the kitchen; instead, pop some ingredients into your Instant Pot and have a delicious meal ready quickly! Let's take a look at the meal plan for December!
You can still get the November Meal Plan if you need it.
Get the Printable Instant Pot Meal Plan
I've put together a handy printable calendar so you can get a full monthly view of the plan. The PDF has clickable links as well so you can download it and keep it on your computer to visit all the recipes. The printable/PDF is available to my subscribers. If you're not a subscriber yet, sign up below so you can have access to my entire collection of printables.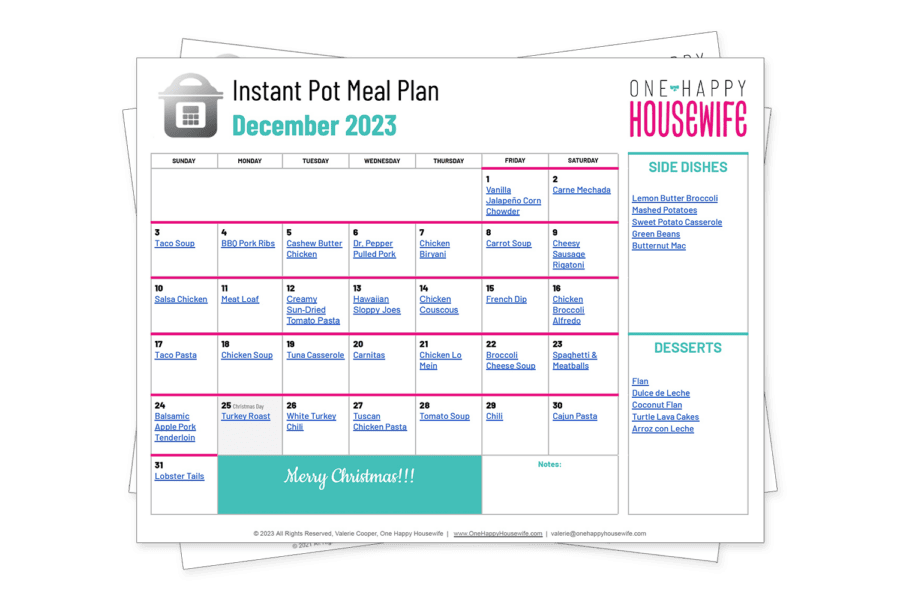 Instant Pot Accessories!
There are so many accessories available for the Instant Pot. So many, that it is hard to know what to get and what is unnecessary. To make things easier for you, I have put together a list of my most recommended accessories. I also explain how to best use each accessory and where to purchase them; click here to check it out.
More Instant Pot Meal Plans
I've been creating my Instant Pot Meal Plans for quite some time and have accumulated over a year's worth of meal plans. I'm making all of my previously published meal plans available to you via the list of links below. You can access each month of the year by simply clicking on the one you want to look at, the link will then take you to the recipes for that particular month.
Since I carefully select each recipe for each month, every month has a unique list of recipes. Browse through each month to see all the different recipes and get ideas for creating your very own meal plans. Feel free to peruse each of the months!
Don't forget to check back at the end of each month for the updated Meal Plan!