We're already a full month into the new year. In this February 2018 Instant Pot Meal Plan, you'll find lots of warm and comforting meals to help you get through the cold weather. There are plenty of comforting main dishes like Chicken and Dumplings and Pot Roast. And, the comfort continues with side dishes like Mac & Cheese and Mashed Potatoes. And to soothe even the most serious sweet tooth, the Turtle Lava Cakes are a must-try. Here's what you can expect: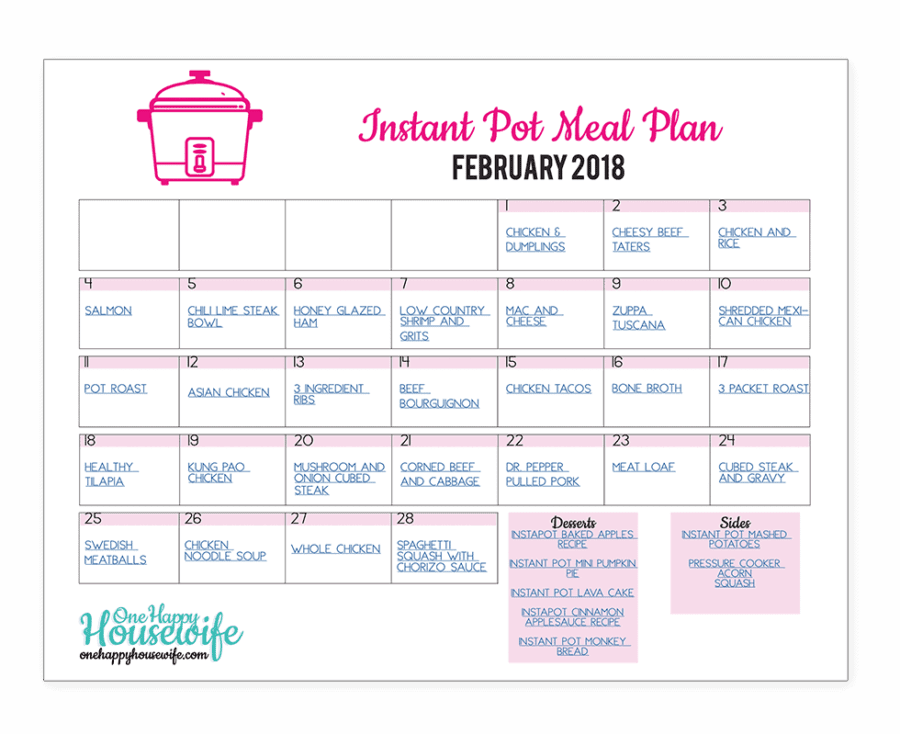 Instant Pot Comfort Meals
If you're looking for comfort meals, I have lots of them in this February Meal Plan. You'll find comforting dishes like Chicken and Rice, Pot Roast, Meat Loaf, and Chicken and Dumplings. Each of these recipes is quick, easy, and meant to warm you up on these wintry days of February.
Chicken and Dumplings
My Instant Pot Chicken and Dumplings recipe is the epitome of comfort cooking. Tasty, bite-sized chicken, veggies, and wonderfully comforting dumplings in a brothy base. A bowl of this soul-nourishing soup delivers all the warmth that you'd expect of this quintessential Southern comfort food.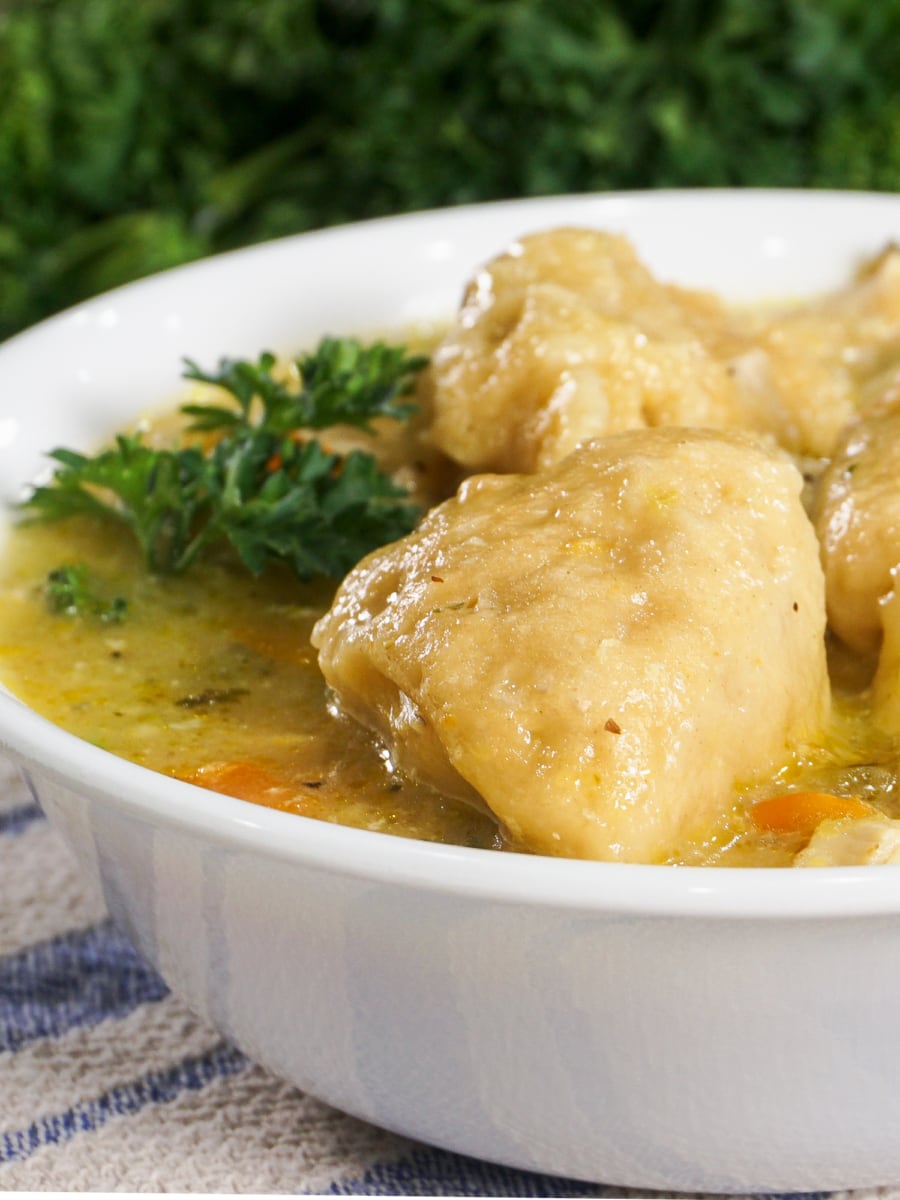 Instant Pot Sandwiches
The Instant Pot is great for making large batches of meat that can be used in some amazing sandwiches. From recipes for Turkey and Chicken, to recipes for Ham and Beef. There are so many great recipes that can be used to build some wonderfully delicious sandwiches.
Pulled Pork Sandwiches
Use my Instant Pot Dr. Pepper Pulled Pork recipe to make the most amazing pulled pork sandwiches. This recipe only requires four ingredients, is super easy to make, and comes out so tender and delicious. Mix the pork with your favorite BBQ sauce and serve on a large hamburger bun with pickles and sliced onions. You'll have the most perfect pulled pork sandwiches ever!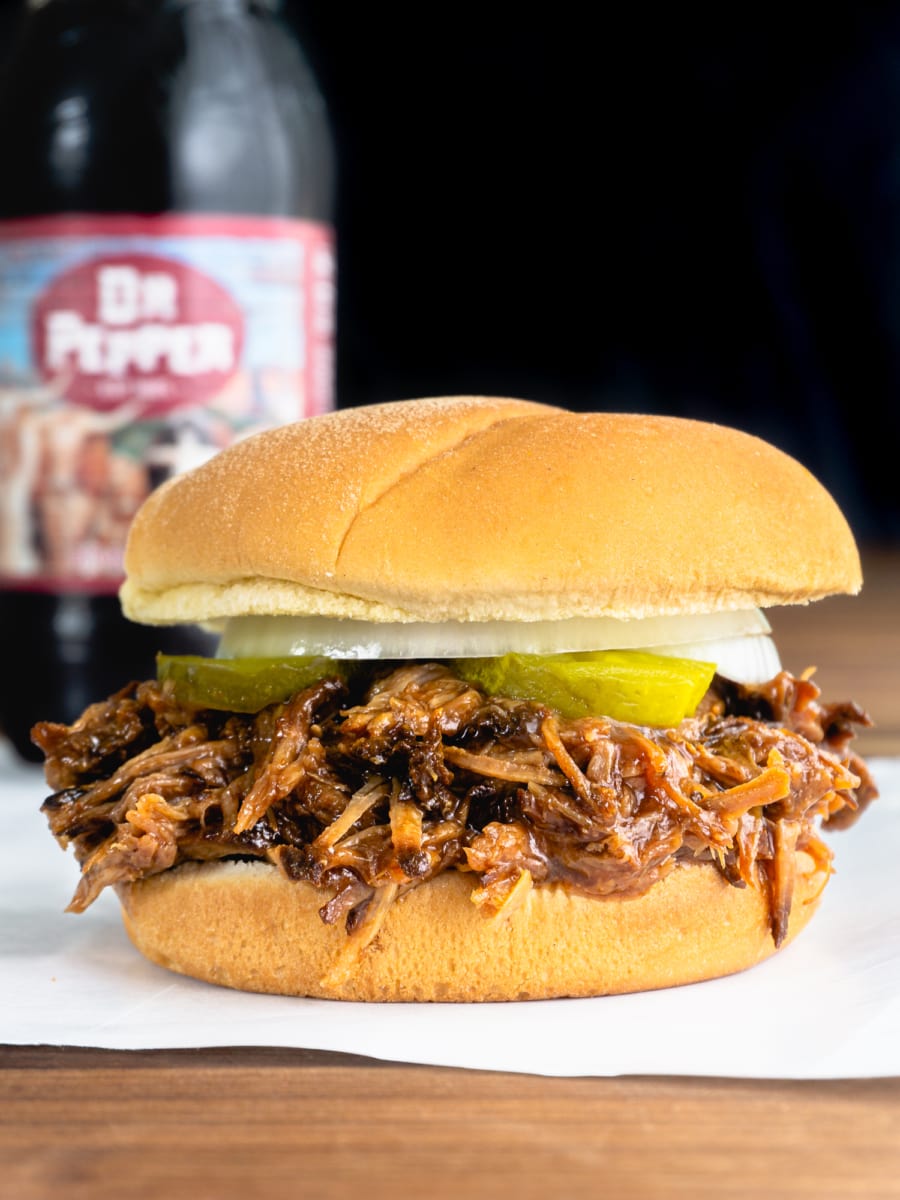 Instant Pot Valentines Day Recipes
I always like to include special recipes for any special days during the month. This month, we'll be celebrating Valentines Day. So, I included a wonderful Beef Bourguignon recipe to help you celebrate that day with your significant other over a wonderful meal. If you're looking for a pasta dish to serve for Valentines Day instead, I have some great ones.
Tuscan Chicken Pasta
I have an extra delicious pasta recipe to help you celebrate those special days with a special person. My Instant Pot Tuscan Chicken Pasta is not only outstanding, but it is super simple to make. You'll impress your significant other with this restaurant-quality pasta dish made in your pressure cooker.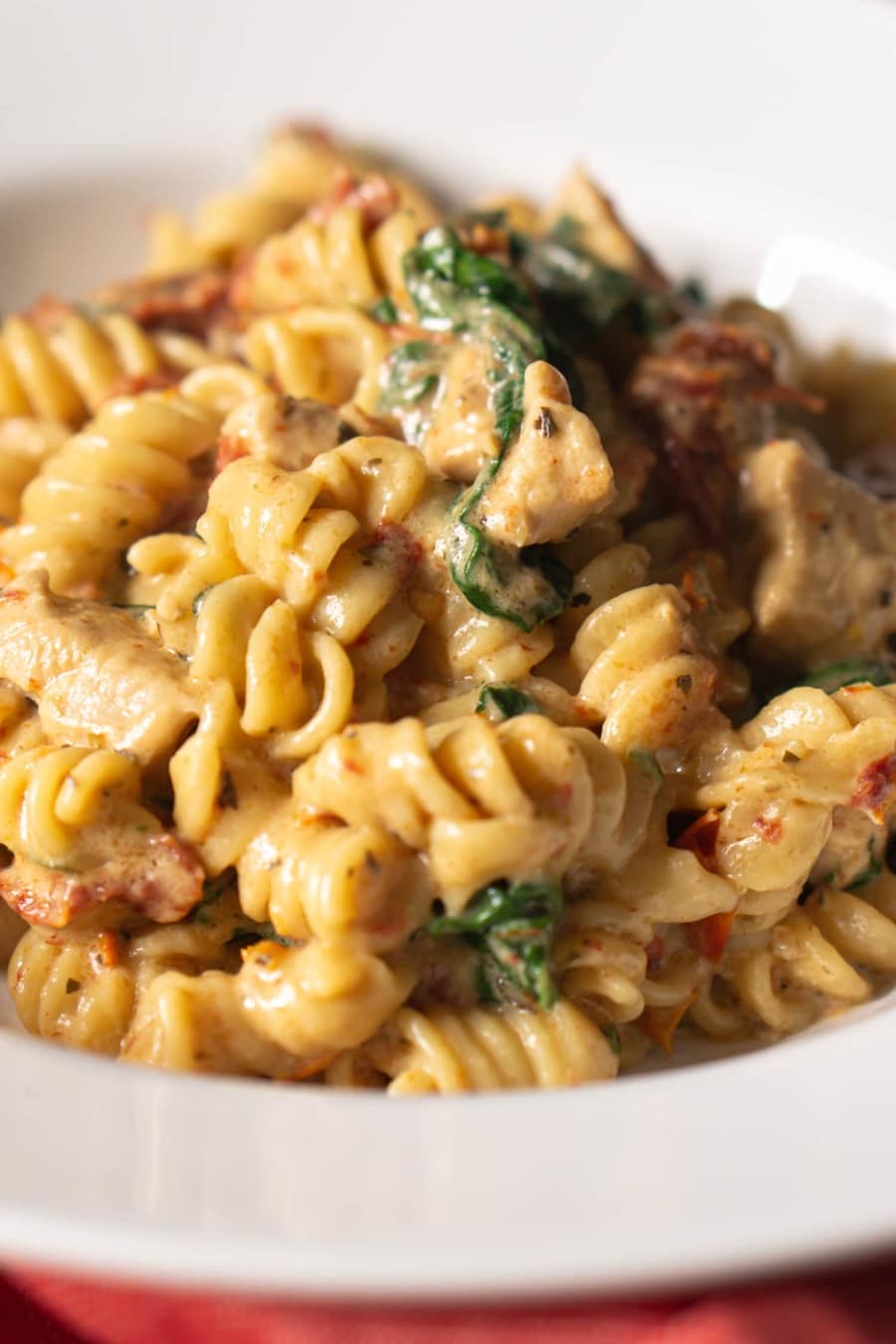 Instant Pot Side Dishes
Every meal needs some delicious side dishes to go along with it. And I always include plenty of Instant Pot sides for you to choose from in my meal plans. For instance, my Dr. Pepper Pulled pork is outstanding served with my Instant Pot Potato Salad. Here are some of the sides that you can expect to find in this February Meal Plan.
Mac & Cheese
My Instant Pot Mac & Cheese is phenomenal. I use a special blend of four kinds of cheese that gives this mac and cheese a super creamy texture and a flavor that pops. If you're looking for a perfect comforting side dish to go with your comfort meal, this creamy pasta side is a perfect choice.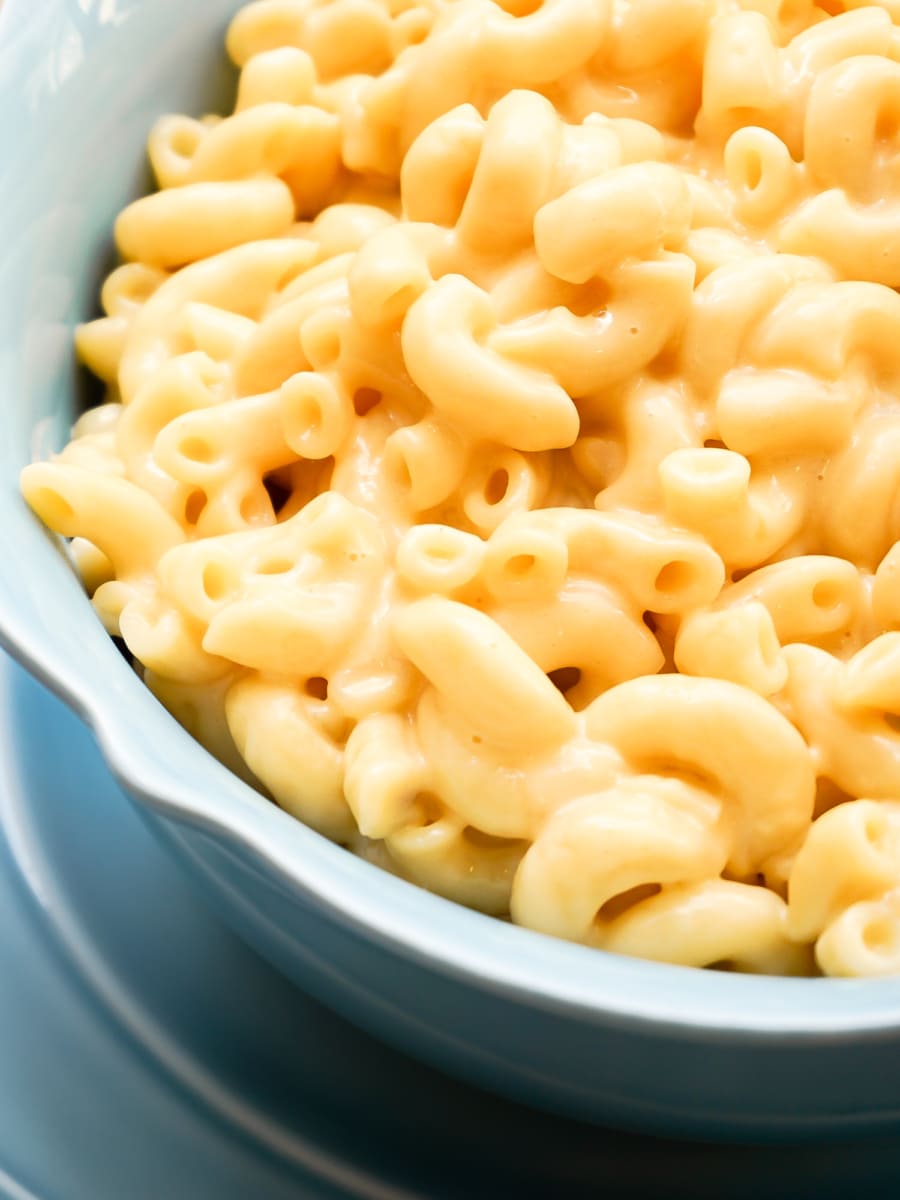 Mashed Potatoes
Instant Pot Mashed Potatoes are a perfect side for so many meals. This month, we have Pot Roast, Meat Loaf, and Mushroom and Onion Cube Steak on the meal plan. All perfect main dishes to serve with a side of mashed potatoes. This recipe for mashed potatoes is quick, simple, and gives you perfect mashed potatoes every time.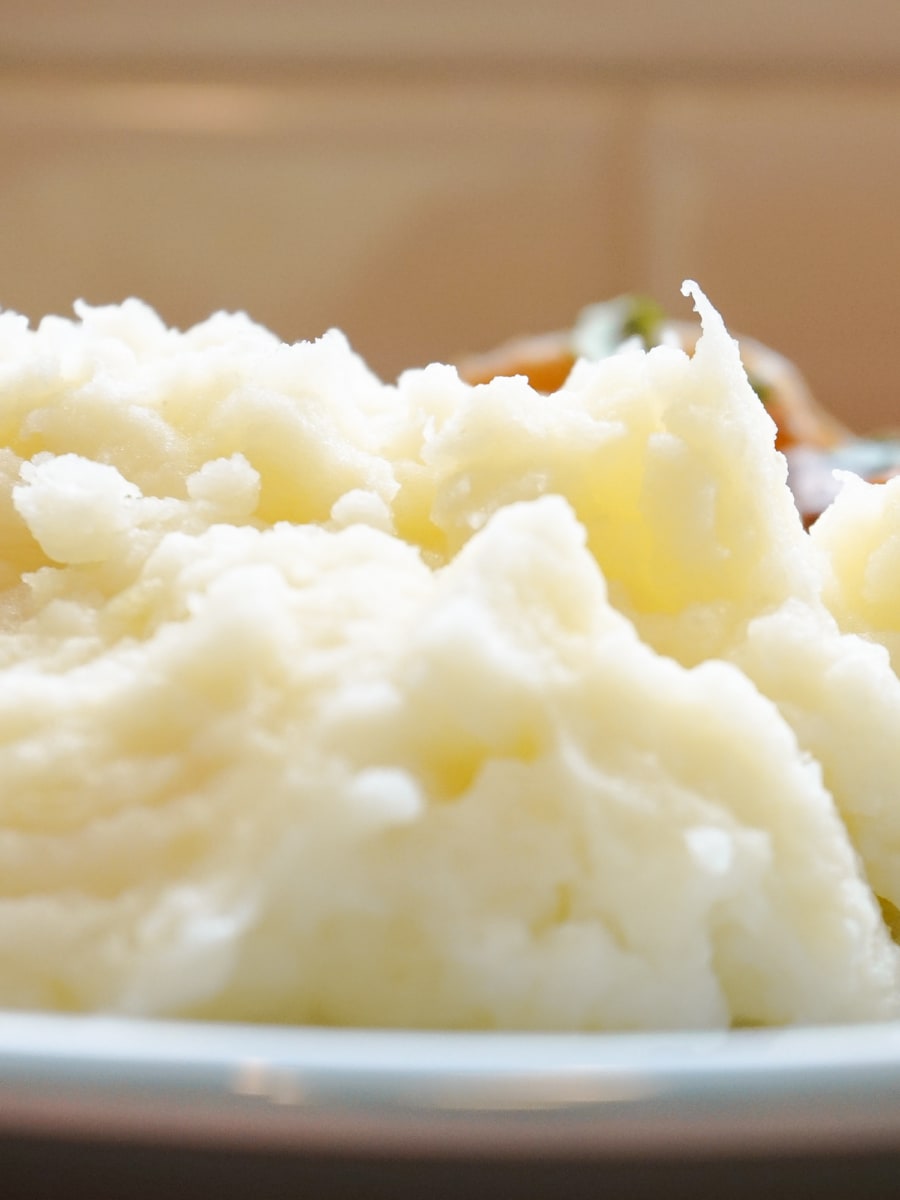 Instant Pot Desserts
I feature some marvelous Instant Pot Desserts on this February Meal Plan. You'll find the most delightful Mini Pumpkin Pies. Not only are these pies cute, but they're scrumptious. The Monkey Bread is another wonderfully warm sweet treat that you have to try. But the show stopper on this month's meal plan are my lava cakes.
Turtle Lava Cakes
Looking for the most decadently delightful chocolate dessert that you can make in your Instant Pot? Then you have to try my Instant Pot Turtle Lava Cakes. These little cakes are just heavenly. When you take your first spoonful, the molten chocolate interior spills onto the plate. It's just incredible. These are a perfect dessert to serve on Valentine's Day.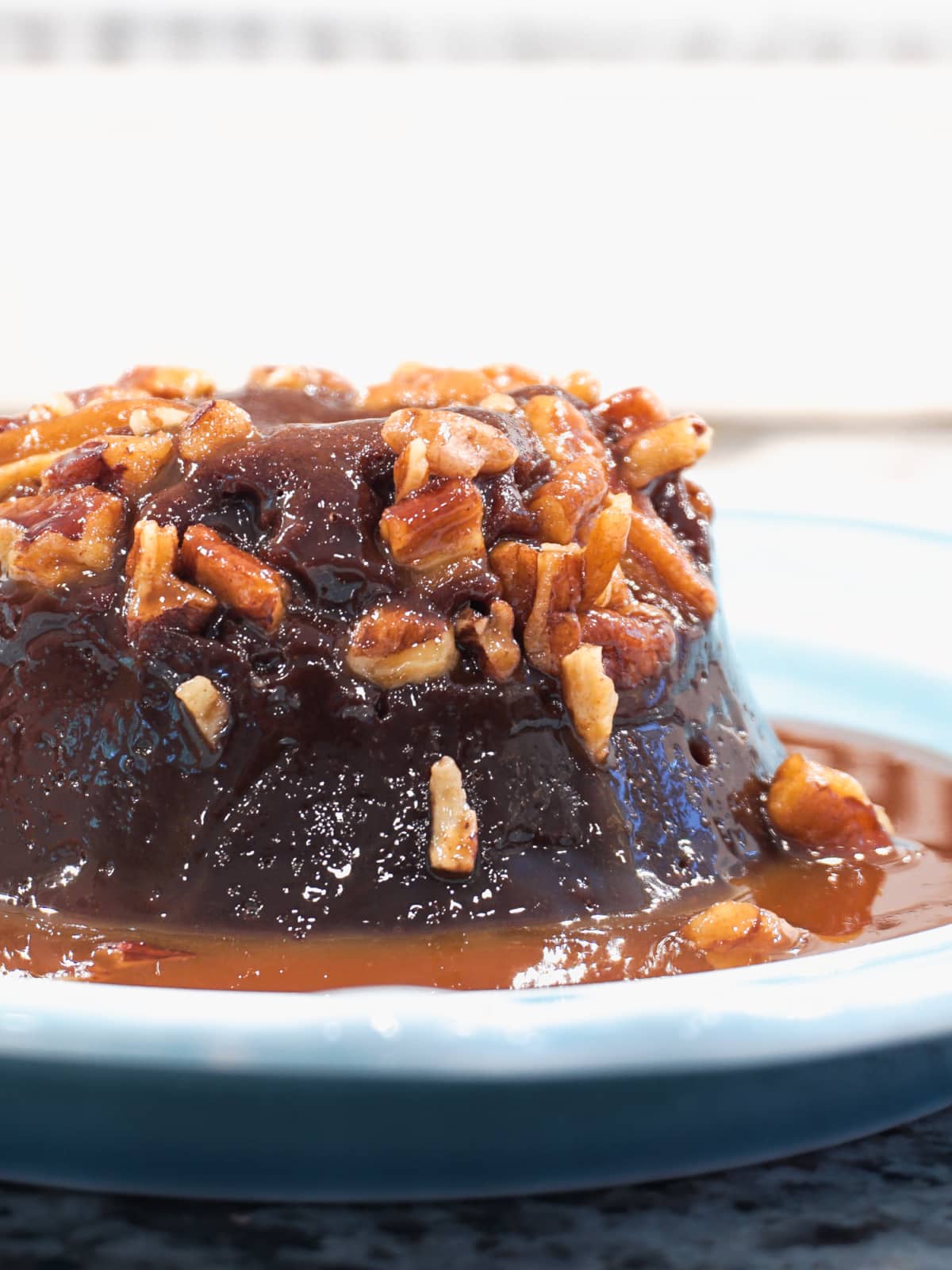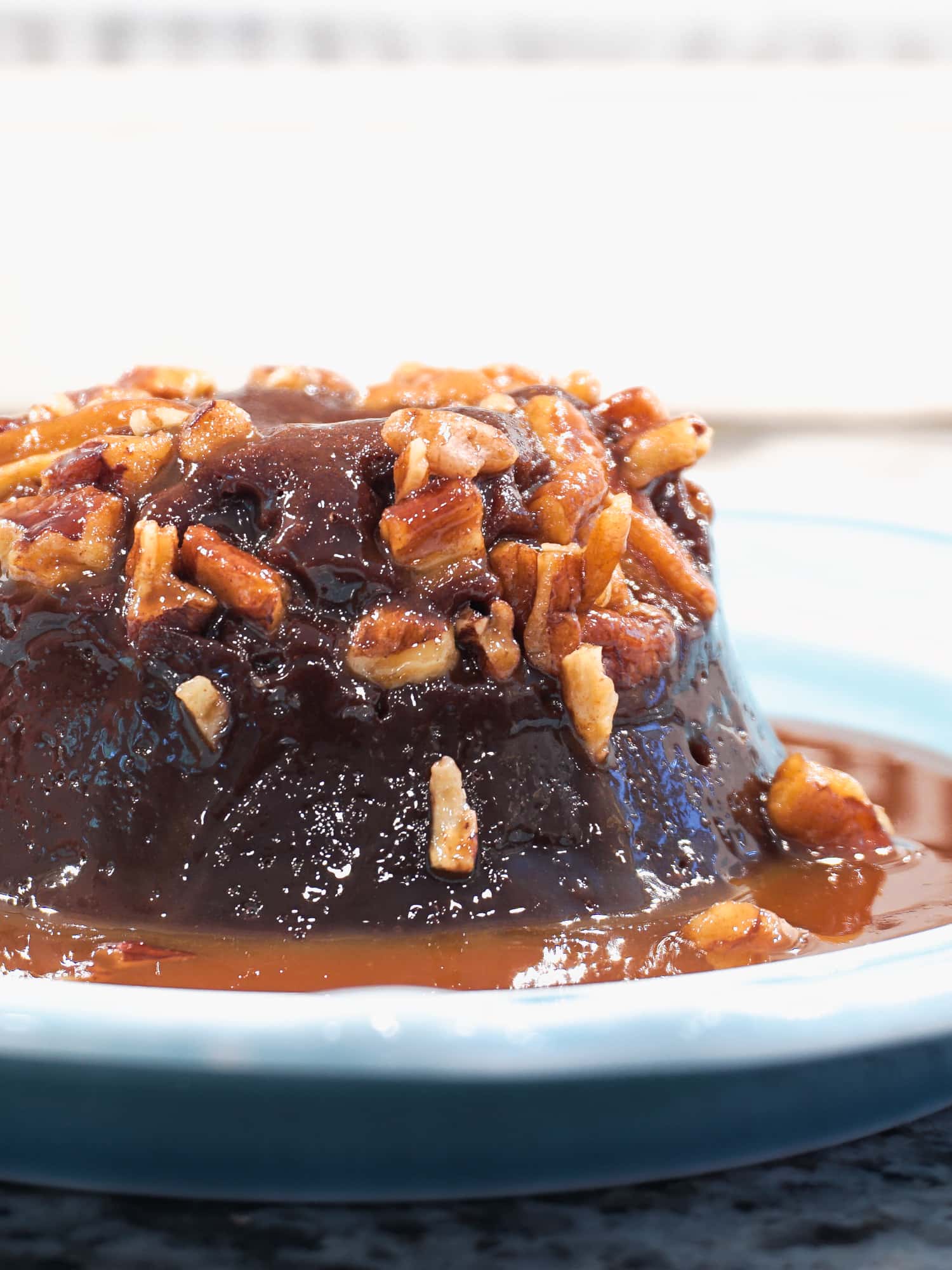 Stay warm and have a wonderful February!
Make sure you also check out my latest Instant Pot Meal Plan.
February 2018 Instant Pot Meal Plan
Below the list of recipes, you will find a link to the downloadable calendar and links to all my monthly Instant Pot meal plans.
Download the February 2018 Meal Plan Calendar.
For more Instant Pot Meal Plan ideas for the month of February, check out my archive of February Instant Pot Meal Plans.
Past Instant Pot Meal Plans
Each month I publish a new, updated Instant Pot Meal Plan. So don't miss out on seeing what wonderful dishes I've included in my latest one.
LOOKING FOR A PAST MEAL PLAN?
You can also access all of my previously published Instant Pot Meal Plans through the links below. I handpick the recipes that appear each month, so you will find that each month is unique with its own set of recipes geared specifically toward that month. Plus, on each meal plan page, you can download the printable calendar for that month.