Summer is now in full swing! The kids have been out of school for a full month! Can you believe it? Are you surviving so far? Well, to make things easier for you, I've put together a new July Instant Pot Meal Plan full of wonderful recipes for your family.
I included lots of easy recipes perfect for summer. Some of my newer recipes are sure to be a hit with you and your family – they are with mine. Here's what you can expect: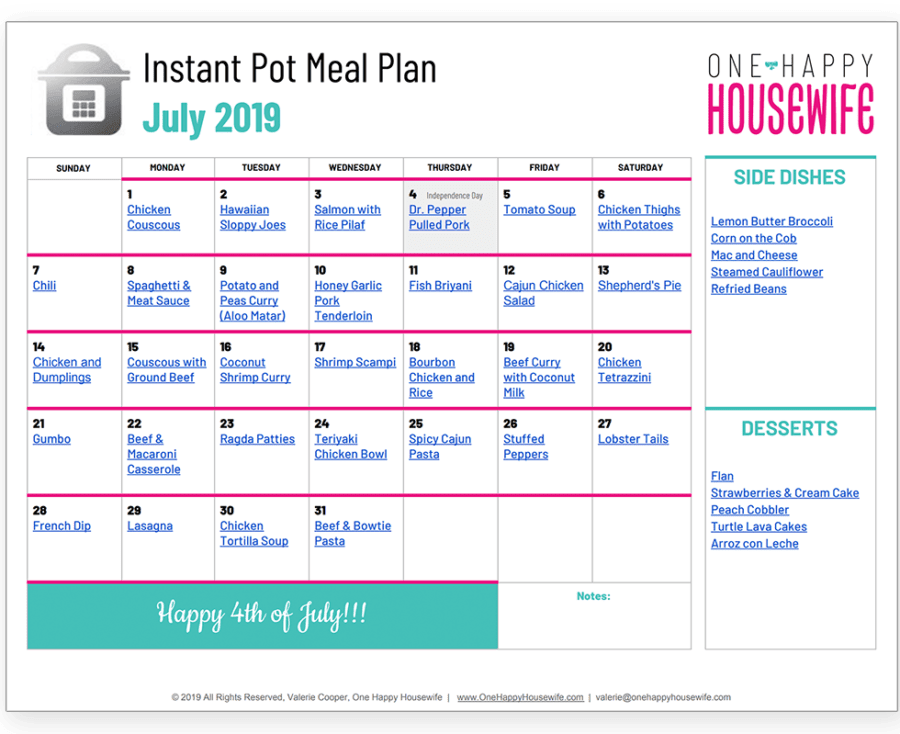 Easy Instant Pot Main Dishes
I have some new and easy chicken recipes for you in this month's meal plan and they are thoroughly delicious. For instance, my creamy Chicken Tetrazzini and comforting Chicken Couscous are now some of my family's new favorites. I'm sure they will be favorites of your family too. Also, don't miss the Bourbon Chicken Rice with Broccoli, or the Teriyaki Chicken. Both are outstanding.
If you're looking for some ground beef recipes, then I have some outstanding ones for you. I've also gotten a lot of wonderful comments about my Couscous with Ground Beef from readers. It's so full of flavor and very filling. So, make sure to check it out.
For those days when you need something quick and simple you'll find recipes for Beef & Macaroni Casserole, Shepherd's Pie, and Hawaiian Sloppy Joes.
Instant Pot Side Dishes
A proper meal needs a proper side dish. In this meal plan, you'll find plenty of Instant Pot side dishes to pair with your main dish. Lemon Butter Broccoli, Steamed Cauliflower, and Macaroni and Cheese are a few of the sides that appear in this month's meal plan.
Instant Pot Desserts
Cool off after dinner with a quick and easy dessert. This month's meal plan features a creamy Arroz con Leche, decadent Turtle Lava Cakes, and a refreshing Strawberries and Cream cake. All perfect ways to end a warm summer day.
Have a great July and try to stay cool!
Make sure you also check out my latest Instant Pot Meal Plan.
July 2019 Instant Pot Meal Plan
Below the list of recipes, you will find a link to the downloadable calendar and links to all my monthly Instant Pot meal plans.
Download the July 2019 Meal Plan Calendar.
For more Instant Pot Meal Plan ideas for the month of July, check out my archive of July Instant Pot Meal Plans.
Past Instant Pot Meal Plans
Each month I publish a new, updated Instant Pot Meal Plan. So don't miss out on seeing what wonderful dishes I've included in my latest one.
LOOKING FOR A PAST MEAL PLAN?
You can also access all of my previously published Instant Pot Meal Plans through the links below. I handpick the recipes that appear each month, so you will find that each month is unique with its own set of recipes geared specifically toward that month. Plus, on each meal plan page, you can download the printable calendar for that month.