Summer is finally here! The weather is cooperating lately, and that means lots more time outdoors for everyone. With that in mind, June's Meal Plan is full of easy recipes your family will enjoy. No need to spend too much time in the kitchen! Here's what you can expect: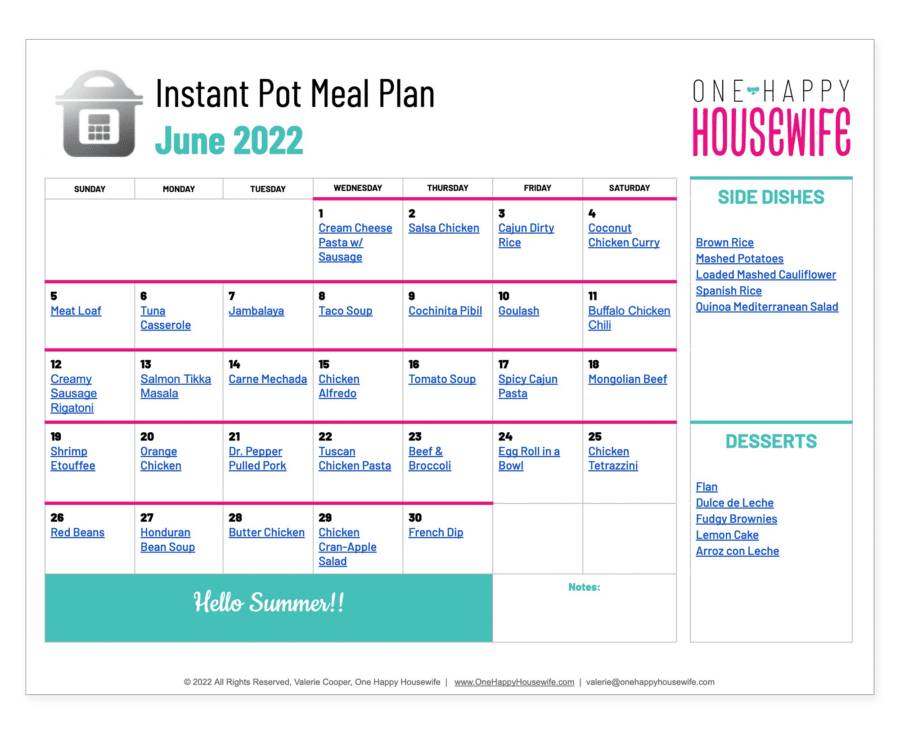 Instant Pot Pasta Recipes
You'll also find tons of Instant Pot Pasta Recipes in this meal plan. You'll enjoy dump and start pasta dishes on busy weeknights and lots of other great pasta dishes. Some of my more notable pasta recipes include the Tuscan Chicken Pasta, Creamy Sausage Rigatoni, and Chicken Alfredo.
Easy Instant Pot Recipes
Looking for easy Instant Pot recipes? I have plenty on this month's meal plan. You'll find simple recipes for Cream Cheese Pasta with Sausage, Tuna Casserole, and Salsa Chicken. There are so many easy and delicious recipes on this June meal plan. I know you're going to love trying them.
Instant Pot Side Dishes
Need the perfect side dish to go with your meal? I have you covered with plenty of Instant Pot side dish ideas. You're going to love my delicious Spanish Rice and Loaded Mashed Cauliflower. You'll also get to enjoy a healthy and fresh Quinoa Mediterranean Salad from another blogger.
Instant Pot Desserts
You must follow dinner with a yummy dessert. I've included some wonderful Instant Pot Dessert Recipes that are perfect for summer. For example, nothing says summer like the flavor of fresh lemon. That's what you get with my Instant Pot Lemon Cake. The cool sweet taste will have you asking for more. You'll also find other great desserts like Arroz con Leche and Flan on this meal plan.
Enjoy the summer flavors this months recipes have to offer. Happy cooking friends!
Make sure you also check out my latest Instant Pot Meal Plan.
June 2022 Instant Pot Meal Plan
Below the list of recipes, you will find a link to the downloadable calendar and links to all my monthly Instant Pot meal plans.
Download the June 2022 Meal Plan Calendar.
For more Instant Pot Meal Plan ideas for the month of June, check out my archive of June Instant Pot Meal Plans.
Past Instant Pot Meal Plans
Each month I publish a new, updated Instant Pot Meal Plan. So don't miss out on seeing what wonderful dishes I've included in my latest one.
LOOKING FOR A PAST MEAL PLAN?
You can also access all of my previously published Instant Pot Meal Plans through the links below. I handpick the recipes that appear each month, so you will find that each month is unique with its own set of recipes geared specifically toward that month. Plus, on each meal plan page, you can download the printable calendar for that month.