The start of summer is already here. And that means the kids are home from school and, if we're lucky, we get to sleep in just a little extra. But summer can sometimes be just as hectic as the school year, maybe even more. You might be dealing with bored and rowdy kids or shuttling them to summer camps. So, with that in mind, I made my June Instant Pot Meal Plan to make things easier for you. Here's what you can expect: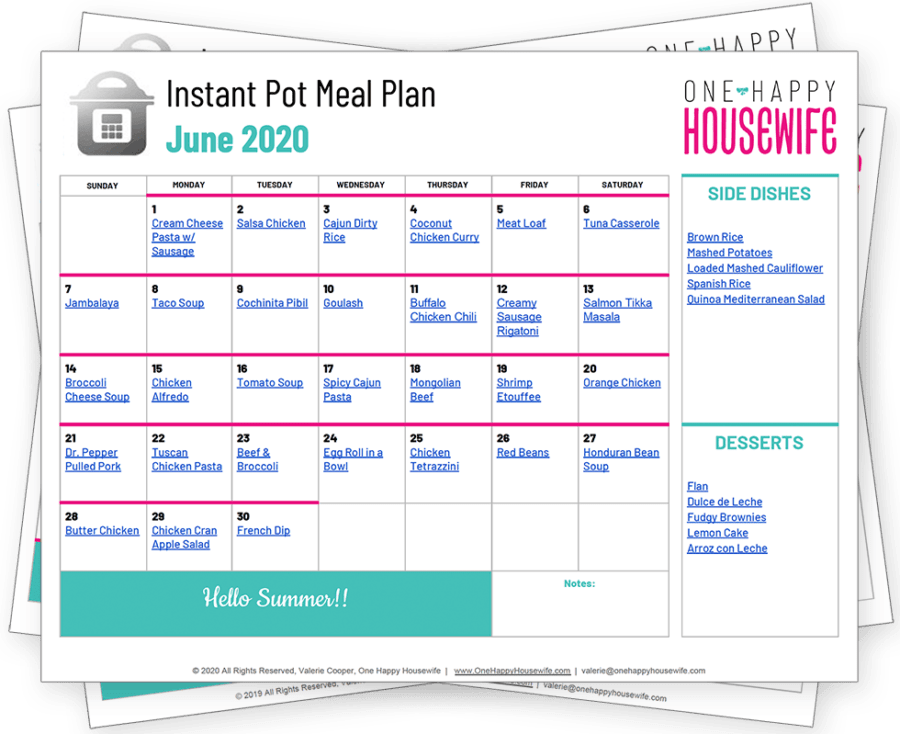 Easy Instant Pot Recipes
You'll find tons of easy Instant Pot recipes in these meal plans. Recipes like my Salsa Chicken, Taco Soup, and Couscous with Ground Beef are all quick and simple to make. These simple meals will also become family favorites because they're so good.
As usual, there are so many easy dishes to choose from and they all use simple ingredients, are quick to make, and are super tasty and filling. Some of the easiest, and tastiest, recipes you'll find in my meal plans are pasta dishes. So, browse through all the pasta dishes on the calendars to find your perfect easy pasta recipe.
Instant Pot Pasta Recipes
Summer can get crazy. And because it can get so crazy, you'll find loads of quick and easy pasta meals perfect for those days where you just can't anymore. On those crazy days, my Easy Beef & Bowtie Pasta comes to the rescue. This pasta dish is quick, easy, and the kids absolutely love it. Therefore, it is the perfect meal for chaotic summer days.
Looking for even more easy pasta dishes? Well, I have a good deal more for you. Some other easy pasta dishes that you'll find on these meal plans are a cheesy meat Lasagna, a creamy Beef Casserole, Chicken Tetrazzini, and a wonderful Cheeseburger Mac.
For something different, try my Creole-inspired Spicy Cajun Pasta, which features rigatoni pasta and andouille sausage covered in a spicy cajun cheese sauce. It's phenomenal. Want something with shrimp? If so, you must try my Cajun Shrimp Alfredo.
And finally, for something extra-special, you must make my Tuscan Chicken Pasta. Trust me, it is date night worthy. It's a creamy one-pot pasta dish that uses simple ingredients, is quick to make, and has a flavor that will whisk you away to the Tuscan countryside with each bite.
Instant Pot Chicken Recipes
If I had to pick a favorite food, it'd have to be chicken. That's why I always include plenty of chicken recipes in my meal plans. For instance, you'll find a southern classic in my Chicken and Dumplings recipe. It's such a comforting meal for those days where you feel worn down. It will pick you up.
Enjoy the refreshing tastes of the islands with the delightful mix of sweet, savory, and tangy flavors that my Hawaiian Chicken offers. Made with bell pepper, sweet onion, pineapple, and macadamia nuts, this island favorite is wonderful served over white rice.
Instant Pot Party Recipes
Summer means pool parties and get-togethers. And big get-togethers mean lots of food. Therefore, I've included some recipes in my June meal plans perfect for large gatherings of hungry friends and family. For instance, my Carnitas recipe makes a perfectly crisp shredded pork that can make enough tacos to feed a small army.
For something super authentic, try the Cochinita Pibil. It's a true to taste Mexican original. Tacos made with Cochinita Pibil are just remarkable. Top them with my Pickled Red Onion Habanero Salsa for an explosion of flavor that's extraordinary. Not only is the taste amazing, but this recipe makes enough tacos for a good-sized gathering.
My Pulled Pork makes enough shredded meat to feed a crowd. Plus, it is ridiculously yummy! And that makes this pulled pork a perfect party food. You can use the meat on tacos, nachos, quesadillas, and sandwiches. Speaking of sandwiches…
Instant Pot Sandwiches
I have to say, my French Dip sandwiches are out of this world. And if you must choose one sandwich to make using your Instant Pot, you must choose this one. You will wow your guests with these spectacles of sandwiches. Serving the tender, juicy shreds of chuck roast drenched in au jus over a crusty bun and topped with melty cheese is an absolute winner. Everyone will rave about how good they are, I promise.
Again, my Pulled Pork recipe makes enough sandwiches to feed a hungry crowd. Just grab some buns, some sliced onion, and some pickles and you're ready to build the most perfect BBQ Pulled Pork Sandwich.
Healthy Instant Pot Recipes
Looking for something lighter and healthier? I've included plenty of healthy options. You'll find plenty of wraps, and some lighter soups and sandwiches. In addition, there are quite a few seafood options that are light and healthy.
My authentic Honduran Salpicón recipe is a light and fresh option for hot summer days. It's minced meat that has a very light citrusy flavor. It's a perfectly healthy choice that can be served over white rice or on corn tortillas.
There are even some recipes for a light side dish or salad. For instance, you'll find a wonderful Quinoa Mediterranean Salad that is both tasty and nutritious..
Instant Pot Side Dishes
I like to include plenty of easy side dishes in the meal plans. You'll find comforting classics like Macaroni and Cheese. It is the cheesiest ever!
Oh, and speaking of cheesy, my Loaded Mashed Cauliflower is not only cheesy, but it's also topped with bacon. Seriously, you can't get any better than cheese and bacon! With all the options, you will find a side dish that's perfect for any meal that you'll have.
Instant Pot Desserts
When you're ready for something sweet, I have you covered. There are lots of delightful dessert recipes in my June meal plans. You'll find my rich and decadent Turtle Lava Cakes. They're literally oozing with warm, chocolaty deliciousness. Just thinking about them has my sweet tooth yearning for chocolate now.
Happy first month of the summer! Enjoy the next few months of sun and fun!
Instant Pot Recipes for June
Here are some recipes you'll find on my June meal plans:
June Instant Pot Meal Plans
I've got some great meal plans for June on my website. Check them out here: