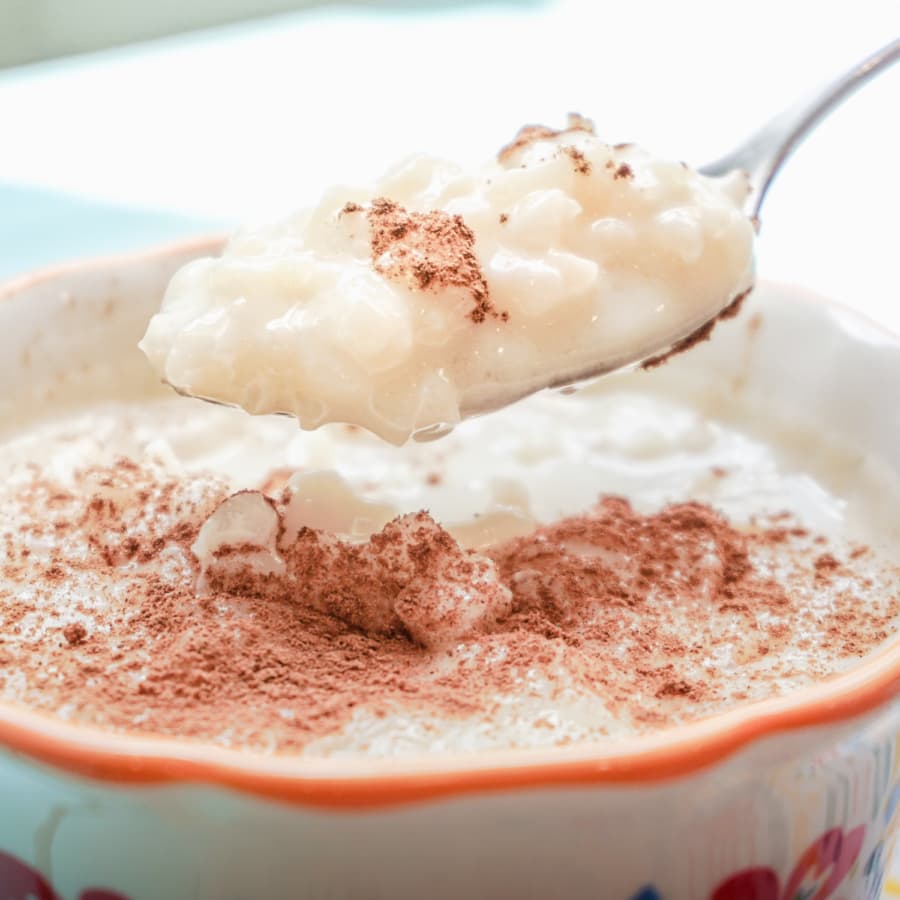 Arroz con Leche. Boy, do I love Arroz con Leche. It is the epitome of a Hispanic dessert. I mean, we even have a song for it!
"Arroz con Leche, me quiero casar, con una muchacha, que sepa cocinar."
This post contains affiliate links. For more information, see my disclosure.
I've literally known this song since I was little. It translates to, "Arroz con Leche, I want to get married, to a woman that knows how to cook." It's not as pretty in English.
Yes! It's Rice Pudding
For those of you that aren't familiar with the term, Arroz con Leche means rice with milk! Basically, Arroz con Leche is the Hispanic version of Rice Pudding.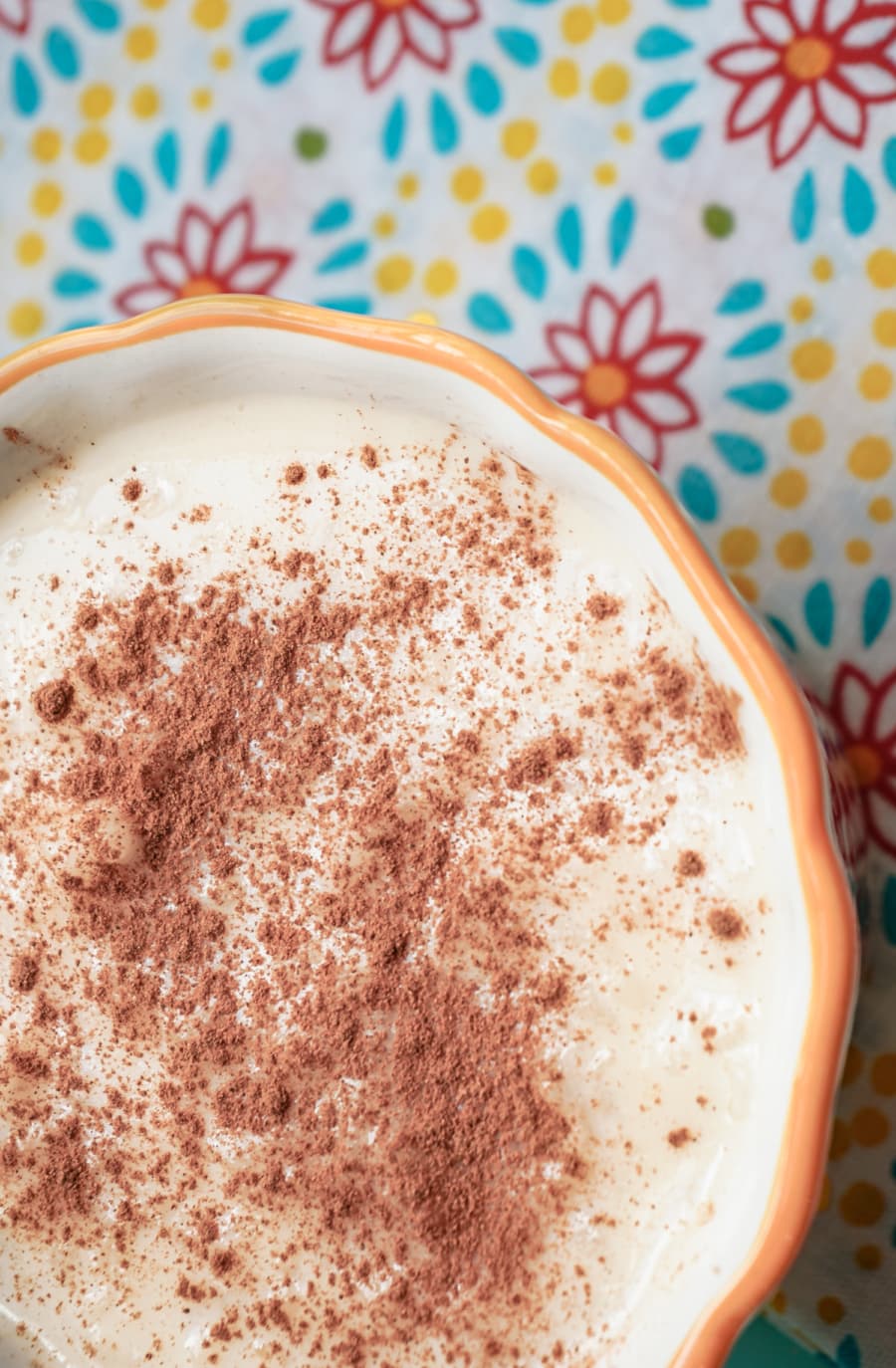 My mom is an expert at making Arroz con Leche. She made it often when I was growing up in Honduras, and still makes it at least once every few months. It's a laborious task, which takes her quite a while. As a side note, my mom also makes a mean flan, which I make myself. My version is now easier and tastier since now it's Instant Pot Flan!
Arroz Con Leche Can Be Intimidating
I have always wanted to learn how to make Arroz con Leche, but to be honest, it's a bit intimidating for me because I've seen her while she's making it, and it's tough to get it just right. You can't mix the rice too much, you can't mix the rice too little, you can't put too much of one ingredient or the other, she doesn't have set measurements either, and it seriously seems like you can't even look at the rice the wrong way, or it might not come out right!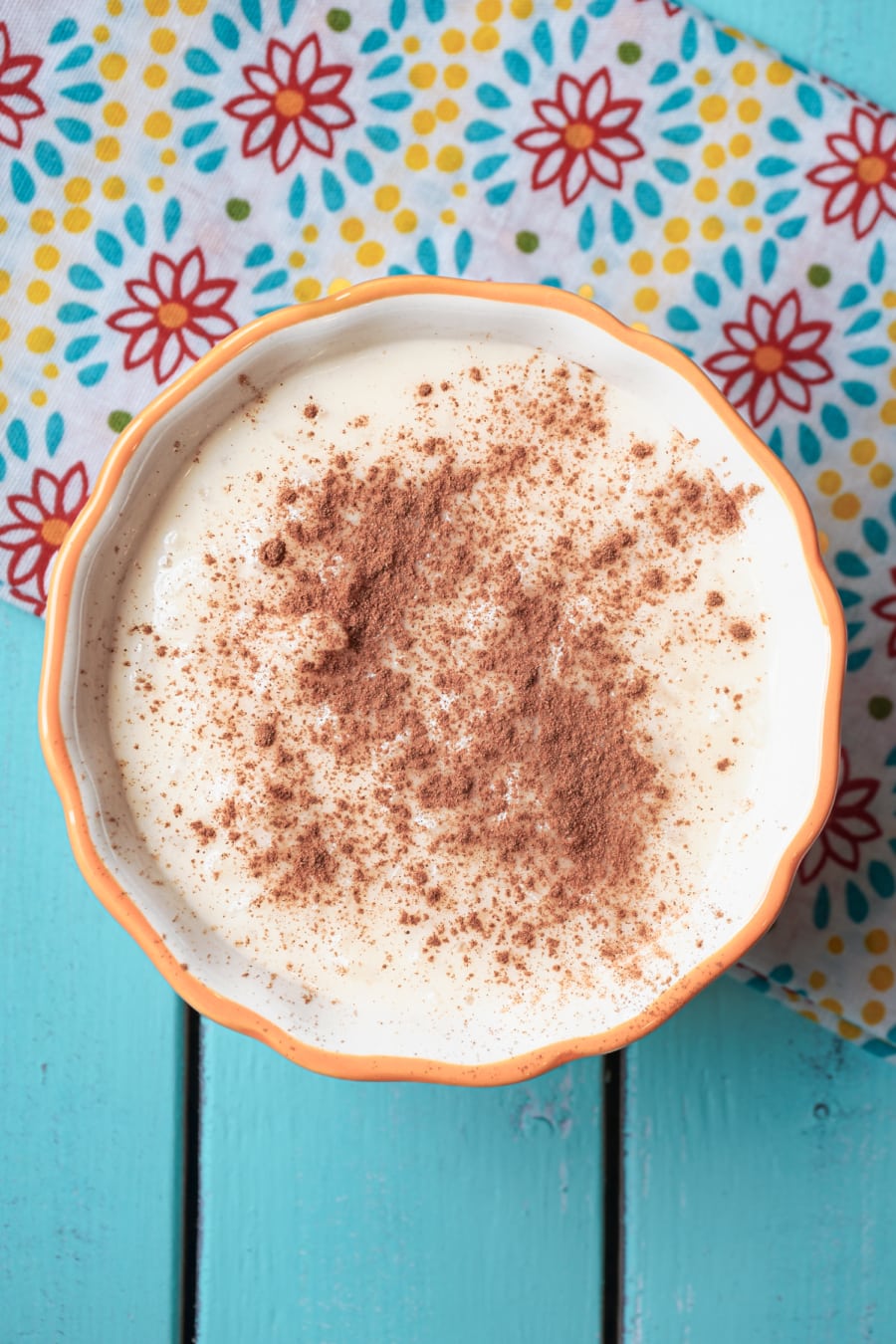 The Many Variations of Arroz Con Leche
There are so many variations of Arroz con Leche around the world! Some people put lemon in it, some add cinnamon, and others even add raisins! My mom kept it simple and always put cinnamon on top of every serving. My older son, Ryan, absolutely loves it. When my mom makes Arroz con Leche she always sends him a bowl that he is unwilling to share with anyone!
Essential Items
Here are some essential prep tools, utensils, and appliances I used to make this recipe.
Featured Items
Here is a list of the products featured in this post or products similar to those featured in this post:
12 Must-Have Instant Pot Cookbooks
If you're looking for a cookbook with easy and reliable Instant Pot recipes, then check out my list of approved Instant Pot Cookbooks.
I Finally Made Arroz Con Leche for the First Time
Well, I finally tried my hand at making Arroz con Leche last week! No, I didn't spend a long time over the stove, being careful not to look at the rice the wrong way, making this delicious dessert. I used my Instant Pot!!
Oh. My. Gosh.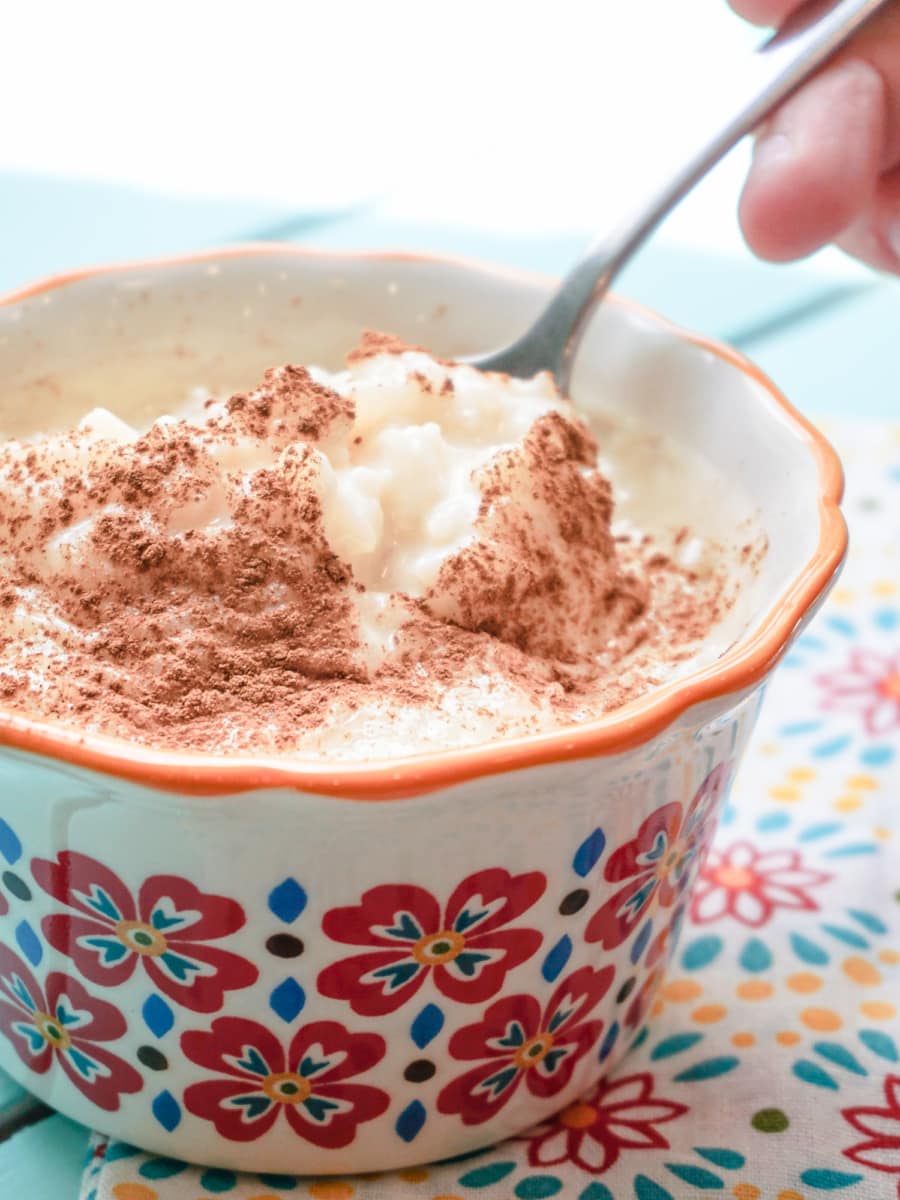 I can't begin to tell you how easy it was! I decided to make it with sweetened condensed milk and no sugar, which is definitely not the way my mom makes it.
The flavor?
Unbelievable! My husband Ryan, who is not a huge fan of Arroz con Leche (don't tell my mom!), loved my version! He served himself an extra helping quite a few times. He even made me make an extra batch, just to make sure the recipe was just right! Sure Ryan, we'll call it "research"!
My Second Batch Was Better – Here's the Secret
I'm actually glad he made me make it twice. The first time I made it, I didn't rinse the rice. The flavor turned out perfect, but the texture wasn't as perfect as I wanted.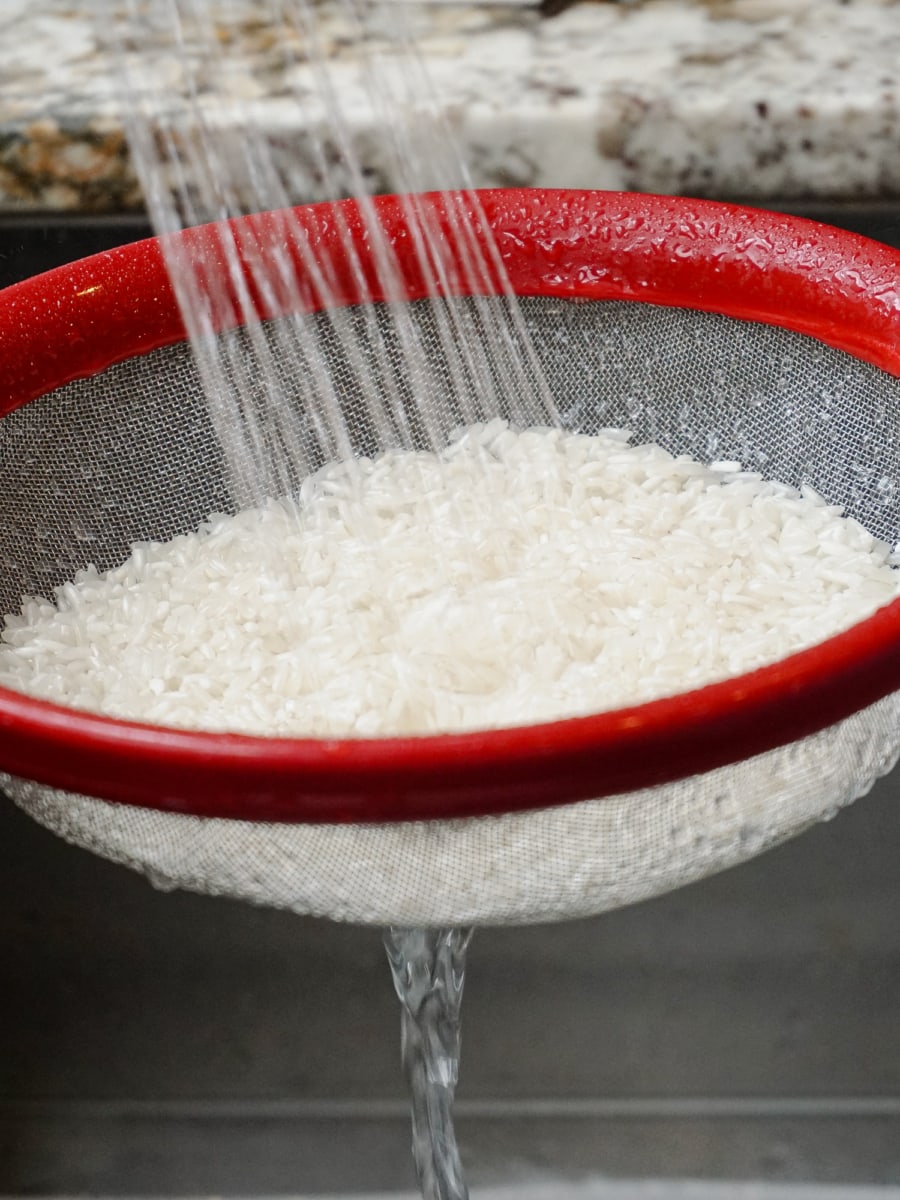 The second time, I rinsed the rice until the water was clear. It made all the difference! So the moral of the story is, you don't HAVE to rinse the rice if you really don't want to, but it will make for a better texture in the end.
How to Make Arroz Con Leche in the Instant Pot
There is nothing better than a warm spoonful of this sweet rice pudding. It will certainly satisfy your sweet tooth. And the best part: it will take you no time to make this wonderful dessert using the Instant Pot. My Instant Pot Arroz con Leche is super easy and oh, so delicious and this step-by-step will guide you through making this Instant Pot dessert.
Let's get started making this Instant Pot Arroz con Leche.
Step 1: Gather the Arroz con Leche ingredients
This wonderful Instant Pot dessert has a few simple ingredients that you probably already have in your pantry.
White, Long Grain Rice: I used white, long grain rice. I like the Mahatma brand. Also, to measure my rice I used the rice cup that came with my Instant Pot. It is not exactly the size of a regular cup, it's smaller! To be exact, it's ¾ cup.
Whole Milk: I used whole milk because it makes the pudding creamier. Plus, it is what we always have in the house anyway.
Water: Also, I add one and one-quarter cup of water to make this recipe Instant Pot friendly.
Sweetened Condensed Milk: This is what gives this Arroz con Leche it's sweet creaminess.
Vanilla Extract: A touch of vanilla adds such a wonderful flavor. There is no substitute for the flavor of real vanilla extract, but if all you have is the imitation vanilla it will work just as well for this recipe.
Step 2: Measure and rinse the rice
Using the Instant Pot rice cup, measure one full cup of rice. If you don't have the rice cup that came with the Instant Pot then, using a normal measuring cup, measure out ¾ cups of rice.
Next, using a mesh strainer, rinse the rice under cool water. Initially, the water will be very cloudy but you will notice that it starts to clear after rinsing for a minute or two. Continue rinsing the rice until the water is completely clear.
Step 3: Add milk, water, rice and salt
Pour the milk and water into the Instant Pot liner and then add the rinsed rice and salt. I put just a little bit of salt in. I filled my ¼ teaspoon about half way. If you have an ⅛ teaspoon, use that one to measure the salt. My set only goes down to ¼.
Using a large spoon, stir all of the ingredients together. I give it just enough of a stir for the rice to spread out. That's it!
Step 4: Setting the Instant Pot
To make Arroz con Leche, you'll finally get to use that 'Porridge' setting! Close the Instant Pot, and make sure to set the pressure release valve to 'Sealing'. Then set the Instant Pot to cook for 20 minutes on the 'Porridge' setting.
Once the cook time has finished, let the Instant Pot do a Natural Pressure Release (NPR) for 10 minutes. After the 10 minute NPR has completed, release the rest of the pressure from the pot until the float valve pops down.
Step 5: Add the condensed milk and vanilla extract
Open the Instant Pot once all the pressure has been released. Perfect!
Now for the yummy part! Add the sweetened condensed milk and vanilla extract to the rice. Mix it all together, and bam! Arroz con Leche!!
The texture in my second batch was definitely improved. Like I said above, the only thing I did differently was rinse the rice.
The Best Arroz Con Leche, Ready to Serve in No Time
Just sprinkle a little bit of cinnamon on top and it's perfection! This may not be the traditional way to make Arroz con Leche, but let me tell you, it's a new and improved way! So easy and so crazy delicious!
This is now one of my favorite Instant Pot desserts and I know that from this point forward, I will be making a lot more Arroz con Leche! Oh, and my son Ryan, he totally approved!!
I really hope you'll give my Arroz con Leche a try. If you do make it, please leave a comment below and let me know how it was.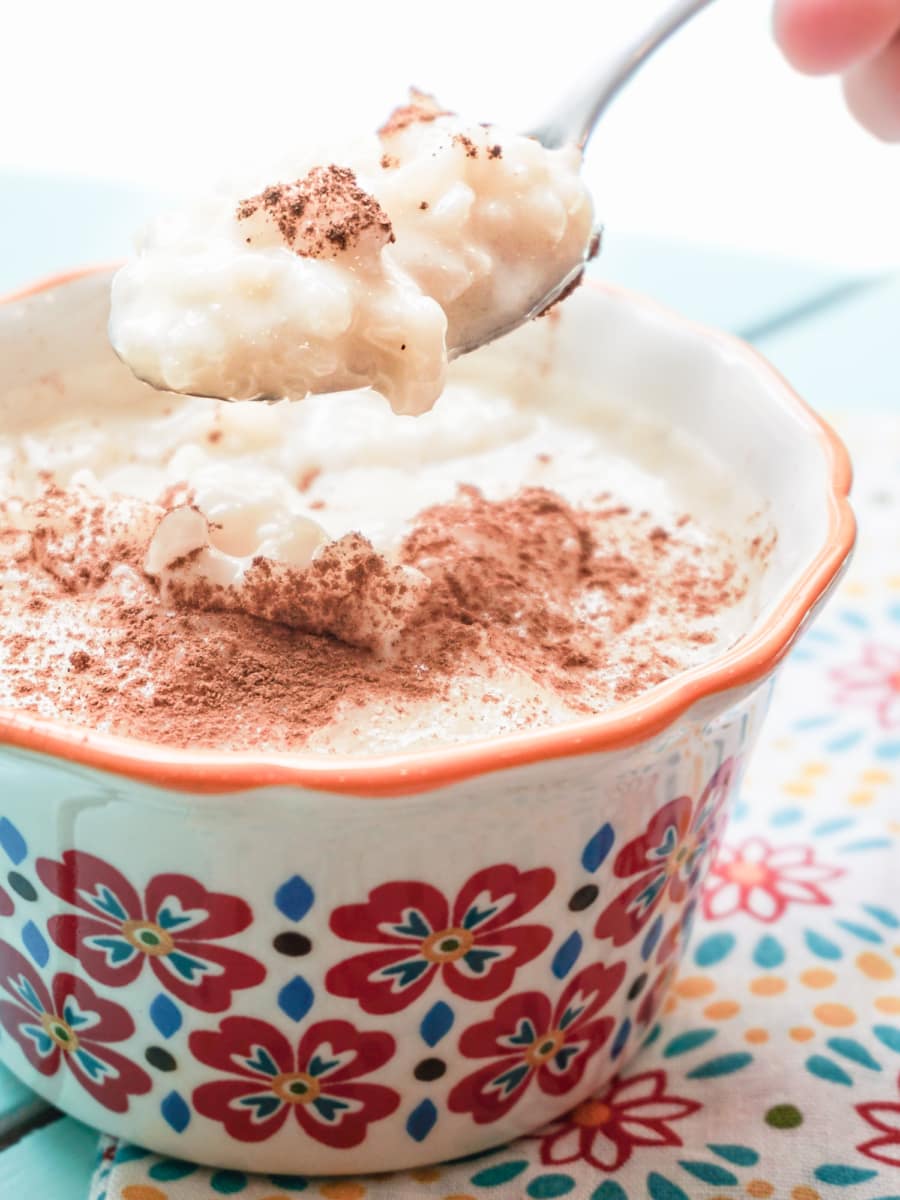 Instant Pot Arroz con Leche
LONG-GRAIN RICE, WHOLE MILK, SWEETENED CONDENSED MILK, AND VANILLA EXTRACT
This Hispanic rice pudding dessert is sweet, rich and creamy and is usually served with a dash of cinnamon. This dessert is fast and easy to make and requires only a few simple ingredients.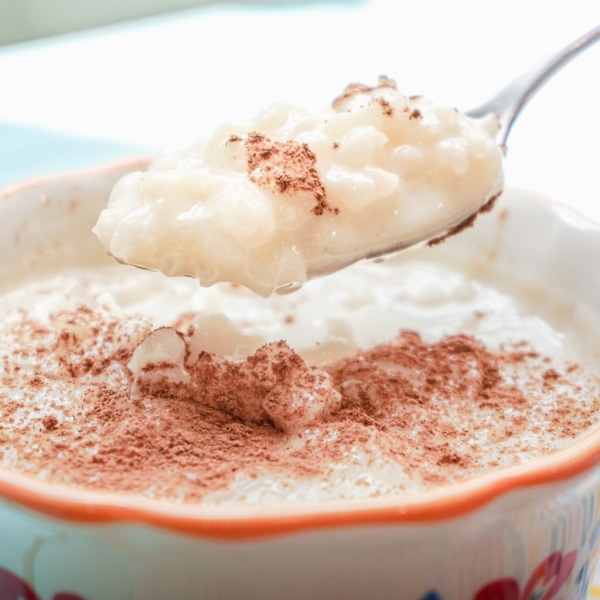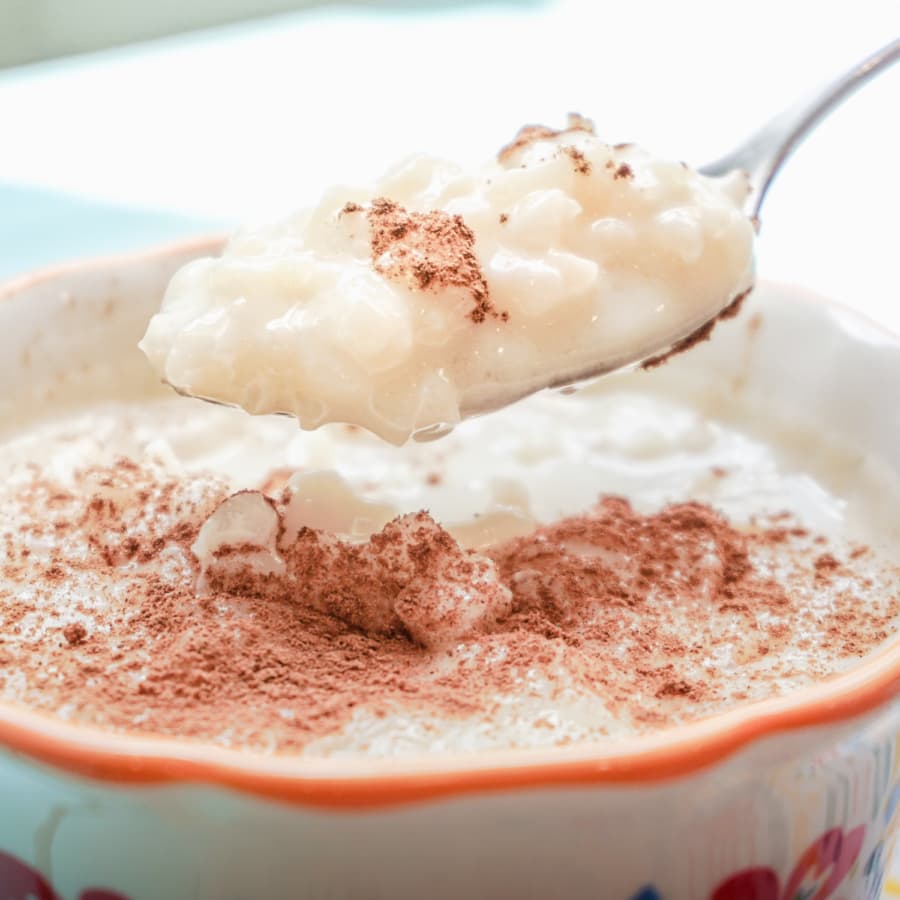 Instructions
Rinse the rice using a mesh strainer until the water runs clean. I like the brand Mahatma.

Add the milk, water, rice and salt to the Instant Pot and stir.

Set the Instant Pot on the Porridge setting (20 minutes).

Allow for a 10 minute NPR (natural pressure release) and then release the remaining pressure and open the pot.

Add the can of condensed milk and the teaspoon of vanilla extract to the rice. Mix it all together.

Serve warm and enjoy!
Nutrition Facts
Calories: 188kcal | Carbohydrates: 32g | Protein: 4g | Fat: 4g | Saturated Fat: 2g | Cholesterol: 15mg | Sodium: 85mg | Potassium: 193mg | Sugar: 20g | Vitamin A: 155IU | Vitamin C: 0.8mg | Calcium: 144mg | Iron: 0.2mg
Serving Suggestions
Sprinkle with cinnamon. Add a dash of cinnamon on top to make this dessert even more delicious.