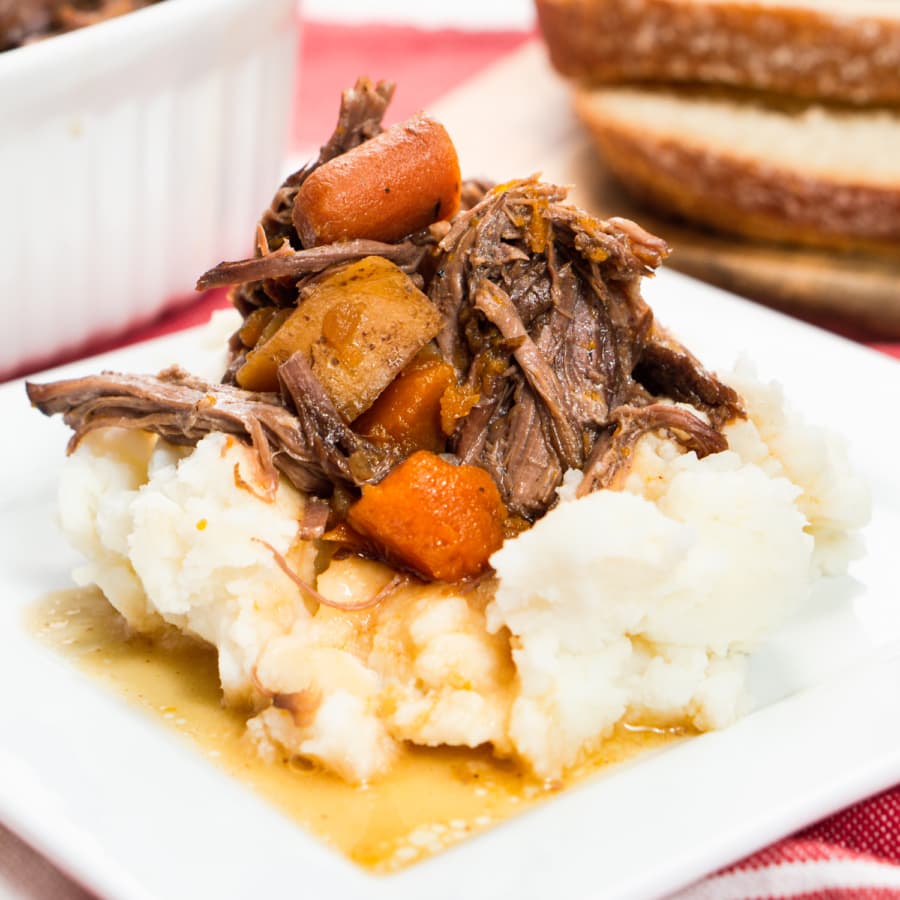 This Slow Cooker Pot Roast is one of my family's favorite comfort meals! I love how easy it is to throw together in the morning, and they love how savory and tender it turns out. We enjoy serving it on top of a bed of warm mashed potatoes, so yummy.
This post contains affiliate links. For more information, see my disclosure.
In this post, I will tell you exactly what ingredients you need to make this Slow Cooker Pot Roast, as well as walk you step by step through the process of making it. I've also answered some common questions you may have about substitutions and a few other things you may be wondering about. Let's get started!
Table of Contents
Tips For a Perfect Crockpot Pot Roast
Choose a Well Marbled Roast: Make sure you choose a roast that is well-marbled and fatty. This will give you the juiciest and most tender meat.
Use Beer: By adding a beer, you will add a wonderful depth to the flavor. The beer also helps to tenderize the meat. I recommend a dark lager or stout beer for the most flavor.
Prepare the Veggies the Night Before: For the ultimate time-saver, take some time to prep and chop your vegetables the night before. This way, in the morning, it'll take no time to throw everything into the crockpot!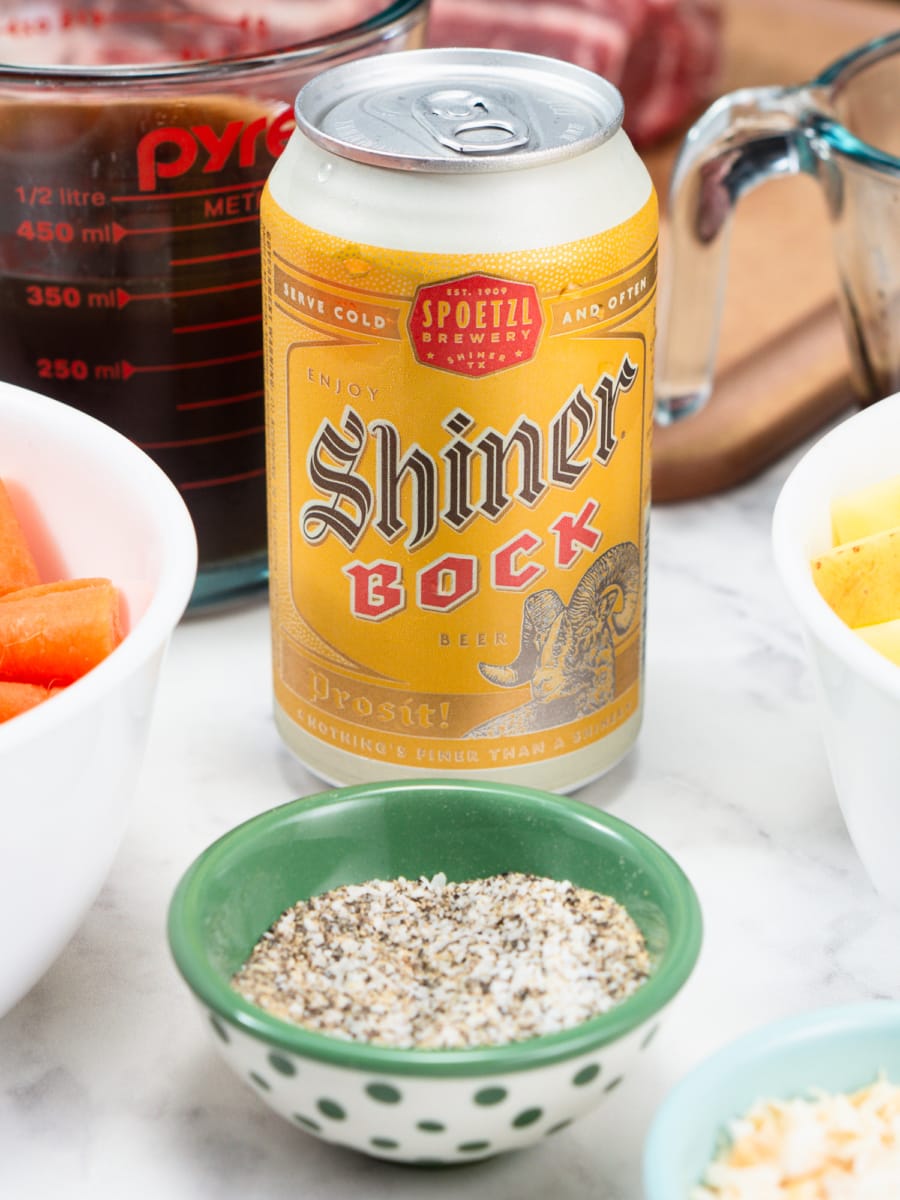 Ingredients for This Slow Cooker pot roast
This pot roast recipe is easy and delicious. You'll have just a bit of prep peeling and dicing the veggies, but that's about it. The rest is easy peasy. Here is everything you'll need, and my personal preferences for a few of the ingredients.
Chuck Roast: I love using chuck roast for making this pot roast. It's a fatty cut of meat and it's relatively inexpensive. When slow-cooked, it comes out tender and so delicious.
Seasonings: You will need salt, pepper, garlic powder, and dried minced onion. You are welcome to chop up an onion, but my goal is to make this pot roast as easy as possible without compromising flavor. The minced dried onions work perfectly for this.
Potatoes: You will need one pound of Yukon Gold or yellow potatoes. They will need to be cubed. I do not peel mine, but I do scrub them with a veggie brush and water.
Carrots: You'll need one pound of carrots. The best and easiest to use, in my opinion, are the fat baby carrots. I like to cut them in half or thirds, but you can definitely leave them whole if you want to save that time.
Sweet Potatoes: You'll also need one pound of sweet potatoes. I recommend peeling them before cubing them. I love adding sweet potatoes to our roasts!
Beer: You will use one 12 oz can of your favorite dark lager as part of your liquid for this recipe. You can also use a stout beer if you prefer.
Soy Sauce: You will use half a cup of soy sauce. Soy sauce adds great flavor and a bit of saltiness to the pot roast.
Unsalted Beef Stock: I always use unsalted stock so I can control the amount of salt in a dish. We always keep some Kitchen Basics on hand, but you can use your favorite brand. Though I prefer chicken stock to beef stock (even for cooking beef) when using store-bought, for this recipe I felt the beef stock worked best.
Bay Leaf: You will need one bay leaf.
How To Make Pot Roast In The Slow Cooker
Slow Cooker Pot Roast is a great meal to make for your family. It's delicious, quick, and easy to make. Here, I'll walk you through every step of making this amazingly simple and comforting dish. So, start gathering your ingredients, take out your slow cooker, and let's get started!
Step 1:

Gather The Ingredients

Start gathering and prepping the ingredients. Here's exactly what you'll need:
Chuck Roast: a 3 pound roast
To season the chuck roast:
Kosher Salt: 2 teaspoons
Black Pepper: 2 teaspoons
Garlic Powder: 2 teaspoons
To layer over the chuck roast in the slow cooker:
Dried Minced Onion: 3 tablespoons
Sweet Potatoes: 1 pound, rinsed, peeled, and cubed
Yellow Potatoes: 1 pound, rinsed, and cubed
Baby Carrots: 1 pound, halved
Unsalted Beef Stock: 1 ½ cups
Soy Sauce: ½ cup
Dark Lager Beer: one 12-ounce can
Bay Leaf: one
Step 2:

Season The Chuck Roast

Place the roast on a cutting board and season both sides evenly with the salt, pepper, and garlic powder. Gently rub the seasoning into the meat.
Step 3:

Add All The Ingredients To The Slow Cooker

Add the seasoned roast to the slow cooker and sprinkle the dry minced onion over it.
Layer The Vegetables Over The Roast
Next, layer the sweet potatoes, yellow potatoes, and carrots over the roast.
Add The Liquids And Bay Leaf
Pour the unsalted beef stock, soy sauce, and lager beer over the roast and vegetables. And, finally, place the bay leaf in the slow cooker before closing it.
Step 4:

Cook The Roast

Place the lid on top of the slow cooker and set it to cook on 'High' for 6 hours.
Step 5:

Transfer To A Serving Dish

After the roast has finished cooking, open the slow cooker and remove the bay leaf. Using a pair of tongs and a large serving spoon, transfer the roast along with the vegetables from the slow cooker to a serving dish. You will noticed that the roast will begin to fall apart as you're transferring it. That's exactly what you want! Use the tongs to remove any fatty pieces from the roast.
Step 6:

Serve And Enjoy Your Pot Roast

Now that you know how to make a Pot Roast in the slow cooker, it's time to enjoy the fruits of your labor! Sit down with your family, enjoy a nice meal, and savor the flavors of this wonderful comfort dish.
Essential Items
Here are some essential prep tools, utensils, and appliances I used to make this recipe.
Appliances & Cookware
These are the appliances and cookware that I used to make this recipe:
Featured Items
Here is a list of the products featured in this post or products similar to those featured in this post: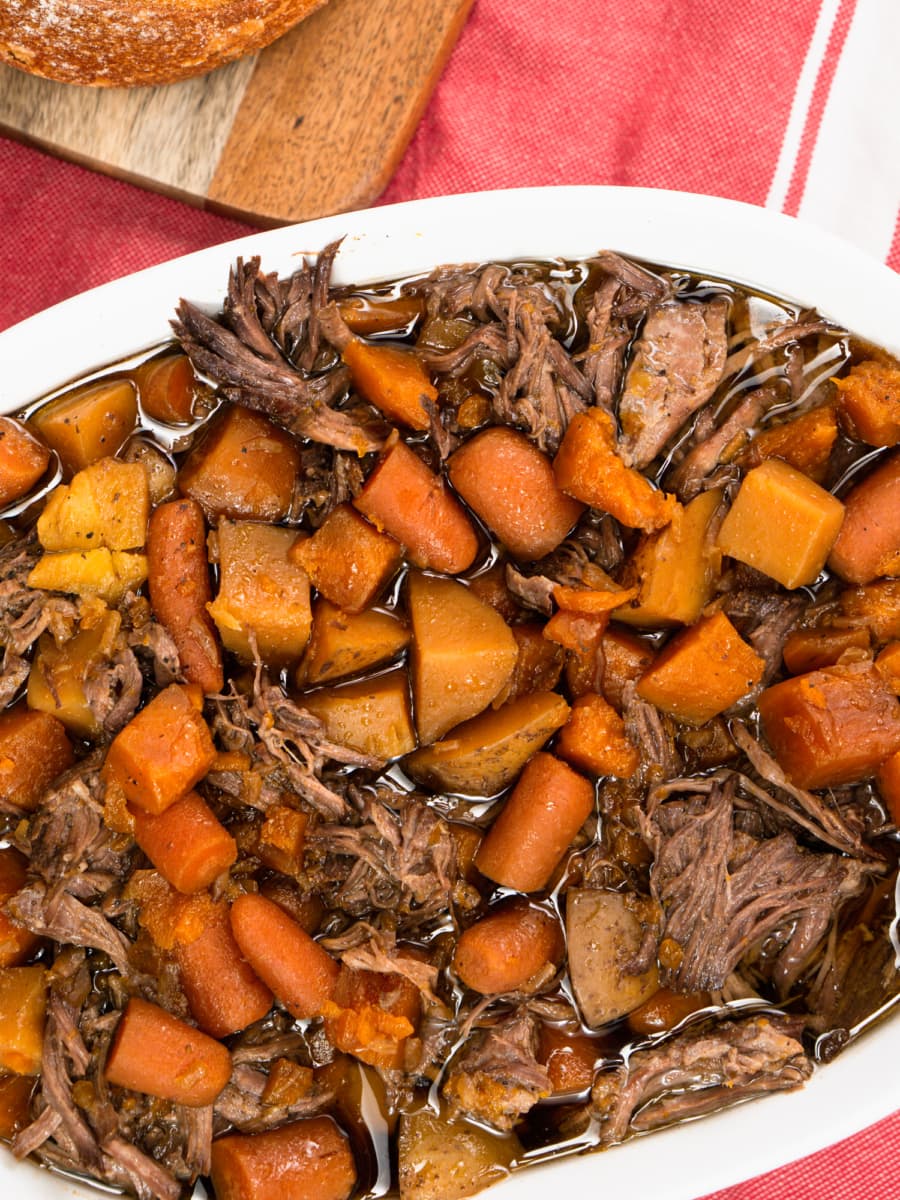 Substitutions for this recipe
You will probably have questions about substituting some of the ingredients. Here are some I think you will have. If you have any others, feel free to post them in the comments below and I'll do my best to help.
what can I use instead of beer?
If you absolutely can't or don't want to use beer there are several things you can substitute it with. You can use red table wine, coca-cola, more beef stock, grape juice, or apple juice.
Do I have to add sweet potatoes?
I love adding sweet potatoes to my pot roasts. I love the sweetness of them, and would personally just leave out the regular potatoes and only use sweet potatoes. But my kids like regular potatoes in there, so I add both. It just adds a nice touch and sweet potatoes are so good for you! You can definitely leave them out. If you do, you can add half a pound more each of the carrots and yellow potatoes.
can I use a different cut of meat?
I highly recommend using a chuck roast for this recipe. I find it to be the best cut and always gives me consistently tender and juicy results.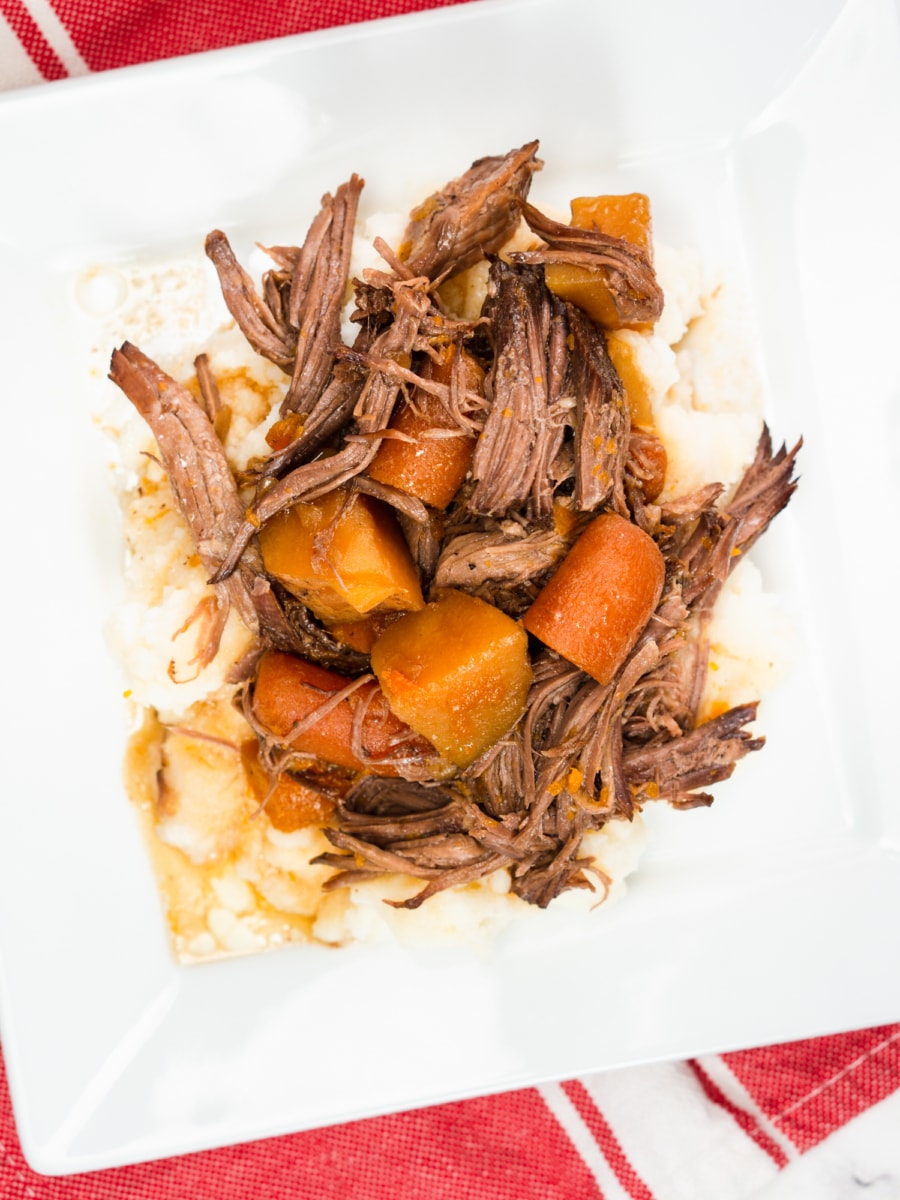 Common Questions About Making a slow cooker pot roast
can I cook this pot roast on low?
You can definitely cook this slow cooker pot roast on low instead of high. If you cook it on low, you'll need to do so for approximately 8-10 hours. Check for doneness to ensure the roast is fully cooked.
what are the best potatoes for pot roast?
I prefer using Yukon Gold or yellow potatoes for this recipe. I leave them with the peel on. I feel these are the best potatoes to use in a pot roast.
Isn't it important to sear the meat?
Browning or searing the meat for this recipe is totally optional. I personally never do it when making this slow cooker pot roast, and feel that nothing is lost in skipping the browning of the meat. That being said, if you have the desire and time, you can sear the meat.
what can I serve with pot roast?
There's nothing like a warm bed of mashed potatoes topped with some juicy pot roast! So comforting, and I'm sure it reminds you of your childhood as it does me. What else can you serve this Slow Cooker Pot Roast with? You can serve it over rice, or even mashed cauliflower if you're watching carbs. And please don't forget to add some crusty bread as well! I'm kind of traditional when it comes to eating comfort foods, so I think those are your best bets!
Quick Tip
Peel and dice your veggies the night before to save some time in the morning!
IT'S YOUR TURN TO MAKE THIS slow cooker pot roast!
Did you make this crockpot roast yet? I truly believe that this is the best and easiest Slow Cooker Pot Roast recipe out there, and I know you and your family will absolutely love it! Let me know in the comments section below when you make this recipe and how much you enjoyed it.
5-Star Rating: If you loved your Slow Cooker Pot Roast, I'd appreciate it if you could give this recipe a 5-star rating to show how much you loved it.
MORE slow cooker RECIPES
Looking for more delicious slow cooker recipes? Here are a few that I know you'll love:
Need a side dish for your pot roast? If you're looking for a perfect complement for this recipe, then try one of the following:
Slow Cooker Pot Roast
Tender and flavorful pot roast with perfectly cooked carrots, potatoes, and sweet potatoes
Total Time
6hours:10minutes
This pot roast is the perfect meal for busy families who want a delicious dinner that's easy to make. This recipe is simple and only requires a handful of ingredients. The best part… the slow cooker does all the hard work for you! Your pot roast will be cooked to perfection with very little effort on your part. Just set it and forget it!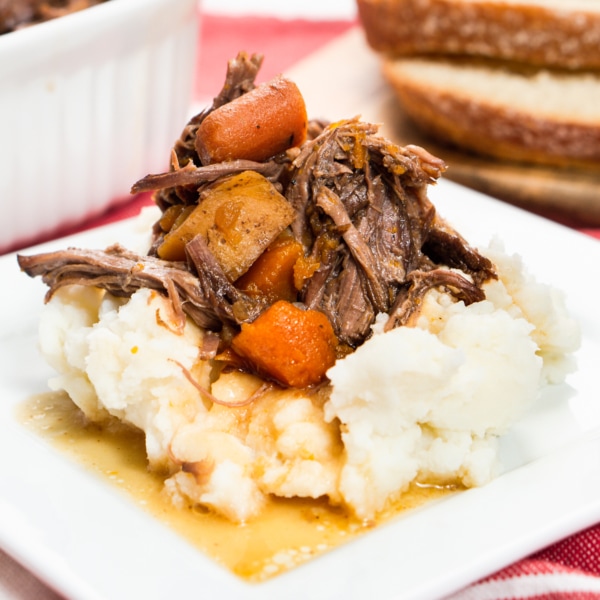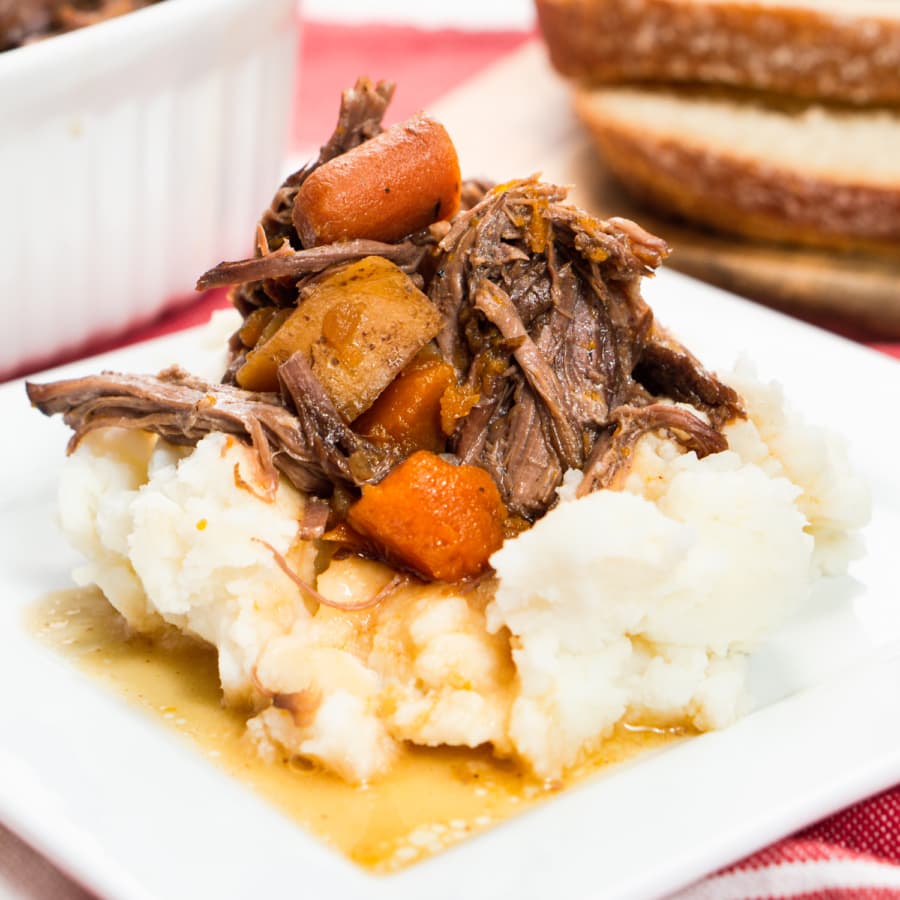 Instructions
Season the roast with salt, pepper, and garlic powder on both sides.

Add the roast to the slow cooker.

Add the minced onion on top of the roast.

Layer the sweet potatoes, yellow potatoes, and carrots on top of the roast.

Add the soy sauce, stock, beer, and bay leaf.

Cook on 'High' for 6 hours.

Once finished cooking, use some tongs to remove any large fatty pieces from the meat.

Serve and enjoy!
Nutrition Facts
Calories: 464kcal | Carbohydrates: 31g | Protein: 38g | Fat: 20g | Saturated Fat: 9g | Polyunsaturated Fat: 2g | Monounsaturated Fat: 10g | Trans Fat: 1g | Cholesterol: 117mg | Sodium: 1624mg | Potassium: 1256mg | Fiber: 5g | Sugar: 7g | Vitamin A: 15890IU | Vitamin C: 15mg | Calcium: 85mg | Iron: 5mg