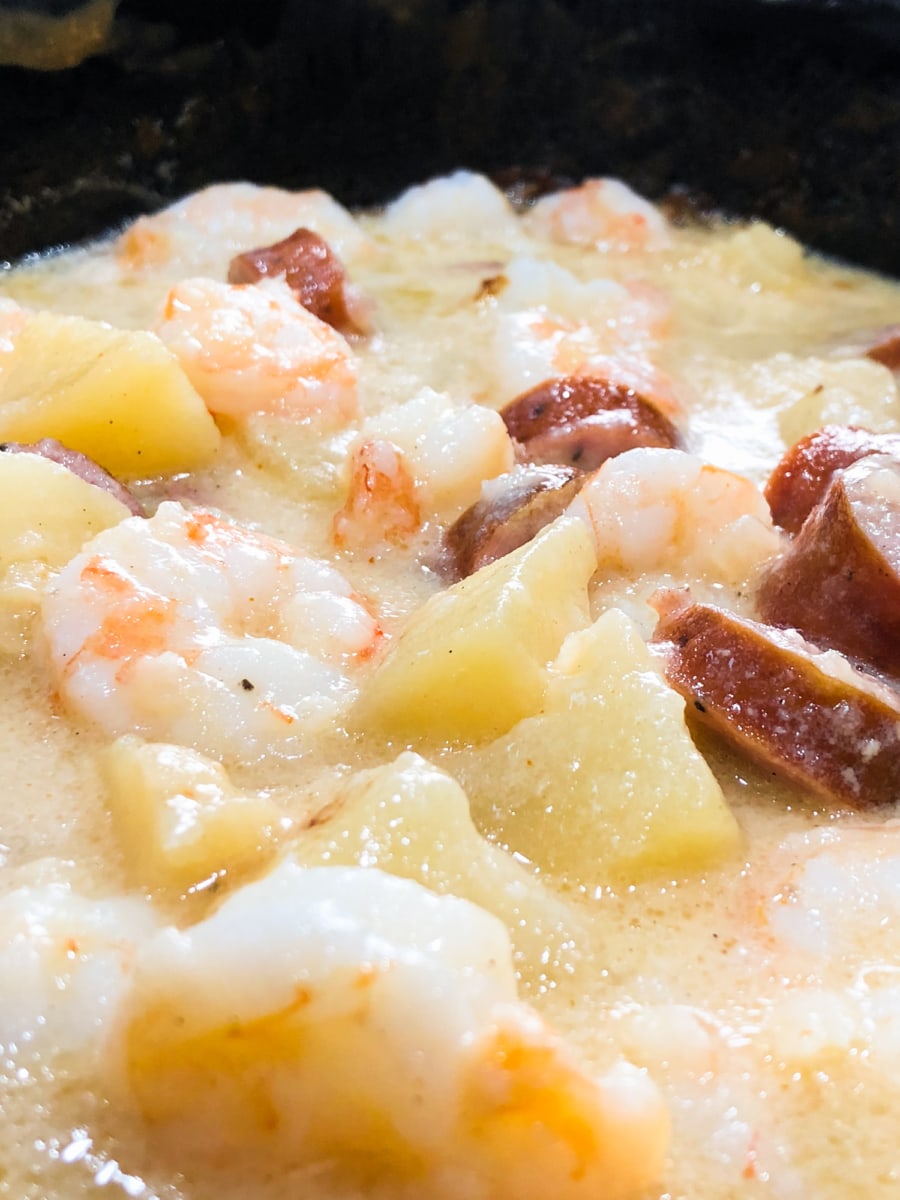 My very first slow cooker recipe on the blog! I'm excited to share with you this delicious recipe for slow cooker Sausage and Potatoes, with Shrimp! It's a recipe my family loves this stewy dish and I love how easy it is to make. So get that crock pot ready and let's get cooking!
Dusting off My Slow Cooker
As you probably know, I've been obsessed with my Instant Pot for a few years and have been using it overtime! When I got my Instant Pot I did not get rid of my slow cooker though. I feel they both have different purposes and can be great additions to any kitchen.
Pin it to Pinterest
Save this Slow Cooker Sausage and Potatoes for later.
This is one of my favorite things to make in my slow cooker, and it had been a while since I'd made it. I figured it was time to share this deliciousness with everyone! This slow cooker Sausage and Potatoes recipe is so delicious and easy to make, it will become one of your favorites too.
What Makes This Recipe So Easy?
Simple ingredients, and a pretty much dump and go recipe, make this one a great recipe to throw together in the morning and have ready for lunch or dinner. Sausage, potatoes, and shrimp in a delicious, creamy homemade sauce with just the right amount of cajun seasoning will make your home smell amazing while it's cooking!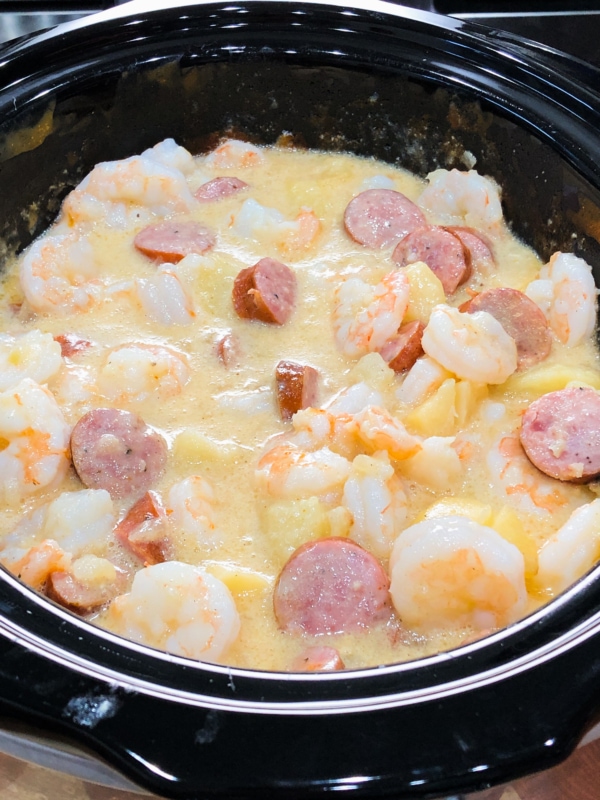 I really love using my homemade cream of chicken soup for this recipe. It's simple to make and if you have the time to make it, you will not be disappointed. That being said, the recipe will still be delicious if you'd like to use canned cream of chicken or mushroom soup instead. Other than the cream of chicken soup, all you'll need to do for prep is peel and cut your potatoes and your sausage. That's pretty much it!
If you happen to have an Instant Pot and you love easy recipes, I recommend trying my Instant Pot Spicy Cajun Pasta, which is also made with sausage and Creole seasoning.
How to Make Sausage and Potatoes in the Slow Cooker
You'll want to give yourself at least 4 hours before lunch or dinnertime to put this in your slow cooker. I also like to set a timer to remind me when to add the shrimp. The shrimp will not cook from the beginning with the potatoes and sausage or else it would be overcooked.
To start off you'll need to clean, peel, and cut your potatoes. I use russet potatoes. For the sausage, I prefer pork sausage, but you can use others like venison or beef. Just make sure it's fully cooked, though. You will need to slice the sausage before putting it in the pot.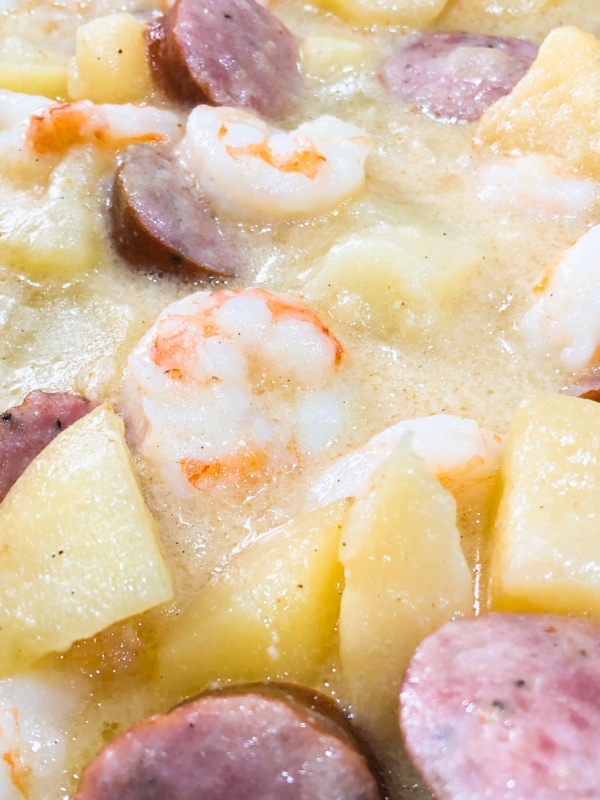 Next, you'll add the sausage and potatoes to your slow cooker and mix in the cream of chicken. Finally, you need to add in the spices. That's it. Close your lid and set your slow cooker to High for 4 hours. When you have about 10 minutes left you will add the fully thawed shrimp. You will be amazed at the delicious aroma that fills your home as it cooks.
Kitchen Prep Tools, Utensils & Appliances
Here is a list of the kitchen prep tools, utensils, and appliances I used to make this recipe.
Prep Tools & Utensils
This simple dump and go recipe requires very few prep tools and utensils. Here's what I used:
Appliances & Cookware
You will need a slow cooker for this recipe.
There is nothing better than a warm bowl of sausage and potatoes stew. I take that back, adding shrimp definitely makes it better. My family absolutely loves this slow cooker recipe, and I know that yours will too! I'd love to hear how your family liked it in the comments below.
Slow Cooker Sausage and Potatoes With Shrimp
Pork sausage, russet potatoes, and shrimp in a creamy cajun stew
This sausage and potato stew with a flare of cajun spice is amped up with the addition of shrimp. This dish is so hearty, delicious, and easy to make. A perfect weeknight dinner option.
Ingredients
3

lbs

russet potatoes

peeled, and cubed

1 ½

lbs

ground pork sausage

fully cooked, sliced

1 ½

lbs

shrimp

peeled and deveined

2

cups

sweet onion

diced

3

cups

homemade cream of chicken soup

2

tsps

creole seasoning I prefer Tony Chachere's
for the

Homemade Cream of Chicken Soup
Directions
make the

Cream of Chicken Soup
Using a fork, mix the flour, and the chicken flavored Better Than Bouillon with 1 cup of the milk until you have a smooth mixture. Set aside.

In a small saucepan over medium heat, melt the butter. Once the butter is fully melted, add the remaining two cups of milk to the saucepan, continually stirring with a fork or whisk as the milk heats up.

Once the milk in the saucepan begins to get frothy and boil, slowly add the milk and flour mixture to the saucepan, continually stirring as you add it.

Continue to stir as the soup begins to bubble and thicken.

Turn off the heat and continue stirring for another minute or two as the soup cools.
prepare the

Slow Cooker
Spray the inside of the liner with cooking oil and then add the potatoes, sausage, onion, cream of chicken soup, and Creole seasoning to the slow cooker.

Mix all the ingredients together.

Close the pot and set the slow cooker on High for 4 hours or Low for 6 to 8 hours.

10 minutes before cooking has completed, add the shrimp, and mix them in.

Allow to cook for an addition 10 minutes or until the shrimp is fully cooked.
Nutrition Facts
While every effort is made to correctly calculate these nutritional facts, they should be used as general guidance as they may not be 100% accurate.
Serving:
1
bowl
|
Calories:
452
kcal
|
Carbohydrates:
33
g
|
Protein:
26
g
|
Fat:
23
g
|
Saturated Fat:
8
g
|
Cholesterol:
199
mg
|
Sodium:
1300
mg
|
Potassium:
812
mg
|
Fiber:
1
g
|
Sugar:
5
g
|
Vitamin A:
455
IU
|
Vitamin C:
10.7
mg
|
Calcium:
185
mg
|
Iron:
3.8
mg
Notes
Some things you should know about this Slow Cooker Sausage and Potatoes With Shrimp recipe.
Using canned cream of chicken. If you'd like, you may substitute the homemade cream of chicken for two cans of cream of chicken.
Making without shrimp. If you'd rather not make this dish with the shrimp, just omit them. All the other ingredients will remain the same. However, you could double the amount of sausage to replace the shrimp also.