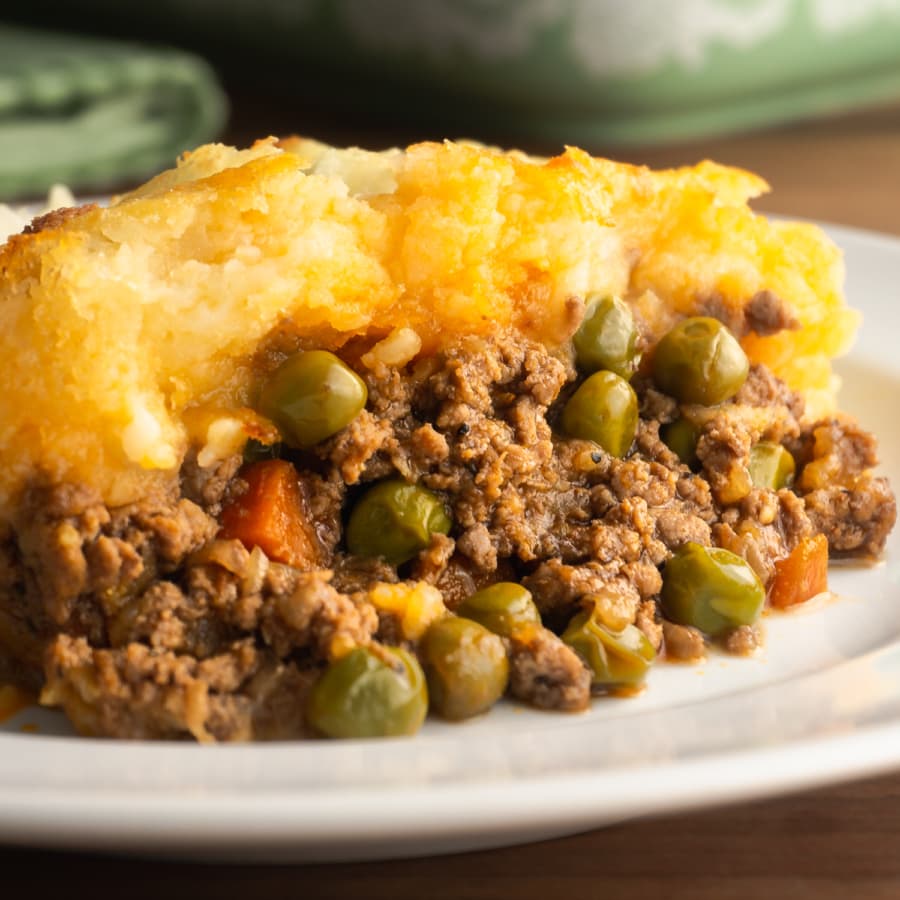 I love Shepherd's Pie! The combination of meat and veggies topped with mashed potatoes is just perfection. I recently published a very easy Beef Shepherd's Pie and it has been a huge hit. I was eager to try a traditional Irish Shepherd's Pie made with lamb instead of beef. Since St. Patrick's Day was coming up, I hit Ryan up with the challenge.
This post contains affiliate links. For more information, see my disclosure.
What is a Shepherd's Pie?
Shepherd's Pie is a comforting mixture of ground lamb with peas and carrots and just the right seasonings. It is topped with mashed potatoes and baked to perfection. It's not a complicated dish and it is an Irish staple. We usually make it at home with beef, in which case it would be called a cottage pie. It's called Shepherd's Pie when made with ground lamb, because, well, the shepherd takes care of the lambs!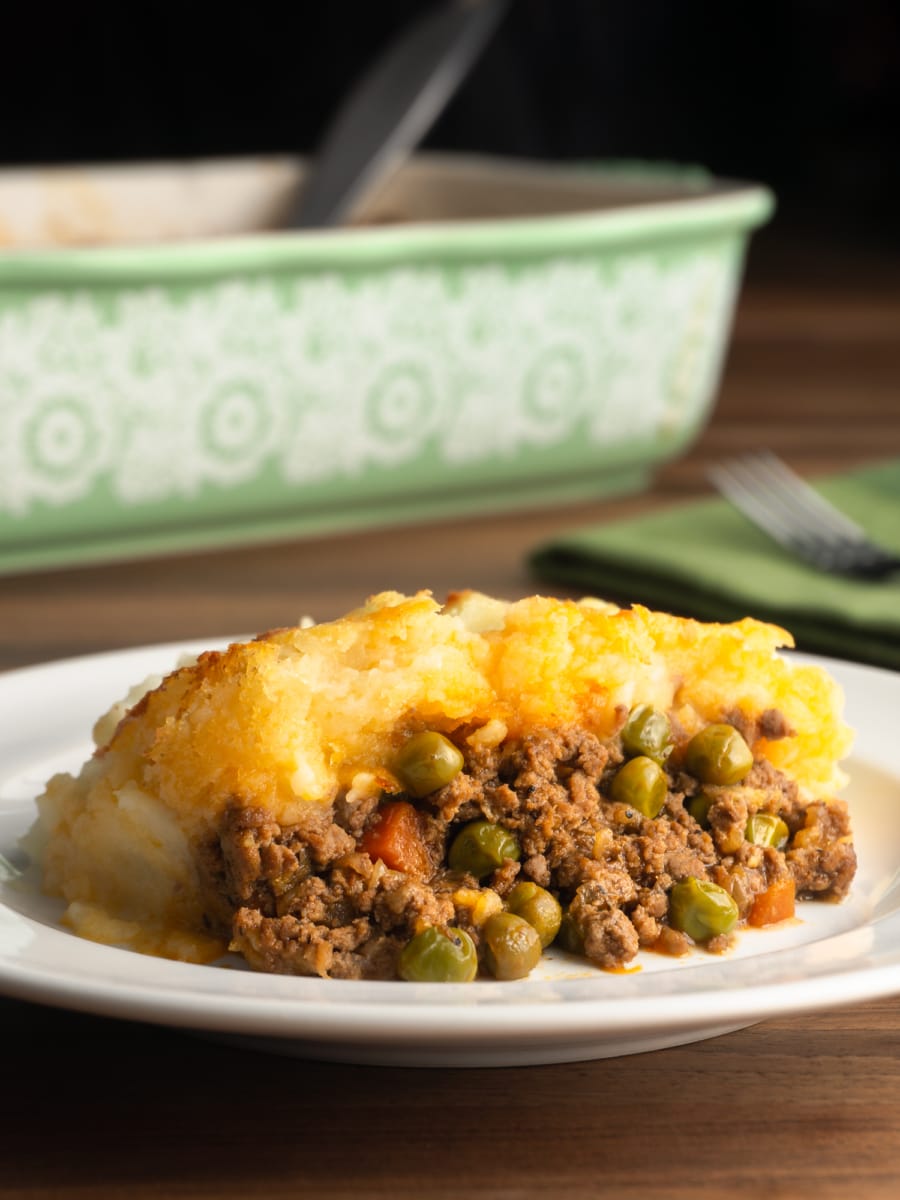 I had never tried lamb until recently. When my neighbor found out I had never had it, he sent us over some homemade lamb patties and lamb chops, and oh dear they were amazing! It was love at first bite. So I knew I definitely wanted to publish a traditional Shepherd's Pie recipe made with lamb for St. Patrick's Day.
Since I was already busy working on some extra delicious dessert recipes for St. Patrick's Day, (like my Instant Pot Irish Car Bomb Chocoflan and my super easy Irish Car Bomb Cupcakes), I decided to ask my personal head chef for help in creating this recipe. That would be my husband, Ryan!
Ryan Hits the Kitchen
For those of you that know us, you know Ryan does a lot of the cooking at home. We spend a lot of time together in the kitchen. He's an awesome recipe creator. If you don't believe me, try his super popular Instant Pot French Dip recipe! To this day, it's one of my family's favorite recipes on the blog.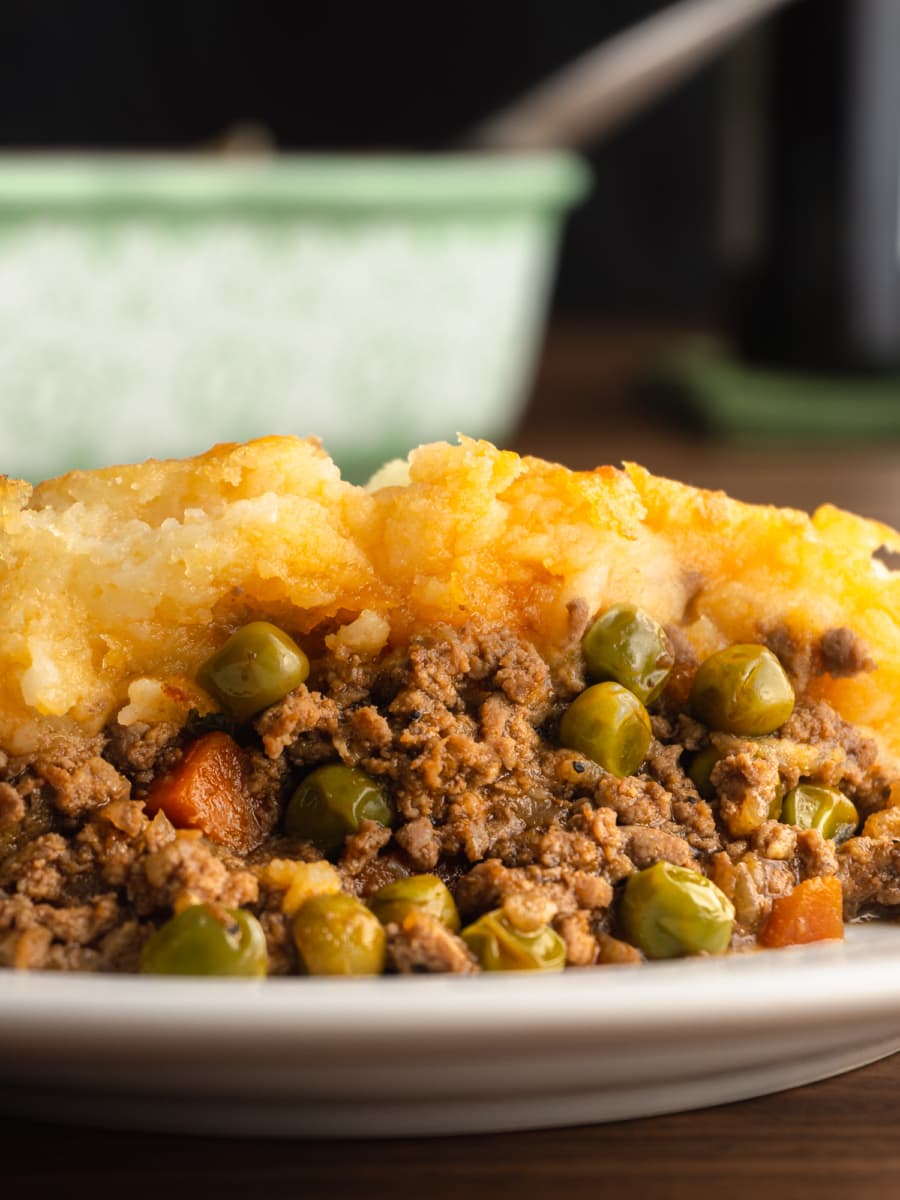 But Ryan likes to create special recipes. He likes making things from scratch and loves experimenting in the kitchen. So when I wanted this special recipe for St. Patrick's Day, I knew it was best left to him! Well, he certainly delivered!
The Perfect Meal for a Special Occassion
This Traditional Shepherd's Pie is not necessarily an inexpensive meal. Ground lamb is not cheap most of the time. However, my supermarket puts it on sale several times a year, so I recommend you keep an eye out for sales at your local stores. Other than the lamb, though, the rest of the ingredients are all basic staples you probably have at home.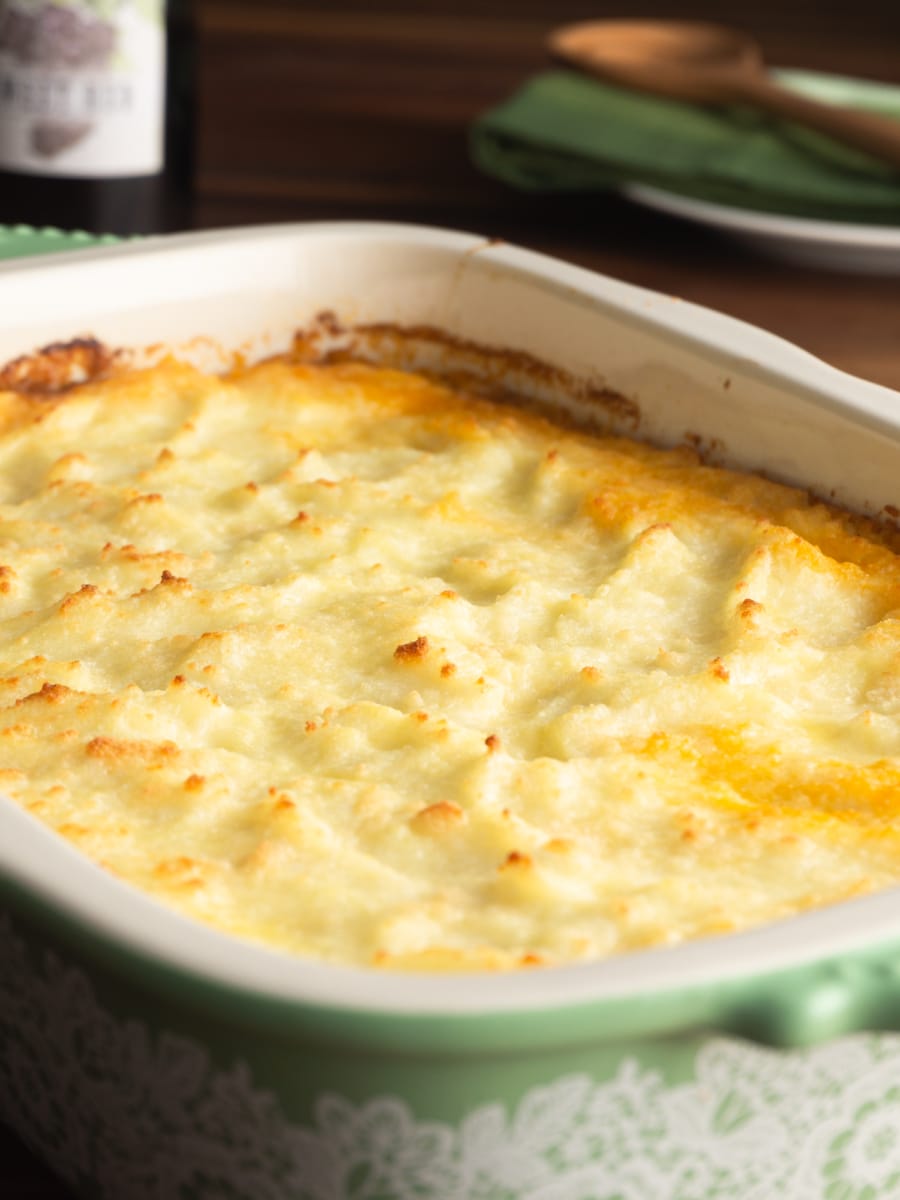 If you don't buy lamb often, I suggest you make this dish for a special occasion. St. Patrick's Day, of course, is a perfect excuse to have Shepherd's Pie. But, I'm confident you'll want to make this more often since it's so good. You can use ground beef instead if you want to make it more often and keep the costs lower.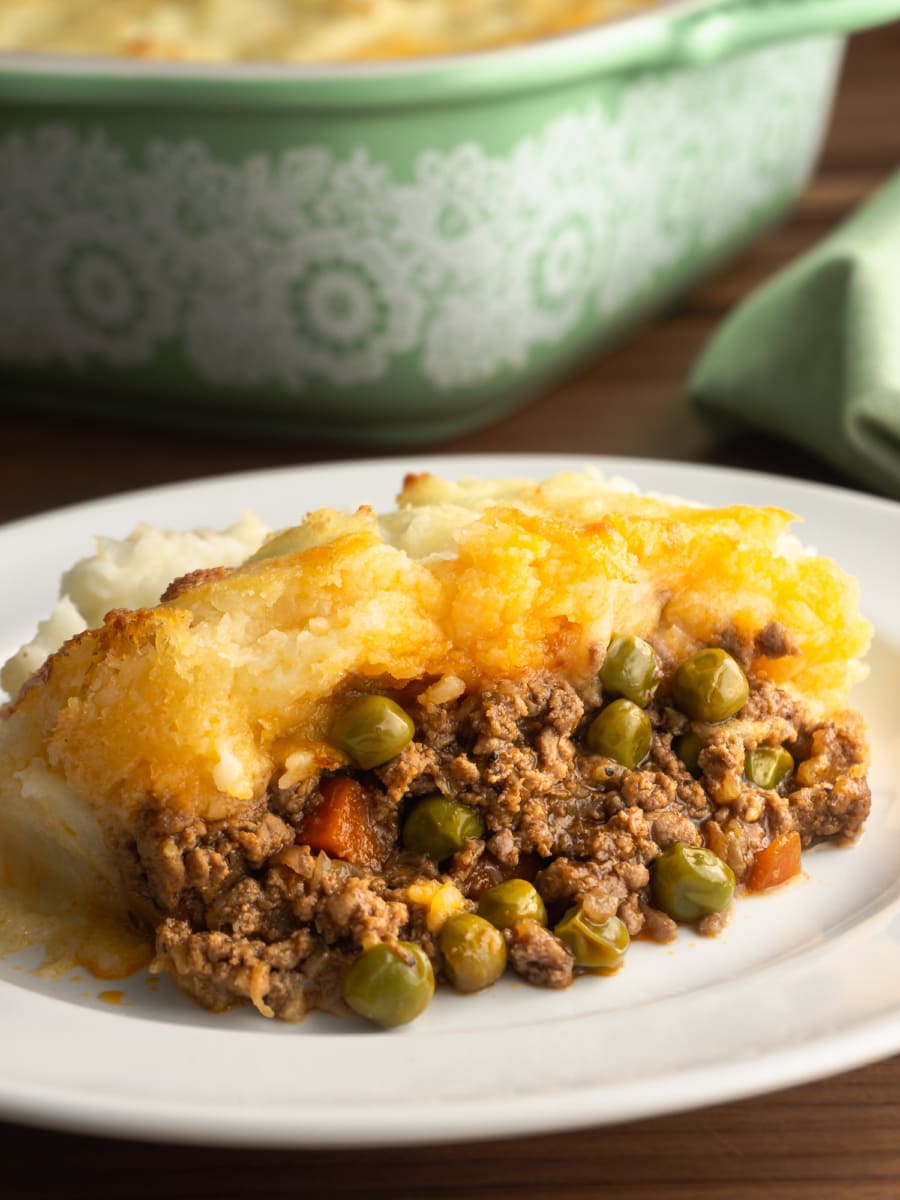 Essential Items
Here are some essential prep tools, utensils, and appliances I used to make this recipe.
Featured Items
Here is a list of the products featured in this post or products similar to those featured in this post:
During Ryan's testing, as a matter of fact, he used ground beef, until he perfected the recipe enough to use the lamb. It was perfectly tasty and the kids loved it just as much with ground beef. But I will say, once we had it with lamb, it was on another level!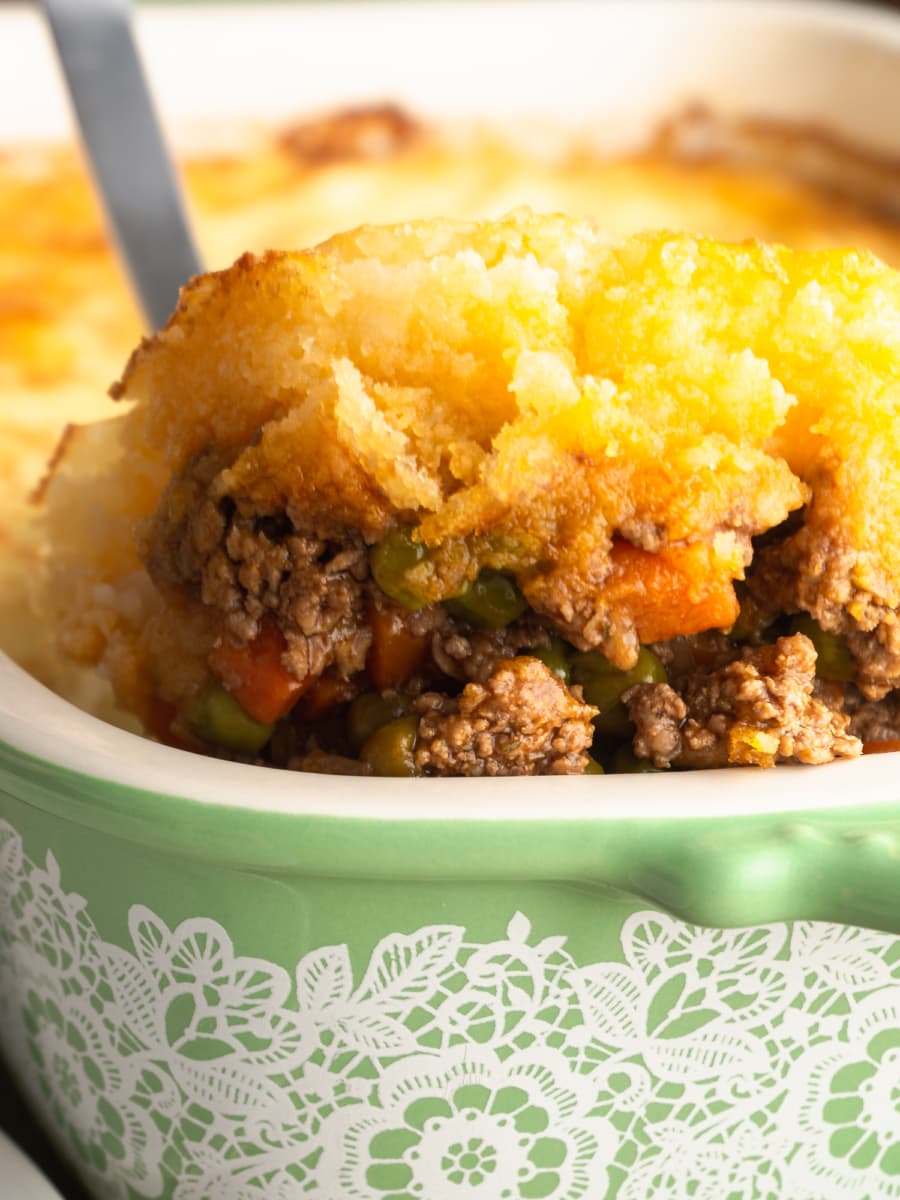 My family absolutely loves this Traditional Shepherd's Pie and I'm certain yours will too. Let me know in the comments when you try it.
Traditional Shepherd's Pie
GROUND LAMB AND VEGETABLES COOKED IN A RED WINE REDUCTION AND TOPPED WITH FLUFFY MASHED POTATOES
Total Time
1hour:50minutes
This Traditional Irish Shepherd's Pie is a classic comfort food perfect for St. Patricks Day or any special occasion. The light sweetness of the ground lamb and vegetable filling is perfectly balanced with the savoriness of the fluffy mashed potatoes. This casserole dish is sure to be a hit for your next gathering.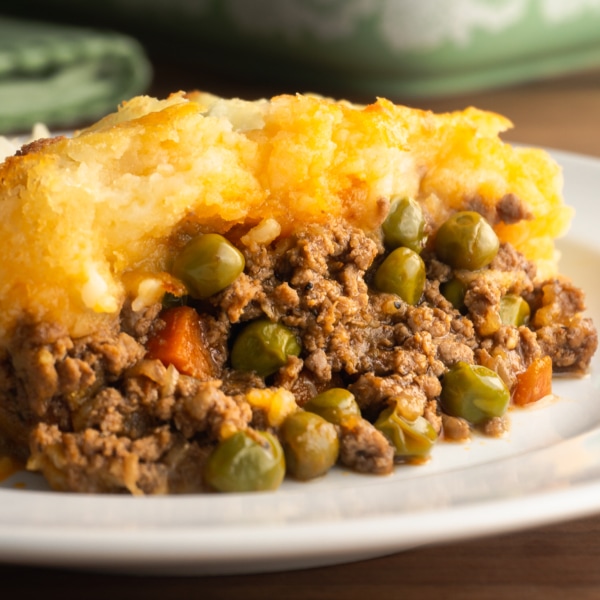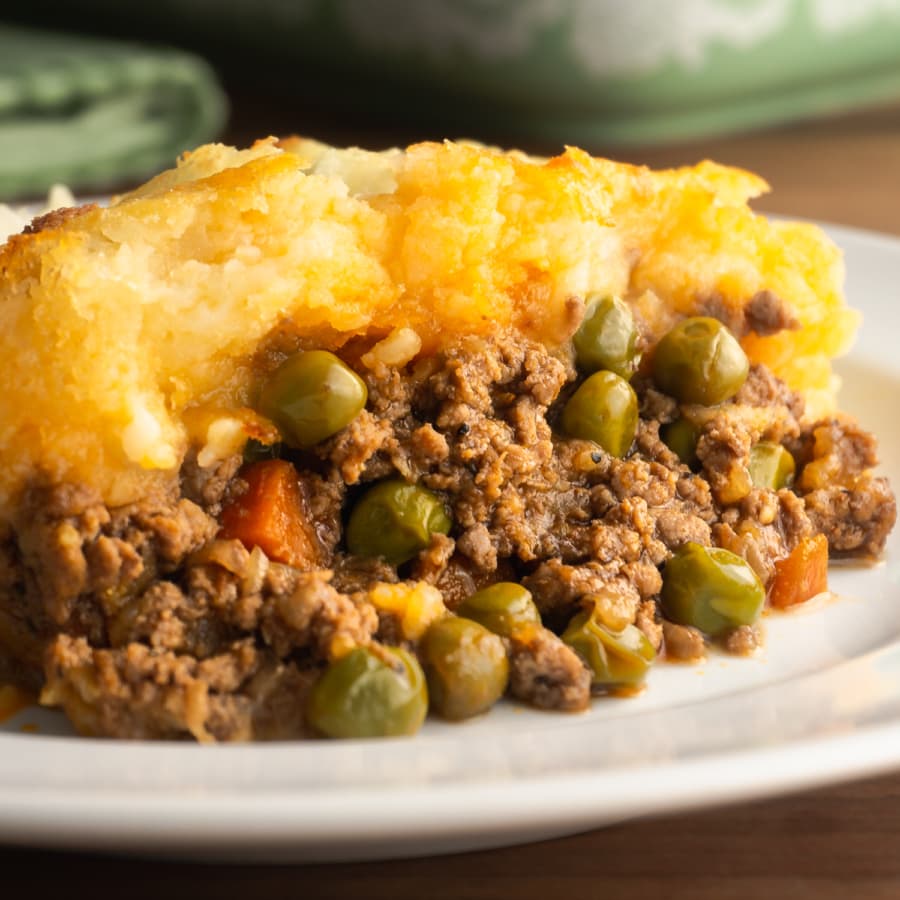 Instructions
make the Mashed Potatoes
Scrub the potatoes under running water with a vegetable brush to remove any dirt or debris. Peel and cut the potatoes into 1 to 2-inch thick chunks.

In a large stockpot, cover the potatoes with cold water and heat to a boil. Once boiling, turn the heat down to a simmer. Cook until the potatoes are tender in the middle, 20 to 30 minutes. Mine took about 25 minutes to cook through. Use a paring knife to check doneness by inserting the knife into the potatoes. When there is little resistance when inserting the knife, they are done.

Drain the potatoes in a colander and rinse under hot water for 10-20 seconds to wash away any excess starch. Place back in the pot.

Add the softened butter and mash thoroughly into the potatoes using a potato masher. Next, add the warm milk, and salt and fold in using a spatula.
make the Lamb Filling
While the potatoes are cooking, heat 1 tablespoon of olive oil in a large skillet over medium-high heat. Add the diced onion to the skillet and sauté until the onion becomes soft and begins to brown around the edges, 4 to 5 minutes.

Add the minced garlic, rosemary, and thyme to the skillet. Mix into the onion and cook for another minute to release the flavors and aromas of the herbs.

Add the ground lamb and break into small pieces while cooking. Sauté until cooked through, about 8 to 10 minutes. Drain the meat and return to the skillet and sauté for another minute or two.

Sprinkle the 1/2 tsp salt, black pepper, and flour over the lamb and then mix into the meat. Next add the red wine, Worcestershire sauce, soy sauce, and tomato paste to the skillet and mix into the meat. Cook for a few minutes to allow the liquid to reduce.

Add the chicken stock and vegetables to the skillet, mix into the meat, and allow to come to a boil. As soon as the liquid begins to boil, turn the heat down to medium and allow to cook while the liquid reduces and thickens, about 10 minutes. Mix occasionally so that the meat doesn't burn to the bottom of the skillet.
assemble the Shepherd's Pie
Evenly spread the lamb filling on the bottom of a baking dish. Spoon or pipe the mashed potatoes evenly over the lamb. Then, lightly brush the top of the potatoes with the beaten egg and sprinkle the parmesan cheese evenly over the top.

Place the baking dish on the middle rack of a preheated oven and bake for 25 minutes or until the peaks of the potatoes begin to brown.

Remove from the oven and allow to cool for 5 minutes before serving.

Serve and enjoy your Shepherd Pie.
Nutrition Facts
Calories: 677kcal | Carbohydrates: 41g | Protein: 22g | Fat: 46g | Saturated Fat: 24g | Cholesterol: 147mg | Sodium: 1209mg | Potassium: 1189mg | Fiber: 3g | Sugar: 4g | Vitamin A: 4215IU | Vitamin C: 17.2mg | Calcium: 124mg | Iron: 4.1mg
Notes
Choosing the wine. I use a local sweet table wine for all of my recipes that call for wine. It's Llano Sweet Red and it is fantastic. But you can use your own favorite table wine.
Making the recipe without wine. If you would like to leave the wine out of this recipe, you can replace it with an equal amount of chicken stock.
Using ground beef. You can most definitely substitute the ground lamb for ground beef. I would suggest using ground sirloin. I've tried this recipe with ground chuck. I expected the higher fat content of the ground chuck to add more flavor to the dish but I was not happy with the result. I prefer the taste of ground sirloin in this dish instead.
Tips & Tricks
Speed up cook/prep time. You can speed up the cook/prep time by first setting the butter and milk out to warm, dicing the onion, and measuring all your ingredients ahead of time. After that, the first thing you'll want to do is prep the potatoes and get them boiling. As soon as you get the potatoes going, start following the instructions for making the ground lamb. You should be able to get to the last step of the lamb meat (leaving it cooking for 10 minutes) by the time the potatoes are ready. This will give you time to finish making the potatoes while the lamb finishes cooking.
Smoother potatoes. If you want ultra-smooth mashed potatoes, then I suggest using a potato ricer after the potatoes have finished cooking.