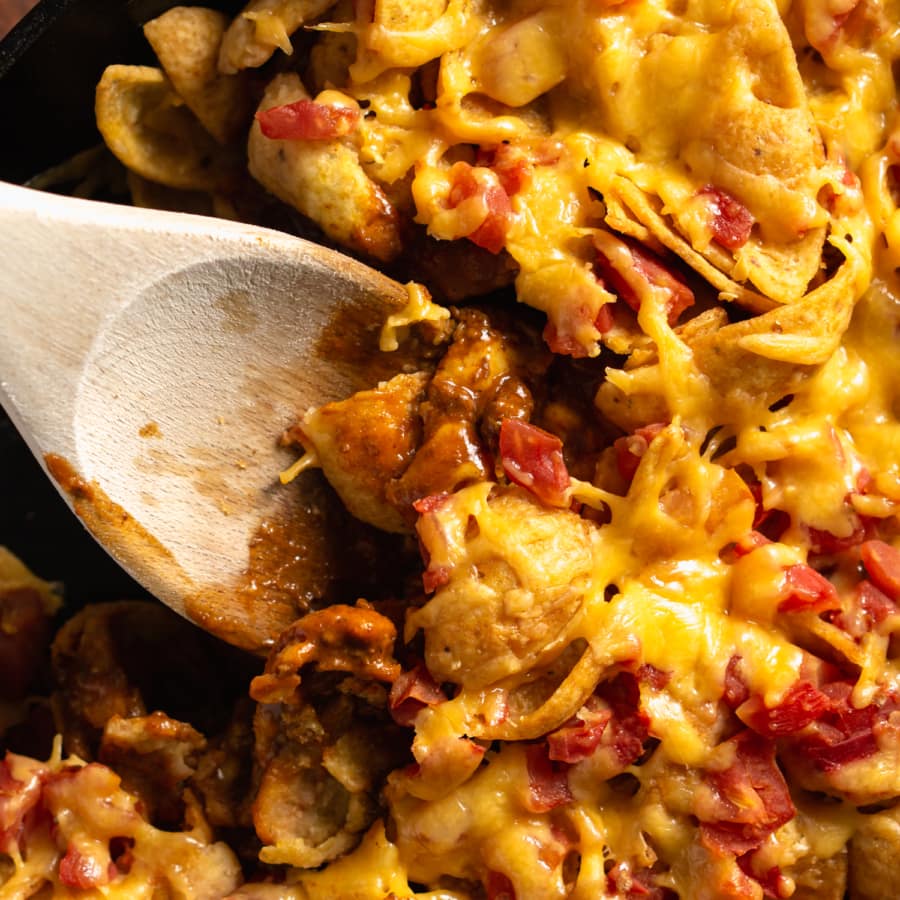 SAVE THIS RECIPE
I can't tell you how much my family loves this Easy Frito Pie recipe. It's always a cheesy treat for the kids when we make it. It's perfectly layered to ensure just the right amount of crunchiness and cheesiness. This childhood classic needed to make an appearance, and I hope you love my version!
This post contains affiliate links. For more information, see my disclosure.
I kept this recipe very basic and pretty traditional. It requires minimal prep and you will love the end result. I have added ingredient descriptions, as well as answered common questions below. Though it's a super easy recipe, I've provided a step-by-step in case you need that visual.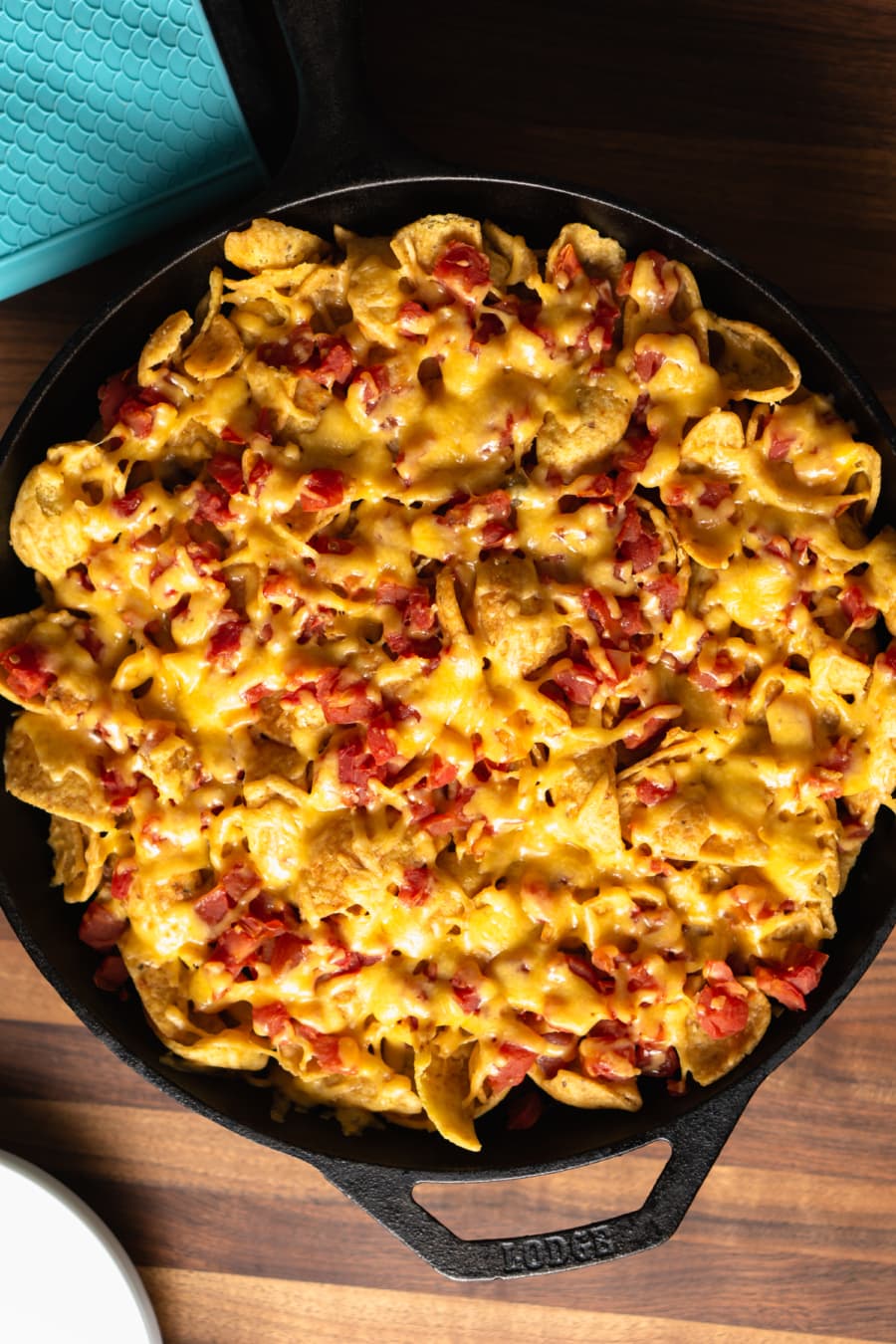 Frito Pie Ingredients
This Easy Frito Pie recipe requires some basic ingredients. I'll show you which ones I specifically use, as well as give you options for substitutions.
Fritos: You will need one large bag of Fritos Scoops (15.5 oz). You can use traditional Fritos as well, my family just prefers the scoops.
Canned Chili: You need two cans of chili with no beans. I used Wolf Brand Chili for this recipe but have used others in the past with great results.
Rotel: You'll need two cans of Rotel Original Diced Tomatoes and Green Chilies. They also have a mild version you can use. If you don't have Rotel, you can use diced tomatoes and/or diced green chilies.
Shredded Sharp Cheddar: Finally, you'll need 3 cups of shredded sharp cheddar. We usually buy the block and shred it ourselves but you can buy it pre-shredded as well.
That's it! All simple ingredients that most of us have on hand.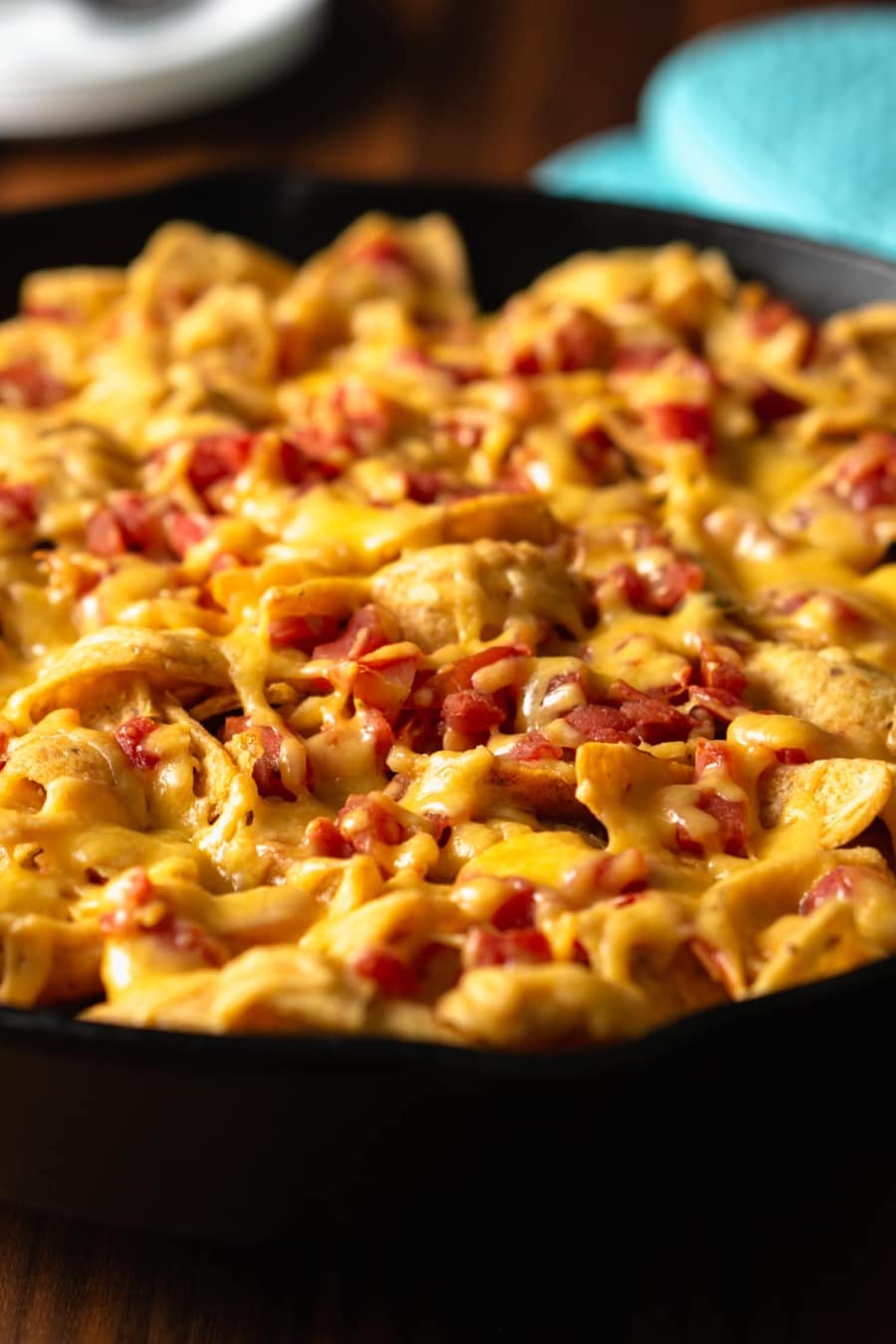 Substitutions for This Easy Frito Pie
I always get lots of questions about substituting items in recipes. Below are the questions that you're probably going to ask me so I've gone ahead and answered them for you. If you have any other questions, feel free to leave them in the comments.
Do I have To Use Canned Chili?
No, you don't have to use canned chili. If you have the time and ingredients to make your own chili, then, by all means, do it. You'll want to make a regular chili with no beans. I have a few easy and delicious chili recipes you can try, simply omit the beans. I have this Instant Pot Chili that is amazing and also this Easy Stovetop Chili you will love!
What Can I Use Instead of Cheddar Cheese?
If you don't have sharp cheddar cheese, you can definitely use mild cheddar. Other good choices are Colby Jack, Monterrey Jack, and even American Cheese.
Can I Bake It in a Regular Baking Dish?
Absolutely! You can use a large baking dish if you don't have an iron skillet. But if you don't have a large iron skillet, you need one! I have all kinds of sizes and absolutely love them.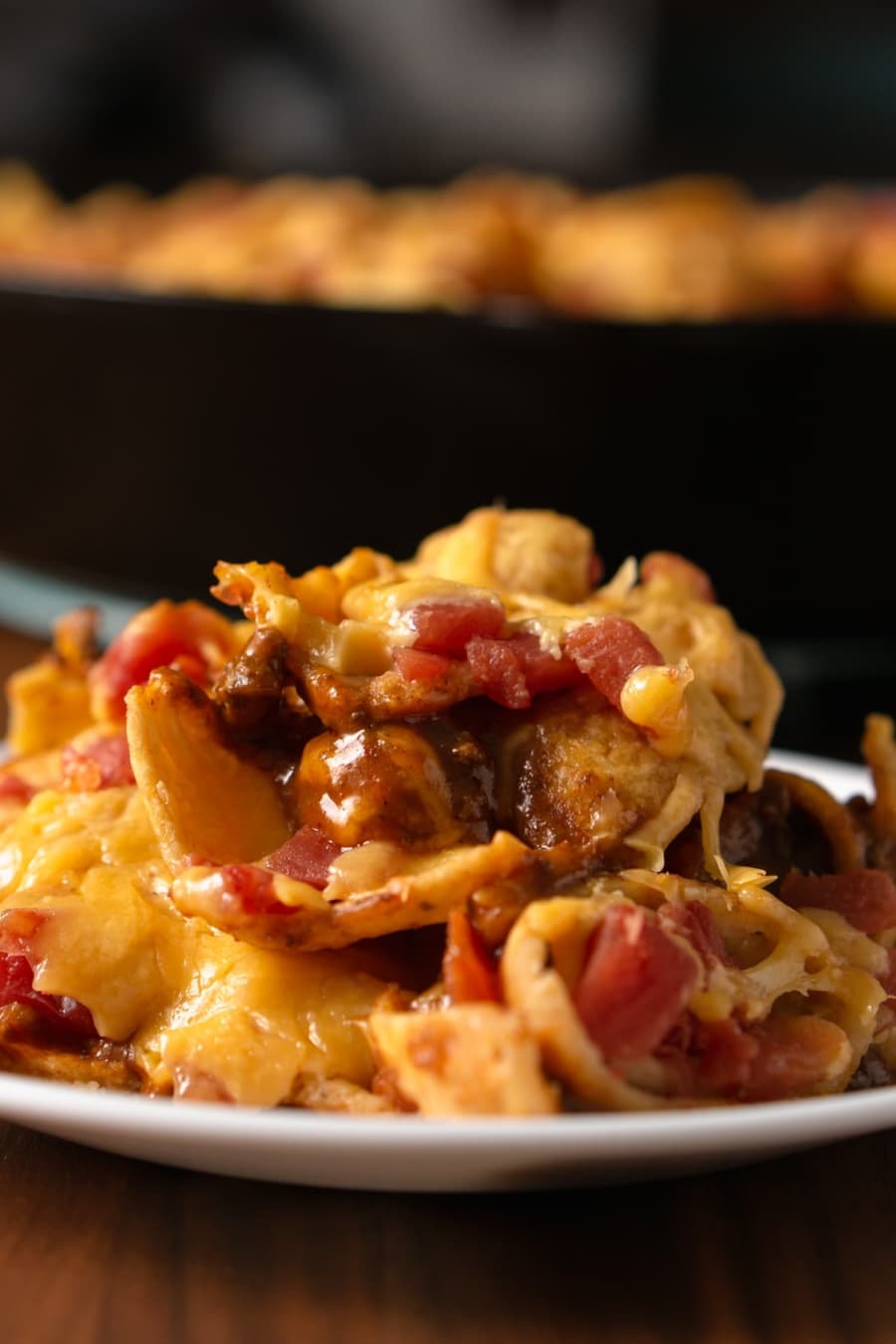 What Are Some Toppings For Frito Pie?
The possibilities for toppings are many! You can top your Frito Pie with sour cream, Pico de Gallo, your favorite salsa, hot sauce, guacamole, diced avocados, jalapeños, sliced black olives, sliced green onions, finely diced yellow onions, and whatever else your heart desires! As an alternative, you can turn your Frito Pie into Frito Burritos! Just load the mixture into flour tortillas and voila!
What to Serve with Frito Pie
In my opinion, this recipe for Frito Pie can stand on its own! But if you want to add some sides to it, I have some easy and delicious suggestions! This Frito Chili Pie would pair perfectly with a side of rice. You can serve it with Instant Pot Salsa Rice or even some Instant Pot Cilantro Lime Rice.
I also have an easy stovetop recipe for Cajun Creamed Corn that would be a perfect complement to this Frito Chili Pie recipe. It's one of my family's favorite side dishes. Whether you eat your Frito Pie by itself or with a side dish, it's certain to be a hit!
Essential Items
Here are some essential prep tools, utensils, and appliances I used to make this recipe.
Featured Items
Here is a list of the products featured in this post or products similar to those featured in this post:
How To Make Frito Pie (Step-By-Step)
Let's get started making this delicious Frito pie recipe. I like to use my 12-inch iron skillet to bake this in the oven, but you can use a large baking dish as well. The key to making this Easy Frito Pie perfect is the layering! It may seem cumbersome, but layering it ensures the perfect crunchiness. You'll get perfection in every bite!
Step 1: Preheat the Oven and the Warm Chili
Preheat your oven to 350° degrees. Next, you'll need to warm the canned chili on the stove over medium heat. This is necessary to allow you to properly pour the chili into a layer. If you don't warm it up, it will come out of the can in big chunks and be difficult to spread.
Step 2: Prepare the First Layer
Once the chili is warmed you'll start layering all the ingredients in the skillet. Start with a layer of Fritos chips. Make sure it's just a single layer of chips. Pour half of the chili on top. Next, spread one can of Rotel over the chili.
Step 3: Prepare the Second Layer
Add one more layer of Fritos corn chips, again making sure it's a single layer. Sprinkle half of the shredded cheese on top of the chips. Next, pour the remainder of the chili on top.
Step 4: Prepare the Third Layer
Finally, completely cover the chili with another layer of chips. Spread the second can of Rotel on top and lastly, sprinkle on the rest of the shredded cheese.
Step 5: Bake
Bake in the middle rack for approximately 25 to 30 minutes or until the cheese is melted and bubbly.
It's Time To Enjoy Some Frito Pie!
You are now ready to serve a warm and comforting bowl of this wonderful Frito Pie with your favorite toppings!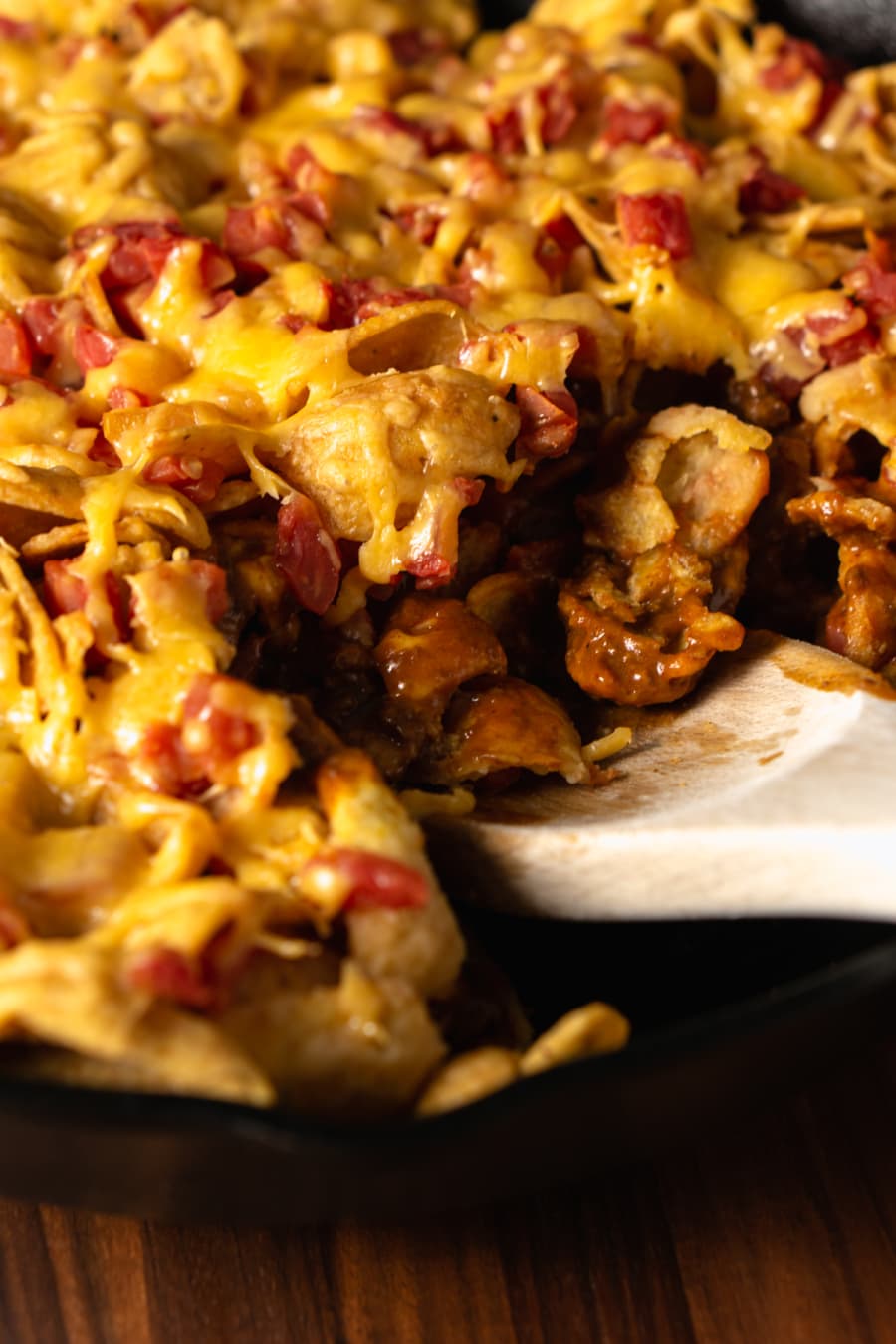 IT'S YOUR TURN TO MAKE THIS FRITO PIE RECIPE!
Did you make this Frito Pie recipe yet? I truly believe that this is the easiest, most delicious Frito Pie recipe out there, and I know you will absolutely love it! Drop me a message in the comments section below when you make this quick and simple recipe to let me know how much you enjoyed it.
5-Star Rating: If you loved your Frito Pie, I'd appreciate it if you could give the recipe a 5-star rating to show how much you loved it.
MORE QUICK, EASY, AND TASTY RECIPES
Looking for another quick and easy meal for your family? If you loved this recipe, I bet you'll love these too:
Looking for more toppings to add to your Frito Pie? Add some extra cheese, a dollop of sour cream, a dollop of Homemade Guacamole, and some Homemade Pico de Gallo to make this comforting dish even better.
Need more kid-friendly meal ideas? If you're looking for more simple recipes that your kids are sure to love, then check out my Kid-Friendly Instant Pot Recipes post.
Easy Frito Pie
FRITOS, CANNED CHILI, RO-TEL, AND SHREDDED CHEESE
A super easy Frito Pie recipe that makes for the perfect quick dinner for busy weeknights. With only 4 ingredients, you can throw this meal together in no time. A warm and comforting classic that the family will love.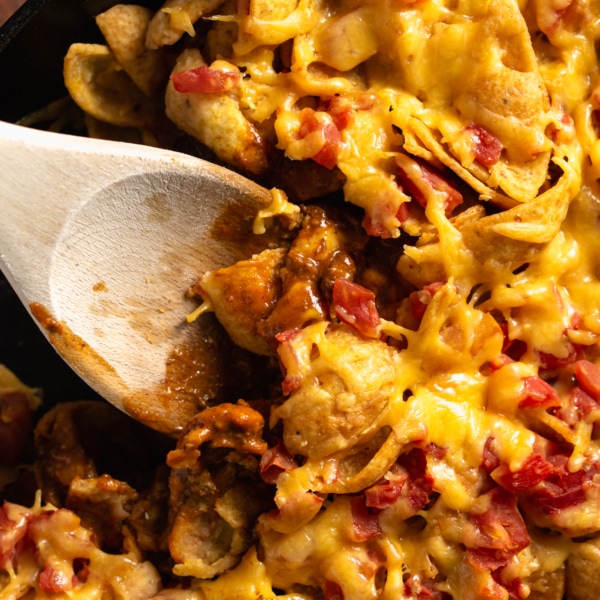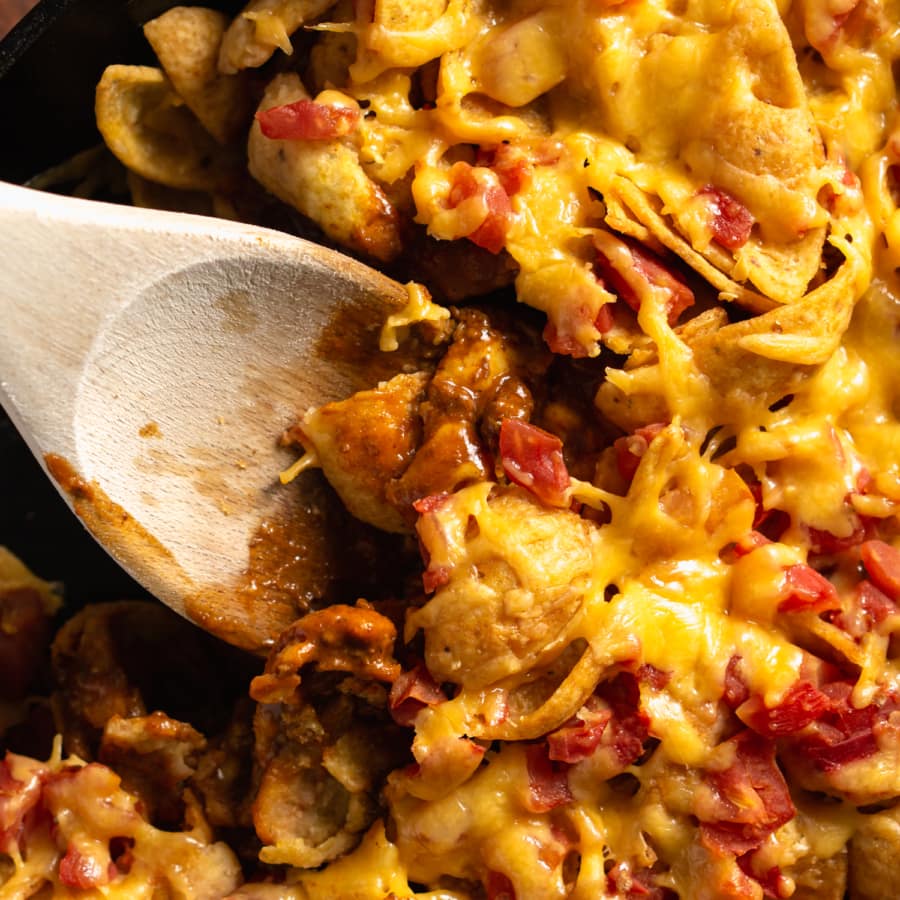 Instructions
Pre-heat oven to 350°.

Warm the canned chili in a saucepan over medium heat on the stove.

First Layer: Spread a layer of Fritos, about ⅓ of the bag, along the bottom of a 12″ skillet or 13″ x 9″ baking dish. Spoon half of the chili evenly over the Fritos and then spread one can of Rotel over the chili.

Second Layer: Add another layer of Fritos, about ⅓ of the bag, and then sprinkle half of the shredded cheese evenly over them. Spoon the remainder of the chili evenly over everything.

Third Layer: Add one final layer of Fritos, spread the second can of Rotel evenly over the Fritos, and sprinkle the remaining cheese evenly over the top of everything.

Bake on the middle rack of the oven for 25 to 30 minutes, or until the cheese is melted and bubbly. Allow the Frito pie to cool for a few minutes before serving.

Serve and enjoy!
Nutrition Facts
Calories: 601kcal | Carbohydrates: 53g | Protein: 21g | Fat: 36g | Saturated Fat: 14g | Cholesterol: 63mg | Sodium: 1274mg | Potassium: 699mg | Fiber: 9g | Sugar: 5g | Vitamin A: 903IU | Vitamin C: 11mg | Calcium: 480mg | Iron: 6mg
Common Questions & Answers
What's the Best Canned Chili for Frito Pie? In my opinion, I think Wolf Brand Chili with chunks of Angus Beef and No Beans is the best chili for this Frito pie. I picked up a pack of this chili at Costco. However, any canned chili without beans will work just fine.
What's the Best Cheese for Frito Pie? I like to use a cheese that's melty and packs a lot of flavor, so I tend to go with sharp cheddar cheese. Some good alternatives would be a Mexican blend, Mild Cheddar, Colby Jack, Monterrey Jack, and even American Cheese.
Serving Suggestions
Best Frito Pie Toppings: Feel free to top your serving of Frito Pie with salsa, pico de gallo, hot sauce, sour cream, guacamole, diced avocado, sliced black olives, jalapeños, sliced green onions, or chopped yellow onion.
What to Serve With Frito Chili Pie: This is such a hearty dish that it really stands on its own but if you're looking for something to serve it with, then I'd suggest serving a veggie platter with baby carrots, celery sticks, raw broccoli, and cauliflower with blue cheese or ranch dressing. A tossed salad would also be a good side to serve with Frito Pie.
The Best Way to Have Leftover Frito Pie: We like to wrap leftover Frito Pie in flour tortillas and warm them in the microwave to have Frito burritos. Once warmed we add our favorite toppings.