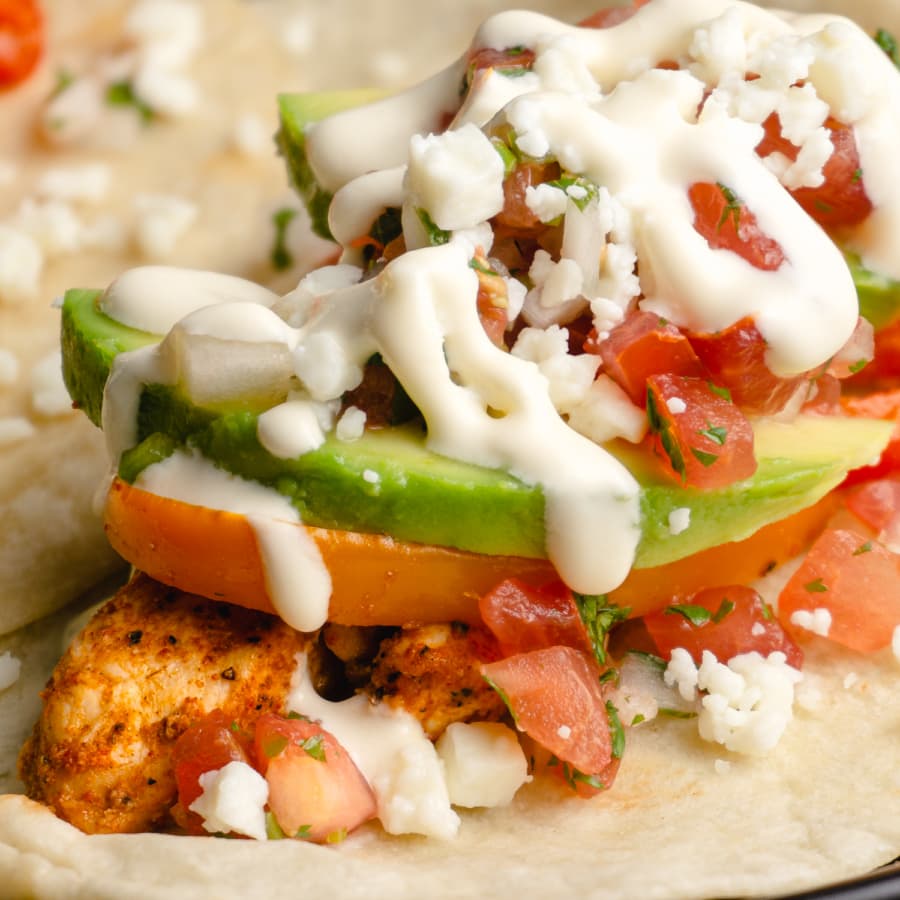 SAVE THIS RECIPE
These Sheet Pan Chicken Fajitas will be your new favorite for easy weeknight dinners. It's so much easier than making them on the stove and the fajitas are tender, juicy and so flavorful.
This post contains affiliate links. For more information, see my disclosure.
Flavorful Chicken Fajitas
I love seasoning my chicken fajitas with my Homemade Taco Seasoning. The seasoning is super easy to make and you can use it on so many things. I recommend that you make a batch even though you'll only use a small amount for this recipe.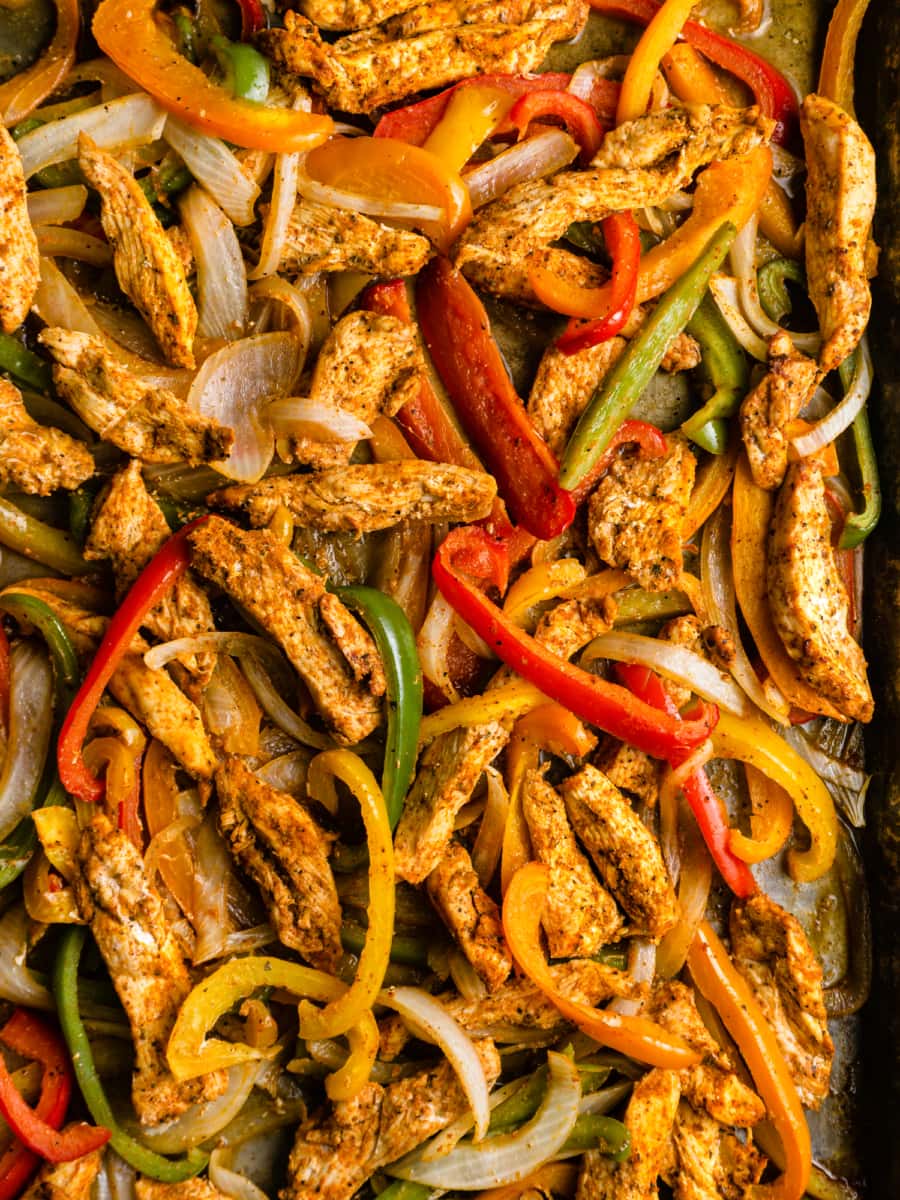 If you don't want to make a whole batch, I have also included in the recipe instructions, the exact amount of spices needed for this recipe alone. Either way, you will have some super flavorful fajitas your whole family will enjoy.
Topping Suggestions for Chicken Fajitas
We absolutely love loading up our fajitas with all kinds of goodies. I, of course, love adding lots of slices of the peppers and onions that cooked with the fajitas. We use flour tortillas at home, but you can certainly make them with corn tortillas.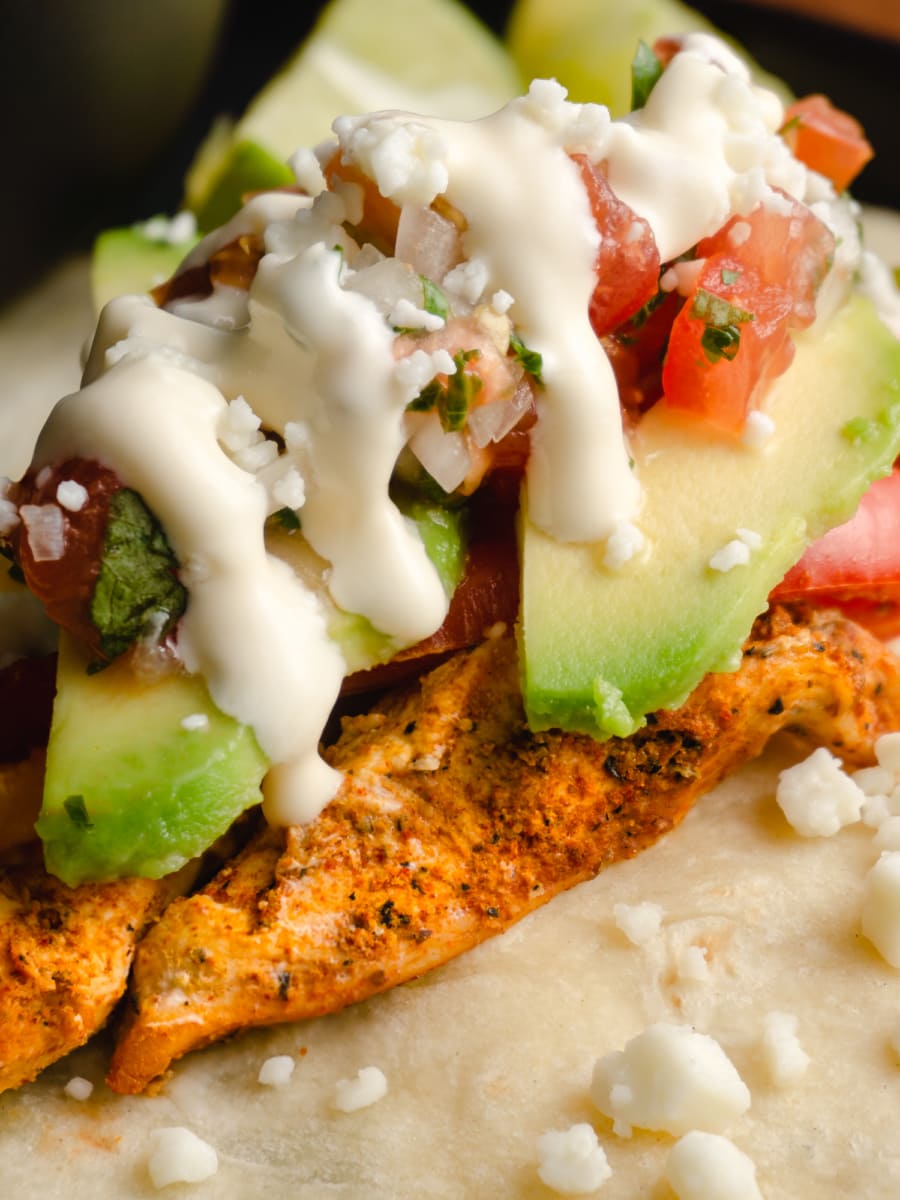 Our favorite toppings include pico de gallo, sour cream, (though we prefer mantequilla), queso fresco or shredded Mexican blend cheese, avocado slices, or fresh homemade guacamole. There are so many yummy options for toppings!
Essential Items
Here are some essential prep tools, utensils, and appliances I used to make this recipe.
Featured Items
Here is a list of the products featured in this post or products similar to those featured in this post:
23 Best Bakeware for the Well-Equipped Kitchen
Love baking? Make sure you check out this list of the Best Bakeware every serious baker should have in their kitchen.
How to Make Sheet Pan Chicken Fajitas
Making sheet pan fajitas couldn't be easier. The part that will require the most effort is slicing the chicken breasts, peppers, and onions. If you want to save some time, you can buy the pre-sliced onions and peppers most supermarkets sell. Once everything is sliced, the rest is a breeze!
You'll coat the chicken strips with the spices, oil, and juice of one lemon. Letting the chicken sit to marinate for a bit will give you the best results. In the meantime, you will spread the veggies on a sheet pan and sprinkle them with spices and oil also. You can toss them to make sure they get coated evenly.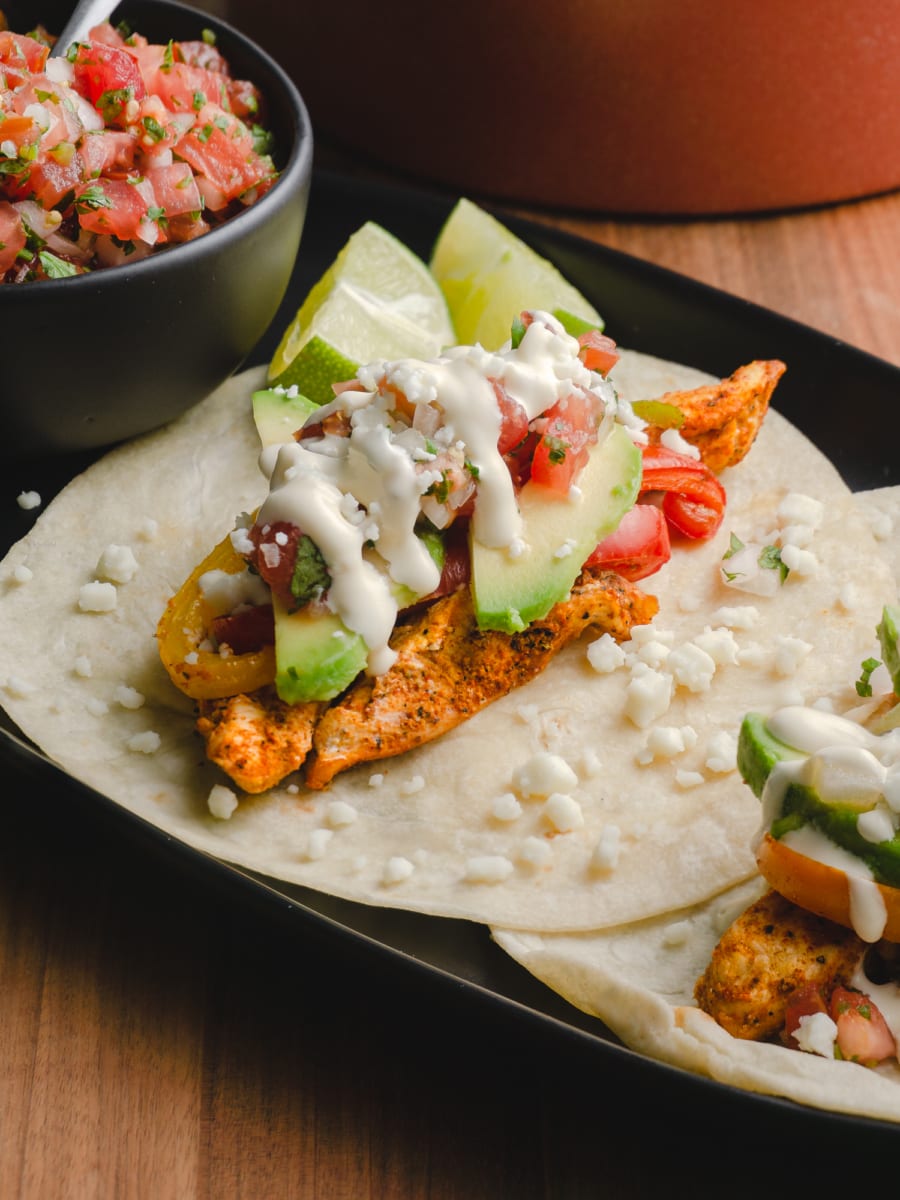 You will then lay the chicken strips on top of the veggies. You then roast the fajitas for 10 minutes, at which point you'll take them out and toss them around. You can now put them back in and cook them for approximately 5 to 10 more minutes. Make sure to use a meat thermometer to test the chicken for doneness.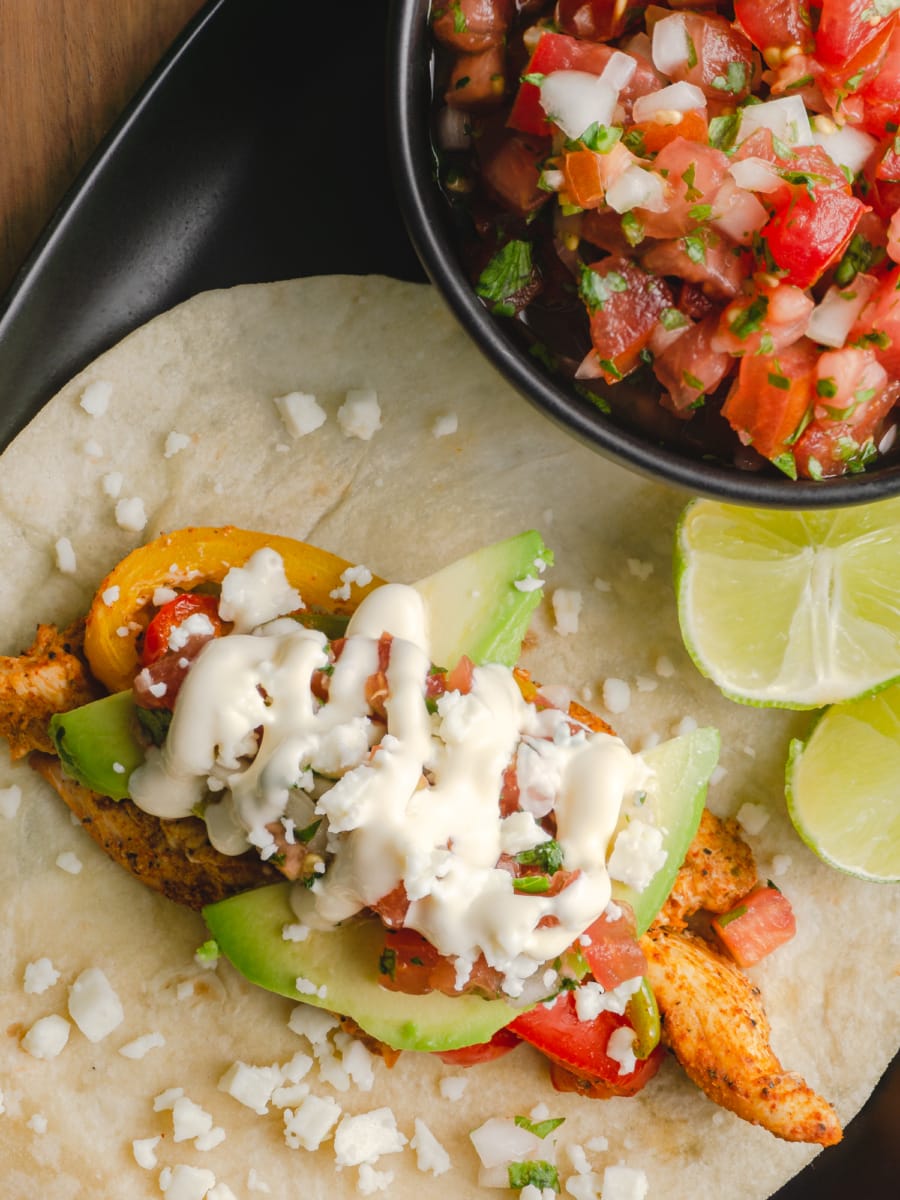 I suggest serving these delicious Sheet Pan Chicken Fajitas with a side of Spanish Rice. Add some chips and my fresh homemade guacamole and you're set! An easy weeknight, or weekend, dinner that will become a family favorite.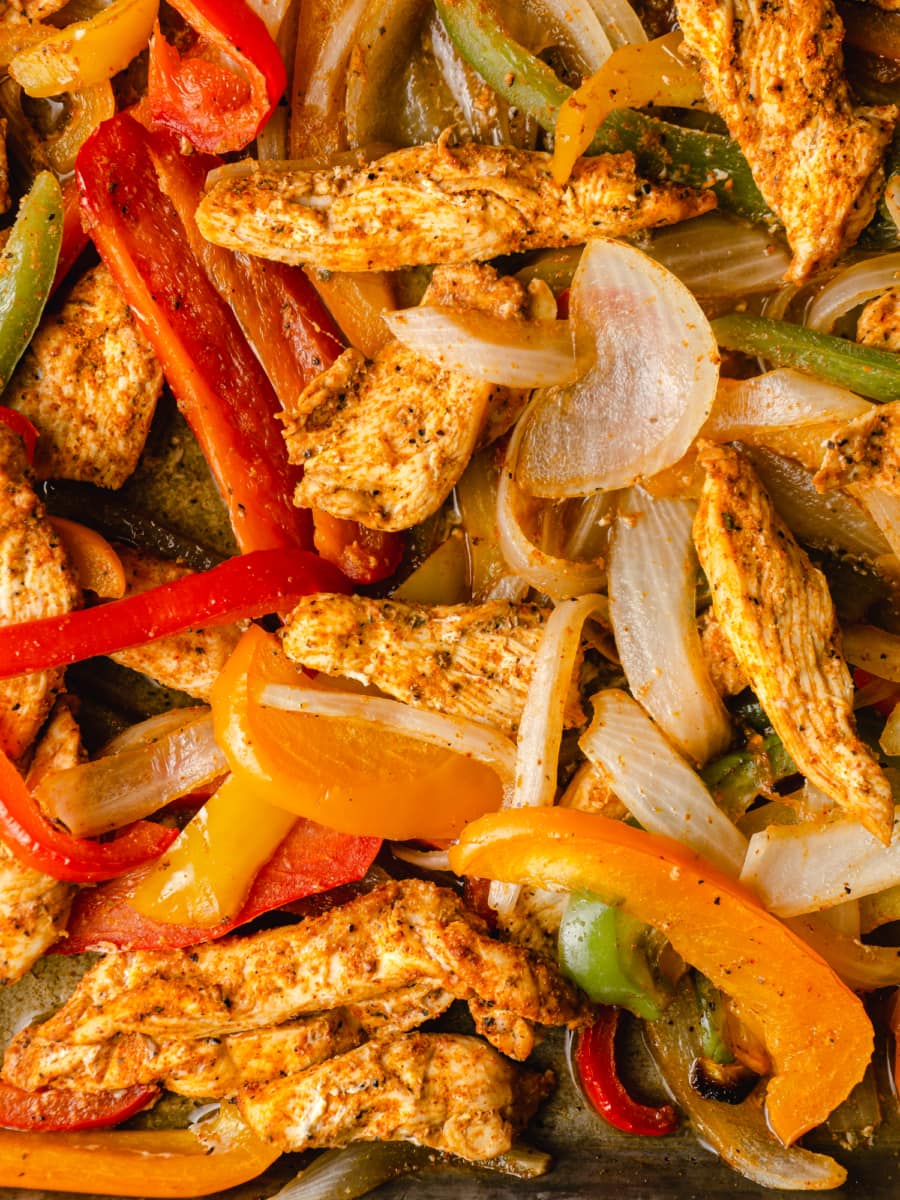 I hope you enjoy these delicious Sheet Pan Chicken Fajitas. Let me know in the comments when you make them!
Sheet Pan Chicken Fajitas
TENDER STRIPS OF SEASONED CHICKEN ROASTED IN A BED OF COLORFUL BELL PEPPERS AND ONION
If you need a quick, easy, and tasty meal that can serve a crowd of hungry mouths, then this chicken fajita sheet pan recipe is what you're looking for. In minutes you'll have tender, juicy strips of seasoned chicken with roasted sweet bell peppers, and onions. Grab a warm tortilla and load it up!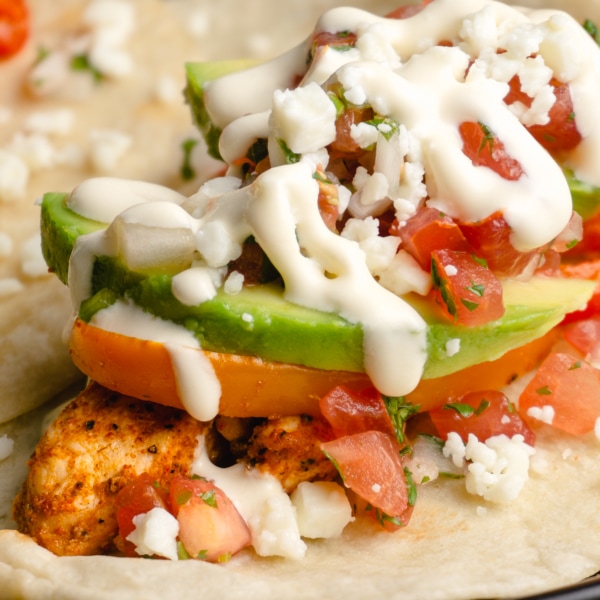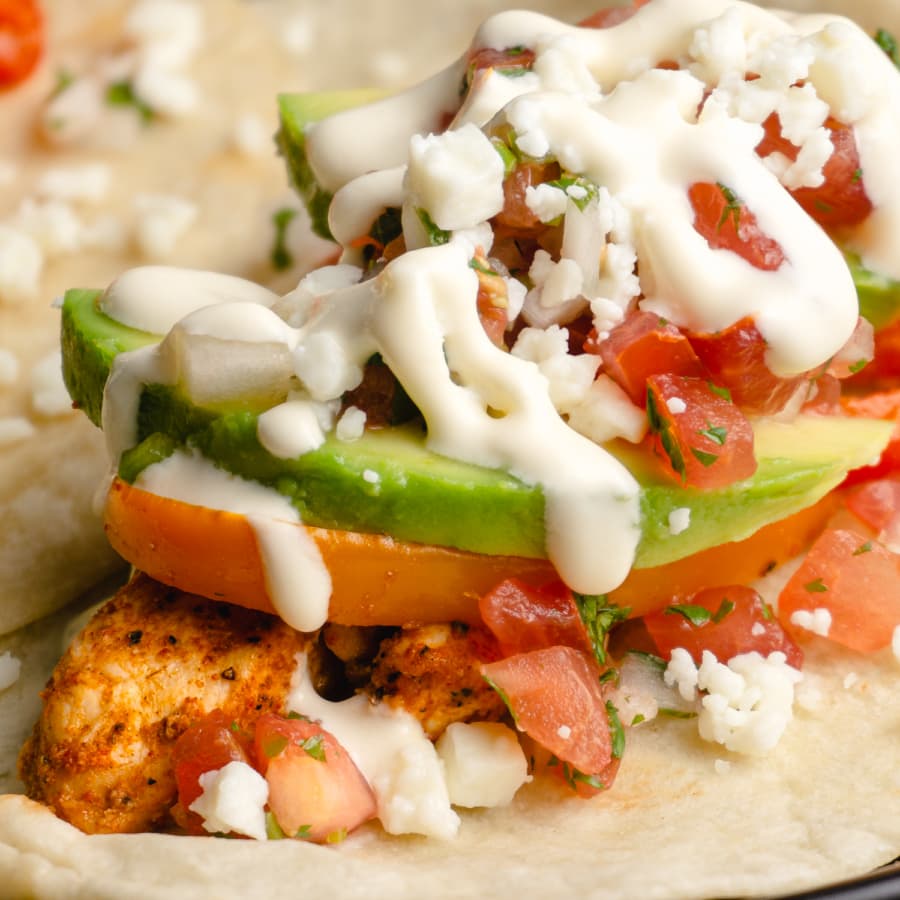 Instructions
prepare the Seasoning
Combine the chili powder, cumin, salt, pepper, paprika, garlic powder, onion powder, dried oregano, and cayenne pepper in a small bowl. Alternatively, you can use 3 tablespoons of my Homemade Taco Seasoning.
prepare the Sheet Pan
Lightly spray a rimmed baking sheet with non-stick cooking spray.
prepare the Vegetables
Slice the bell peppers and onions. Spread the sliced bell peppers and onions evenly across the baking sheet and drizzle with 1 tablespoon of the oil and season with 1 tablespoon of the seasoning. Toss the peppers and onions until evenly coated in the oil and seasoning and then spread out into an even layer.
prepare the Chicken
Slice the chicken into 1/2-inch thick strips and place in a small bowl with the remaining seasoning, lime juice, and 1 tablespoon of olive oil. Toss until the chicken is fully and evenly coated. While optional, if time permits, it's best to allow the chicken to marinate for 20 to 30 minutes.

Place the chicken strips over the bed of peppers and onions.
Roast
Place the baking sheet on the middle rack of the oven and roast. Toss the chicken and veggies after 10 minutes of cooking and return to the oven for another 5 to 10 minutes until the vegetables are tender and the chicken is cooked through. Use a kitchen thermometer to make sure the chicken has reached an internal temperature of 165°.

Serve and enjoy!
Nutrition Facts
Calories: 317kcal | Carbohydrates: 13g | Protein: 38g | Fat: 12g | Saturated Fat: 2g | Cholesterol: 109mg | Sodium: 819mg | Potassium: 946mg | Fiber: 4g | Sugar: 6g | Vitamin A: 3593IU | Vitamin C: 124mg | Calcium: 45mg | Iron: 2mg