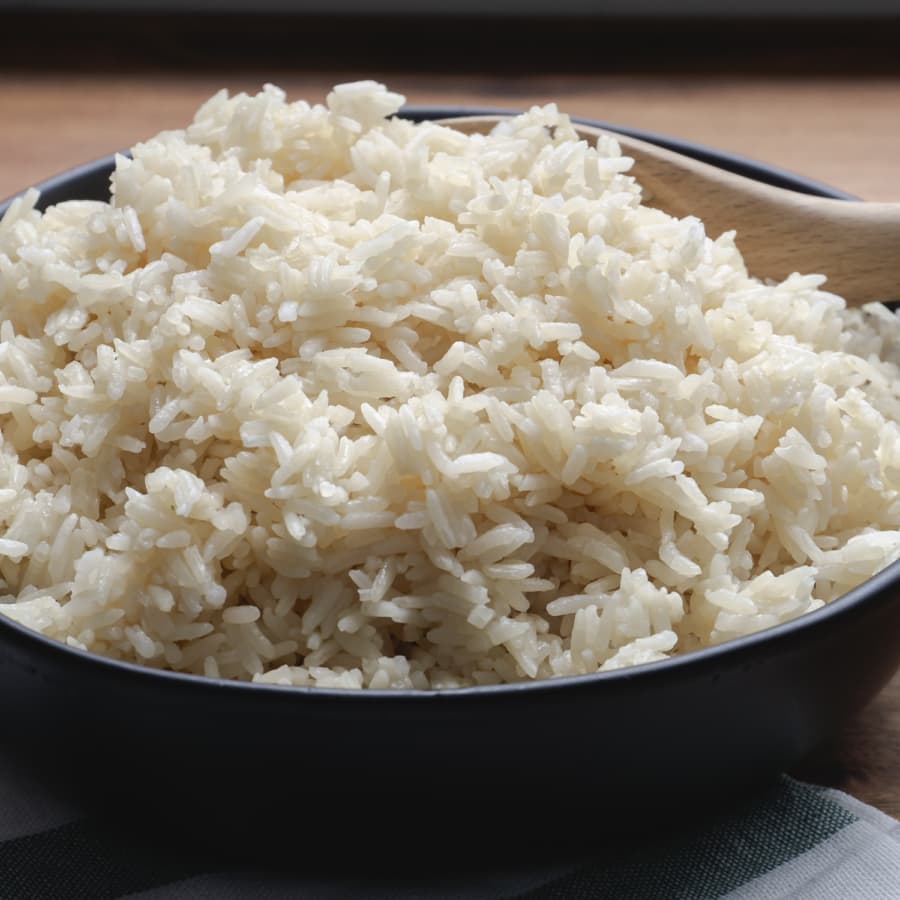 SAVE THIS RECIPE
Making Instant Pot Jasmine Rice has been a game-changer in my home! My kids love rice and one of my older ones, in particular, eats a big bowl of rice every single night. For months now, I make Instant Pot Jasmine Rice every other day. I love having a container of it in the fridge for when we need it.
This post contains affiliate links. For more information, see my disclosure here.
What Do I Need to Cook Jasmine Rice?
I love Jasmine rice, but this recipe will work for any other long-grain rice. You can use Jasmine, Basmati, or White long-grain rice. I usually buy a large bag of Jasmine rice since we use it so often. It comes out cheaper that way.
Here is a full list of the ingredients that you'll need to make this Jasmine Rice recipe:
Other than the rice, you'll need water or unsalted chicken stock and salt. When I make this Instant Pot Jasmine Rice on a regular basis, I use the unsalted chicken stock and I don't add any salt. My family eats it this way and loves it.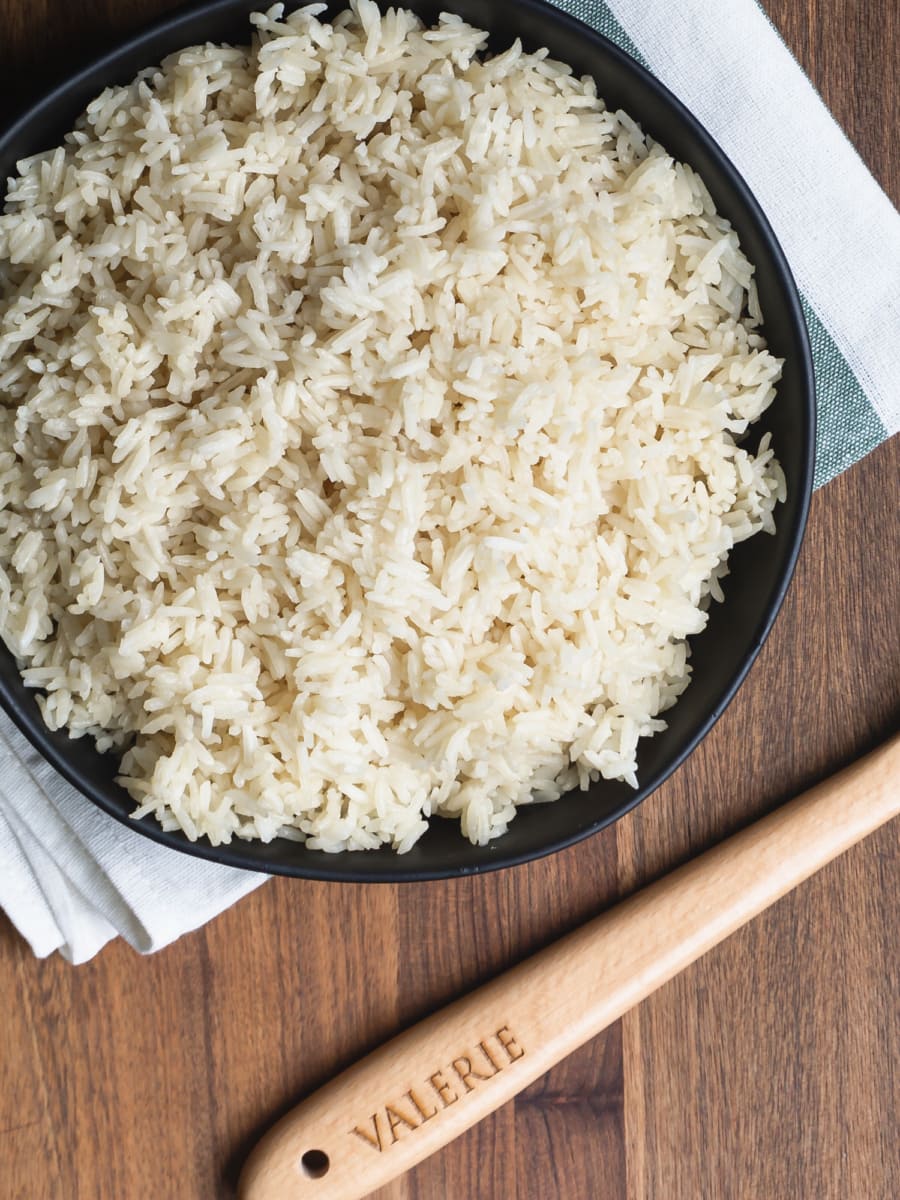 For this recipe, though, I added a bit of salt, to give it a tad more flavor. You can definitely leave it out if you wish. When I make Jasmine Rice to pair with a very flavorful meal like my Hawaiian Chicken, I just use water so that the rice takes on the flavors of the meal.
What Can I Serve With Jasmine Rice?
Instant Pot Jasmine Rice is delicious and versatile. You can serve it with just about anything! It pairs well with any type of cuisine. It, of course, goes perfectly with Asian food, but it works beautifully with any other main meal.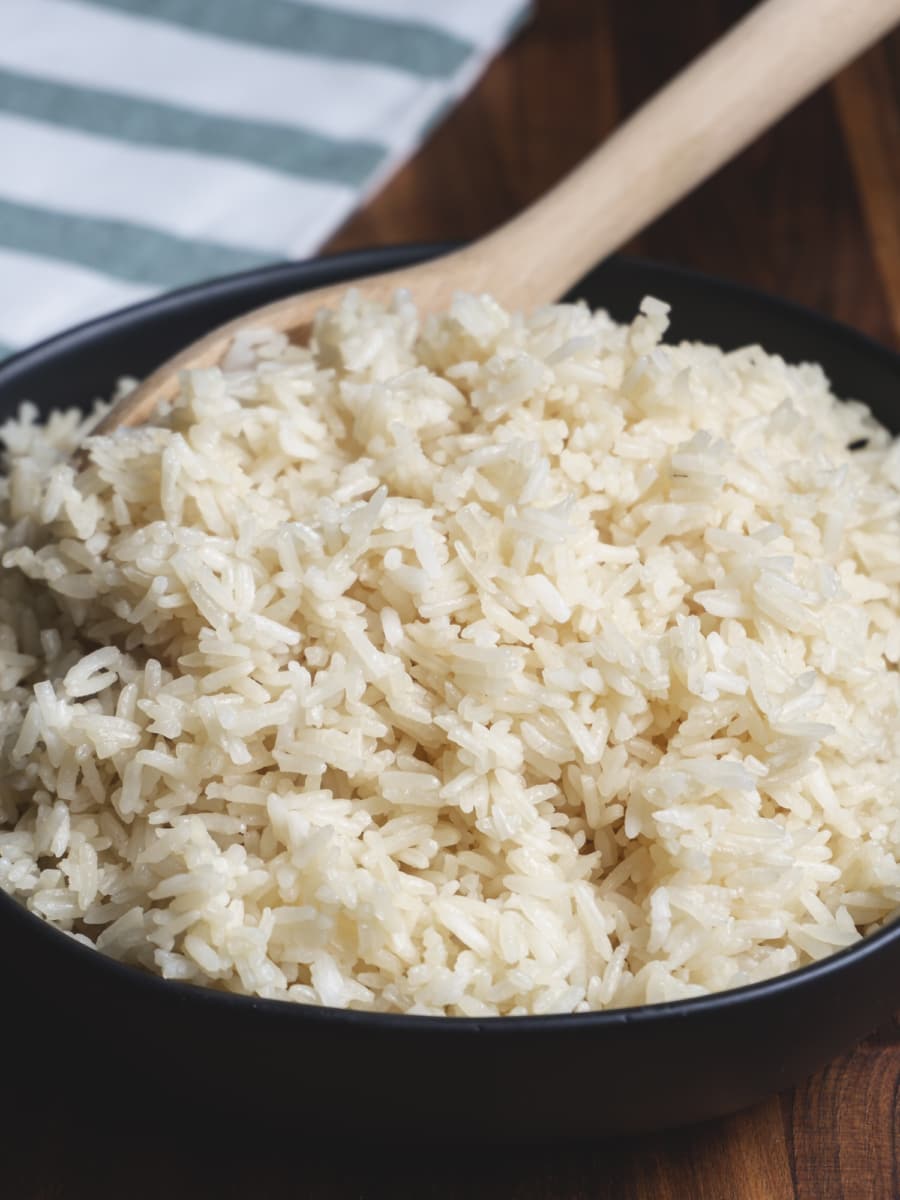 My son loves to eat Jasmine Rice with ground beef that he makes himself. We use it with beef, chicken, fish, pork chops, and anything else that needs a quick side! I also use it for my Instant Pot Cheesy Ground Beef and Rice. It's a family favorite! You can even cook the jasmine rice in your Instant Pot and then transform it into Easy Vegetable and Egg Fried Rice on the stove!
Can I Double this Rice Recipe?
So, in short, yes, you can double it, BUT, I have found that if I make more than 3 cups at a time, the rice tends to come out a bit mushier. It still tastes great and is eaten just the same, but I have found 3 cups to be perfect for me. You can also make only 1 cup if that's all you need.
You will always use a 1 to 1 ratio of liquid to rice. So if you want to make 3 cups of rice, you will use 3 cups of water or broth. If you want to make only 1 cup of rice, then you'll use 1 cup of water. You do not need to adjust the time when doubling or halving the recipe. The cooking time will still be 3 minutes high pressure with a 10-minute natural release.
How to Cook Jasmine Rice in the Instant Pot
Making Instant Pot Jasmine Rice couldn't be easier. You will be using a 1 to 1 ratio of rice and water (or stock). I highly recommend you rinse the rice before cooking it. This will ensure you have fluffier rice and it doesn't come out mushy and overly sticky. Rinse the rice using a fine-mesh strainer until the water runs clear.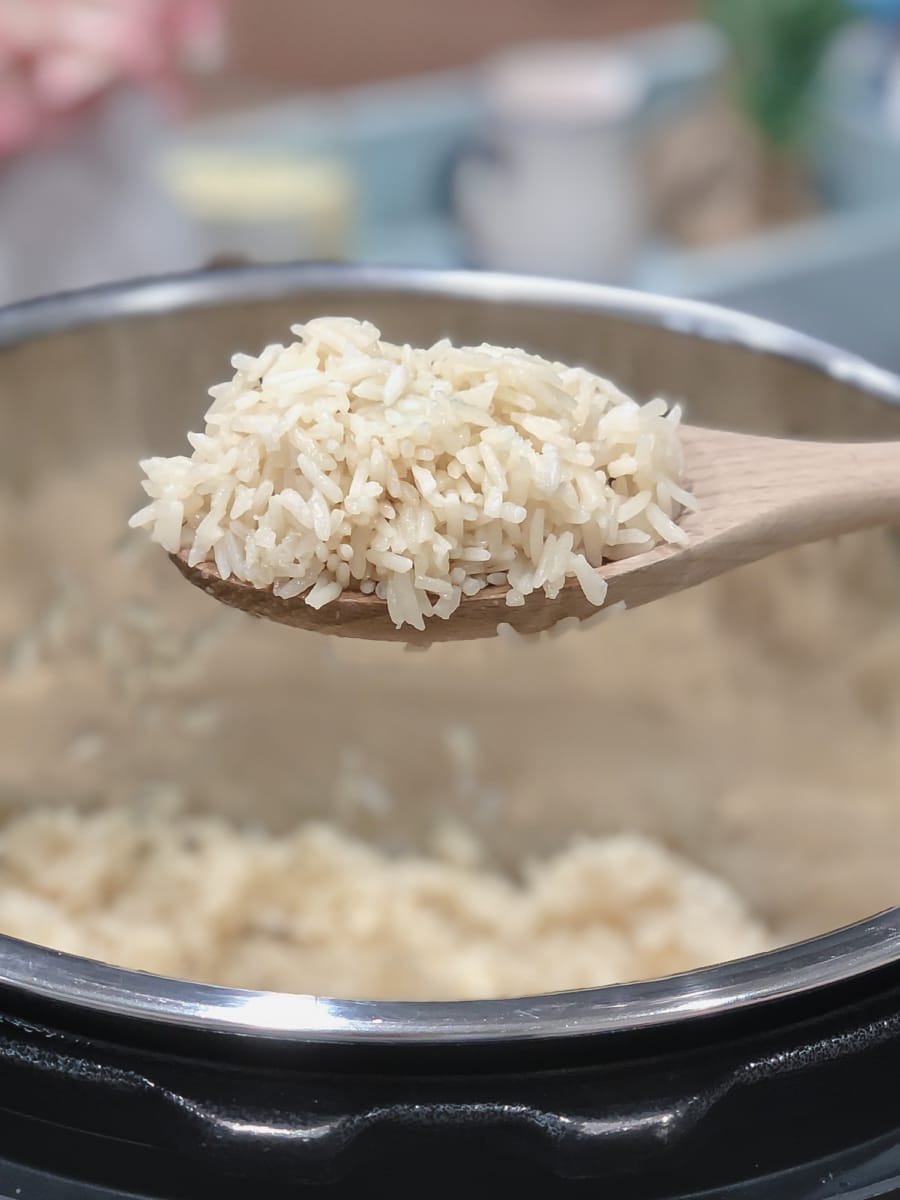 Once the rice is rinsed, shake off any excess water and add it to your pressure cooker. You will then add the water or chicken stock and salt if you're using any. Give everything a quick stir to make sure the rice is covered in liquid.
Shopping List
Here is a list of the kitchen prep tools, utensils, and appliances I used to make this recipe.
Appliances & Cookware
These are the appliances and cookware that I used to make this recipe:
Prep Tools & Utensils
Here are the prep tools and utensils that you'll need:
28 Must-Have Instant Pot Accessories
Make sure to check out my Ultimate List of Instant Pot Accessories! I've included everything you could ever need to help make your pressure cooking quicker, easier, and even more convenient.
You will cook the rice for 3 minutes on 'Manual' or 'Pressure Cook' high pressure and then allow for a 10 minute NPR (Natural Pressure Release). After the 10 minute NPR is up, you can release the rest of the pressure. When the pin drops, you can open your pot carefully.
After opening the pot, fluff the Jasmine Rice with a fork. Don't stir the rice too much, or it will become mushy. After you've fluffed it, it's ready to enjoy!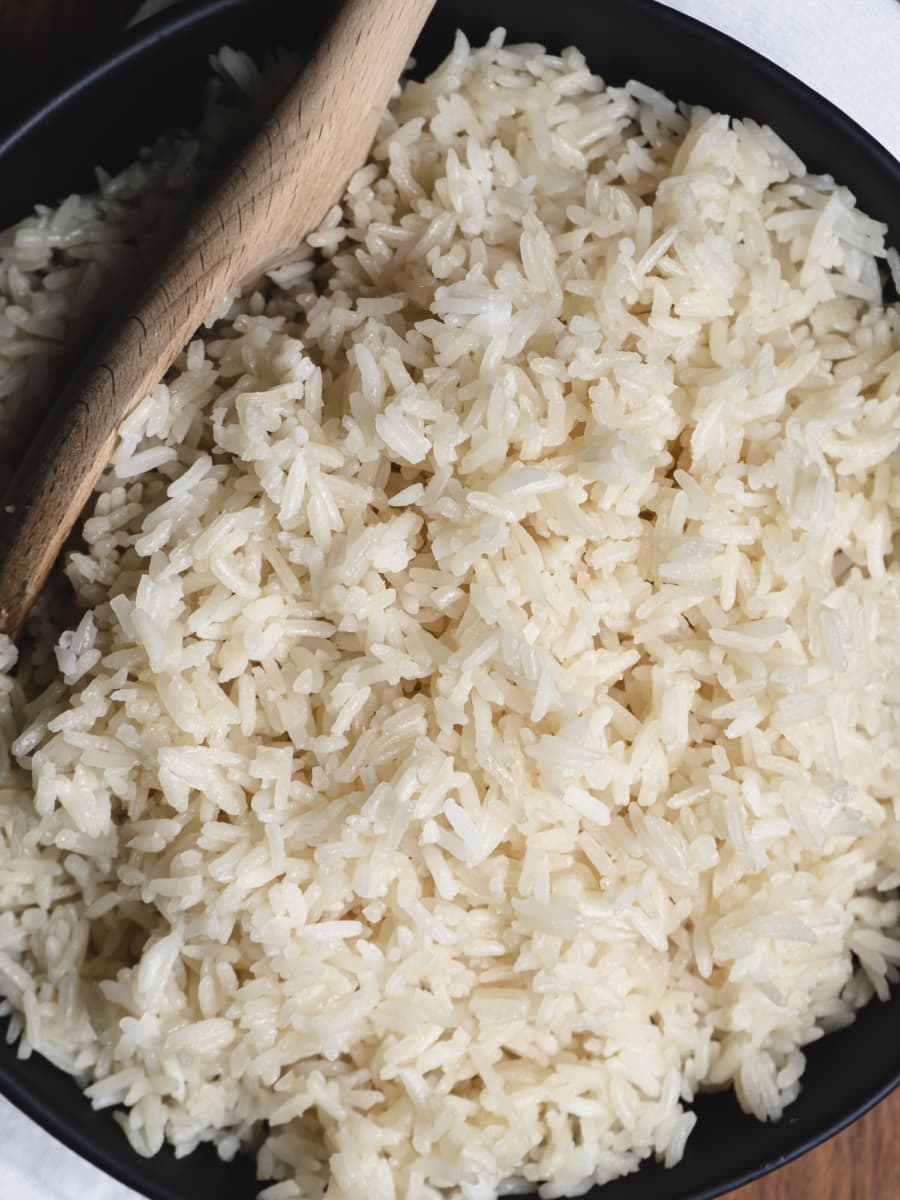 Did you make this Instant Pot Jasmine Rice? I know you will love how easy it is to make Jasmine Rice in the Instant Pot. Let me know in the comments when you try it.
More Instant Pot rice recipes that you may enjoy:
Looking for even more rice recipes to make in the Instant Pot? If you want to try your hand at making brown rice in the pressure cooker, check out my recipe for Instant Pot Brown Rice. And for a delicious alternative to plain white rice, try my Cilantro Lime Rice.
For a full list of all the pressure cooker rice recipes on this blog, make sure to check out my Instant Pot Rice Recipes post.
Have you tried Couscous in the Instant Pot? If you're looking for an alternative to rice, then try my Instant Pot Couscous and Ground Beef or Instant Pot Chicken & Couscous recipes. They're so delicious!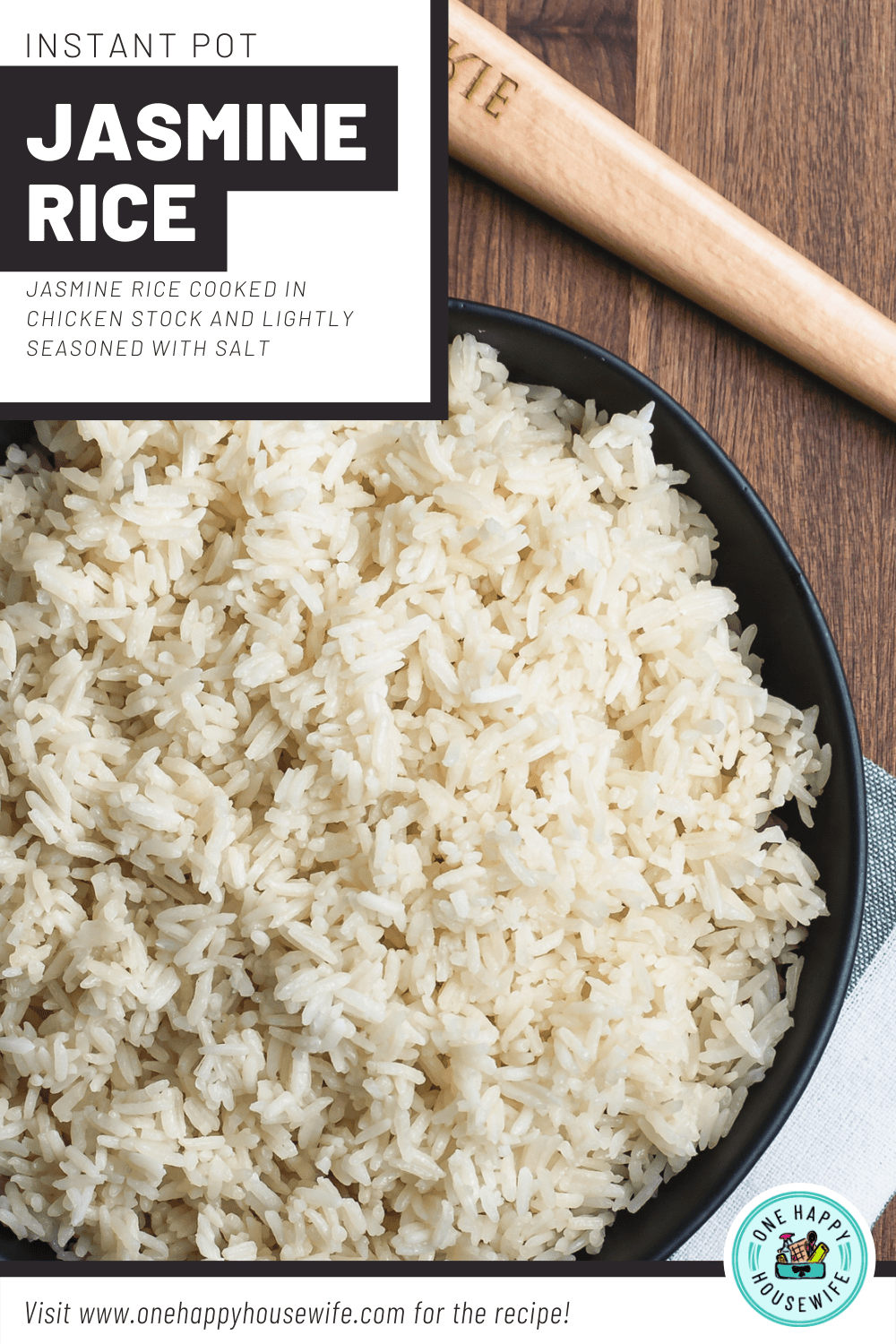 Instant Pot Jasmine Rice
JASMINE RICE COOKED IN CHICKEN STOCK AND LIGHTLY SEASONED WITH SALT
Instant Pot Jasmine Rice is an easy and quick side you can pair with almost any meal. This recipe is no-fail and you will have perfect Jasmine Rice every time!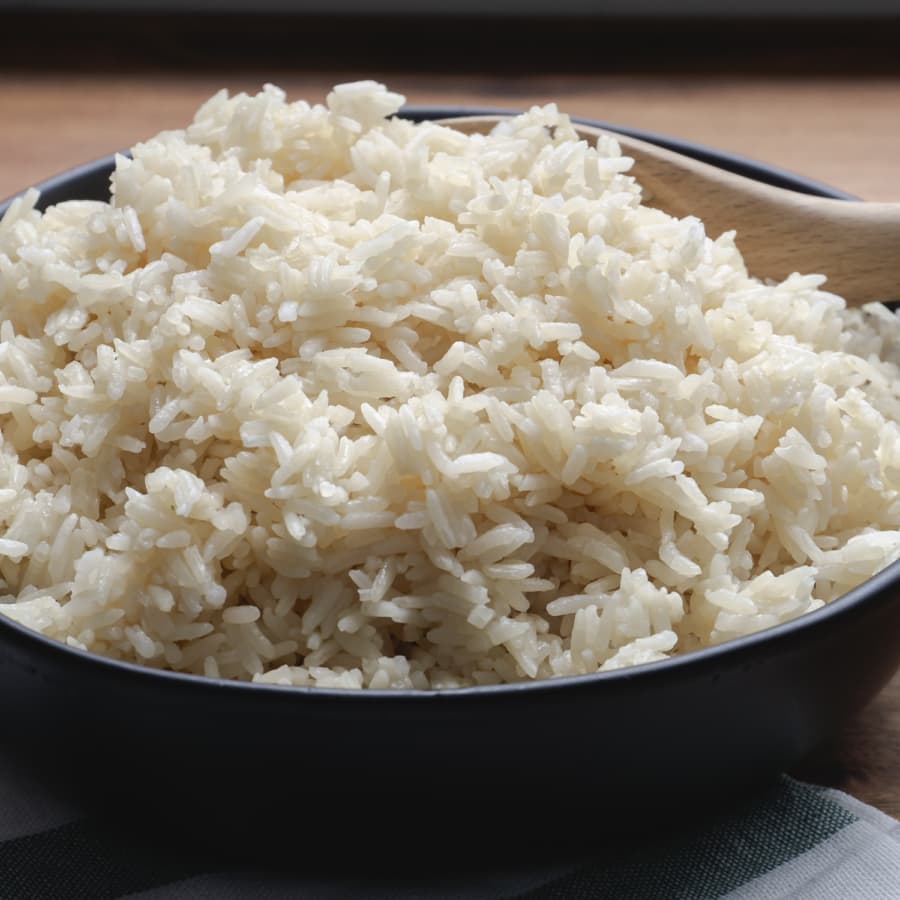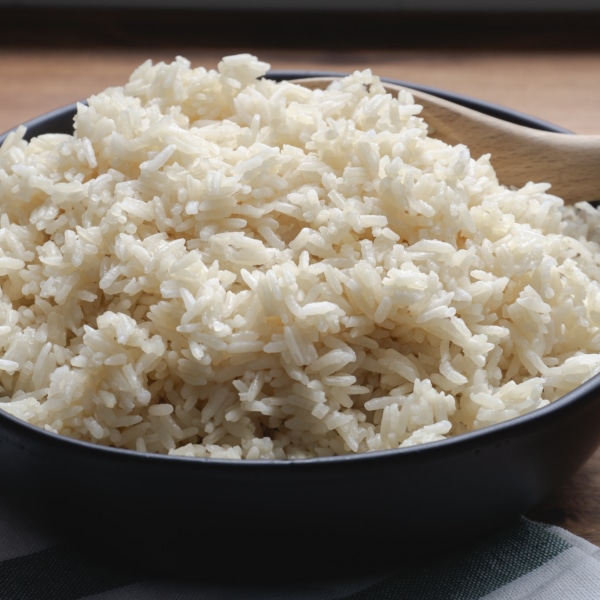 Ingredients
2 cups jasmine rice rinsed until water runs clear
2 cups water or unsalted chicken stock
1 tsp kosher salt or to taste, optional
Instructions
Place the rice in a fine-mesh strainer and rinse until the water runs clear.

Add the rice, water, and salt to the Instant Pot. Give a gentle stir.

Close the pot and set the pressure release valve to 'Sealing'. Set to 'Manual' or 'Pressure Cook', 'High Pressure' for 3 minutes.

When the cooking time is complete, allow for a 10-minute Natural Pressure Release (NPR). Release any remaining pressure after the 10-minute NPR has finished.

Once the pin drops, open the lid and fluff the rice with a fork.

Serve and enjoy!
Nutrition Facts
Calories: 169kcal | Carbohydrates: 37g | Protein: 3g | Fat: 1g | Saturated Fat: 1g | Sodium: 296mg | Potassium: 53mg | Fiber: 1g | Sugar: 1g | Calcium: 15mg | Iron: 0.4mg
Common Questions & Answers
Is jasmine rice healthy? Jasmine rice is filling, affordable, and provides a healthy source of carbohydrates. However, keep in mind that it is a starchy, refined food, with limited nutritional value and should be enjoyed in moderation. Much like any white rice, jasmine rice should always be complemented with a diet high in vegetables, fruits, legumes, beans, and lean meats. You can boost the nutritional value of your jasmine rice during its preparation by adding ingredients that will make up for its nutrient shortcomings.
Is jasmine rice gluten free? Yes, in its natural form, all rice is gluten-free. There are, however, certain preparations of rice that may contain gluten. Therefore, it's always important to read food labels. For instance, some instant rice mixes may use ingredients that contain gluten. Rice may also be boiled in chicken broth that contains gluten or have other ingredients added (i.e., soy sauce, Teriyaki, certain vinegars) that contain gluten.
Is jasmine rice sticky? When cooked, jasmine rice is soft and fluffy with grains that have a slightly sticky texture and cling together, even after being rinsed.
Is jasmine rice long grain? With its long, translucent grains, jasmine rice is classified as a long grain variety of rice.
What is the difference between jasmine rice and white rice? Jasmine rice is an aromatic rice that has a slightly floral aroma and nutty flavor when cooked, making it a great alternative to plain long-grain white rice.
Do I need to rinse jasmine rice? Yes, it is best to rinse Jasmine rice to remove any excess starch before adding it to your pressure cooker. To wash, place the rice in a fine-mesh strainer and run cold water over it until the water runs clear.
Do I need to use the Rice function on the Instant Pot? No, you don't. The 'Rice' function automatically sets the cooking time for the rice depending on how much rice you have in the pot. Apparently, it will only work for parboiled and long-grain white rice. I don't trust the pot to set the correct time on its own, so I've never used it. I like having more control. Besides, it's just as simple to set the pot to cook the rice using the 'Manual' or 'Pressure Cook' methods. That way, you can set the cooking time exactly how you want it.
How much water do I need for making jasmine rice in the Instant Pot? Rice needs to absorb its own volume in water. So, to get perfectly cooked fluffy white rice, that means you'll want to add the water in a 1:1 ratio. Therefore, for every 1 cup of jasmine rice you want to cook, you'll want to add 1 cup of water to the Instant Pot. Cooking rice on the stovetop requires more water than a 1:1 ratio because much of the water escapes from the pot as steam. In the Instant Pot, however, the steam cannot escape and therefore we can use much less water when pressure cooking rice.
Can I cook the rice with something other than water? Yes, you can. As long as you are using a water-based liquid and sticking to the 1:1 ratio, go for it. In particular, any type of stock or broth including chicken stock, vegetable stock, beef stock, and fish stock is perfect for adding some extra flavor to the rice.
Do I have to add salt? No, you don't. If you're trying to go low sodium, or no sodium, then feel free to leave the salt out. Also, please note that most stocks and broths will have sodium in them. So, if you are using stock or broth in this recipe, make sure to adjust the amount of salt accordingly. I will usually use a sodium-free stock when making rice so that I can control exactly how much salt is going into the recipe.
Can I double this recipe? Yes, you can. However, I've found it hard to keep the rice from getting sticky when doubling. I've had more luck making 3 cups of rice with 3 cups of water. Once I move up to 4 cups of rice and 4 cups of water, the rice ends up getting too sticky for my liking.
How long do I cook jasmine rice in the Instant Pot? The Instant Pot company recommends cooking Jasmine rice for 3 to 5 minutes. In my testing, I've found that a 3 minute cooking time with a 10-minute natural pressure release yields a perfectly cooked jasmine rice.
Do I have to do a 'Natural Pressure Release'? Once the rice has completed cooking, you will need to allow the pressure to release naturally for 10 minutes. Once the pressure has released naturally for at least 10 minutes, then you can 'Quick Release' and remaining pressure. If you release the pressure any faster, you risk having your rice stick to the bottom of the liner.
What size pressure cooker did you use? I've tested this recipe in my 8-Quart Instant Pot Duo, 6-Quart Instant Pot Duo, and 6-Quart Mealthy Multipot with great results.
Tips & Tricks
Cook the rice immediately. Rinse the rice and then place it directly in the Instant Pot liner. Add the water right away, give everything a little stir, and immediately close and seal the pot and set the cooking time.
Make it low sodium rice. For the most flavorful rice, use a full teaspoon of salt. For a low sodium version of this rice, cut the salt to ½ a teaspoon. You can completely omit the salt for a sodium-free rice.
Use chicken stock. You can replace the water with chicken stock to add more flavor to the rice. I use Kitchen Basics Unsalted Chicken Stock religiously. I've found that it has the best taste and I love that they have an unsalted version. It allows me to control exactly how much salt I add to my dishes.
Amp up the flavor even more. Top it with a little butter for some extra flavor. You may also wish to boost the flavor even more by adding some herbs and spices to the jasmine rice. You'll usually want to add the spices before cooking so that the rice soaks up their flavors. Spices such as cumin, turmeric, and curry make great additions! Aromatics like garlic and shallots also make a great addition to this rice. Since fresh herbs are so delicate, you'll usually want to add them after cooking. If you'd like to add fresh herbs to the rice, chop approximately ¼ cup of fresh herbs such as cilantro, basil, chives, or parsley and add them to the cooked rice.
Serving Suggestions
Serve it as a side. You can combine jasmine rice with just about anything and it makes a great side for an endless number of dishes. It pairs perfectly with just about any meat or fish. You can try it as a side to my Mexican Baked Chicken or Oven Roasted Chicken Thighs. For an extra special light and healthy dish, serve it with my Salpicón.
Add it to your dish. You can add jasmine rice to soups, beans, burritos, stir-fry, casseroles, and so much more. Try serving this rice with my Instant Pot Chili, Taco Soup, Texas Chili Beans, Chicken Soup, or Hawaiian Chicken.