SAVE THIS RECIPE
Making Instant Pot Jasmine Rice has been a game-changer in my home! My kids love rice and one of my older ones, in particular, eats a big bowl of rice every single night. For months now, I make Instant Pot Jasmine Rice every other day. I love having a container of it in the fridge for when we need it. I love how easy it is, and I get perfect rice every time!
This post contains affiliate links. For more information, see my disclosure.
In this post, I will answer questions you may have about making Jasmine rice in the Instant Pot. I will also go over the simple ingredients you'll need as well as walk you through the process of making it step by step.
Table of Contents
Pro Tips For Perfect Instant Pot Jasmine Rice
Rinse the Rice: Make sure to rinse your rice before cooking it. This will remove any excess starch and give you a better final result.
Use a 1:1 Ratio: If you make one cup of rice, you need to use one cup of water. Two cups of rice mean two cups of water, and so on. This will yield perfect Instant Pot rice every time.
Cook the Rice Immediately After Rinsing: After rinsing the rice, add it to the pot and add your water. Start cooking it immediately.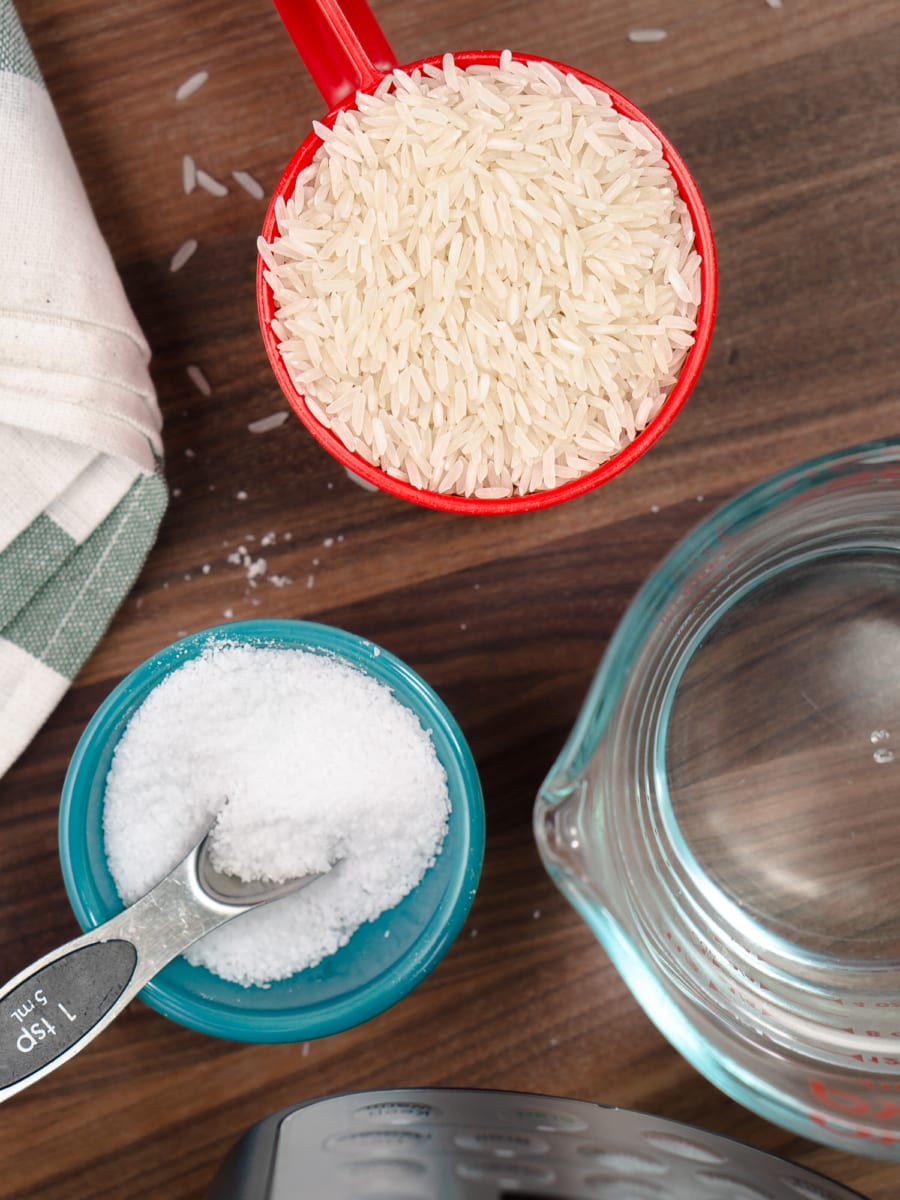 Ingredients for Instant Pot Jasmine Rice
This recipe for making Jasmine rice is incredibly simple and only requires 3 ingredients. Here is what you'll need:
Jasmine Rice: With its long, translucent grains, Jasmine rice is classified as a long-grain variety of rice. When cooked, Jasmine rice is soft and fluffy with grains that have a slightly sticky texture and cling together, even after being rinsed. Jasmine rice is classified as aromatic rice. It has a slightly floral aroma and nutty flavor when cooked, making it a great alternative to plain long-grain white rice.
Any jasmine rice will work for this recipe. I usually buy a large bag of Jasmine rice since we use it so often. It comes out cheaper that way. I store it in an air-tight container to avoid any bugs getting into it. You will need 2 cups of Jasmine rice.
Water: You will need 2 cups of water to make the Jasmine rice. See below for substitutions.
Salt: You'll add one teaspoon of kosher salt to the rice.
How to Make Jasmine Rice in the Instant Pot
When you have a large family, rice can be a lifesaver. It can be added to so many dishes to make them more bulky and hearty. With a house full of hungry mouths to feed I always have a container full of rice stored in the refrigerator. You'll love how easy it is to make jasmine rice in the Instant Pot. It's ready to serve in 15 minutes with very little effort and always comes out perfect every time! I'll show you exactly how to make it.
Step 1:

Gather The Ingredients

Start gathering the ingredients. There are only three needed. Here is what you need:
Jasmine Rice: 2 cups, rinsed
Water: 2 cups
Salt: 1 teaspoon, or to taste
Step 2:

Rinse the Rice

Place the two cups of rice in a fine mesh strainer and rinse it under cold water until the water runs clean. This removes any excess starch from the rice so that it is fluffier and doesn't end up too mushy or sticky after cooking.
Step 3:

Add the Rice, Water, and Salt to the Instant Pot

Once the rice is rinsed, shake off any excess water and add it to your pressure cooker. Pour the water into the pot over the rice. Then sprinkle the teaspoon of salt over the rice. Once all the ingredients are in the pot, grab the sides of the liner with both hands and gently twist back and forth to mix the ingredients together.
Step 4:

Set the Cook Time

Close the Instant Pot and set it to cook on 'Manual/Pressure Cook', 'High Pressure' for 3 minutes.
Allow For A 10-Minute NPR
Allow for a 10-minute Natural Pressure Release. Once the 10 minutes have elapsed, release any remaining pressure from the pot until the pin drops. There's usually very little pressure left in the pot. After the pin has dropped, you can open your pot.
Step 5:

Fluff the Rice

After opening the pot, fluff the Jasmine Rice with a fork. Don't stir the rice too much, or it will become mushy. After you've fluffed it, it's ready to enjoy!
Step 6:

Serve and Enjoy

After following these simple instructions, you will have perfectly cooked Jasmine Rice that is fluffy and fragrant. This recipe is so easy to follow that even a beginner cook can make it with ease. Plus, it's a great way to add some bulk to your meals. Serve your rice however you like. There are endless possibilities!
Essential Items
Here are some essential prep tools, utensils, and appliances I used to make this recipe.
Featured Items
Here is a list of the products featured in this post or products similar to those featured in this post:
28 Must-Have Instant Pot Accessories
Make sure to check out my Ultimate List of Instant Pot Accessories! I've included everything you could ever need to help make your pressure cooking quicker, easier, and even more convenient.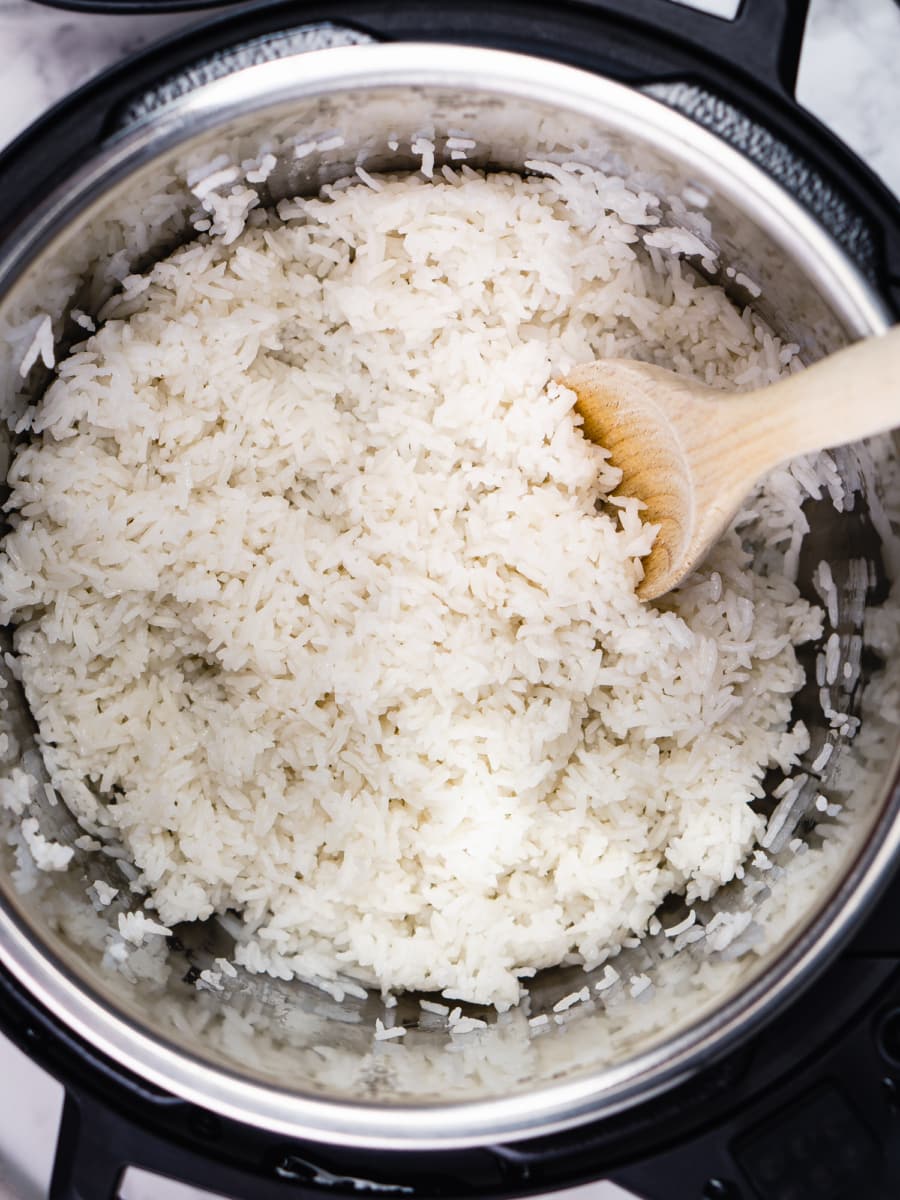 Substitutions for Instant Pot Jasmine Rice
I always get questions about substituting ingredients in my recipes. I have answered some questions I think you may have. If I missed any, feel free to leave them in the comment section at the bottom of this post.
can I use chicken stock instead of water?
You can definitely use stock or broth instead of water. Any type of stock or broth including chicken stock, vegetable stock, beef stock, and fish stock is perfect for adding some extra flavor to the rice. I make it often with unsalted chicken stock, and I actually don't add any salt. My family enjoys it this way. When I make rice to pair with a very flavorful meal, I just use water and salt so the rice doesn't interfere with the flavor of the main dish.
can I use a different kind of rice?
This recipe will work perfectly for any other long-grain rice. You can use Jasmine, Basmati, or White long-grain rice. If you want to make Brown Rice, then I suggest heading to my Instant Pot Brown Rice recipe, as brown rice does take longer to cook.
can I leave the salt out?
If you're trying to go low sodium, or no sodium, then feel free to leave the salt out. Also, please note that most stocks and broths will have sodium in them. So, if you are using stock or broth in this recipe, make sure to adjust the amount of salt accordingly. I will usually use a sodium-free stock when making rice so that I can control exactly how much salt is going into the recipe.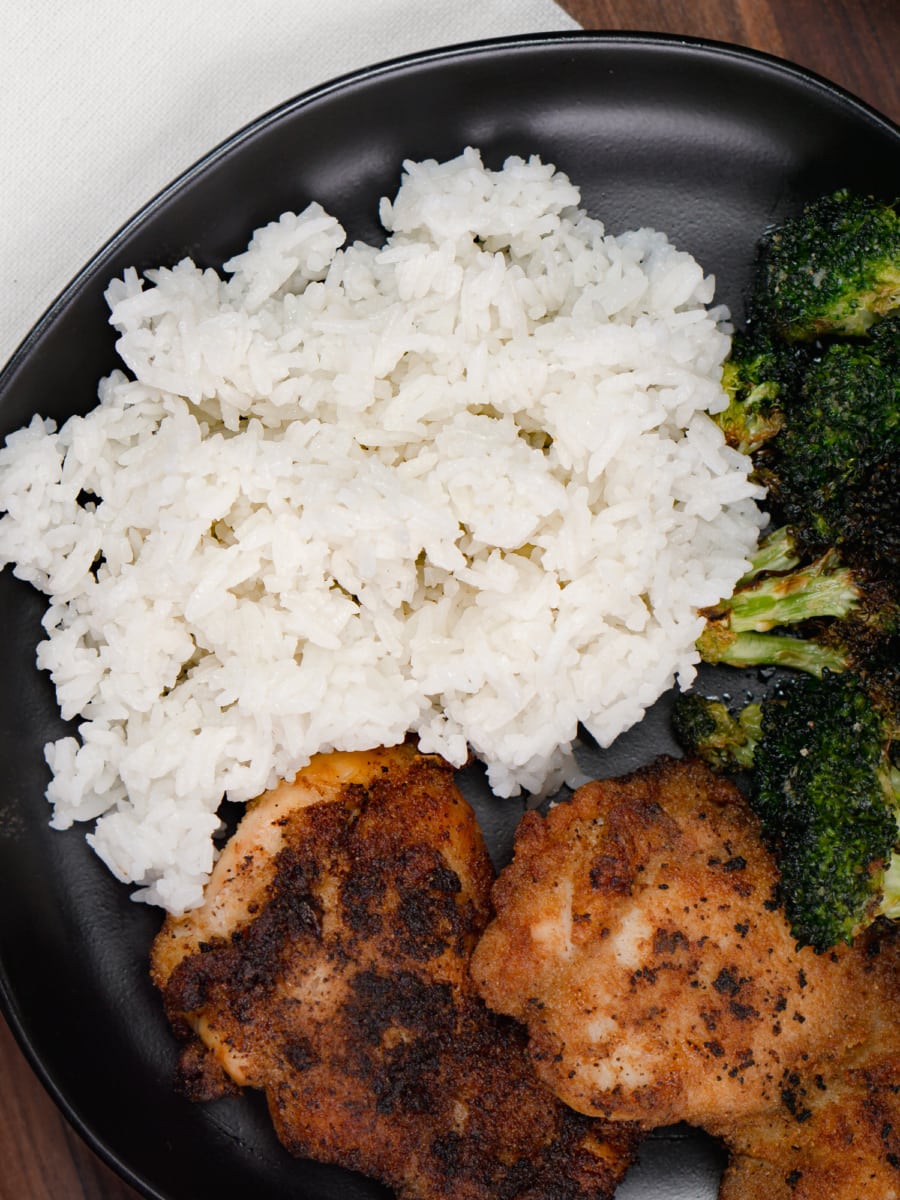 Common Questions About Making Instant pot jasmine rice
what can I serve with instant pot jasmine rice?
Instant Pot Jasmine Rice is delicious and versatile. You can serve it with just about anything! It pairs well with any type of cuisine. It, of course, goes perfectly with Asian food, but it works beautifully with any other main meal. My son loves to eat Jasmine Rice with ground beef that he makes himself. We use it with beef, chicken, fish, pork chops, and anything else that needs a quick side!
If you have leftover rice and want to jazz it up, I have a super easy recipe for Vegetable and Egg Fried Rice you will love!
can I double this rice recipe?
So, in short, yes, you can double it, BUT, I have found that if I make more than 3 cups at a time, the rice tends to come out a bit mushier. It still tastes great and is eaten just the same, but I have found 3 cups to be the maximum amount for me. You can also make only 1 cup if that's all you need.
You will always use a 1:1 ratio of liquid to rice. So if you want to make 3 cups of rice, you will use 3 cups of water or broth. If you want to make only 1 cup of rice, then you'll use 1 cup of water. You do not need to adjust the time when doubling or halving the recipe. The cooking time will still be 3 minutes high pressure with a 10-minute natural release.
do I have to rinse the rice?
Yes, it is best to rinse Jasmine rice to remove any excess starch before adding it to your pressure cooker. To wash, place the rice in a fine-mesh strainer and run cold water over it until the water runs clear.
what size instant pot did you use?
I've tested this recipe in my 8-Quart Instant Pot Duo, 6-Quart Instant Pot Duo Crisp, and 3-Quart Instant Pot Duo with great results.
how much water do I need for instant pot jasmine rice?
Rice needs to absorb its own volume in water. So, to get perfectly cooked fluffy white rice, that means you'll want to add the water in a 1:1 ratio. Therefore, for every 1 cup of jasmine rice you want to cook, you'll add 1 cup of water to the Instant Pot. Cooking rice on the stovetop requires more water than a 1:1 ratio because much of the water escapes from the pot as steam. In the Instant Pot, however, the steam cannot escape and therefore we can use much less water when pressure cooking rice.
| Rice | Water | Salt |
| --- | --- | --- |
| 1 cup | 1 cup | ½ teaspoon |
| 2 cups | 2 cups | 1 teaspoon |
| 3 cups | 3 cups | 1 ½ teaspoons |
| 4 cups | 4 cups | 2 teaspoons |
how long do you cook jasmine rice in the instant pot?
The Instant Pot company recommends cooking Jasmine rice for 3 to 5 minutes. In my testing, I've found that a 3-minute cooking time with a 10-minute natural pressure release yields perfectly cooked Jasmine rice.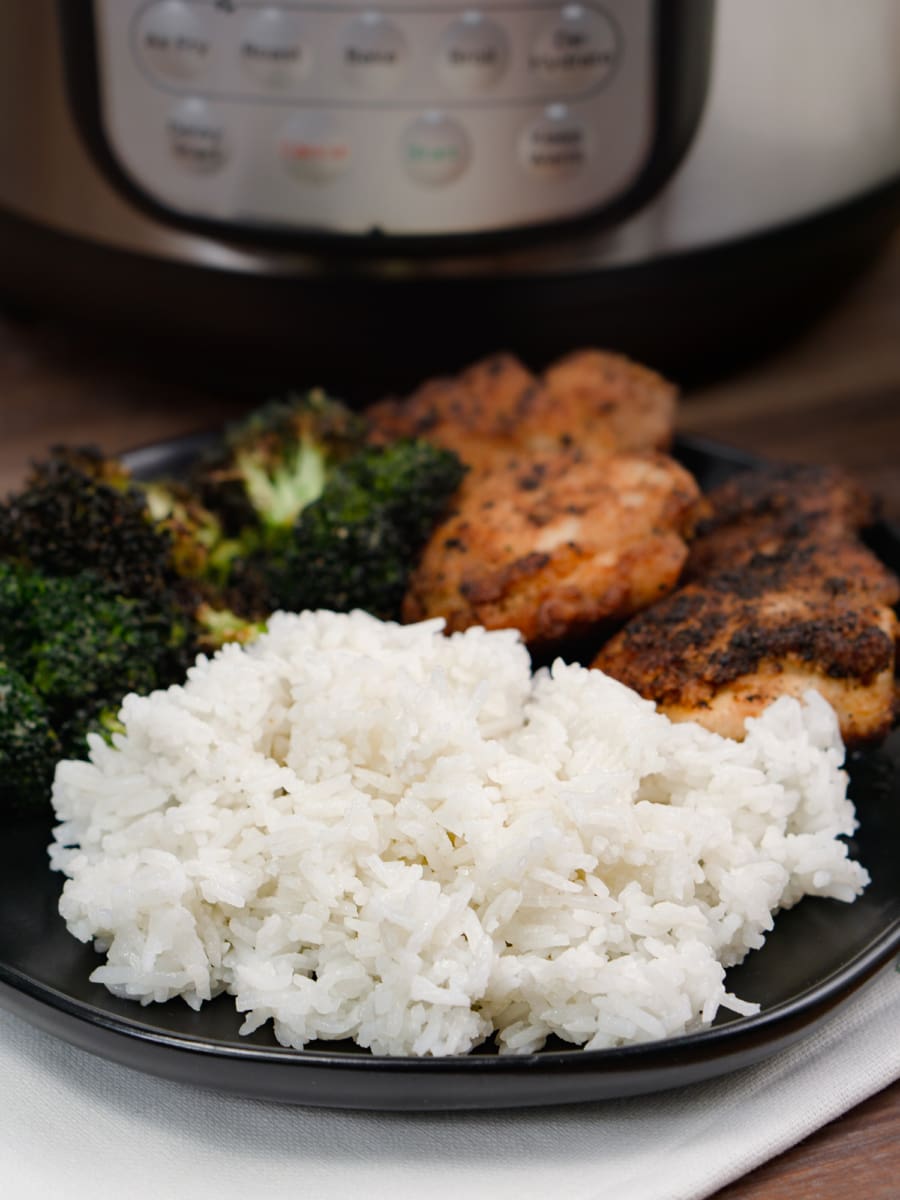 Quick Tip
Make sure to rinse your rice before cooking it. Rinse it in a fine mesh strainer until the water runs clear.
IT'S YOUR TURN TO MAKE THIS Instant Pot jasmine rice!
Did you make this Instant Pot Jasmine Rice recipe yet? I know you will absolutely love how easy and delicious it is! Let me know in the comments section below when you make this recipe and how much you enjoyed it.
5-Star Rating: If you loved your Instant Pot Jasmine Rice, I'd appreciate it if you could give this recipe a 5-star rating to show how much you loved it.
MORE instant pot side dish RECIPES
Looking for more Instant Pot Side Dish recipes? Here are some that I know you'll love:
Need a main meal for your rice? If you're looking for a perfect complement for this recipe, then try one of the following:
For a full list of all the pressure cooker rice recipes on this blog, check out my Instant Pot Rice Recipes post.
Instant Pot Jasmine Rice
FRAGRANT & FLUFFY JASMINE RICE LIGHTLY SEASONED WITH SALT
Make a perfectly fluffy Jasmine Rice with little effort thanks to the Instant Pot. With only a few simple ingredients, this rice is ready in minutes and ideal for serving as a side dish with almost any meal. This recipe is no-fail and you will have perfect Jasmine Rice every time!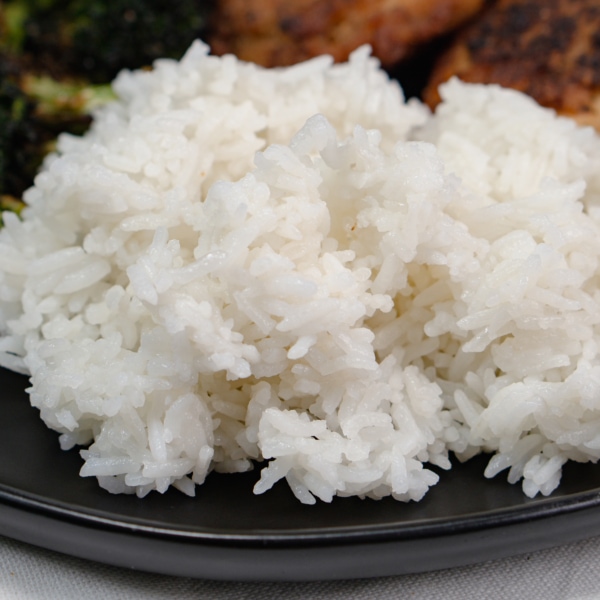 Ingredients
2 cups jasmine rice rinsed until water runs clear
2 cups water or unsalted chicken stock
1 teaspoon kosher salt or to taste, optional
Instructions
Rinse Rice: Place the rice in a fine-mesh strainer and rinse until the water runs clear.

Add Ingredients To Pot: Add the rice, water, and salt to the Instant Pot. Give a gentle stir.

3-Minute Cook Time: Close the pot and set the pressure release valve to 'Sealing'. Set to cook on 'Manual' or 'Pressure Cook', 'High Pressure' for 3 minutes.

10-Minute NPR: When the cooking time is complete, allow for a 10-minute Natural Pressure Release (NPR). Release any remaining pressure after the 10-minute NPR has finished.

Fluff Rice: Once the pin drops, open the pot and fluff the rice with a fork.

Serve and enjoy!
Nutrition Facts
Calories: 169kcal | Carbohydrates: 37g | Protein: 3g | Fat: 1g | Saturated Fat: 1g | Sodium: 296mg | Potassium: 53mg | Fiber: 1g | Sugar: 1g | Calcium: 15mg | Iron: 0.4mg