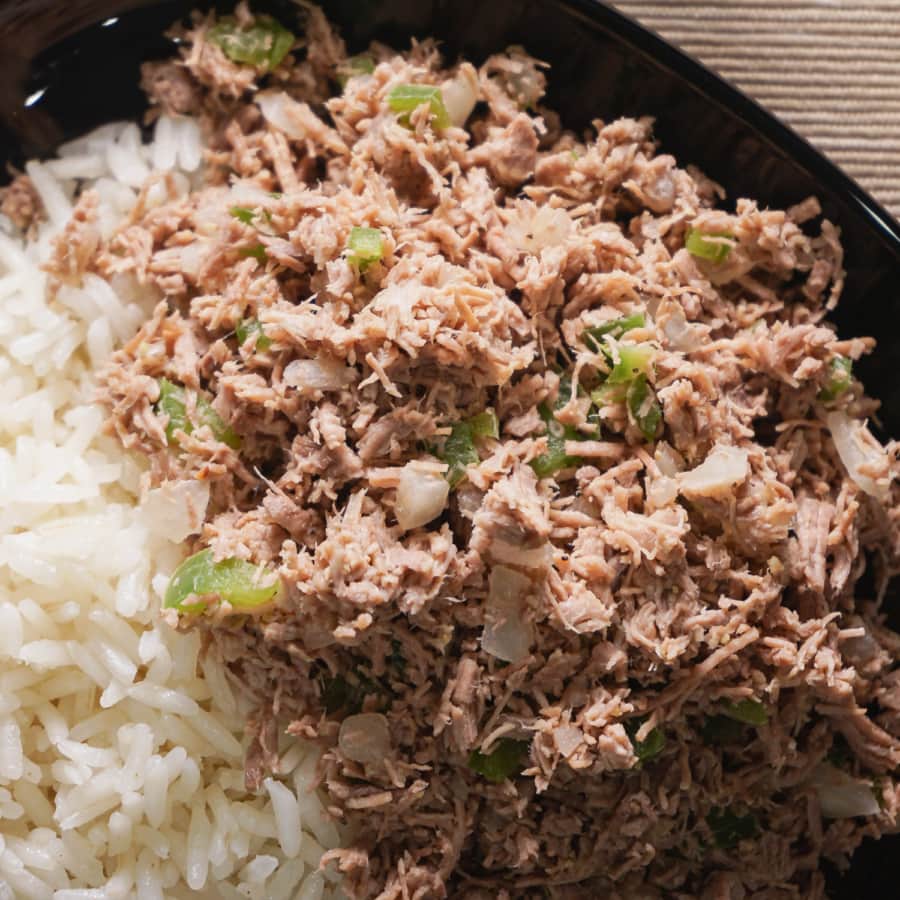 Salpicón, as I grew up calling it, is a delicious and easy-to-make type of minced meat. In Honduras, it's a very common dish usually served with white rice.
This post contains affiliate links. For more information, see my disclosure.
Growing up in Honduras, we used to eat this a lot in my home. I remember it was always touted as a very healthy meal. It is made using a cut of meat we call mano de piedra, which literally translates to stone hand. Obviously, it is given this name because of the tough nature of the meat. Here in the United States, we know it as eye of round. My sister Tita, who is the expert at making Salpicón, says that the eye of round here in the U.S. is a lot less tough than the one in Honduras.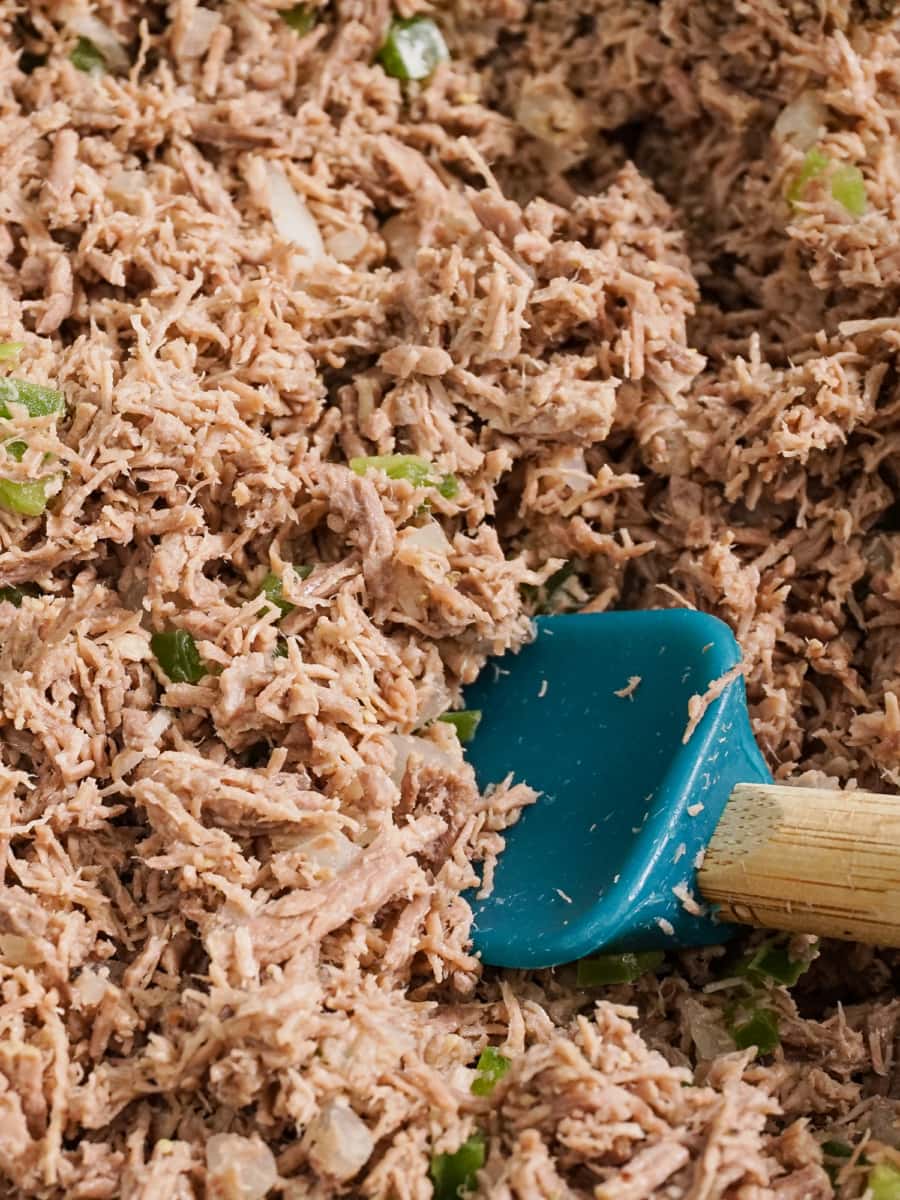 I loved Salpicón growing up, and since I moved to the United States I hadn't had any! It's been years! Since I recalled they used to boil the meat for hours on the stove, I thought it was the perfect dish to try out in the Instant Pot!
So, What Exactly Is Salpicón?
Essentially, Salpicón is a boiled eye of round roast minced into tiny little pieces. It is then combined with a few extra ingredients like onions, peppers, lime, and orange juice. What you end up with is a very fresh, light meat, that tastes great!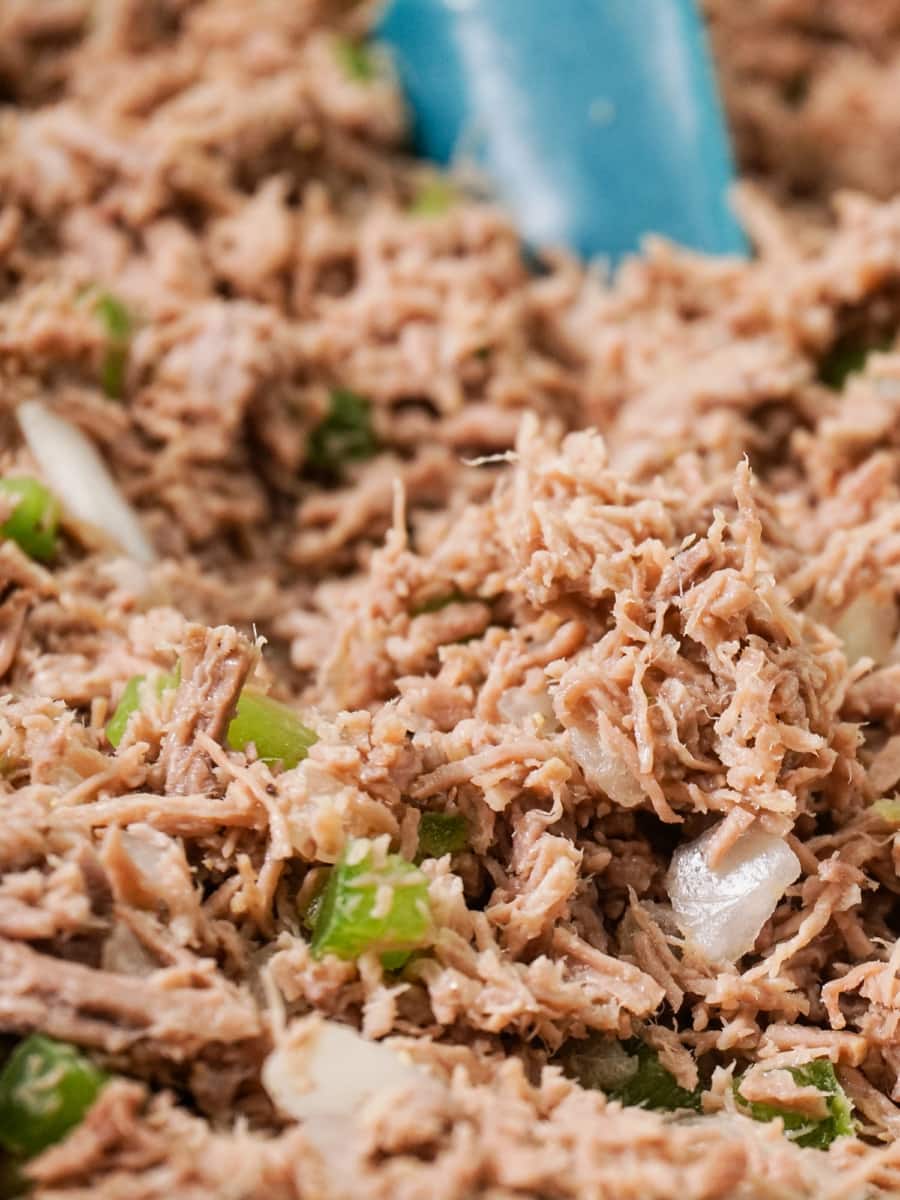 Another interesting thing about Honduran Salpicón is we eat it cold! It may seem strange, but we eat the Salpicón cold, with hot rice. That's how it is traditionally served in Honduras.
Making Salpicón, the Fast and Easy Way
I remember when my mom would make Salpicón, she'd use a small kitchen ax to mince the meat. It took forever to chop it into tiny little pieces. As you can imagine, my sister does not make it this way, and she instead uses a food processor, which is faster and way easier. You get the same results.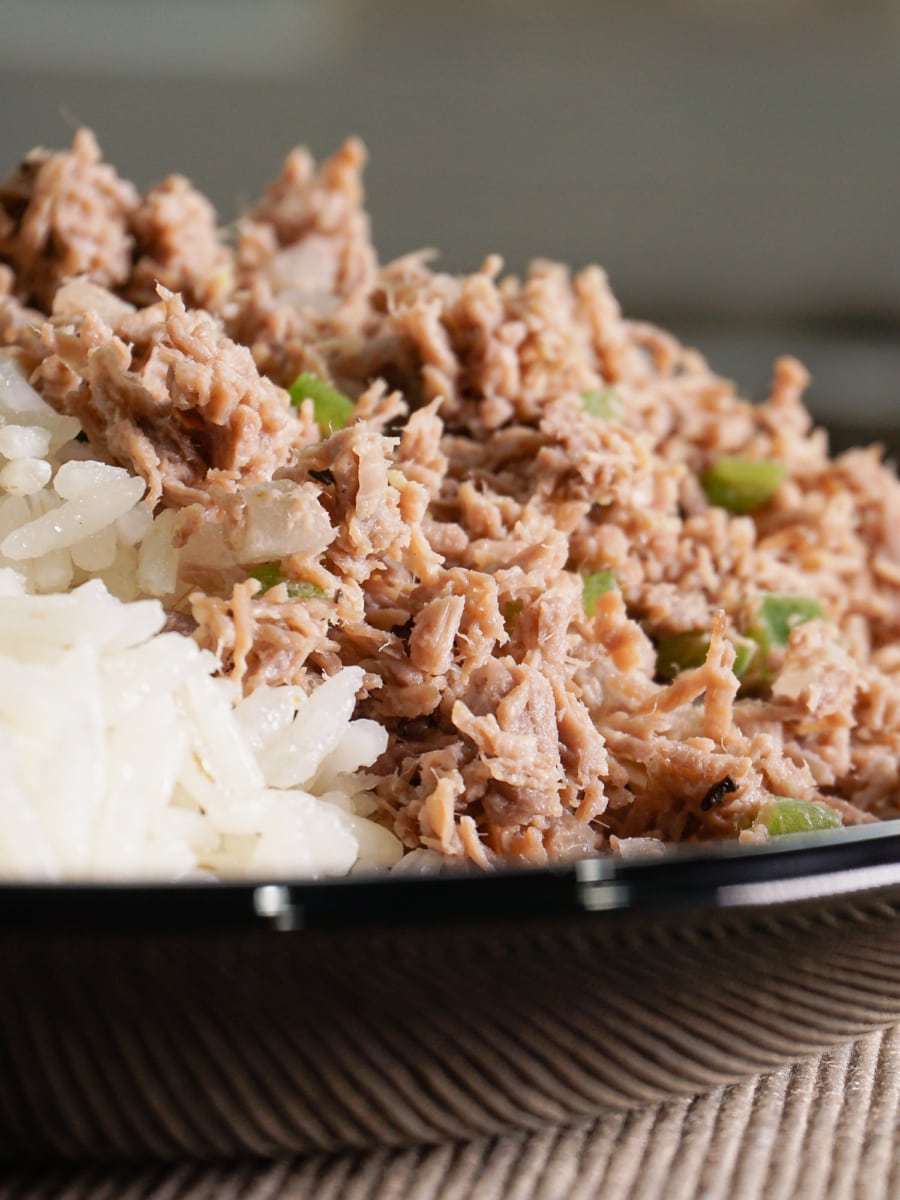 The best part: the flavor is exactly the same, so nothing is lost!
Plus making Salpicón in the Instant Pot is so easy and so much faster than the traditional way. With so many kids running around this house, fast and easy sounds good to me!
Making Salpicón for the First Time
I told my sister I really wanted to try making Salpicón in the Instant Pot. She loves cooking so she immediately agreed to come over to my house and teach me how to make it. In turn, I'd teach her how to use her new Instant Pot she still had sitting in the box!
Win-win!
We also invited a couple of our friends to come over and learn how to make Salpicón. Mari, as you recall, came over to make Cochinita Pibil in the Instant Pot a few weeks ago. Carolina also has a new Instant Pot she hasn't taken out of the box, so I thought it would be perfect for her to see how to use it.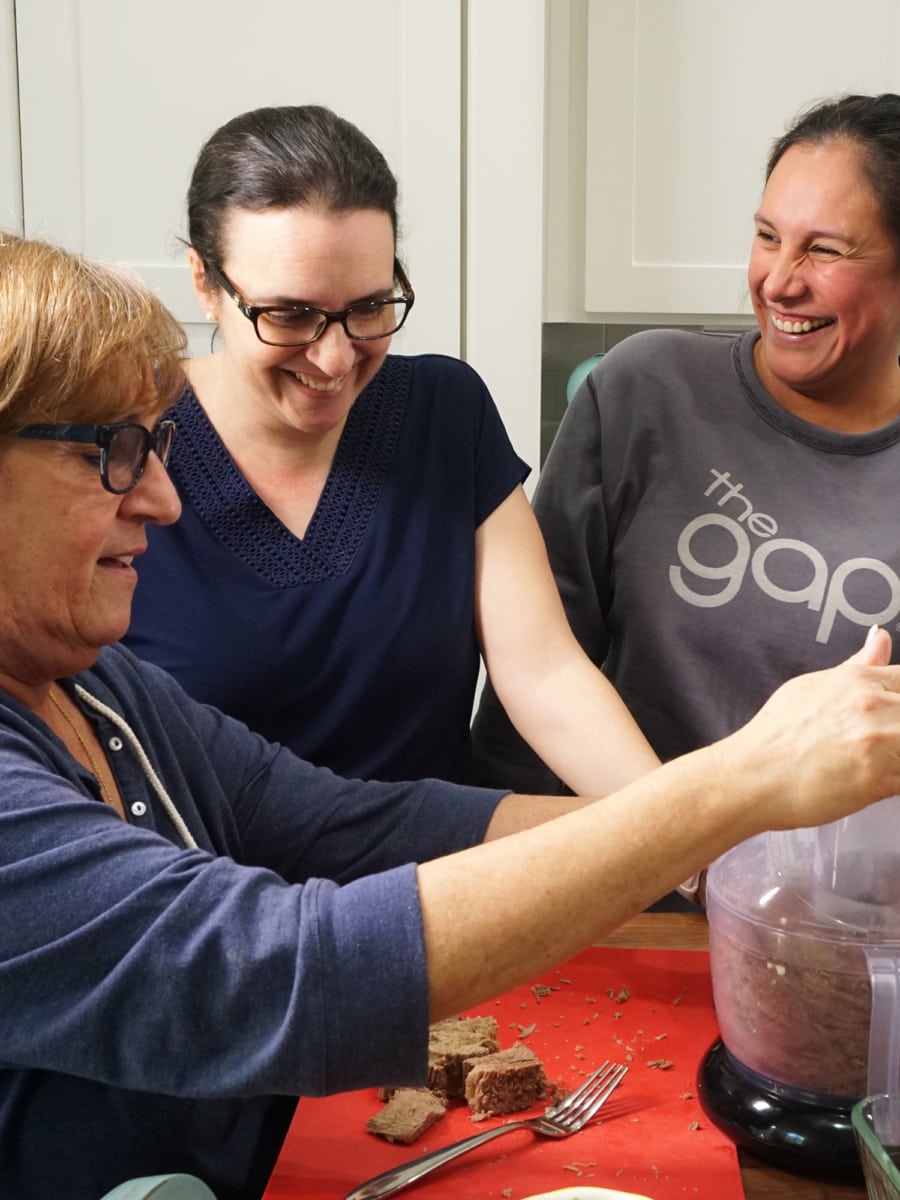 We had a ball as usual, and I'm thinking I'm enjoying these little cooking sessions so much, we'll have to start making it a weekly thing!
Light, Fresh & Citrusy
Salpicón is tasty, healthy, fresh, and different than the usual meals you can prepare with eye of round. I really can't think of a better way to describe the taste of Salpicón, but to say it's fresh! The citrus in it gives it that fresh flavor. It really is tasty.
What My Family Thought of Salpicón
Since my husband and I lived in Honduras for 10 years after we got married, he was very familiar with Salpicón and he loved it as much as I did. My older kids, who spent their early years down there, had tried it but couldn't really remember it.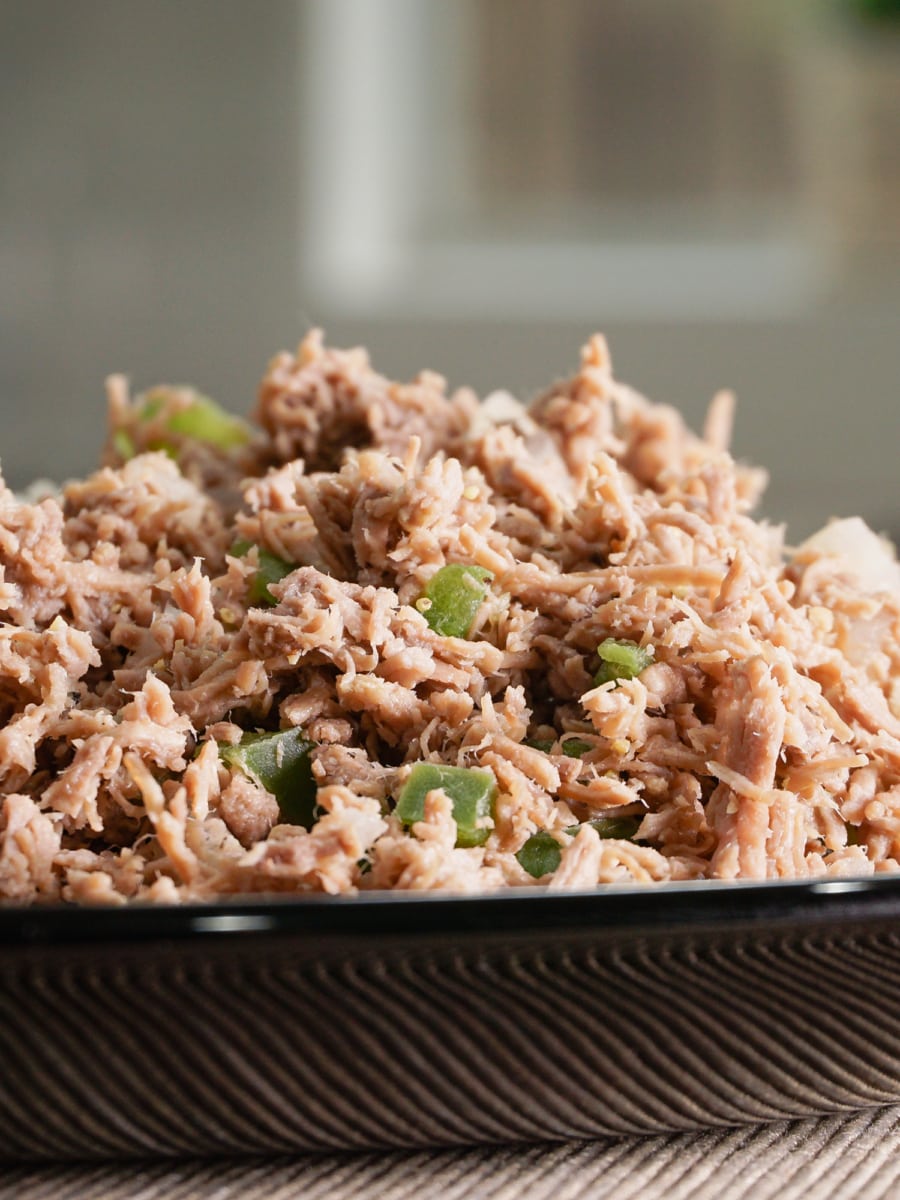 The rest of my kids had it for the first time after we made it in the Instant Pot and everyone loved it. Even the little one ate his whole plate. We had it the traditional way: cold served with hot, white rice, and a corn tortilla on the side!
So let me show you how to make Salpicón and let you experience some of the delicious flavors I grew up with in Honduras! Since this is an Instant Pot recipe, you're only a few easy steps away from enjoying this delightful dish. Here we go!
Essential Items
Here are some essential prep tools, utensils, and appliances I used to make this recipe.
Featured Items
Here is a list of the products featured in this post or products similar to those featured in this post:
23 Must-Have Electric Pressure Cooker Accessories
Make sure to check out my Ultimate List of Electric Pressure Cooker Accessories! I've included everything you could ever need to help make your pressure cooking quicker, easier, and even more convenient.
Making Salpicón in the Instant Pot
Salpicón is easy to make in the Instant Pot. You'll only need a few ingredients and you're ready to go.
Choosing the Best Meat for Salpicón
You will need eye of round to make Salpicón. Eye of round is a very lean but very tough meat. It's actually one of the toughest cuts of meat on the cow. Eye of round is known to be a budget meat, so, I was surprised at how expensive it was at my local grocery store. My sister told me she always waits until they put it on sale to buy it.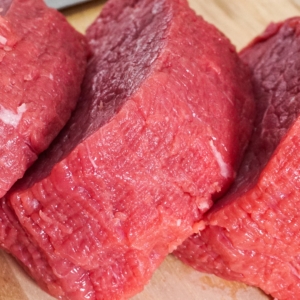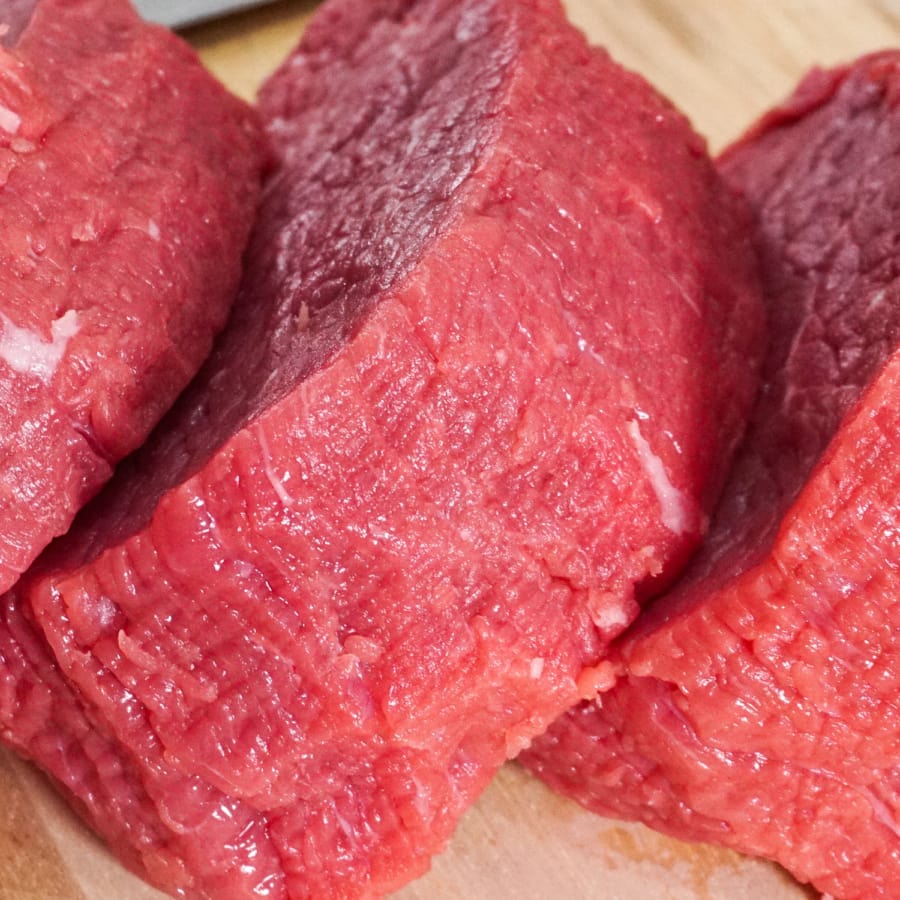 I did later find it on sale at H-E-B, and it was definitely a much better price. I bought a 2.5-pound roast which made a big pyrex full of Salpicón.
Gather Your Ingredients
You will need an onion, green bell pepper, lime (the green ones), and bitter orange juice. In Honduras, it is very common to find Naranja Agria (Bitter Orange). It is usually squeezed fresh to add to the Salpicón. Luckily, Goya has Naranja Agria in a bottle, which was exactly what we needed! I found it in the International section of the supermarket.
I've seen it at several of our supermarkets so I don't think it would be hard to find. If you can't find it though, you can always substitute it for regular orange juice.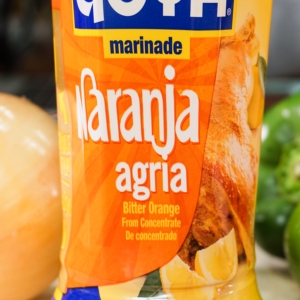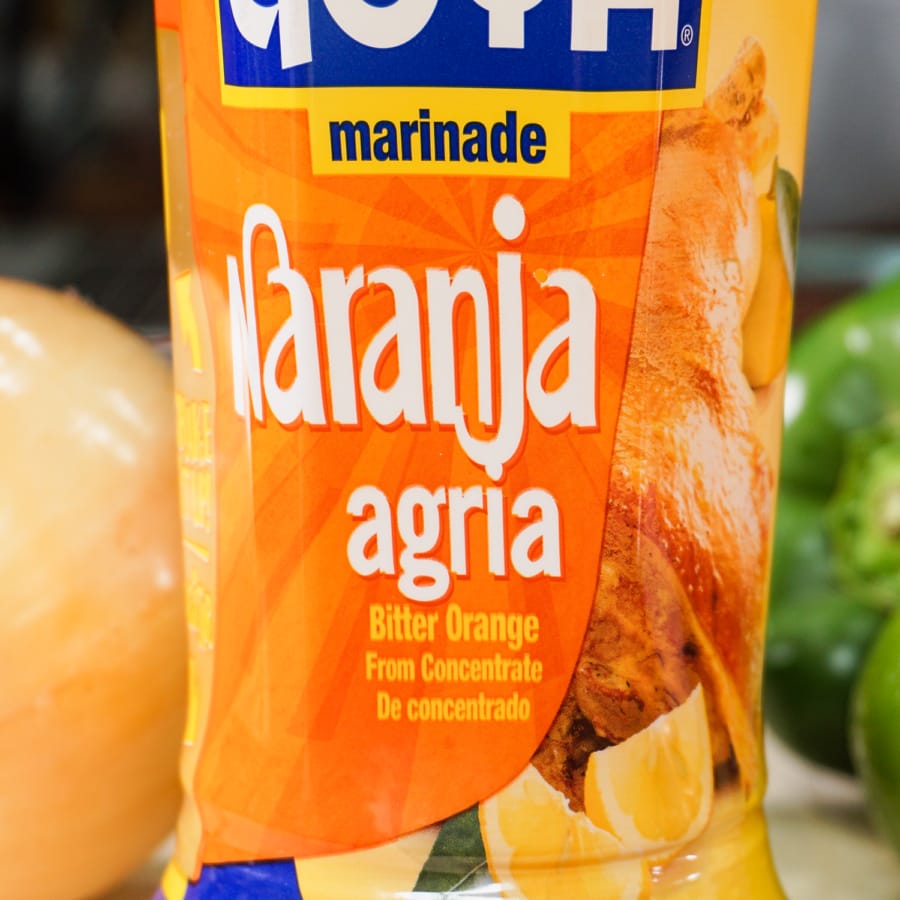 Chop the Onion and Green Bell Pepper
My sister loves chopping and she took care of all of it for this recipe. Make sure to chop your onion and green bell pepper very finely.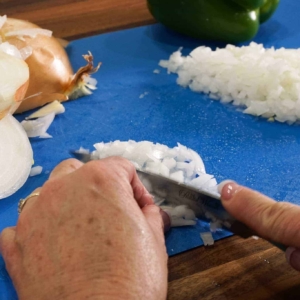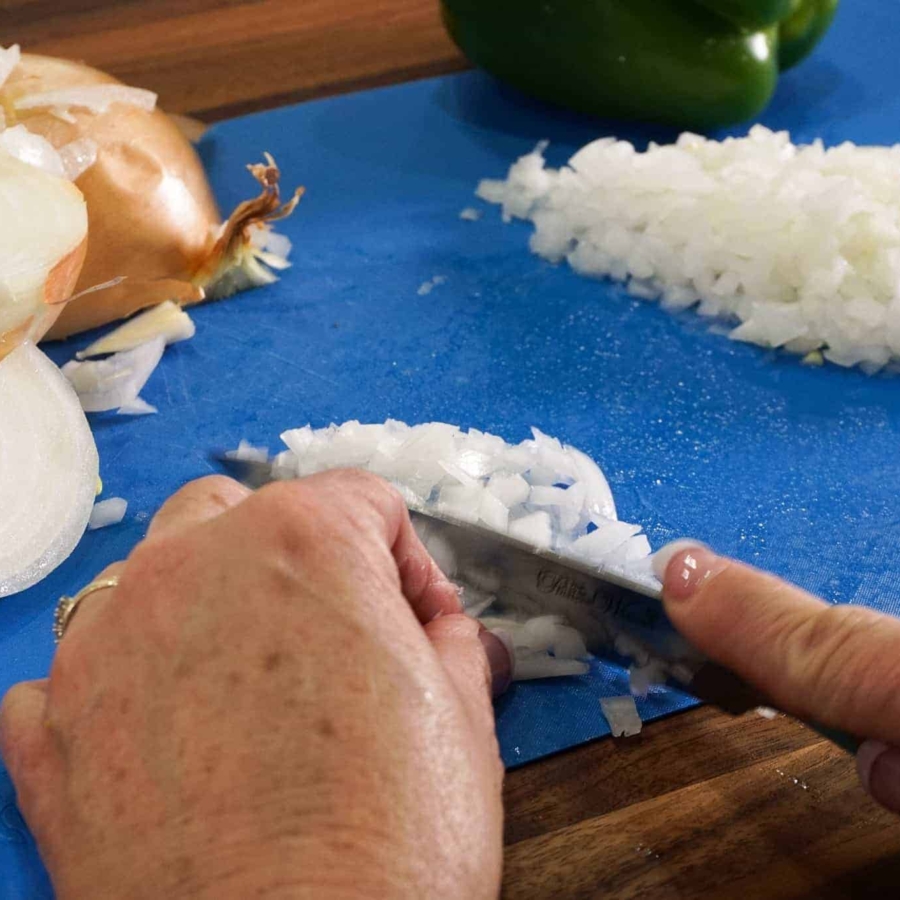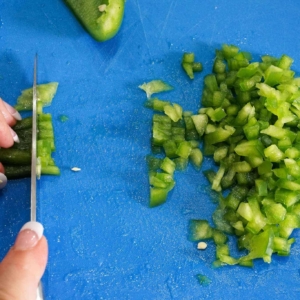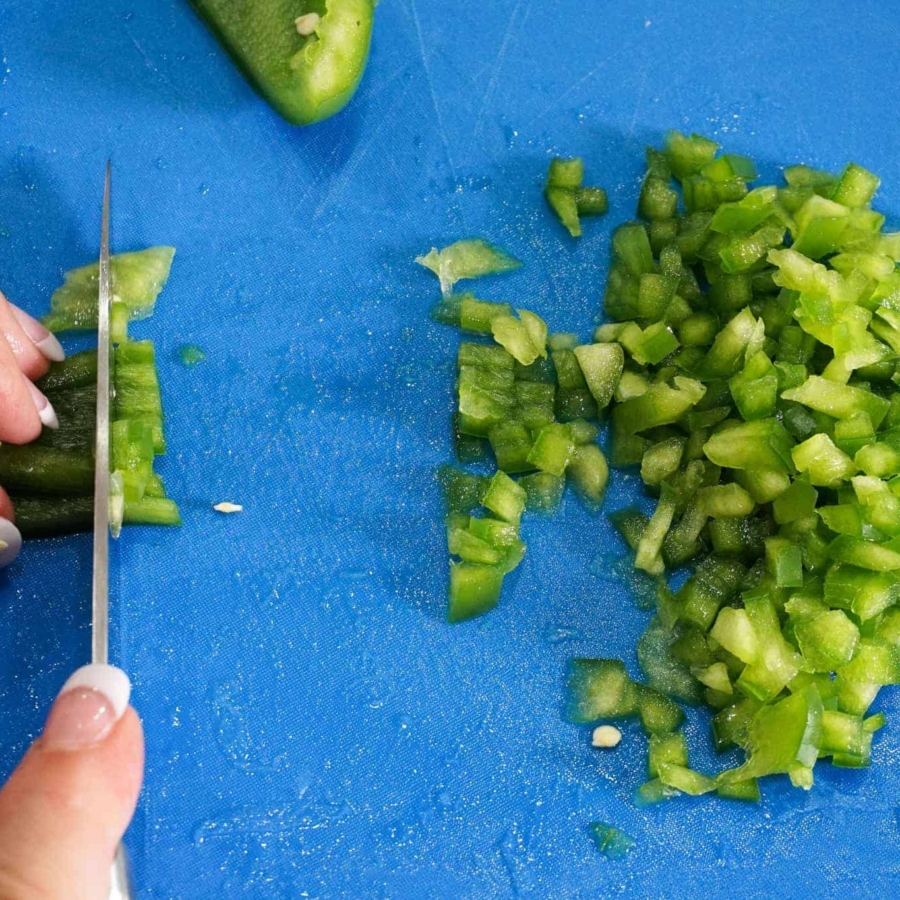 Place the onions and bell pepper in a bowl.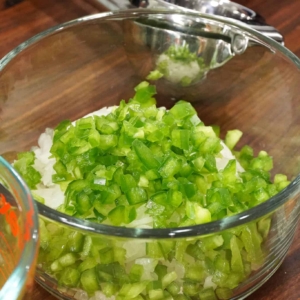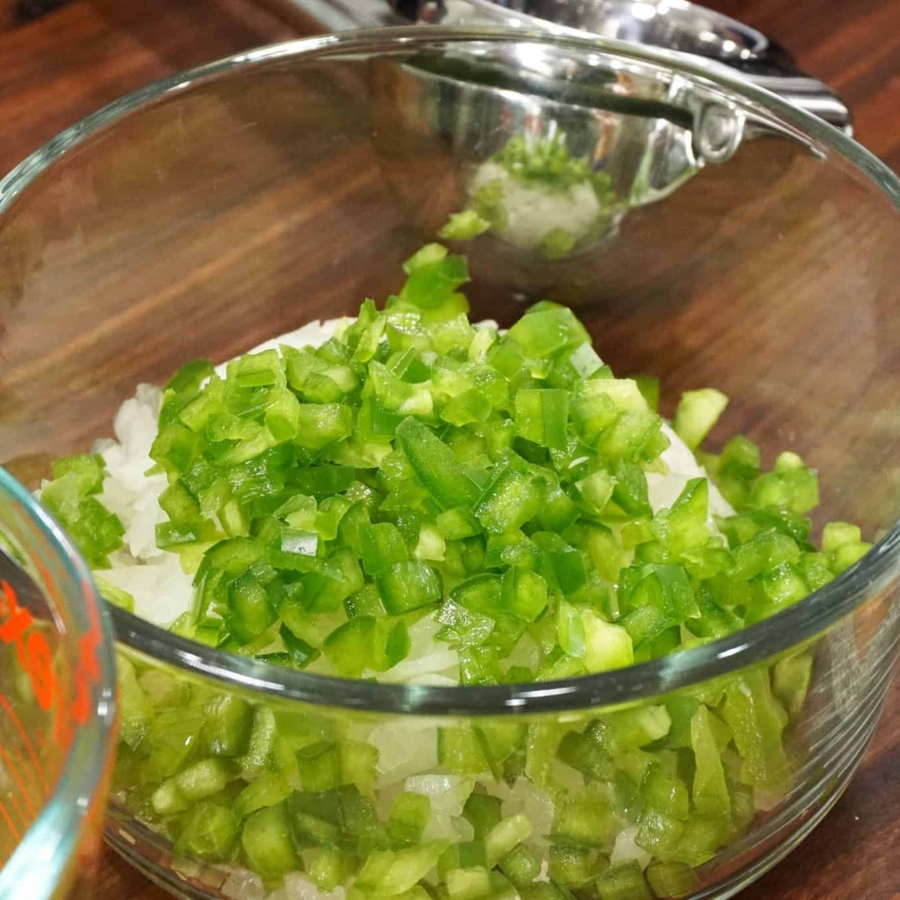 Add the Orange and Lime Juice
Add the bitter orange juice, freshly squeezed lime juice, salt, and pepper to the chopped onions and green bell pepper. You will add this mixture to the eye of round after it has been minced. For now, just set it aside.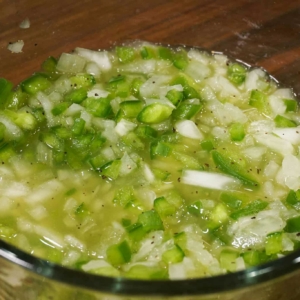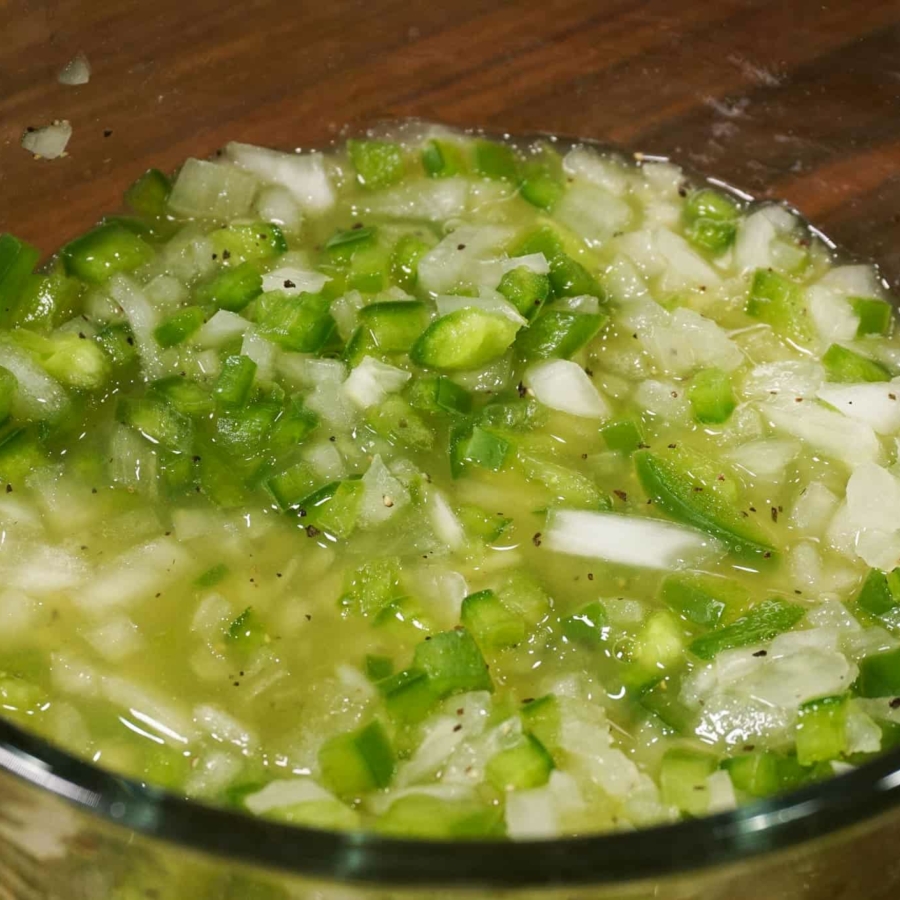 Remove the Fat From the Eye of Round
It's best to remove the fat from the meat before you cook it. Not only is it easier to tell the fat apart from the meat before it's cooked, but the dish will remain very healthy without cooking in all the fat.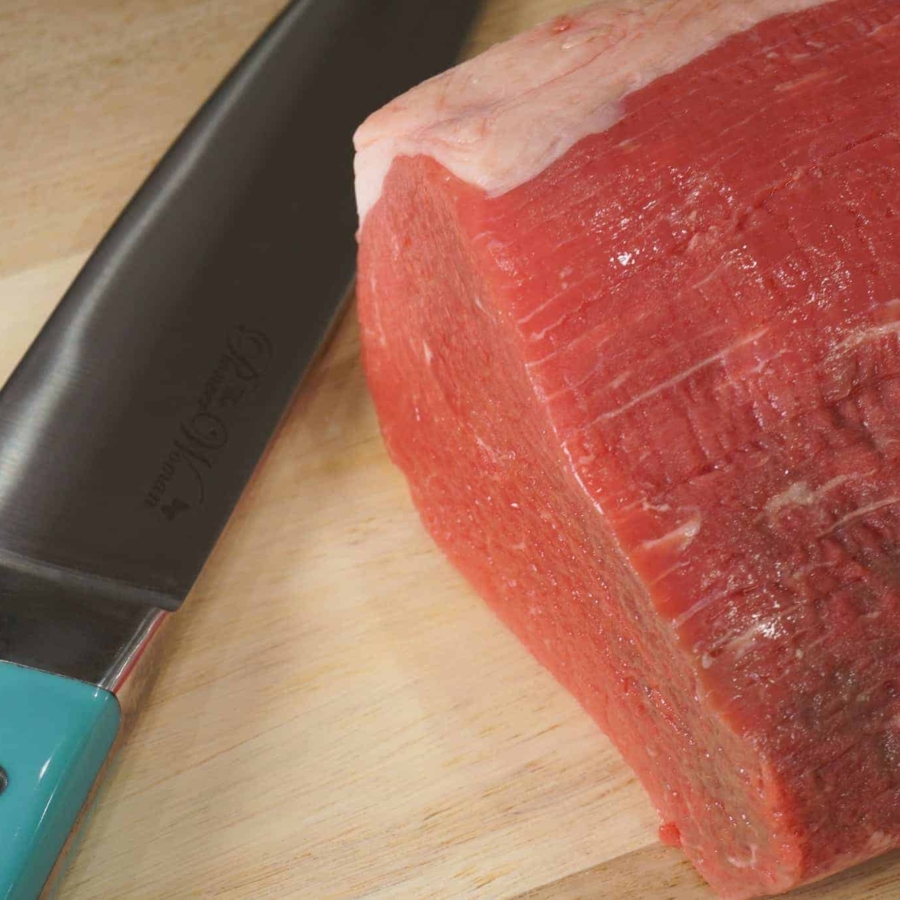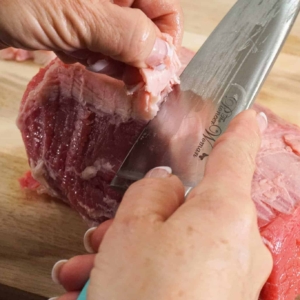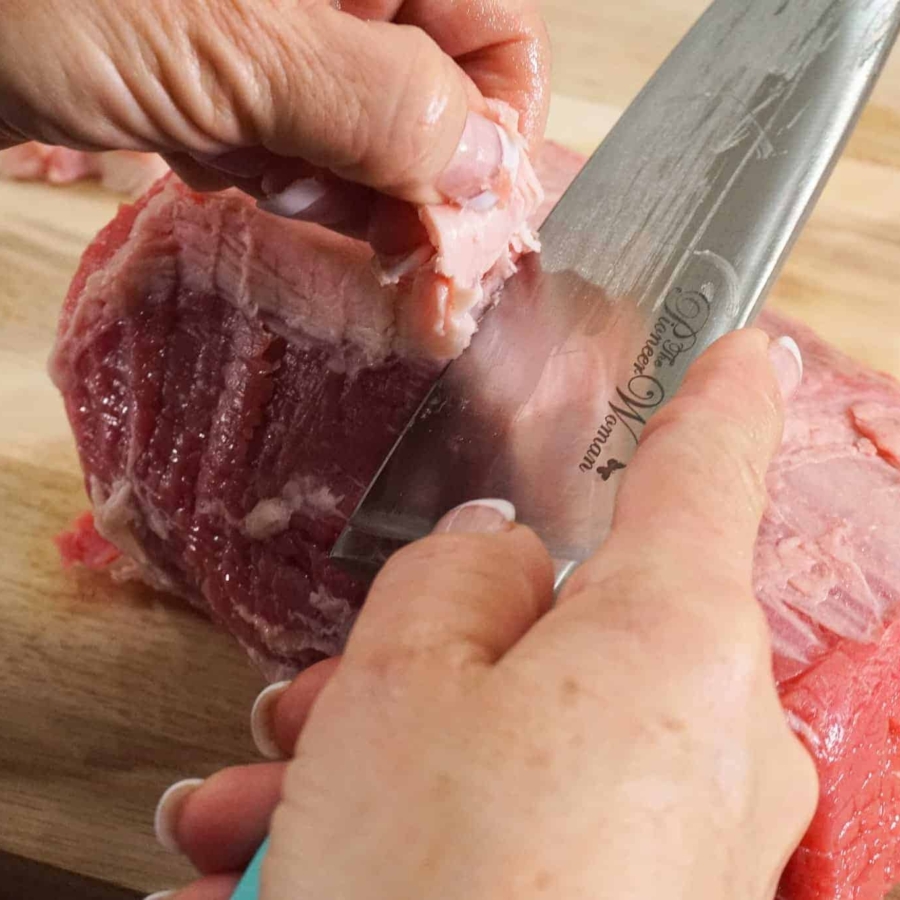 Once all the fat has been trimmed from the eye of round and it looks like the picture below, you'll need to cut it into slices approximately 2 inches thick.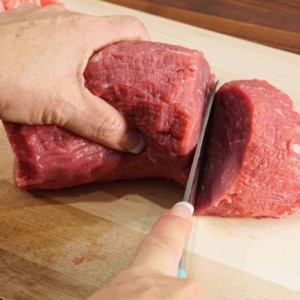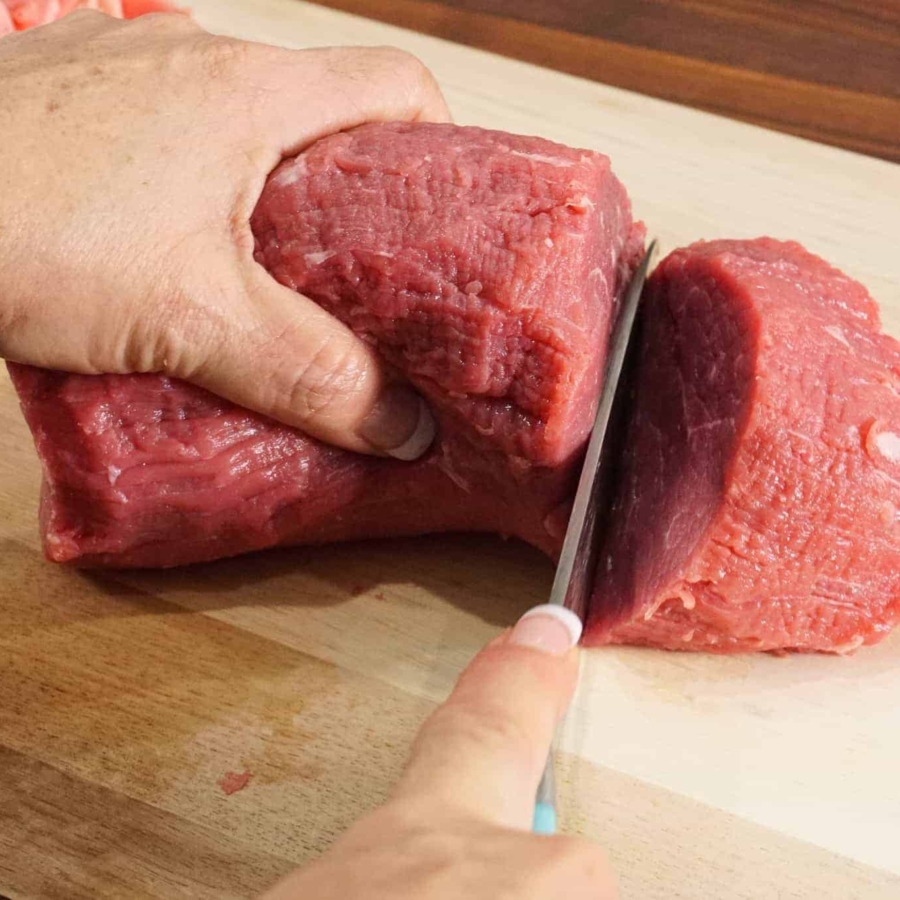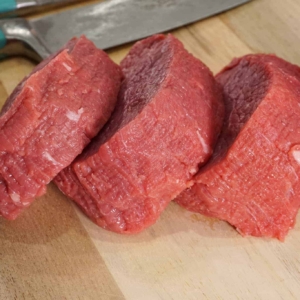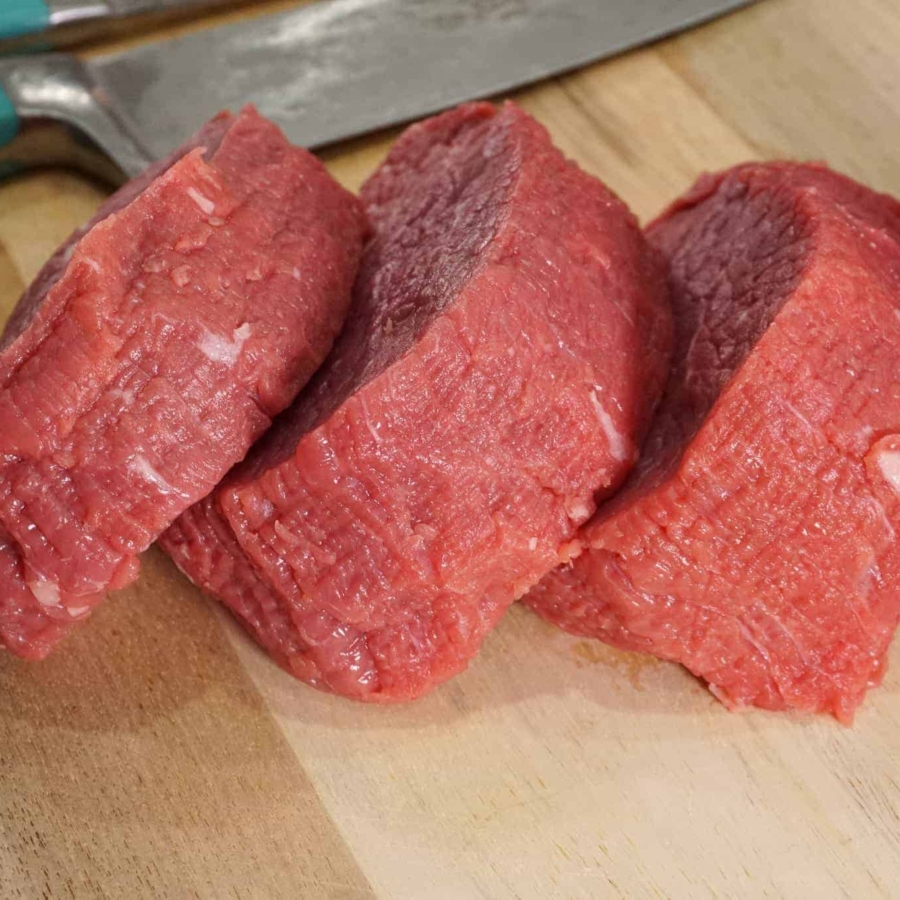 Place Eye of Round in the Instant Pot
First, you'll add two cups of water to the Instant Pot. Don't forget to make sure your liner is in there before pouring in the water!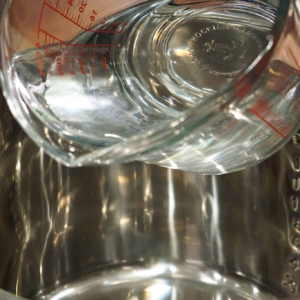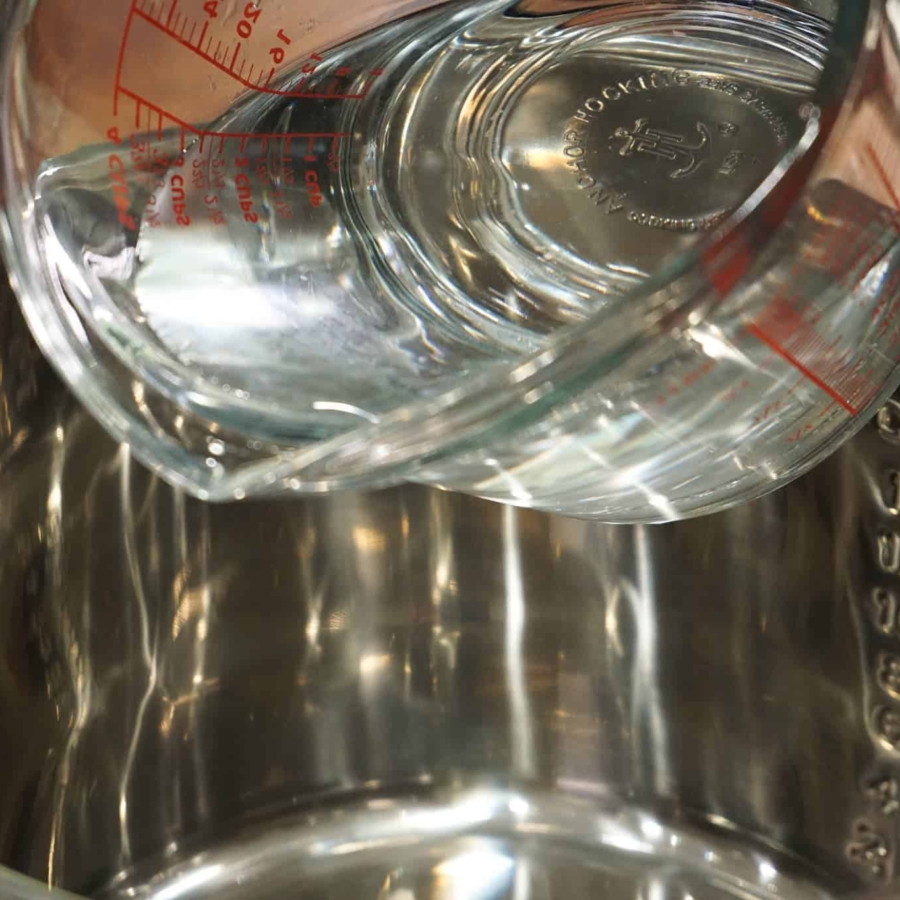 Now, place the pieces of eye of round in the Instant Pot.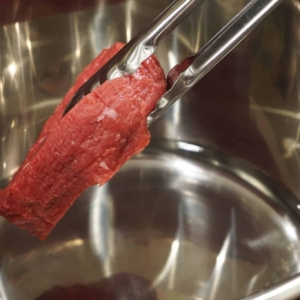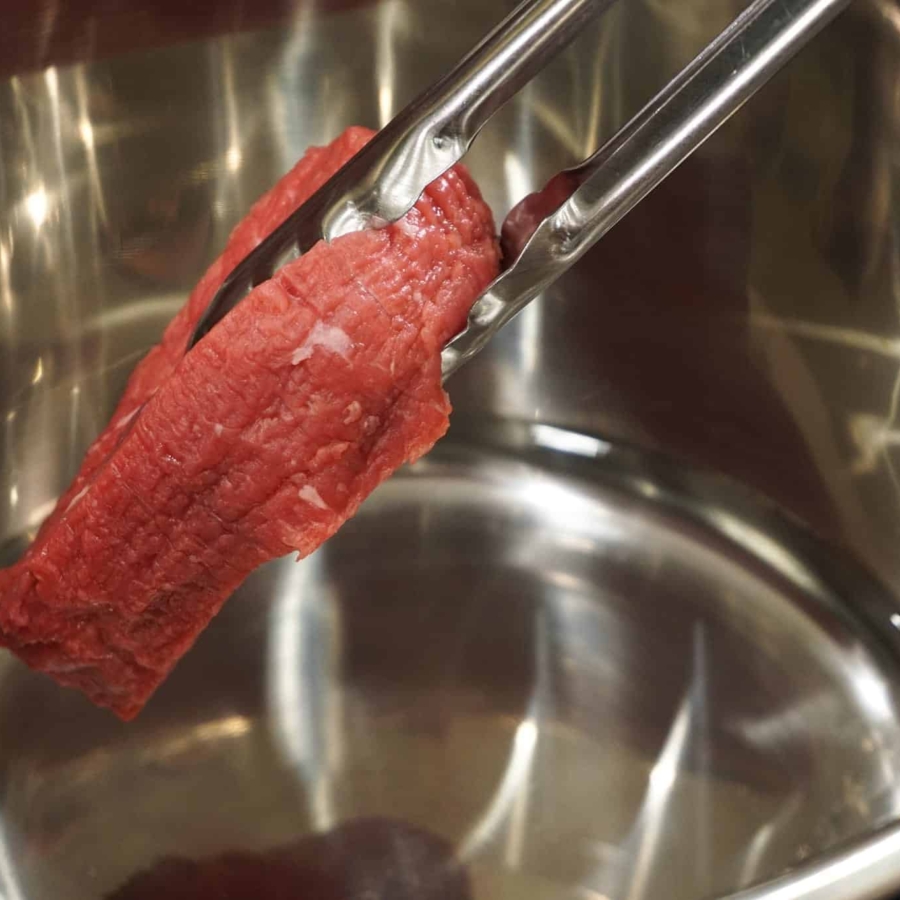 Arrange the pieces so that they are lying flat. The water will cover them about halfway.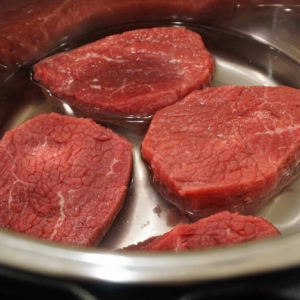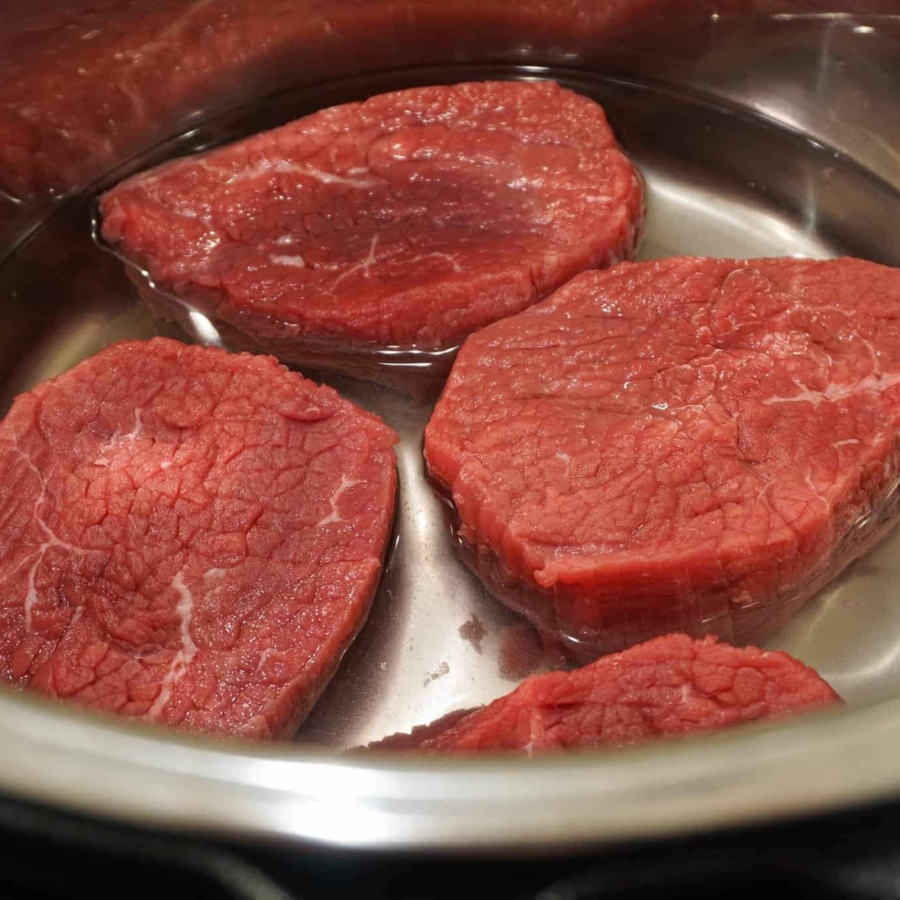 Cooking Eye of Round in the Instant Pot
Close the Instant Pot and set the valve to sealing. Cook on Manual High Pressure for 20 minutes. In some models, the Manual button is now called Pressure Cook. Even with this short cook time, the meat will be perfectly cooked for Salpicón. That's because we cut the eye of round into smaller 2-inch thick pieces.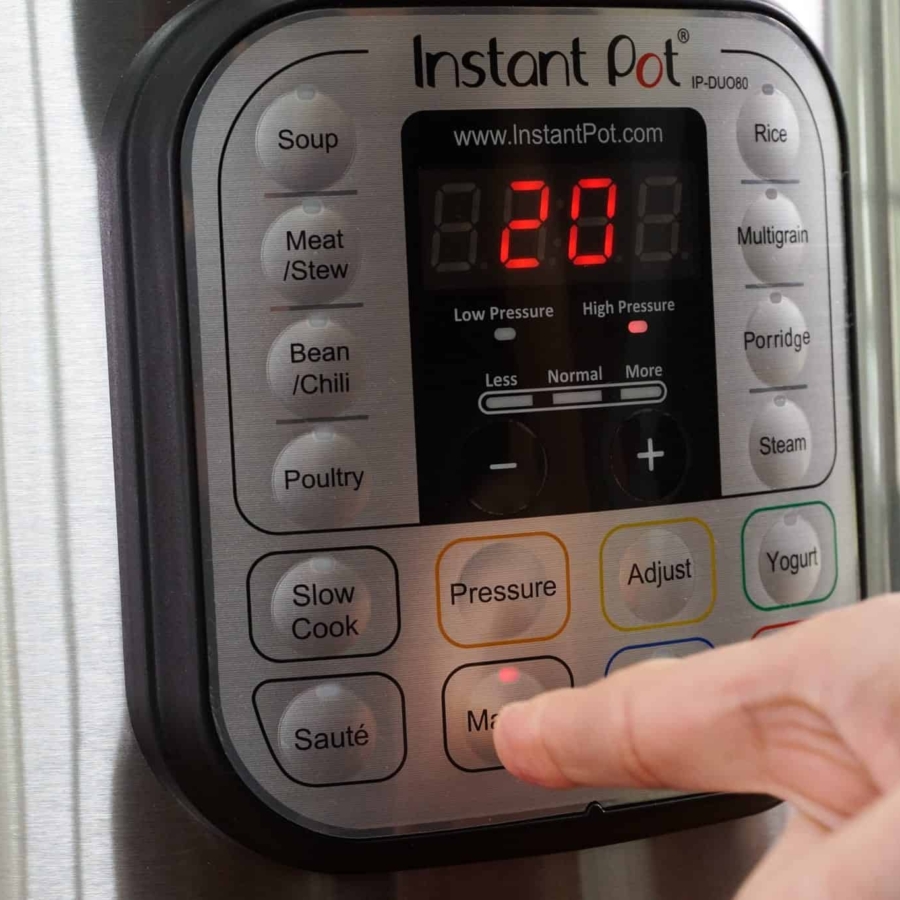 Once the Instant Pot has completed cooking, you need to allow for a 15-minute Natural Pressure Release. That means you do nothing for 15 minutes. The Instant Pot will start counting up and when it looks like the picture below it's time for the next step.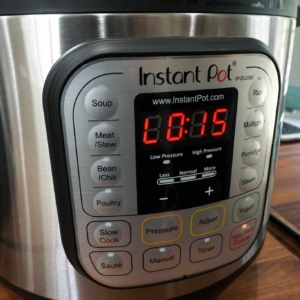 Release the Remaining Pressure and Open the Pot
When the Natural Pressure Release has completed, release any remaining pressure by turning the knob to venting. Once the pin drops, open your Instant Pot and this is what the eye of round should look like.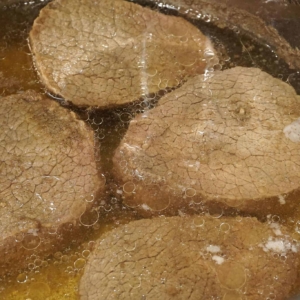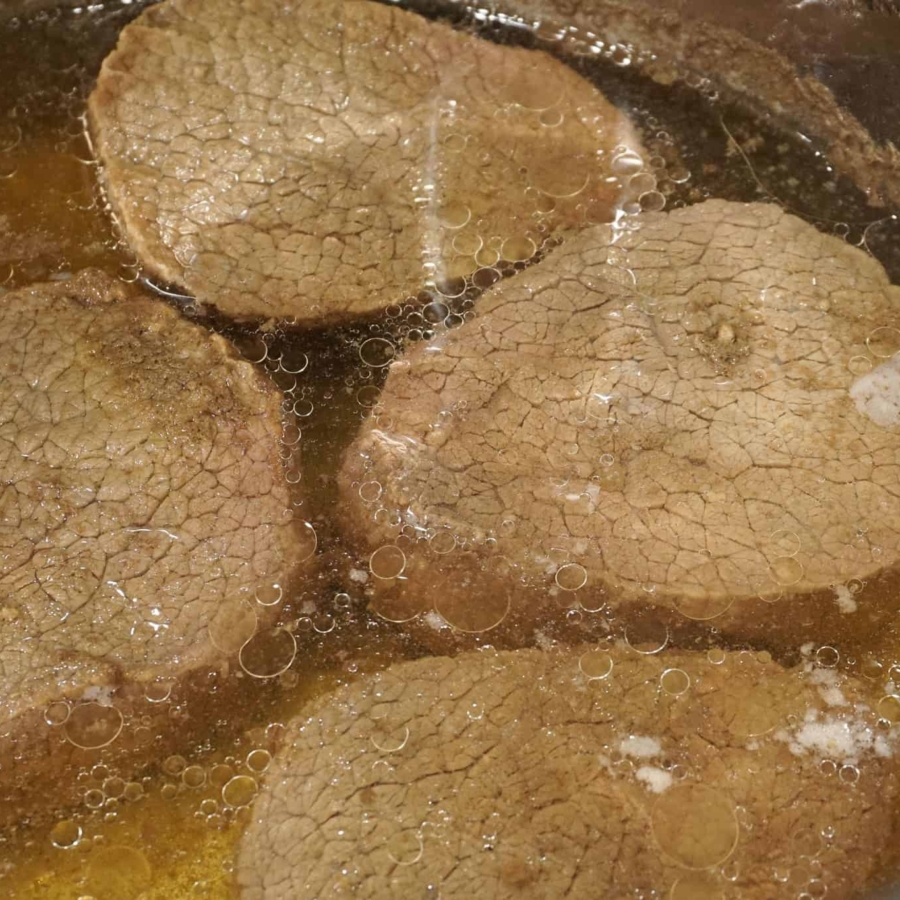 Remove the meat from the Instant Pot and allow it to cool on a cutting board for a few minutes.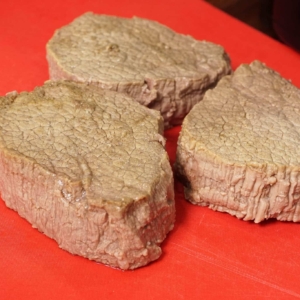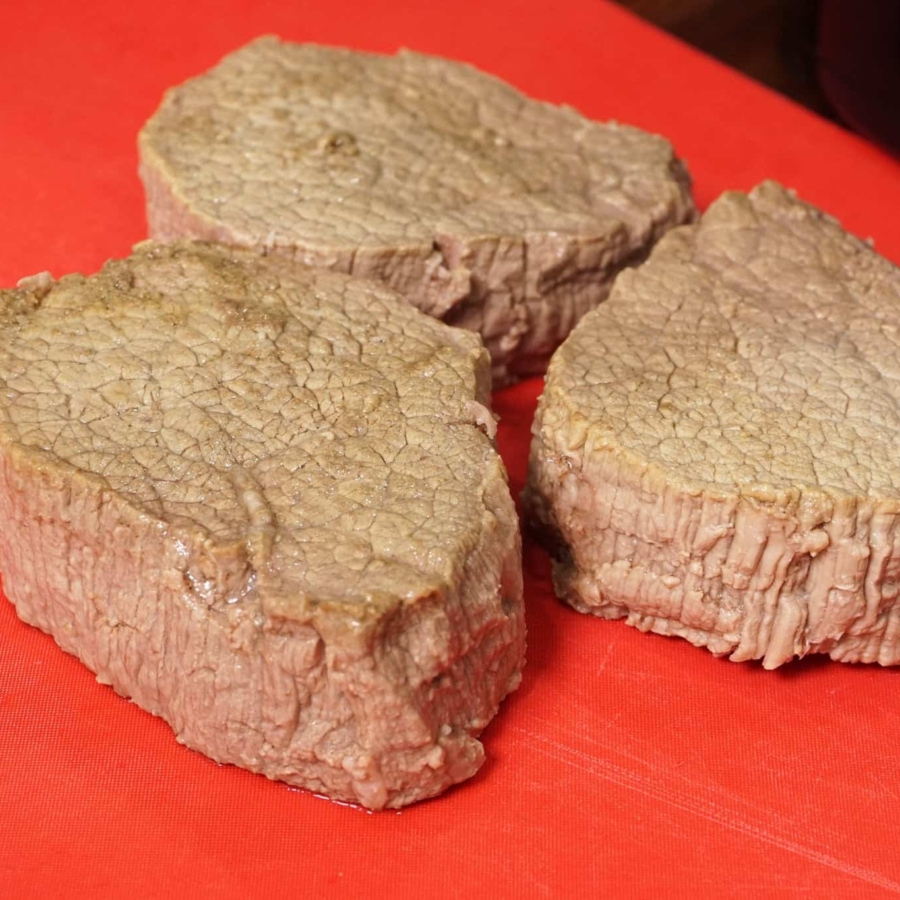 Prepare the Eye of Round for Mincing
Cut the eye of round into small cubes before placing it in the food processor.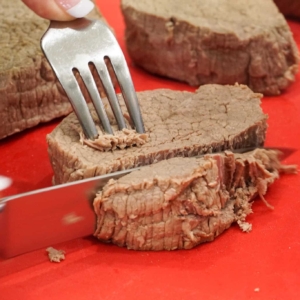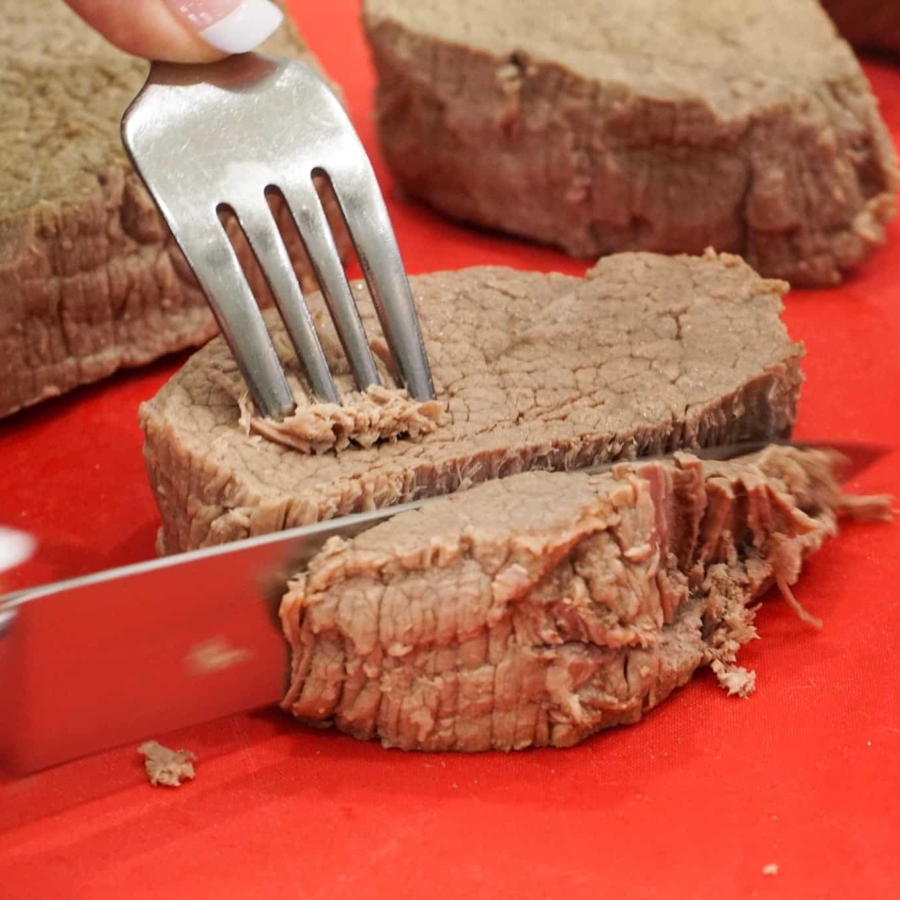 You'll notice that it is very well cooked and slightly dry yet very easy to cut. This is exactly what we want for Salpicón.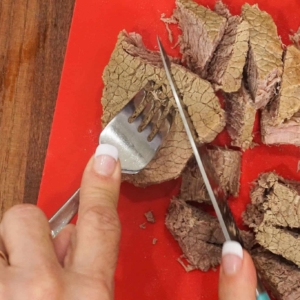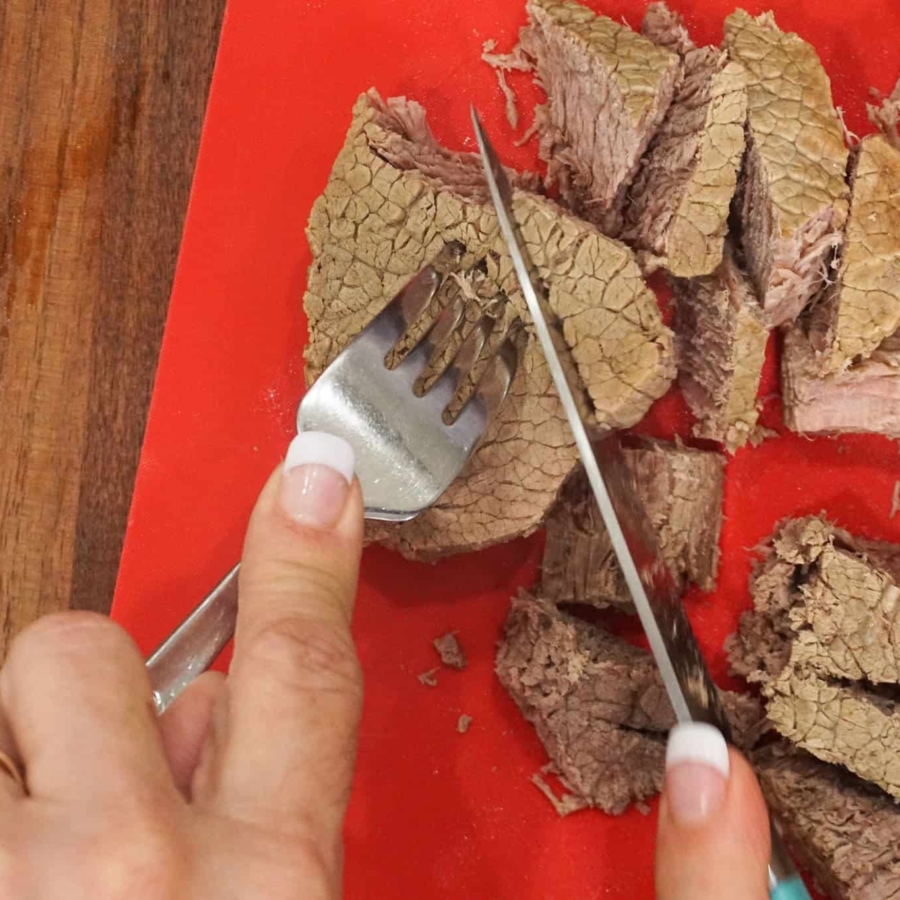 Time to Mince the Meat
Place the cubes of meat in a food processor and pulse until finely chopped.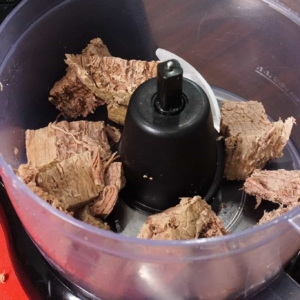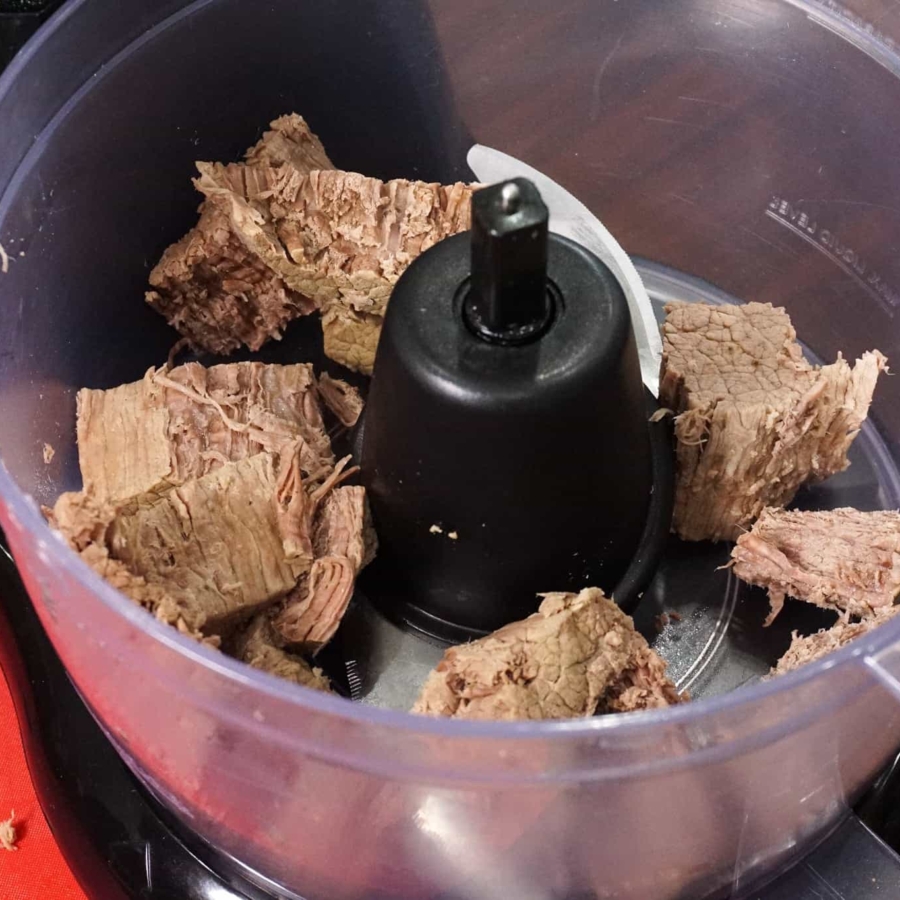 This is what the meat should look like once it's fully minced.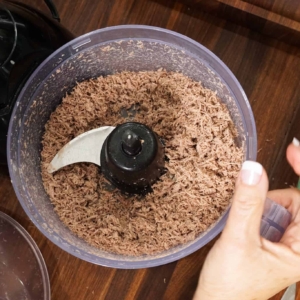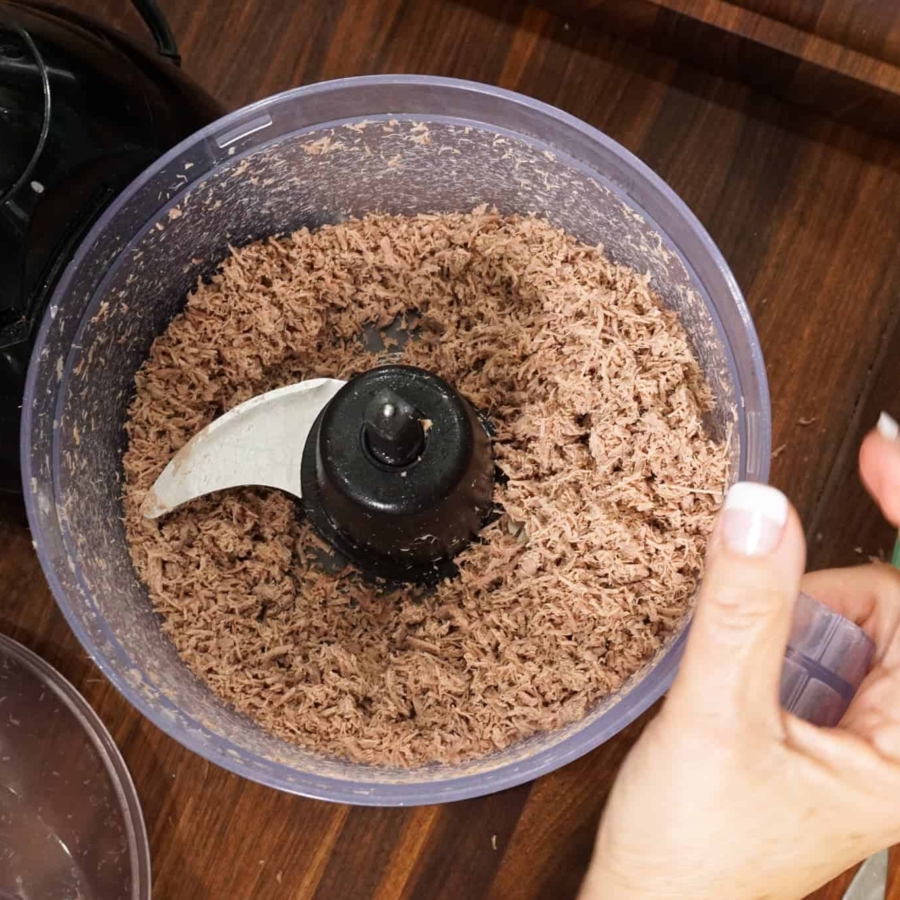 Mix in the Chopped Onion and Green Pepper
Add the onion and green pepper mixture to the minced meat and mix until everything is combined well.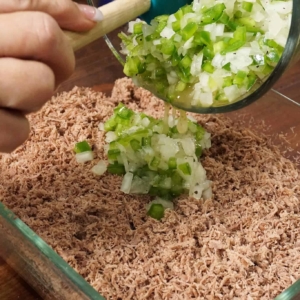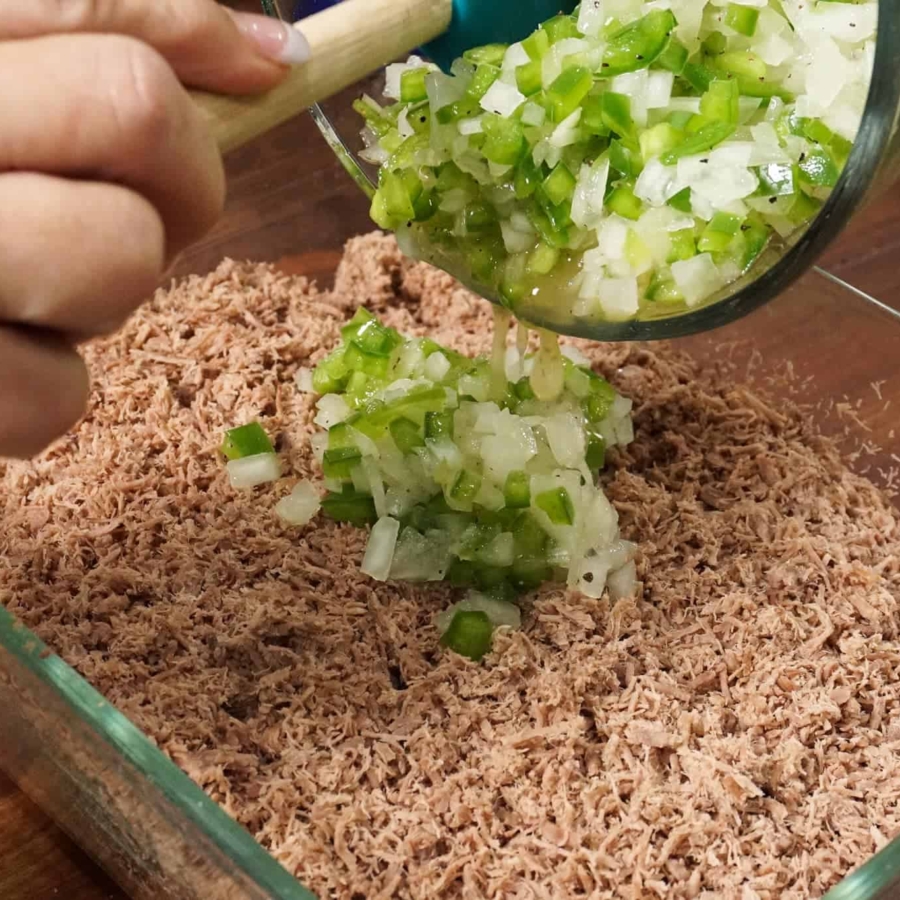 Yummy! That is some good stuff right there!
Serve & Enjoy Your Instant Pot Salpicón
You can certainly eat it immediately, but I recommend placing it in the fridge for a while so you can try it the traditional Honduran way! It goes perfectly with white rice and a corn tortilla on the side.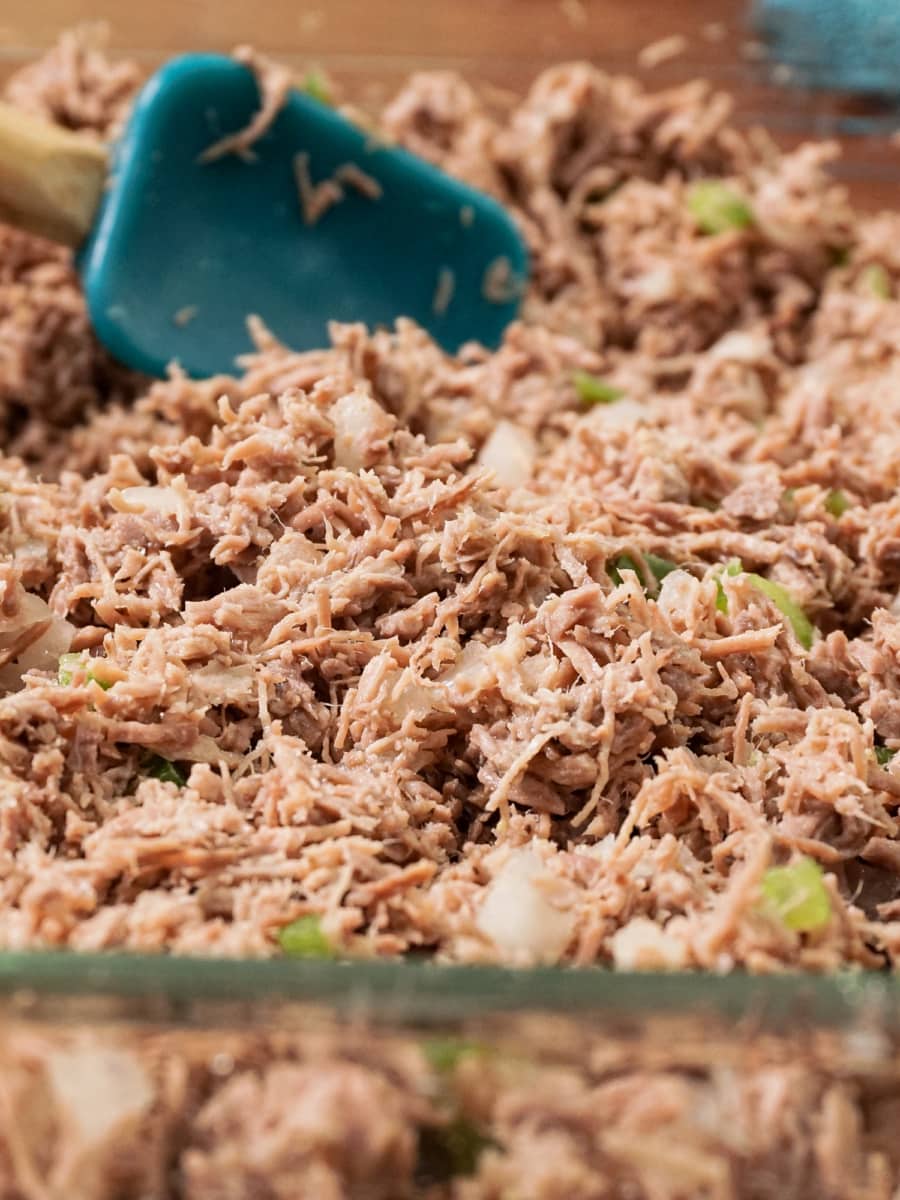 Instant Pot Minced Meat (Salpicón)
MINCED EYE OF ROUND WITH A LIGHT CITRUSY FLAVOR
This staple of Honduras is a light and healthy minced meat with a fresh, citrusy flavor.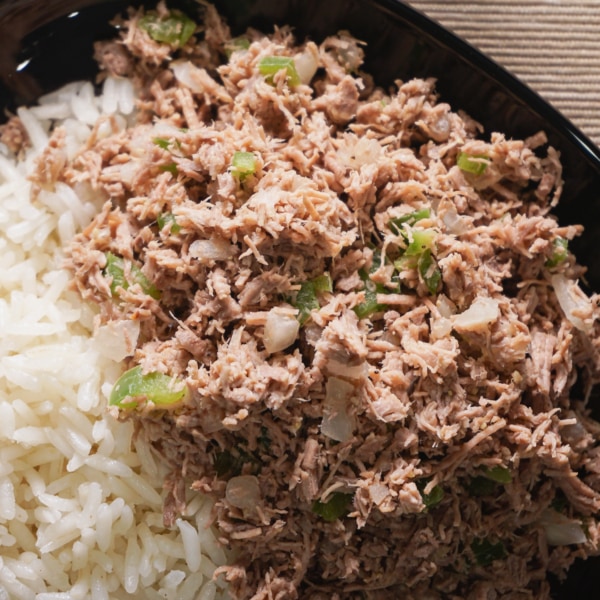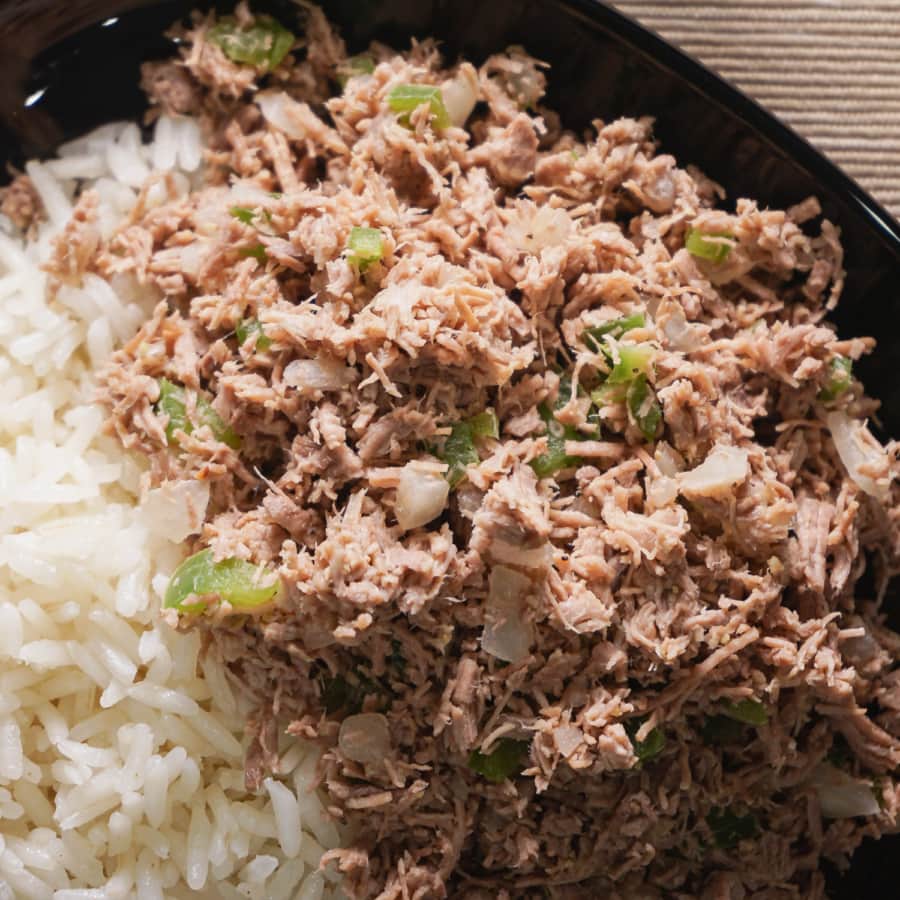 Instructions
Chop the onion and green bell pepper and place in a mixing bowl. Add the bitter orange juice, lime juice, salt, and black pepper and mix everything together well. Set aside.

Clean the eye of round roast by removing the strip of fat that's on the side of the roast. Next, cut the roast into 2 inch thick slices.

Add the two cups of water to the Instant Pot. Place the pieces of roast into the pot and then close the pot and set it on Manual High Pressure for 20 minutes.

Once the cooking time has completed, allow for a 15-minute natural pressure release. Release any remaining pressure, open the Instant Pot and remove the eye of round from the pot. Place the pieces of roast on a cutting board and allow them to cool for a few minutes.

Cut the roast into small cubes and place into a food processor and pulse until the meat is finely chopped.

Place the minced meat into a bowl and add the onion and pepper mixture to it and stir everything together very well.

Serve on corn tortillas or with a side of rice.
Nutrition Facts
Calories: 215kcal | Carbohydrates: 4g | Protein: 31g | Fat: 7g | Saturated Fat: 2g | Cholesterol: 87mg | Sodium: 374mg | Potassium: 558mg | Sugar: 2g | Vitamin A: 55IU | Vitamin C: 16.6mg | Calcium: 36mg | Iron: 3mg