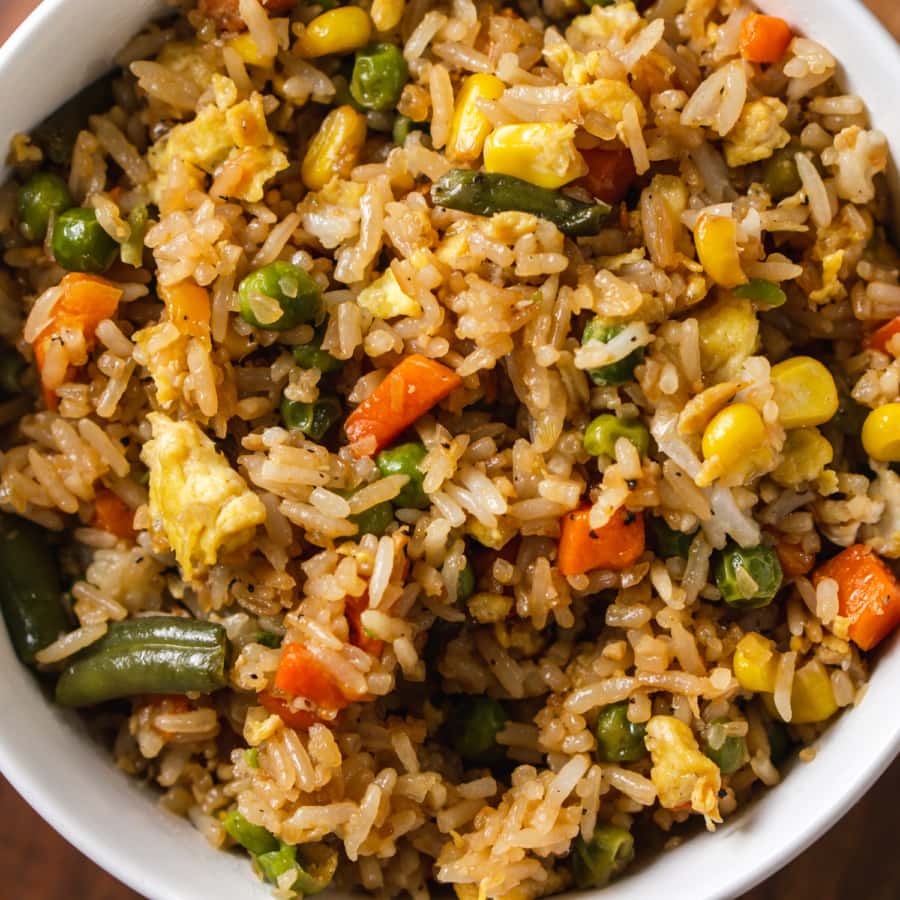 This easy Vegetable and Egg Fried Rice is so delicious, my kids think it took forever to make! It is the quickest thing in the world and you'll be amazed at how flavorful it is. My family loves Chinese food and this fried rice is at the top of their favorites.
This post contains affiliate links. For more information, see my disclosure.
This easy recipe for fried rice, takes already cooked white rice and quickly transforms it into better than takeout vegetable fried rice with egg. It's perfect for busy weeknights and it'll be enjoyed by the entire family. You can serve it as a side dish or it can be a stand alone meal.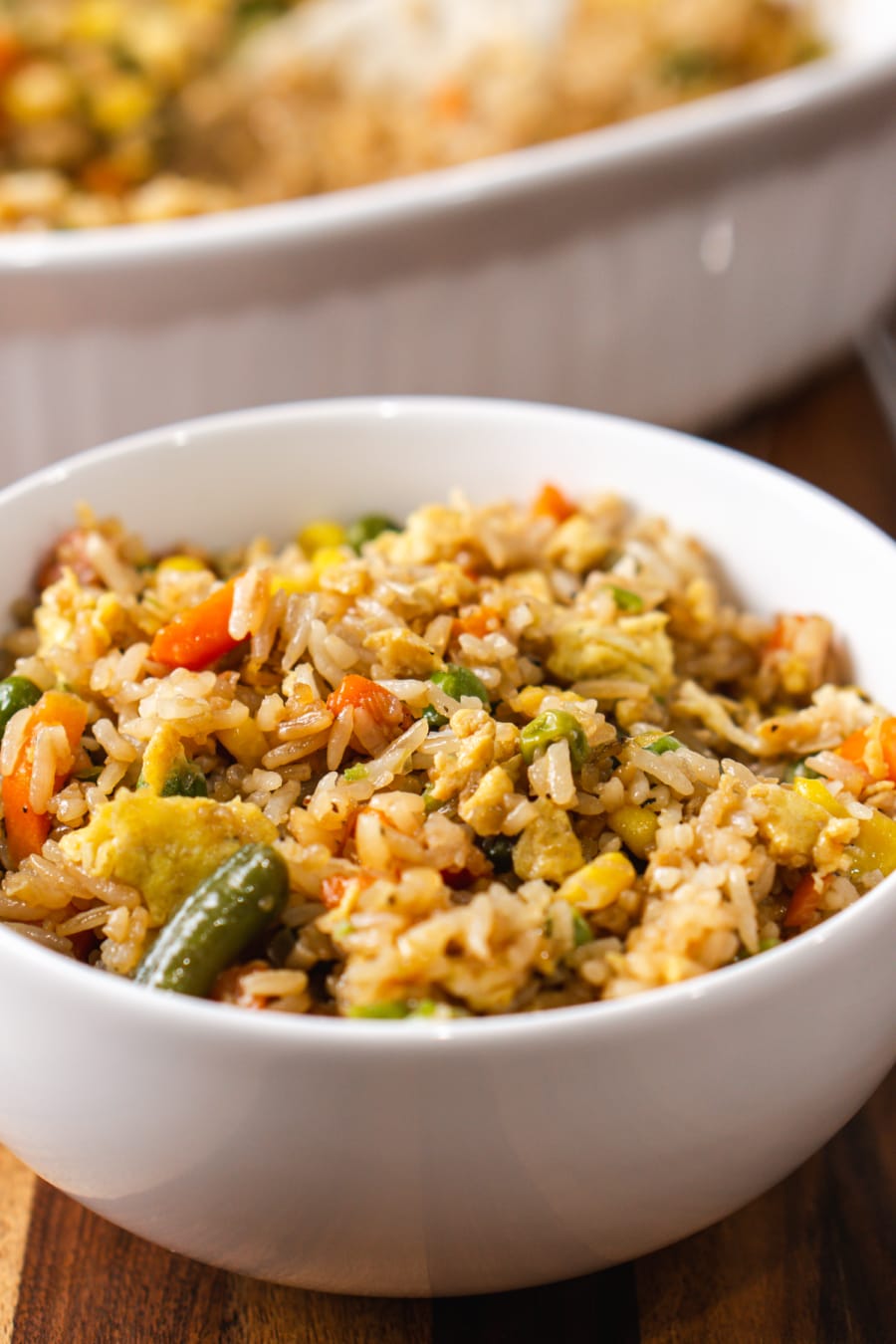 What Ingredients Do I Need for Vegetable and Egg Fried Rice?
This Easy Vegetable and Egg Fried Rice recipe requires only a few simple ingredients. I will list them below so you know exactly what you need.
Frozen Mixed Vegetables: You'll need two cups of frozen mixed veggies. I let them thaw fully before I get started cooking. Any brand of mixed vegetables will do.
Eggs: You'll need 4 eggs. You will whisk them together in a bowl.
Jasmine Rice: You'll need 4 cups of already cooked white rice. I usually make my rice ahead of time. You can use my Instant Pot White Rice recipe. It's quick and easy. You can alternatively cook your white rice as you regularly do on the stove.
Fried Rice Seasoning: The only seasonings you'll need for this easy fried rice are dried minced onions, garlic powder, and pepper. That's it!
Soy Sauce: You will use ⅓ cup of soy sauce. I always keep a big bottle of soy sauce on hand.
Unsalted Butter: You will need one stick of unsalted butter for this recipe. It may sound like a lot, but it'll be mixed with a lot of rice, veggies, and eggs. If you want to adjust it, you can always reduce it to half a stick.
That's it! All pretty basic ingredients that you likely have on hand.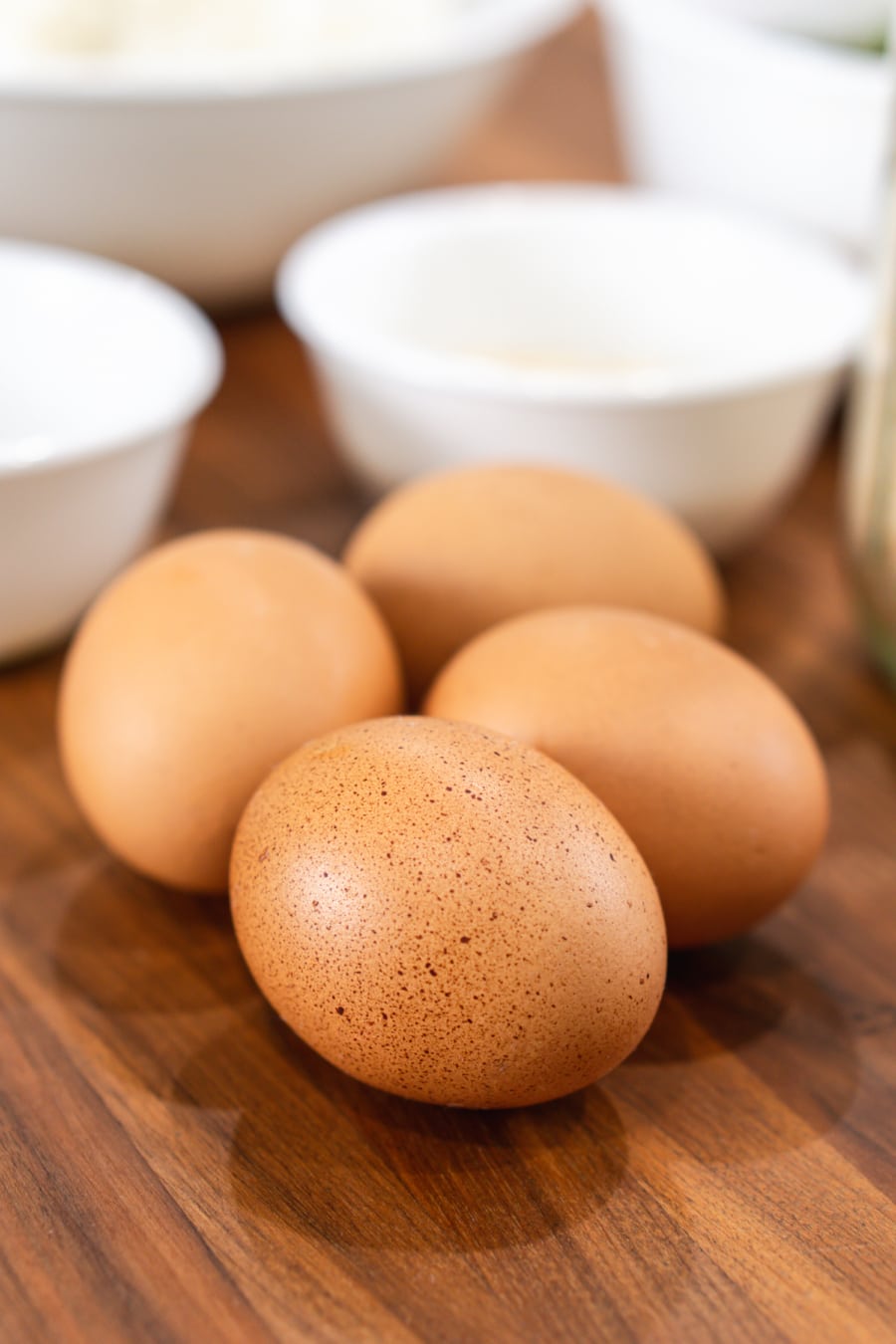 Substitutions for This Fried Rice Recipe
I always get questions about subbing items in recipes. Below are some questions that you're probably going to ask me so I've answered them for you. If you have any other questions, feel free to leave them in the comments section.
Can I Use Canned Mixed Vegetables?
You can use frozen or canned mixed vegetables for this recipe. If you use frozen veggies, allow them to thaw before you start. If you use canned veggies, make sure to drain the vegetables before adding them.
Can I Use Low-Sodium Soy Sauce?
You can use low-sodium soy sauce instead of regular if you're concerned about the sodium levels of the recipe. Regular soy sauce will give you the most authentic flavor, but low-sodium will work just fine. I've even used coconut aminos as a sub for soy sauce in other recipes with great results. It's perfect if you have allergies to soy.
Can I Use Fresh Onion and Garlic?
You can certainly chop a fresh onion and mince your own garlic cloves. You know I love to keep things as easy as possible, so for this recipe, I use dry minced onion and garlic powder instead. No flavor is lost in my opinion! If you use fresh onion, you can use one medium-sized yellow onion. As for the garlic, you'll need 4 garlic cloves. If you sub the onion, you should sauté it before adding the vegetables.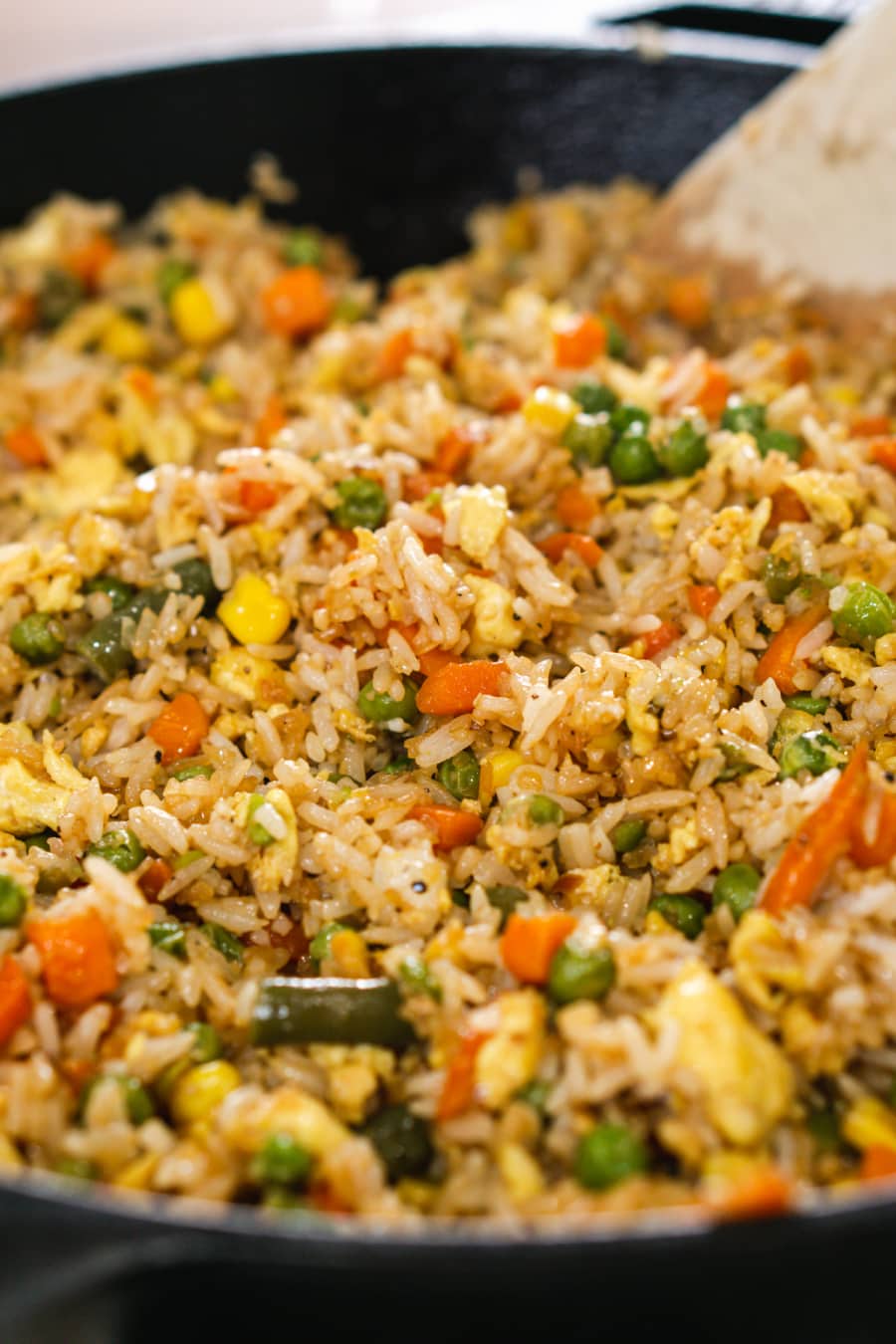 What to Serve With Fried Rice
Well, the obvious choice to serve with fried rice is some sort of Chinese beef or chicken. You can serve it with sweet and sour chicken, Kung-Pao beef or chicken, teriyaki chicken, or orange chicken. We don't always have time to make Chinese food, so we eat this fried rice with chicken tenders, grilled chicken breast, and our favorite, easy oven-roasted chicken thighs.
How to Reheat Fried Rice
The best way to reheat fried rice is to put it on the stove in a non-stick skillet. But in the spirit of saving time and making things easy, you can definitely heat it up in the microwave! If my kids want a small bowl, then we use the microwave. If I'm reheating a bigger batch for all of us, then the stove is great. You can use medium-high heat when reheating.
What Rice is Best for Fried Rice?
I make my fried rice with Jasmine rice. I cook my rice in the Instant Pot. You can cook it the night before, or you can cook it immediately before making your fried rice. Though jasmine is your best choice, if you don't have it on hand, any other long-grain rice will work. You could even use brown rice for a healthier option.
Essential Items
Here are some essential prep tools, utensils, and appliances I used to make this recipe.
Prep Tools & Utensils
Here are the prep tools and utensils that you'll need:
Featured Items
Here is a list of the products featured in this post or products similar to those featured in this post:
How To Make This Easy Vegetable and Egg Fried Rice
To help you make this easy fried rice recipe, I'm including a visual step-by-step of the process. You'll also find some extra tips and tricks to help you be successful with this recipe. So, get your skillets ready, and let's make this simple fried rice!
Step 1: Melt the Butter
I like using my deep cast-iron skillet for this recipe. Heat it up on the stove over medium-high heat. Once it's hot, add the butter to the skillet. Let the butter melt. If the pan is hot enough, the butter should start to brown slightly. That's a good thing because it adds a slightly nutty flavor to the rice. Also, I use a wooden spoon to make sure the whole skillet is coated.
Step 2: Add the Vegetables and Seasonings
Once the butter is melted and is sizzling, add your thawed mixed vegetables and seasoning to the skillet. Mix everything well, coating all the veggies in butter. Sauté the veggies for a few minutes until you can smell the spices.
Step 3: Scramble the Eggs
Make a well in the middle of the skillet by pushing the vegetables to the edge of the pan. Allow the butter to settle back in the middle of the skillet. Then add the beaten eggs to the middle of the skillet and scramble until they are nice and fluffy.
Step 4: Mix the Scrambled Eggs into the Vegetables
Once the eggs are light and fluffy, mix them with the vegetables until they are fully combined.
Step 5: Add the Rice and Soy Sauce
Now, add the rice about a cup at a time, adding some soy sauce a little at a time as well. Make sure to break up any clumps of rice so that it gets fully mixed in with the veggies, eggs, and soy sauce. Mix everything together until all the ingredients are well combined and the rice has a nice brown color. Continue stirring and cooking for about 5 minutes.
Enjoy a Warm Bowl of Fried Rice!
That's it!! You have a perfect homemade fried rice and it only took about 10 minutes to make. Talk about quick and easy! Serve and enjoy!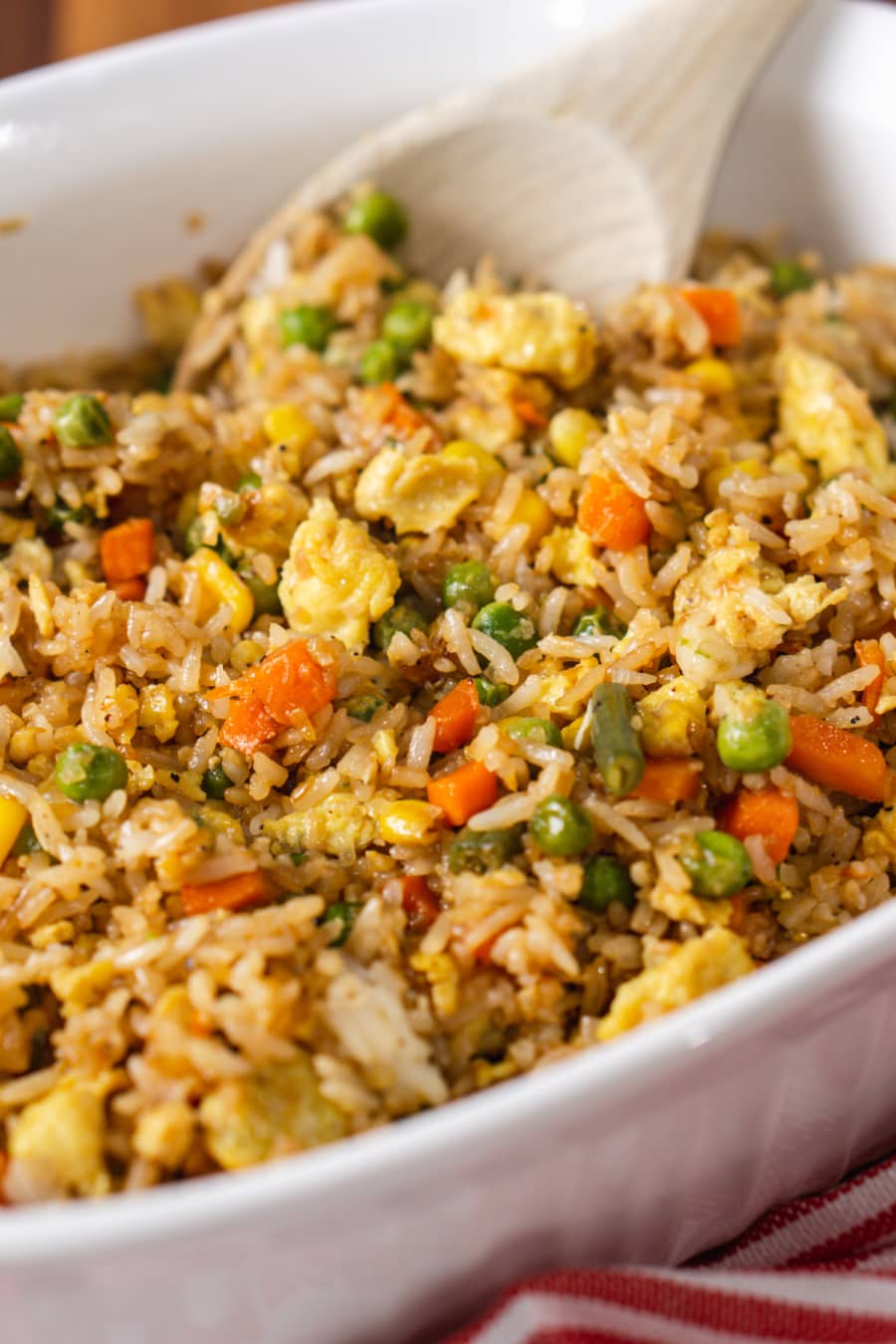 I know you will absolutely love this Easy Vegetable and Egg Fried Rice recipe as much as we do! Please let me know in the comments when you try it! If you want more rice ideas, check out all my other Instant Pot Rice Recipes!
Easy Vegetable & Egg Fried Rice
WHITE RICE, MIXED VEGETABLES, SCRAMBLED EGGS, AND SPICES
This super simple version of fried rice is chock full of vegetables, egg, and flavor. Ready in about 10 minutes, this is the perfect side dish for any Asian inspired meals.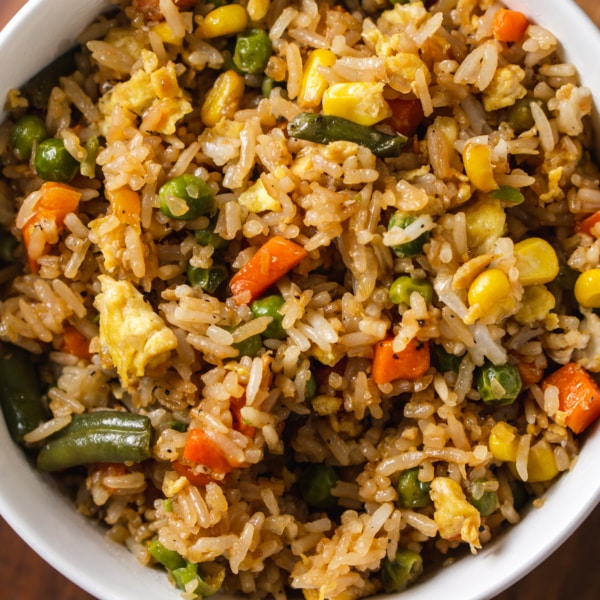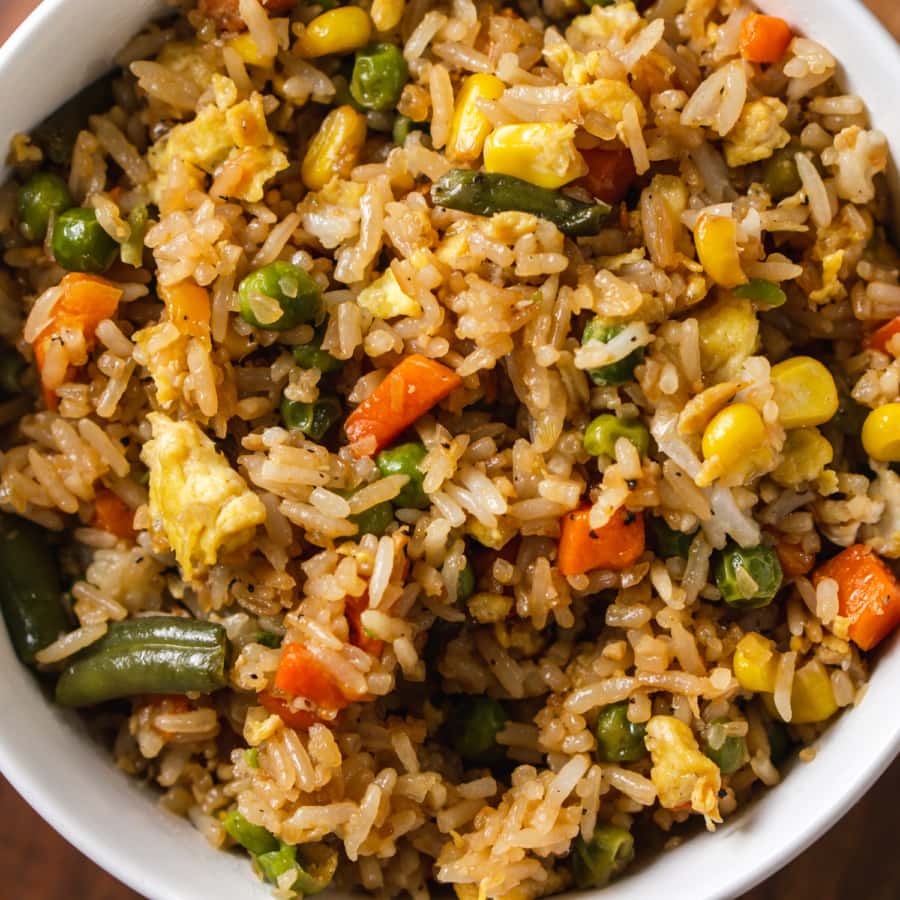 Instructions
Heat a large non-stick skillet over medium-high heat. Add the butter and allow to melt.

Once the butter is sizzling, add the mixed vegetables, dry minced onion, garlic powder, and pepper and mix. Sauté for a couple of minutes, tossing occasionally, until the spices become fragrant.

Push the vegetables out toward the perimeter of the skillet making a large well in the middle. Once the butter has puddled back in the center of the skillet, add the eggs and scramble.

Mix the scrambled eggs into the vegetables and then add one cup of rice and a small amount of the soy sauce, mixing them thoroughly into the vegetables and breaking up any clumps of rice. Slowly mix in the remaining rice and soy sauce, a small bit at a time, until all the ingredients are fully combined. Continue stirring and cook until the rice is hot and steamy, about 5 minutes.

Serve and enjoy!
Nutrition Facts
Calories: 237kcal | Carbohydrates: 12g | Protein: 8g | Fat: 18g | Saturated Fat: 11g | Cholesterol: 150mg | Sodium: 793mg | Potassium: 250mg | Fiber: 3g | Sugar: 2g | Vitamin A: 3712IU | Vitamin C: 9mg | Calcium: 47mg | Iron: 1mg