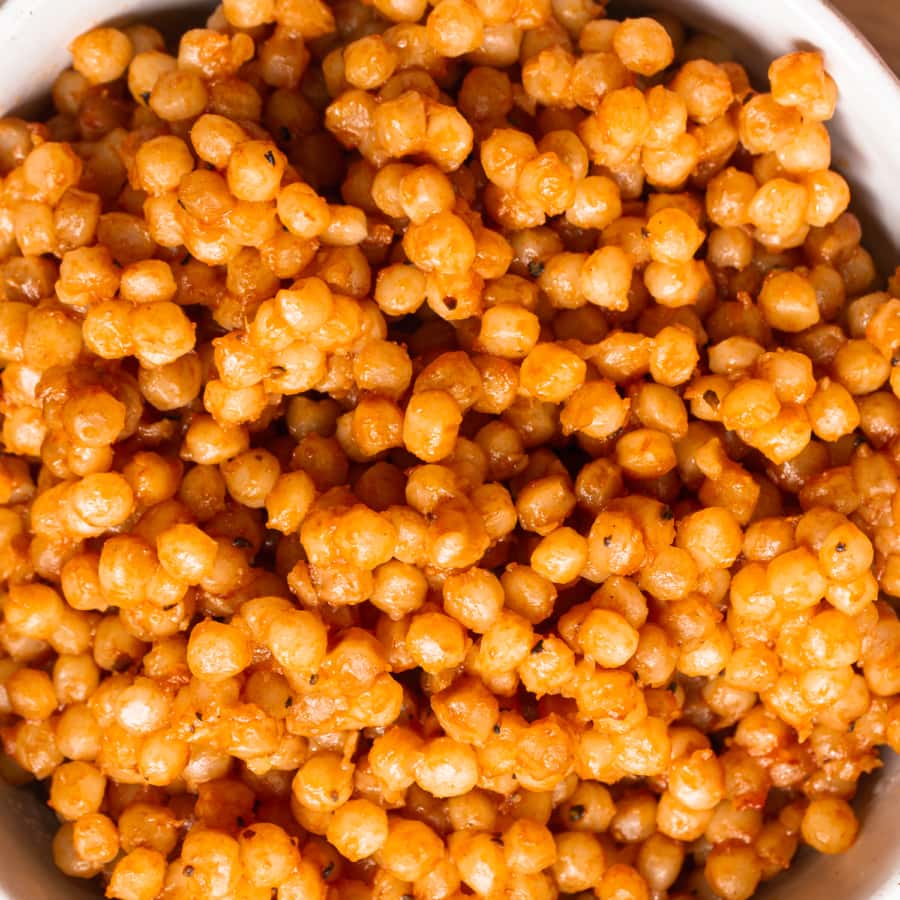 SAVE THIS RECIPE
Ever since I discovered I could buy "marmahon" or Pearl Couscous here in the U.S., I've been on a kick creating different ways to use it. I've recreated some delicious Honduran dishes like Marmahon con Pollo and Couscous with Ground Beef and people have really enjoyed them! This time, I'm bringing you a simple side, Instant Pot Tomato Couscous!
This post contains affiliate links. For more information, see my disclosure.
What is Pearl Couscous?
Pearl Couscous, also known as Israeli Couscous, is rolled up, toasted balls of semolina flour. If you ask me, they taste just like pasta. The texture, once cooked, is that of little pasta balls. I absolutely love Pearl Couscous!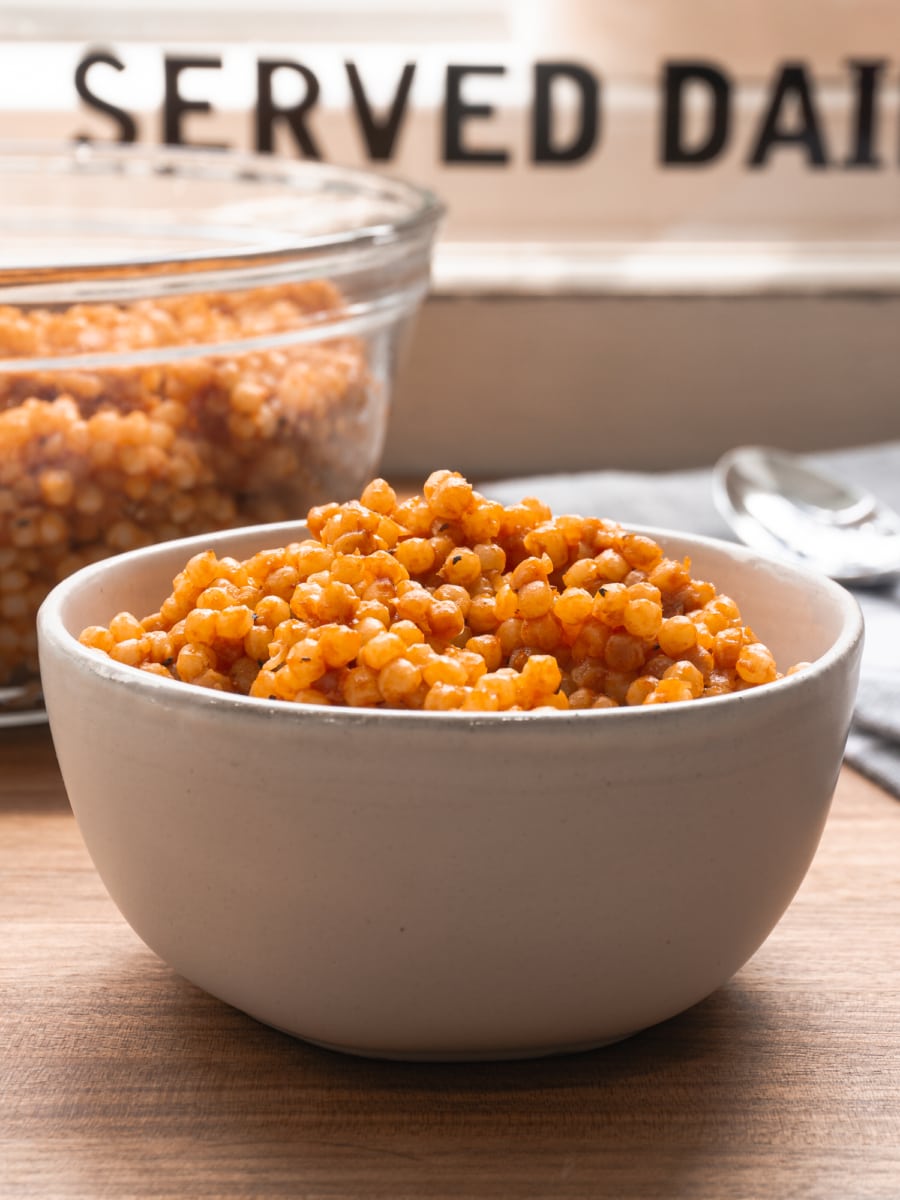 Pearl Couscous doesn't have a particular flavor which makes it incredibly versatile in the kitchen! You can give it any flavor you'd like, much like pasta. I haven't tried regular couscous yet, but if you have and are not a fan, I highly recommend trying Pearl Couscous instead.
What Can I Serve With Tomato Couscous?
Think of this Instant Pot Tomato Couscous as rice. You can pretty much serve it with anything. At home, we eat it with beef, chicken, fish, and I'll even have a bowl of it on its own.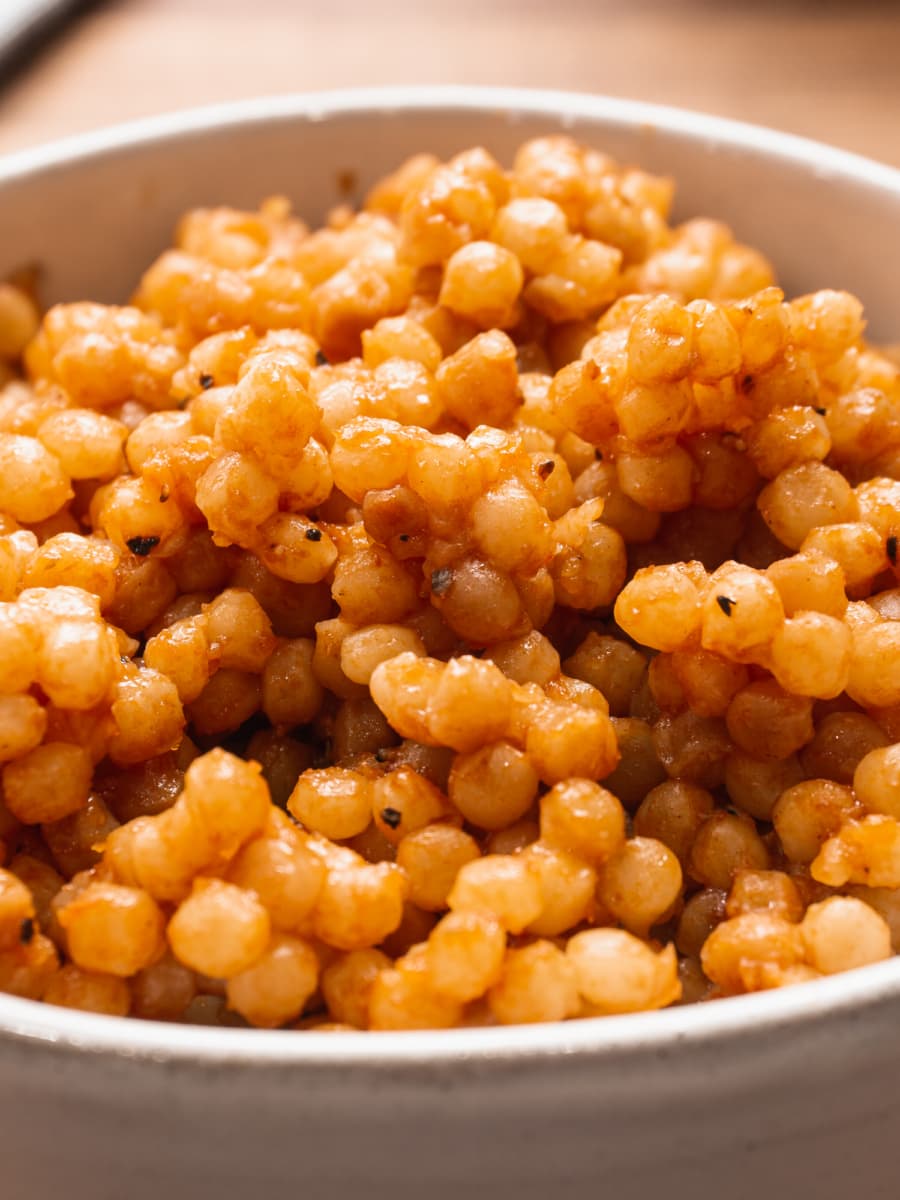 It's a simple side dish, with a mild flavor that will pair well with just about any main meal you make. It's incredibly easy to make in your pressure cooker, and I especially like how quickly it's ready to eat.
What Ingredients Do I Need For Tomato Couscous?
You will only need a few basic ingredients for making this Instant Pot Tomato Couscous. As for the couscous, you have to make sure you get the one labeled Pearl or Israeli Couscous. You can usually find it in the rice aisle. I have bought mine at Walmart, H-E-B, Kroger, and Trader Joe's also has their own.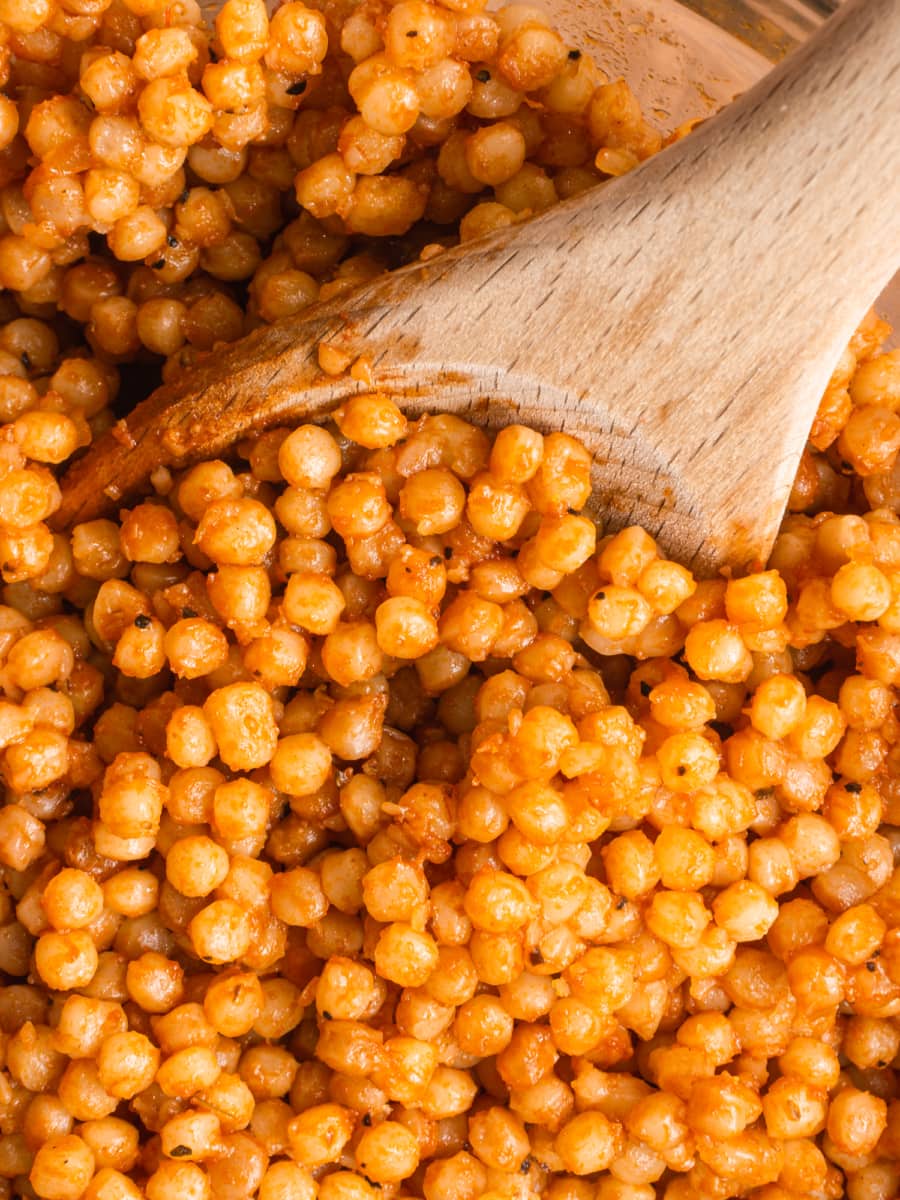 Other than the couscous, you'll need butter, minced onion, chicken stock, sugar, salt, pepper, garlic powder, paprika, and tomato paste. You'll use the butter to sauté the couscous for a few minutes before pressure cooking it.
Essential Items
Here are some essential prep tools, utensils, and appliances I used to make this recipe.
Featured Items
Here is a list of the products featured in this post or products similar to those featured in this post:
23 Must-Have Electric Pressure Cooker Accessories
Make sure to check out my Ultimate List of Electric Pressure Cooker Accessories! I've included everything you could ever need to help make your pressure cooking quicker, easier, and even more convenient.
As for the tomato paste, you will add it in after all the other ingredients, and just set it on top without mixing it. This will avoid the dreaded burn message.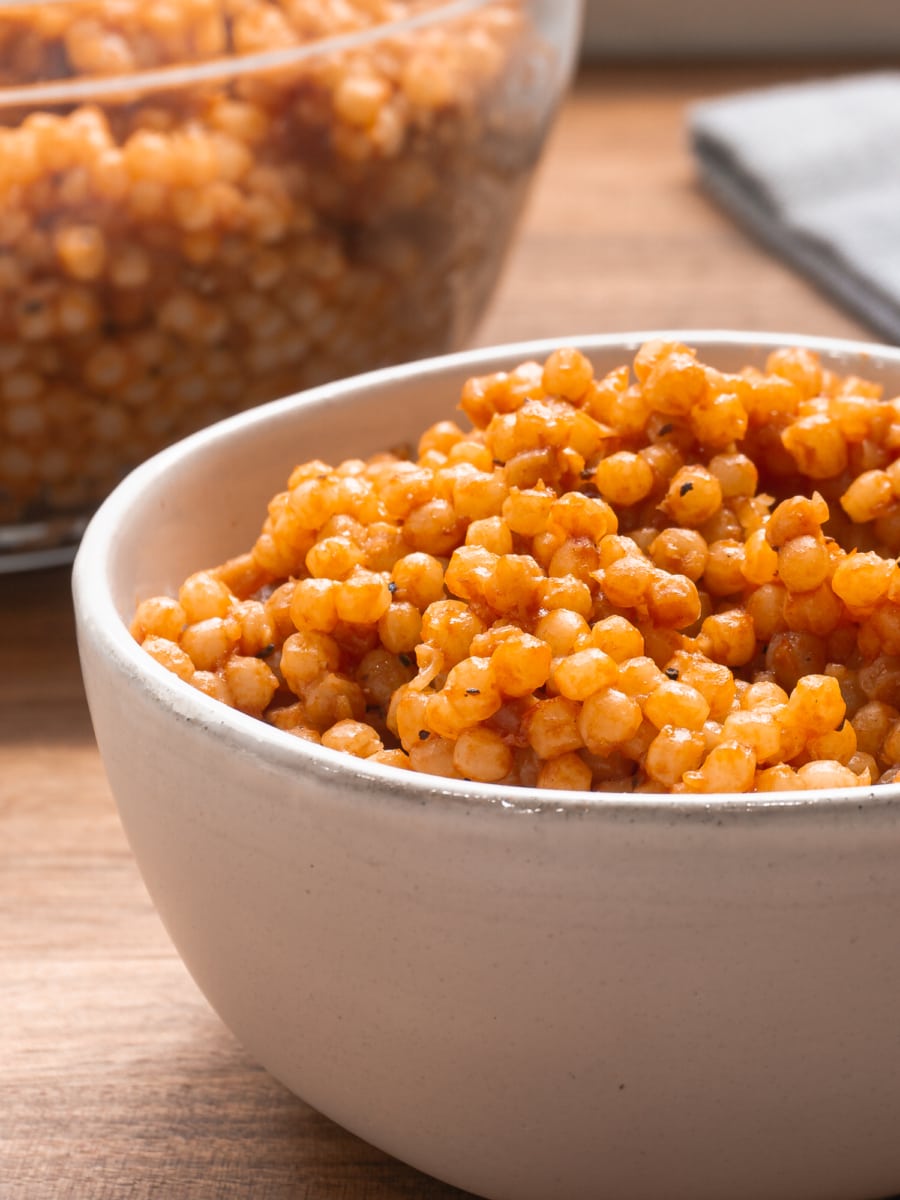 Other than that, this recipe for Instant Pot Tomato Couscous is straightforward and should be easy and quick for you to enjoy.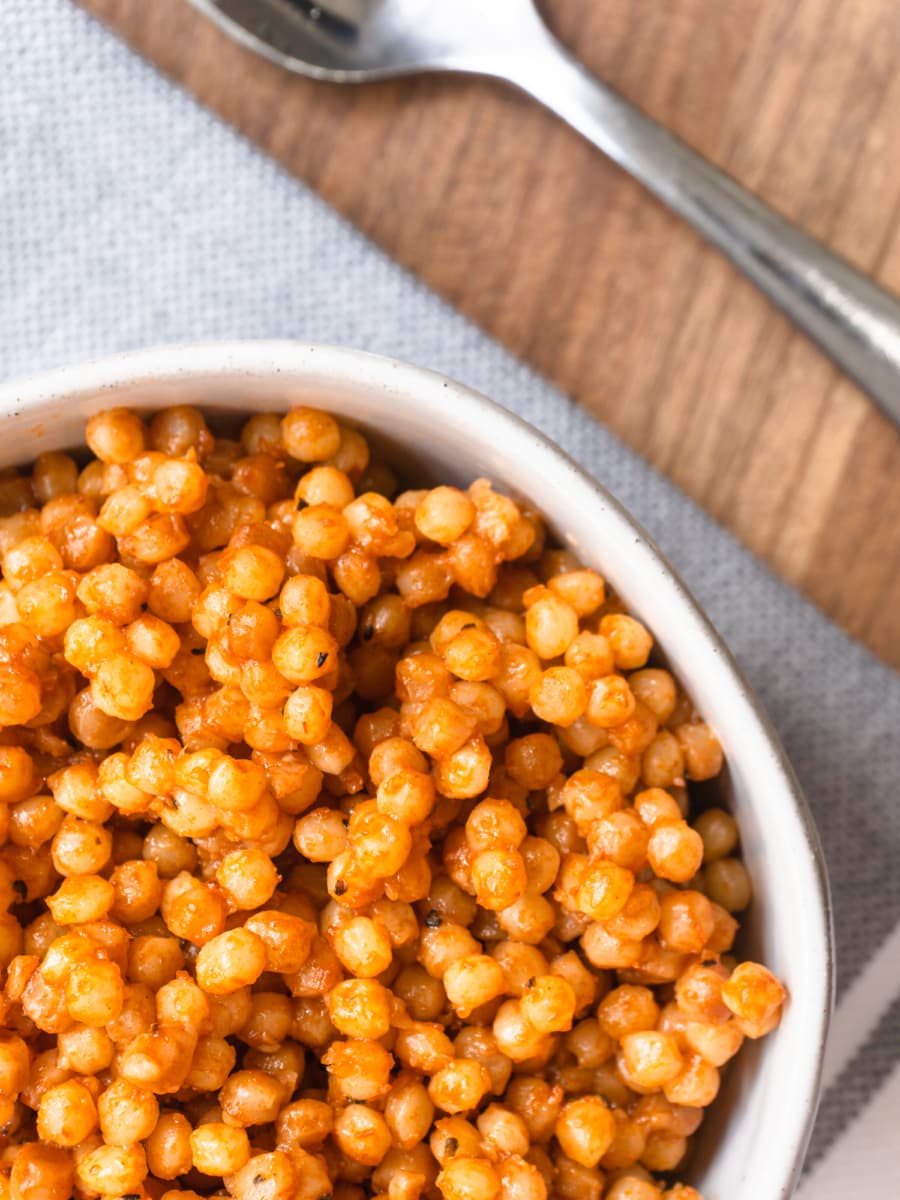 I'd love to hear about it in the comments when you try this easy and delicious Instant Pot Tomato Couscous. I'm sure you and your family will enjoy it.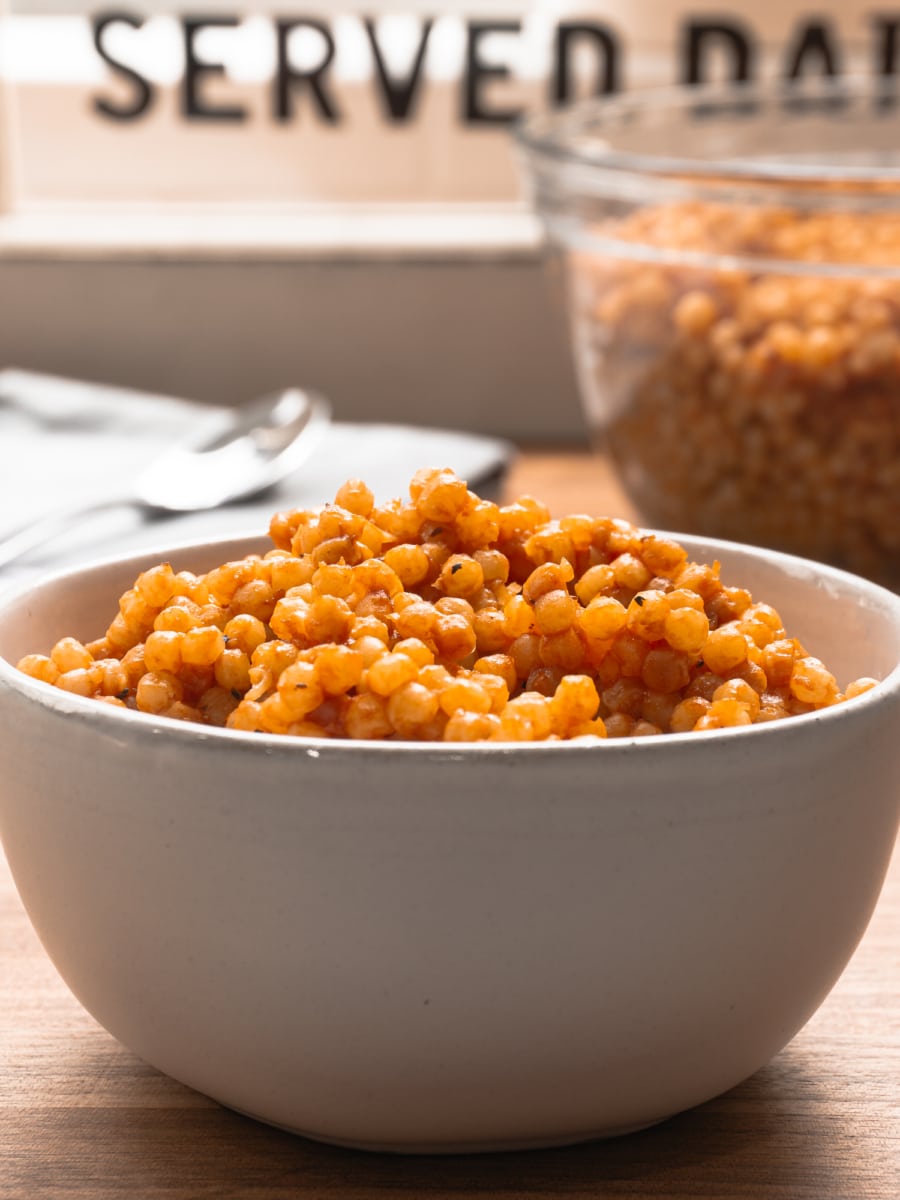 Instant Pot Tomato Couscous
BUTTER TOASTED PEARL COUSCOUS WITH A LIGHT TOMATO FLAVOR
Change things up with this simple and tasty side dish. Tomato couscous has a warmth and slight tomatoey sweetness that makes it the perfect complement to just about any dish.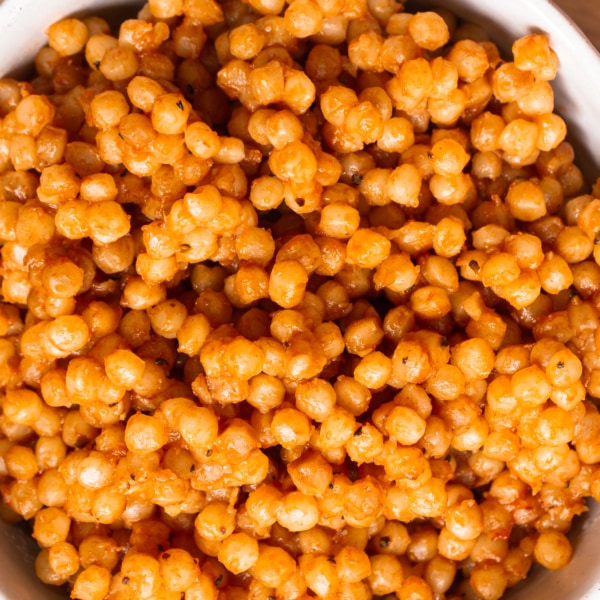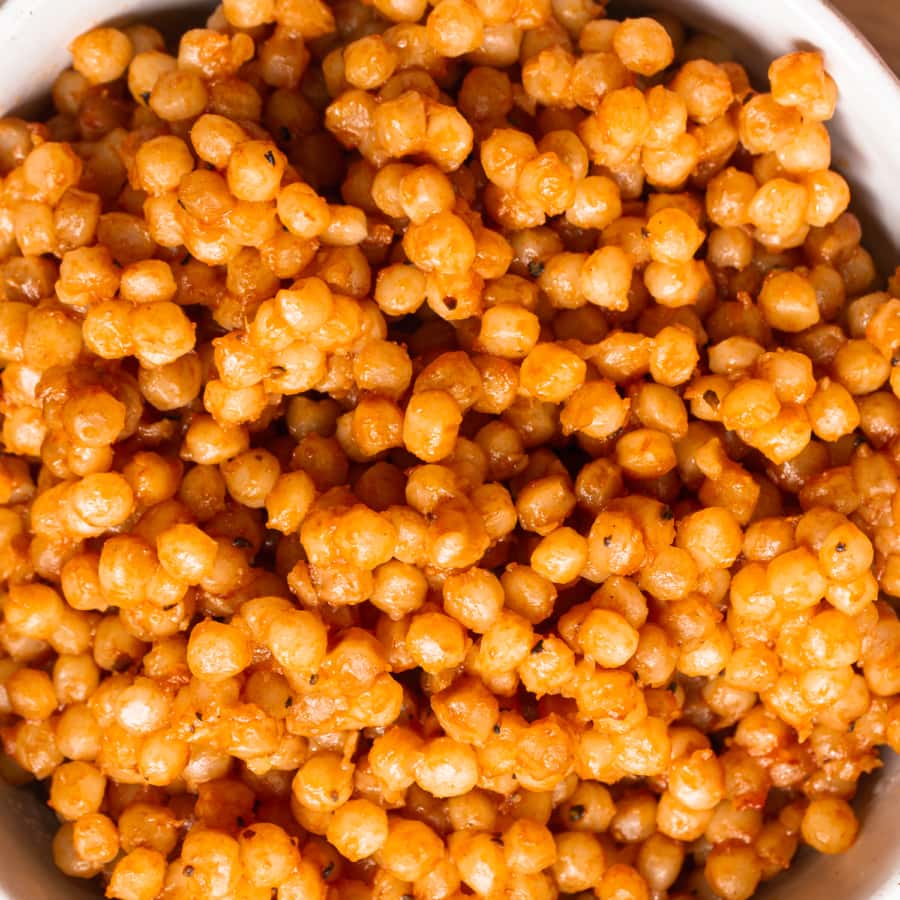 Instructions
Melt the Butter: Set the Instant Pot to 'Sauté', use the 'Adjust' button to set the heat level to 'Normal', and allow the pot to heat up for a minute. Add the butter and allow it to melt.

Sauté the Pearl Couscous: Add the pearl couscous to the pot, mix into the butter and sauté for a few minutes until the couscous is slightly golden. Then add the dried minced onion and sauté for an additional minute.

Add The Chicken Stock and Season: Next turn the 'Sauté' function off and add the chicken stock, sugar, salt, pepper, garlic powder, and paprika to the pot and give everything a good stir.

Add The Tomato Paste: Finally add the tomato paste to the pot but do not mix it into the other ingredients. Just place it on top of the couscous.

5-Minute Cook Time: Close the Instant Pot, set the pressure release valve to 'Sealing' and set the Instant Pot to cook on 'Manual' or 'Pressure Cook', 'High Pressure' for 5 minutes.

Quick Pressure Release: After the 5-minute cook time has completed, perform a quick pressure release (QPR).

Open the Pot: Once the remaining pressure has been released and the pin has dropped, open the Instant Pot and, using a wooden spoon or spatula, give the couscous a good stir until the tomato paste is fully mixed in .

Serve and enjoy!
Nutrition Facts
Calories: 336kcal | Carbohydrates: 57g | Protein: 11g | Fat: 7g | Saturated Fat: 4g | Cholesterol: 15mg | Sodium: 415mg | Potassium: 436mg | Fiber: 4g | Sugar: 4g | Vitamin A: 535IU | Vitamin C: 5.6mg | Calcium: 32mg | Iron: 1.6mg
Common Questions & Answers
What is pearl couscous? Pearl couscous, also known as Israeli couscous, is made of pasta that is pressed and rolled into beads – about the size of a pearl – that are then dried.
Is pearl couscous a healthy side dish option? Yes, like any other pasta, when eaten in moderation, pearl couscous can be a healthy side dish option. Couscous is actually a great source of both selenium and potassium. However, it does lack the fiber and other important nutrients that whole grains can provide.
Can you cook couscous in the Instant Pot? Yes, the great thing about couscous is that it is easy to prepare, cooks in water or stock, and absorbs the flavors that you cook it with. That makes it perfect for cooking in an electric pressure cooker like the Instant Pot.