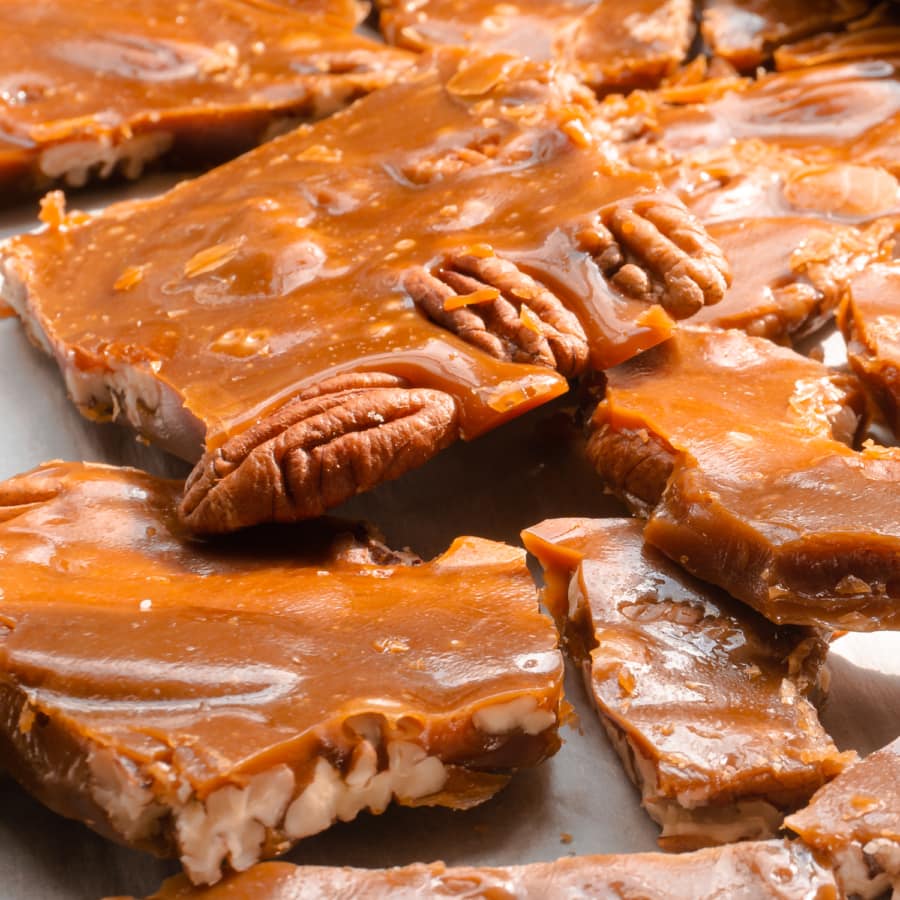 SAVE THIS RECIPE
This delicious Southern Pecan Toffee recipe is easy to make and makes a perfect gift for the holiday season. It's buttery, crunchy, and perfectly sweet.
This post contains affiliate links. For more information, see my disclosure.
Perfect Homemade Holiday Gift
We love making delicious treats for our friends and family over the holidays. Ryan usually makes amazing cookies or I make my Instant Pot Dulce de Leche, but this year we wanted to try something different. Ryan is a huge fan of pecans so we thought a pecan toffee would be perfect!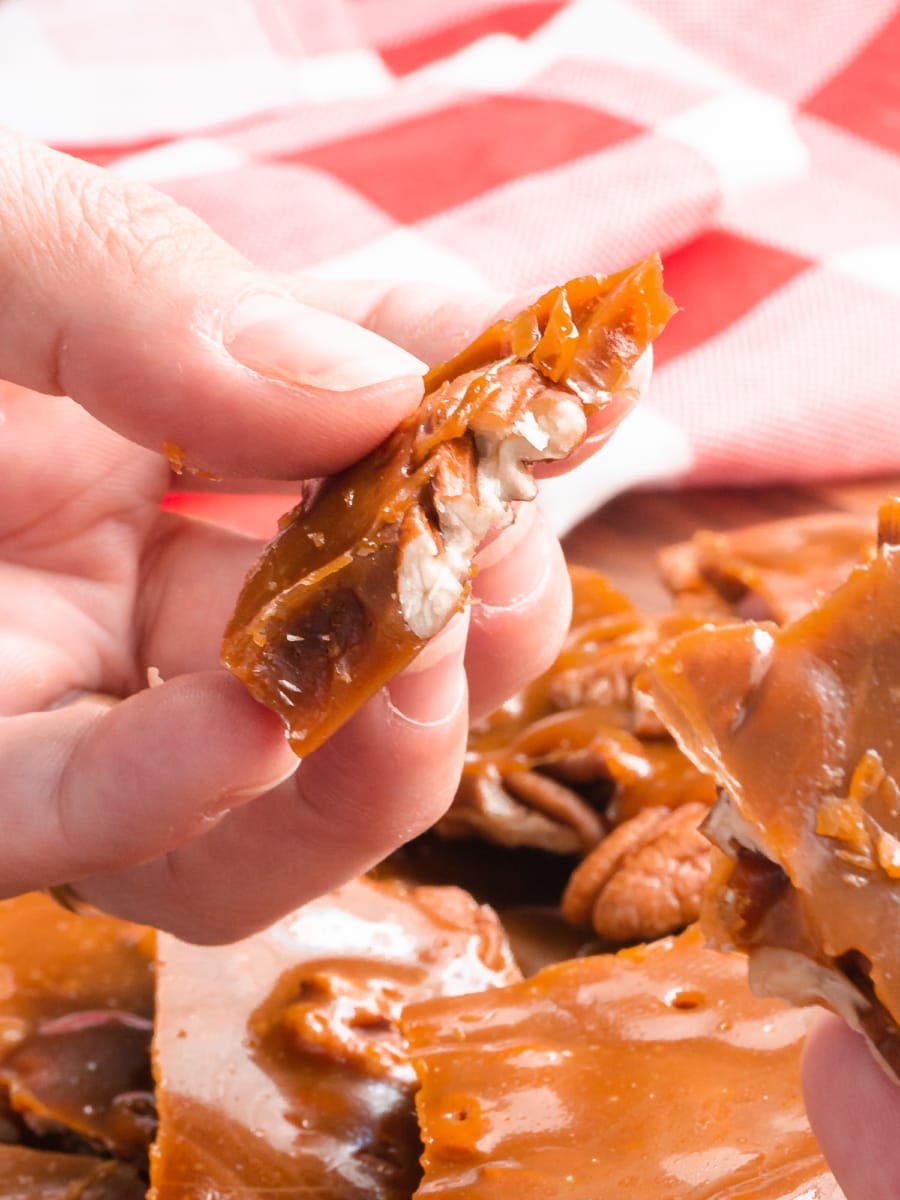 So I left this project entirely up to him and as usual, he delivered! This buttery pecan toffee is so delicious and it looks so beautiful when packed in little bags with ribbon. It's very easy to make, but it does require some patience. Think of it as the patience that's required when making the caramel for my delicious flan!
What Ingredients Do I Need for Toffee?
You may be surprised at how basic the ingredients for toffee are. You will, of course, need some delicious pecans! Being in Texas there is no shortage of wonderful pecans. Other than that, you'll need some unsalted butter, sugar, corn syrup, vanilla, and salt.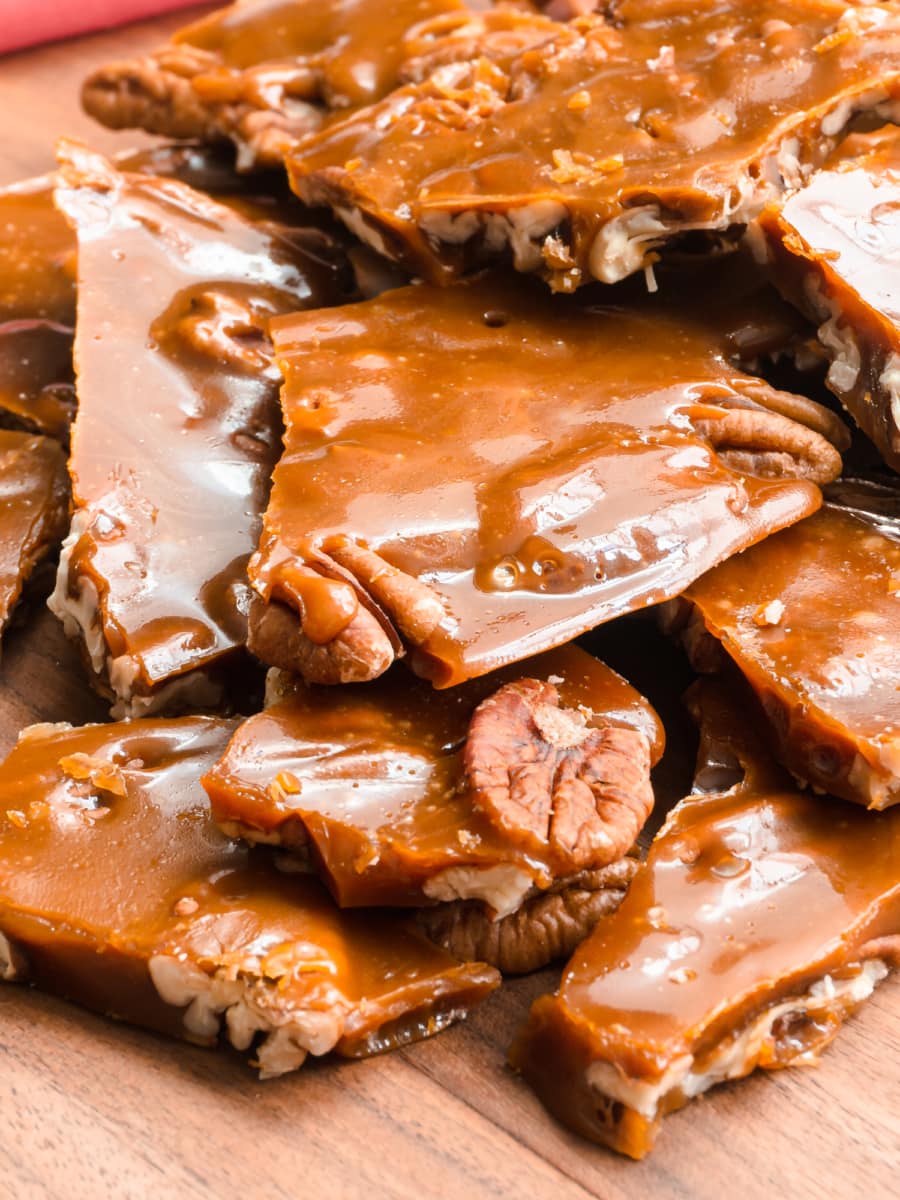 I usually have all these ingredients in my pantry so chances are you do too! Once you have gathered all your ingredients, you'll need a baking sheet, some parchment paper, a pan, and a stove. The parchment paper is a must, it is unbelievably convenient if you love baking!
How to Make Southern Pecan Toffee
You will start by lining your baking pan with some parchment paper and spreading the pecans on it, in a single layer. Over medium-high heat, you will melt the butter. Once it's melted, you will add the sugar, corn syrup, vanilla, and salt. This is where the patience comes in!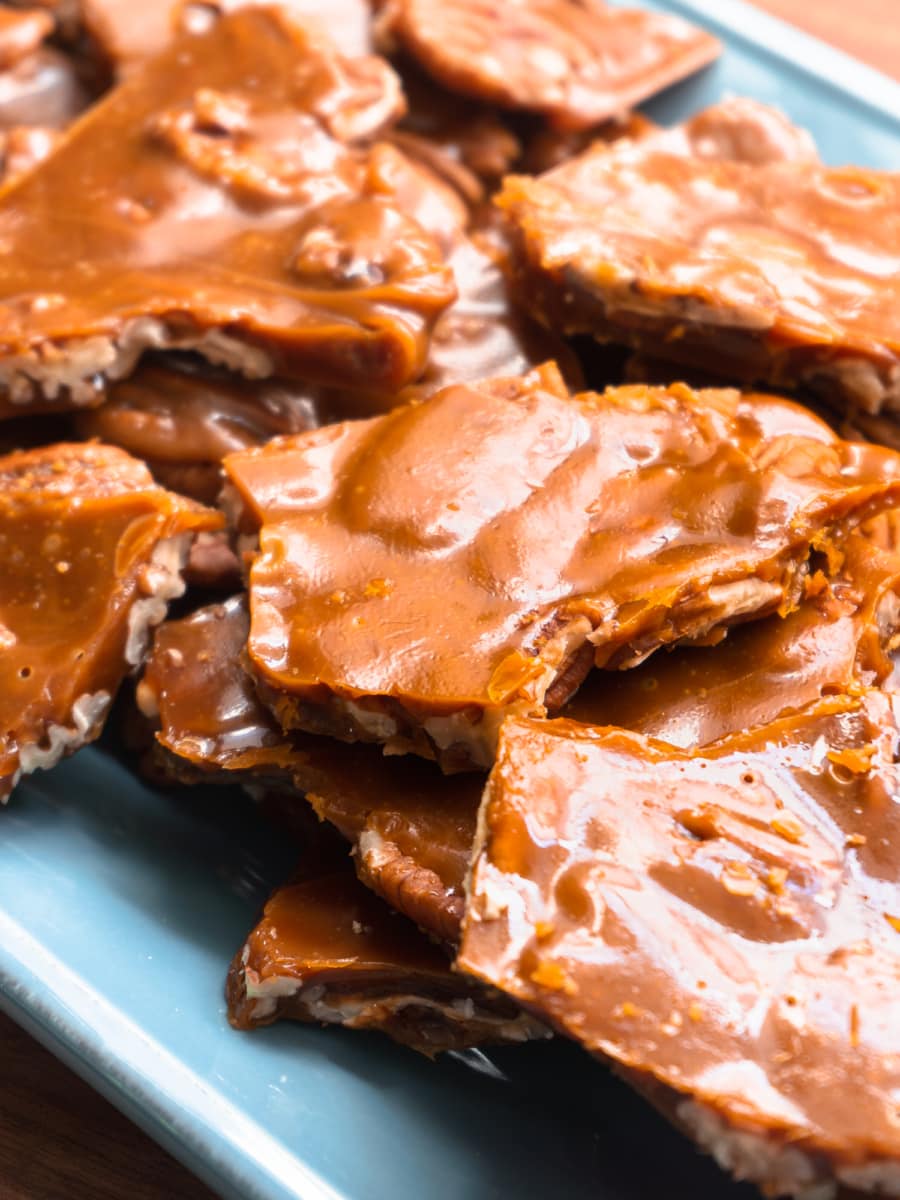 You will continually stir the mixture until it turns a beautiful golden brown. On my stove, this was about 15 minutes. Next, you will pour the mixture over the pecans on the lined baking sheet. You can use a spatula to smooth it out.
Essential Items
Here are some essential prep tools, utensils, and appliances I used to make this recipe.
Featured Items
Here is a list of the products featured in this post or products similar to those featured in this post:
Now, you'll need a little more patience! You have to allow the toffee to completely cool at room temperature. Once it is fully cooled and crunchy, you can break it into smaller pieces like the ones in my pictures. Now you can enjoy this delicious Southern Pecan Toffee!!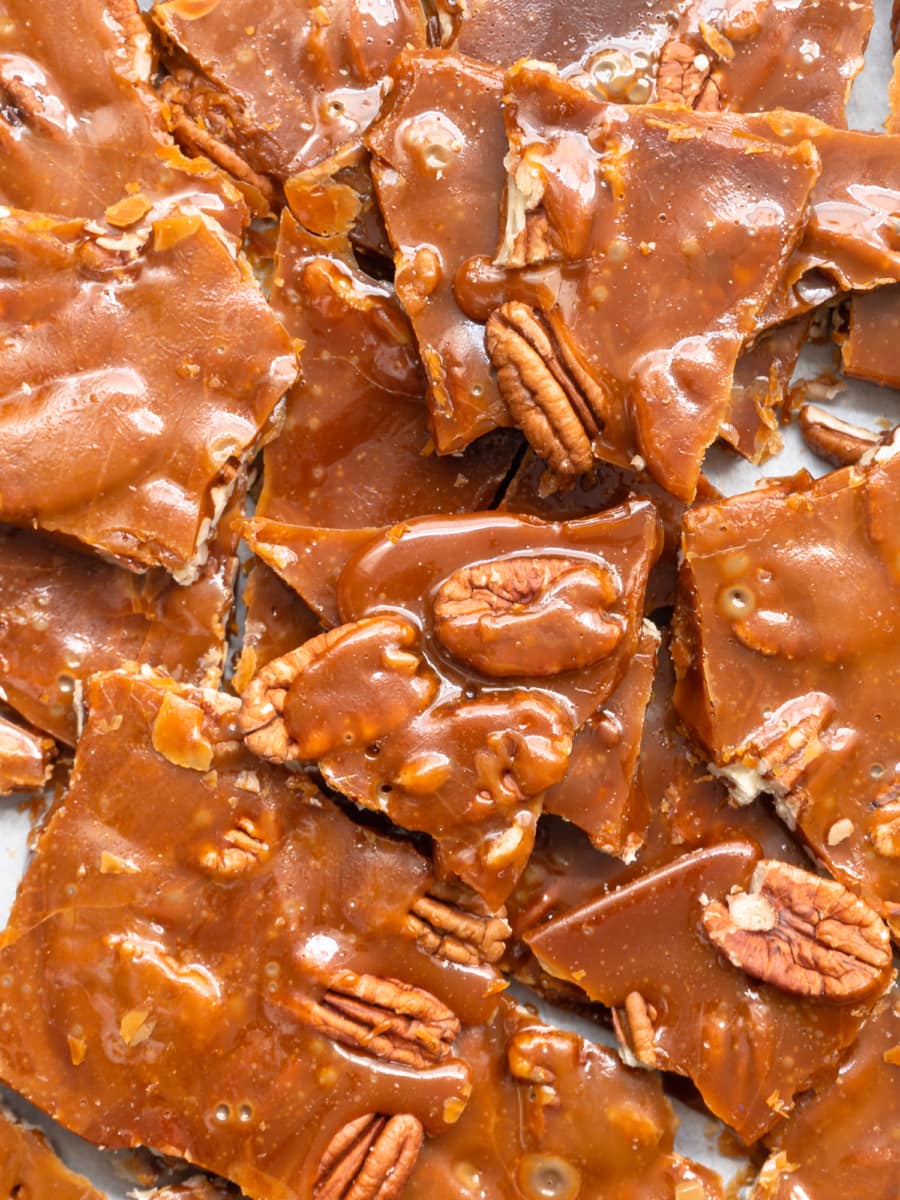 To store the toffee, I usually put it into a large Ziploc bag. You can store it in any other container you usually use to store food. It can sit out at room temperature. If you're giving it away as a gift, I suggest packing several pieces into a clear bag and closing it with a pretty ribbon!
Detailed Step-by-Step Instructions
Like I've mentioned, making pecan toffee is surprisingly simple. And, considering this, there is no reason that we can't enjoy this wonderfully sweet holiday treat any time of the year. If you are intimidated by making candy at home, then give this recipe a try because it's super easy and doesn't require any special equipment – no candy thermometers necessary! All you need is a large, heavy skillet, a wooden spoon and you're good to go.
Step 1: More About the Ingredients for Pecan Toffee
This buttery sweet candy recipe uses ingredients that you probably already have in your pantry. Here's what you'll need to gather:
Pecans: We live in Texas where mammoth pecans are everywhere. Oh, and are they so delicious. Large, crisp, and buttery sweet, you can't beat mammoth pecans. They were made for this recipe. While I prefer mammoth pecans for this recipe, any other pecan will work.
Unsalted Butter: I use unsalted butter so that I can add just the right amount of salt to make this toffee sweet with the perfect touch of saltiness.
Granulated Sugar: The sugar is the essential ingredient that gives this toffee its caramel color.
Light Corn Syrup: Light corn syrup is a staple for candies and holiday treats. We use it in this toffee recipe for it's delicately sweet flavor.
Vanilla Extract: A touch of vanilla adds wonderful flavor to this toffee. Make sure to use a high-quality pure extract. I prefer Adams Pure Vanilla Extract.
Kosher Salt: A bit of salt really seals the deal on this toffee. The salty-sweet combination is hard to resist.
Step 2: Prepare a Baking Sheet
Line the bottom of a half sheet baking sheet with parchment paper. Then spread the pecans in a single layer across the entire sheet.
Step 3: Melt Butter & Add Remaining Ingredients
In a large heavy skillet over medium-high heat, melt the butter. After the butter has melted, add the sugar, corn syrup, vanilla, and salt to the skillet. Using a wooden spoon or spatula, mix all the ingredients together and bring them to a simmer. Continue stirring while the ingredients cook.
Step 4: Cook Until a Caramel Color
As it cooks, you'll notice the sugar mixture begin to turn darker and darker shades of brown. Continue cooking and stirring until the mixture turns a caramel color. This should take about 12 to 15 minutes.
Step 5: Pour Toffee Over Pecans
Once the sugar mixture has turned a caramel color, immediately pour the toffee over the pecans. The toffee is extremely hot, so you don't want to have the baking sheet sitting directly on your countertop.
Make sure to pour the toffee evenly over the pecans so that they are all covered. If needed, you may further spread the toffee using a spatula, but do it quickly while the toffee is still hot.
Step 6: Allow to Cool
Allow the toffee to sit out at room temperature to cool. As it cools, the toffee will harden. Once the toffee is hard and crunchy, break it into small pieces. You can then store the pieces in an airtight container or Ziplock bag.
Enjoy Your Sweet Treat
That was super easy, right? No reason to be intimidated. Now you have a wonderfully sweet treat that you can enjoy at home or share with friends and family during the holidays.
I hope you have fun making this delicious Southern Pecan Toffee. Whether you make it for yourself or as a gift, it's sure to be a hit! Let me know in the comments when you make it.
Southern Pecan Toffee
BUTTERY SWEET, CRUNCHY CANDY LOADED WITH SOUTHERN PECANS
Loaded with pecans, this buttery sweet holiday classic candy can be enjoyed any time of the year. This homemade treat is super easy to make and always a favorite with family and friends.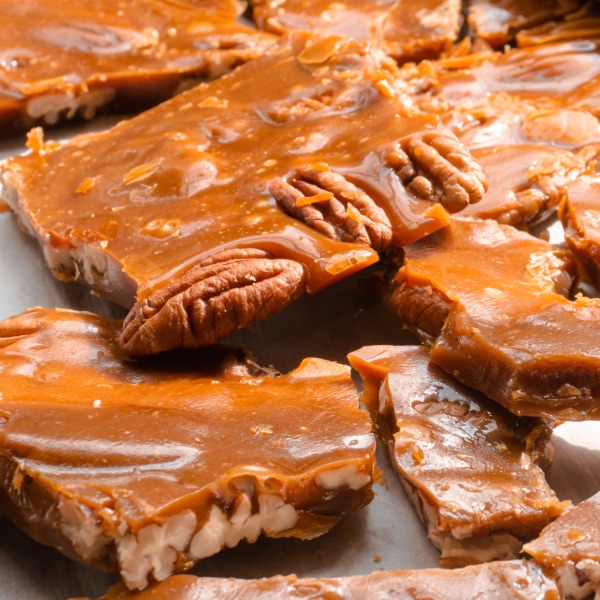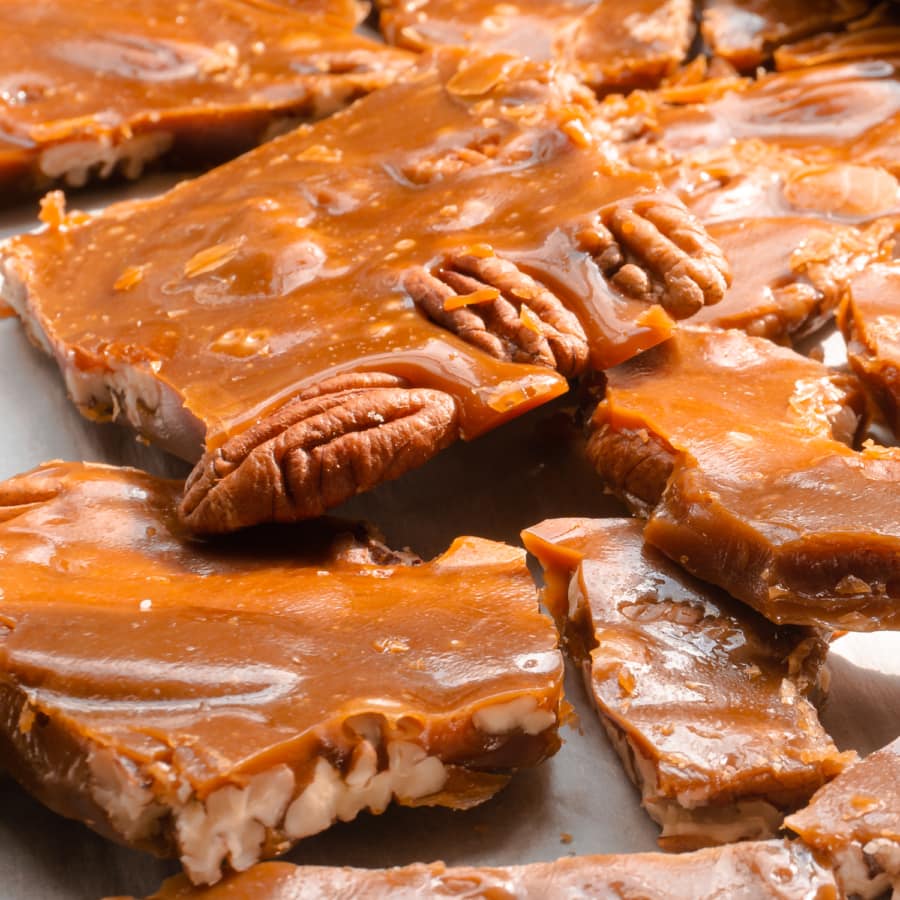 Instructions
Line a baking sheet with parchment paper and then spread the pecans in a single layer on the sheet.

In a large skillet over medium-high heat, add the butter and allow it to melt. Once the butter has melted, add the sugar, corn syrup, vanilla, and salt. Mix all the ingredients together and bring to a simmer, continually stirring with a wooden spoon or spatula. Cook until the sugar mixture turns a medium brown caramel color, about 12 to 15 minutes.

Pour the toffee evenly over the pecans. If necessary, smooth out the pecans and toffee using a spatula.

Allow the toffee to cool at room temperature until it is hard and crunchy.

Break into pieces and store in an airtight container.
Nutrition Facts
Calories: 415kcal | Carbohydrates: 34g | Protein: 3g | Fat: 32g | Saturated Fat: 9g | Cholesterol: 30mg | Sodium: 152mg | Potassium: 120mg | Fiber: 3g | Sugar: 32g | Vitamin A: 370IU | Vitamin C: 0.3mg | Calcium: 24mg | Iron: 0.7mg