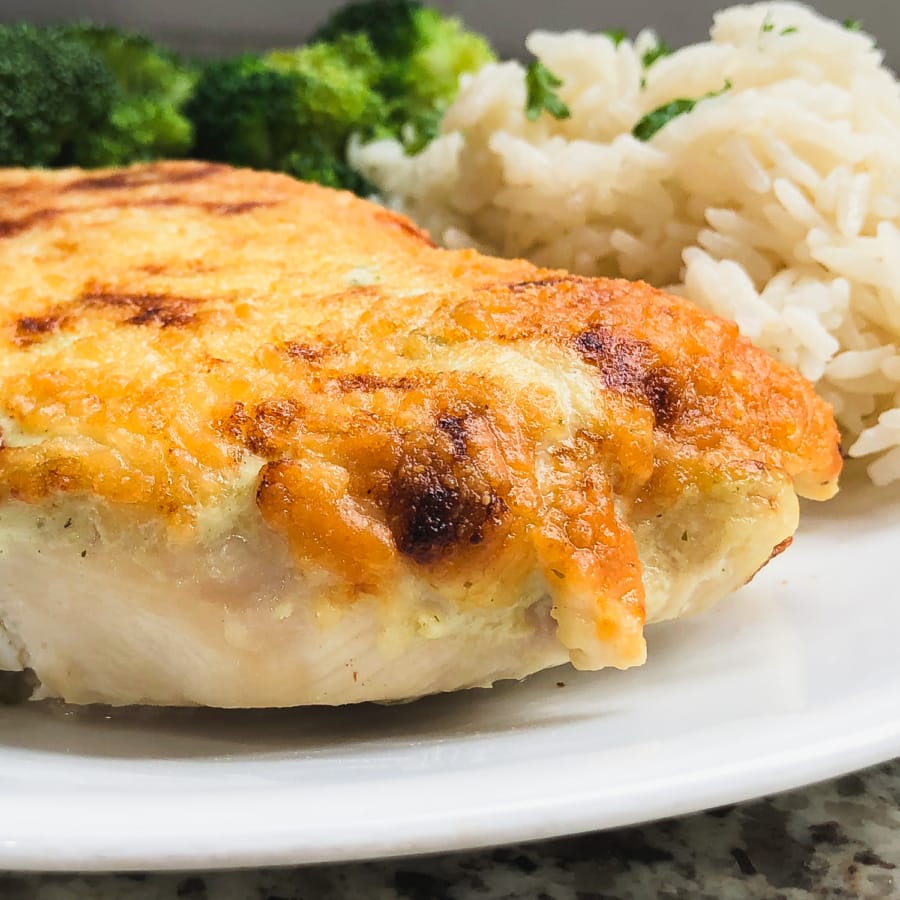 SAVE THIS RECIPE
This 3 ingredient Creamy Salsa Verde Chicken bake is incredibly easy to make. You won't believe how something so tasty takes such little effort and time.
This post contains affiliate links. For more information, see my disclosure.
The Secret to Juicy Baked Chicken Breasts
Baking chicken breasts can be tricky. If you overcook them you can end up with rubbery and dry chicken. No one wants that! We have found that when we brine the chicken breasts, we get juicy chicken breasts every time!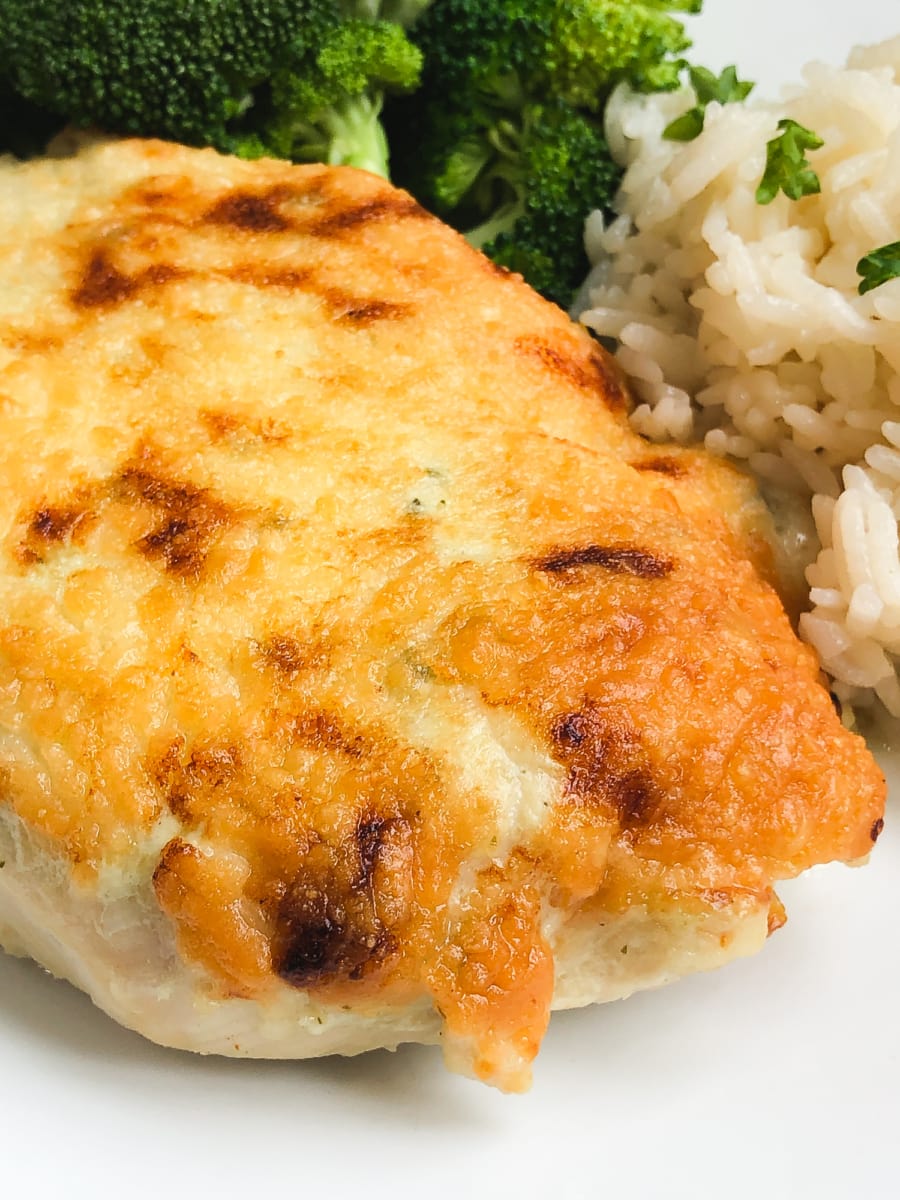 So what does it mean to brine the chicken breasts? It means to let them soak in salty water before baking them. You simply fill a bowl with warm water and mix in the salt until it dissolves. You can soak the chicken breasts for about 15 minutes and you're good to go.
More Tips for Juicy Tender Chicken
If you brine the chicken breasts you will notice a huge difference in how juicy and tender they turn out. You can also do a couple of other things to ensure you get great results. A lot of people swear by pounding the chicken breasts to make them thinner and have a more even thickness. I talk more about this in my Oven-Baked Mexican Chicken Brestas Recipe.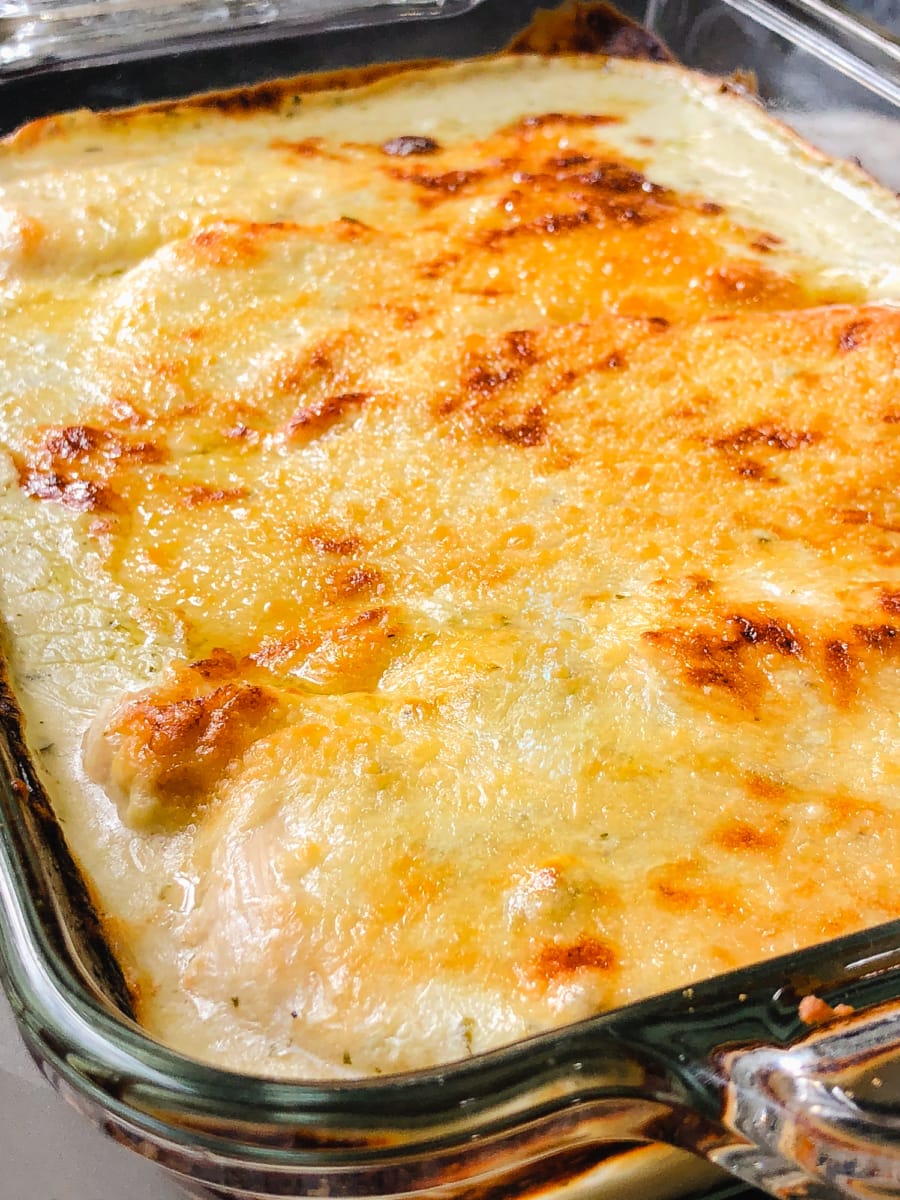 Finally, one thing that will never fail to make sure you have perfectly baked chicken breasts is a meat thermometer! I have gotten used to using one almost every time I bake chicken. By using a thermometer like this one you will be certain your chicken is perfect and not overcooked.
Creamy Salsa Verde
Guess what? This recipe has a surprisingly healthy ingredient. The creamy salsa verde is made up of cotija cheese and our favorite healthy salad dressing. If you haven't tried Bolthouse Farms yogurt dressings you are missing out! They are amazing in flavor and so good for you.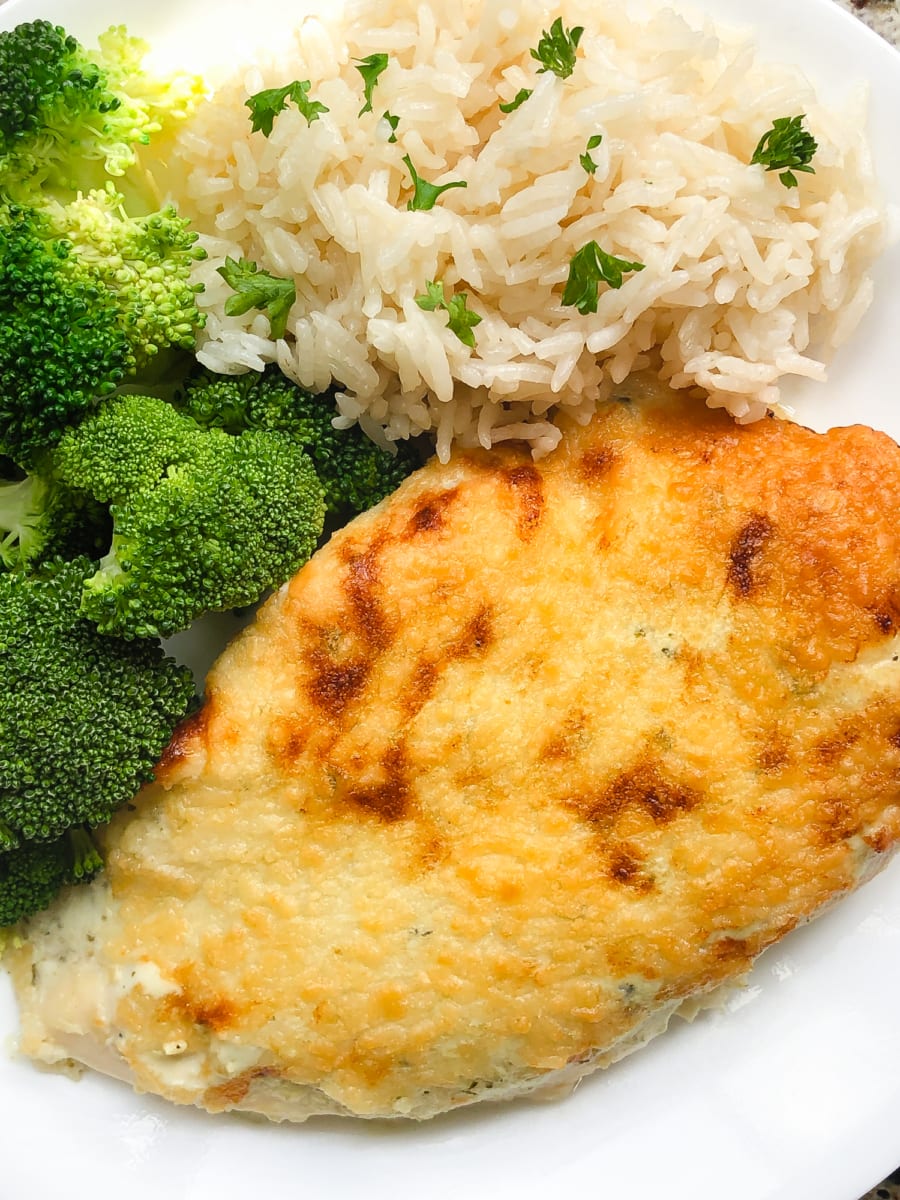 For this recipe, you will need the Bolthouse Salsa Verde Avocado Yogurt Dressing. You can find these dressings in the vegetable section of your supermarket. They are refrigerated so there's usually a small section in the vegetable and salad area with all the refrigerated yogurt dressings.
Essential Items
Here are some essential prep tools, utensils, and appliances I used to make this recipe.
Featured Items
Here is a list of the products featured in this post or products similar to those featured in this post:
After you cover the chicken breasts with the yogurt dressing, you will top the chicken with Cotija Cheese. If you haven't tried Cotija Cheese, you must. It's a delicious, flavorful Mexican cheese that's commonly used on tacos and street corn. It's so good! The layer of Cotija Cheese will give this dish a nice crispy cheesy topping.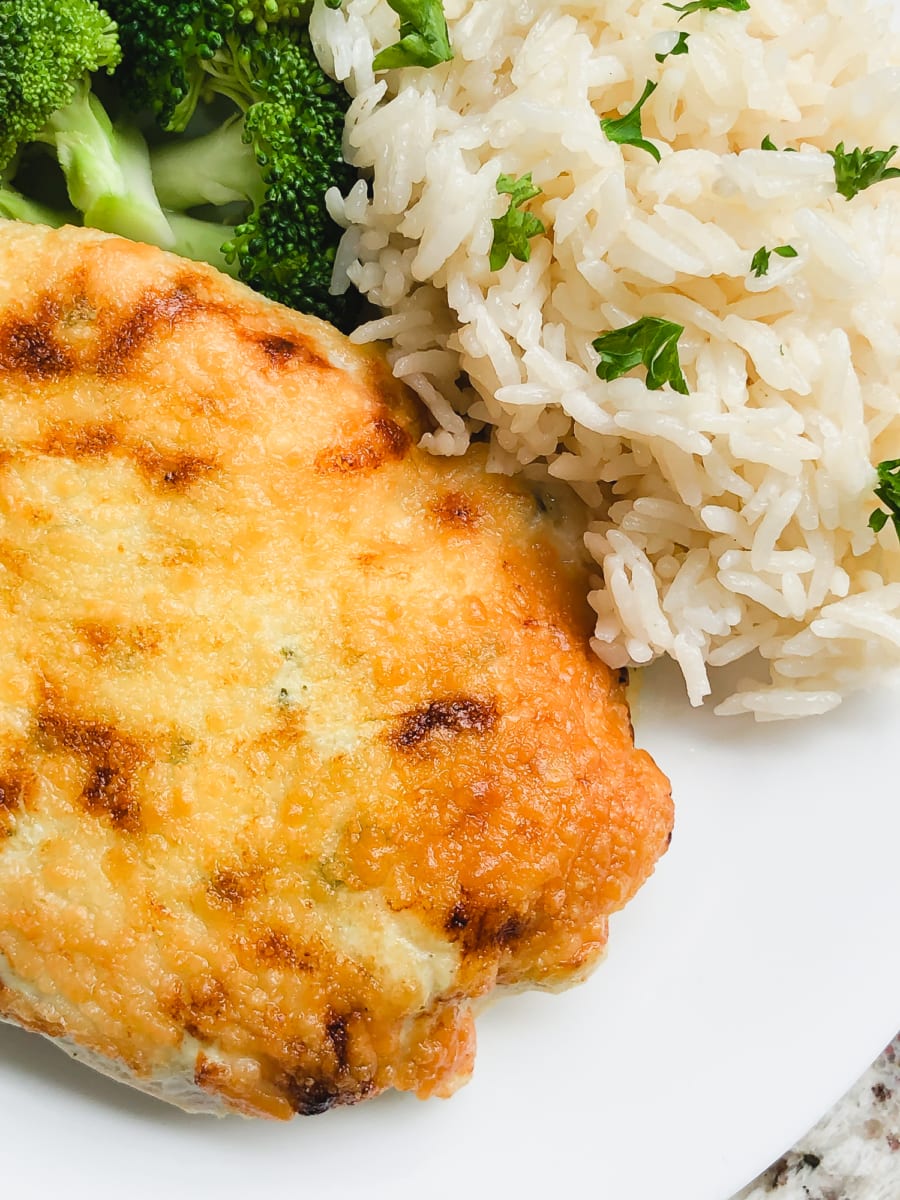 This Creamy Salsa Verde Chicken pairs perfectly with a side of Instant Pot Lemon Butter Broccoli and some rice. It's a delicious home-cooked meal that is easy to make and takes very little prep.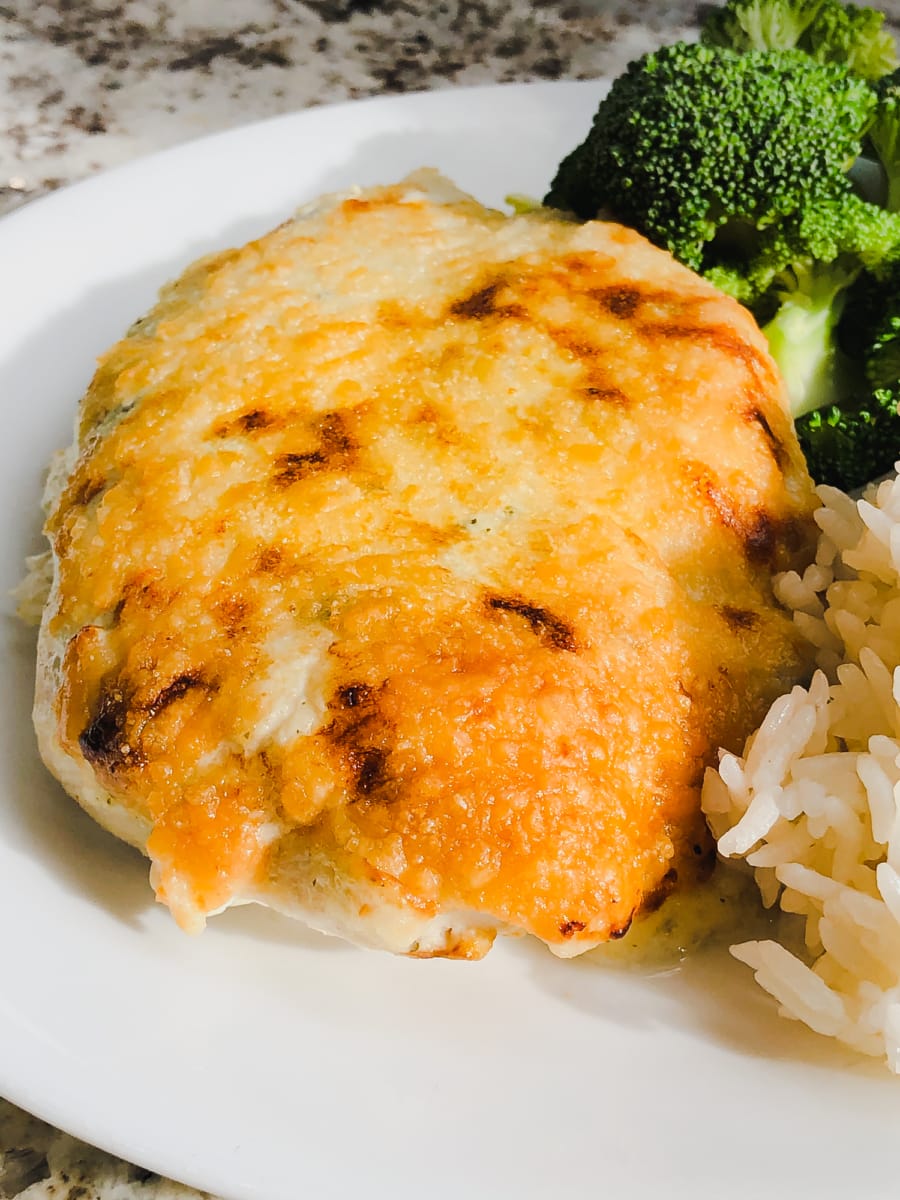 I know you will love how easy and delicious this Creamy Salsa Verde Chicken Bake is. Let me know in the comments when you try it!
Creamy Salsa Verde Chicken
CHICKEN BREASTS BAKED IN A CREAMY SALSA VERDE SAUCE AND TOPPED WITH COTIJA CHEESE
This super easy baked chicken recipe is so tasty and uses only 3 simple ingredients. This one is perfect for a quick and delicious weeknight meal.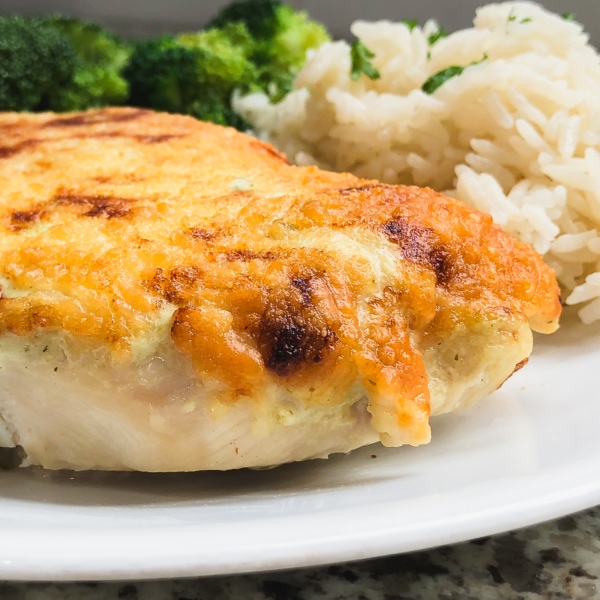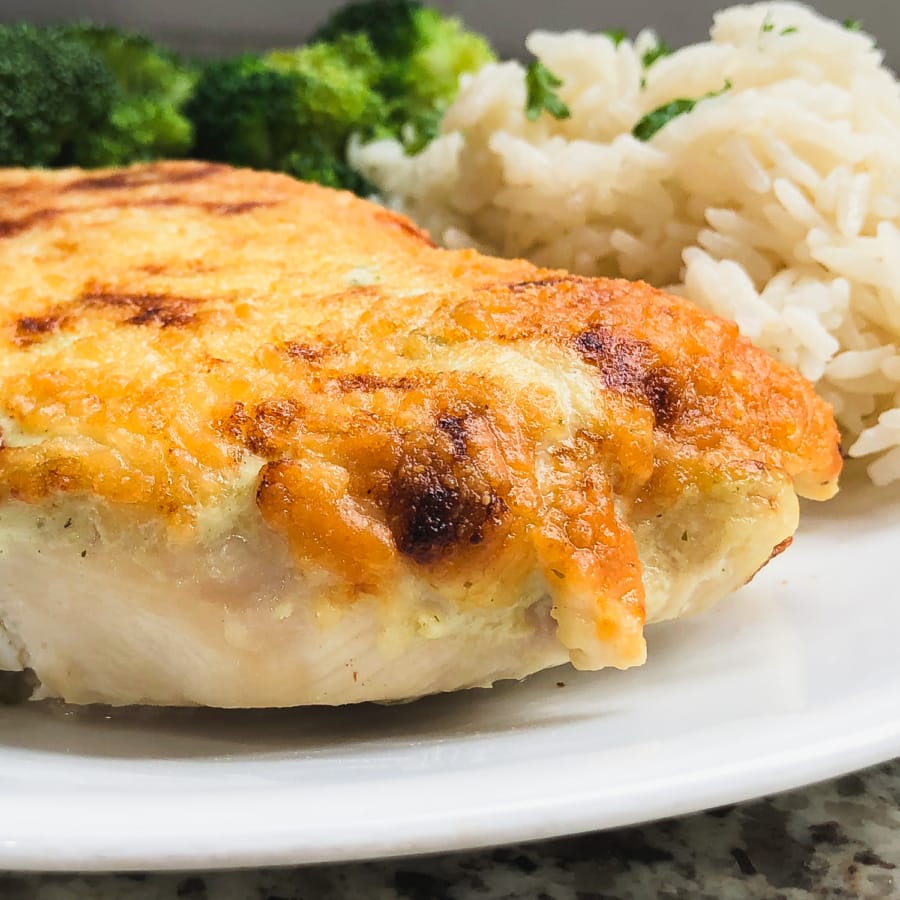 Instructions
Prepare Chicken Breasts: Trim any fat from the chicken breasts. Fill a large bowl with one quart of warm water. Add ¼ cup of kosher salt to the water and mix until the salt is fully dissolved. Add the chicken breasts to the brine and allow to sit for 15 to 20 minutes. Remove the chicken breasts from the brine and then pat dry with paper towels.

Preheat oven to 450°

Season Chicken Breasts: Place the breasts in an 8 x 11.5 baking dish. Pour the yogurt dressing over the breasts and spread evenly. Sprinkle the Cotija cheese evenly over the chicken.

Bake Chicken Breasts: Place the baking dish on the middle rack of the oven and bake for 20 to 25 minutes or until the breasts reach an internal temperature of 165°F and the cheese has browned evenly on top. I highly recommend using a probe or meat thermometer to get the best results.

After removing the chicken from the oven, allow it to rest for 8 to 10 minutes before serving.
Nutrition Facts
Calories: 277kcal | Carbohydrates: 2g | Protein: 32g | Fat: 15g | Saturated Fat: 9g | Cholesterol: 122mg | Sodium: 759mg | Potassium: 453mg | Sugar: 2g | Vitamin A: 270IU | Vitamin C: 1.3mg | Calcium: 283mg | Iron: 0.8mg