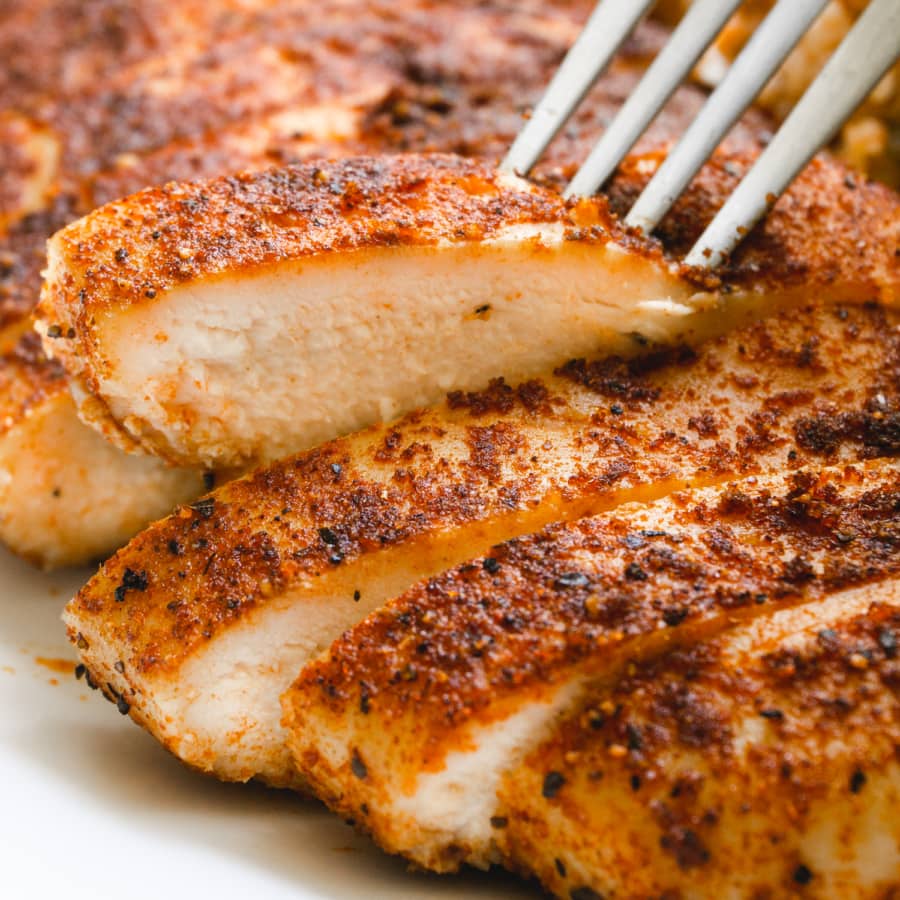 SAVE THIS RECIPE
This oven-baked Mexican chicken breast has become one of our go-to meals when we need to get dinner made fast. We usually serve it with some Instant Pot Spanish Rice and a veggie side and the kids absolutely gobble it up!
This post contains affiliate links. For more information, see my disclosure.
Get Juicy Oven Baked Chicken Breasts Every Time
This easy oven baked Mexican chicken breast recipe will make such juicy and tender chicken that is packed full of flavor. Baking chicken can be tricky and if you don't do it just right, you can end up with dry and rubbery chicken.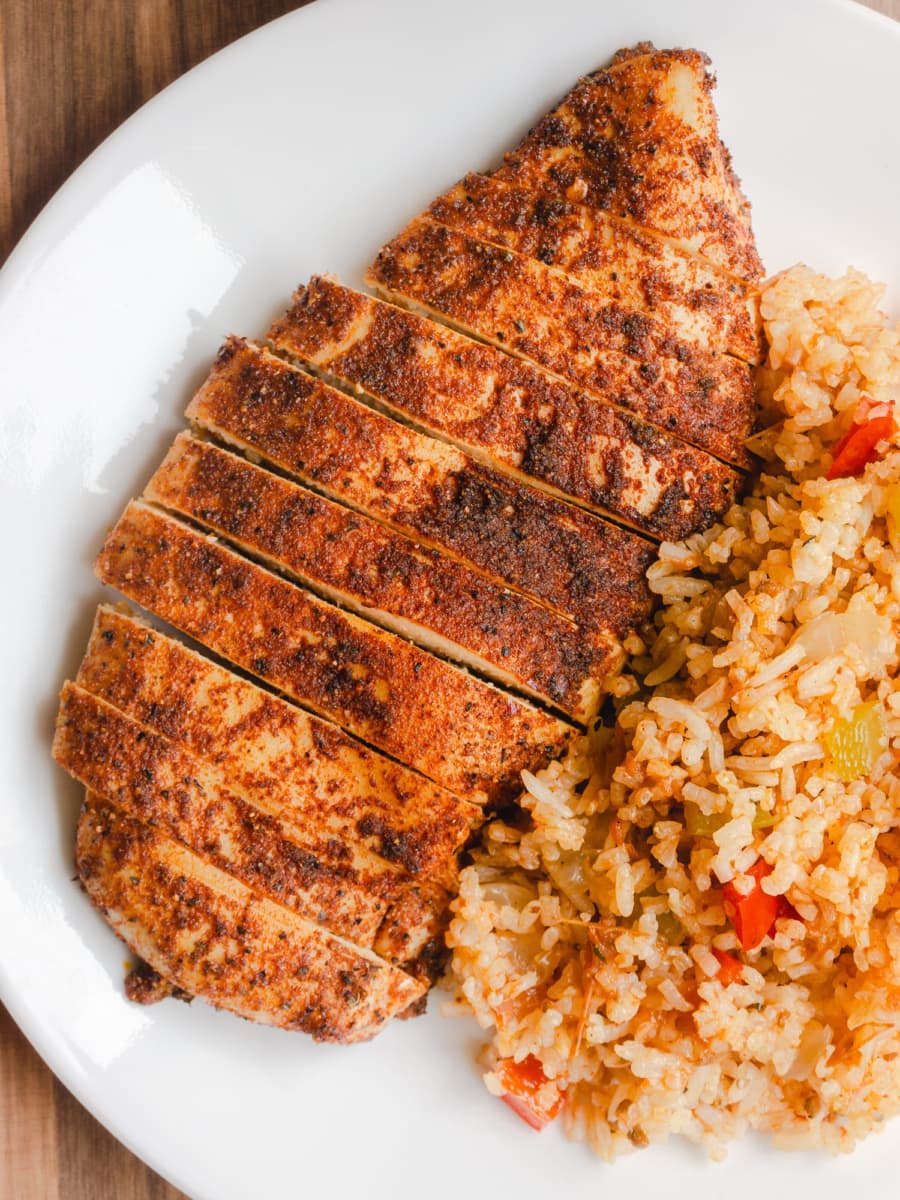 There are a few of things I do to make sure my baked chicken breasts come out juicy and tender. Easy steps you can take to make sure you don't end up with a rubbery dinner!
My solution to dry and rubbery chicken?
Pound the chicken, brine it, remove it from the oven as soon as it reaches an internal temperature of 165°F, and then let it rest for a few minutes before eating. Works every time! Let me explain how I do it.
How Do I Brine Chicken Breasts?
You'll want to start by trimming your chicken breasts and then pounding them so that they are an even thickness and no longer have a hump. This will ensure that they cook evenly in the oven. To pound the chicken breasts you can put the breast between two pieces of plastic wrap, or inside a Ziplock bag. You can pound it with a rolling pin, or with a meat mallet.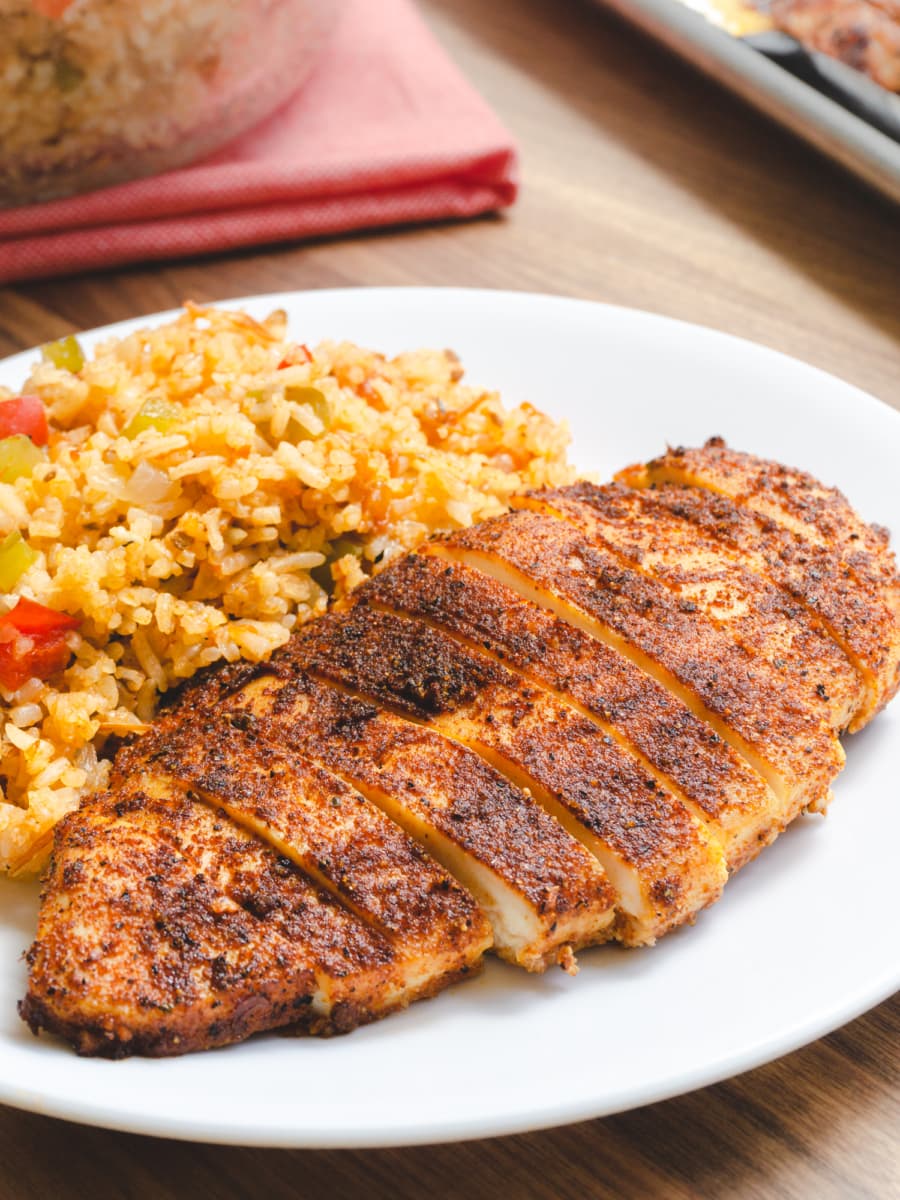 Once pounded, you will need to brine the chicken. Brining is simple and quick. You put warm water in a bowl and mix in some salt until it dissolves. You place your chicken breasts in the salted water and let them sit for about 15 minutes. When you remove the chicken breasts, you need to pat them dry with a paper towel.
How to Bake Chicken Breast in the Oven
Pounding and brining the chicken breasts are a great way to make sure your chicken is juicy and tender when baked. But there's another piece to the puzzle. You don't want to overcook them! The best way to make sure you don't is to use a thermometer.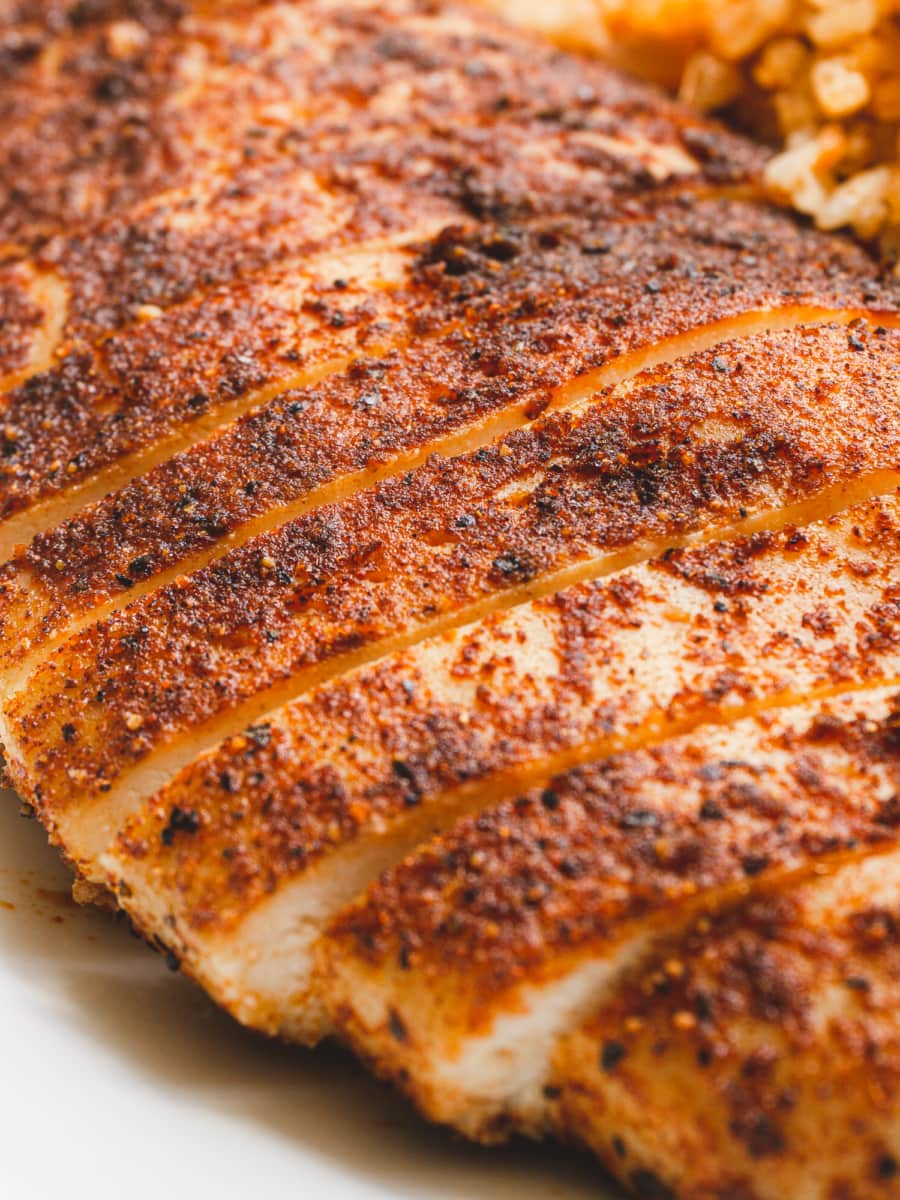 A thermometer will let you know exactly when the chicken is perfect. Not undercooked and not overcooked. Juicy and tender! My oven also came with a probe that I use sometimes when baking.
Finally, the last secret to a perfectly juicy chicken breast is to let it rest for a few minutes after removing it from the oven. This allows the muscle to relax and retain its juices.
Essential Items
Here are some essential prep tools, utensils, and appliances I used to make this recipe.
Featured Items
Here is a list of the products featured in this post or products similar to those featured in this post:
Best Way to Bake Chicken Breasts
There are so many delicious ways to bake chicken breasts. This recipe is only the beginning. For this particular recipe, you will be using my super easy and delicious Homemade Taco Seasoning. You can make a batch of this taco seasoning and you'll have enough seasoning for many recipes.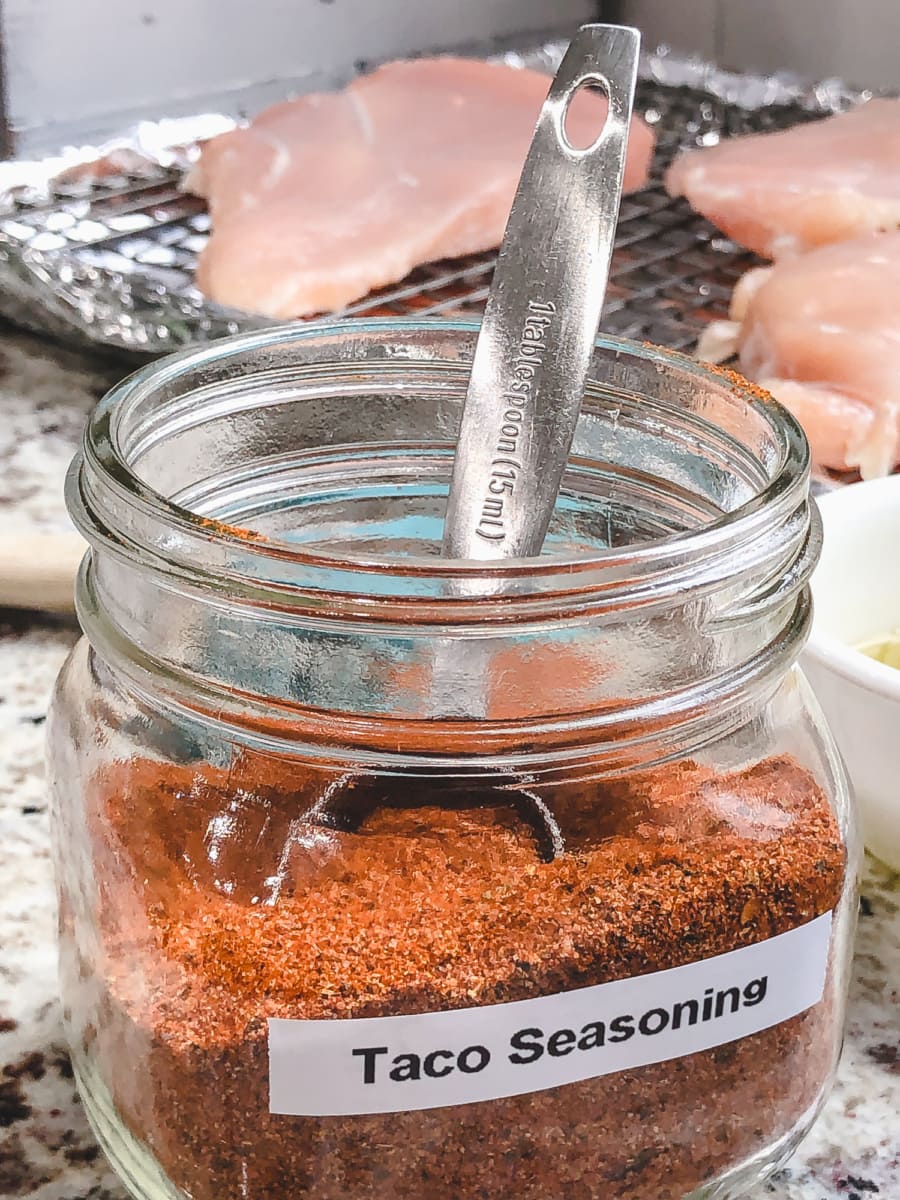 If you don't want to make your own, though I highly recommend you do because it's delicious, you can use a store-bought taco seasoning instead.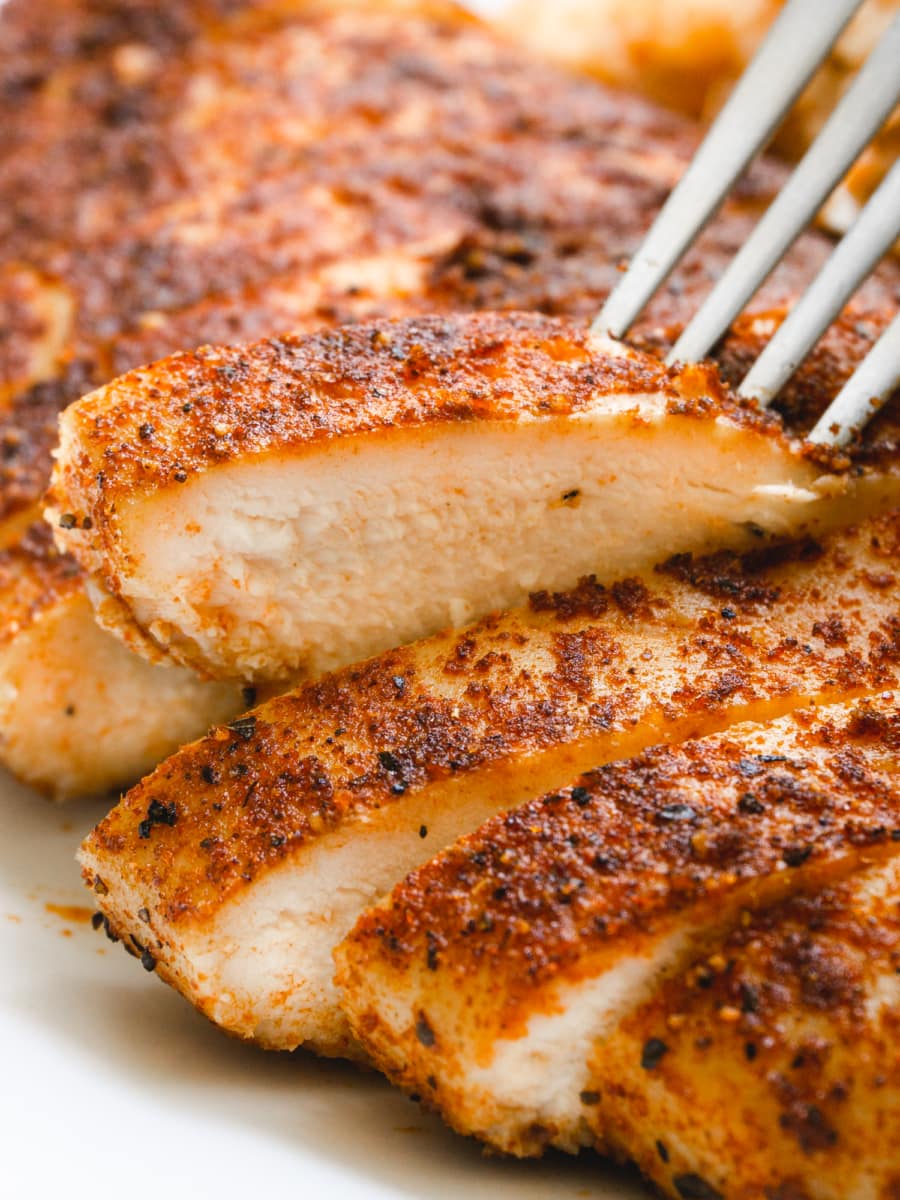 I know you'll love how easy and delicious this oven-baked Mexican chicken breast recipe is. I'd love to hear in the comments how juicy and tender the chicken turned out!
Oven-Baked Mexican Chicken Breast
BONELESS, SKINLESS CHICKEN BREASTS SEASONED WITH A BLEND OF MEXICAN SPICES
These chicken breasts are full of Mexican flavor and oven-baked to tender juicy perfection. This is a quick and delicious way to prepare chicken for your next family meal.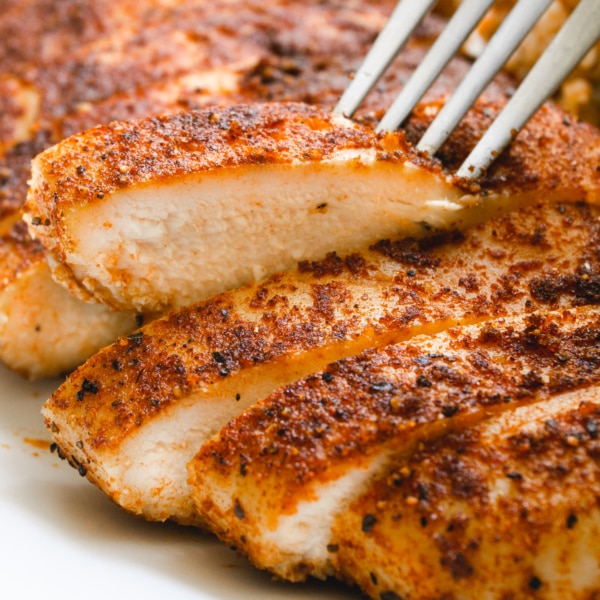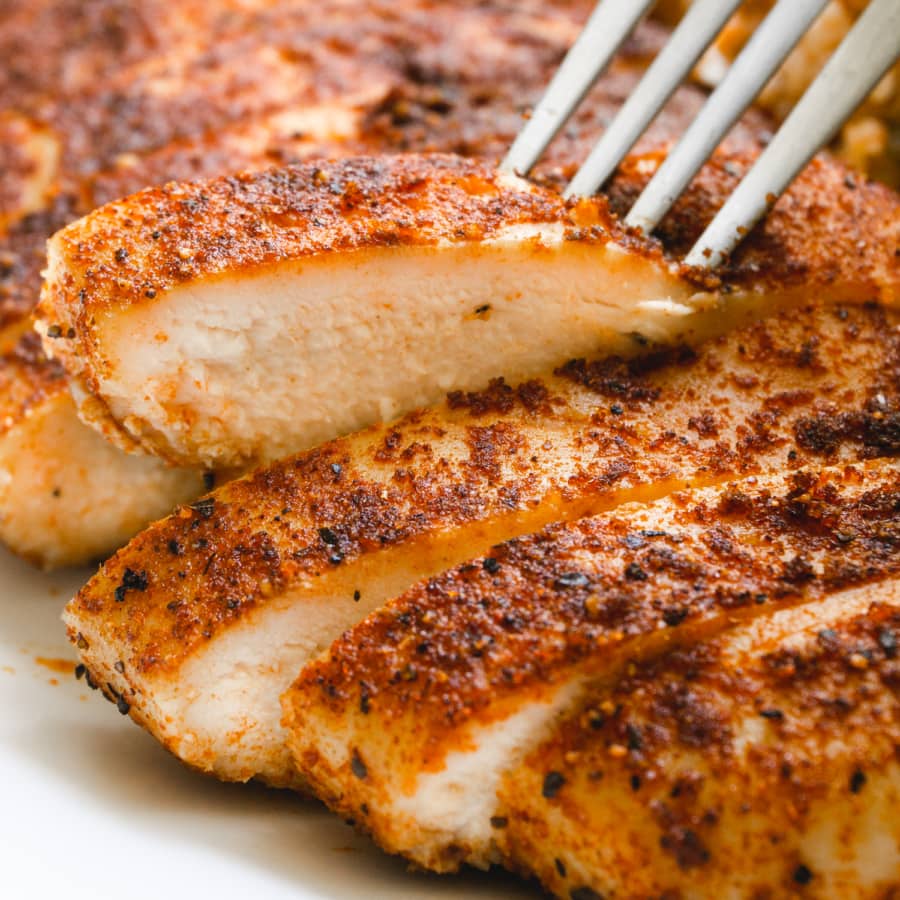 Instructions
Prepare Chicken Breasts: Trim any fat from the chicken breasts, place each breast on top of a sheet of plastic wrap, and then place another sheet of plastic wrap over the breast1 (see Notes section). Flatten the chicken breasts to an even thickness by using a rolling pin or meat mallet. Starting at the middle of the breast, gently pound down and out toward the edges until there is no longer a hump and the breast is an even thickness throughout.

Brine Chicken Breasts: Fill a large bowl with one quart of warm water. Add ¼ cup of kosher salt to the water and mix until the salt is fully dissolved. Add the chicken breasts to the water and allow to sit for 15 to 20 minutes. Remove the chicken breasts from the brine, and then pat dry with paper towels.

Preheat oven to 450°

Season Chicken Breasts: Place the breasts on a baking sheet or in a baking dish. Brush both sides of each chicken breast with olive oil and evenly coat each side with my Homemade Taco Seasoning mix. Alternatively, season with your own favorite taco seasoning.

Bake Chicken Breasts: Place the baking sheet on the middle rack of the oven and bake until the breasts reach an internal temperature of 165°F, this can take anywhere from 10 to 20 minutes2 (see Notes section) depending on the thickness of the breasts and your oven's settings. For instance, when I set my oven to the traditional Bake setting, the breasts usually cook to 165°F in 12 to 14 minutes. If I set my oven on Single Rack Convection Bake, they usually cook to 165°F in 8 to 10 minutes. I highly recommend using a probe or meat thermometer to get the best results.

After removing the chicken from the oven, allow it to rest for 8 to 10 minutes before serving.
Nutrition Facts
Calories: 253kcal | Carbohydrates: 1g | Protein: 24g | Fat: 16g | Saturated Fat: 3g | Cholesterol: 72mg | Sodium: 333mg | Potassium: 418mg | Fiber: 1g | Sugar: 1g | Vitamin A: 270IU | Vitamin C: 2.5mg | Calcium: 6mg | Iron: 0.7mg
Notes
Use a Ziploc bag instead. When pounding the chicken breasts, I find it easier to use a gallon-sized Ziploc bag instead of the plastic wrap. I just slip each breast inside the bag before pounding them. When I have them on hand, I always use the bags instead of the plastic wrap. The bags are thicker, allowing them to hold up better, and they won't slip off the breasts.
Use an oven probe or meat thermometer. It's difficult to set a universal cooking time that will always yield perfectly cooked chicken breasts. The thickness of the chicken breasts or differences in oven settings can drastically affect the cooking time. Therefore, the best way to ensure perfectly cooked chicken breasts is to use a probe or meat thermometer and remove the breasts from the oven as soon as they reach an internal temperature of 165°F.