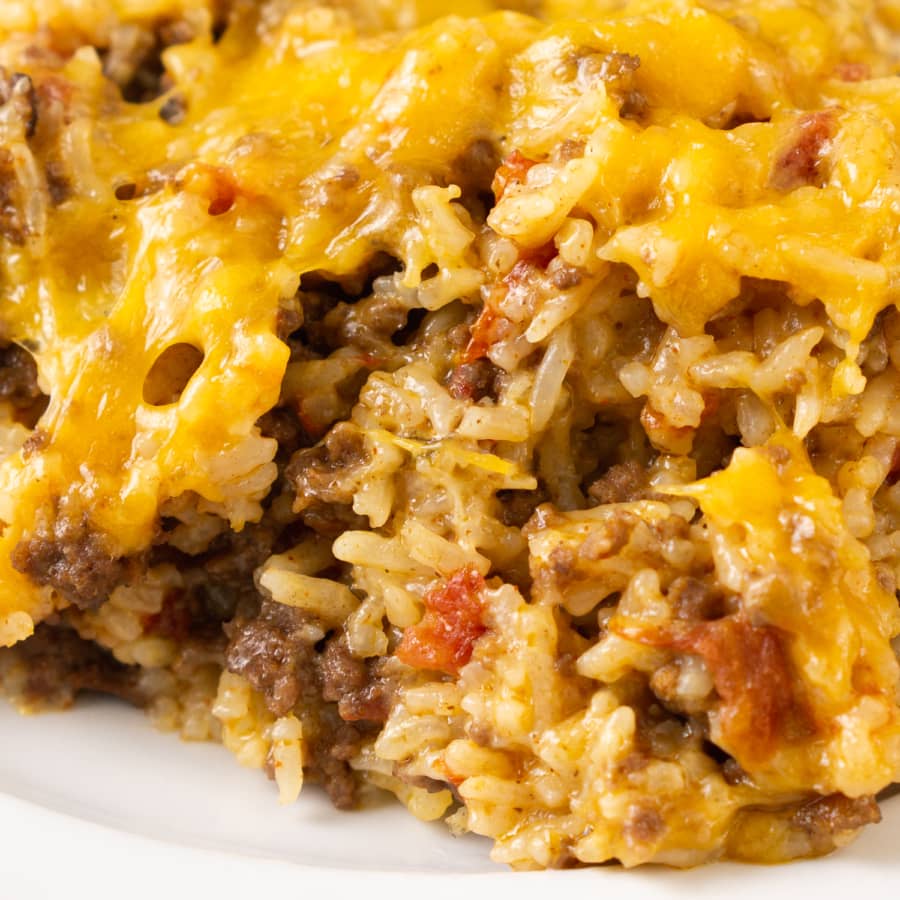 SAVE THIS RECIPE
This Instant Pot Cheesy Ground Beef and Rice has been a huge hit in my home. It requires very few ingredients and is ready in under 30 minutes. You can eat it as a casserole or use it to stuff tortillas and make some delicious burritos. Either way, it's bound to be a new favorite in your home.
This post contains affiliate links. For more information, see my disclosure.
An Easy Family-Friendly Meal
In trying to make super easy recipes that are fast and require basic ingredients, I came up with this cheesy ground beef and rice casserole. Rice and ground beef are cooked together in your pressure cooker and then covered in delicious melted cheese.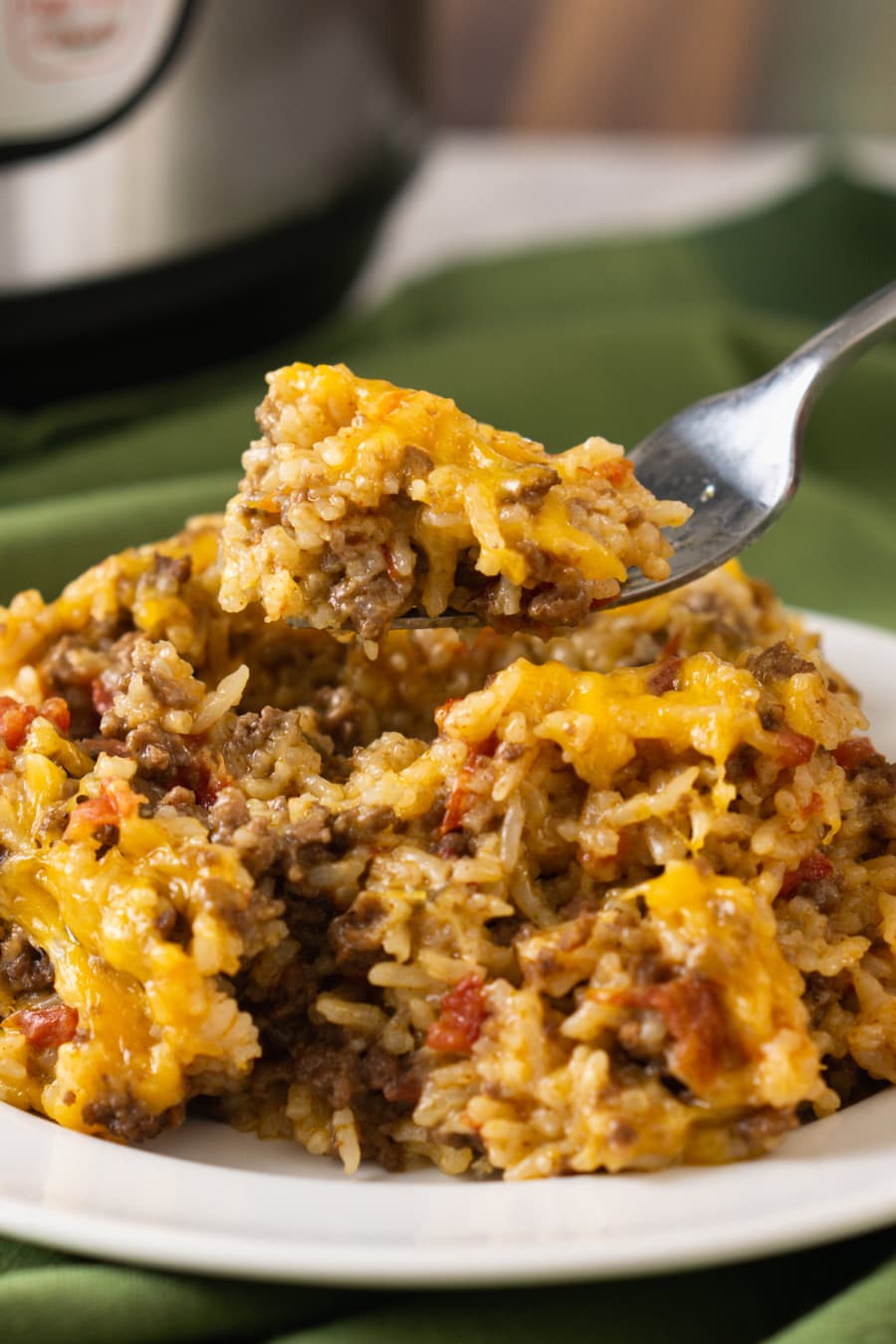 This recipe is very flavorful and requires no prep. It'll be a perfect weeknight meal for those crazy nights when you just want to get dinner on the table fast. We love using the Mealthy CrispLid to melt some extra cheese on it after cooking it. This recipe makes a big batch, so you can use the leftovers for burritos to change things up.
Ingredients for Instant Pot Cheesy Ground Beef and Rice
To make this cheesy ground beef and rice casserole you'll need some long grain rice, like jasmine rice, and two pounds of ground beef. I like to use 90/10 so it doesn't have to be drained. You will need two cans of Rotel and some chicken stock. I use chicken stock because store-bought chicken stock is a lot more flavorful than store-bought beef stock. You will also need a little bit of oil. I like using avocado oil.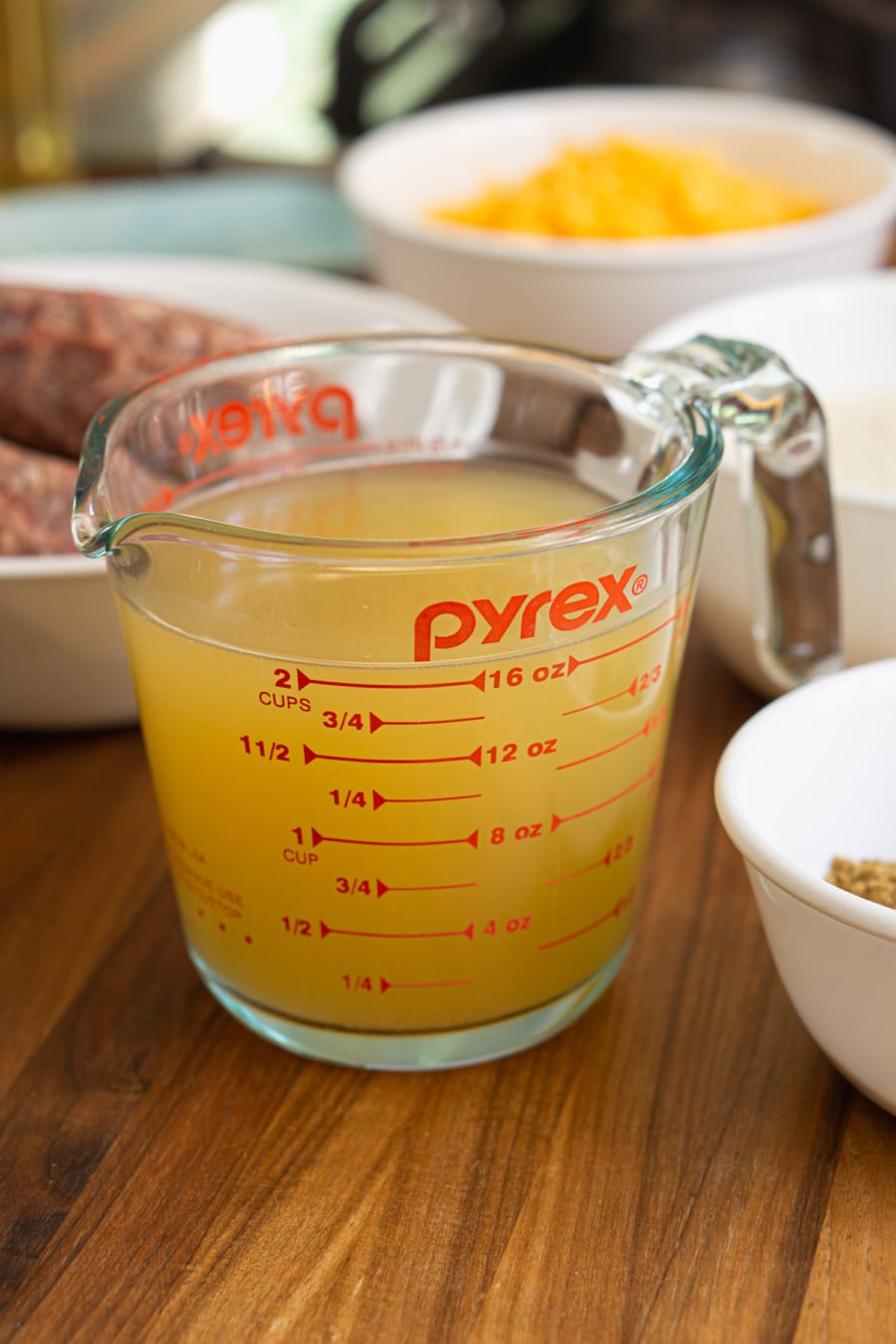 You'll also need some salt, cumin, chili powder, garlic powder, and dry minced onions. You are welcome to use freshly chopped onions, but in the spirit of keeping things easy, I use dry minced onions. You would use one medium-sized yellow onion instead. Finally, you will need some shredded sharp cheddar cheese. Any other melty cheese will work as well.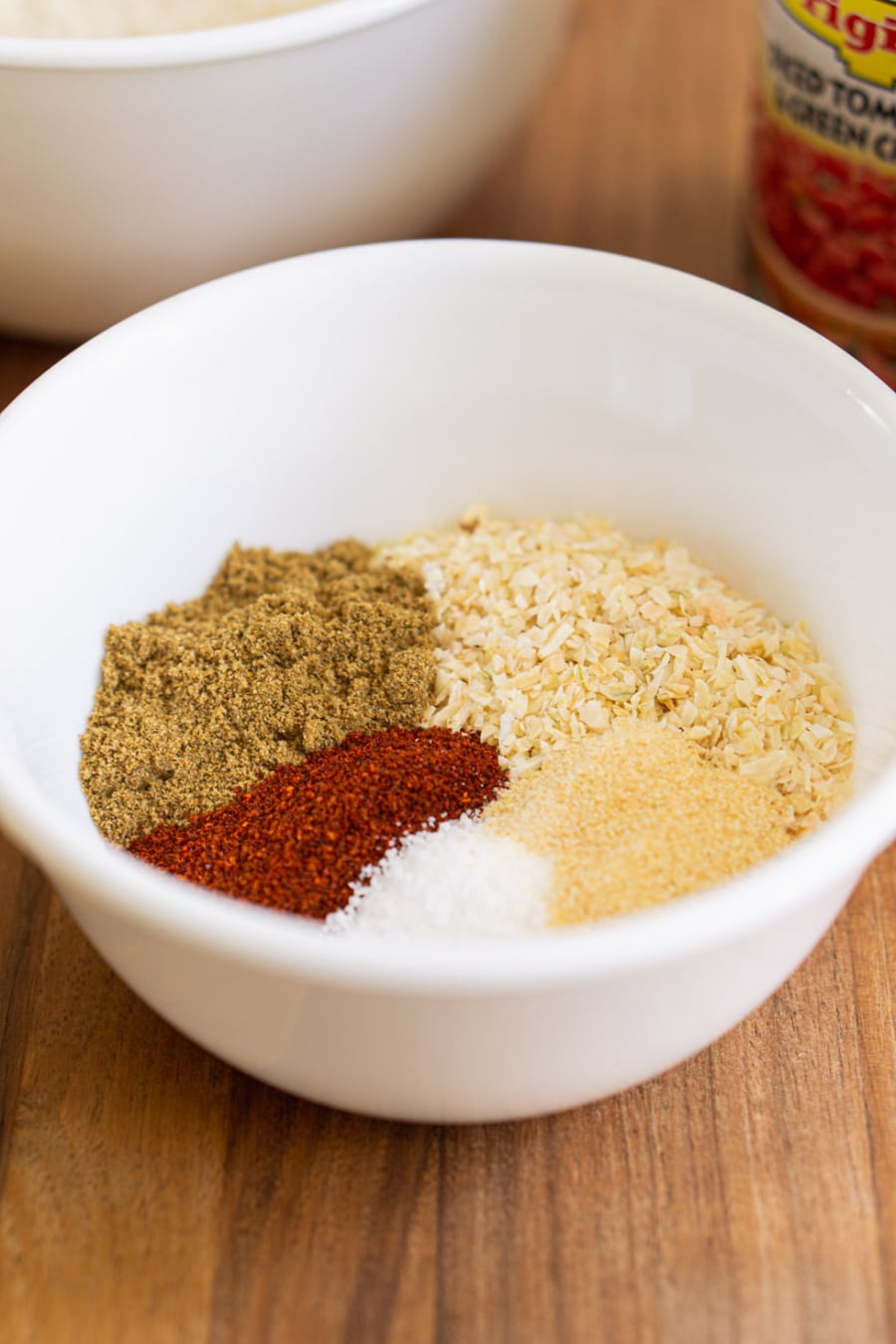 Essential Items
Here are some essential prep tools, utensils, and appliances I used to make this recipe.
Featured Items
Here is a list of the products featured in this post or products similar to those featured in this post:
12 Must-Have Instant Pot Cookbooks
If you're looking for a cookbook with easy and reliable Instant Pot recipes, then check out my list of approved Instant Pot Cookbooks.
How to Make Cheesy Ground Beef and Rice Casserole
I have made this recipe using my Mealthy MultiPot 2.0 and my Instant Pot Duo. It came out perfectly in both of them. One is a 6qt and one is an 8qt. You will start by setting your pot to sauté and adjusting it to the more setting. Once the pot is hot, you can add your oil. Let the oil heat up and then add your ground beef. Brown your beef and break it up into small pieces.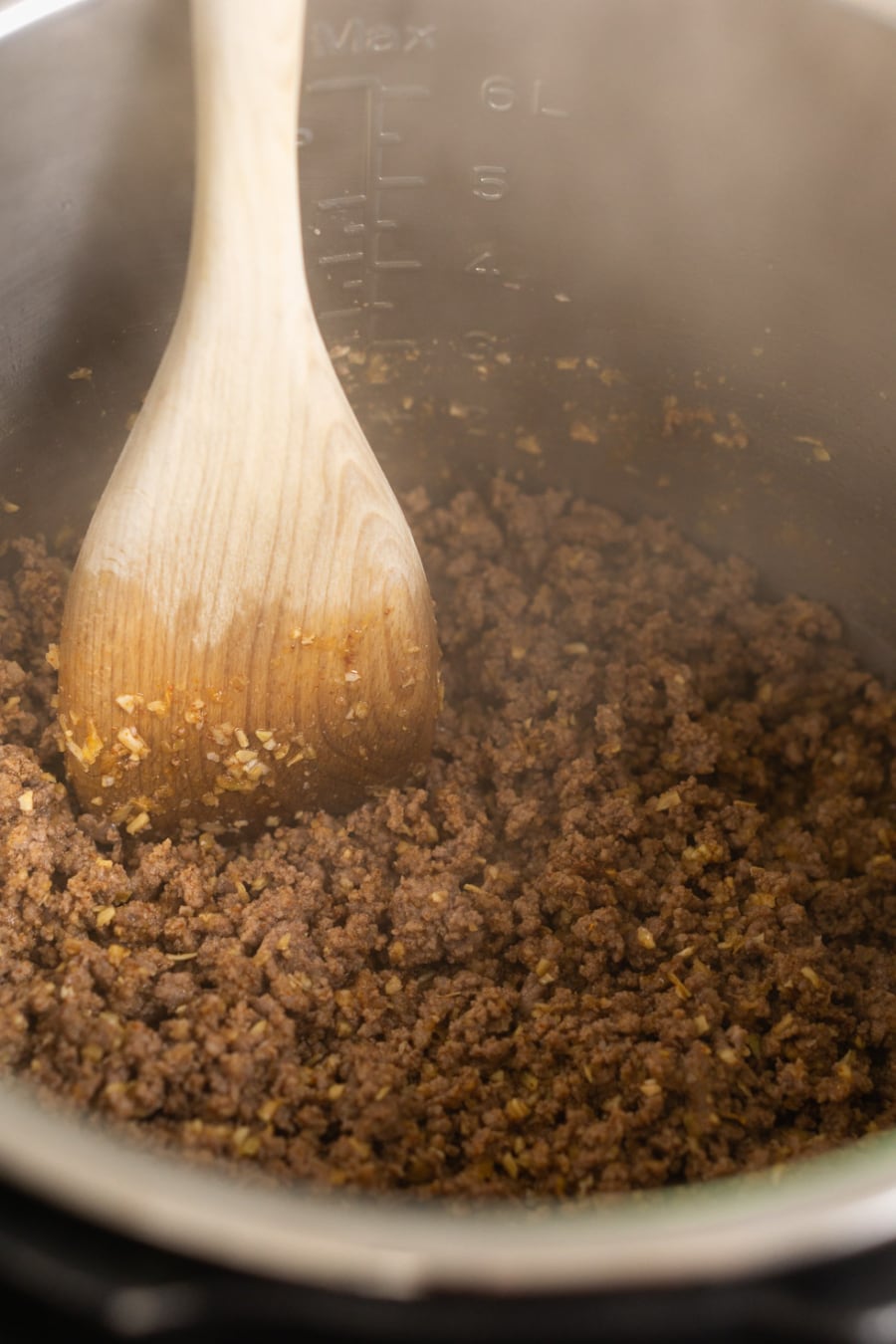 Once the ground beef is browned, add all the spices and mix them well. Continue cooking the beef for several minutes. Cancel out of Saute and add your chicken stock. Deglaze the pot by scraping the bottom with a wooden spoon. Make sure to get any bits that may be stuck at the bottom. Now it's time to add your rice. Layer the rice on top of the ground beef and gently push it down until it's mostly covered with liquid. Don't mix. Next, layer the cans of Rotel on top. Do not mix.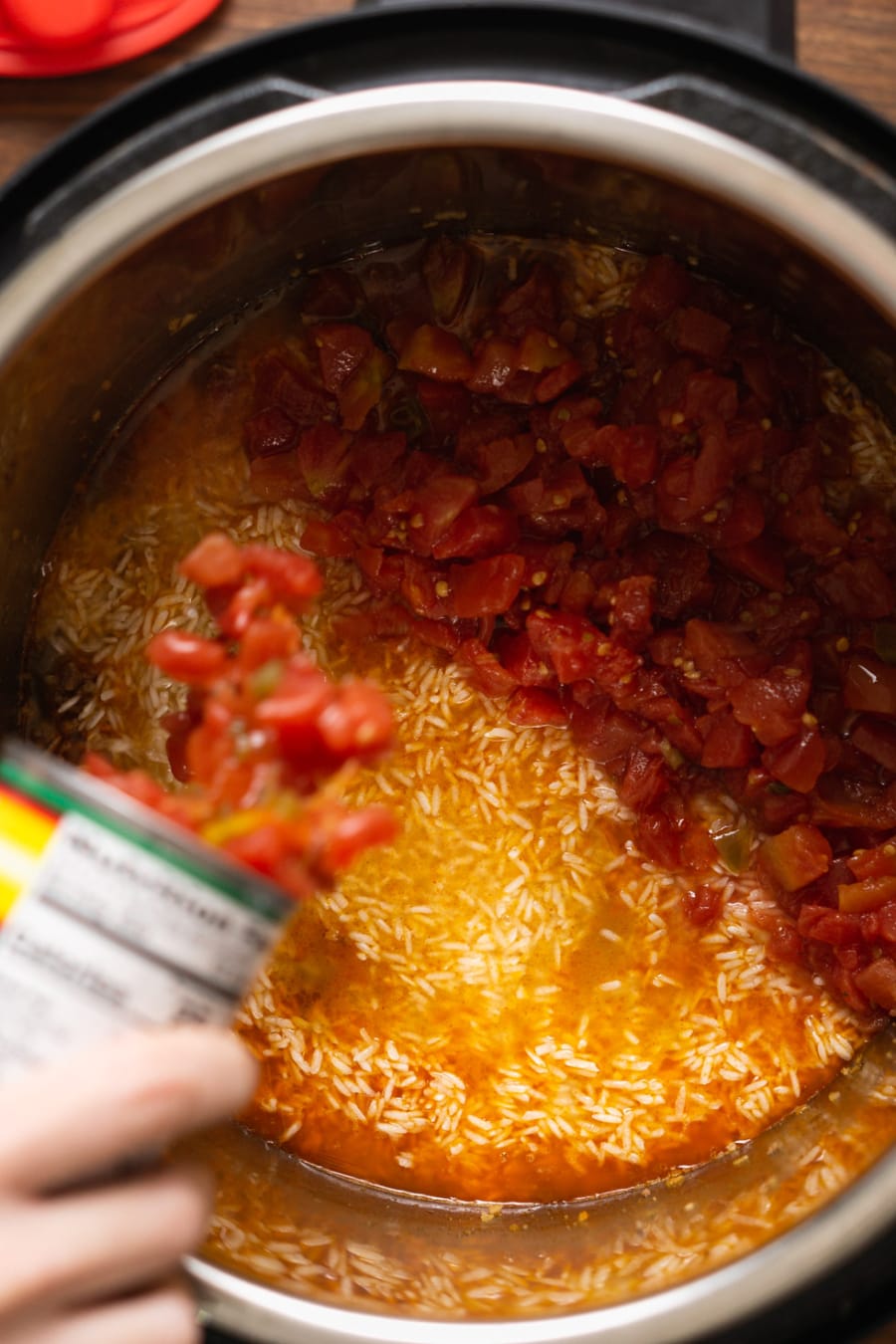 Close your pot and if you're using the Instant Pot, set the vent to Sealing. If using the Mealthy, you just close the lid, as it is self-sealing. Cook on high pressure for 5 minutes. If using the MultiPot, you need to select natural release. You will allow for a 10-minute natural pressure release when the cooking time is up. After that, you can release the rest of the pressure, and when the pin drops you can open it.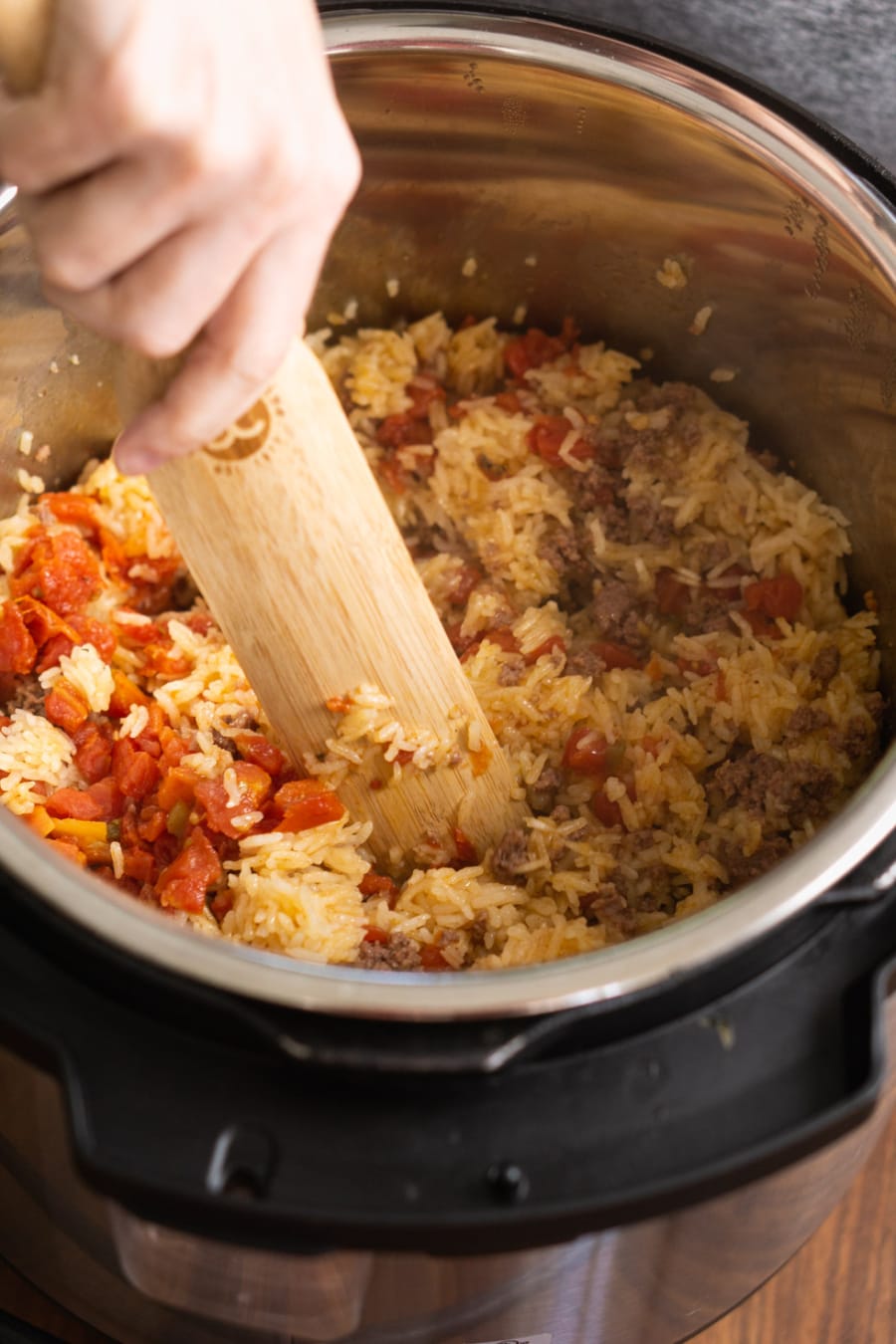 Add 3 cups of the shredded cheese and mix until it's all melted. You can stop here and eat it like this or you can use your CrispLid or the oven to melt more cheese on top. If using the CrispLid, unplug your pot, and set the CrsipLid for 2 minutes at 450 degrees. If doing it in the oven, you can bake for a couple of minutes at low-broil until the extra cheese melts. Serve and enjoy immediately. My family loves to eat it with a biscuit on the side.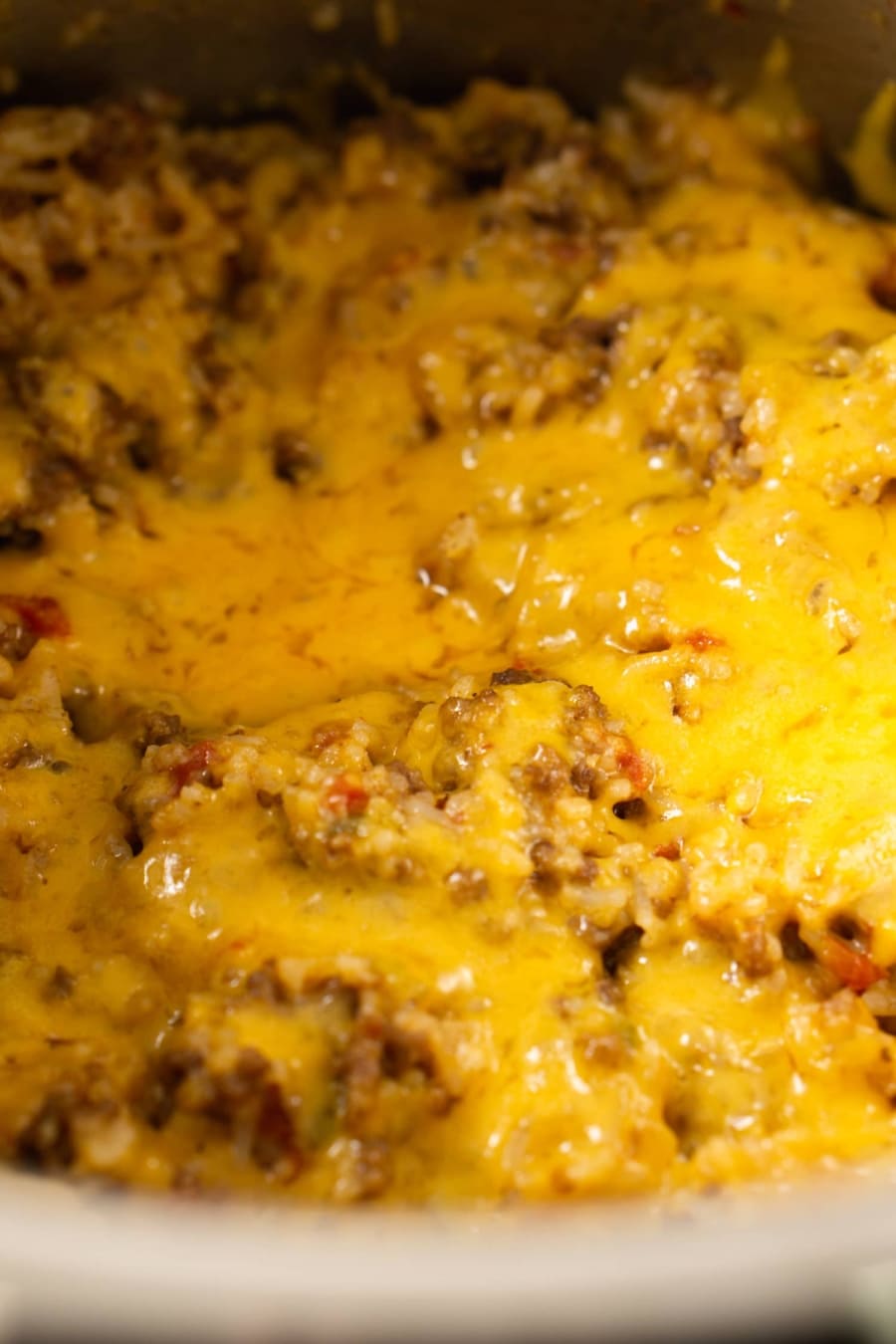 I hope you love this Instant Pot Cheesy Ground Beef and Rice as much as my family does. Please let me know in the comments when you try it. Also, feel free to make suggestions about recipes that you'd like to see on this blog in the comments below.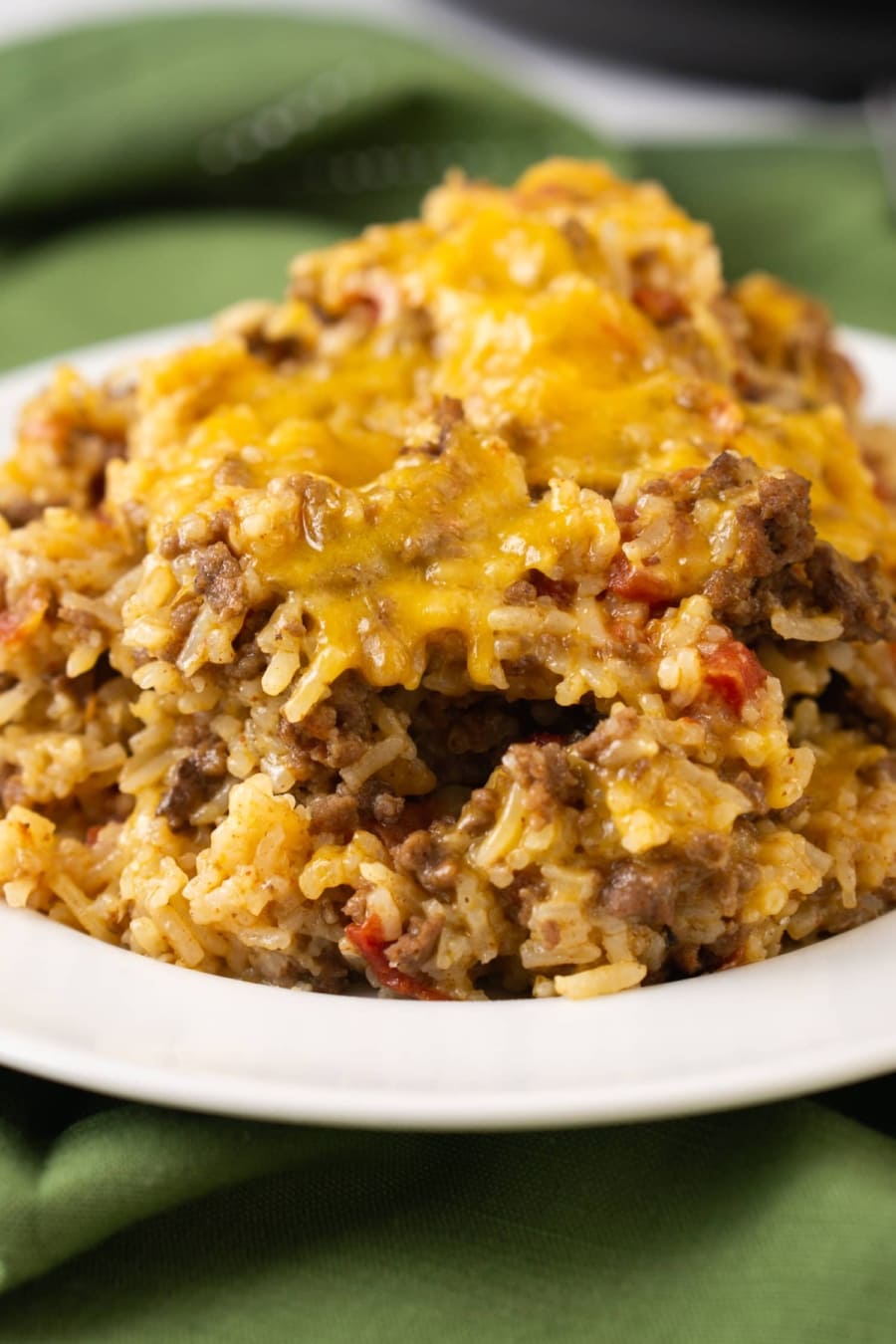 If you'd like more recipes like this, check out my Easy Instant Pot Ground Beef Recipes or my Instant Pot Rice Recipes posts. If this Cheesy Ground Beef and Rice is the type of meal you love, then here are some more recipes that you may enjoy:
Instant Pot Cheesy Ground Beef and Rice
SEASONED GROUND BEEF, LONG-GRAIN RICE, ROTEL, AND CHEDDAR CHEESE
A warm, hearty, and cheesy ground beef and rice casserole that's the perfect comfort food for your hungry family. This wonderful recipe uses simple ingredients that you likely have on hand and is ready in less than 30 minutes.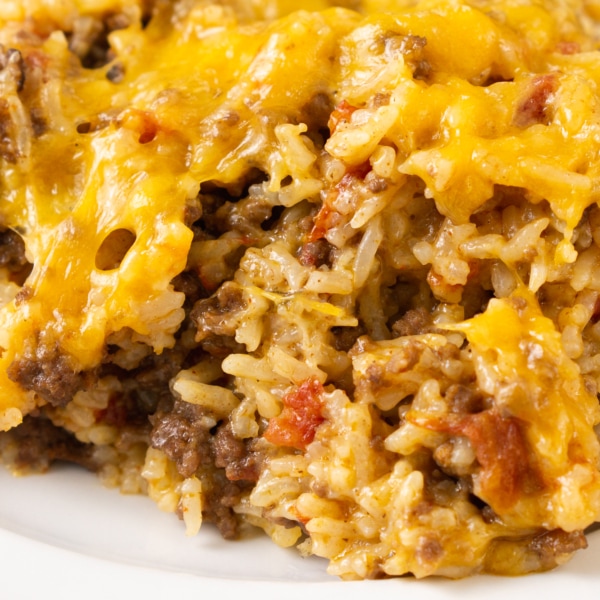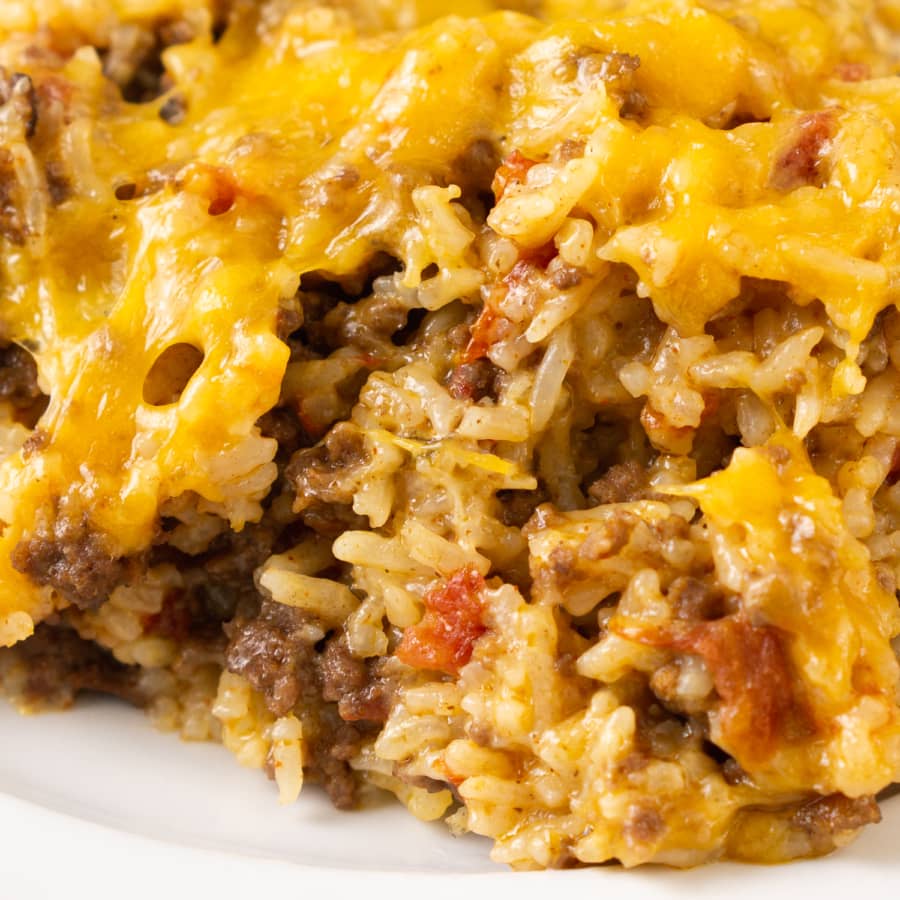 Instructions
prepare the Ground Beef
Set to Sauté: Set the Instant Pot to 'Sauté', use the 'Adjust' button to set the heat level to 'More', and allow the pot to heat up.

Cook the Ground Beef: As soon as the digital display reads 'Hot', add the oil to the pot and allow it to heat up. Add the ground beef and cook it, breaking it apart into smaller and smaller pieces as it cooks. Continue until the meat is cooked through, about 6 to 8 minutes.

Season the Ground Beef: Mix the dry minced onion, chili powder, cumin, salt, and garlic powder into the meat and cook for an additional 2 minutes tossing occasionally.

Cancel Sauté: Cancel out of the Sauté function.
add the Stock & Rice
Add the chicken stock to the meat and, using a wooden spoon or spatula, deglaze the bottom of the liner. Layer the rice on top of the ground beef and gently push it down into the stock so that it is submerged and damp. Add the Rotel evenly over the rice, do not mix it in.
set the Cook Time
5-Minute Cook Time: Close the Instant Pot and set the pressure release valve to 'Sealing' and then set the pot to cook on 'Manual' / 'Pressure Cook', 'High Pressure' for 5 minutes.

10-Minute NPR: Once the cooking time has completed, allow for a 10 minute NPR (natural pressure release). Release any remaining pressure after the ten minute NPR has completed.
add the Cheese
Once all the pressure has been released, open the pot and then mix in the cheese. Continue mixing until the cheese fully melts.
for a Cheesy Topping
CrispLid Method: To make the melty cheesy topping, first turn off and unplug your pressure cooker. Next, spread 1 cup of shredded cheese evenly over the top of the casserole. Place the CrispLid on top of the pressure cooker, set it to 450° F, and cook until bubbling and melty. About 2 to 3 minutes.

Baking Dish Method: Transfer the casserole to a baking dish. Spread 1 cup of cheese evenly over the top of the casserole. Set on the middle rack of an oven under 'Lo Broil' and cook until bubbling and melty, about 2 minutes.

Serve and enjoy.
Nutrition Facts
Calories: 698kcal | Carbohydrates: 46g | Protein: 41g | Fat: 39g | Saturated Fat: 19g | Cholesterol: 136mg | Sodium: 1192mg | Potassium: 765mg | Fiber: 2g | Sugar: 4g | Vitamin A: 992IU | Vitamin C: 11mg | Calcium: 488mg | Iron: 5mg
Notes
Deglaze the liner: If you do not deglaze the bottom of the liner after cooking the ground beef, the pot may not come to pressure which will prevent the rice from fully cooking. So, once you've added the chicken stock to the pot after cooking the ground beef, fully deglaze the liner by scraping off any bits stuck to the bottom.