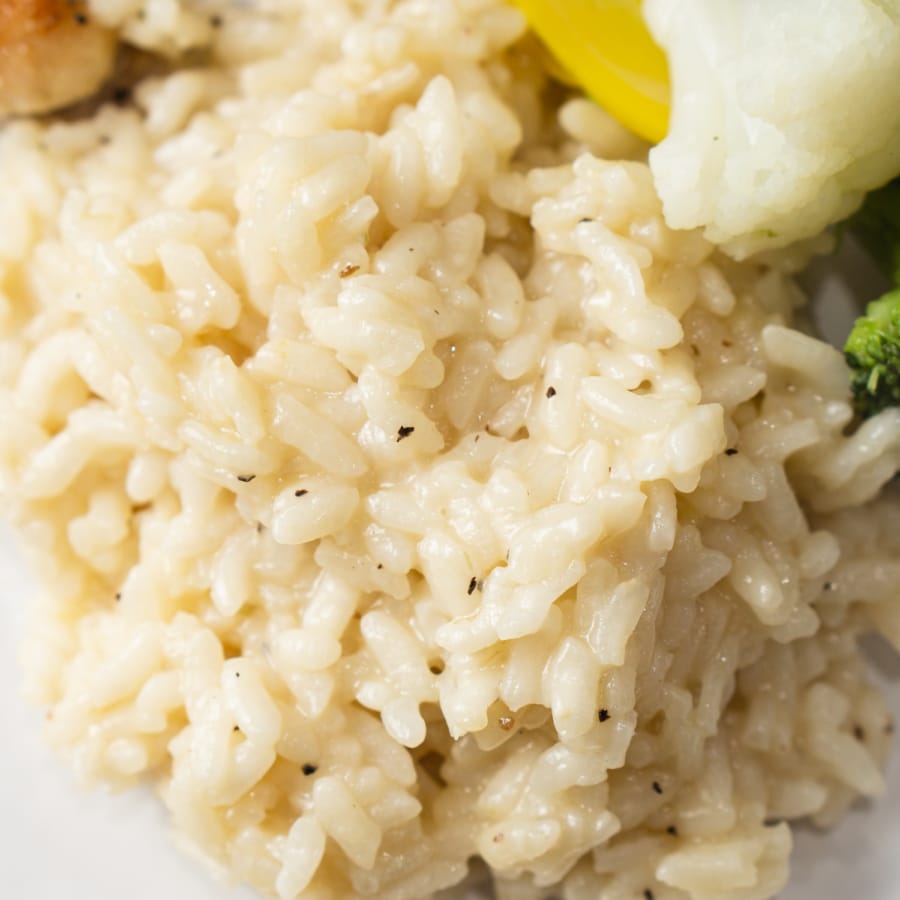 SAVE THIS RECIPE
This Instant Pot Parmesan Risotto recipe is so easy and delicious, you won't believe it. Ryan and I absolutely love risotto but had never ventured into making it. Making risotto on the stove is quite a labor of love and requires lots of patience. Well, things just got a whole lot easier thanks to our pressure cookers! And if you've never tried risotto, you're in for a treat!
This post contains affiliate links. For more information, see my disclosure.
What is Risotto?
Risotto is a classic Italian dish made with the short-grain, starchy rice Arborio. It is traditionally made on the stove by adding small amounts of stock to the rice and stirring constantly. The result is a delicious and creamy rice dish that is a gift to your tastebuds.
There are many kinds of risotto you can make. This recipe is for a basic Parmesan Risotto. You can also make mushroom risotto, risotto with peas, butternut squash risotto, and I could go on and on. The possibilities are endless.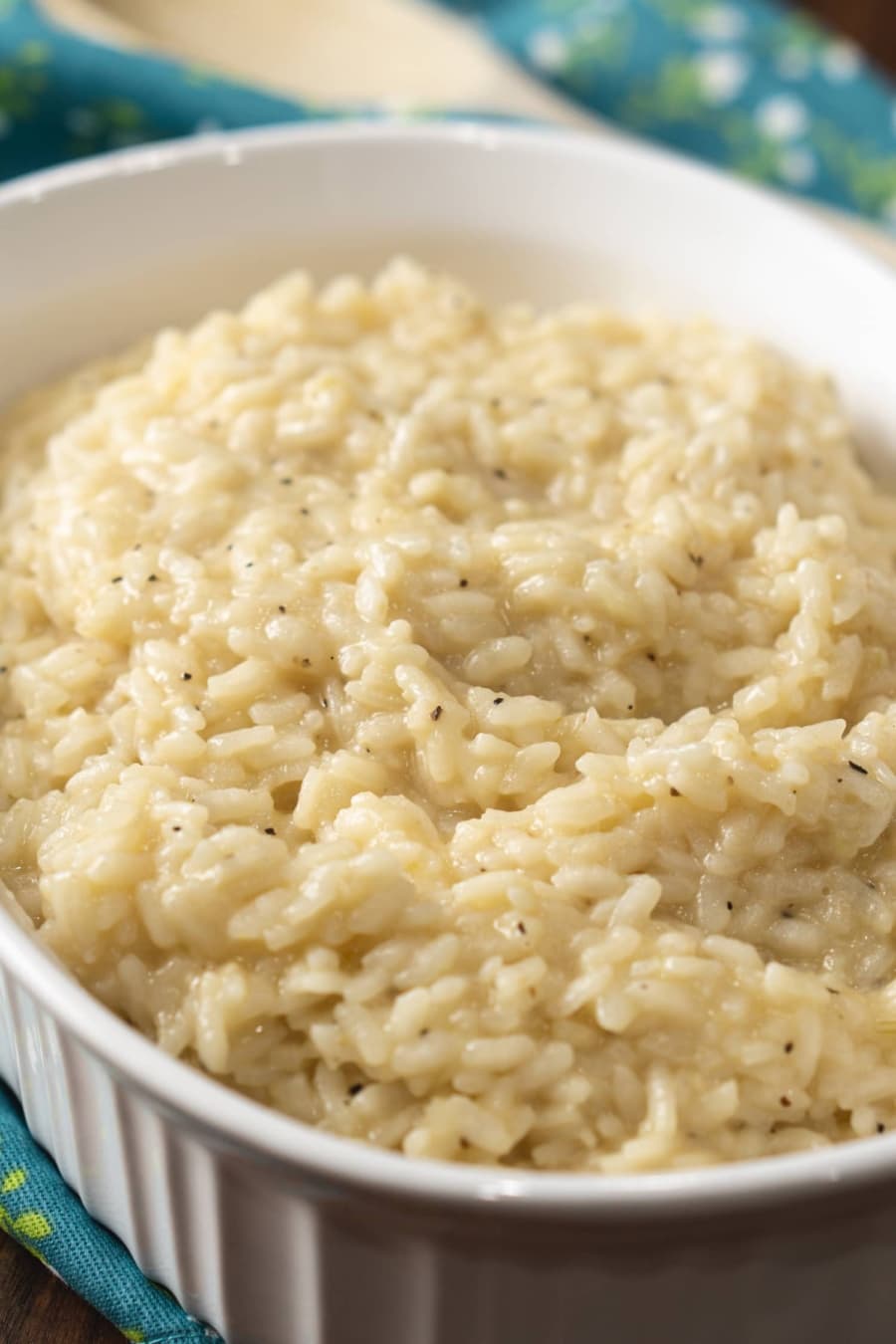 What Ingredients Do I Need to Make Parmesan Risotto?
You won't need too many ingredients for this Instant Pot Parmesan Risotto recipe. Most of them are basic, pantry ingredients you probably already have at home. The most important thing will be to get the right kind of rice. You will need Arborio rice, and you will not be rinsing it, as you may do for other Instant Pot recipes. You can find Arborio rice in the rice section of most supermarkets.
You will also need some grated Parmesan cheese and some white cooking wine. You'll need a couple of tablespoons of unsalted butter as well as a splash of oil. I like using avocado oil, but you can use other types. Finally, you'll need some basic spices like salt, pepper, garlic powder, and dry minced onions. You can definitely use fresh onion, but in an effort to keep things extra simple, I use dry minced onions.
How to Make Pressure Cooker Risotto
You will be so happy when you read how easy this risotto is! Start by setting your pressure cooker to Sauté. Adjust the heat level to medium, or normal. Once the pot is hot, add your butter and a splash of oil. When the butter has melted, add your rice and stir it until it is all coated in butter. Keep stirring the rice for just a minute or so. Add the dry minced onions and keep stirring.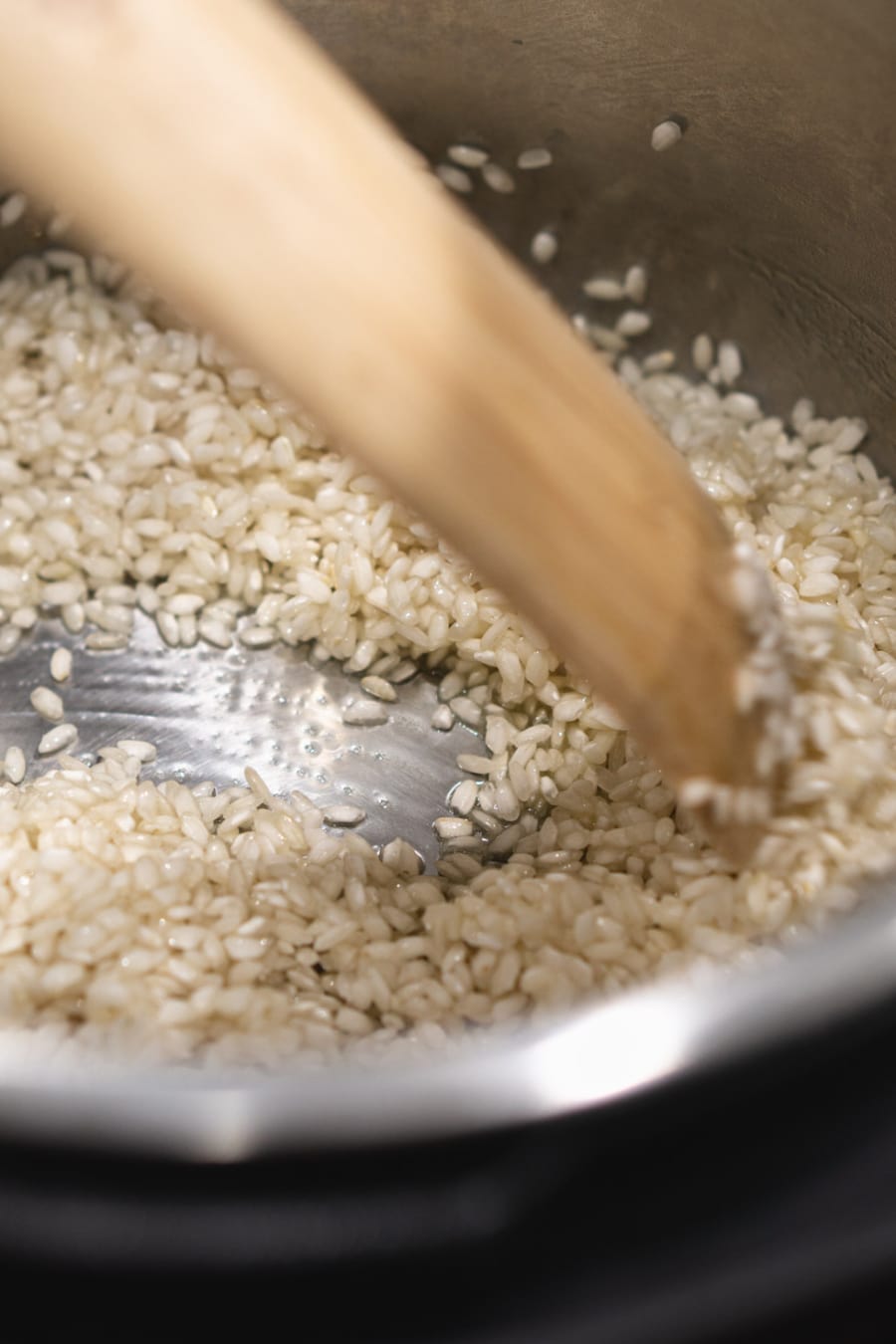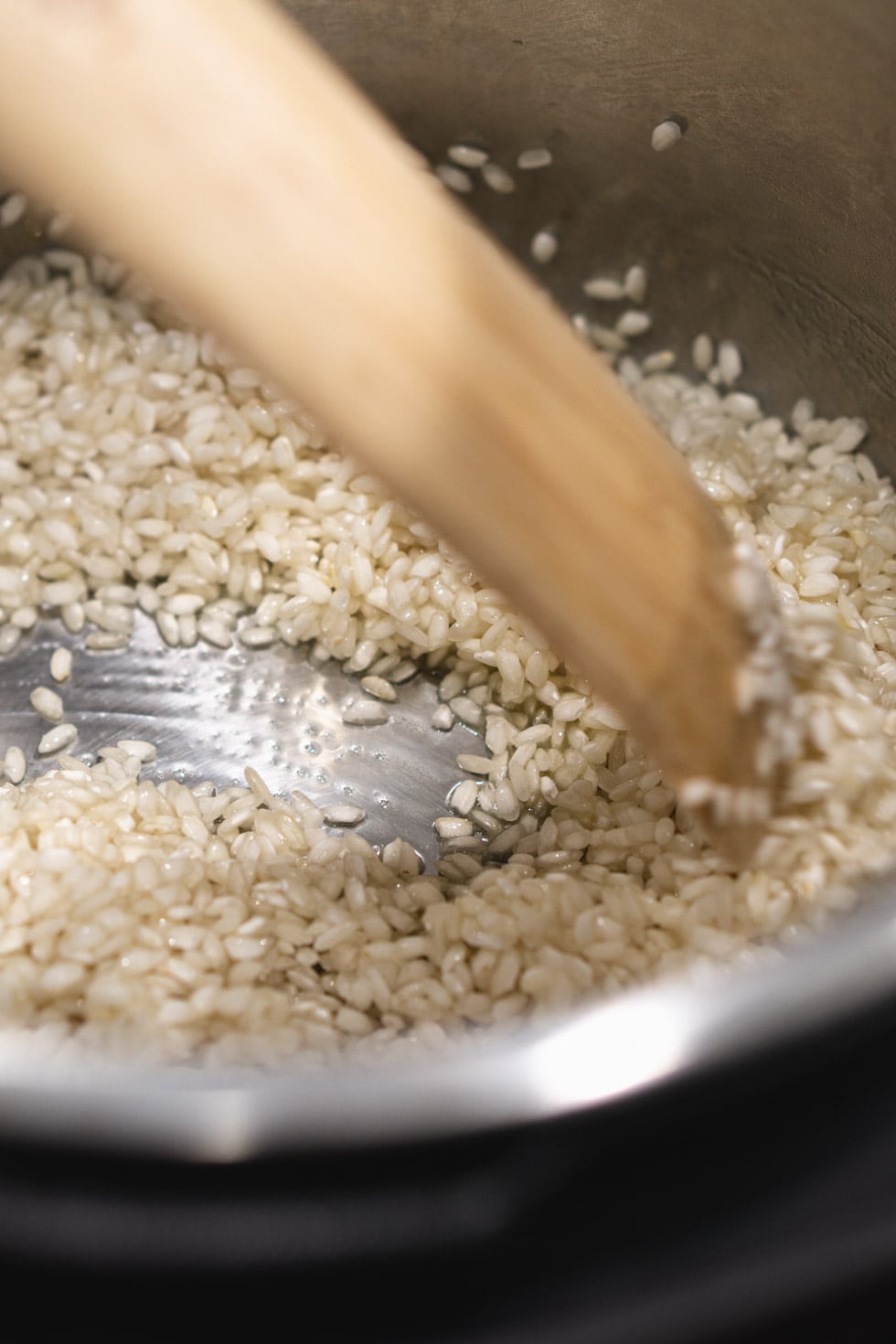 Now it's time to add the white cooking wine. The wine will quickly cook away so just use it to deglaze your pot and make sure there are no bits stuck at the bottom of the pot. You can use a wooden spoon for this. Cancel out of the Sauté function.
Essential Items
Here are some essential prep tools, utensils, and appliances I used to make this recipe.
Featured Items
Here is a list of the products featured in this post or products similar to those featured in this post:
12 Must-Have Instant Pot Cookbooks
If you're looking for a cookbook with easy and reliable Instant Pot recipes, then check out my list of approved Instant Pot Cookbooks.
You can now add the stock, salt, pepper, and garlic powder. Give everything one last stir. You will now close your lid. If you're using an Instant Pot, make sure to set your lid to Sealing. If you're using a Mealthy MultiPot 2.0 all you need to do is close your lid, as it's self-sealing.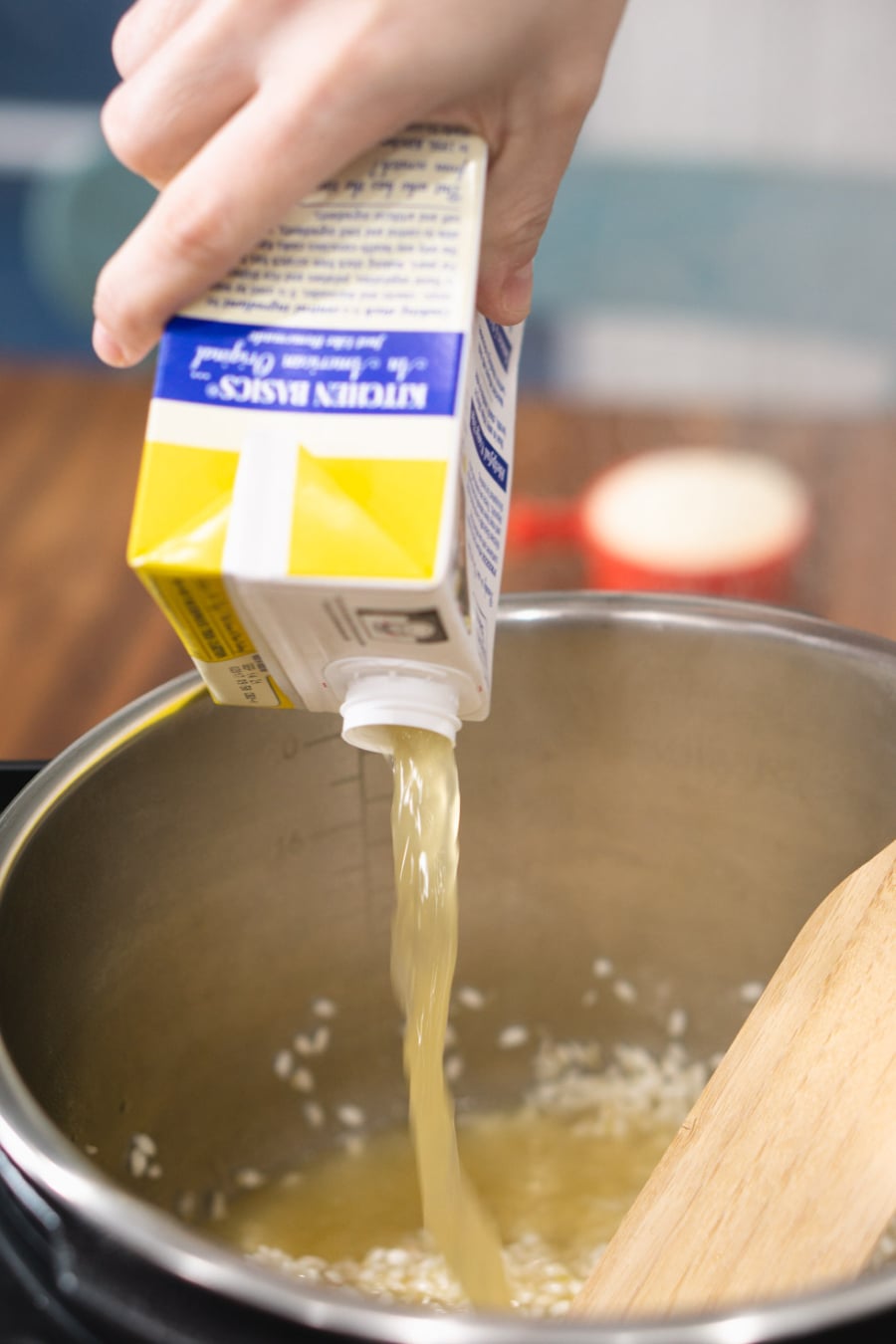 If you're using a Mealthy MultiPot 2.0, you will press the pressure cook button, and adjust the time to 5 minutes. Next, you will press the pressure release button and set it on Quick Release. After the 5 minutes is up, your pot will automatically perform a quick pressure release. If you're using an Instant Pot, set it to cook on high pressure for 5 minutes by pressing Manual or Pressure Cook, and when the cooking time is over you will perform a quick pressure release.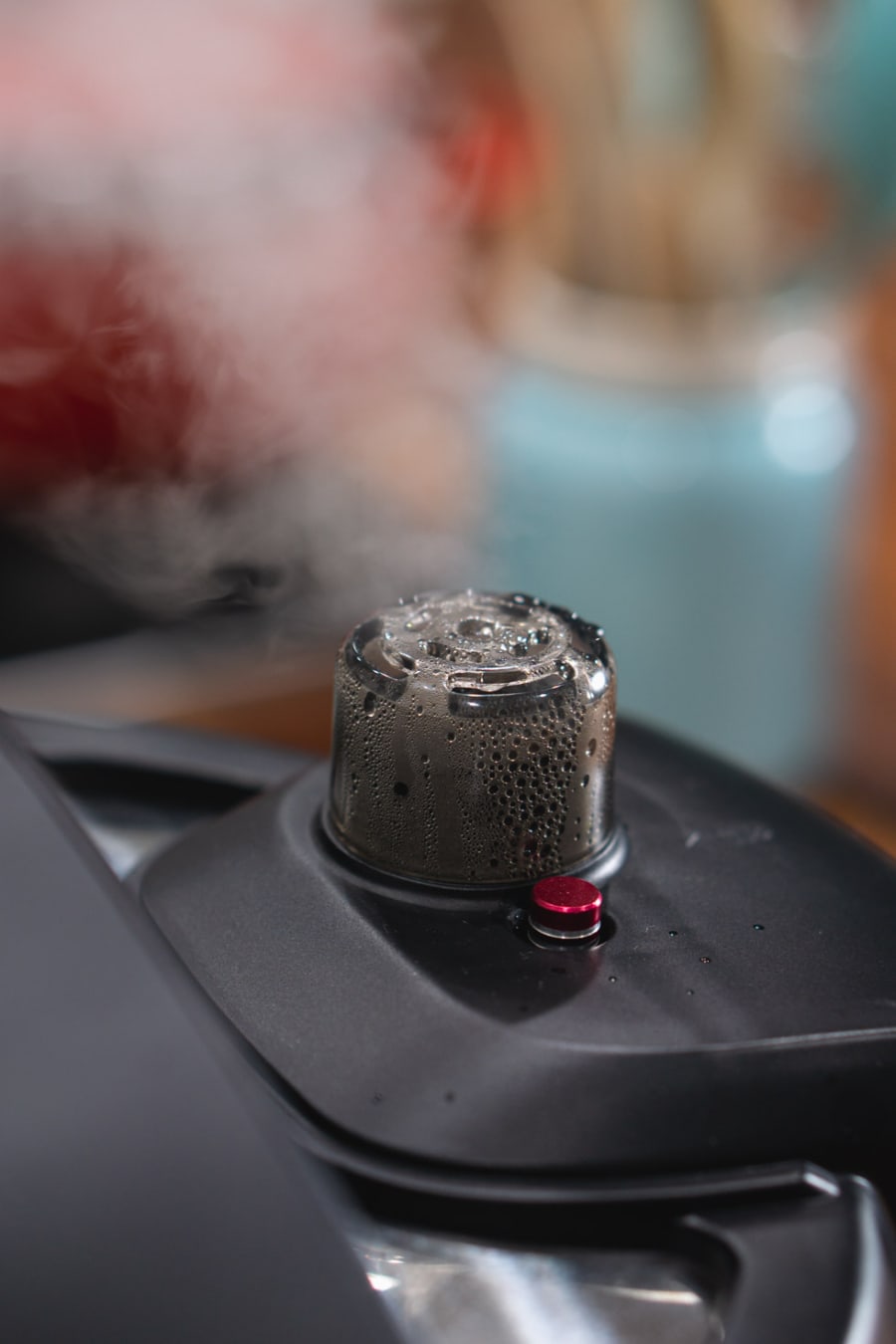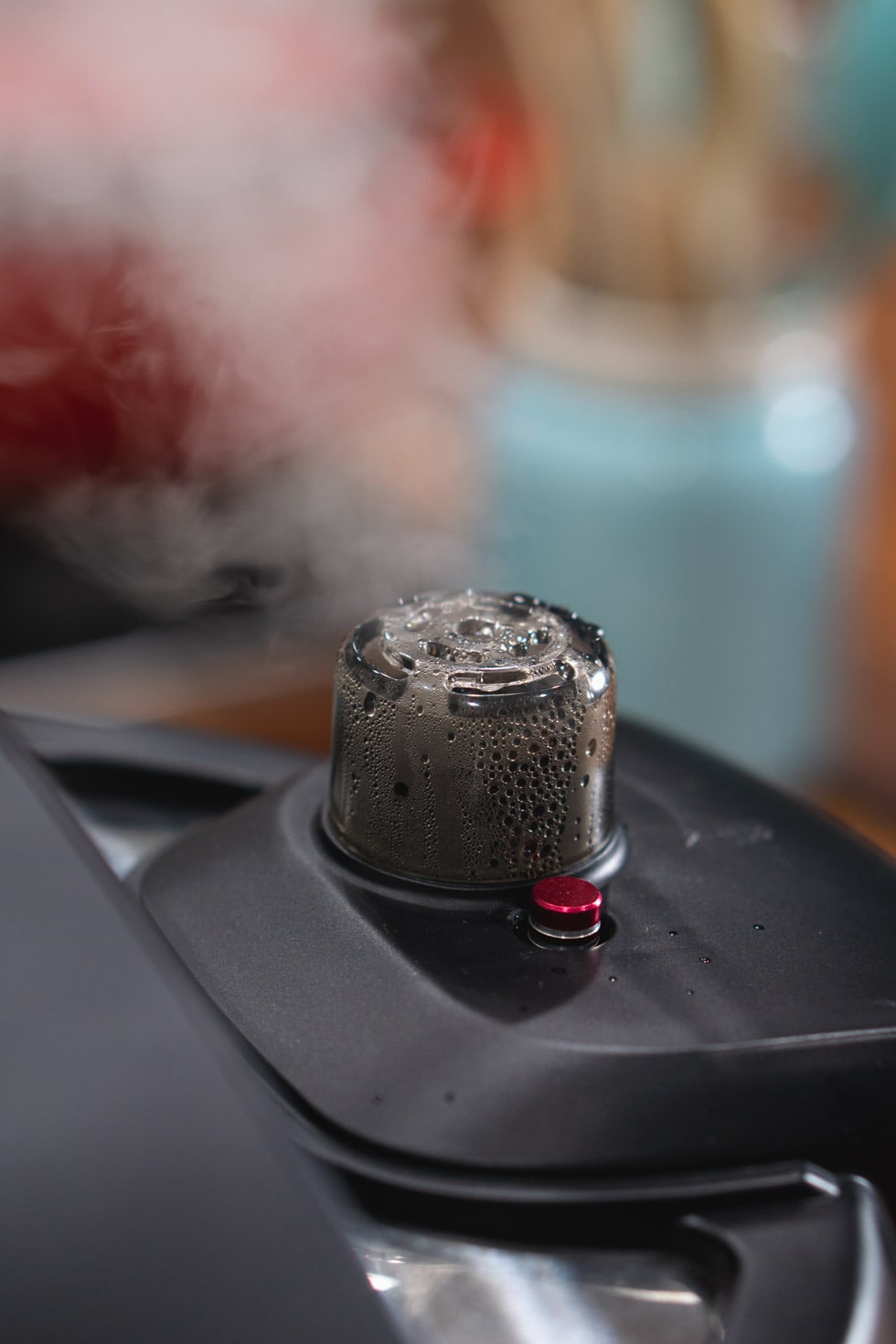 Once the pin has dropped, open your pot carefully. It may seem watery, but give everything a good stir and it'll be perfect. You can now add the parmesan cheese and stir it into the rice. Your risotto is now ready to be served and enjoyed!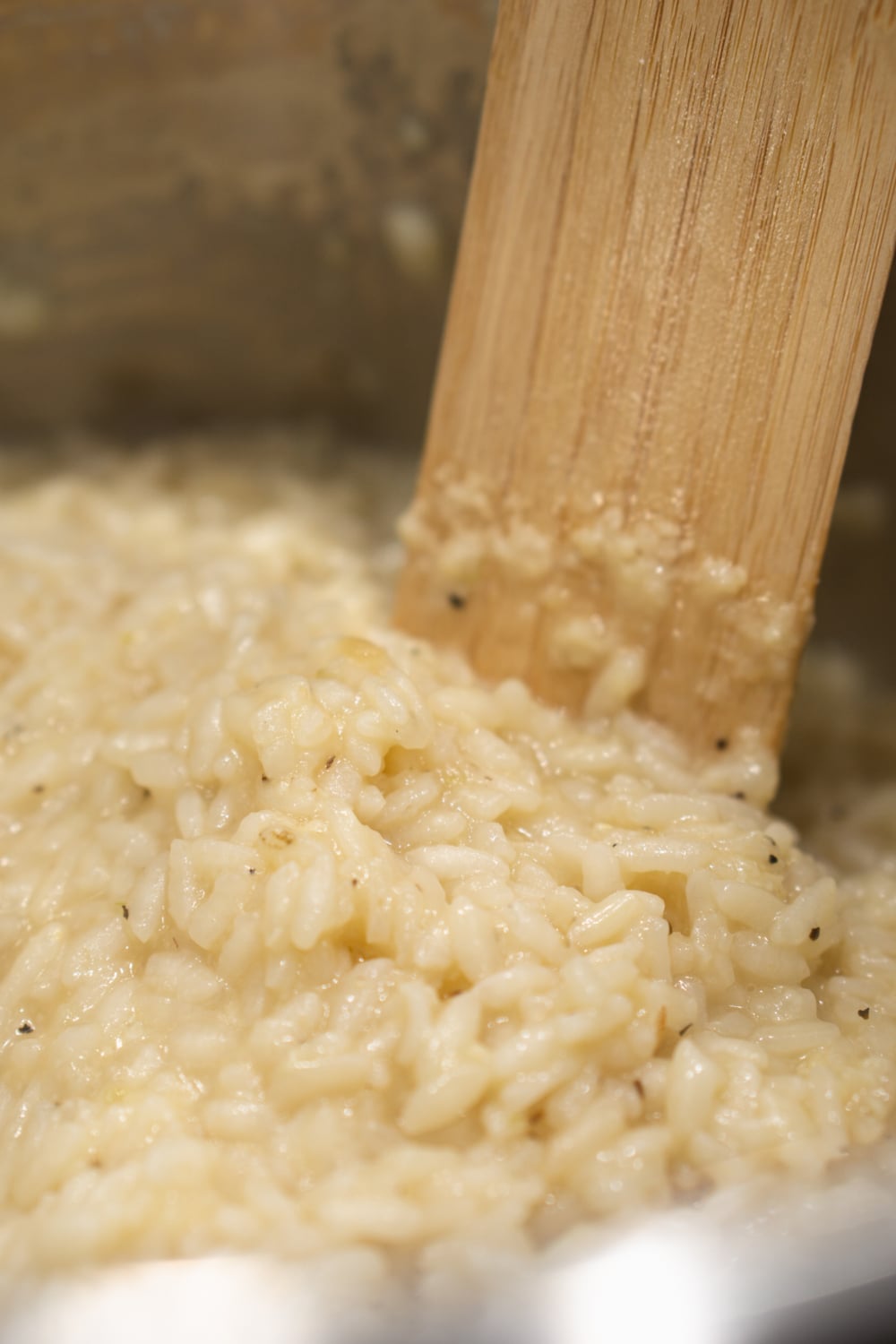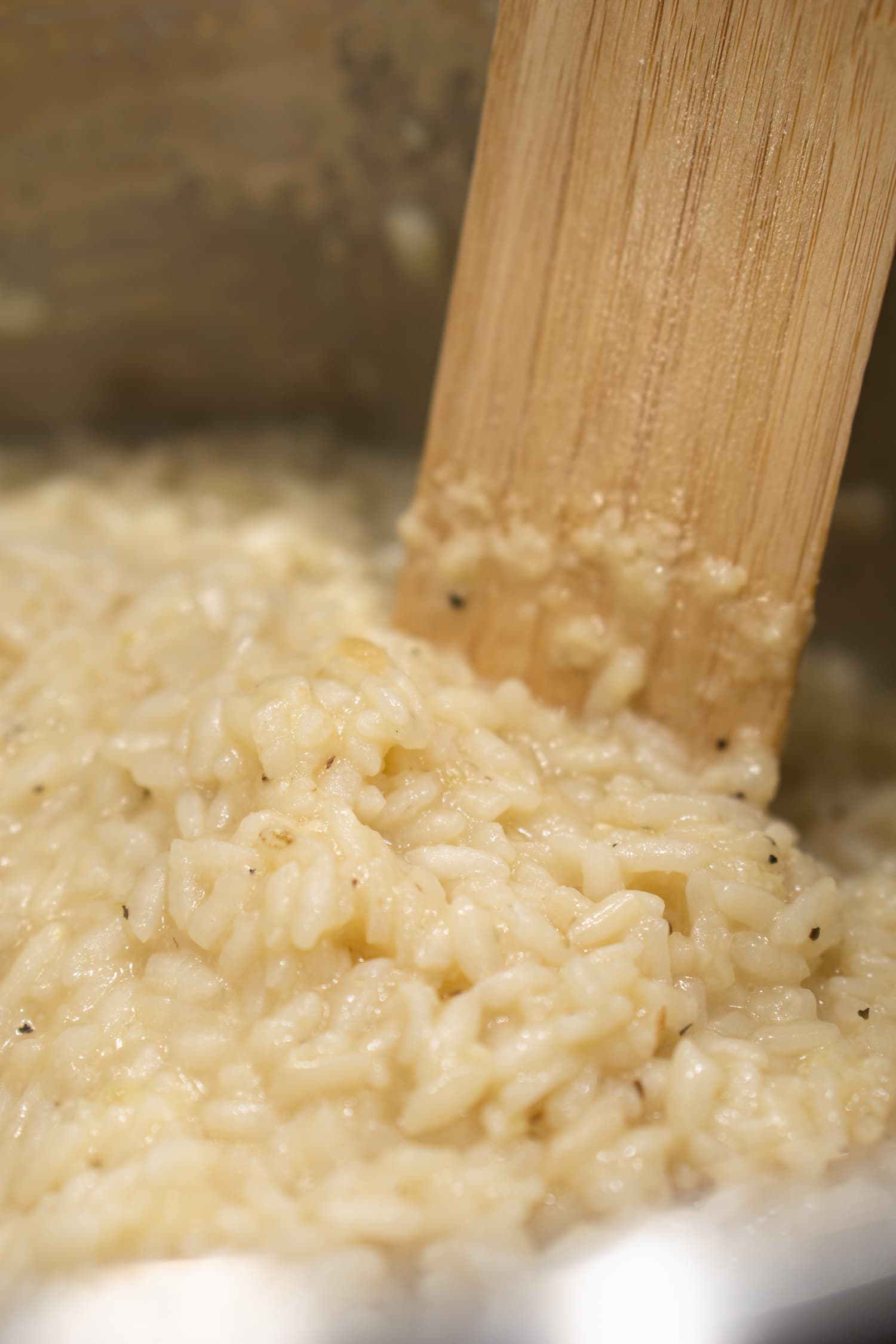 I know you will love this Instant Pot Parmesan Risotto as much as we do! It is so wonderfully creamy and the flavor is on point. Just looking at these photos is making me want to go make another batch in my Instant Pot.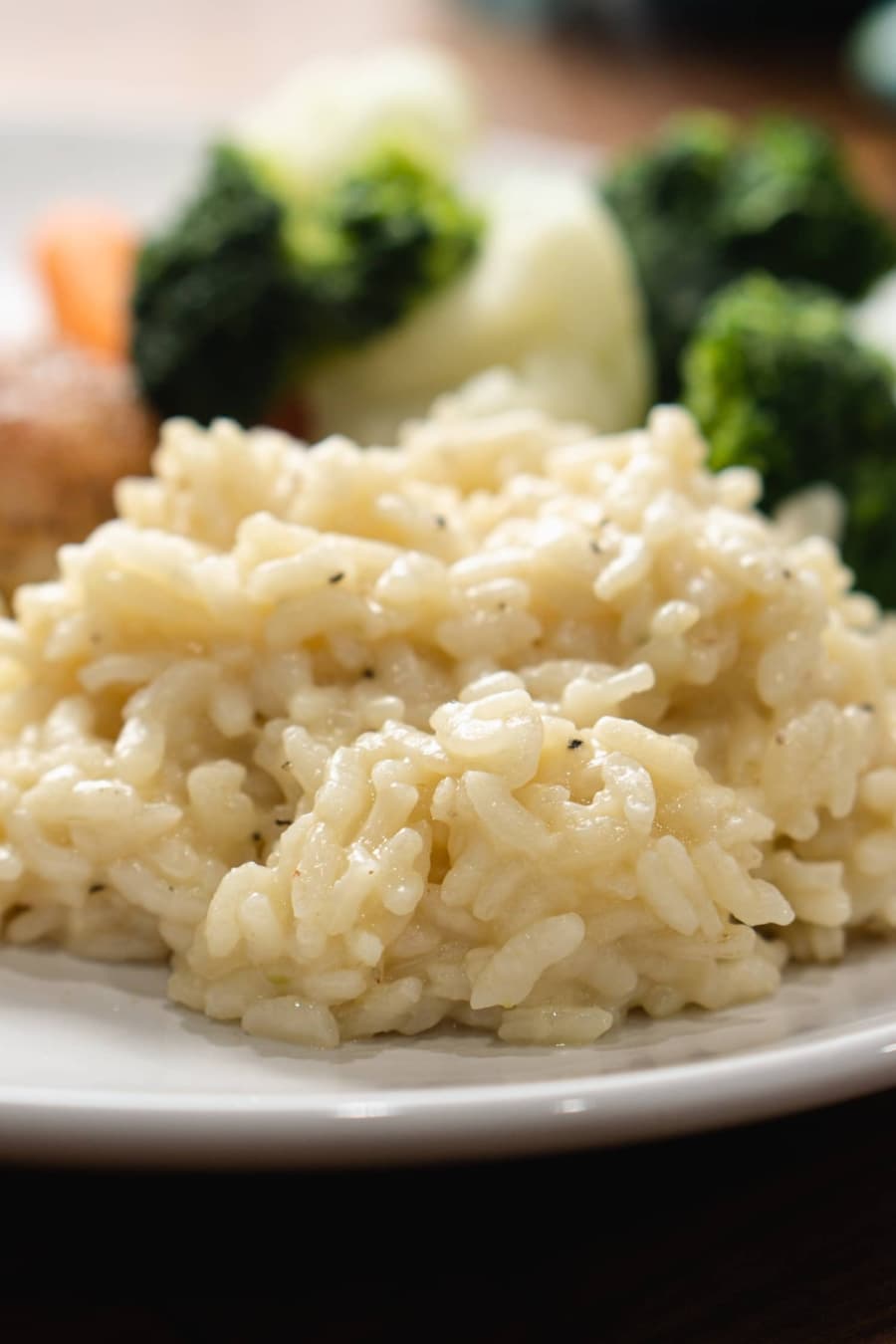 Did you make this Instant Pot Risotto? Let me know when you try this Risotto! I'd love to hear about it in the comments.
More Instant Pot rice recipes that you may enjoy:
Looking for even more rice recipes to make in the Instant Pot? If you want to make regular white rice in the pressure cooker, check out my recipe for Instant Pot Jasmine Rice. For a full list of all the pressure cooker rice recipes on this blog, make sure to check out my Instant Pot Rice Recipes post.
Have you tried Couscous in the Instant Pot? If you're looking for an alternative to rice, then try my Instant Pot Couscous and Ground Beef or Instant Pot Chicken & Couscous recipes. They're absolutely delicious!
Need more side dish ideas? If you need more ideas for delicious side dishes that you can make in your Instant Pot, check out my easy Instant Pot Side Dishes post.
Instant Pot Parmesan Risotto
CREAMY ARBORIO RICE WITH PARMESAN CHEESE
This creamy parmesan risotto makes a perfectly warm and comforting side dish to any meal. This quick and easy pressure cooker recipe will let you enjoy this wonderful side any time.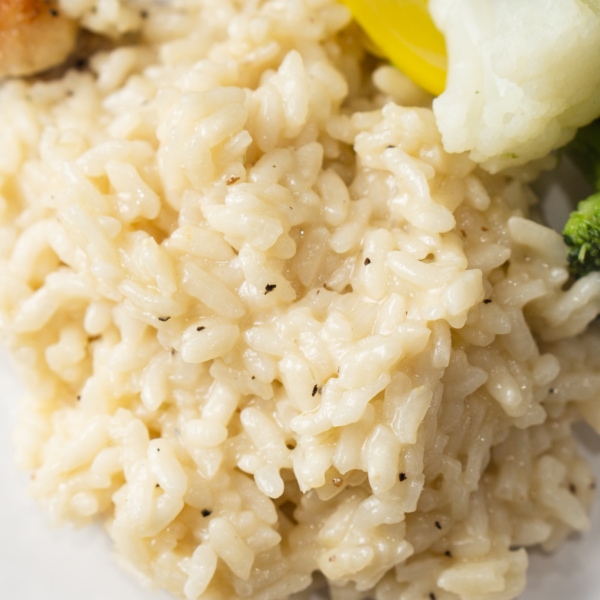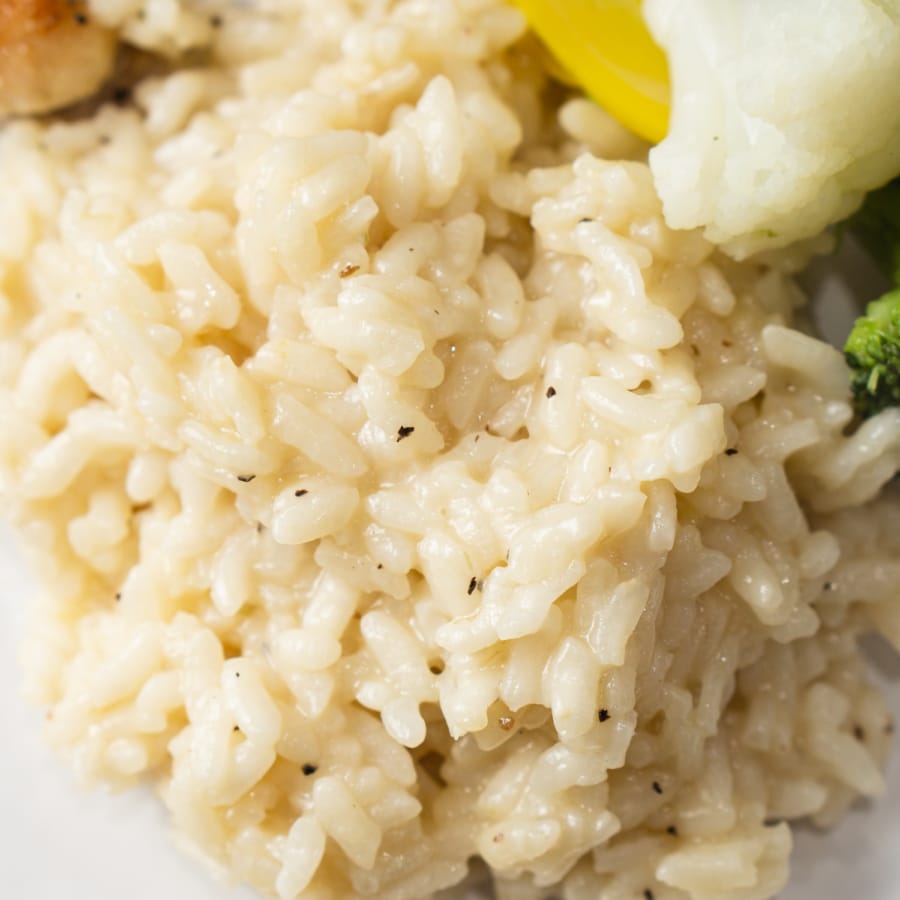 Instructions
Warm Oil & Butter: Turn your Instant Pot on 'Sauté' and adjust the heat level to 'Normal'. Once the digital display reads 'Hot', add the oil and butter to the pot. Allow the butter to melt.

Sauté Rice & Minced Onion: Add the rice and stir into the butter until it is fully coated. Add the minced onion and toss it with the rice. Allow the rice to continue sautéing for another minute or two, stirring constantly.

Deglaze With White Wine: Add the white wine to the pot and deglaze the bottom of the pot by scraping it with a wooden spoon. Make sure to scrape any bits that may be stuck to the bottom. Most of the wine will cook off while deglazing.

Add Stock & Spices: Add the 4 cups of stock and the remaining spices to the pot and mix everything well. Cancel out of the 'Sauté' function.

5-Minute Cook Time:: Close the lid and set the pot to 'Sealing'. Press the 'Pressure Cook' or 'Manual' button and cook on high for 5 minutes.

Quick Pressure Release: Once the cooking time has completed, perform a Quick Pressure Release by switching the pressure release valve from 'Sealing' to 'Venting'. Once the pin has dropped, open your pot.

Mix In Cheese: Give the rice a good stir and add the parmesan cheese. Stir the cheese into the rice until it melts in.

Serve immediately and enjoy!
Nutrition Facts
Calories: 249kcal | Carbohydrates: 41g | Protein: 8g | Fat: 6g | Saturated Fat: 3g | Cholesterol: 12mg | Sodium: 573mg | Potassium: 145mg | Fiber: 1g | Sugar: 1g | Vitamin A: 136IU | Calcium: 80mg | Iron: 2mg
Tips & Tricks
If using Better than Bouillon: Reduce the salt in the recipe 1 teaspoon. For the Better than Bouillon, mix 1½ tablespoons of Roasted Chicken Better than Bouillon into ½ a cup of warm water. Once the Bouillon has fully dissolved into the water, add the mixture to 3 ½ cups of water to yield 4 cups of stock.