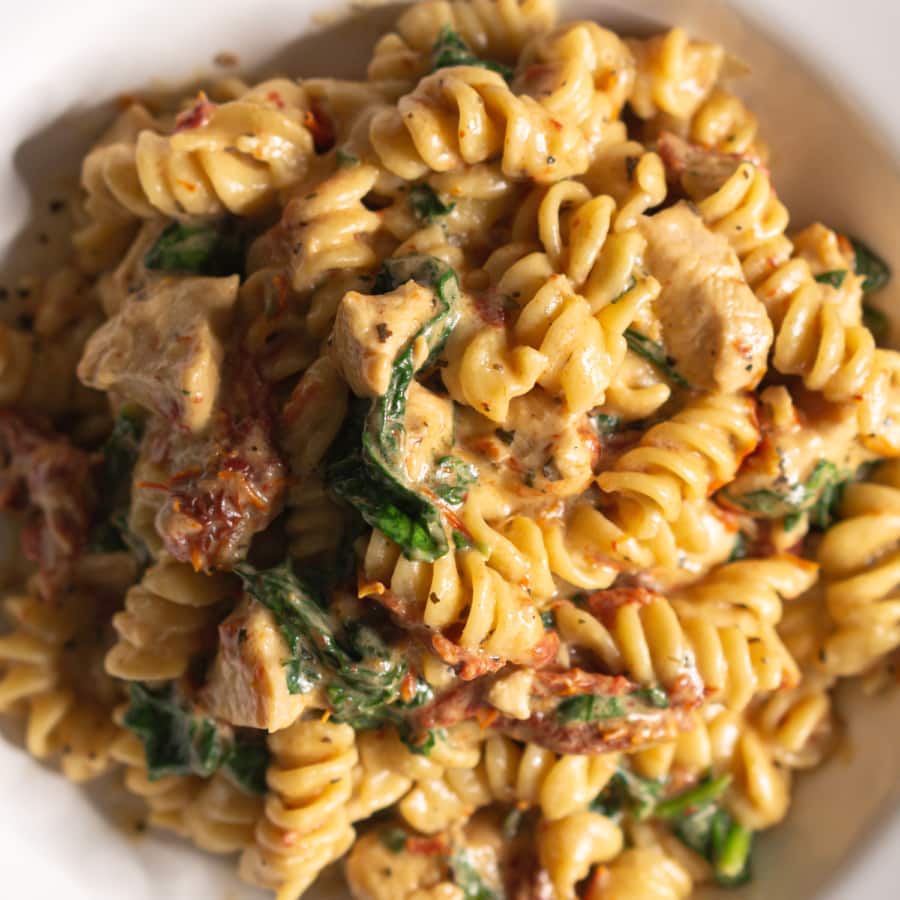 SAVE THIS RECIPE
This Instant Pot Tuscan Chicken Pasta recipe is so creamy and delicious, it is guaranteed to be a favorite in your home. By now, you should know I'm a sucker for creamy pasta. I love creating pasta recipes for my pressure cooker and my family loves me for it! This recipe is now my favorite pasta creation and I can't wait for you to try it.
This post contains affiliate links. For more information, see my disclosure.
So, if you're looking for an easy one-pot pasta dinner that uses simple ingredients, is ready in minutes, and will be a family favorite then this Instant Pot Tuscan Chicken Pasta is the one for you.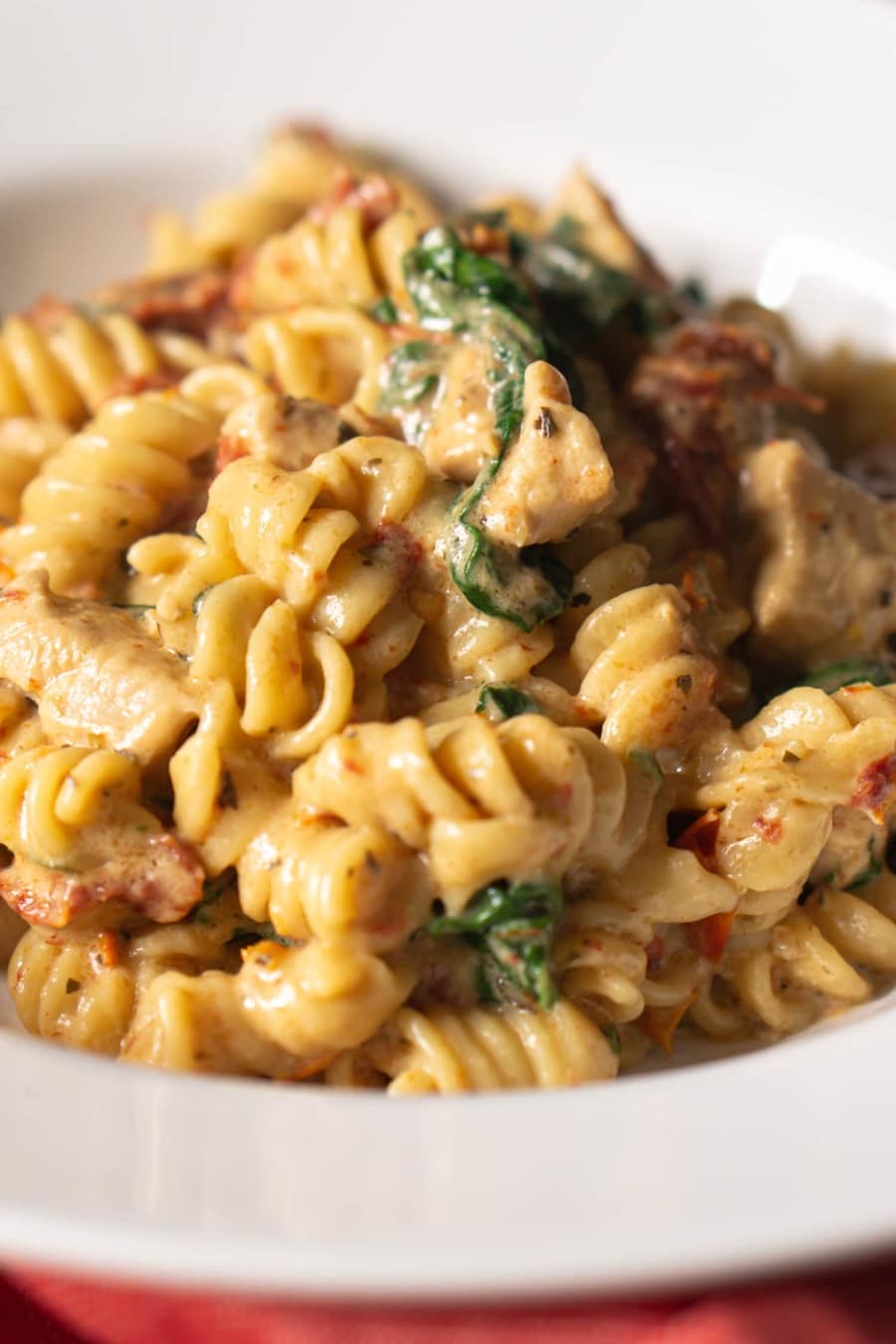 What Ingredients Do I Need for Tuscan Chicken Pasta?
This pasta recipe is quick, simple and so deliciously creamy. All the ingredients in this recipe are simple and you probably already have them in your kitchen. Below you will find the full list of ingredients.
Chicken Breast: For this Tuscan Chicken Pasta recipe, you'll need about 1.5 pounds of chicken breast, cubed into bite-sized pieces.
Rotini Pasta: You will need one pound of dry pasta, preferably Rotini. I used Barilla brand pasta for this recipe.
Sun-Dried Tomatoes: You'll need an 8.5 ounce jar of sun-dried tomatoes. You will be reserving the oil from the jar for cooking the chicken.
Raw Spinach: You will need 4 cups of rough cut raw spinach.
Cream Cheese: A full 8-ounce block of cream cheese will be needed. The cream cheese makes this pasta dish super creamy. I used Philadelphia brand cream cheese for this recipe.
Unsalted Chicken Stock: 4-cups of unsalted chicken stock are needed for this recipe. I like to use Kitchen Basics brand for my pasta recipes.
Grated Parmesan Cheese: You'll need 1 cup of grated parmesan cheese.
Spices: Finally, you'll need to gather some spices. You will need salt, pepper, Italian seasoning, red pepper flakes, onion powder, and garlic powder.
That's it! All pretty basic ingredients most of us have on hand.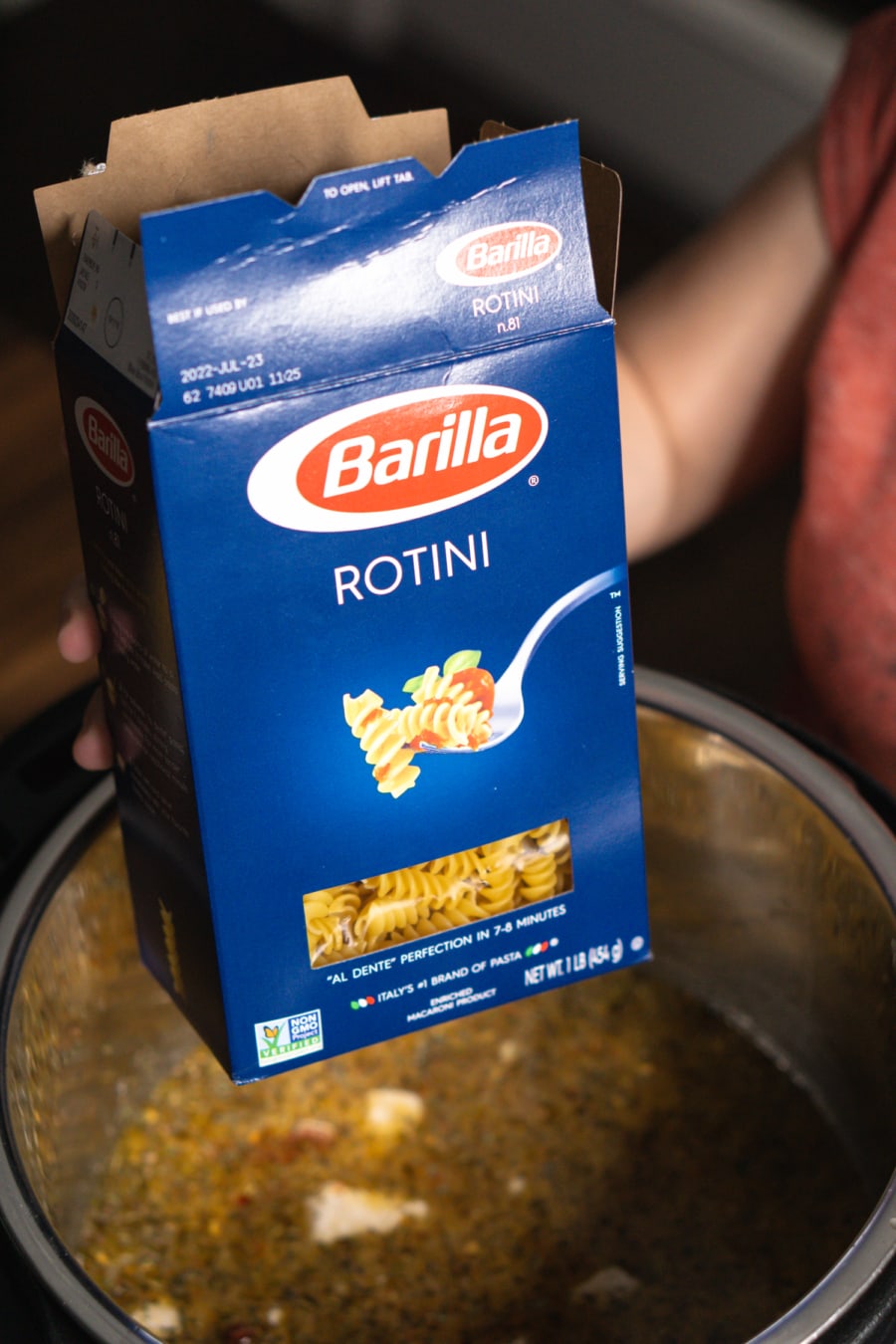 Substitutions for This Tuscan Chicken Pasta Recipe
I always get lots of questions about substituting items in recipes. Below are the questions that you're probably going to ask me so I've gone ahead and answered them for you. If you have any other questions, feel free to leave them in the comments.
Can I Use a Different Kind of Pasta?
I use Rotini for this recipe. You can use penne instead and there's no need to adjust the time. If you use another kind of pasta, you may need to adjust your cooking time a bit.
Can I Use an Onion and Garlic Cloves Instead of Onion and Garlic Powder?
I love saving time and that's why this recipe uses garlic and onion powder. I always have them on hand and I use them to save chopping time! If you want to use fresh onion and garlic, you certainly can.
You can use one medium-sized chopped onion and 2-4 garlic cloves. You would add the onion to the oil before the chicken. Sauté it until translucent, and then add the minced garlic and cook for another minute. After that, you'd add the chicken.
Can I Use Low-Fat Cream Cheese?
I would not recommend using low-fat cream cheese. The flavor and texture of the pasta dish will change completely and you won't get the delicious, creamy taste that makes this pasta so special. This is not a low-fat dish so you may as well add the regular cream cheese to it!
Do I Have to Add Spinach?
Spinach is one of those things that gets a bad rap from a lot of people. I'm guilty of it. I like to go around saying I don't like spinach, but the reality is I LOVE spinach artichoke dip, and I love any other dish I've ever tried with cooked spinach in it.
So if you really don't like spinach, then yes, by all means, leave it out. But if you're like me, then add the spinach! It gives it a nice texture and adds some richness to the flavor.
What if I Don't Like Sun-Dried Tomatoes?
I'm a big fan of sun-dried tomatoes but I get it that some people just don't like them. For this particular recipe, the sun-dried tomatoes are so important. They are one of the main flavors of the dish and substituting them would change the flavor entirely.
Sure, you can add some diced tomatoes instead, but it just won't be Tuscan Chicken Pasta.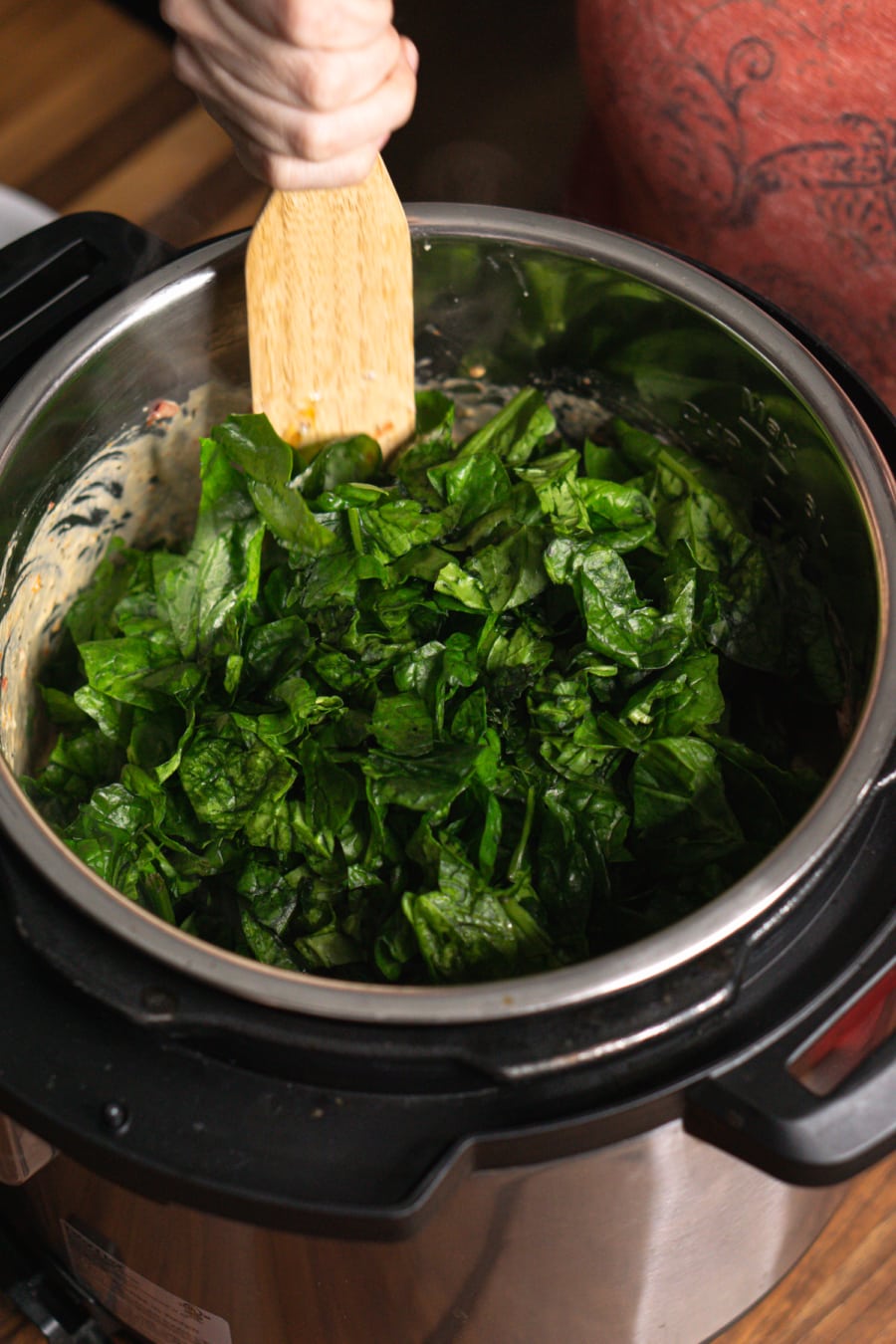 Essential Items
Here are some essential prep tools, utensils, and appliances I used to make this recipe.
Featured Items
Here is a list of the products featured in this post or products similar to those featured in this post:
23 Must-Have Electric Pressure Cooker Accessories
Make sure to check out my Ultimate List of Electric Pressure Cooker Accessories! I've included everything you could ever need to help make your pressure cooking quicker, easier, and even more convenient.
How to Make Tuscan Chicken Pasta in the Instant Pot
To help you make this Tuscan Chicken Pasta, I'm including a visual step-by-step of the process. In addition to laying out the entire process in detail, you will also find some extra tips and tricks to help you be successful. So, let's get started!
Step 1: Prepare the Ingredients
To prepare, you'll need to cube your chicken breast into bite-sized pieces. Chop the sun-dried tomatoes and reserve the oil in a separate bowl. You'll also need to rough cut the spinach.
Step 2: Sauté the Chicken
Next, set the pot to 'Sauté' and, using the 'Adjust' button, set the heat level to 'More'. Once the pot reads 'Hot', add the reserved oil from the sun-dried tomatoes to the pot and allow it to heat up.
You will now sauté the cubed chicken until it is white on the outside. Make sure it's fully coated in the oil.
Step 4: Add the Chicken Stock
Step 5: Add the Sun-Dried Tomatoes and Spices
Now you will add the sun-dried tomatoes and all the dry spices. Give everything a good stir.
Step 6: Add the Pasta
Finally, add the pasta and simply push it down with a spoon to cover most of it with liquid.
Step 7: Cook the Pasta
Close your lid and set the pot to 'Sealing'. Cook on 'High Pressure', 'Manual' or 'Pressure Cook' for 4 minutes. When the cooking time is done, you need to allow for a 2-minute Natural Pressure Release. After that, release the rest of the pressure manually and when the pin drops, you can open the lid.
Step 8: Add the Remaining Ingredients
Once you've opened the pot, stir everything together really well so all the pasta that's stuck together comes apart.
Add the cream cheese and parmesan cheese and mix it well until fully melted into the pasta.
Once all the cheese is melted and integrated, add the spinach. Mix and mix until the spinach wilts.
Time To Enjoy a Plate of Tuscan Pasta!
You are now ready to serve and enjoy this amazing Tuscan Chicken Pasta! It's one of the most popular pasta recipes on the blog and I know you will love it.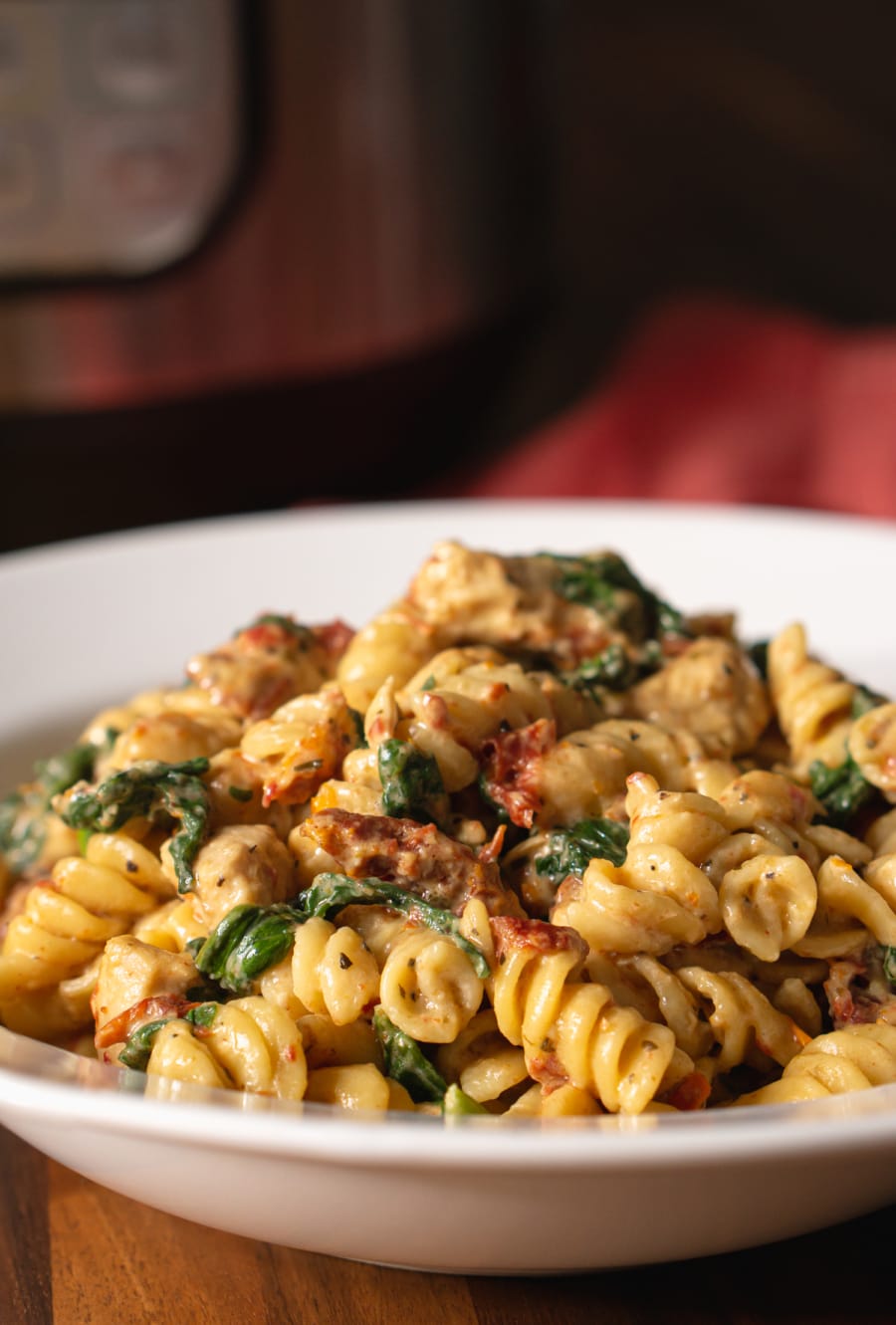 I know you will absolutely love this Instant Pot Tuscan Chicken Pasta recipe as much as we do! Please let me know in the comments when you try it! If you loved this recipe, I bet you'll love my Instant Pot Chicken Tetrazzini.
Instant Pot Tuscan Chicken Pasta
ROTINI PASTA, BITE-SIZED CHICKEN, SUN-DRIED TOMATOES, AND SPINACH IN A CREAMY SAUCE
This creamy one-pot pasta dish is absolutely perfect! Simple ingredients, quick to make, and the flavor is on point. You'll be whisked away to the Tuscan countryside with each bite.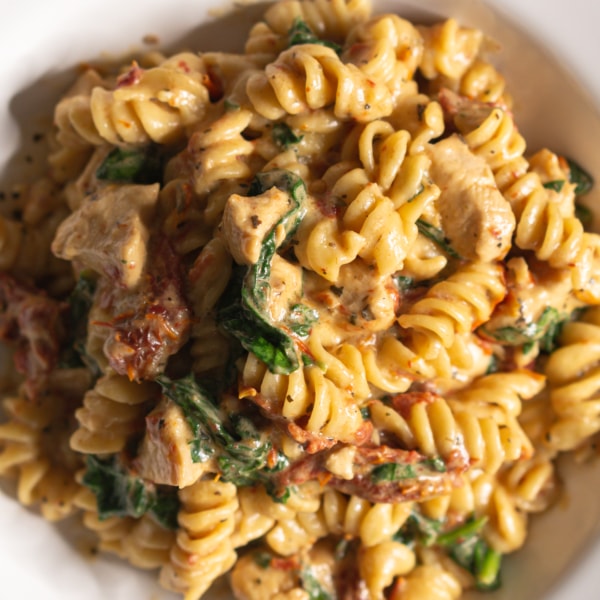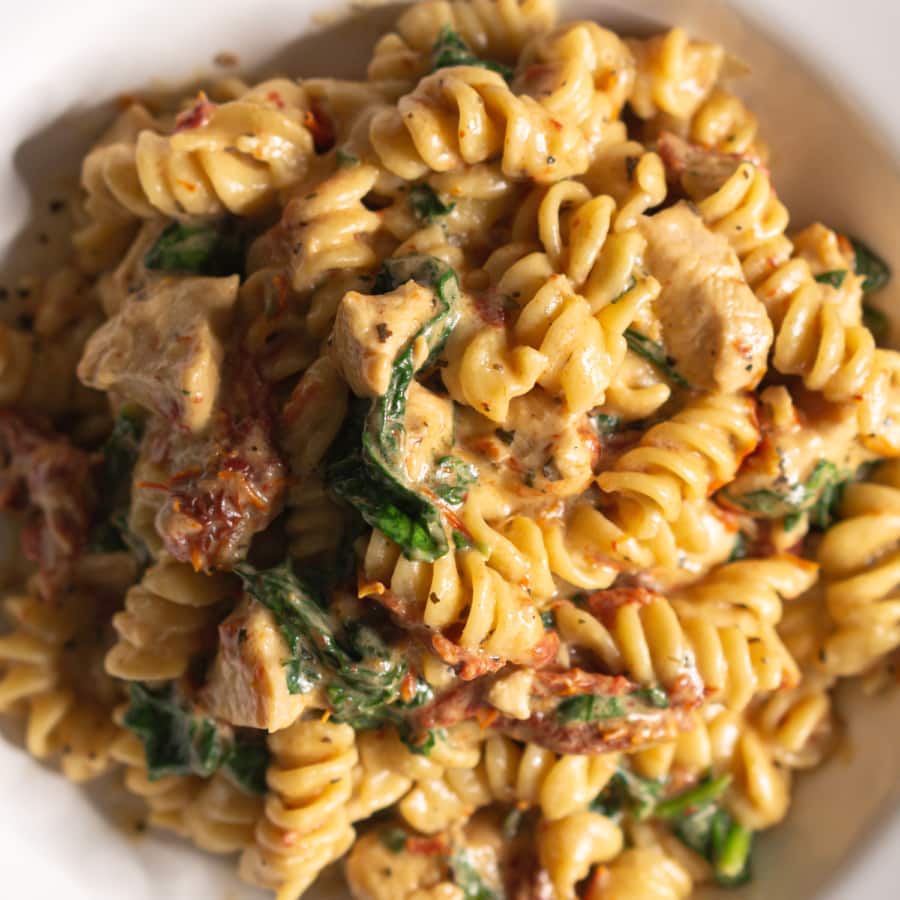 Instructions
prepare the Chicken & Pasta
Set to Sauté: Set the Instant Pot to 'Sauté', use the 'Adjust' button to set the heat level to 'More', and allow the pot to heat up.

Cook the Chicken: As soon as the digital display reads 'Hot', add reserved oil from the sun-dried tomatoes to the pot. Allow the oil to heat up for a few minutes and then add the chicken and cook until cooked white on the outside. About 5 minutes.

Cancel Sauté: Cancel out of the Sauté function.

Add Stock & Deglaze: Add the chicken stock to the pot and deglaze the bottom of the pot to remove any stuck on bits.

Add Tomatoes & Spices: Add the sun-dried tomatoes and spices (Italian seasoning, onion powder, salt, garlic powder, red pepper flakes, and pepper) to the pot and give everything a good stir.

Add Pasta: Add the pasta to the pot and, using a large spoon or spatula, push the pasta down into the stock.
set the Cook Time
4-Minute Cook Time: Close the Instant Pot and set the pressure release valve to 'Sealing' and then set the pot to cook on 'Manual' or 'Pressure Cook', 'High Pressure' for 4 minutes.

2-Minute NPR: Once the cooking time has completed, allow for a 2 minute NPR (natural pressure release). Release any remaining pressure after the 2-minute NPR has completed.
add the Remaining Ingredients
Add Cream Cheese & Parmesan: Open the pot and mix the chicken and pasta well. Next, add the cream cheese and parmesan cheese and mix it into the pasta until melted.

Add Spinach: Finally, mix in the spinach until wilted.

Serve and enjoy!
Nutrition Facts
Calories: 746kcal | Carbohydrates: 84g | Protein: 52g | Fat: 24g | Saturated Fat: 12g | Cholesterol: 129mg | Sodium: 1254mg | Potassium: 2221mg | Fiber: 8g | Sugar: 18g | Vitamin A: 2954IU | Vitamin C: 22mg | Calcium: 329mg | Iron: 6mg