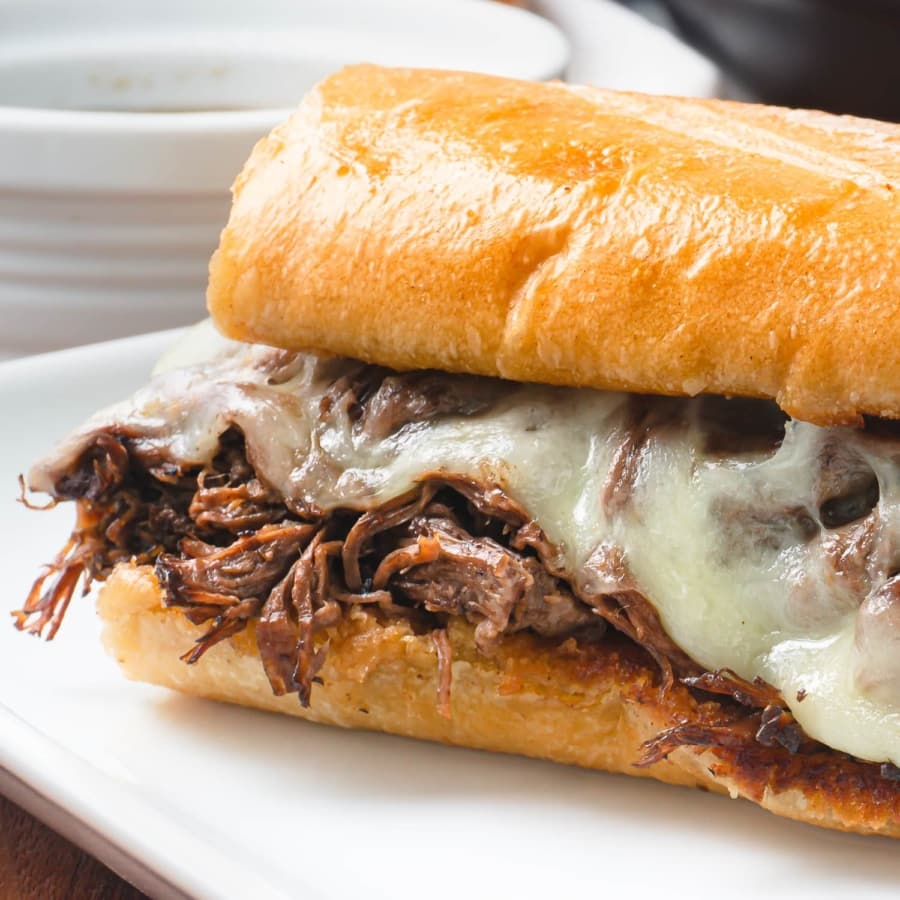 SAVE THIS RECIPE
When my husband Ryan first made French Dip Sandwiches in the Instant Pot, it was love at first taste for every single one of us. We all know that Ryan is the genius in our kitchen, and this time, he truly outdid himself. I didn't even realize I could make French Dip in the pressure cooker until he came up with this amazing recipe.
This post contains affiliate links. For more information, see my disclosure.
We have been enjoying these French Dip Sandwiches for several years now, and every time, when he is cooking the roast in the Instant Pot, there is an amazing aroma that fills the house. The scent of the savory chuck roast cooking in the pot leaves us all salivating, waiting impatiently for the countdown on the Instant Pot to finish.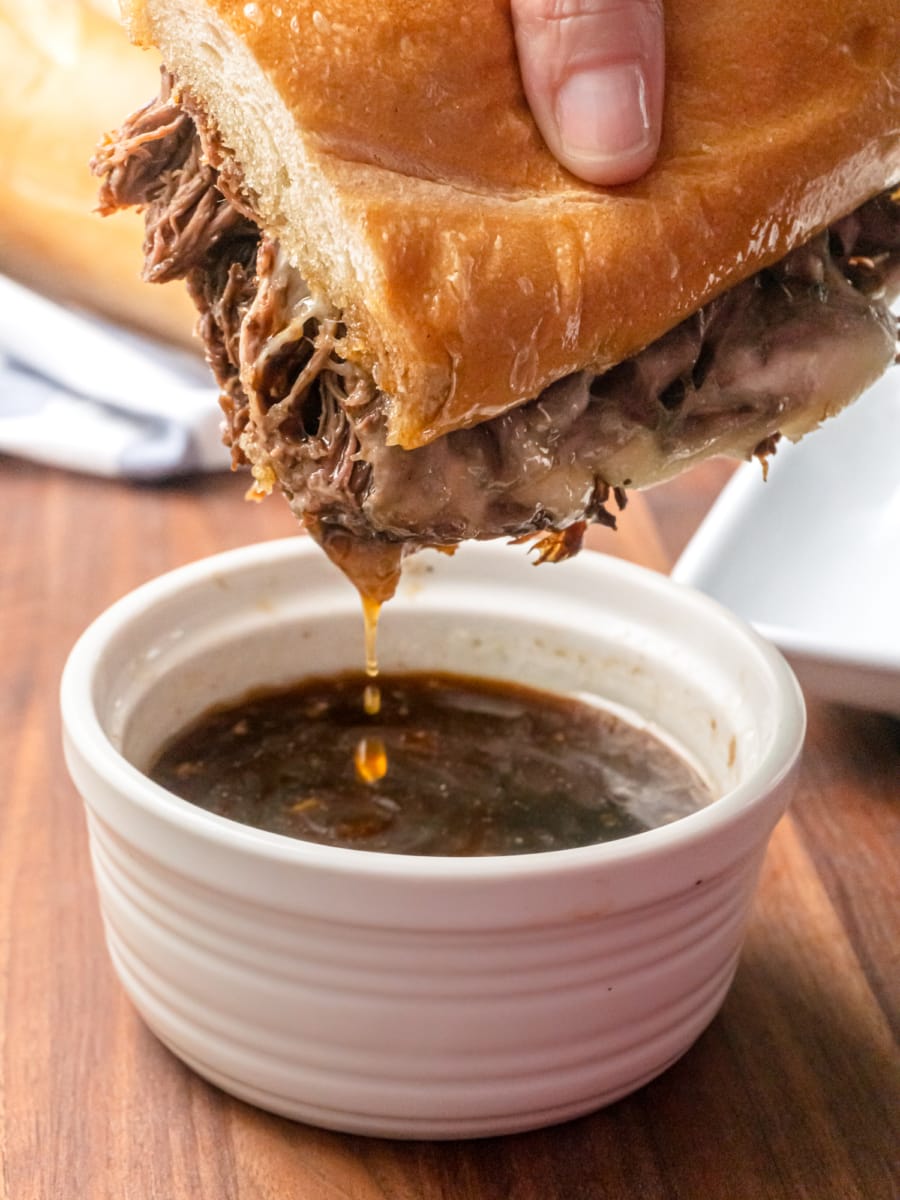 But, somehow, time seems to stand still, making our hunger and craving for these phenomenal sandwiches build ever larger.
As soon as the kids smell it, they literally jump for joy! I'm not even exaggerating! I swear my son Phillip sits there and eats it with his eyes closed, enjoying every single last bite. Seeing my kids enjoy this meal so much makes me so happy that I got my Instant Pot.
Review
"I ran across your recipe and was comparing to a number of different French dip recipes. I ultimately decided to try your recipe, and I am so glad I did!!! This was absolutely amazing. The meat was perfect and tender and the au jus tasted as good as I have had in very nice restaurants." – David G
What's the Best Cut of Meat for Instant Pot French Dip Sandwiches?
Since we have a large family, a premium roast is out of the question. We certainly didn't want to use up our entire grocery budget on a single meal! We wanted a cut of meat that was both economical, flavorful, and tender. So, we decided on chuck roast. You'll find some French Dip recipes using costlier cuts of meat like beef brisket or prime rib roast, but I believe chuck roast is the way to go.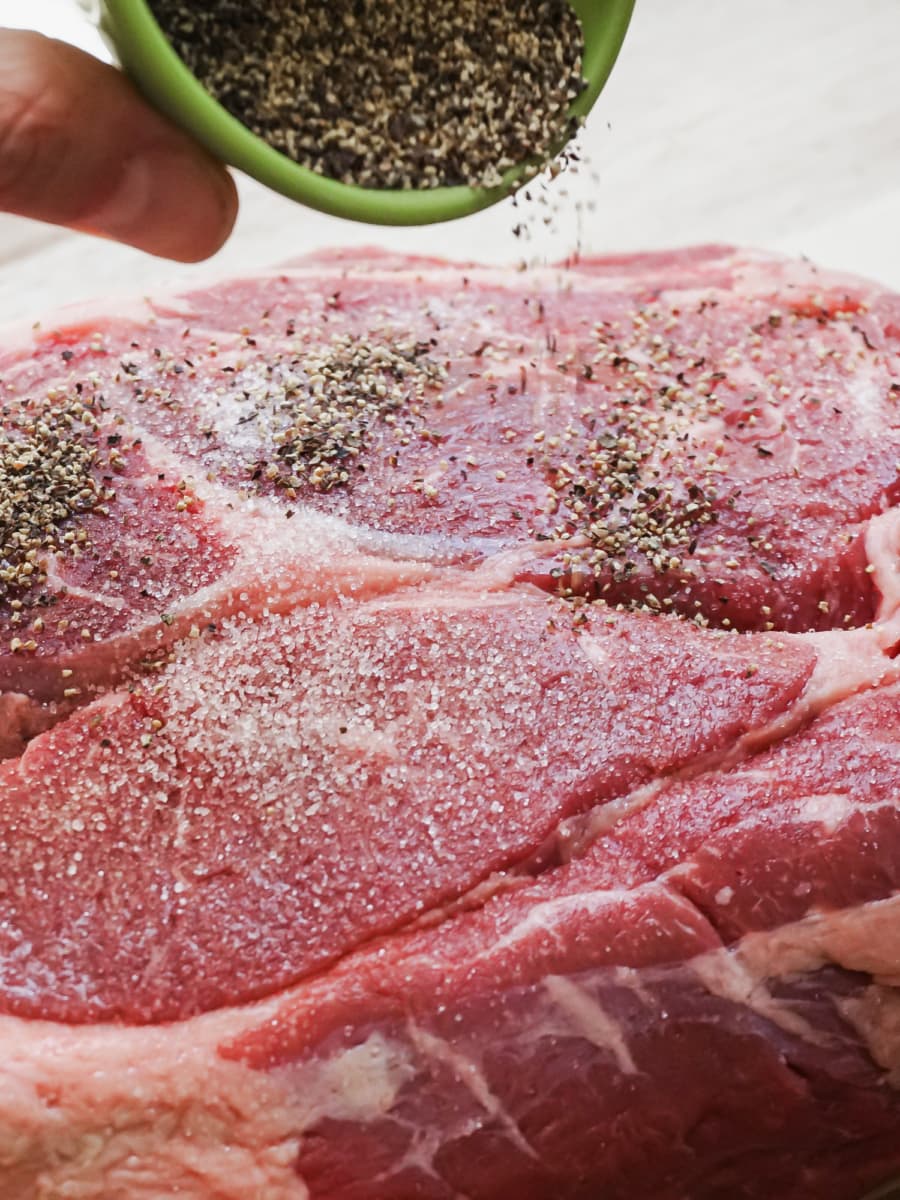 We found the chuck roast to be very rich and flavorful, but the only problem with chuck roast is that it is a tough cut of beef. Well, thanks to the magic of the Instant Pot, this chuck roast will come out so tender that you won't even be able to remove it from the pot without it falling apart. The rich flavor and juiciness are absolutely heavenly.
Do I Really Have to Cook the Roast For 100 Minutes?
I can't stress this enough, YES! Yes, you should cook it for 100 minutes. I see so many disappointed posts online about people who cooked theirs for less time and the meat was tough. Since the meat is tough, people assume they overcooked it. The actual answer is quite the contrary.
A chuck roast is the type of meat that needs to be "cooked to death". The Instant Pot has allowed us to cook it faster, but it still needs a lot of time in there to be fall-apart tender. The longer it's in there, the more tender it will be. We found the perfect time to be 100 minutes plus a 25-minute natural pressure release.
Can I Double The Chuck Roast In This Recipe?
Yes, you can double the amount of chuck roast used in this recipe. This recipe calls for a 3-pound chuck roast. If you want to double the recipe, just season another 2 ½ to 3-pound roast with salt, pepper, and garlic powder and add it to the pot. There is no need to make adjustments to any of the other ingredients or change the cooking time. Just add the two seasoned roasts and follow the rest of the recipe as written.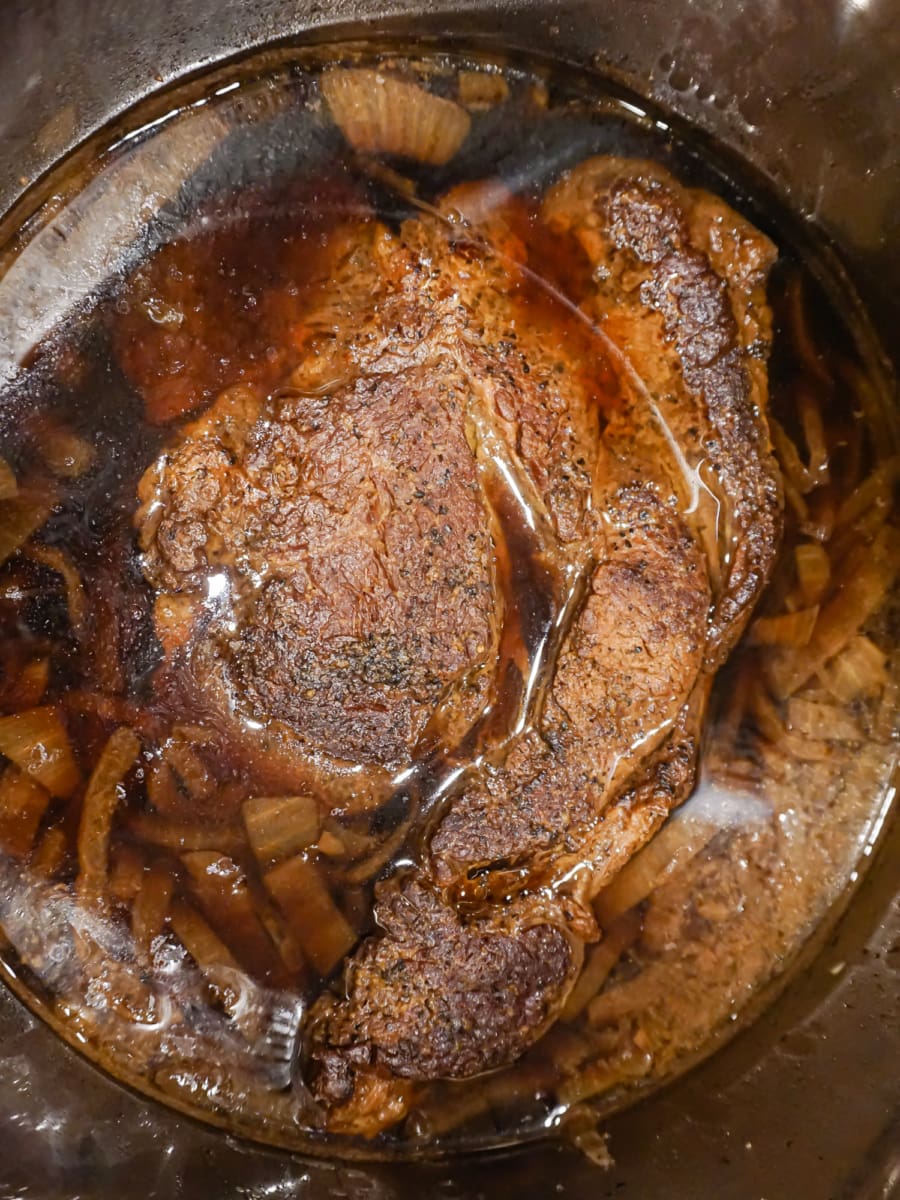 Tip
When Adding A Second Roast
When doubling this recipe and adding a second roast, make sure that any single roast is not larger than about 3 pounds or they might not cook properly.
What Ingredients Do I Need for Instant Pot French Dip?
You'll need only a few basic ingredients to make the most delicious pressure cooker French Dip Sandwiches you'll ever try! I have had people say this recipe is better than any French Dip Sandwich they've had, even at restaurants. You won't believe how easy and delicious it is to make your own at home!
Here's a complete rundown of exactly what you'll need:
Vegetable Oil
Chuck Roast: You'll want a 2 ½ to 3-pound chuck roast. If you want to double the recipe, just add another 2 ½ to 3-pound chuck roast to the pot. Just make sure that any single roast is not larger than about 3 pounds or it might not cook properly. Oh, and there's no need to double the liquid or adjust the cooking time.
Kosher Salt
Ground Black Pepper
Garlic Powder
Yellow Onion: You will need to thinly slice a whole onion for this recipe.
Sweet Red Wine: I prefer Llano Sweet Red but any sweet red wine will work.
Soy Sauce: Soy sauce adds that extra umami punch to any beefy recipe. We usually always have a large bottle of Kikkoman in our spice cabinet because we love using it to boost the flavor of any beef recipe.
Unsalted Beef Stock: This recipe already calls for seasoning the roast with salt. It also has soy sauce in it. With that, this recipe is super flavorful with the perfect saltiness. Since I don't want to go overboard with the sodium, I use unsalted beef stock. I use the Unsalted Beef Stock from Kitchen Basics or Swanson.
Bay Leaf
French Bread: Our preferred bread is crusty French Bread.
Butter: I like to spread butter on the slices of bread and toast them before making our sandwiches.
Provolone Cheese: Provolone is our preferred cheese on these sandwiches because it melts so well and the mild flavor doesn't compete with the wonderfully beefy flavor of the chuck roast and au jus.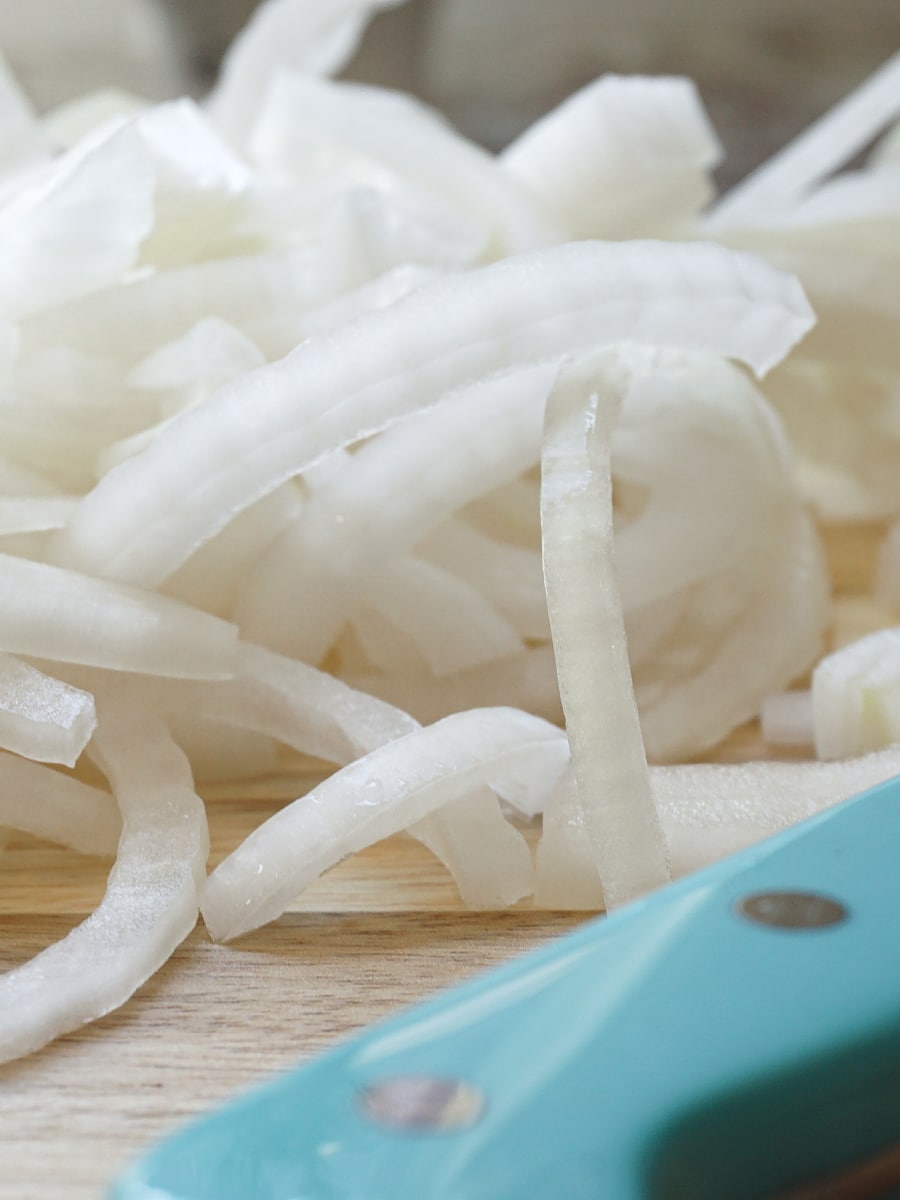 Essential Items
Here are some essential prep tools, utensils, and appliances I used to make this recipe.
Featured Items
Here is a list of the products featured in this post or products similar to those featured in this post:
12 Must-Have Instant Pot Cookbooks
If you're looking for a cookbook with easy and reliable Instant Pot recipes, then check out my list of approved Instant Pot Cookbooks.
Substitutions for This French Dip Recipe
I always get questions about substituting ingredients in my recipes. Below are the questions you're probably going to ask me, so I've answered them for you here. If you have questions I haven't listed below, please leave them in the comments section at the bottom of this post.
What Can I Use Instead of Wine?
If you need to sub the wine for any reason, you can use grape juice instead. We've made this French Dip recipe with grape juice before when we forget to buy the wine, and our supermarket won't let us buy it on a Sunday morning! That being said, even if you use wine, it's safe for the kids to eat. I'm allergic to alcohol and I have no problem eating these Pressure Cooker French Dip Sandwiches.
Can I Use a Different Kind of Bread?
If you can't get a hold of some crusty French Bread, there are several other options you can use. I've made these sandwiches on all types of bread including large soft rolls, Ciabatta rolls, Kaiser Rolls, and even regular white bread slices. It's great on all of them!
Can I Use Another Type of Cheese?
If you can't find provolone cheese for your French Dip sandwiches, Swiss cheese makes a great substitution. Another good option is Muenster cheese. Whatever you choose, you'll want to use a melty, mild cheese that doesn't compete with the amazing flavor of the meat.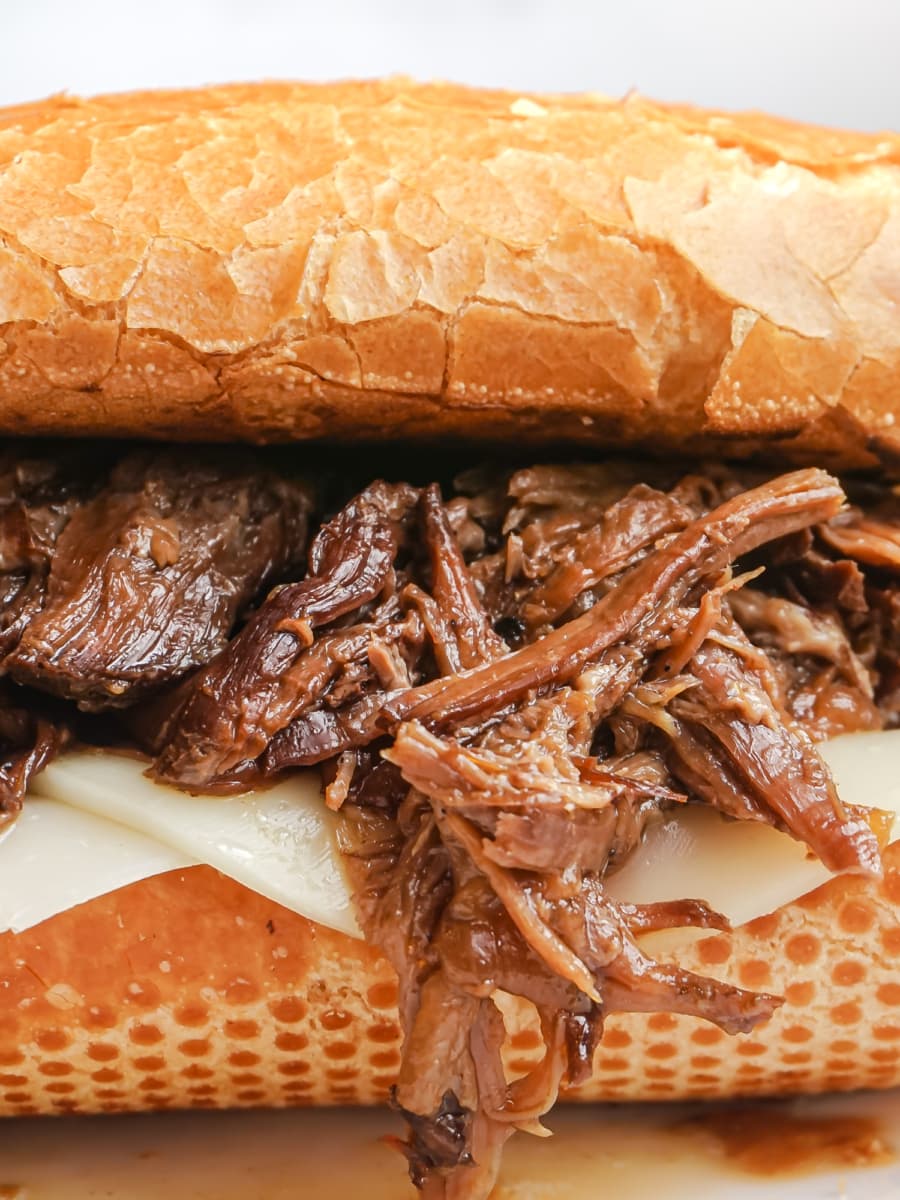 Review
"My FIRST recipe in my new Instant Pot!! This French Dip recipe was simply AH-MAZING!!! 5-Star for sure!! Easy to follow and you made me look so good to my family – will make again (it's now on our favorites list!) I will even make this for company!! Thank you!!!!" – Sue
How to Make French Dip Sandwiches (Step-By-Step)
Making a perfectly cooked roast for french dip sandwiches is actually quite simple with the help of the Instant Pot. Just follow these easy steps and you'll be enjoying the most extraordinarily delicious French Dip sandwiches, with minimal effort.
Step 1: Gather The Ingredients
Now is the time to prep and measure out your ingredients. Like I mentioned above, this recipe requires very simple ingredients. I'm sure you'll already have most of them in your pantry and refrigerator. Refer to the recipe card for the full list of ingredients.
Step 2: Season the Roast
Start by seasoning the chuck roast. We usually try to get a 3 lb roast. The only thing you need to season it is salt, pepper, and garlic powder. Sprinkle the spices on the meat, and rub them all in, making sure to get an even coat on both sides.
Step 3: Sear the Roast
It's important to sear the meat because it helps develop a rich meaty flavor and makes for a much better tasting roast. So, please don't skip this step. It'll make all the difference.
Prepare the pot to sauté.
Turn your Instant Pot to 'Sauté' and, using the 'Adjust' button, set the heat level to 'More'. Wait for a few minutes to make sure the pot gets nice and hot. Once the digital display reads 'Hot', your pot is ready.
Add the oil to the pot.
Once the pot is hot, add the vegetable oil and allow it to get hot. This takes about 30 seconds.
Place the roast in the pot.
Once the oil is hot, it's time to add the chuck roast to the pot. Using a pair of tongs, place the roast in the pot with the fattiest side down. You'll want to get it nice and brown on both sides. So, let it sit undisturbed cooking on one side for at least 5 minutes and up to 10 minutes. I usually let it sit longer on each side to make sure it has a really nice sear.
Step 4: Slice an Onion
While your roast is browning, you can take the time to slice the onion into thin strips.
Step 5: Turn the Roast
Once the first side has finished searing, grab the tongs and flip the roast onto the other side and let it sit for another 5 to 10 minutes.
I like to sear the roast for a few minutes on its edges as well. So, after both sides of the roast have a nice sear on them, make sure to get the edges too by propping the roast up in the pot so that it sits on one of its edges. Rotate the roast so that you get a nice sear on each edge.
Step 6: Remove the Roast
When the roast is browned on all sides, you can remove it from the pot and set it on a cutting board until it's ready to go back in the pot. When it's finished searing, the roast should look like this:
Step 7: Cook the Onions
Now, don't be tempted to clean your pot. Don't scrape the good stuff from the bottom. Just place your onion slices in there, and move them around until they get a nice, golden color to them. The good stuff at the bottom will start to come off as you mix the onions and add your liquids.
Continue to the sauté the onions until they are soft and start to turn a golden color. This will take about 10 to 12 minutes.
Step 8: Prepare the Au Jus
Once the onions are soft and just starting to caramelize, you can start adding the liquids that will serve as the base for the most delicious au jus. The au jus is the liquid that is served with the sandwiches and used for dipping.
Add the wine.
First, add the wine. No worries, most of the alcohol cooks out of it, so it's safe for the kiddos! Ryan likes to use a sweet red table wine. He uses a local Texas brand called Llano.
Reduce the wine and deglaze the pot.
Mix the wine with the onions, and let the wine stay on the heat until it reduces to about half. While the wine is reducing, deglaze the bottom of the pot with a wooden or silicone spatula. This takes approximately 2 minutes in a very hot pot. The onions should end up looking like the ones below.
Add the soy sauce and beef stock.
Next, pour the soy sauce and beef stock into the Instant Pot. If there are still any stuck-on bits in the pot's bottom, try to scrape them off as much as you can.
Step 9: Cook the Roast
Finally, add the roast back into the pot, and don't forget to add the bay leaf (I forget about half of the time). Then cancel the 'Sauté' function on the pot.
Set the cooking time.
Close your Instant Pot and set it on 'Manual', 'High Pressure' for 100 minutes. Enjoy the mouthwatering aromas that will fill your home while the roast cooks.
Perform a 25-minute natural pressure release.
Once the pot beeps and it's done pressure cooking, allow it to do a 25-minute natural pressure release (NPR). After 25 minutes, release any steam left in the pot and when the pin drops, open it and be amazed at the beauty!
Step 10: A Tender, Juicy, Flavorful Roast
We don't attempt to take the whole roast out of the pot since it is fall-apart tender. We use some tongs to take out a small piece at a time and shred it for the sandwiches.
Step 11: Build the Perfect French Dip Sandwich
When the meat is ready, it's time to start making sandwiches. It won't be long before you're enjoying one of these amazing French Dip sandwiches. I know your mouth is probably watering by now so let's get started.
Toast the bread.
You'll want to prep your bread. A French baguette is an obvious choice here. Brush the inside of the bread with some melted butter and then toast it. We like to toast it on the stove using a flat iron skillet.
Add the cheese.
Next, place two slices of provolone cheese on the bread. No need to melt the cheese since the hot meat on top of it will do the job for you.
Add the meat.
Load up the bread with plenty of shredded roast and then close the sandwich up.
Serve the au jus.
Using a ladle or large serving spoon, scoop out the juice and serve some in a ramekin for each sandwich.
Enjoy The Best French Dip Sandwiches!
Sit back, dip the sandwich in the au jus and enjoy my friends! Enjoy! I'm telling you, you will thank me after eating one of these. They are amazing!!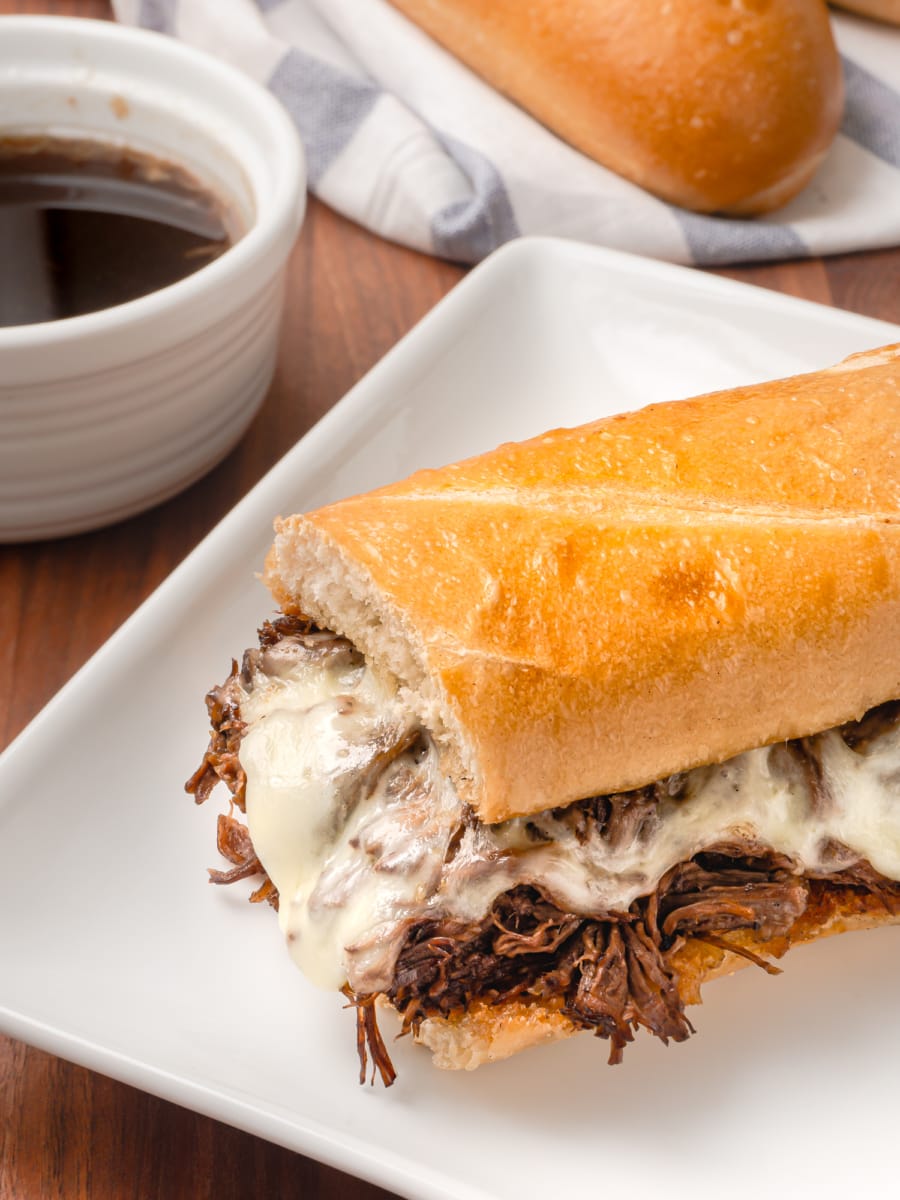 IT'S YOUR TURN TO MAKE THESE FRENCH DIP SANDWICHES!
Did you make this French Dip recipe yet? I truly believe that this is the best Instant Pot French Dip recipe out there, and I know you will absolutely love it! Let me know in the comments section below when you make this recipe and how much you enjoyed these amazing sandwiches.
5-Star Rating: If you loved your Instant Pot French Dip Sandwich, I'd appreciate it if you could give this recipe a 5-star rating to show how much you loved it.
MORE QUICK, EASY, AND DELICIOUS RECIPES
Looking for another meal to feed a crowd? Here are more easy recipes that I know you'll love:
Need a soup to go with your French Dip sandwiches? If you're looking for a perfect complement for this recipe, then try my Instant Pot Tomato Soup or Instant Pot Broccoli Cheese Soup recipes. They're so delicious and a perfect complement to these sandwiches!
For a full list of all the pressure cooker soup recipes on this blog, check out my Instant Pot Soup Recipes post.
Looking for the perfect side for these sandwiches? A salad is always a good option. You could also serve these sandwiches with fries or potato chips. For an extra special side dish, serve them with my Instant Pot Potato Salad, it is phenomenal.
Review
"I have to say, this is the best French Dip I've ever had! I must admit, after I came across this recipe I looked over several other French Dip recipes and I came straight back to this one. Something about the red wine, onions and soy sauce…none of the others incuded this. Folks, this is absolutely amazing!! […] You won't find anything tastier! This recipe nails it!!!" – Tammy
Instant Pot French Dip Sandwiches
TENDER ROAST COVERED IN MELTED PROVOLONE ON A BUTTER TOASTED FRENCH BREAD
Total Time
2hours:35minutes
These french dip sandwiches are made with a chuck roast that is so unbelievably juicy and tender. It's covered in melted provolone and served on a buttered and toasted french bread. The juices from the pot are served in a bowl for dipping. These french dip sandwiches are spectacular!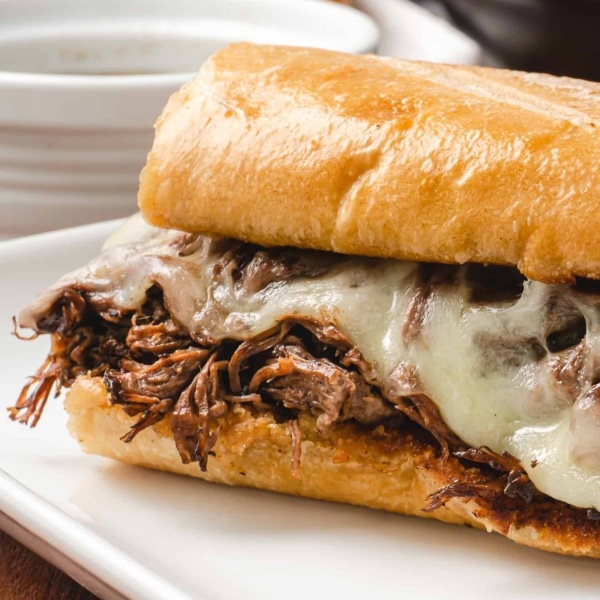 Ingredients
for the Roast
1 tablespoon vegetable oil I use avocado oil
3 pounds chuck roast
2 teaspoons kosher salt
2 teaspoons ground black pepper
½ teaspoon garlic powder
1 large yellow onion thinly sliced
½ cup sweet red table wine I prefer Llano Sweet Red
½ cup soy sauce I prefer Kikkoman
4 cups unsalted beef stock I prefer Kitchen Basics
1 bay leaf
for the Sandwiches
2 loaves french bread
1 stick butter (salted)
16 slices provolone cheese
Instructions
cook the Roast
Season Roast: Start by seasoning the chuck roast with the salt, pepper and garlic powder. Make sure to rub in the spices and evenly coat the roast.

Sear Roast: Turn on 'Sauté' and adjust the heat level to 'More'. Allow the pot to heat up until the display reads 'Hot' and then add the vegetable oil and allow it to heat up. Next, place the chuck roast in the pot and sear undisturbed on one side for at least 5 minutes or until it's nicely browned. Then, turn the roast over and brown on the other side. Once the roast has browned nicely on all sides, remove it from the Instant Pot and set aside. Leave the browned bits in the bottom of the pot.

Sauté Onion: Add the sliced onion to the Instant Pot and sauté, deglazing the bottom of the pot and tossing the onion in the browned bits as they cook. Continue to sauté the onions until they are a golden brown and starting to caramelize. About 10 to 12 minutes.

Add Red Wine: Add the red wine to the onions and cook, continuing to deglaze the bottom of the pot, until the wine is reduced by half. About 2 to 3 minutes.

Add Soy Sauce, Stock & Roast: Add the soy sauce and beef stock to the pot, place the chuck roast back into the pot and then add the bay leaf. Turn off the Sauté function.

100-Minute Cook Time: Close the Instant Pot, set the pressure release valve to 'Sealing' and set the pot to cook on 'Manual' or 'Pressure Cook', 'High Pressure' for 100 minutes.

25-Minute NPR: Once the 100-minute cook time has completed, allow for a 25-minute Natural Pressure Release. When the 25-minute NPR has finished, release the remaining pressure and then open the pot.

Serve Roast: The chuck roast is ready to serve. It will fall apart as you try to remove it from the pot. I usually serve it straight from the pot, pulling pieces of meat off the roast using my metal tongs. I'll then scoop out some of the juice (au jus) with a ladle and serve it in a small ramekin for dipping.
make the Sandwiches
Toast Bread: Cut each loaf of french bread into 2 to 4 sections (depending on length), butter each side and toast on a skillet.

Add Cheese & Roast: Place two slices of provolone cheese on the bread and serve the roast over the top of the cheese.

Enjoy the best French Dip sandwiches ever!
Nutrition Facts
Calories: 547kcal | Carbohydrates: 5g | Protein: 51g | Fat: 34g | Saturated Fat: 18g | Cholesterol: 156mg | Sodium: 2259mg | Potassium: 940mg | Sugar: 1g | Vitamin A: 515IU | Vitamin C: 1mg | Calcium: 470mg | Iron: 4.6mg
Common Questions & Answers
What is the best meat for French Dip sandwiches? This recipe calls for Chuck Roast, and I believe it is the perfect choice for these sandwiches. Not only is it juicy and flavorful but it's also an economical cut of meat. You could use some other cuts of meat, but they may require an adjustment in cooking time. Some meats that are commonly used to make French Dip are: Chuck Roast, Rump Roast, Prime Rib Roast, Eye of Round Roast, Beef Brisket, Ribeye Loin, Boneless Rib-Eye Steak, Skirt Steak, or Flank Steak.
Can I double this recipe? Yes! You can! You can use two 2 ½ – 3-pound chuck roasts. Just make sure your roasts are no larger than 3 pounds each. Season each roast with salt, pepper, and garlic powder. Then follow the rest of the recipe as written. There is no need to double the liquid or adjust the cooking time. Enjoy!
Can I make this French Dip in a slow cooker? While I have not, personally, made this recipe in a slow cooker, I have readers who have. Their suggestion is to follow the recipe as written, except you will brown the meat and grill the onions on the stovetop before moving them to the slow cooker. Add the remaining ingredients to the slow cooker and then cook on low for 8-10 hours.
Can this recipe be made with a frozen roast? One of the most important steps for making this recipe is to sear the roast on all sides. Searing helps to amplify the rich savory flavor of the meat. If the roast is frozen, you won't be able to sear it. Also, a frozen roast will take much, much longer to cook. So, I highly recommend that you make this recipe with a fully thawed roast.
Can I skip the wine? Yes, you can. You can also substitute the wine with a fruit juice like grape juice or apple juice.
Can I cook the roast for less time if I cut it into smaller pieces? You can, but your results may vary. By cutting the roast into smaller pieces and cooking it for less time, you may not achieve the juicy, fall-apart tenderness that my readers have enjoyed with this recipe. Chuck roast is a tough meat and requires time and heat to break down the connective tissues (collagen) in the meat. These connective tissues break down into gelatin, which will then absorb the juices back up into the roast. But without a sufficient amount of cooking time, this process will be stopped short. So, I suggest you follow the recipe as written.
Serving Suggestions
What's the best bread to use? The obvious choice for bread is a French baguette. However, you can serve these sandwiches on almost any bread. Some breads that work well for these sandwiches are: French Bread, Ciabatta Bread, Kaiser Rolls, Hamburger Buns, Sourdough, or White Bread.
What kind of cheese goes on a French Dip sandwich? Any sliced cheese that's melty and doesn't have a strong pungent flavor will work well. The following cheeses are great options: Provolone, Swiss, Muenster, Gouda, Mozzarella, American, Mild Cheddar, Colby Jack, and Monterey Jack.
What wine goes with French Dip? Your favorite red wine would make a perfect pairing. My husband likes to enjoy these sandwiches with the same sweet red wine we used to flavor the meat. Some wines that work well with this dish are Cabernet Sauvignon, Shiraz, Merlot, or any Sweet Red Wine.
What to serve with French Dip sandwiches? French Dip Sandwiches are a meal in themselves. However, if you're looking for an excellent side dish to pair with these sandwiches, then here are a few options: a Tossed Green Salad, Pasta Salad, Potato Salad, Potato Chips, French Fries, Coleslaw, Creamed Corn, Roasted Vegetables, and Soup.
What dessert goes well with French Dip? Anything, really! Try following up your sandwiches with some tasty lava cakes, brownies, or buttermilk pie.