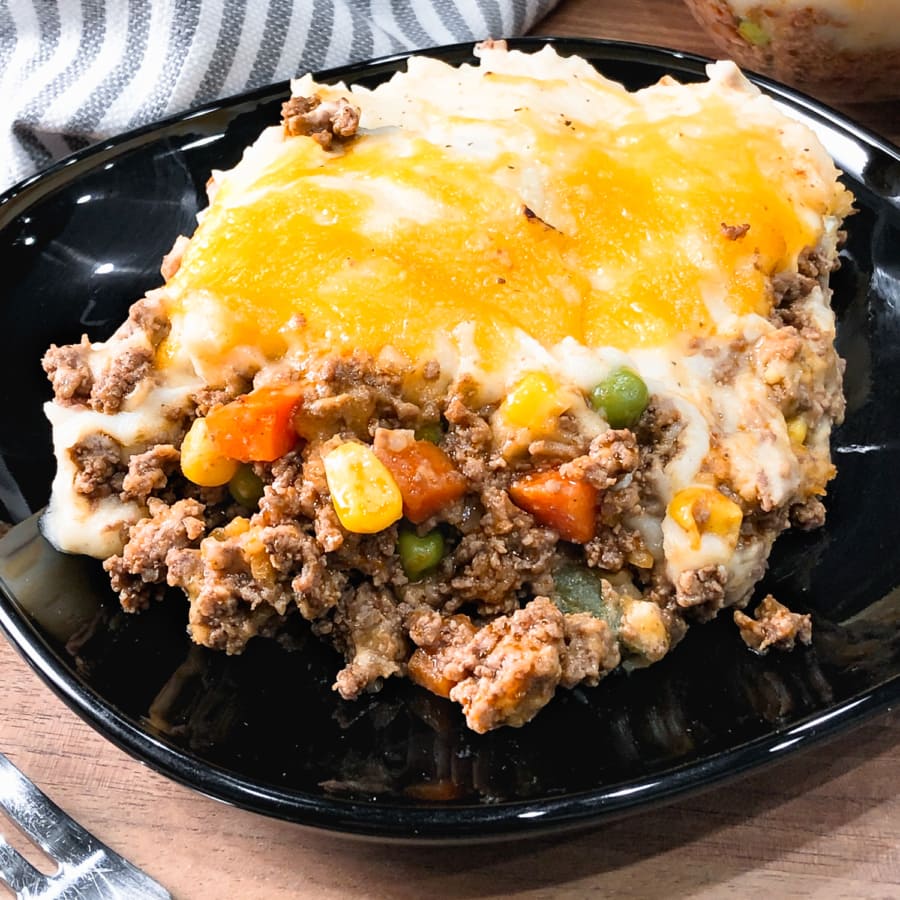 Beef Shepherd's Pie is a delicious and comforting meal that can be prepared quickly and your family will love it. I came up with this super easy shepherd's pie recipe because I have a lot of kids and not a lot of time so easy and fast are the way to go!
This post contains affiliate links. For more information, see my disclosure.
This is a quick, and easy American twist on the traditional Irish shepherd's pie. For those of you that love doing everything from scratch, I have also created a more authentic shepherd's pie recipe that's closer to the Irish version.
What is Shepherd's Pie?
While this is not your classic shepherd's pie recipe, it's so warm, hearty and absolutely delicious. The traditional version of this recipe is originally from Ireland and is made from ground lamb. The lamb is mixed with carrots, peas, and delicious seasonings and then topped with a layer of mashed potatoes. It is amazing!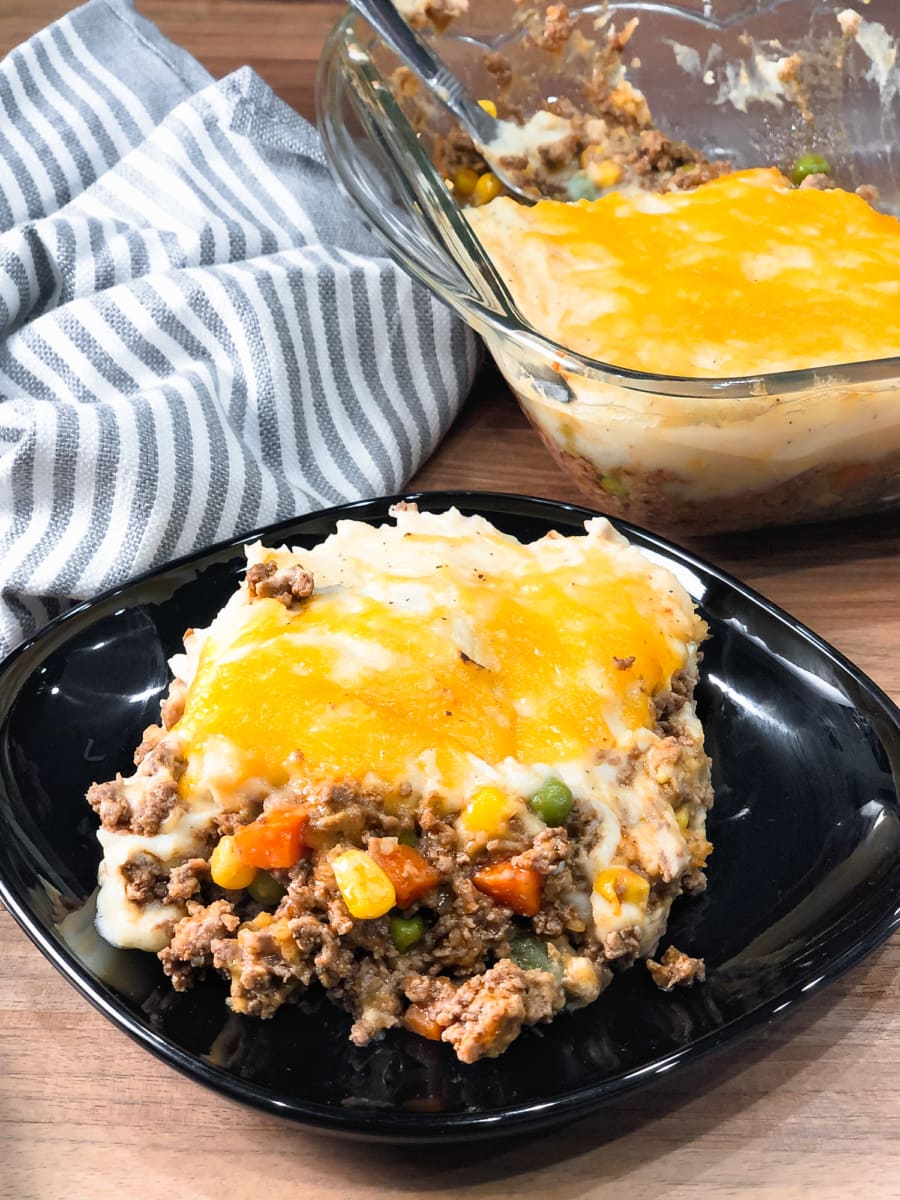 My Beef Shepherd's Pie recipe has all the essential elements a traditional shepherd's pie has but not as much work. Most importantly, you get the fantastic flavor your family will love! The most significant difference between my version and the traditional one is I make mine with ground beef instead of lamb. This would officially make it a "cottage pie," but I'll stick with Shepherd's Pie for the name!
Essential Items
Here are some essential prep tools, utensils, and appliances I used to make this recipe.
Featured Items
Here is a list of the products featured in this post or products similar to those featured in this post:
What Makes This Recipe So Easy?
This really is an easy homemade shepherd's pie. It uses mostly premade ingredients that you can get at your local grocery store, and you may already even have on hand. You'll save a lot of time by not having to make your potatoes from scratch. Instant or prepared mashed potatoes are perfect for this recipe. Of course, if you have an Instant Pot, you can follow my easy mashed potatoes recipe if you have the time.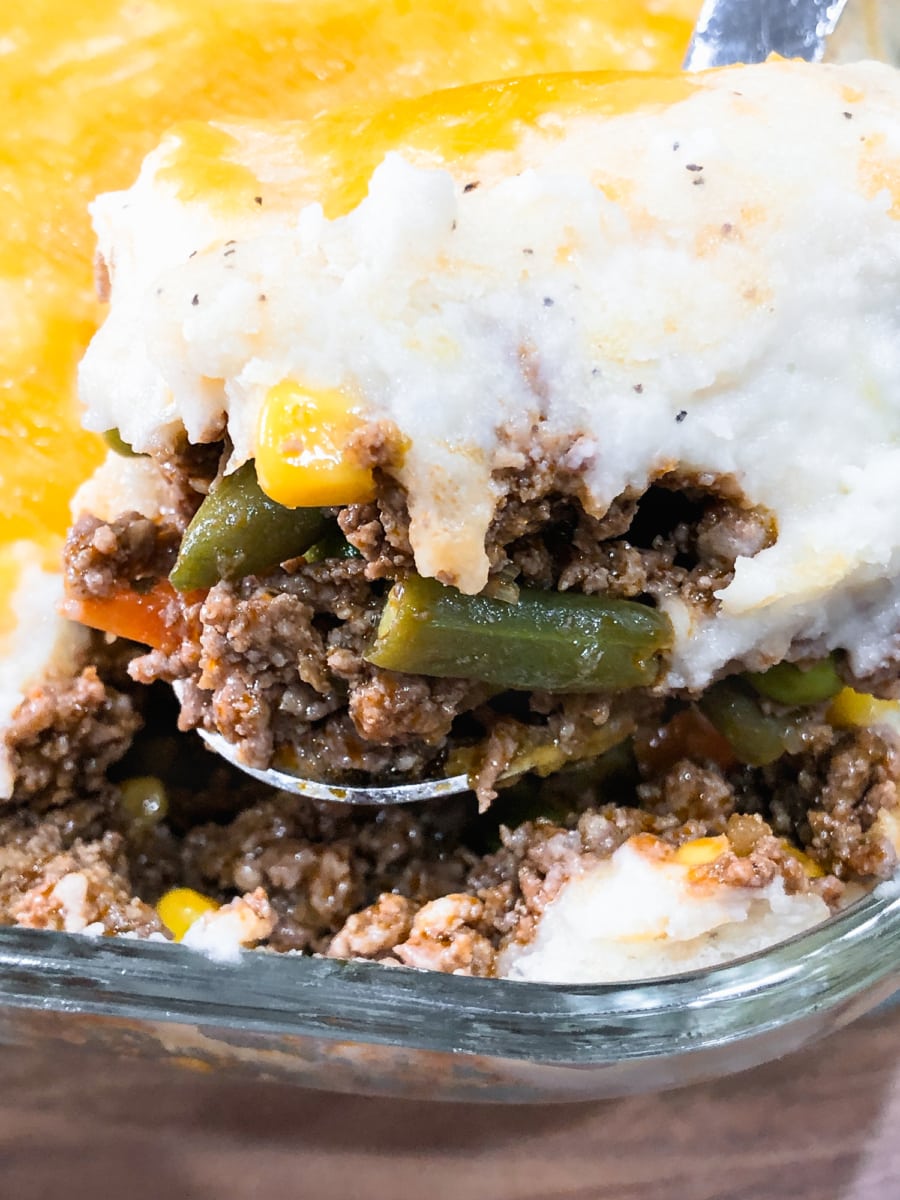 While I do use some premade ingredients, this is still a reasonably healthy shepherd's pie recipe. I do my best to buy prepared foods with as few additives as possible. My local supermarket, HEB, carries a brand of prepared mashed potatoes that is just potatoes, milk, butter, salt, and pepper. Many other brands come packed full of additives. So you'll definitely want to look at the ingredients list before purchasing.
How to Make Shepherd's Pie
This easy recipe will make you feel like a pro when your family gets a taste. My kids loved it, and they all went for seconds, and some even thirds! That's a sure sign it's a winning recipe.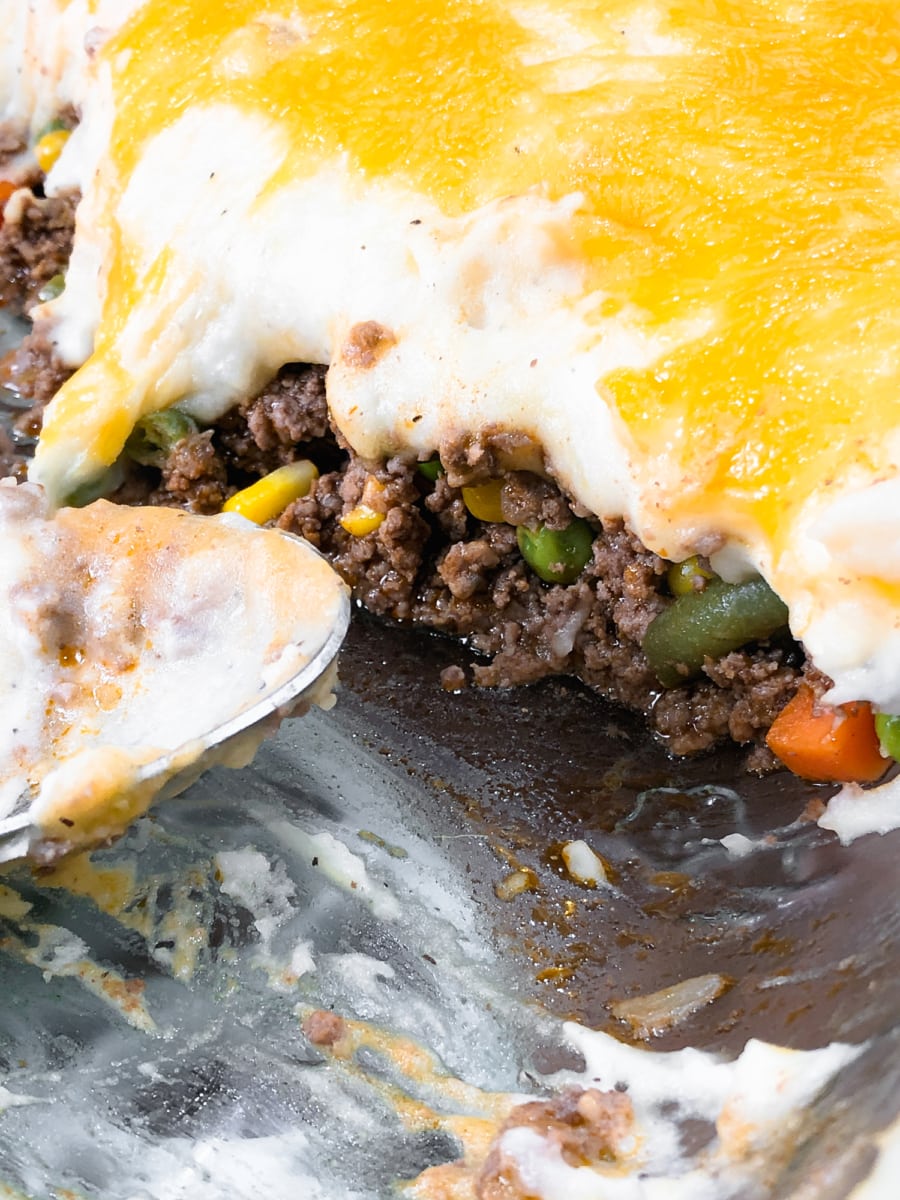 All you'll need to do is brown your ground beef and add the seasonings and veggies. You'll spread your meat mixture in a baking dish and then layer the mashed potatoes mixture on top. That's it! Don't skip the extra ingredients in the mashed potatoes. They really give it a wonderful flavor. You'll bake it for 20 minutes, and you'll have an incredibly delicious meal for your family!
In my opinion, this is a stand-alone recipe, and there's nothing you need to serve with shepherd's pie. Meat, veggies, potatoes, what more do you need?
My family loves this recipe, and I know that yours will too! I'd like to hear in the comments when you try it.
Easy Shepherd's Pie
SEASONED GROUND BEEF, MIXED VEGETABLES, AND MASHED POTATOES
A hearty and comforting meal that you can have on the table quickly. Loaded with veggies and lots of meaty, savory flavor, your family will love this recipe.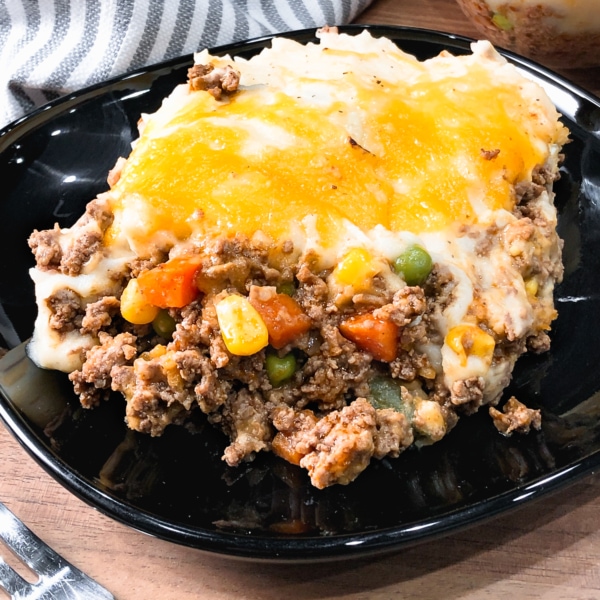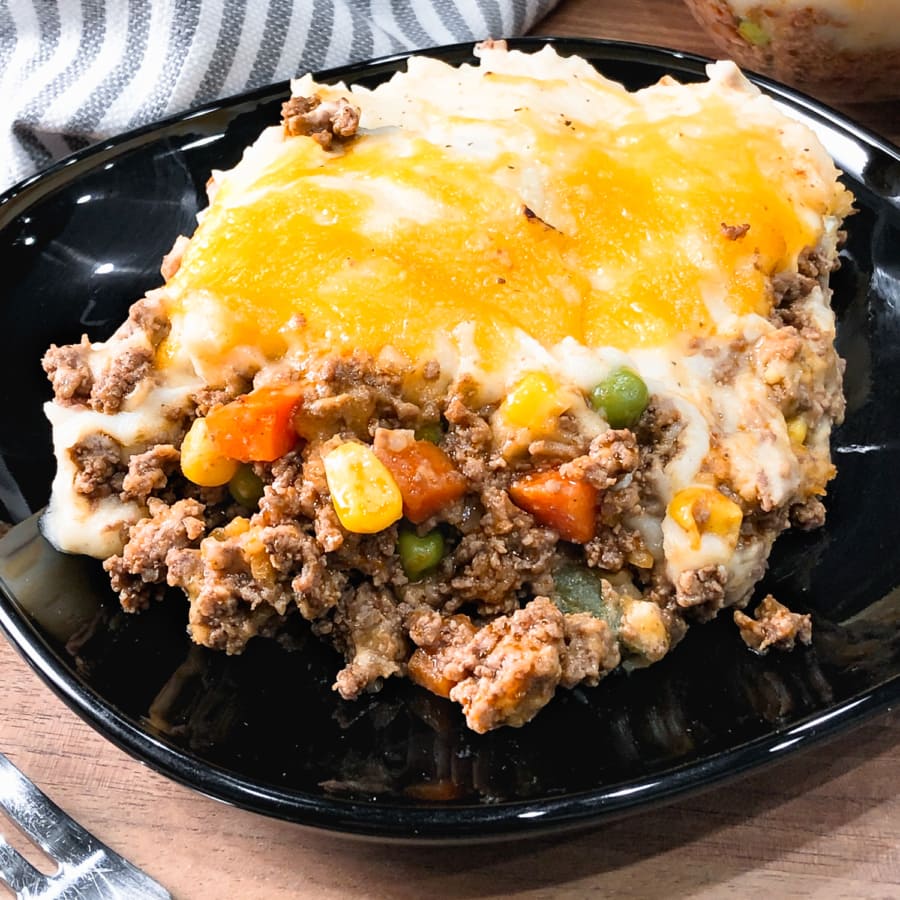 Instructions
Preheat your oven to 375°.
cook the Beef Filling
Sauté the ground beef in a large skillet over medium-high heat until browned and then drain the meat.

Add the Sofrito and Worcestershire sauce and mix into the ground beef. Cook for an additional 4 to 5 minutes over medium heat.

Add the thawed vegetables to the skillet and continue cooking for another few minutes or until the veggies are warmed through.

Transfer the beef filling to a 9 x 13 baking dish, spreading it evenly across the bottom of the dish.
prepare the Mashed Potatoes
Warm the 2 packages of prepared mashed potatoes in the microwave according to their instructions.

Add the garlic powder, 1 cup of the shredded cheddar cheese, and cream cheese to the mashed potatoes and mix until the cream cheese has melted into the potatoes.

Spread the mashed potatoes evenly over the beef filling. Top with the remaining 1/2 cup of shredded cheese.

Place on the middle rack in the oven and bake for 20 minutes or until the cheese has completely melted.
Nutrition Facts
Serving: 1g | Calories: 253kcal | Carbohydrates: 1g | Protein: 18g | Fat: 19g | Saturated Fat: 9g | Cholesterol: 76mg | Sodium: 182mg | Potassium: 261mg | Vitamin A: 275IU | Vitamin C: 0.3mg | Calcium: 124mg | Iron: 1.8mg
Notes
Make sure the veggies are fully thawed. Since this recipe calls for a short 20 minute bake time, you'll want to make sure that the mixed vegetables are fully thawed before adding them to the skillet. You'll also want to make sure that you cook them in the skillet long enough to warm them through. This usually only takes a few minutes over medium heat.
If you can't find Sofrito. If your supermarket doesn't carry Sofrito, then you can omit the Sofrito and, instead, sauté two cloves of minced garlic and 1 medium diced onion in 1 tbsp of olive oil for a few minutes before adding the ground beef to the skillet. Once the ground beef is cooked through and drained, mix in 1 tbsp of tomato paste into the meat. Add salt and pepper to taste.
Tips & Tricks
Save time. Start warming the potatoes in the microwave, according to the package's instructions, before you begin sautéing the meat. That way, they will be ready to mix with the cheeses as soon as the ground beef has finished cooking.
Read the labels! Make sure to read the labels of the prepared mashed potatoes before purchasing. Some brands will add lots of unnecessary ingredients to their mashed potatoes. Look for a brand that uses as few ingredients as possible. Ideally, you'll be able to pick up a package of mashed potatoes that doesn't contain much more than potatoes, milk, butter, and salt.
You can use Instant Potatoes. Instant potatoes will work just as well for this recipe.
Serving Suggestions
A side salad. Shepherd's pie can certainly stand on its own because it's loaded with meat and vegetables, but if you're looking for something to serve alongside it, then you can't go wrong with a salad.