Instant Pot Spaghetti and Meatballs is really one of the easiest recipes on the blog. You know I love easy and this recipe takes the cake! I always have the ingredients on hand and my family absolutely devours it.
This post contains affiliate links. For more information, see my disclosure.
I love making pasta in the Instant Pot, if only for the fact that I don't have to drain it, and that means one less dish to clean! I've come up with several Instant Pot pasta recipes and they quickly become family favorites. My Instant Pot Taco Pasta and my Instant Pot Cheeseburger Mac are both must-tries!
Simple Ingredients for Instant Pot Spaghetti & Meatballs
You seriously only need 4 ingredients and you can have them on hand all the time! Frozen meatballs, spaghetti, your favorite pasta sauce, and chicken broth, that's it. I like to make a big batch for my large family. This recipe will feed my family of 7 and we usually have just a little leftover.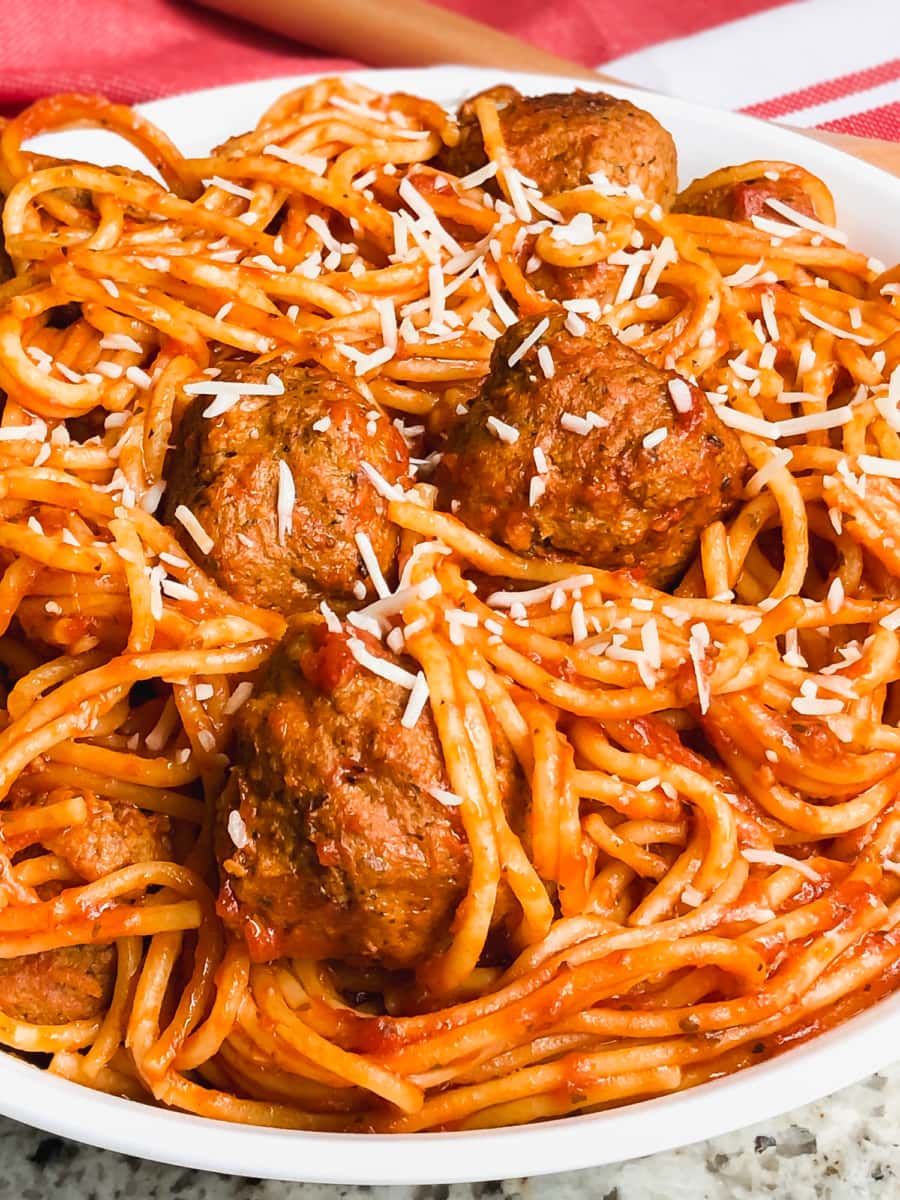 This is an easy recipe for those super busy weeknights we all have. If you have time and want to make your own meatballs, though, I recommend making them ahead of time and freezing them.
I've been asked why I use chicken broth and not water or beef broth. Since I use store-bought broth, the chicken broth is much more flavorful than beef broth, and of course more flavorful than water. If you make your own beef broth, then you can use that instead.
Essential Items
Here are some essential prep tools, utensils, and appliances I used to make this recipe.
Featured Items
Here is a list of the products featured in this post or products similar to those featured in this post:
23 Must-Have Electric Pressure Cooker Accessories
Make sure to check out my Ultimate List of Electric Pressure Cooker Accessories! I've included everything you could ever need to help make your pressure cooking quicker, easier, and even more convenient.
Layering Is The Key to Perfect Spaghetti & Meatballs
In order for your Instant Pot Spaghetti and Meatballs to be a success, you have to layer your ingredients. Don't want to end up with the dreaded burn message.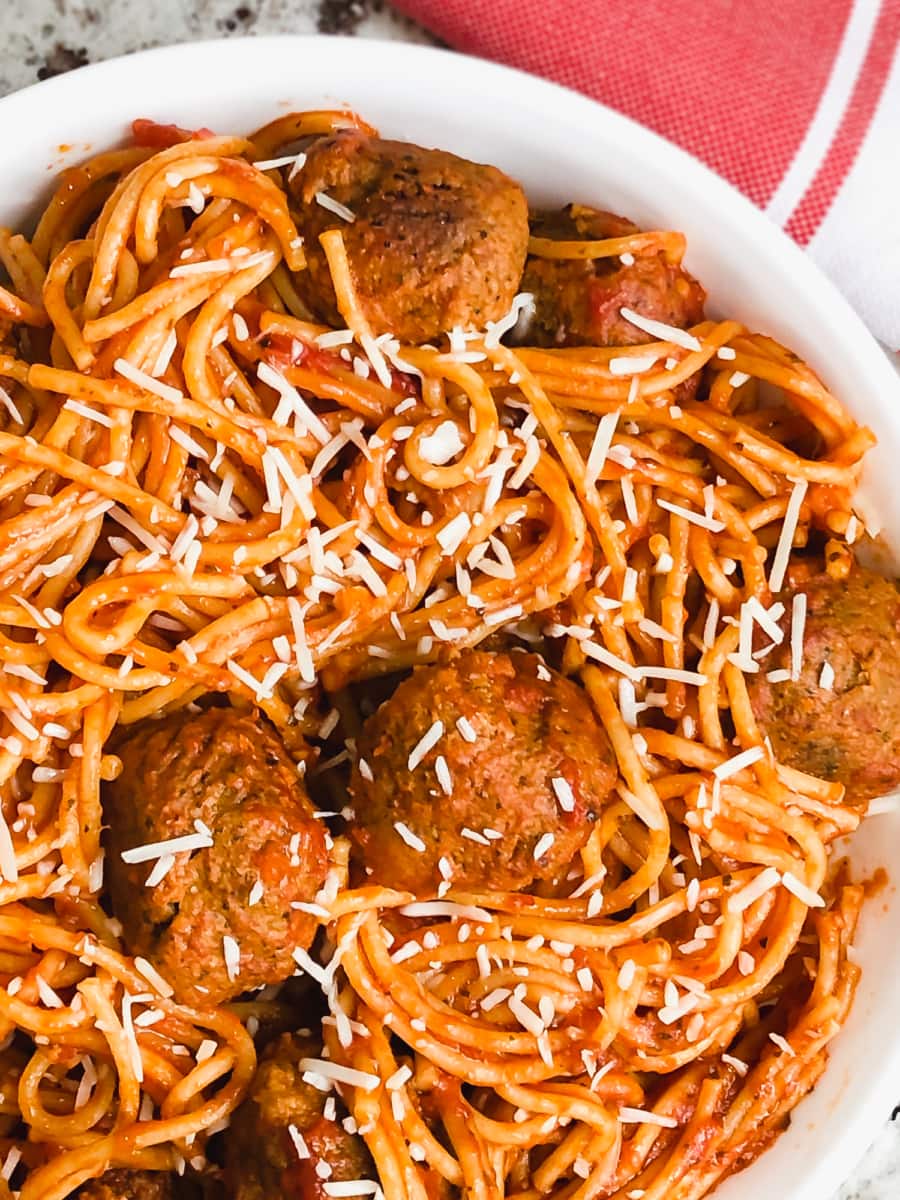 You will place your frozen meatballs at the bottom. Next, you need to break your spaghetti in half and layer it on top of the meatballs. Next, you'll pour your chicken broth into the pot. Finally, you will layer the pasta sauce on top. Don't mix anything, just layer.
I know you and your family will love this Instant Pot Spaghetti and Meatballs recipe! I'd love to hear in the comments when you try it. You can also check out my Instant Pot Spaghetti and Meat Sauce, if you'd rather use ground beef instead of meatballs.
Instant Pot Spaghetti and Meatballs
SPAGHETTI PASTA, MEATBALLS, AND PASTA SAUCE
Get dinner on the table in no time with this incredibly easy, no-prep Instant Pot Spaghetti and Meatballs recipe. Enjoy homemade taste with the speed and ease of Instant Pot cooking.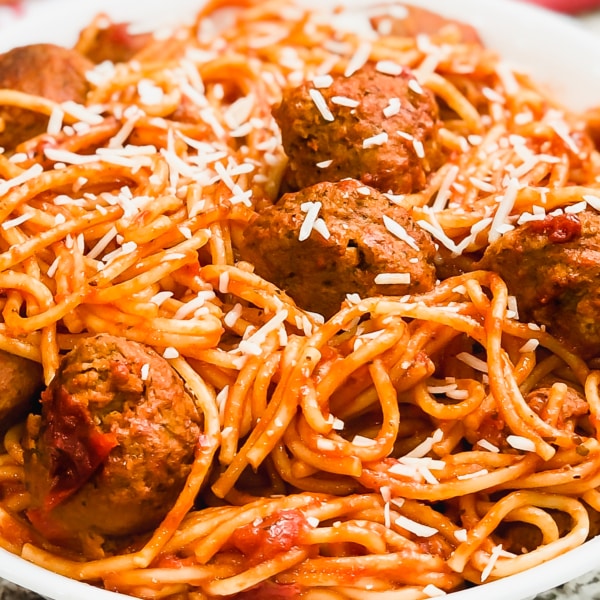 Instructions
First layer the meatballs on the bottom of the pot, then break the spaghetti pasta in half and spread them in a layer over the meatballs.

Next, pour the chicken stock into the pot and then layer the jar of pasta sauce evenly over the top of the pasta. Do not mix the ingredients.

Close the pot and set the pressure release valve to 'Sealing'.

Set the Instant Pot to cook on 'Manual' or 'High Pressure' for 8 minutes. Once the cooking time has completed, allow for a 2-minute natural pressure release.

Once the 2-minute NPR has completed, carefully release the remaining pressure from the pot.

Open the pot and using a spoon or spatula, thoroughly mix the spaghetti and meatballs together breaking apart any pasta that may have stuck together during cooking.

Serve and enjoy!
Nutrition Facts
Calories: 561kcal | Carbohydrates: 50g | Protein: 29g | Fat: 26g | Saturated Fat: 9g | Cholesterol: 84mg | Sodium: 641mg | Potassium: 827mg | Fiber: 3g | Sugar: 6g | Vitamin A: 375IU | Vitamin C: 6.9mg | Calcium: 42mg | Iron: 2.8mg