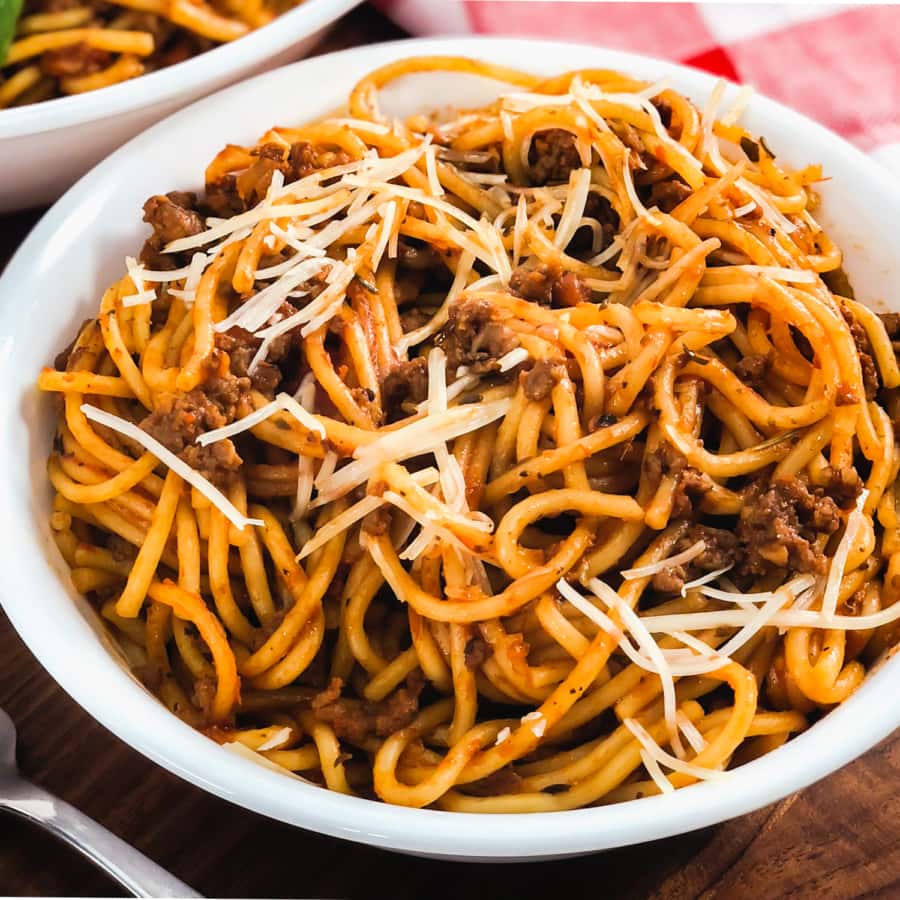 When our days are super busy and dinner needs to be made fast, spaghetti is our go-to meal! It's easy, fast and the kids love it! Now that we make Instant Pot Spaghetti, it's even easier and the clean-up is a breeze.
This post contains affiliate links. For more information, see my disclosure.
Isn't spaghetti one of those things we all ate and loved as kids?
Spaghetti: A Childhood Favorite
I remember growing up, my mom would always make a big batch of sauce from scratch and freeze some of it. She'd use it for spaghetti, pizza, and other pasta dishes. It was delicious! Her spaghetti was fat and soft and it didn't have meat in it, just flavorful sauce. I loved it. It was my favorite until I met Ryan's dad. (Shhh, don't tell my mom!) His dad made the best spaghetti EVER! I remember the first time I tried it! He made a huge pot to feed everyone. It was packed full of meat, which was new for me, and the taste was out of this world!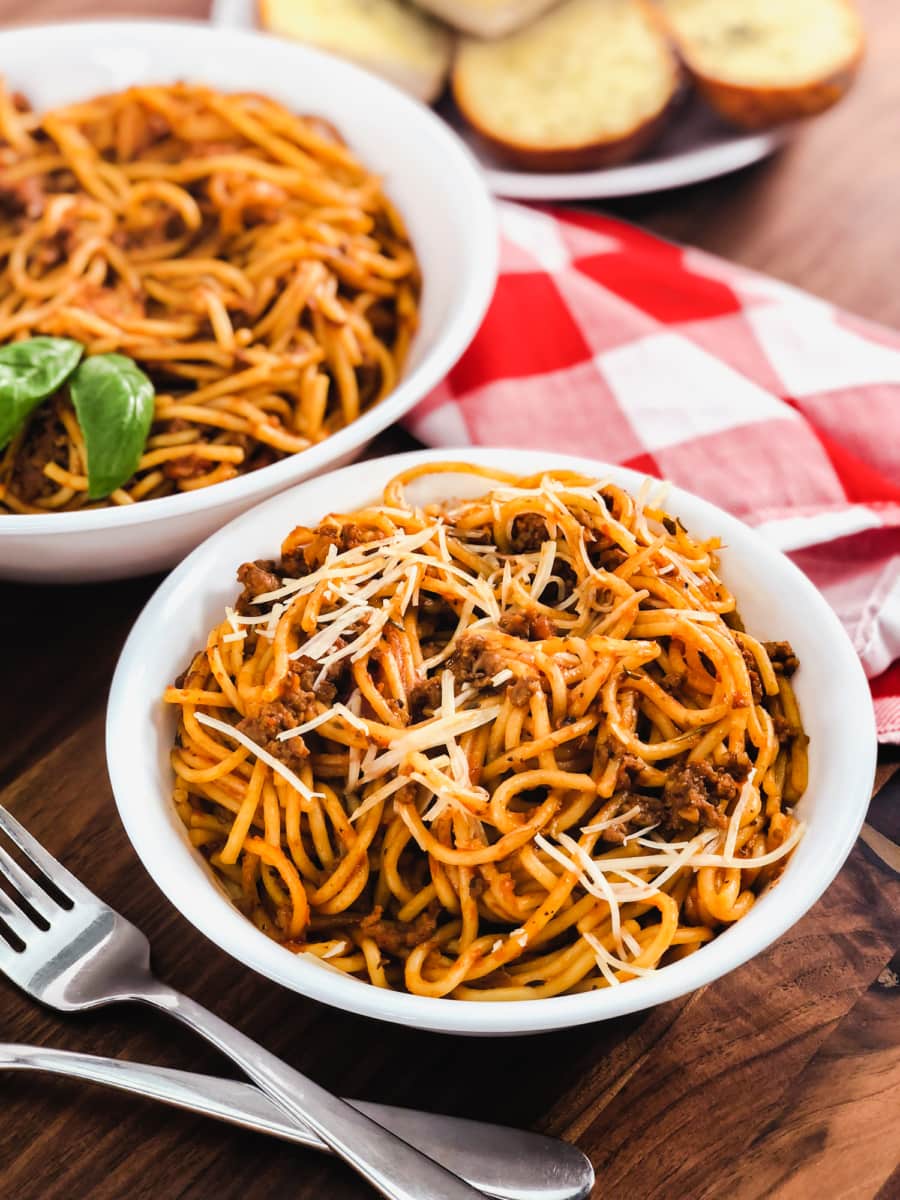 The huge pot was gone pretty quickly, and I made sure and tell him how much I loved it! He would undoubtedly make it every time we would come to visit from college. We miss him and his amazing spaghetti!
An Easier, Faster Spaghetti
Now that we have 5 kids, we're the ones that have to make the big pot of spaghetti! Life gets so hectic that we have to come up with easy meals that are hearty and delicious. This is one of them.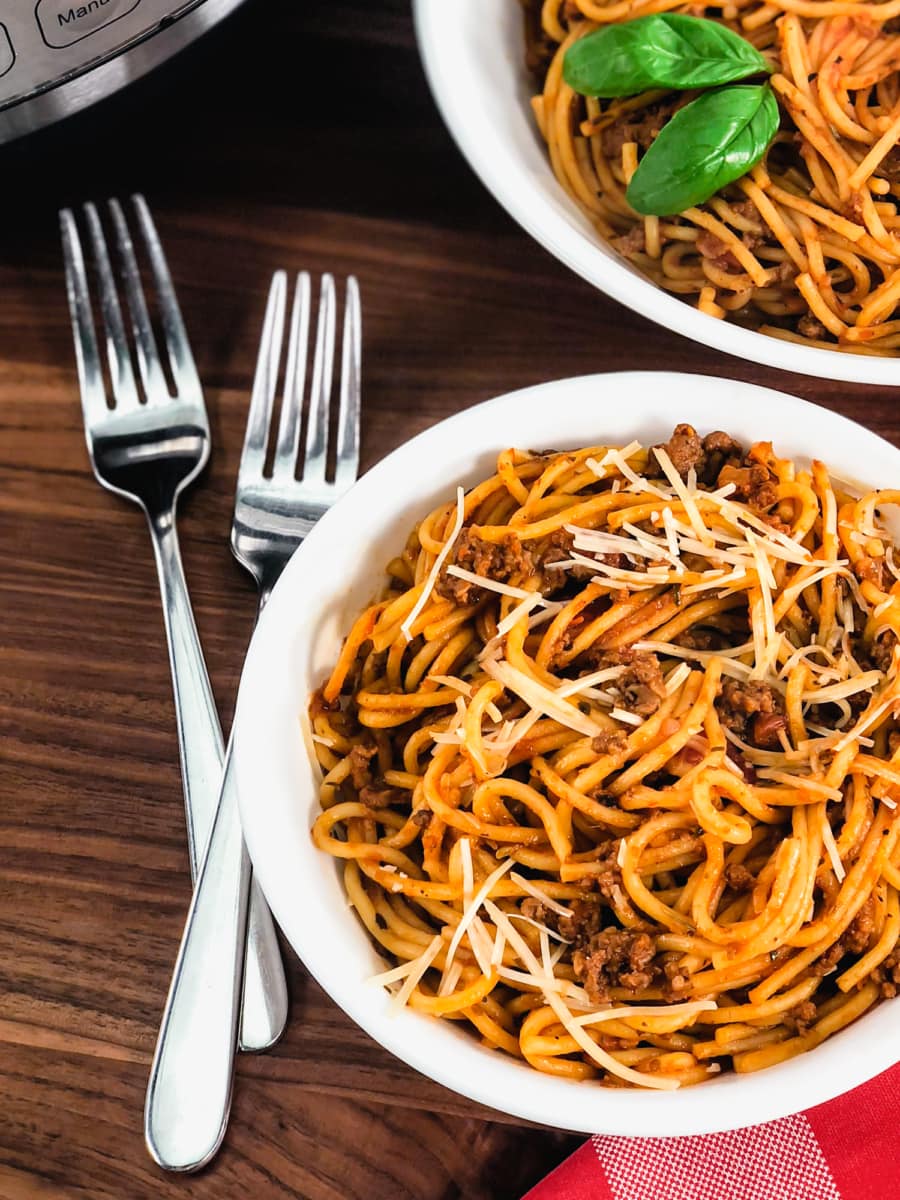 By now you know how much I love my Instant Pot, and making pasta in it is one of my favorite things to do when I'm in a time crunch. Absolutely no need to sit and watch the pasta as it boils, and my favorite part is I don't have to use a strainer, so no extra things to wash! When the spaghetti is done cooking you just mix it all up and voila! No draining!
A Few Simple Ingredients Are All You Need
Another great thing about this recipe is you will probably always have the ingredients on hand! I like to keep things simple, so as long as you have the basics, you're set. The spices I use are common, and if you don't already keep them on hand, you should. In my home, we always have pasta, ground beef, and spaghetti sauce. It's such a quick and easy thing to prepare, and the kids always gobble it up!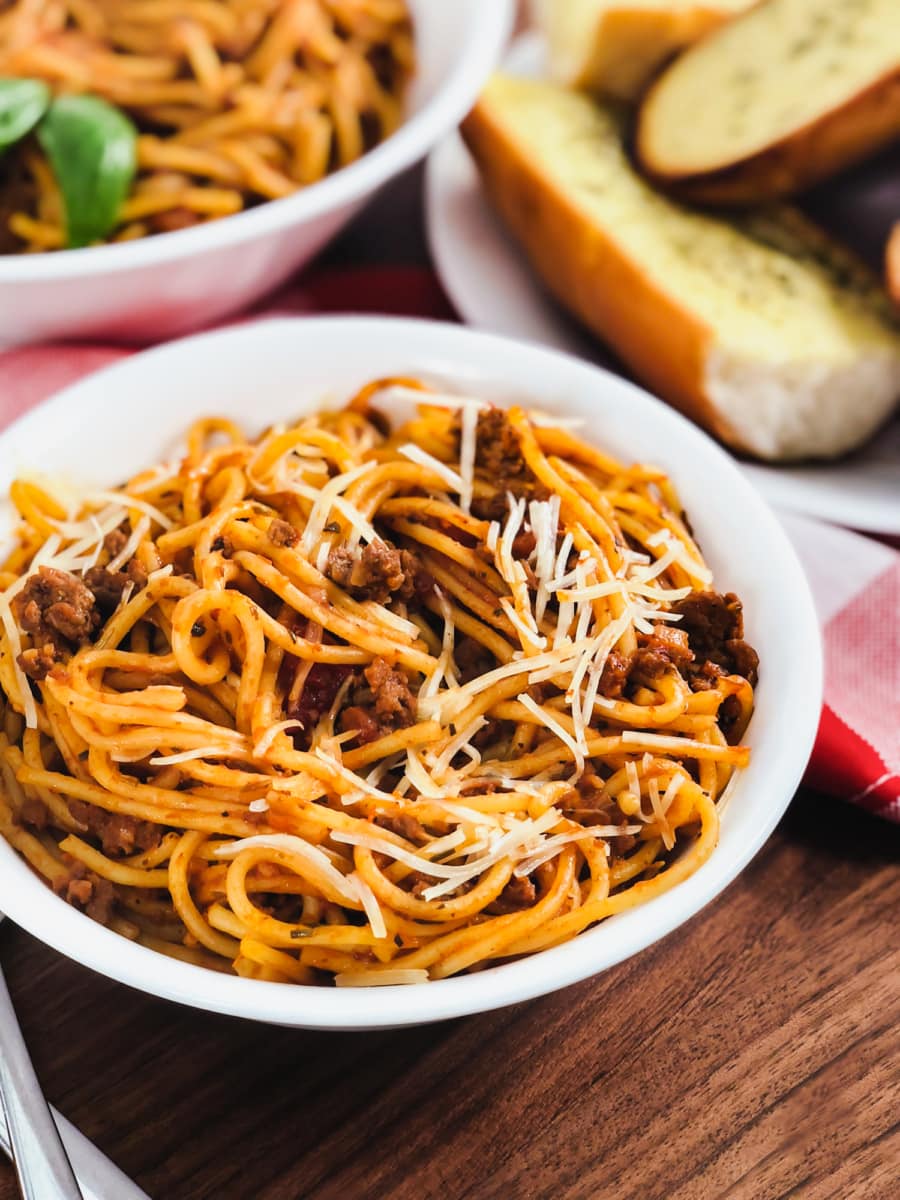 We love our Instant Pot Spaghetti al dente, so my recipe is for just that. If you like your pasta a little less firm, then I would recommend you cook it for an extra minute or so, or you could extend the amount of Natural Pressure Release.
Essential Items
Here are some essential prep tools, utensils, and appliances I used to make this recipe.
Featured Items
Here is a list of the products featured in this post or products similar to those featured in this post:
12 Must-Have Instant Pot Cookbooks
If you're looking for a cookbook with easy and reliable Instant Pot recipes, then check out my list of approved Instant Pot Cookbooks.
I'm certain that when you make your own pot of this Instant Pot Spaghetti with Meat Sauce, you will appreciate how fast and easy it is to make and how much your family will enjoy it.
If you are an Instant Pot beginner I have included a step-by-step below. If you don't need a step-by-step, you can just skip this part and go straight to the recipe card below the steps. You will also find some tips and tricks in the recipe card to help you create this delicious pasta meal.
How To Make Spaghetti and Meat Sauce in the Instant Pot
If you need a warm and delicious pasta dish in a flash, then this Instant Pot recipe is what you're looking for. This one is so quick and easy that I always make sure to have the ingredients on hand for those hectic days where I just don't have time to make anything that takes longer than 30 minutes.
Let's get started on making a delicious pot of spaghetti and meat sauce.
Step 1: Gather The Ingredients
I use ground sirloin when making pasta dishes that have ground beef. It's lean and flavorful making it the perfect choice for most meals. I first sauté the meat and then season it with Italian herbs and spices.
Step 2: Sauté the Ground Beef
Set the Instant Pot on Sauté and allow it to heat up for a few minutes so that the pot is hot before adding the ground sirloin. Once the pot is hot, add the ground beef, break it into large chunks using a spoon or spatula and then let it brown for several minutes. Once the beef begins to brown, break it up into smaller and smaller pieces as it cooks. Continue cooking until the beef is fully browned.
Step 3: Season the Ground Beef
To make things easy, I use a blend of dry Italian herbs and spices to season the meat including Italian seasoning, garlic powder, dry minced onion, salt and pepper.
Step 4: Add the Beef Broth
Add three cups of unsalted beef broth to the ground beef, mix the broth into the cooked ground beef very well and then turn off the 'Sauté' function.
Step 5: Add the Spaghetti
Next add the spaghetti pasta to the Instant Pot by laying it on top of the ground beef and broth mixture and then gently pushing it down into the broth until most of the pasta is wet.
Step 6: Add the Pasta Sauce
Next, add a 24 ounce jar of your favorite pasta sauce. Pour the sauce over the top of the pasta but do not mix it in. I used CLASSICO Traditional Sweet Basil this time but in the past I have used CLASSICO Organic Tomato Herbs and Spices, Trader Giotto's Organic Marinara Sauce from Trader Joe's and H‑E‑B Organics Tomato Basil Pasta Sauce.
Step 7: Cook the Pasta
Close the Instant Pot, place the pressure release valve to the 'Sealing' position and then set the Instant Pot to cook on 'Manual' or 'Pressure Cook' for 5 minutes. Once the cooking time has completed, then allow for a 2-minute Natural Pressure release. After the two minutes have passed, release the remaining pressure from the pot and once the pin drops, open the pot. The pasta will be in the pot for only 7 minutes plus the time it takes the pot to come to pressure. That's it!
Step 8: Open and Mix
Open the Instant Pot and then mix the pasta and meat into the sauce. You may find that some of the pasta sticks together. That's normal. Use a spoon or spatula to break them up. Do this right after opening the pot because it will be much easier to break them up while the pasta is still hot.
Serve Your Spaghetti and Meat Sauce
It's now time to serve a warm bowl of pasta to those hungry mouths. Can you believe how fast that was? Talk about dinner in a flash! I hope you have a chance to try this wonderful Instant Pot recipe. It's so fast and so delicious. If you make this Spaghetti with Meat Sauce, please leave a comment below and let me know how it was.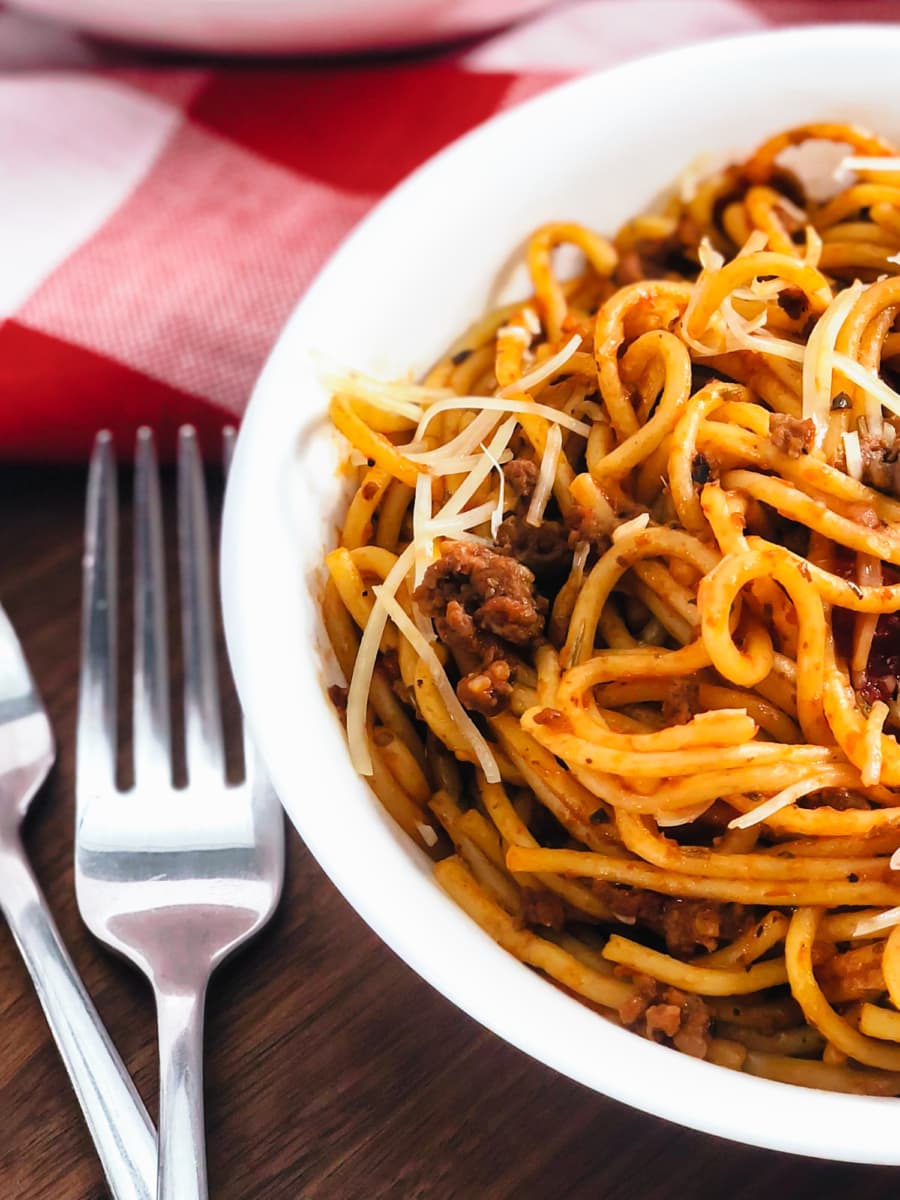 Instant Pot Spaghetti and Meat Sauce
SPAGHETTI PASTA, SEASONED GROUND BEEF, AND PASTA SAUCE
This quick and easy one-pot pasta meal is perfect for those busy nights when you need to get dinner on the table a fast.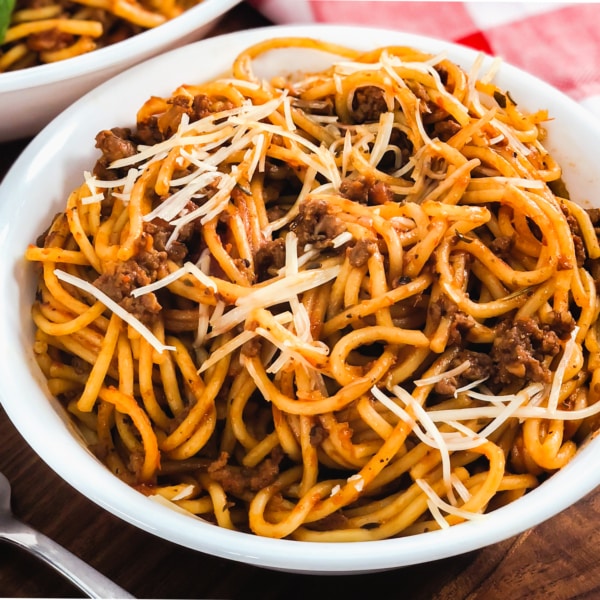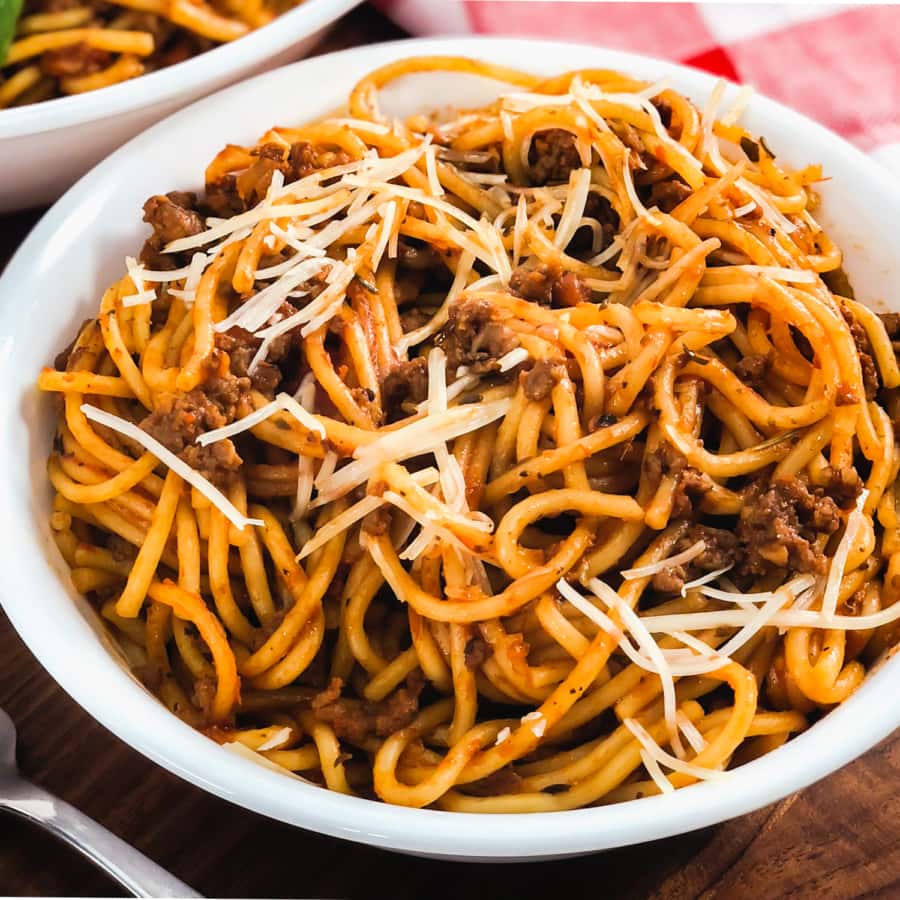 Instructions
Turn on the Instant Pot to 'Sauté' and allow it to heat up for a few minutes.

Add the ground beef to the pot and sauté until it is fully cooked.

Next, add the dry minced onion, Italian seasoning, garlic powder, salt and pepper to the ground beef and mix well.

Pour the beef stock over the cooked ground beef in the pot, stir well and then cancel the 'Sauté' mode.

Add the spaghetti pasta to the pot. It is not necessary to fully mix the pasta into the ground beef. Just gently push it down into the liquid using a spoon or spatula.

Layer the spaghetti sauce on top of the pasta without mixing it in.

Close the Instant Pot, adjust the pressure release valve to 'Sealing' and set the pot to 'Manual' or 'Pressure Cook', High Pressure for 5 minutes. Once the cooking time has finished, allow for a 2 minute NPR (natural pressure release).

Release the remaining pressure after the two minutes have completed. Once all the pressure has been released, open the pot and give all of the ingredients a good stir. You may find a few strands of pasta stuck together, which is normal. Use a spoon or spatula to break them up.

Serve and enjoy.
Nutrition Facts
Serving: 1bowl | Calories: 278kcal | Carbohydrates: 39g | Protein: 17g | Fat: 5g | Saturated Fat: 2g | Cholesterol: 29mg | Sodium: 764mg | Potassium: 624mg | Fiber: 2g | Sugar: 4g | Vitamin A: 305IU | Vitamin C: 5.1mg | Calcium: 39mg | Iron: 2.7mg