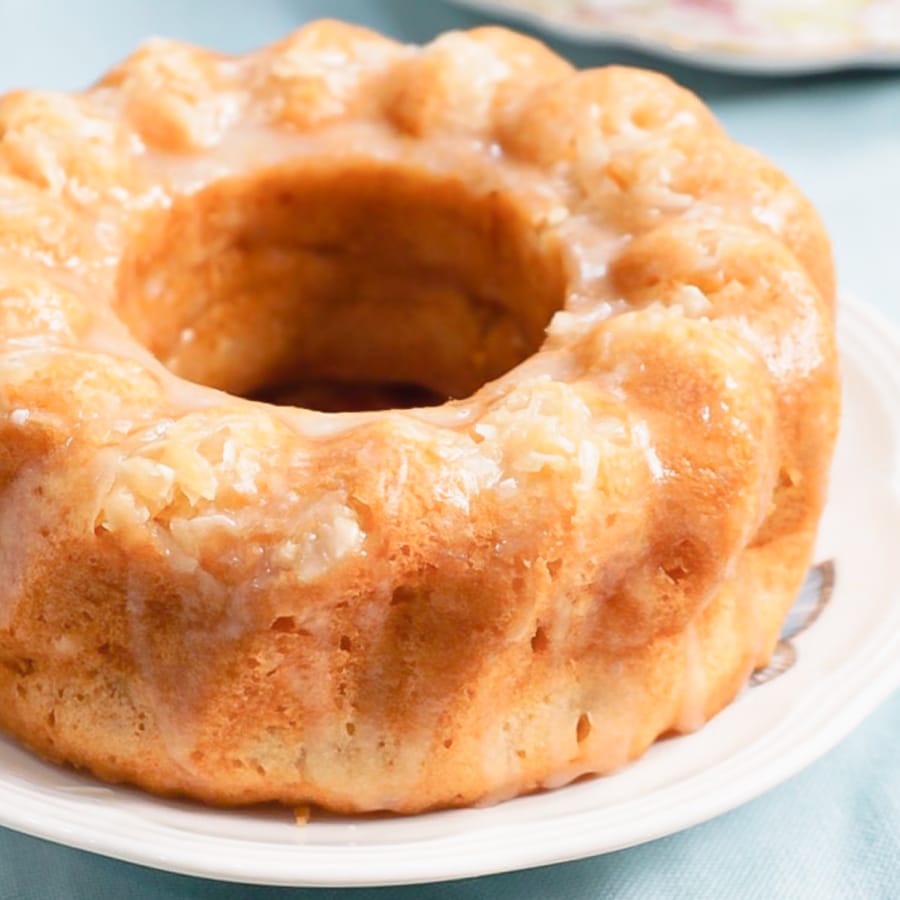 Earlier in the summer, I started a series of delicious and tiny Instant Pot cakes. My very first cake in the series was this Mini Lemon Bundt Cake. Next, I created the Strawberries & Cream Cake and now I bring you this delightful Coconut Cake.
This post contains affiliate links. For more information, see my disclosure.
These mini cakes are so easy to make and they certainly hit the spot! Plus, they're so darn cute!
I'm loving making these mini cakes in the Instant Pot. They're the perfect size, even for my family of 7. We each get a good-sized piece and there are a few pieces leftover for later. Plus, only a few ingredients are used, so I usually have what I need on hand.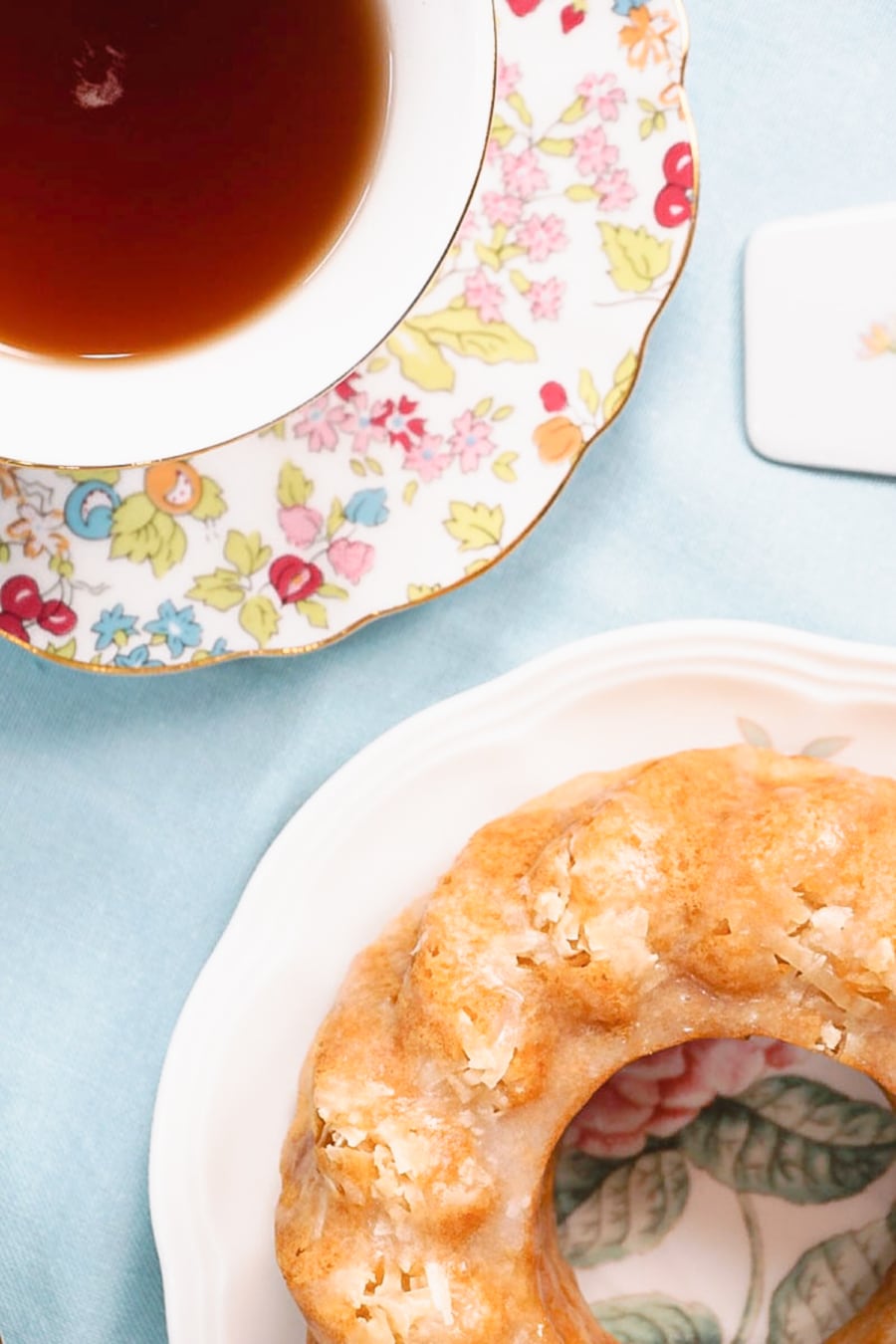 Coconut Perfection
As for the newest flavor in the Instant Pot Mini Cake series, it had to be coconut! I absolutely love coconut! Just mention coconut in any form and you've got my attention. From body lotions to sweets to main courses, I can't get enough coconut!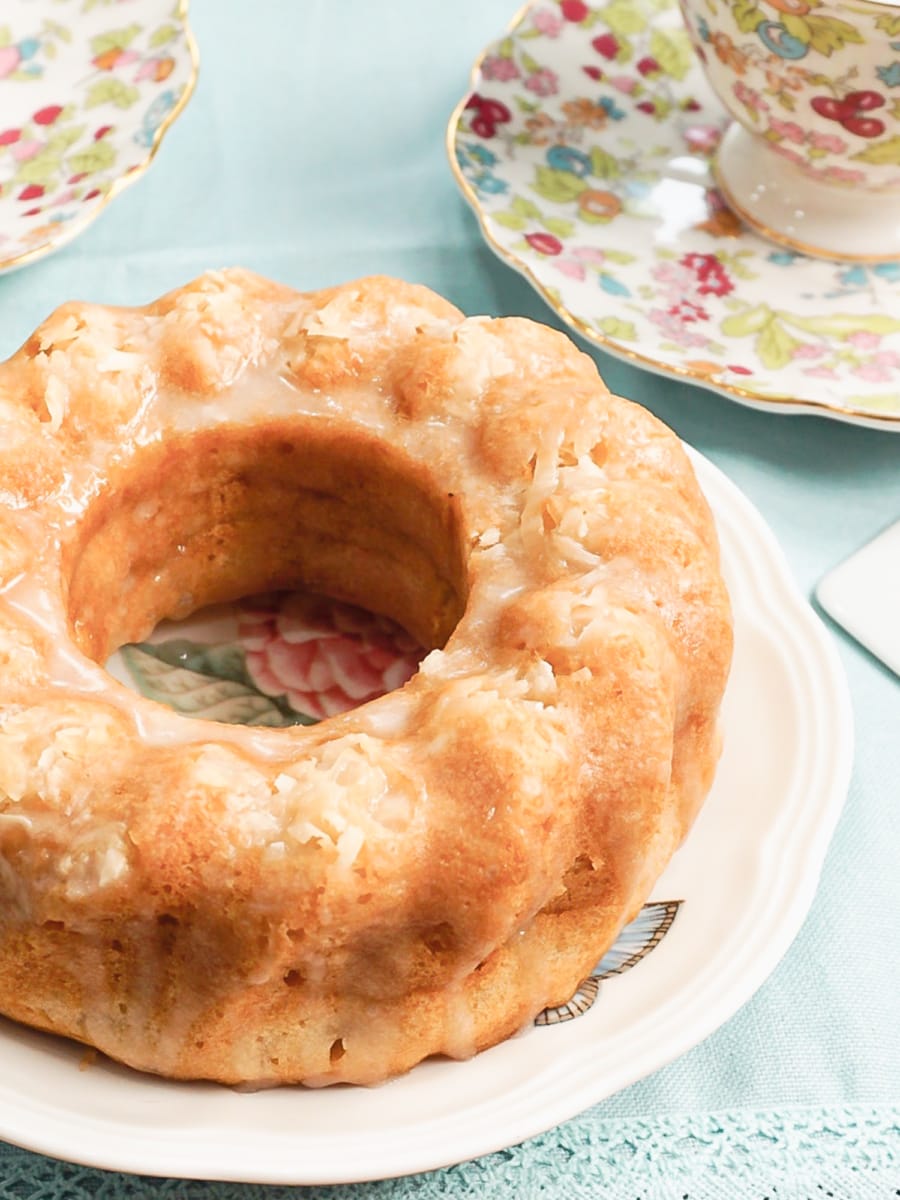 Maybe it's because it reminds me of my home country, Honduras. When I was little, we'd eat coconut and drink coconut water every time we'd go to the beach. One of my favorite beach treats from Honduras is Pan de Coco, coconut bread. These ladies would carry huge baskets of freshly made bread and sell it along the beach. It is indescribably good! I need to learn how they make it!
Well, while this is not quite Pan de Coco, the sweet, yet light flavor of the coconut in this Instant Pot mini cake is perfection!
Essential Items
Here are some essential prep tools, utensils, and appliances I used to make this recipe.
Prep Tools & Utensils
Here are the prep tools and utensils that you'll need:
Featured Items
Here is a list of the products featured in this post or products similar to those featured in this post:
12 Must-Have Instant Pot Cookbooks
If you're looking for a cookbook with easy and reliable Instant Pot recipes, then check out my list of approved Instant Pot Cookbooks.
A Mini Treat Perfect for Any Occasion
How cute does this Coconut Mini Cake look on a pretty plate? I'm thinking tea party with my friends! Is that still a thing? I hope so!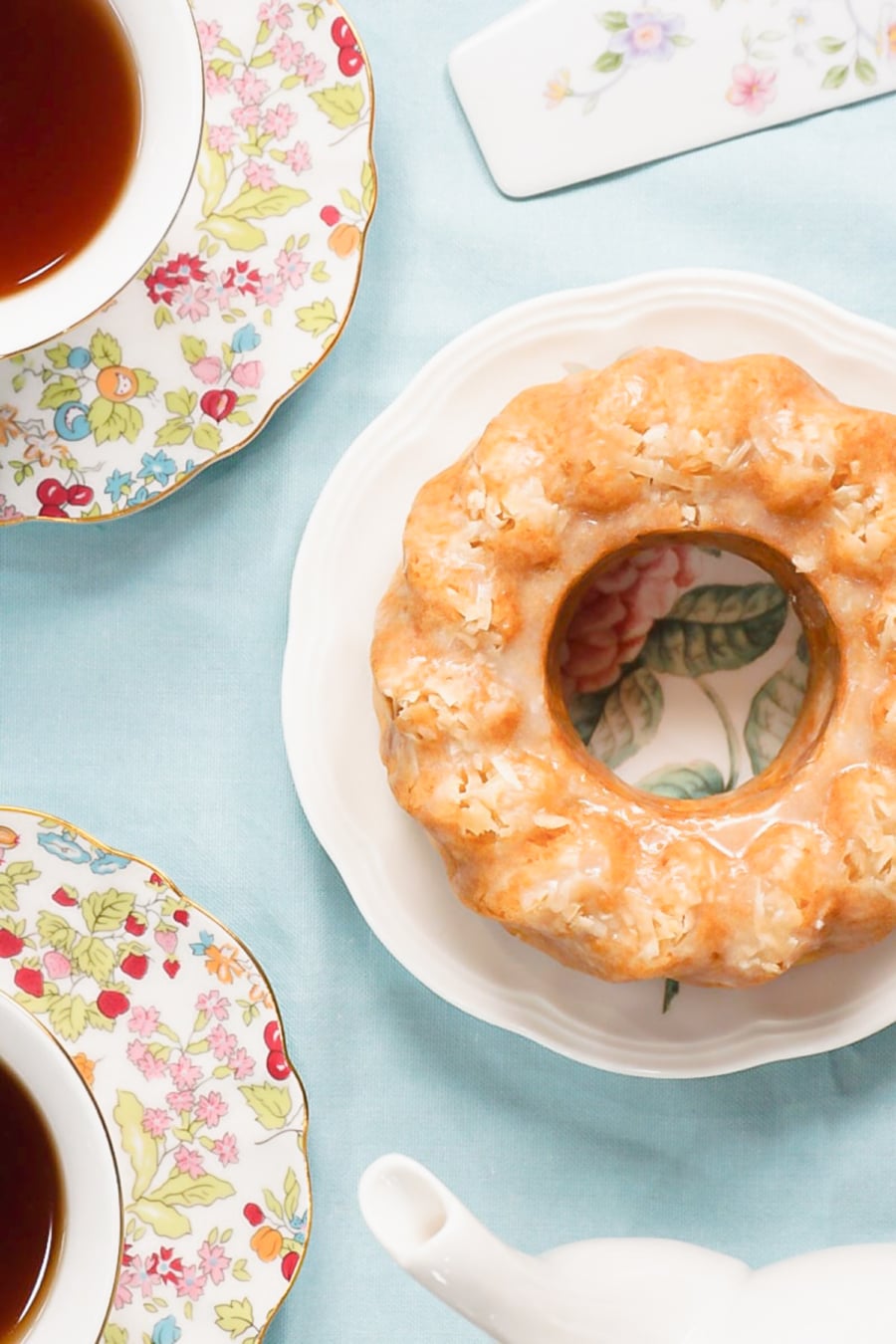 I know you and your family will love this Coconut Cake!
Now it's your turn to give this Instant Pot Coconut Cake recipe a try! You won't be disappointed!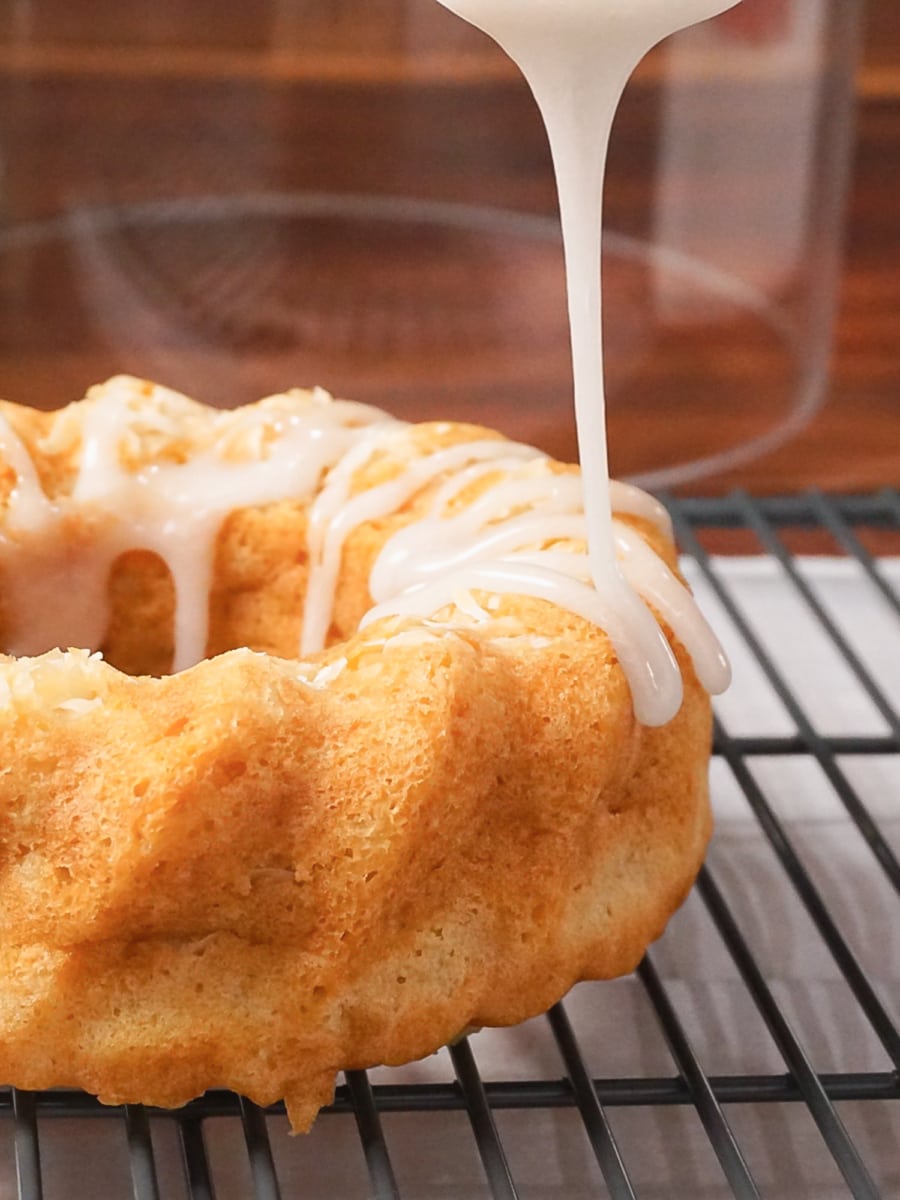 I've also included some tips and serving suggestions below the recipe card to help you make this mini cake even more delicious.
Please let me know if you make this delicious Instant Pot Cake by leaving a comment below. Also, don't forget to check out these other great Instant Pot cakes and desserts:
Instant Pot Coconut Mini Cake
MOIST COCONUT CAKE TOPPED WITH A SWEET COCONUT GLAZE
Share the sweet joy of coconut with your friends and family. This mini version of coconut cake is great for any get together.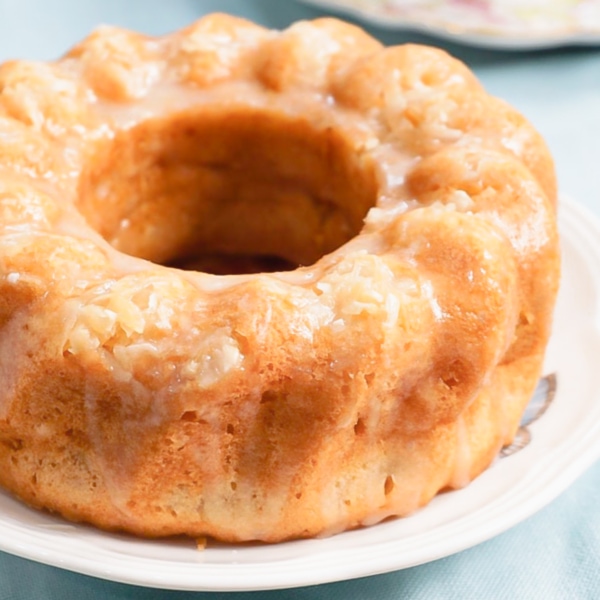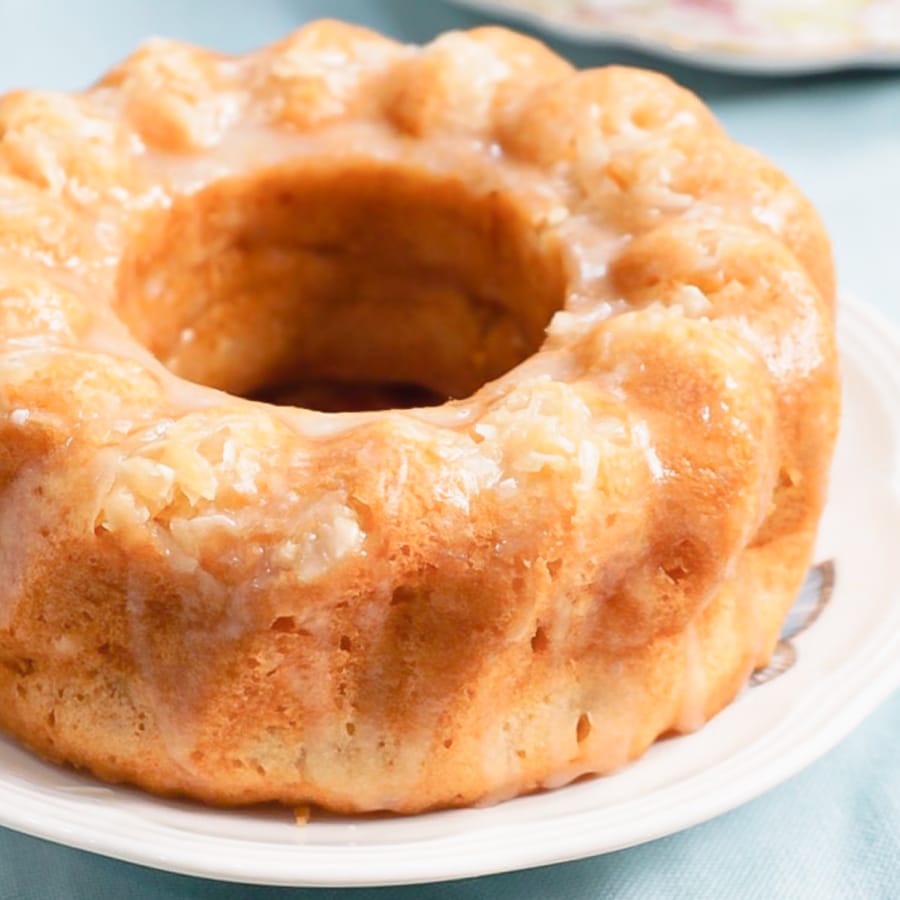 Instructions
make the Cake
Add coconut milk, egg, and coconut extract to a mixing bowl and mix together thoroughly with a whisk.

Fold the white cake mix, baking powder, and coconut flakes into the wet ingredients with a spatula. Make sure to use ONLY 1 CUP of cake mix and do not use a whisk or an electric mixer for this part. Be careful not to over mix. You want the batter to remain somewhat lumpy.

Spray a small 6″ x 2″ cake pan or 3 cup bundt pan with the cooking spray (I recommend using coconut cooking spray) and spread a pinch of coconut flakes evenly along the bottom of the cake pan.

Pour the cake batter into the pan.

Tightly cover the cake pan with aluminum foil.

Add 2 cups of water to the Instant Pot and place the covered cake pan in the Instant Pot on the trivet.

Set the Instant Pot to 'Manual' or 'Pressure Cook' on High Pressure for 40 minutes.

Once the cooking time has completed, allow the pot to do a 15 minute NPR (natural pressure release).

After the pressure has been fully released and the pin has dropped, open the pot and carefully remove the cake from the pot.

Remove the foil from the cake pan, then place the cake on a cooling rack and allow the cake to cool.

After the cake has cooled, pour the glaze over the top of the cake to fully cover.
make the Glaze
Sift the ½ cup of confectioners powdered sugar into a mixing bowl, add the 2 tablespoons of coconut milk and mix until the sugar is fully dissolved.
Nutrition Facts
Serving: 1slice | Calories: 350kcal | Carbohydrates: 64g | Protein: 3g | Fat: 8g | Saturated Fat: 6g | Cholesterol: 20mg | Sodium: 480mg | Potassium: 148mg | Fiber: 1g | Sugar: 37g | Vitamin A: 30IU | Vitamin C: 0.5mg | Calcium: 162mg | Iron: 1.8mg
Tips & Tricks
Experiment with flavors. Try adding a ½ cup of drained, crushed pineapple to the cake batter to give it even more amazing flavor.
Top with cream cheese frosting. Forgo the glaze and top with cream cheese frosting instead. Nothing goes better with cake than cream cheese frosting.
Serving Suggestions
Add a scoop of ice cream. Make an extra special treat out of this cake by topping it with a scoop of ice cream. Vanilla ice cream, strawberry sherbert or pineapple sherbert all pair amazingly with this cake.
Serve with tea. Have some friends over for an afternoon tea and serve this coconut cake – they will love it!