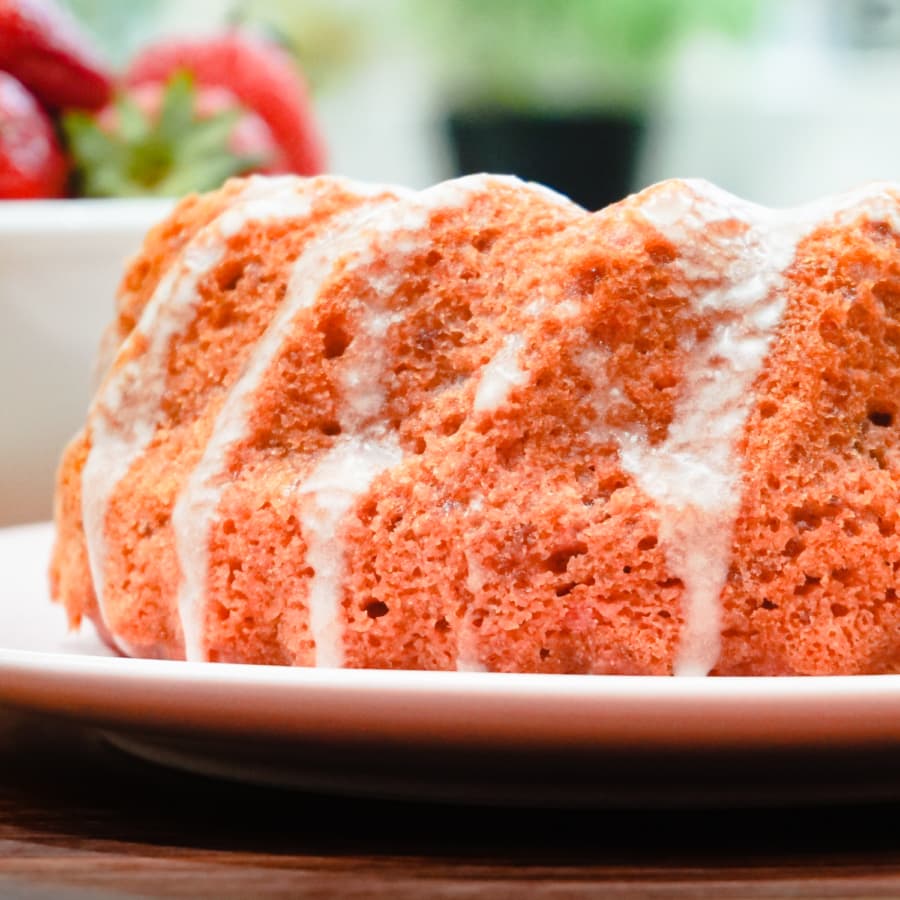 If you've been following along, you know I recently started a series of delicious and tiny Instant Pot cakes. My very first cake in the series was this Mini Lemon Bundt Cake. Since summer is in full swing, I wanted to keep going with the flavors of summer. Strawberries definitely fit the bill!
This post contains affiliate links. For more information, see my disclosure.
Creamy Strawberry Heaven
When I was testing out flavors for my cake series, I knew I definitely wanted to do a strawberry one. I don't know what it is about strawberries, but they take me back to my childhood. Maybe it's that delicious strawberry sauce my mom used to make!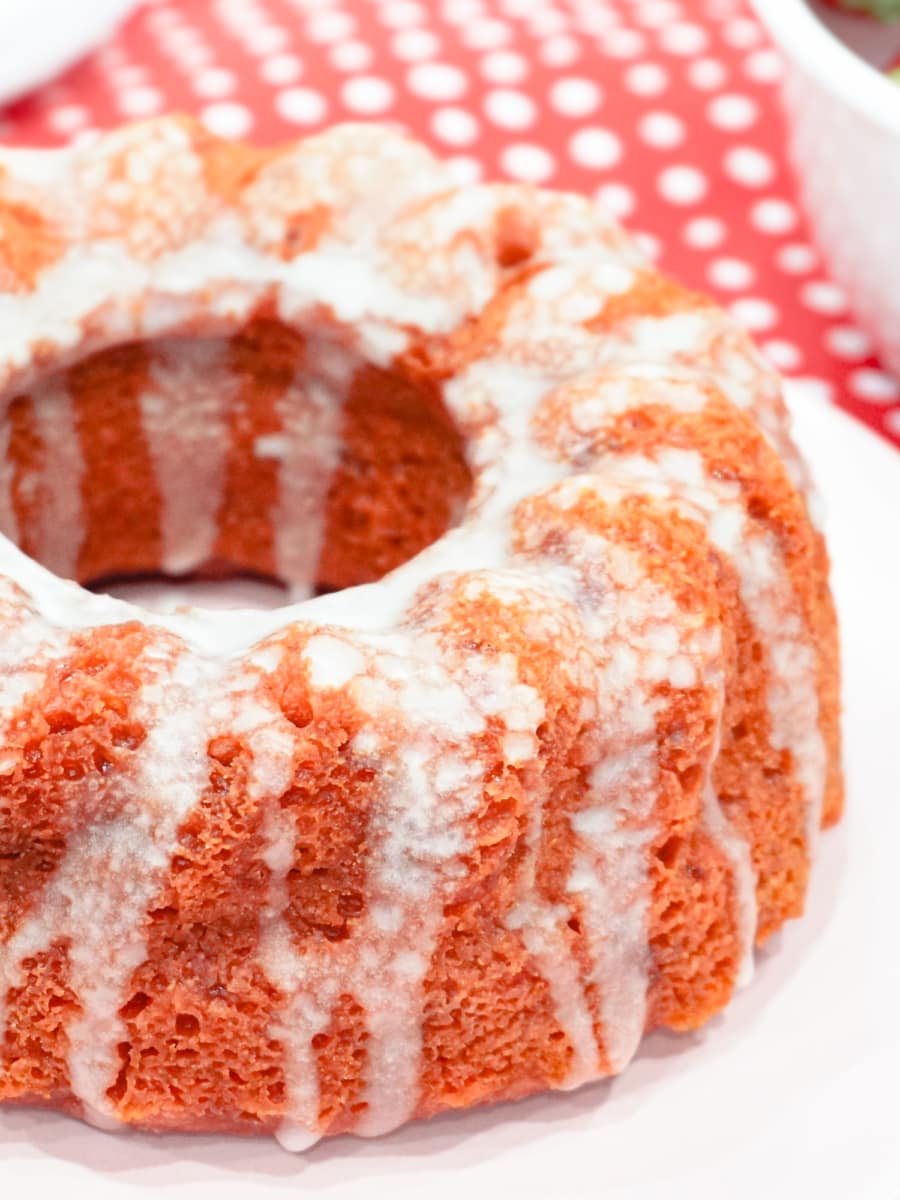 Strawberries were not easy to come by in Honduras when I was growing up. I remember there was a man that would come to our house from quite far every so often to sell my mom strawberries. He carried them in paper sacks by the pound. Every time we'd buy them, she'd make this amazing strawberry sauce we'd use to top ice cream and crepes. It was so good! I'll have to ask her how she makes it so I can share it with you soon!
Essential Items
Here are some essential prep tools, utensils, and appliances I used to make this recipe.
Prep Tools & Utensils
Here are the prep tools and utensils that you'll need:
Featured Items
Here is a list of the products featured in this post or products similar to those featured in this post:
28 Must-Have Instant Pot Accessories
Make sure to check out my Ultimate List of Instant Pot Accessories! I've included everything you could ever need to help make your pressure cooking quicker, easier, and even more convenient.
A Mini Treat That's Easy And Hits The Spot
This tiny cake may be small, but it's full of flavor! It's perfect for when you're craving a sweet treat but don't want to make a whole cake. As always, I like to keep things easy and simple when in the kitchen, so with only a few ingredients, you'll be enjoying some delicious Strawberries & Cream Cake straight from your Instant Pot!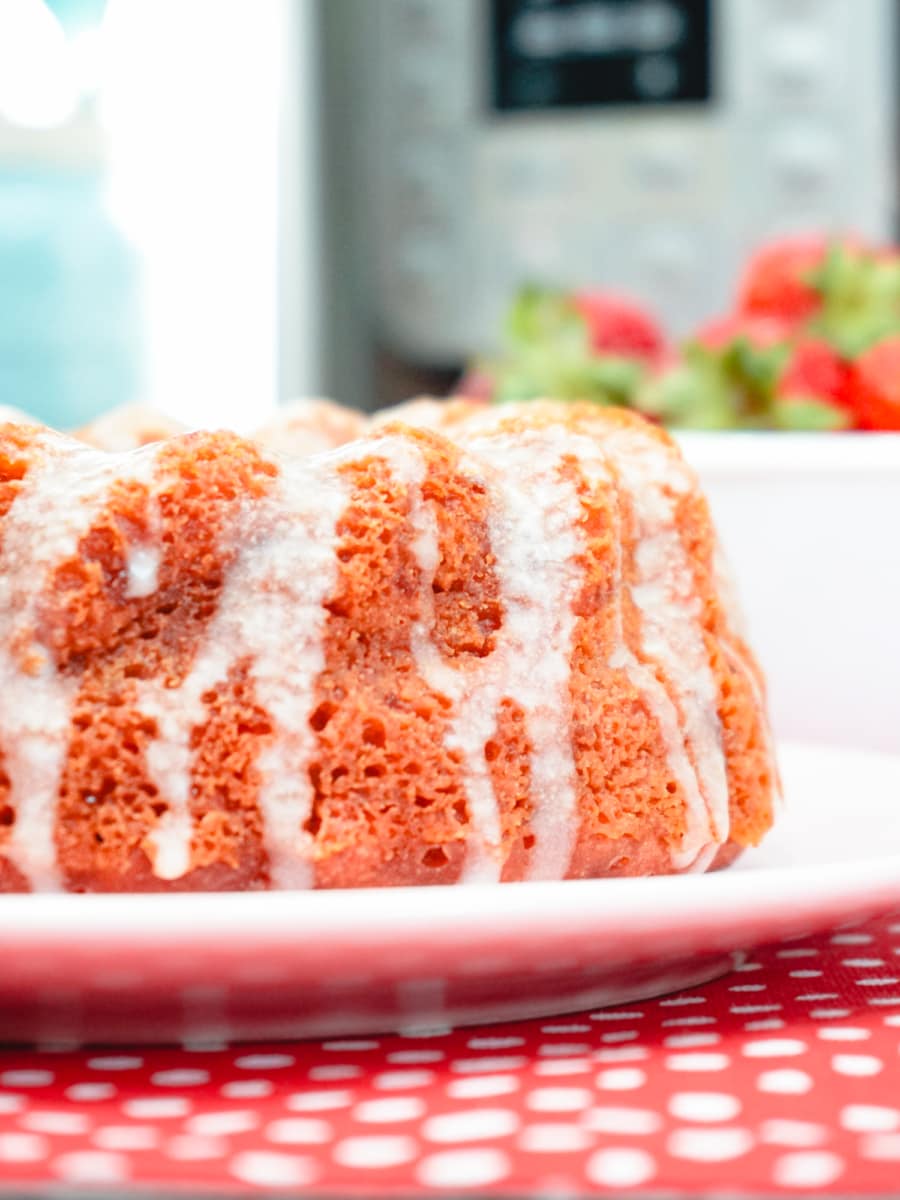 A Perfect Summer Treat
I've been making these mini cakes often this summer, and my kids love them! I love that I can make it, everyone can enjoy it, and we don't have a bunch of leftovers that I will probably end up eating alone!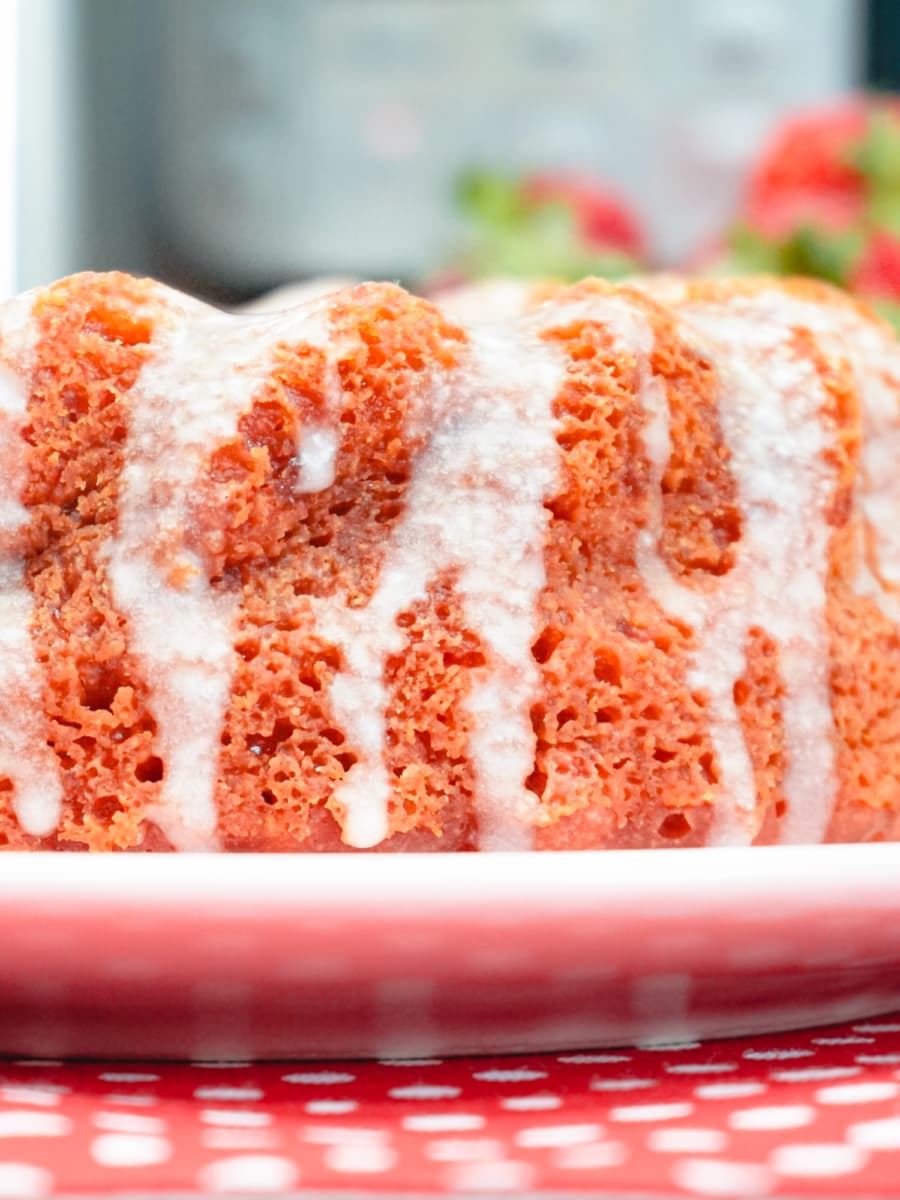 I know you and your family will enjoy this Strawberries & Cream Cake! Give it a try and serve up a perfect summer treat!
Now it's your turn to give this Mini Strawberries & Cream Cake recipe a try!
I've also included some tips and serving suggestions below the recipe card to help you make this mini cake even more delicious.
Please let me know if you try making this delicious Instant Pot cake by leaving a comment below. Also, don't forget to check out these other great Instant Pot cakes and desserts:
Instant Pot Strawberries & Cream Mini Cake
MOIST STRAWBERRY CAKE TOPPED WITH A CREAMY GLAZE
This delightful cake is packed full of creamy strawberry flavor. Perfect to enjoy with friends and family.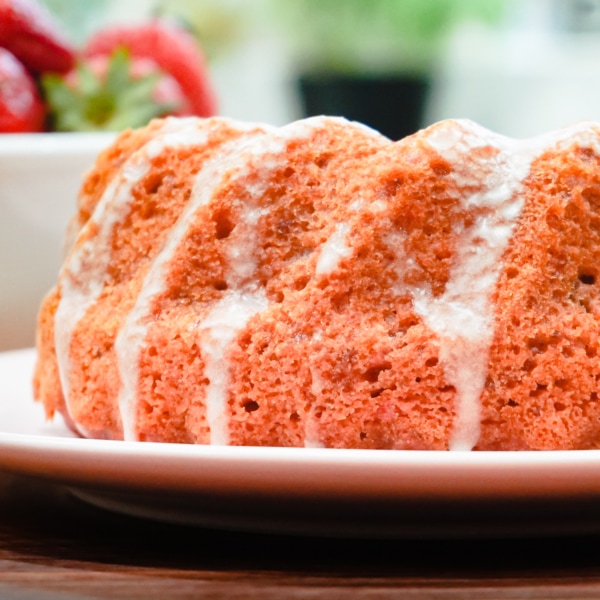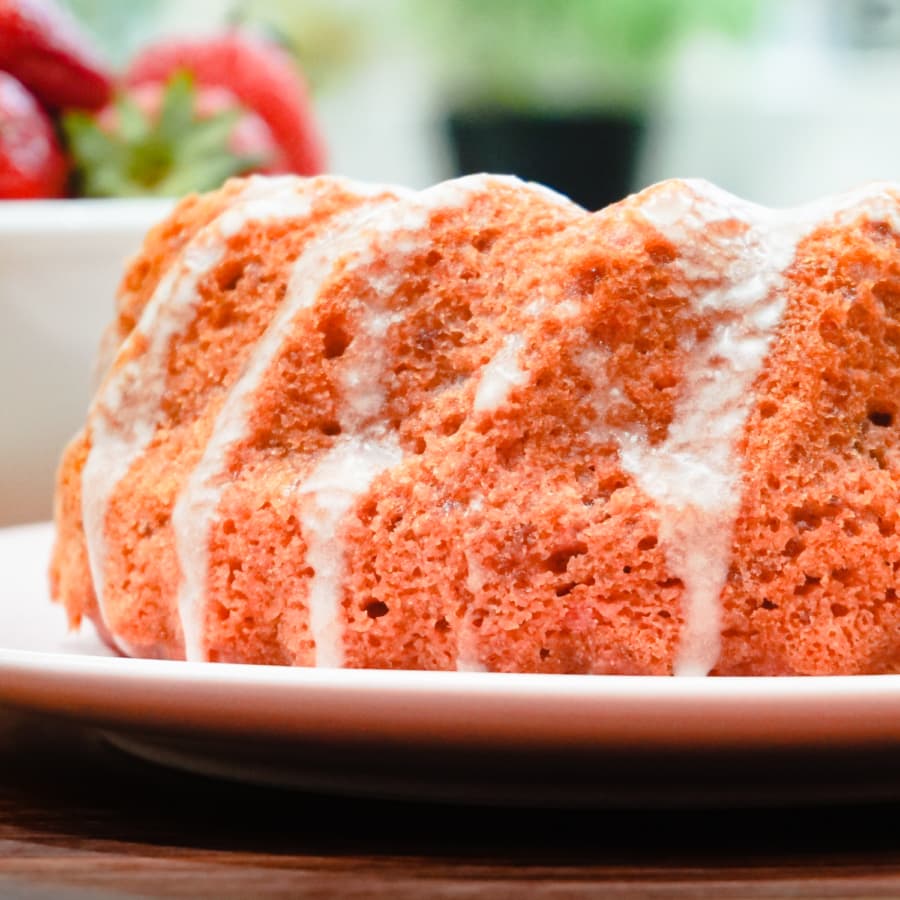 Instructions
make the Cake
Add the strawberry spreadable fruit, heavy whipping cream and egg to a mixing bowl and mix together thoroughly with a whisk.

Fold the strawberry cake mix and baking powder into the wet ingredients with a spatula. Make sure to use ONLY 1 CUP of cake mix and do not use a whisk or an electric mixer for this part. Be careful not to over mix. You want the batter to remain somewhat lumpy.

Spray a small 6″ x 2″ cake pan or 3 cup bundt pan with the cooking spray and pour the cake batter into the pan.

Tightly cover the cake pan with aluminum foil.

Add 2 cups of water to the Instant Pot and place the cake pan in the Instant Pot on the trivet.

Set the Instant Pot on 'Manual' or 'Pressure Cook', High Pressure for 40 minutes.

Once the cook time has completed, allow for a 15 minute NPR (natural pressure release).

After the pressure has been released and the pin has dropped, open the pot and carefully remove the cake from the pot.

Remove the foil from the cake pan, then place the cake on a cooling rack and allow the cake to cool.

After the cake has cooled, pour the glaze over the top of the cake to fully cover.
make the Glaze
Sift the 1/2 cup of confectioners powdered sugar into a mixing bowl, add the tablespoon of heavy whipping cream and tablespoon of water and mix until the sugar is fully dissolved.
Nutrition Facts
Serving: 1slice | Calories: 304kcal | Carbohydrates: 53g | Protein: 1g | Fat: 8g | Saturated Fat: 4g | Cholesterol: 34mg | Sodium: 308mg | Potassium: 53mg | Sugar: 35g | Vitamin A: 220IU | Vitamin C: 1.5mg | Calcium: 105mg | Iron: 0.9mg
Tips & Tricks
Replace the glaze with cream cheese frosting. Yes! Cream cheese frosting is so amazing on this cake. So, if you want to make your own or buy a premade frosting, go for it!
Experiment with flavors. Try something different. Even though this recipe uses strawberry flavored cake mix and strawberry fruit spread, there is no reason that you can't change things up. Try other flavors of cake mix and add different flavored fruit preserves or fruit filling. Your cake will come out great as long as you stick to the same measurements given in the recipe.
Serving Suggestions
Add a scoop of vanilla ice cream. This cake tastes extra amazing with a scoop of vanilla ice cream on top.
Serve with an afternoon tea. Invite a few friends over for an afternoon tea and serve this strawberry cake – they'll love it!