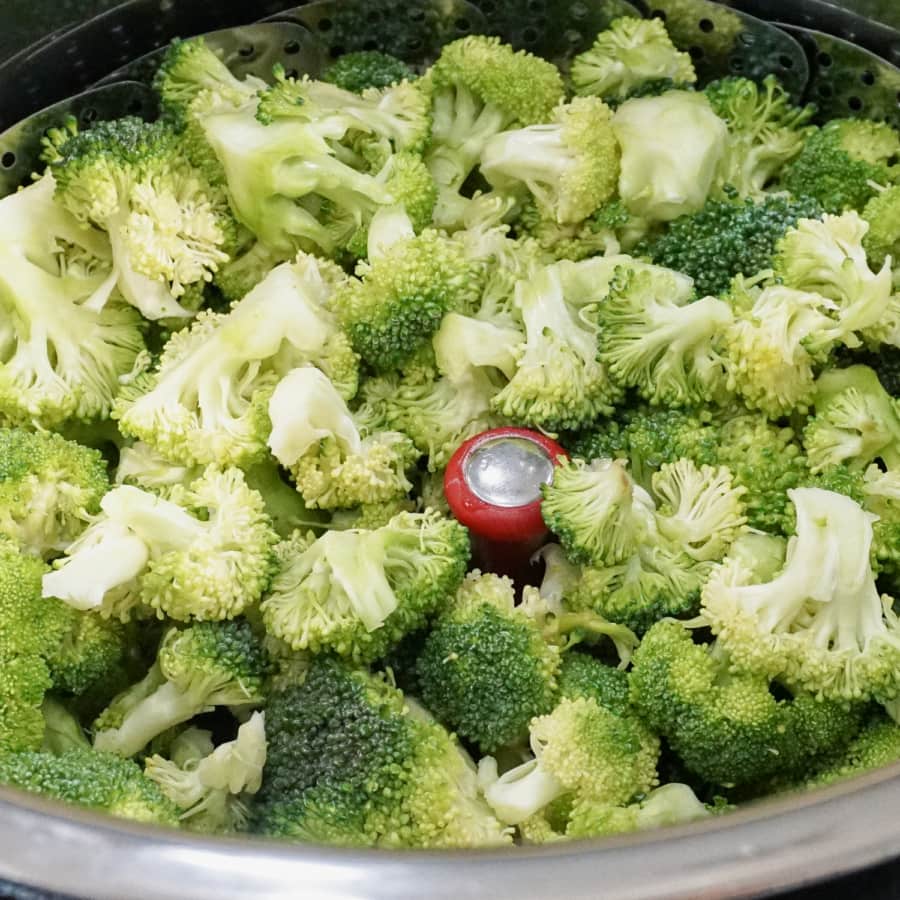 Broccoli is one of the easiest and fastest things you can make in your Instant Pot. I am lucky that every single one of my kids loves broccoli. They request it often and the Instant Pot has made it so much easier to prepare for them.
This post contains affiliate links. For more information, see my disclosure.
Instant Pot Broccoli Means No Fuss Broccoli
The nice thing about cooking your broccoli in an electric pressure cooker is you'll know exactly how long it'll take to get perfectly cooked broccoli everyone will enjoy. It's so simple you'll probably never cook broccoli any other way!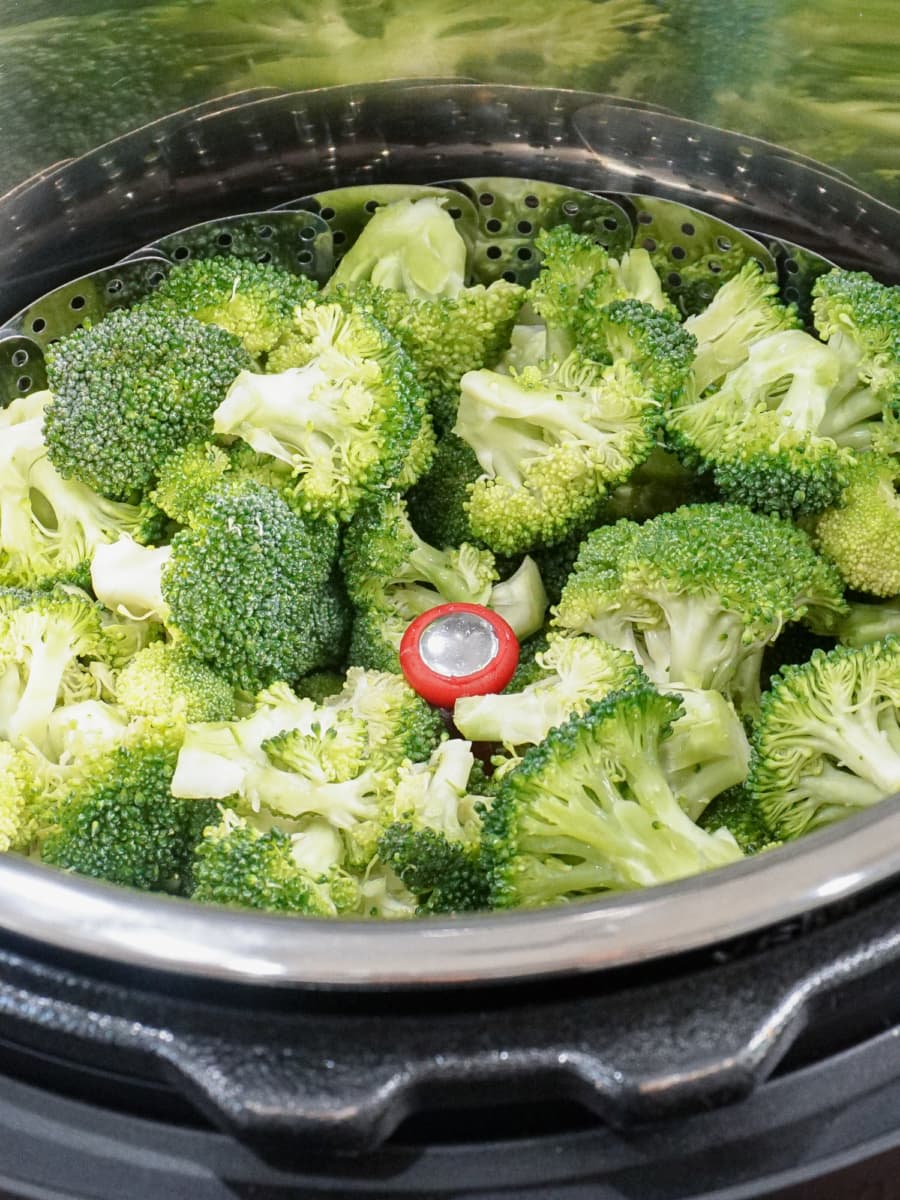 Perfect Broccoli in "No Time"
The secret to perfect broccoli in the Instant Pot?
Easy, it's cooking it for zero minutes. That's right, you read that correctly. You set your pot for zero minutes and then do a quick release. The pressure cooker will cook or steam the broccoli while your pot is coming up to pressure.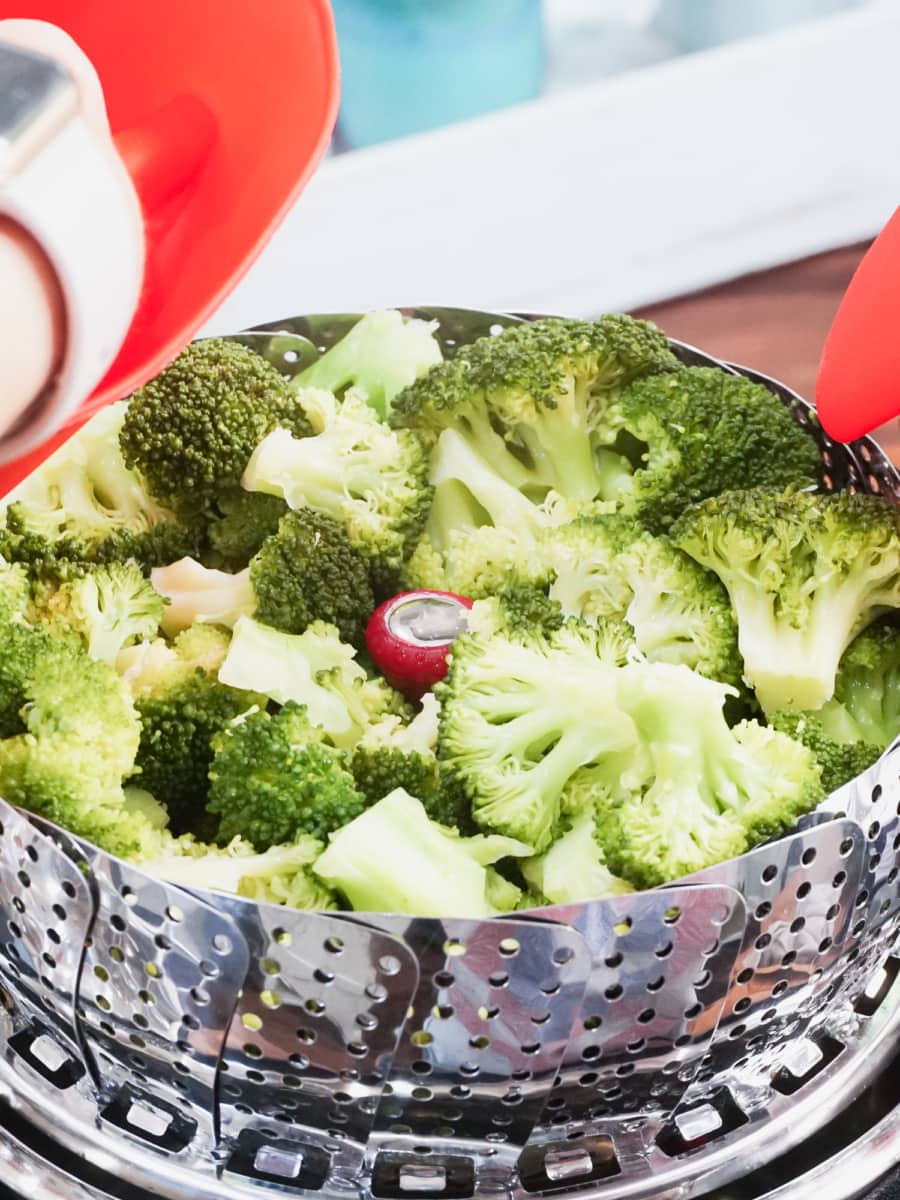 Essential Items
Here are some essential prep tools, utensils, and appliances I used to make this recipe.
Featured Items
Here is a list of the products featured in this post or products similar to those featured in this post:
28 Must-Have Instant Pot Accessories
Make sure to check out my Ultimate List of Instant Pot Accessories! I've included everything you could ever need to help make your pressure cooking quicker, easier, and even more convenient.
The Perfect Quick and Healthy Side to Any Meal
So if you're looking for a healthy side for your entree, then look no further than broccoli. It's one of the healthiest veggies you can eat! Add to that the ease and speed at which you can cook it in the Instant Pot and you've got yourself a winner!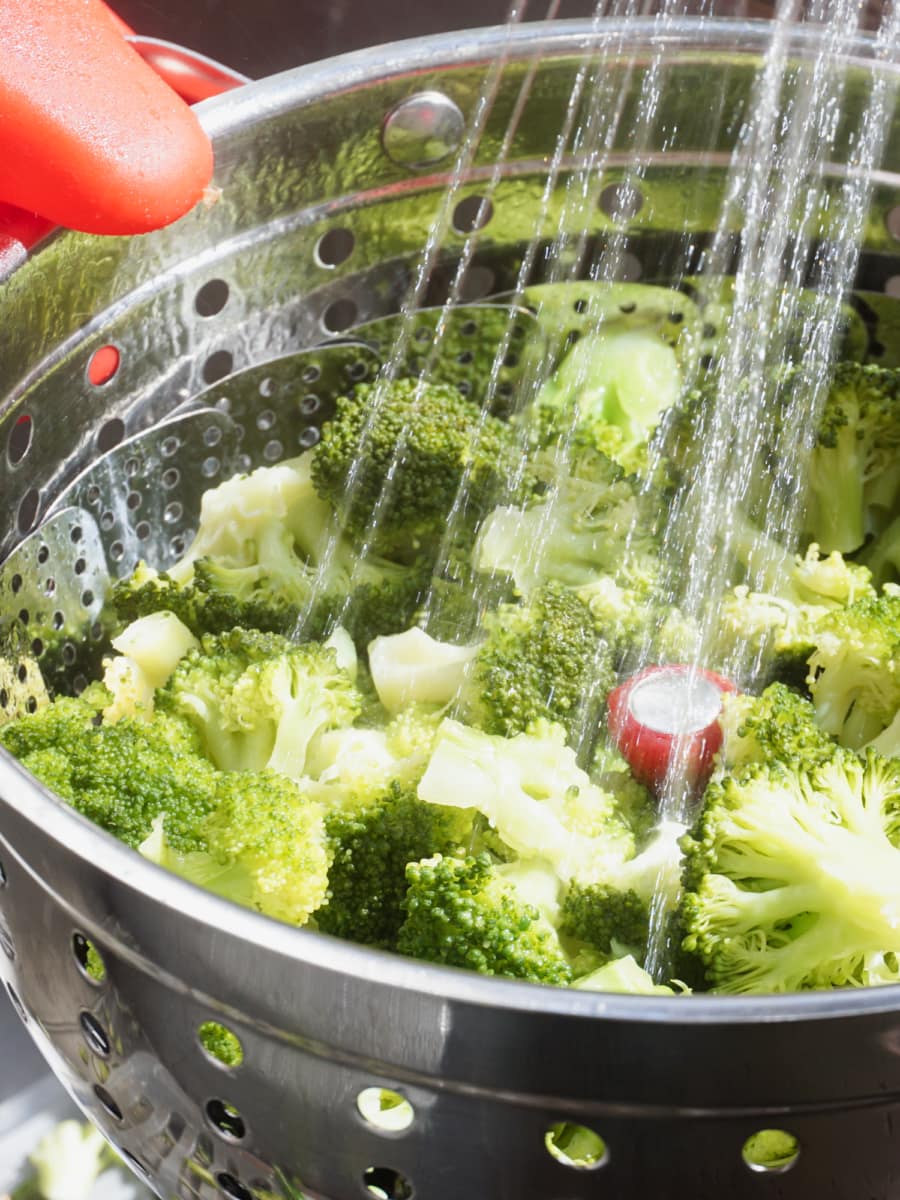 Most of the time we eat our broccoli plain. But if you're looking to kick it up a notch or you like eating your broccoli with a bit more flavor, then check out my recipe for this amazing Instant Pot Lemon Butter Broccoli.
My family loves broccoli in all forms and they especially love it when I make it quickly for them. Your family will love it too!
Now it's your turn to give this easy recipe a try!
I've also included some tips and serving suggestions below the recipe card to help you make Instant Pot Broccoli even more delicious. Also, if you like the speed and ease of this recipe, you'll also want to check out my Zero-Minute Instant Pot Cauliflower recipe.
Zero-Minute Instant Pot Steamed Broccoli
PERFECTLY STEAMED BROCCOLI FLORETS
Steamed broccoli can be enjoyed in so many ways. Mix it into a stir-fry, toss it with your favorite dressing or add it to a casserole. So many possibilities.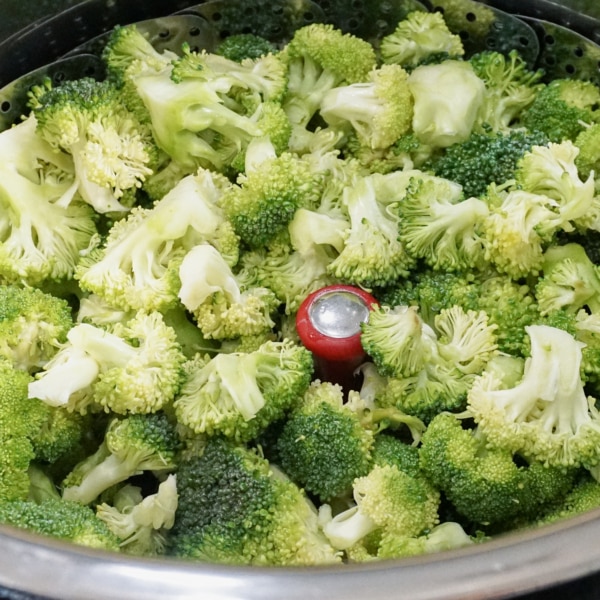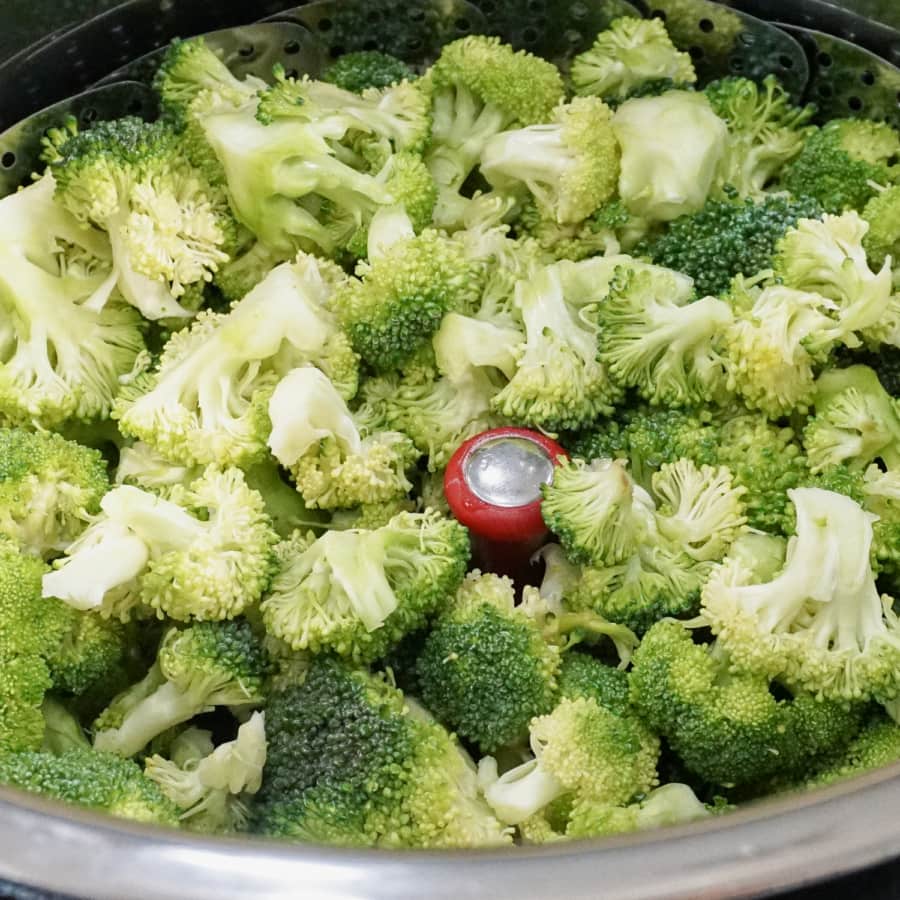 Instructions
Add the broccoli florets to the Instant Pot using a steamer basket or the trivet.

Add ½ a cup of water to the Instant Pot, close the pot and set the pressure release valve to 'Sealing'.

Set the pot to 'Manual' or 'Pressure Cook' High Pressure for 0 minutes.

Once the Instant Pot comes to pressure and beeps, perform a Quick Pressure Release (QPR) and immediately release the pressure.

Once the pressure has been released, open the pot and immediately remove the broccoli.

Rinse the broccoli under cool water for 5-10 seconds to prevent it from overcooking.

Season with salt and pepper to your liking and toss.
Nutrition Facts
Calories: 25kcal | Carbohydrates: 5g | Protein: 2g | Sodium: 25mg | Potassium: 240mg | Fiber: 1g | Sugar: 1g | Vitamin A: 475IU | Vitamin C: 67.8mg | Calcium: 36mg | Iron: 0.6mg
Notes
Works in all pot sizes. This recipe works in all Instant Pots including the 3-quart, 6-quart and 8-quart.
Tips & Tricks
Don't skimp on the rinse. Once the Instant Pot has completed the cooking time and fully released the pressure, remove the broccoli from the pot immediately and rinse under cool water. This will slow the cooking process and keep the broccoli from overcooking.
Plunge in ice. Alternatively, you can plunge the broccoli into ice water to completely halt the cooking process.
Serving Suggestions
Toss with a sauce. Toss this broccoli with a sauce like my lemon butter sauce to make it even more tasty.
Make it a salad. Toss with lime juice and soy sauce and top with cashews for a delicious salad.
Liven it up. Add some minced garlic, red pepper flakes, and a hint of vinegar to kick things up a notch.
Partner with a dip. Serve your broccoli up with a creamy, healthy yogurt dip.