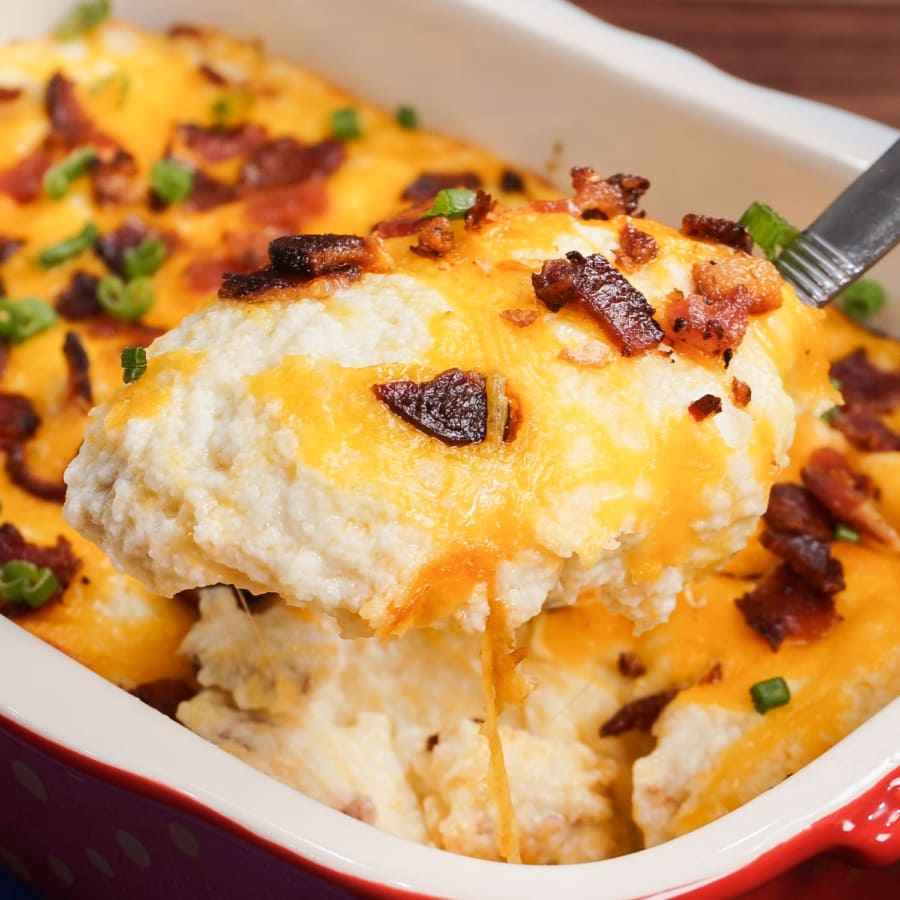 I hadn't tried mashed cauliflower until recently. I'm a lover of mashed potatoes so it wasn't even on my radar to mash cauliflower instead! About a year ago I discovered that cauliflower can take the place of so many less healthy alternatives. We've recently had cauliflower rice, cauliflower pizza crust, cauliflower tacos, and now mashed cauliflower!
This post contains affiliate links. For more information, see my disclosure.
An Old Favorite Reinvented
Cauliflower is one of the few vegetables that I've actually liked since I was little. I was a picky eater when I was little, not so much anymore!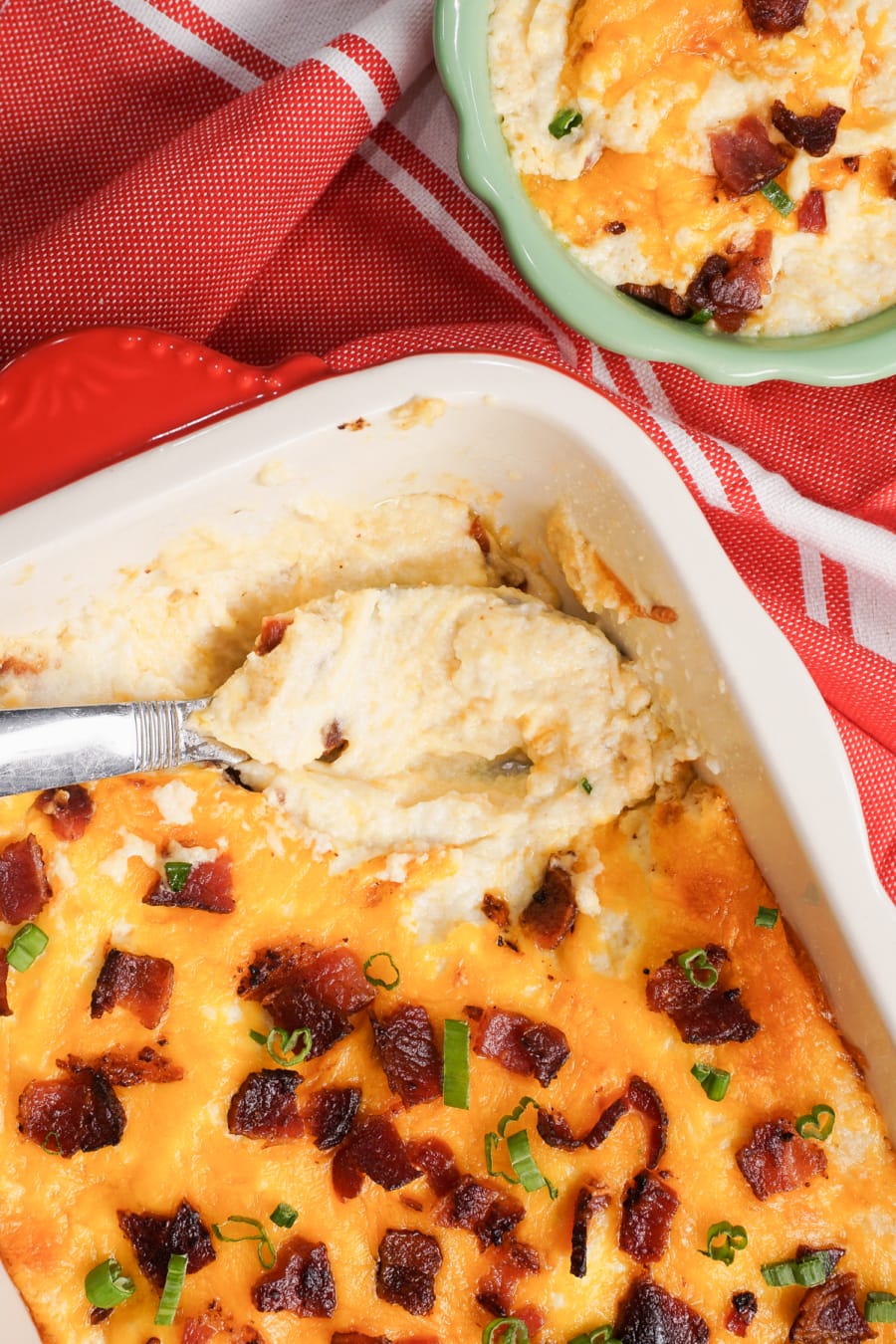 I've recently been eating it a lot more in an effort to eat fewer carbs and get more veggies in my diet. I usually steam cauliflower in the Instant Pot and it's ready and cooked to perfection in no time. The Instant Pot has made it a breeze to steam veggies like broccoli and cauliflower.
As for this Loaded Mashed Cauliflower Casserole, it's definitely got some ingredients that are not low in fat, but hey, it's Ok to indulge once in a while! And if you take into consideration that this is a low-carb dish, it's a good deal!
Essential Items
Here are some essential prep tools, utensils, and appliances I used to make this recipe.
Featured Items
Here is a list of the products featured in this post or products similar to those featured in this post:
A Cheesy Bit of Goodness
If you haven't tried mashed cauliflower, you are missing out! It's so good, you can literally just mash it and eat it without adding anything to it. It's creamy and has a natural buttery flavor in my opinion.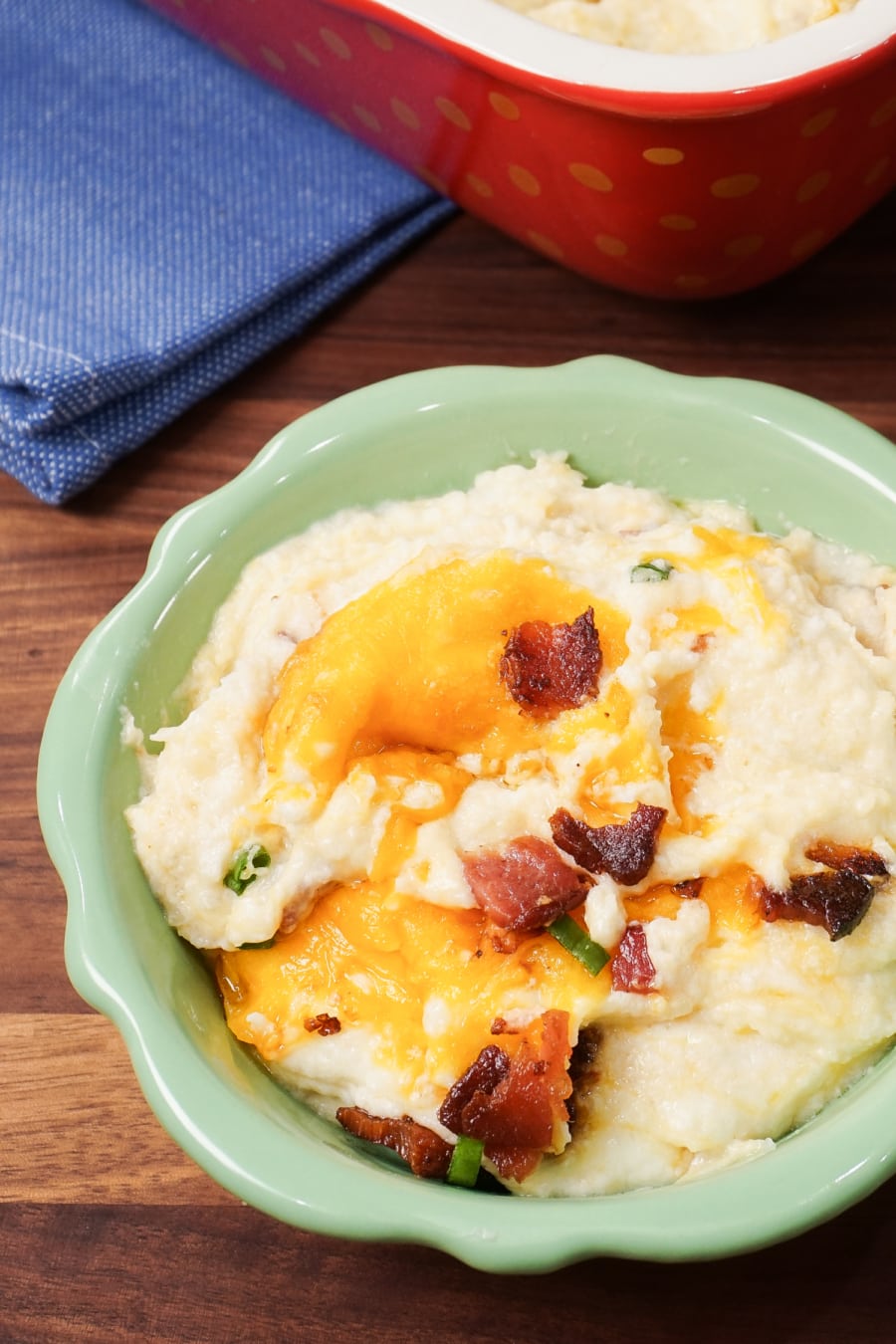 But if you really want to please your taste buds, then I highly recommend making this cheesy, creamy loaded mashed cauliflower casserole.
An Easy Side That Will Impress
We're talking cheese, cream, and bacon, you can't go wrong with that combination! It also looks so pretty in a serving dish with all the different colors on top! Your family or your guests will definitely be impressed.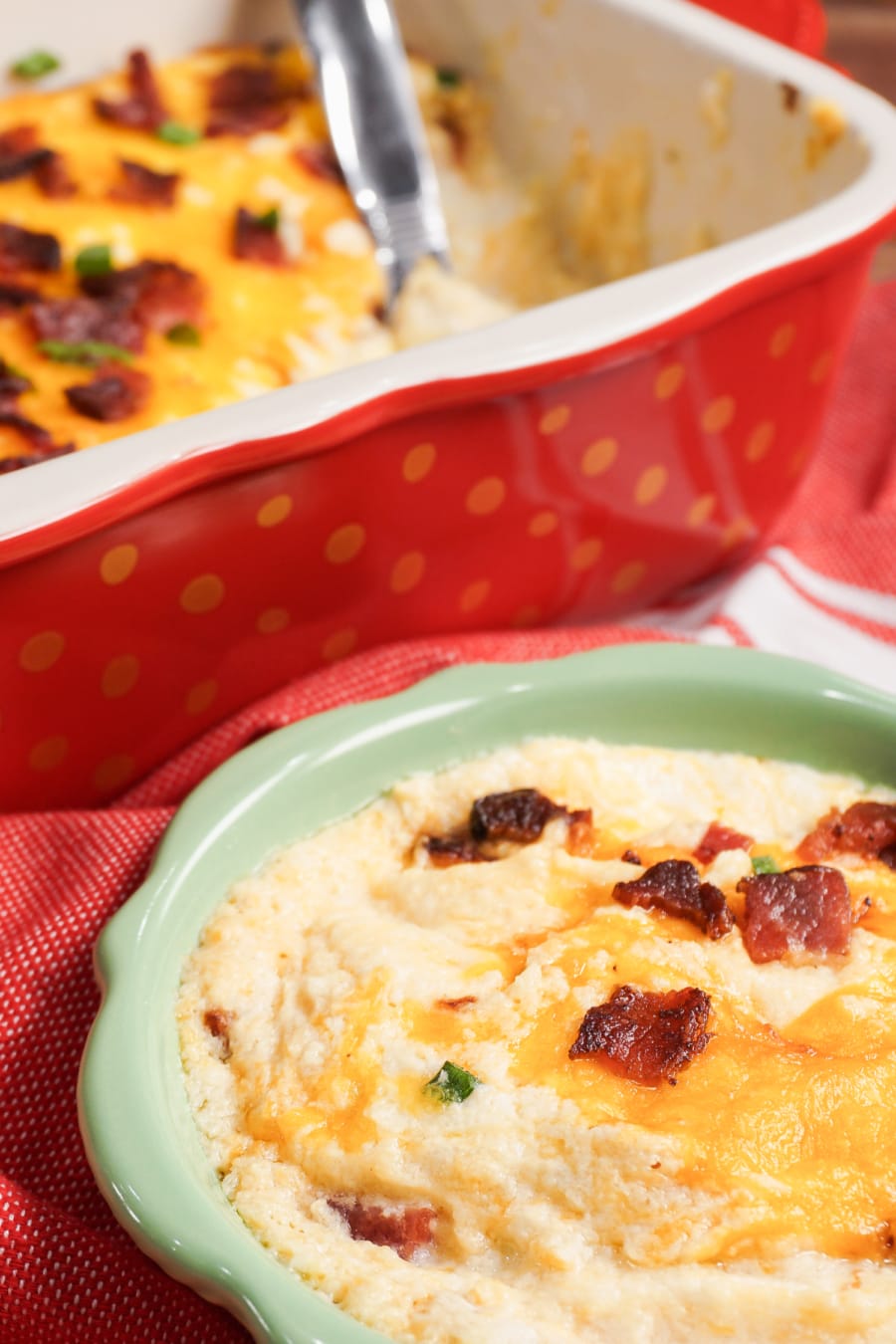 I was a little worried the kids wouldn't like it since they had never had mashed cauliflower. Well, they all loved it! Everyone had seconds and we went through the whole dish in no time!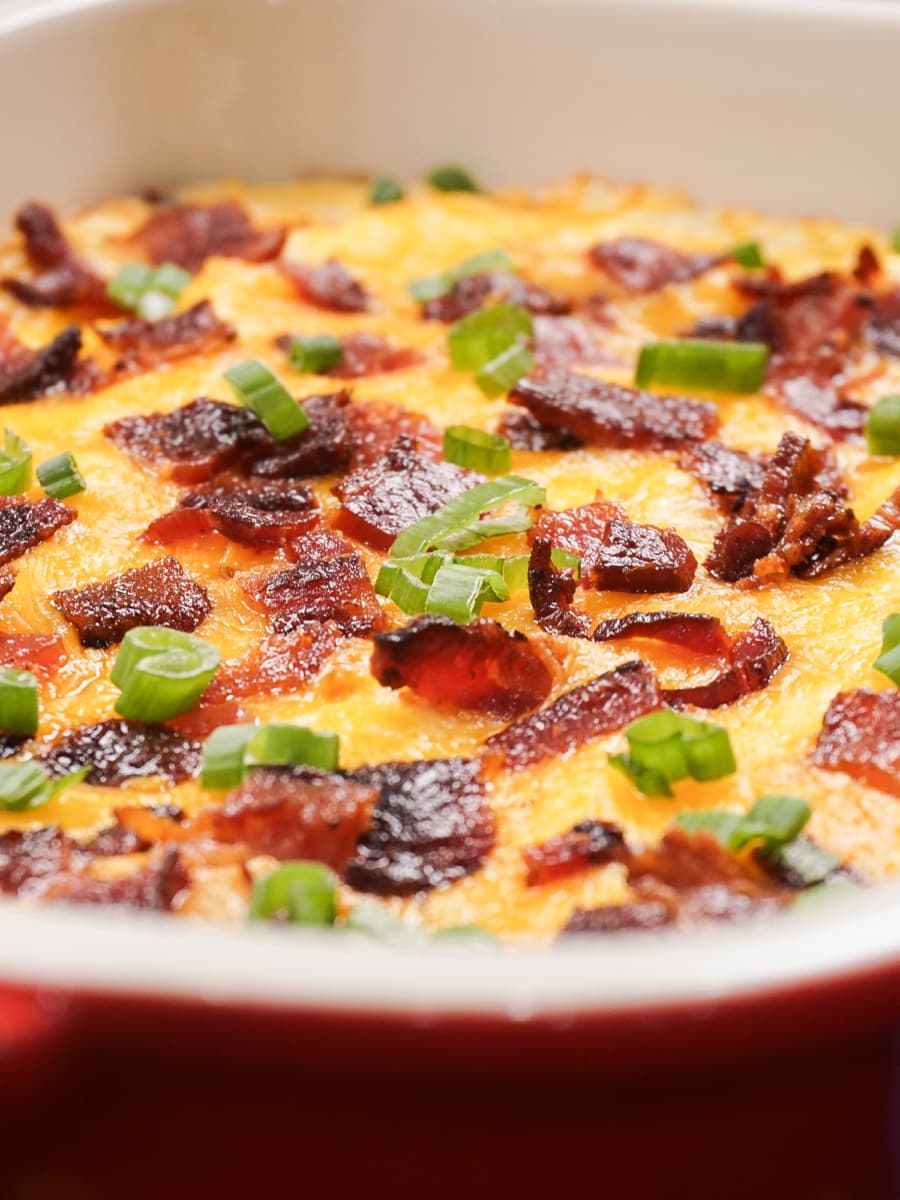 Like I mentioned, I steam my cauliflower in the Instant Pot, but you can make this recipe even if you don't own one. You just need to make sure you steam it enough to be able to mash it into a smooth and creamy consistency.
Now it's your turn to give this Loaded Mashed Cauliflower recipe a try!
Loaded Mashed Cauliflower Casserole
CREAMED CAULIFLOWER TOPPED WITH CHEDDAR CHEESE, BACON, AND SCALLIONS
This warm and comforting casserole is loaded with flavor and makes a great side dish for any meal.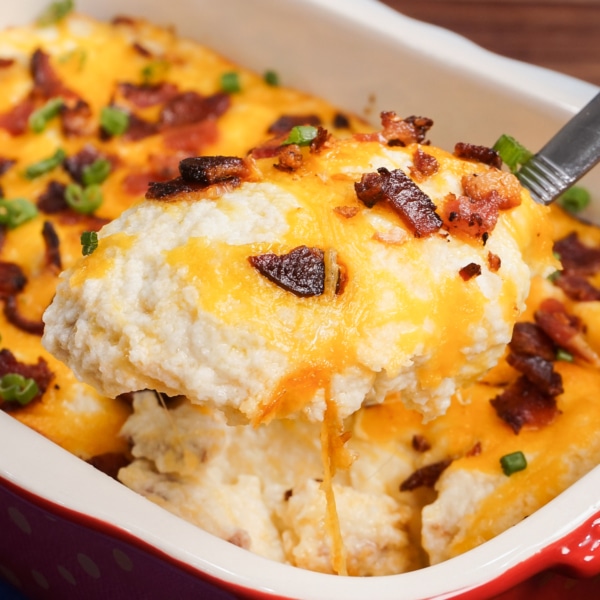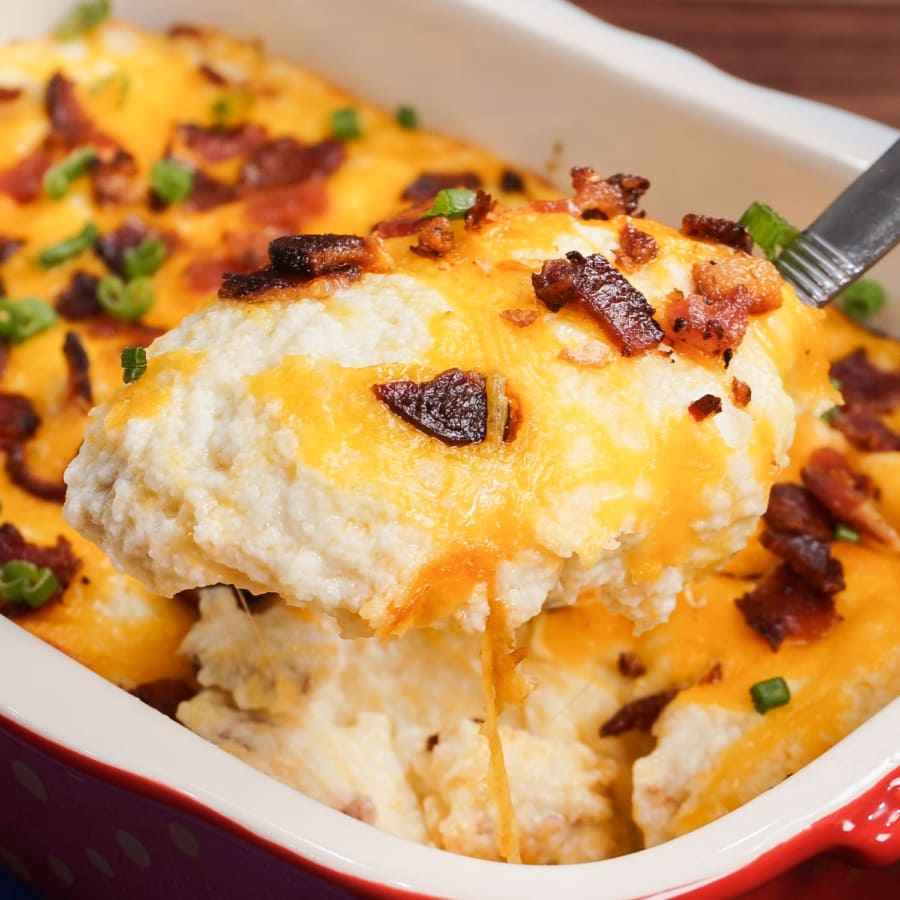 Ingredients
1 head cauliflower cut into florets, rinsed, and steamed, approx. 2 lbs
2 tbsps butter (salted) melted
4 oz cream cheese
½ cup sour cream
½ cup heavy whipping cream
¼ tsp garlic powder
1 tsp kosher salt or to taste
2 cups medium cheddar cheese shredded
6 slices bacon cooked and crumbled
2 tbsps green onion(s) chopped
Instructions
Preheat your oven to 425°.
steam the Cauliflower
While I prefer

using the Instant Pot to steam cauliflower

, an Instant Pot is not required for this recipe. You may steam the cauliflower on the stove if you wish. If steaming on the stove, ensure that you steam the cauliflower until it is soft.

To steam the cauliflower in the Instant Pot, add 1 cup of water to the pot. Place the trivet or steamer basket inside the pot and then put the cauliflower florets in the basket.

Close the Instant Pot and set it to 'Manual' or 'Pressure Cook' High Pressure for 3 minutes.

Once cooking has completed, immediately perform a quick pressure release (QPR).

Once the pressure has been fully released, open the pot and then allow the cauliflower to sit in the pot while you gather the remaining ingredients.
combine the Ingredients
Remove the cauliflower from the Instant Pot and add it to a food processor and blend until smooth and creamy.

Add the butter, cream cheese, sour cream, heavy cream, garlic powder and salt to the food processor and blend until smooth.

Remove the bowl from the food processor base and then carefully remove the blade from bowl. Add 1 cup of shredded cheddar cheese and 4 strips of crumbled bacon to the mashed cauliflower. Mix in by hand with a spatula.

Spoon the mashed cauliflower mix into a 9 x 11 baking dish and spread the remaining shredded cheddar cheese and crumbled bacon evenly across the top.
Bake
Place the baking dish on the middle rack of your oven and bake for 20 minutes, or until the cheese is bubbly and begins to get toasty in spots.

Remove from the oven and garnish with the chopped scallions.
Nutrition Facts
Calories: 283kcal | Carbohydrates: 4g | Protein: 9g | Fat: 25g | Saturated Fat: 14g | Cholesterol: 73mg | Sodium: 547mg | Potassium: 260mg | Fiber: 1g | Sugar: 1g | Vitamin A: 705IU | Vitamin C: 28.1mg | Calcium: 207mg | Iron: 0.5mg