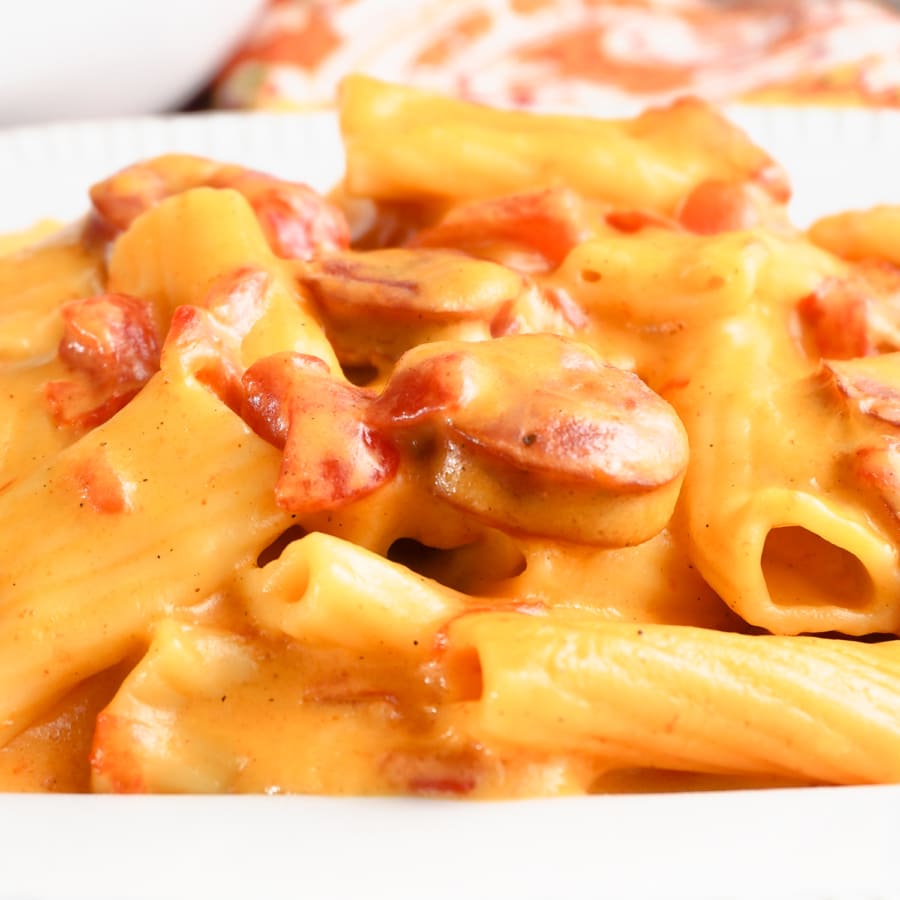 This Instant Pot Cajun Pasta was born on one of those nights where we needed dinner fast, and I had to use what we had on hand. A quick Instant Pot pasta dish always comes to the rescue, and this one turned out so delicious I just had to share!
This post contains affiliate links. For more information, see my disclosure.
What Ingredients Will I Need for Spicy Cajun Pasta?
The first time I made Instant Pot Cajun Pasta I used venison sausage because it's what I had on hand. It was delicious, but I really wanted to make it strictly Cajun for the recipe I'd share on the blog. So, in order to perfect it, I now make it with Andouille Sausage. It's not necessary to use Andouille, but it gives it the perfect touch.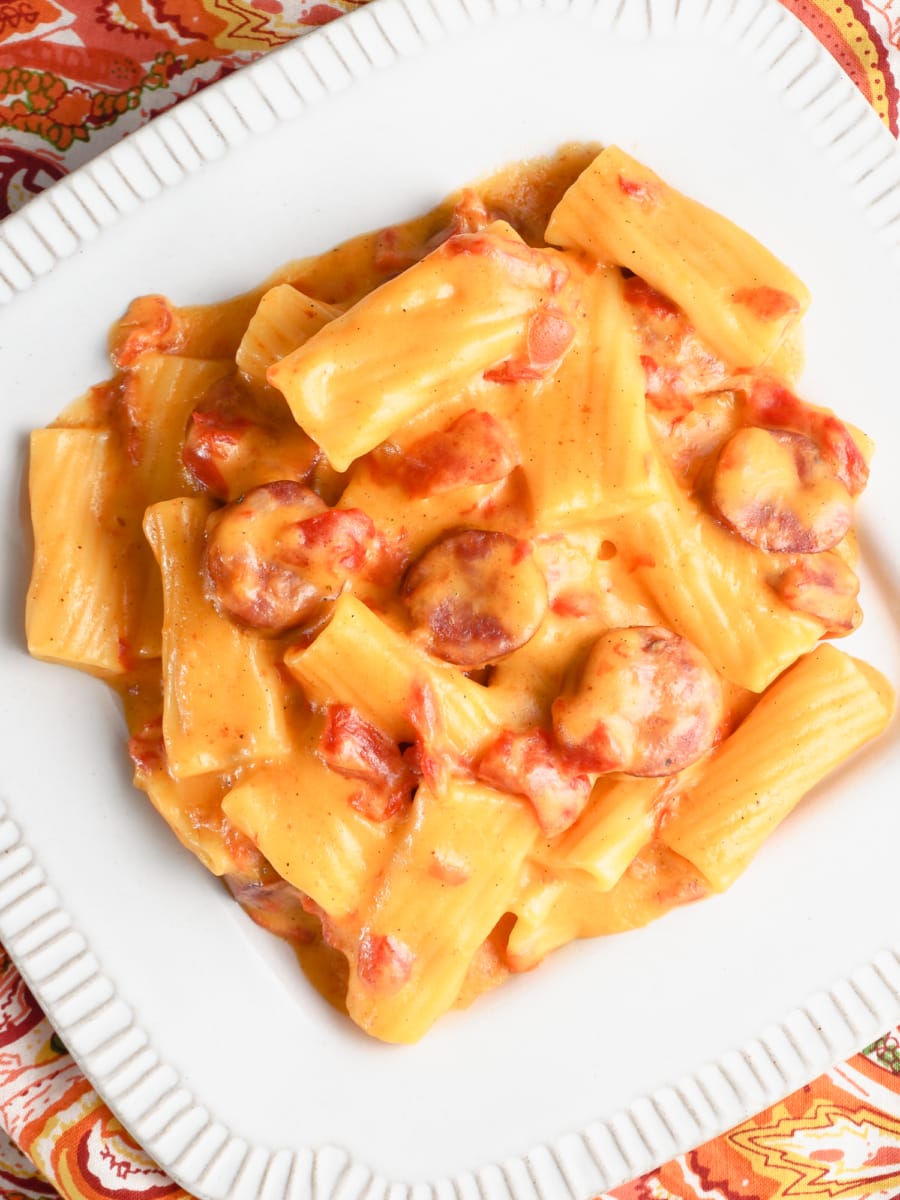 Of course, you'll need some Cajun seasoning. I love Tony Chachere's, it's perfect in this dish. Other than that, some cheddar cheese, a couple of cans of Ro-tel, pasta, and you're set!
Essential Items
Here are some essential prep tools, utensils, and appliances I used to make this recipe.
Featured Items
Here is a list of the products featured in this post or products similar to those featured in this post:
23 Must-Have Electric Pressure Cooker Accessories
Make sure to check out my Ultimate List of Electric Pressure Cooker Accessories! I've included everything you could ever need to help make your pressure cooking quicker, easier, and even more convenient.
Avoiding a Mess When Cooking Pasta in the Instant Pot
You may have heard, or it may have even happened to you, that when you cook pasta in the Instant Pot, sometimes the release can be messy! I have a solution for this, and you can read all about it here.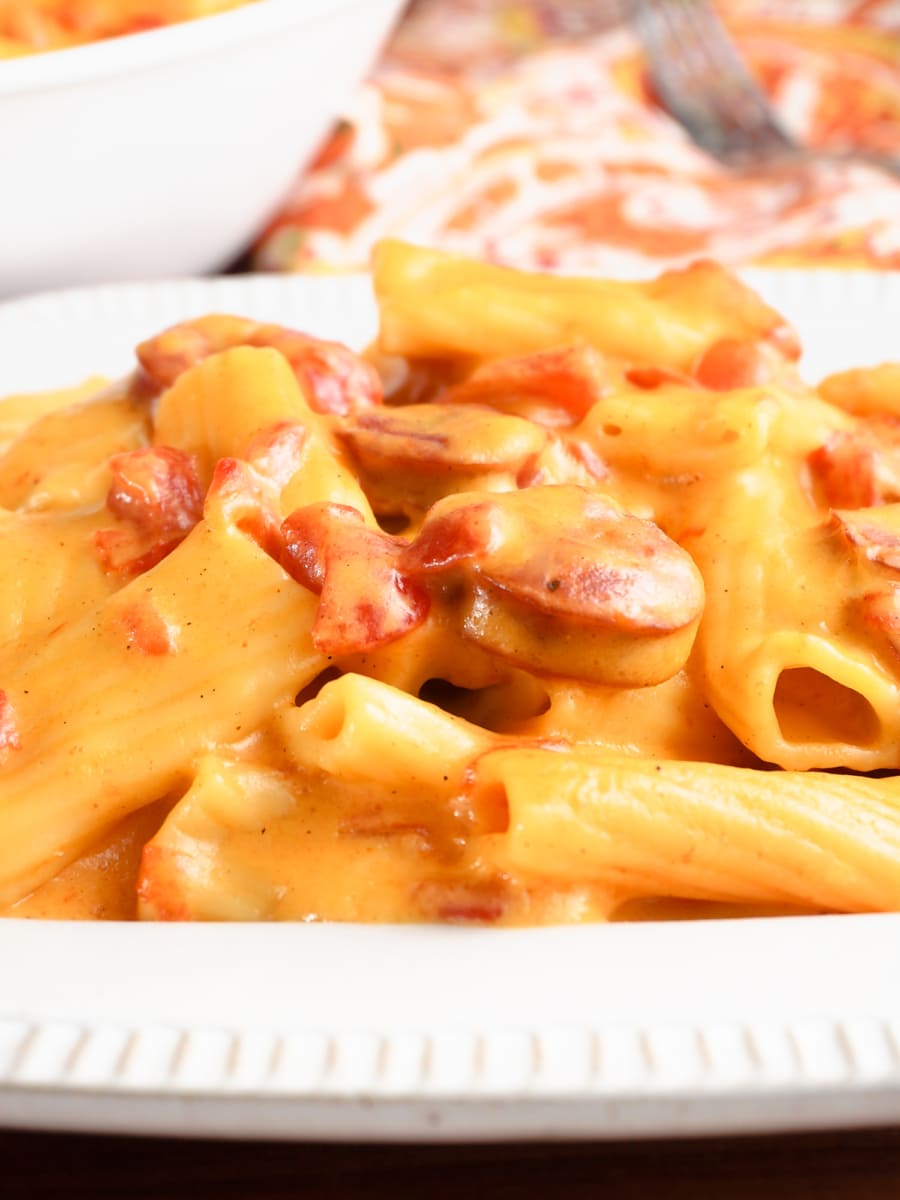 The trick really works, and I always use it when making plain pasta. The first time I made this pasta dish though, I didn't do it, and I had a bit of a mess when releasing the pressure. Rigatoni seems to be especially messy when doing a pressure release. So I decided to use the trick the next time I made this recipe, and it made a huge difference.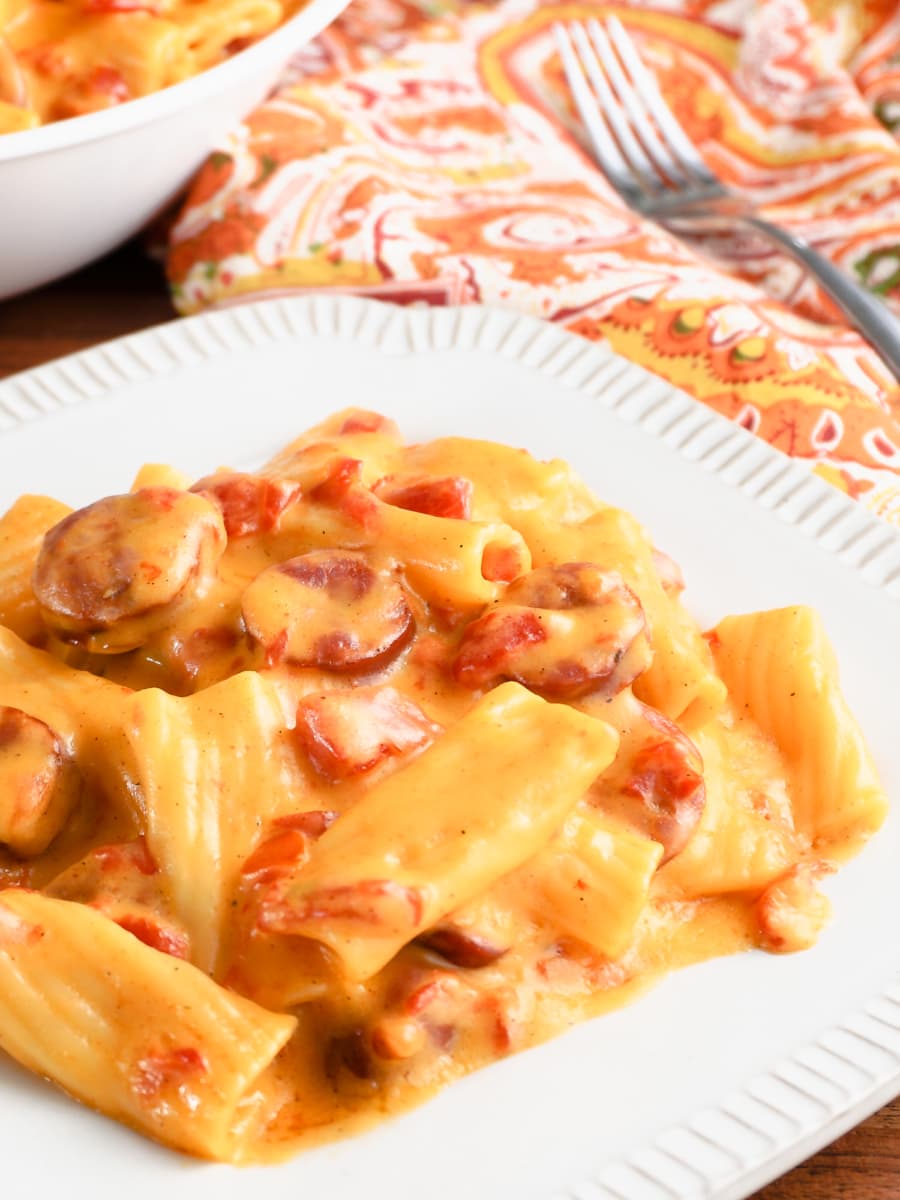 An Instant Pot Pasta Dinner Perfect for Busy Nights
This Instant Pot Cajun Pasta is the perfect recipe for those nights when you're running kids around, and you need dinner on the table fast. On nights like those, which often happen around here, pasta is my go-to. The kids love it and making it in the Instant Pot is so easy and fast. If your kids love pasta, then you'll also want to try my Instant Pot Cheeseburger Mac and my Instant Pot Taco Pasta.
This Cajun Pasta does have some spice to it, so make sure to take that into consideration. My family is a fan of spicy food, so it's perfect for us. My Instant Pot Cajun Pasta is not killer spicy, but it definitely has a nice kick.
We love this Instant Pot recipe, and I know that you will too! I'd like to hear in the comments when you try it.
Instant Pot Spicy Cajun Pasta
RIGATONI PASTA AND ANDOUILLE SAUSAGE IN A CREAMY CAJUN CHEESE SAUCE
This Instant Pot recipe serves up a quick and easy pasta dish loaded with Cajun attitude. The rigatoni pasta and andouille sausage are covered in a spicy cajun cheese sauce that is so delicious. This dish is so flavorful, so filling, and a perfect dump and cook meal for busy weeknights.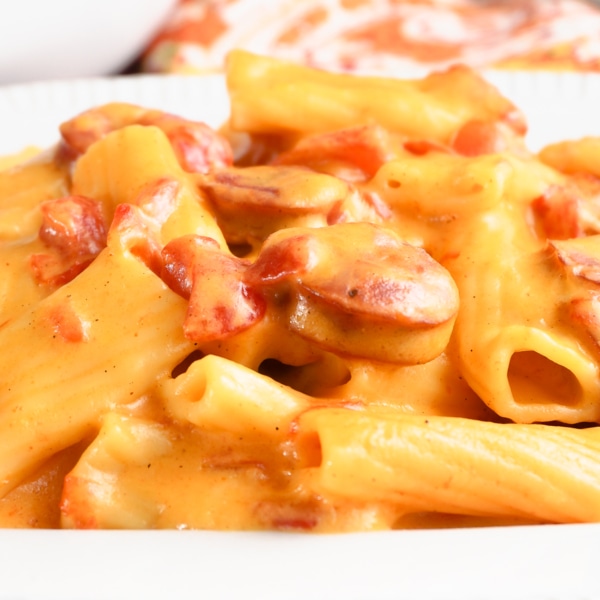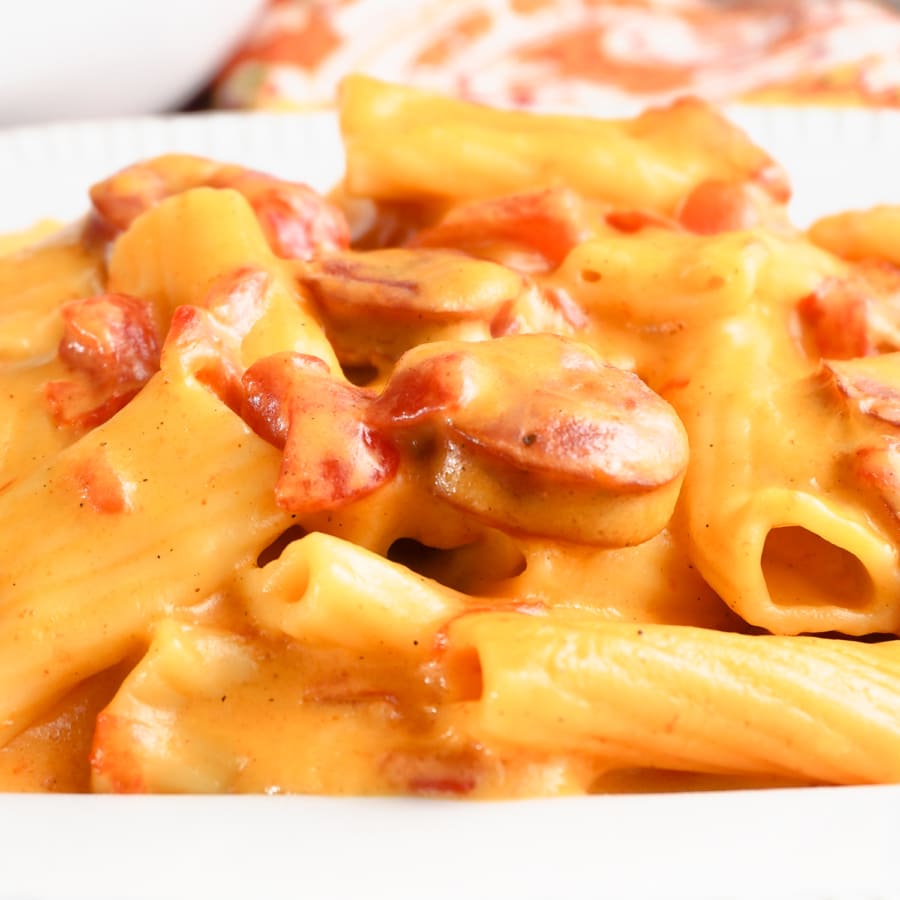 Instructions
Add Water & Pasta: Add the 2 cups of water to the Instant Pot and then add the rigatoni pasta.

Add Remaining Ingredients: Add the andouille sausage, Ro-tel, butter, and Cajun seasoning to the pot. No need to mix anything.

7-Minute Cook Time: Close the Instant Pot, set it to 'Sealing', select the 'Manual' or 'Pressure Cook' function and cook on 'High Pressure' for 7 minutes.

2-Minute NPR: Once cooking has finished, allow for a 2 minute NPR (natural pressure release). Release the remaining pressure after the two minutes have completed. Once all the pressure has been released and the pin has dropped, open the pot.

Stir In Evaporated Mik & Cheese: Add the evaporated milk and cheddar cheese to the pot and stir until the cheese has fully melted into the pasta.

Serve and enjoy this tasty pasta dish.
Nutrition Facts
Calories: 686kcal | Carbohydrates: 51g | Protein: 33g | Fat: 38g | Saturated Fat: 19g | Cholesterol: 115mg | Sodium: 820mg | Potassium: 644mg | Fiber: 2g | Sugar: 8g | Vitamin A: 1105IU | Vitamin C: 11.1mg | Calcium: 574mg | Iron: 2.8mg