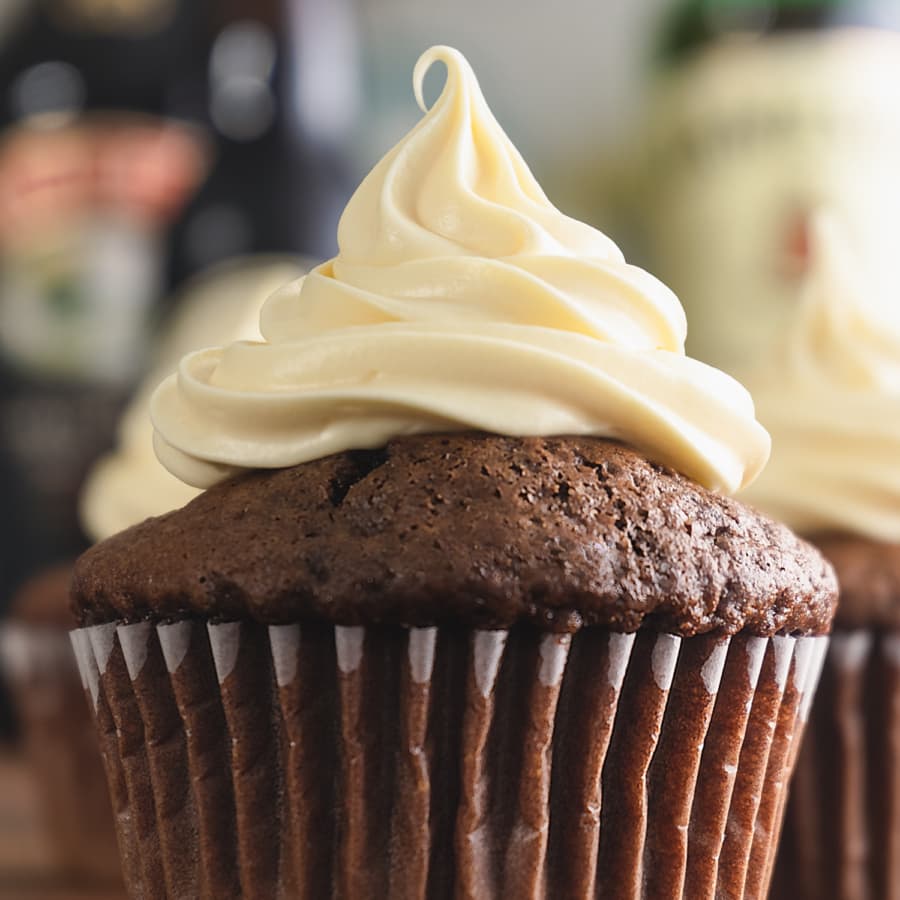 I am thrilled to share with you this recipe for Easy Irish Cocktail Cupcakes. They are not just any cupcakes! They are infused with Guinness Beer, Irish Whiskey, and my favorite, Bailey's Irish Cream! Whoa, Nelly, these are good!
This post contains affiliate links. For more information, see my disclosure.
What is an Irish Cocktail?
An Irish Cocktail, usually known as an Irish Car Bomb, is a cocktail prepared by serving a pint of stout Guinness Beer and dropping in a shot glass layered with Bailey's Irish Cream and Irish Whiskey. Needless to say, it packs a punch! I certainly will not be drinking one of these, but I will be having some of these cupcakes deliciously inspired by the Irish Car Bomb Cocktail.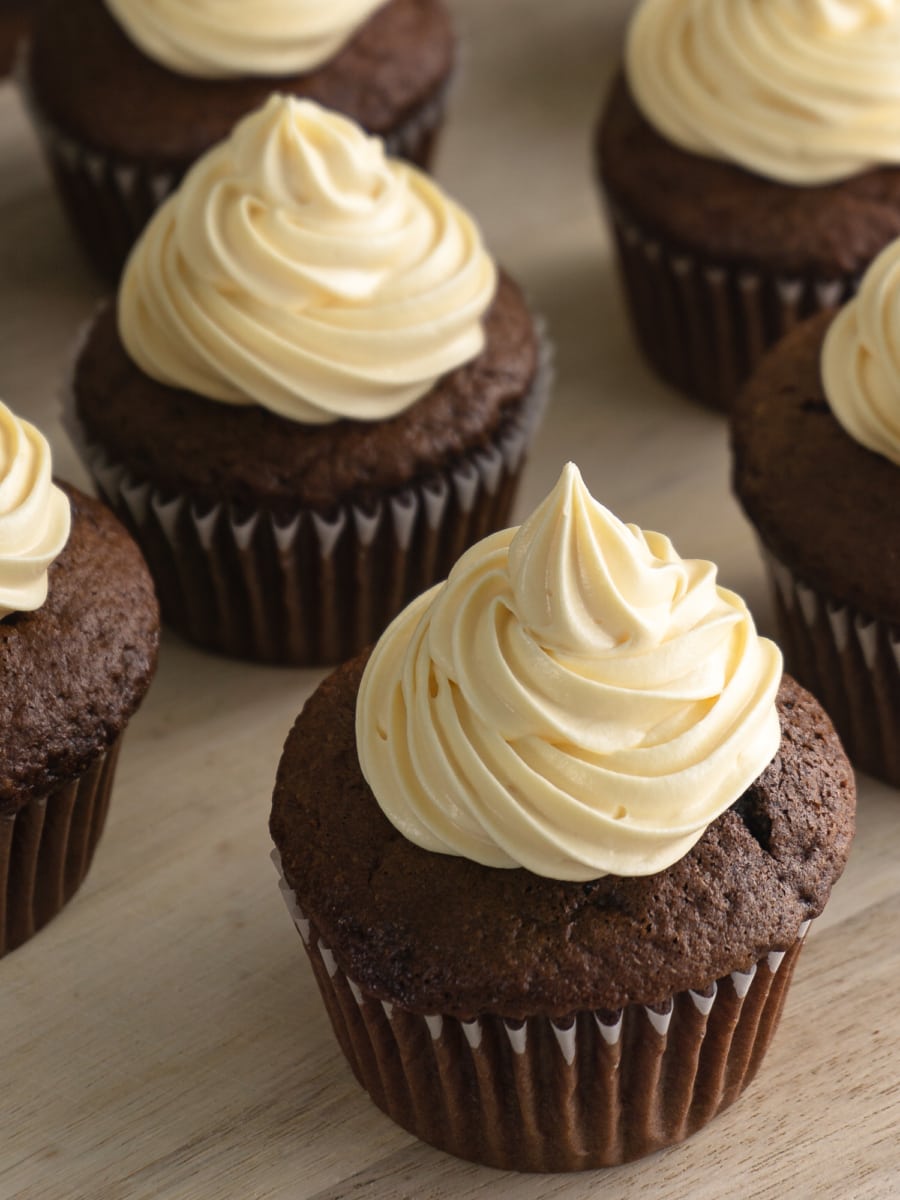 If you're intrigued, make sure to also try my Instant Pot Irish Cocktail Chocoflan. It is amazing! But for now, back to these ridiculously yummy cupcakes.
Why Use a Box Cake Mix?
Why not? I mean, even bakeries use box cake mixes. Did you know that? Yes, they do, they just spruce them up a bit to make them fancier. With 5 kids, and sometimes 10 of us in the house at once, things need to be easy! I love easy. Heads up, we will also be using a premade frosting! Oh, the travesty!! Trust me, these end up like gourmet cupcakes when all is said and done.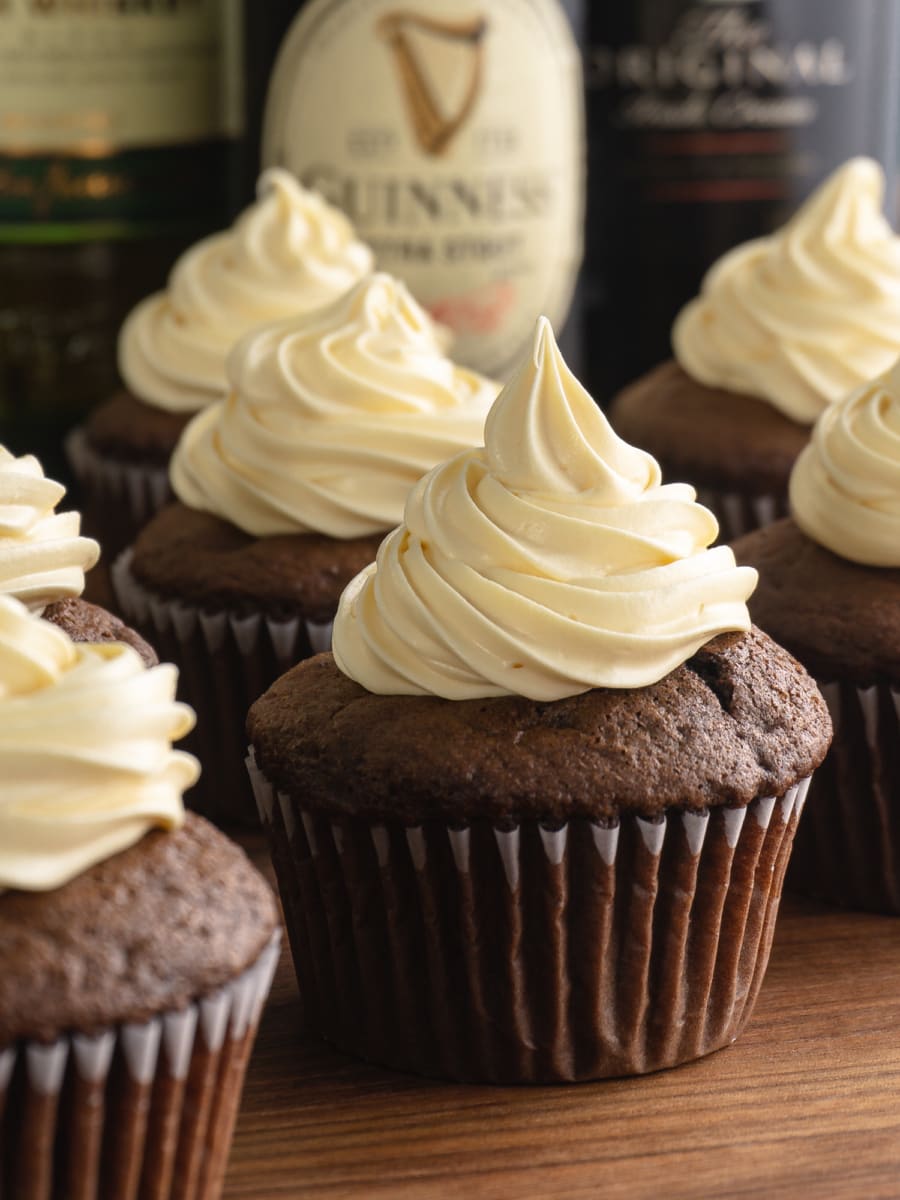 For this recipe, you will start with a box cake mix and add Guinness Beer to it instead of the water. If you haven't had a chocolate cake made with Guinness Beer before, you have no idea what you're missing! There is absolutely no beer taste in the cake. On the contrary, the chocolate flavor is enhanced and there is all kinds of fluffiness going on!
Essential Items
Here are some essential prep tools, utensils, and appliances I used to make this recipe.
Prep Tools & Utensils
Here are the prep tools and utensils that you'll need:
Featured Items
Here is a list of the products featured in this post or products similar to those featured in this post:
What Kind of Frosting Should I Use?
As for the frosting, as I mentioned above, I use a tub of pre-made frosting. For the inside of the cupcake, you will need chocolate frosting. You will be spiking it with whiskey! The cupcake is topped with Buttercream Bailey's frosting. If you want to make your own buttercream icing you can absolutely do that.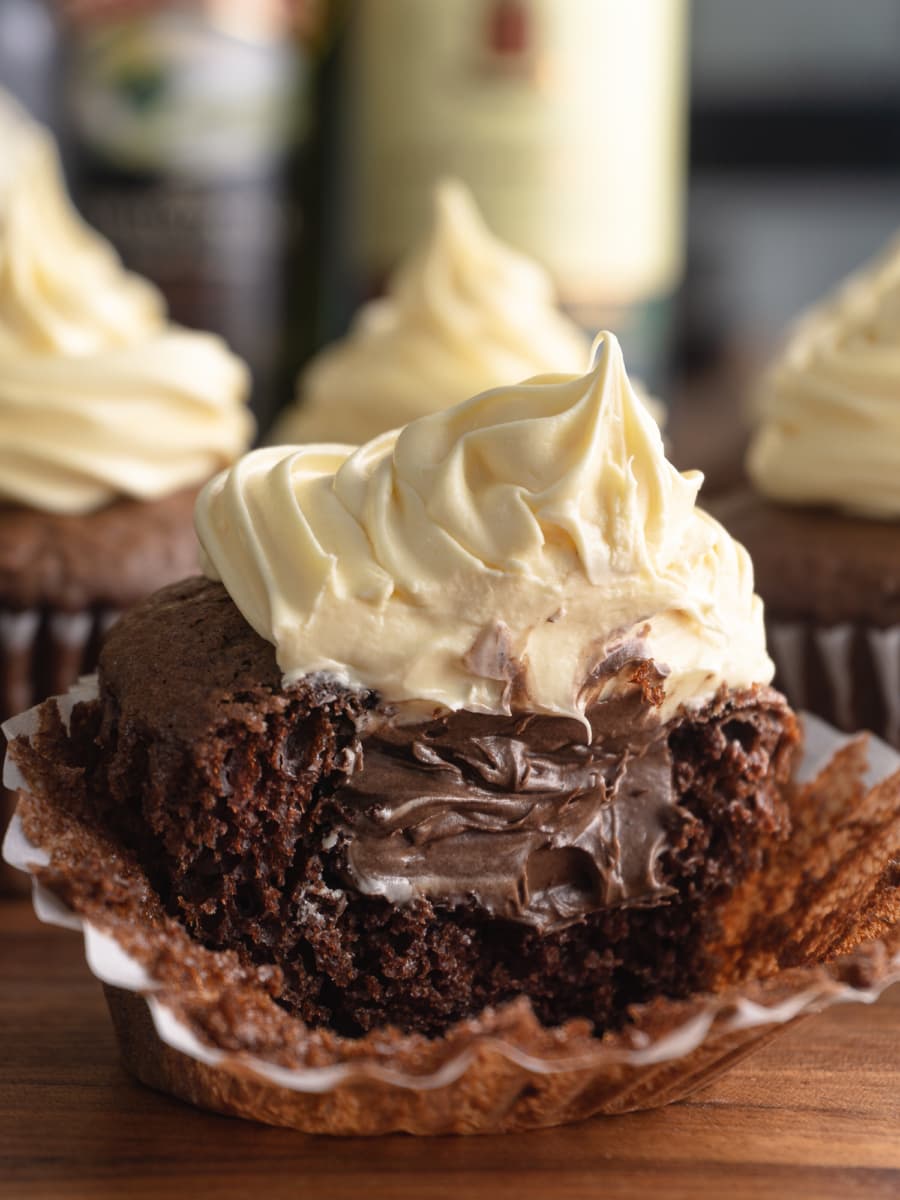 For this recipe, I bought a tub of Pillsbury Buttercream frosting and mixed it with the Bailey's. At my store, I did not find any other brand of pre-made buttercream frosting. The Pillsbury one was the only one, and it was delicious.
These Irish Cocktail Cupcakes make a perfect treat for St. Patrick's Day! But let's be honest, they're so good, you'll want to make them year-round!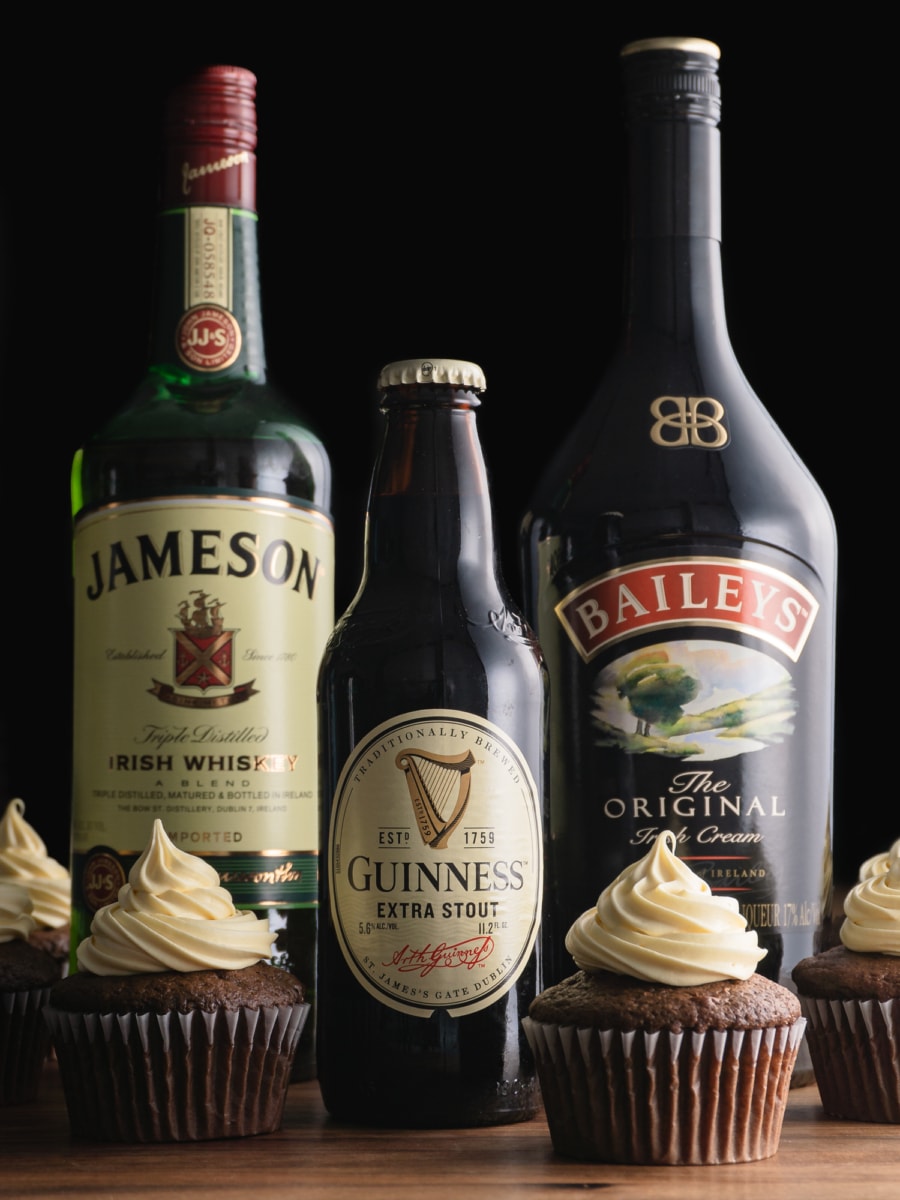 You are going to be so impressed with these semi-homemade Irish Cocktail Cupcakes! I would love to hear about it in the comments when you try them!
Irish Cocktail Cupcakes
GUINNESS CUPCAKES WITH A WHISKEY CHOCOLATE FILLING AND TOPPED WITH BAILEYS BUTTERCREAM
These Irish Cocktail cupcakes deliver the same amazing taste with much less effort. Perfect to serve as a last-minute sweet treat at your next adult gathering.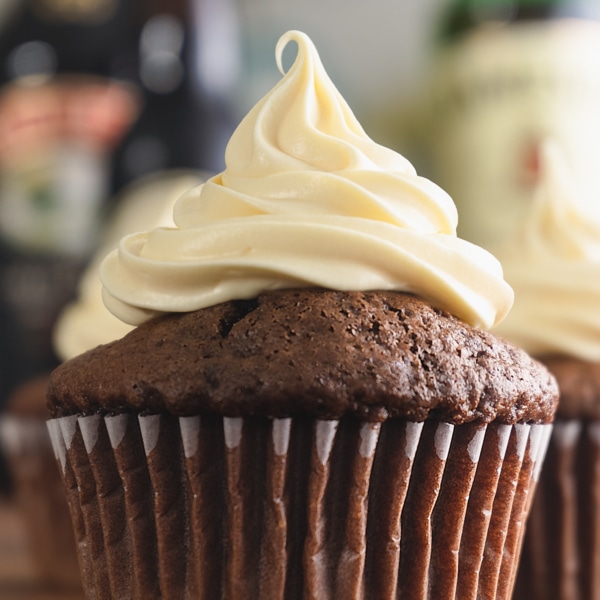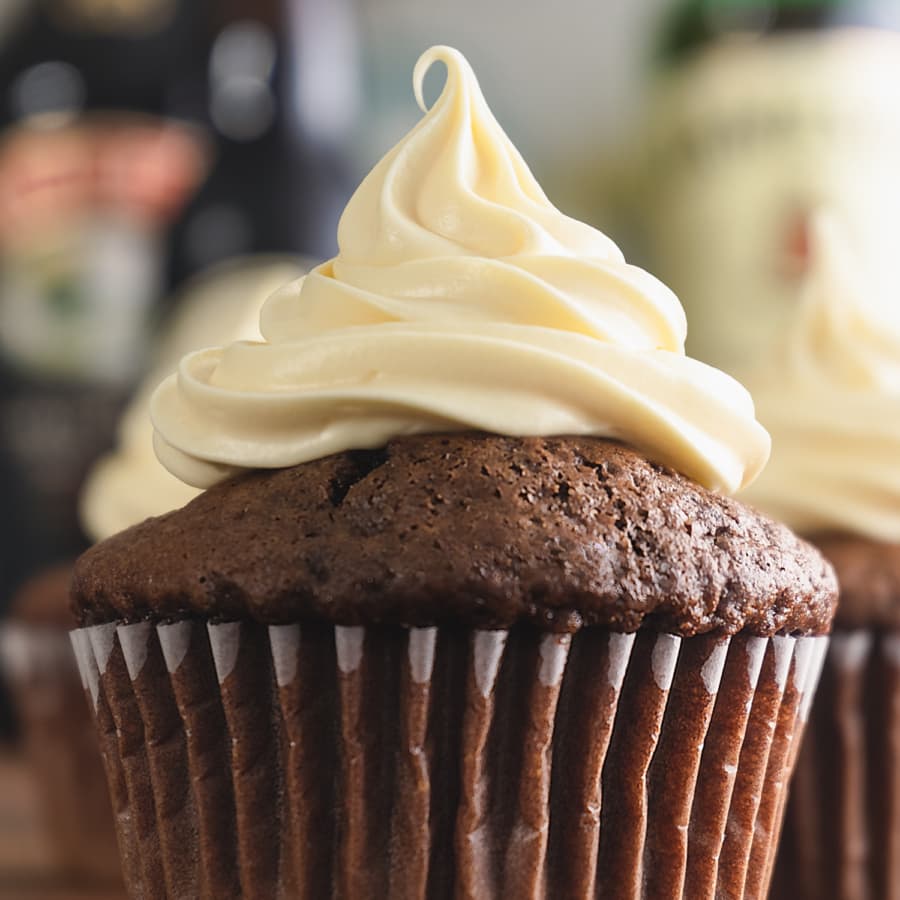 Ingredients
for the Chocolate Whiskey Filling
for the Bailey's Buttercream Frosting
Instructions
mix & bake the Cupcakes
Prepare the cake batter following the instructions on the back of the box replacing the water for the Guinness beer. I use either Duncan Hines Devil's Food or Pillsbury Devil's Food cake mix. Both call for 1 cup of water which I substitute with 1 cup of Guinness.

Fill a cupcake pan with the batter and cook according to the instructions on the box.

Take the cupcakes out of the oven and allow to cool for 10 minutes.

While the cupcakes are cooling, prepare the cupcake filling and frosting.
prepare the Cupcake Filling & Frosting
For the cupcake filling, add the chocolate frosting (I use Duncan Hines Dark Chocolate Fudge) and Jameson Irish Whiskey to a mixing bowl and mix with a hand mixer on low to medium speed until the whiskey is fully incorporated into the frosting.

For the frosting, add the buttercream frosting (I used Betty Crocker Butter Cream) and Bailey's Irish Cream to a mixing bowl and mix with a hand mixer on low to medium speed until the Bailey's is fully incorporated into the frosting.
make them Cocktail Cupcakes
Now, core the cupcakes by inserting a knife about halfway in from the top of the cupcake and cut out a circle. Then, using the knife or a small spoon, scoop out the middle of the cupcake about halfway down into the cupcake. I use a cupcake corer to make this task easier. Now fill the cupcake with the whiskey infused chocolate frosting.

Next, add the buttercream frosting to a piping bag and decorate the top of the cupcake with the Bailey's buttercream.

Serve and enjoy these wonderfully easy Irish Cocktail Cupcakes.
Nutrition Facts
Serving: 1cupcake | Calories: 362kcal | Carbohydrates: 58g | Protein: 2g | Fat: 14g | Saturated Fat: 3g | Sodium: 384mg | Potassium: 196mg | Fiber: 1g | Sugar: 42g | Calcium: 57mg | Iron: 2.2mg