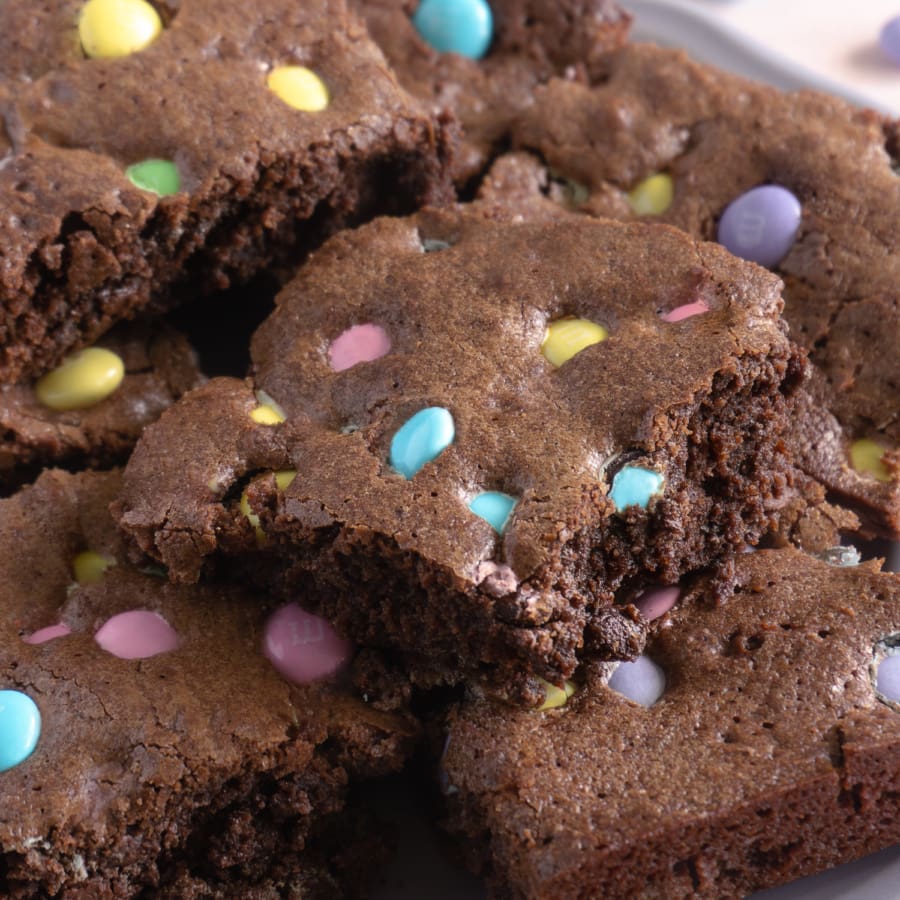 Easter Brownies are a great addition to your dessert table this Easter Sunday! Though they are from scratch, they are incredibly easy to make and use ingredients you probably already have on hand.
This post contains affiliate links. For more information, see my disclosure.
My Mom's Brownie Recipe with an Easter Addition
I have been making my mom's easy from-scratch brownie recipe for years. It's a family favorite and my guests love them when I make them for parties. I usually have all the ingredients on hand so it's a perfect quick-prep dessert when I have a sweet tooth.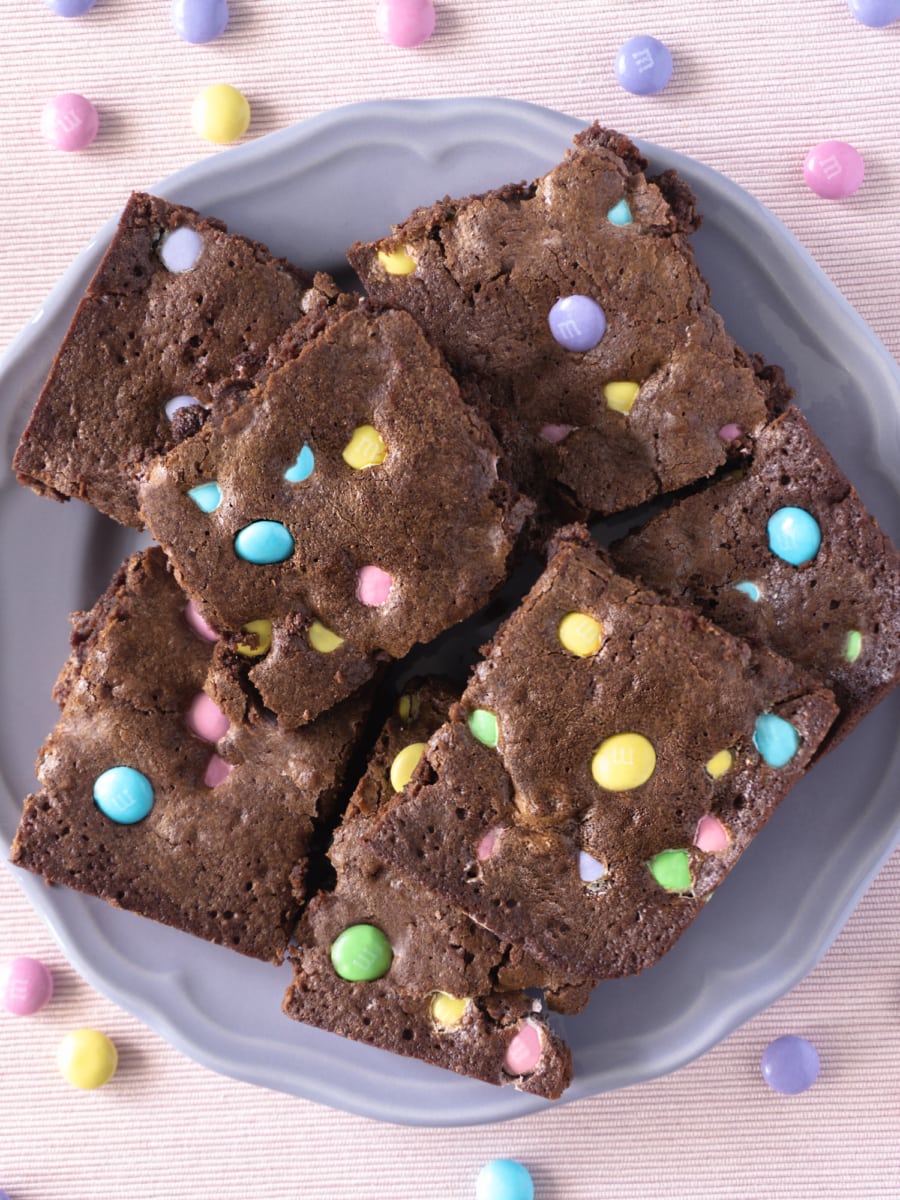 So I thought, why not brighten them up for Easter?! I went to the store and bought several candy additions to try out. By far, the winner was milk chocolate M&M's! The extra chocolate makes them so gooey and delicious!
A Few Tips for Perfect Brownies
We love brownies that have crispy edges and a delicious chewy center. I have found the trick to achieving this is using a high-quality brownie pan. My favorite pan is from Rachel Ray. The brownies cook evenly and they have those delicious crispy edges and soft center.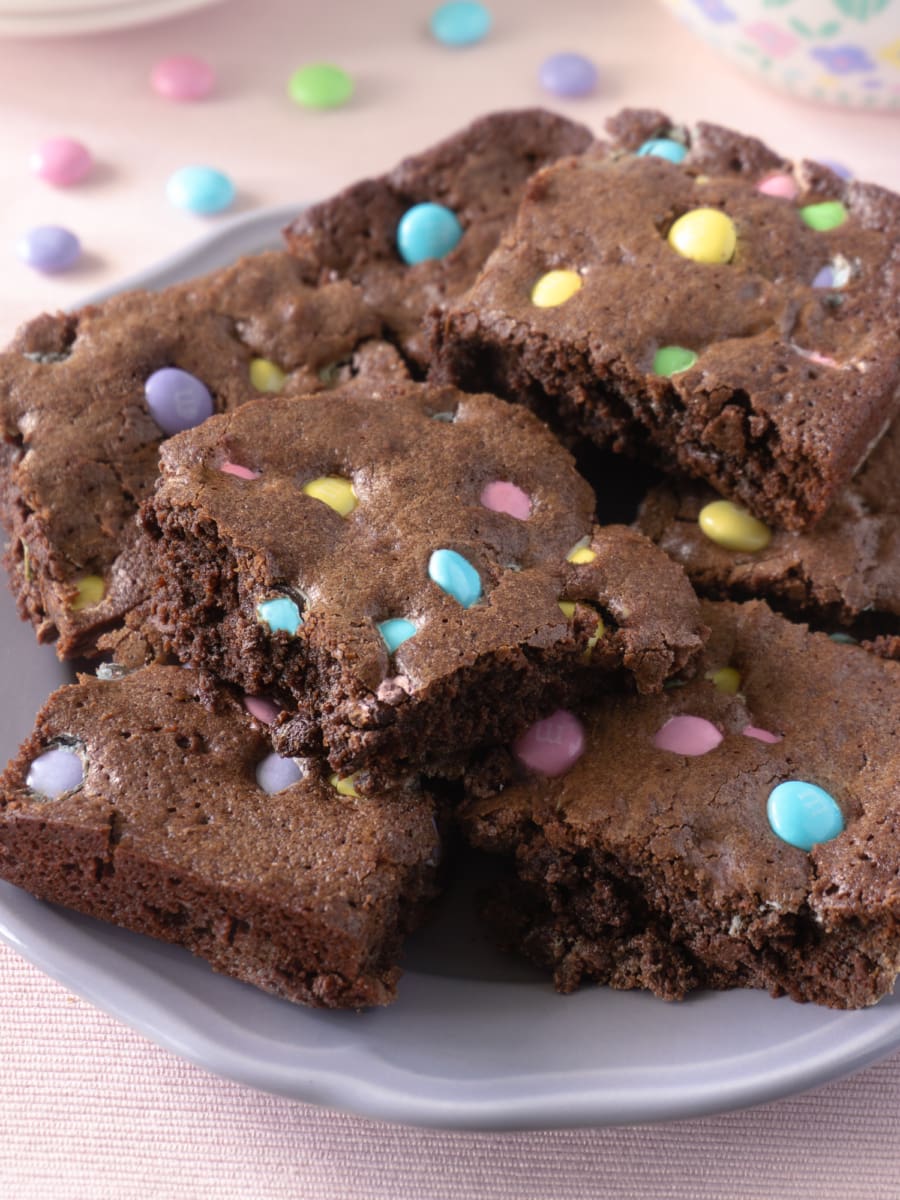 I used to have trouble getting perfect squares when I cut my brownies until I discovered the trick for it. You have to use a very sharp knife and you have to let them cool before cutting them. The second one is tough! As you can see from my pictures, I cut them before they had completely cooled. What can I say, they looked so good, and I wanted a piece fast!
Essential Items
Here are some essential prep tools, utensils, and appliances I used to make this recipe.
Featured Items
Here is a list of the products featured in this post or products similar to those featured in this post:
How to Get the M&M's on Top
My first batch of brownies didn't come out as colorful as these. I realized I needed to leave about half a cup of M&M's aside to sprinkle them on top of the batter. This way there were plenty of pretty chocolates on top!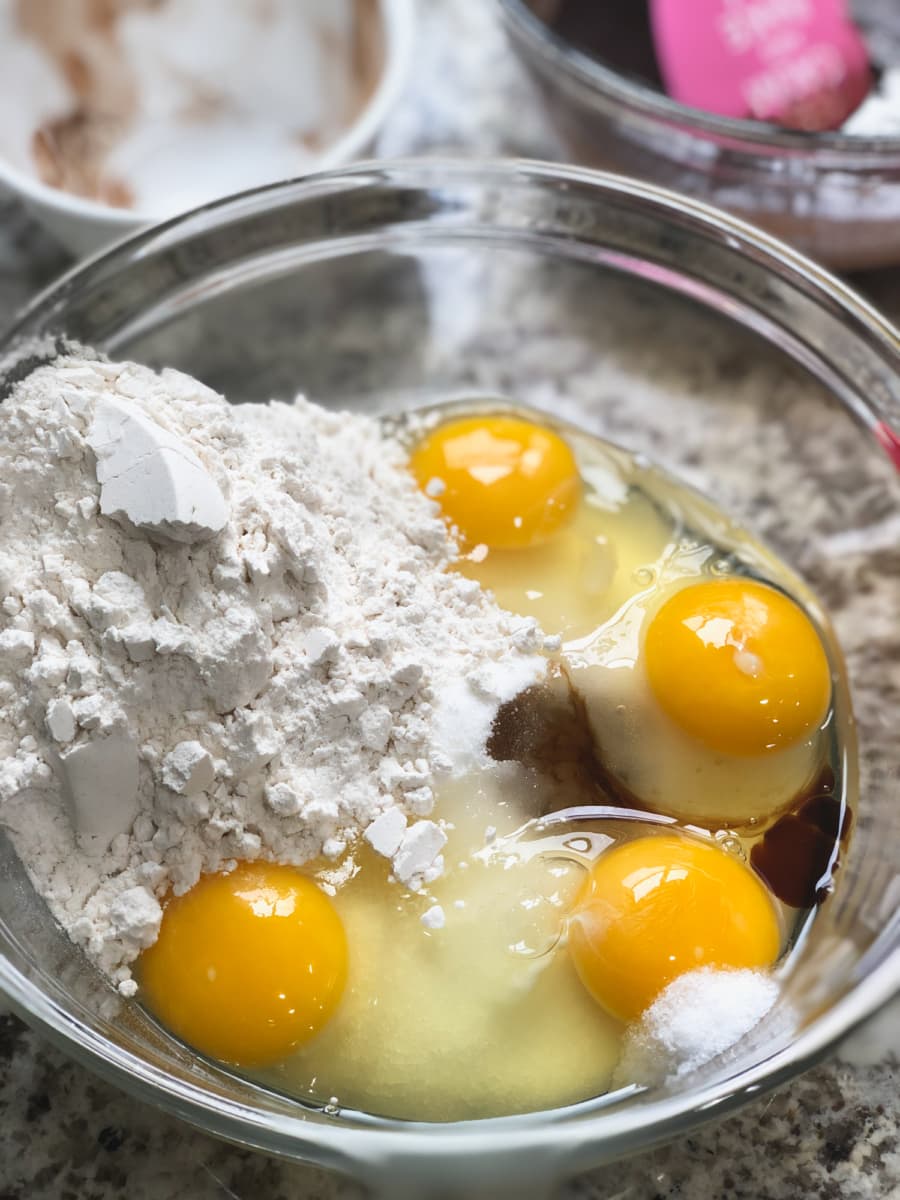 If you don't sprinkle enough of them on top, they tend to sink to the middle. It still makes for a delicious brownie, but you don't get the beautiful pastels on top.
You're going to love how easy these brownies are and I know they will be a hit with your family and friends!
And if Easter is over, don't fret. Just go out and buy some traditional color milk chocolate M&M's and enjoy these amazingly chocolatey brownies!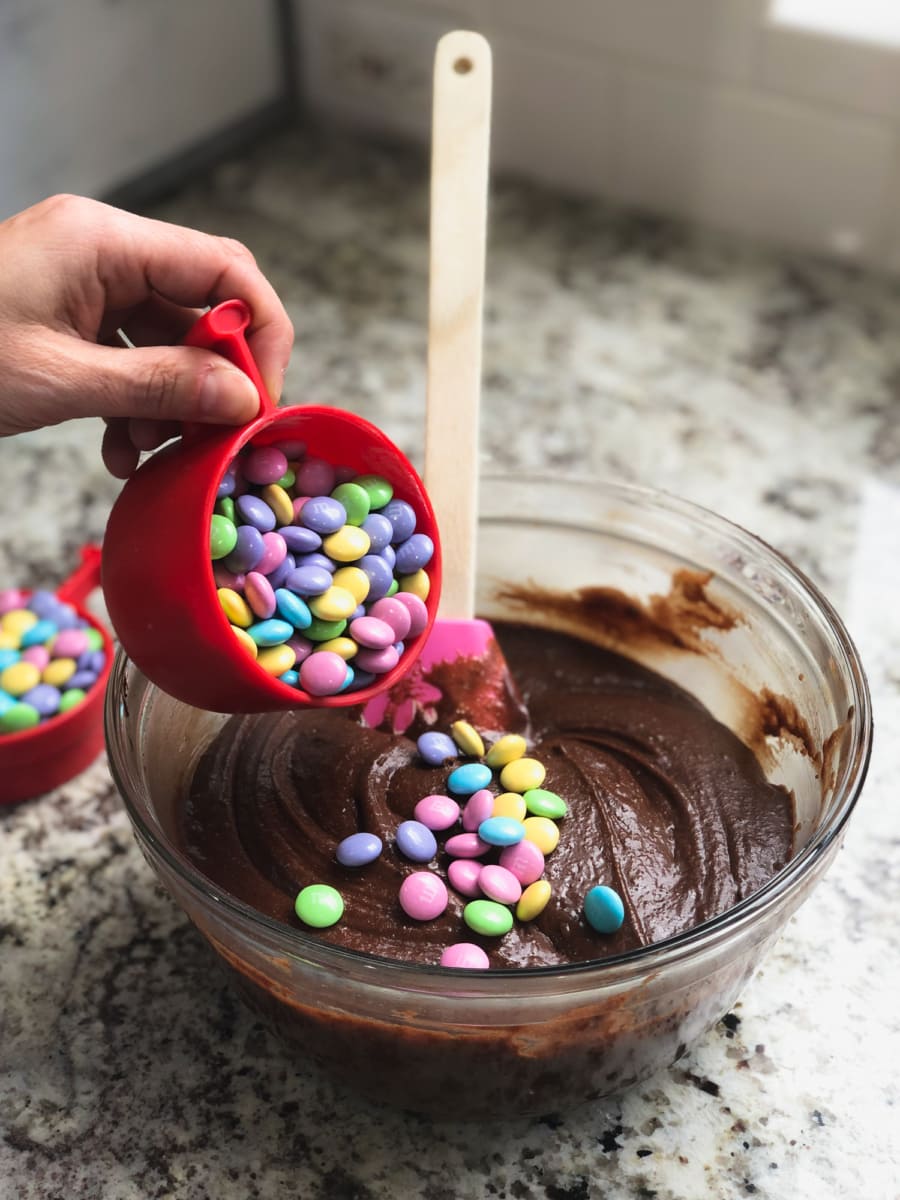 Easter Brownies
HOMEMADE BROWNIES DECORATED WITH PASTEL M&M'S
These cute and colorful, from-scratch Easter Brownies are extra chocolatey and chewy in the middle and have perfectly crispy edges.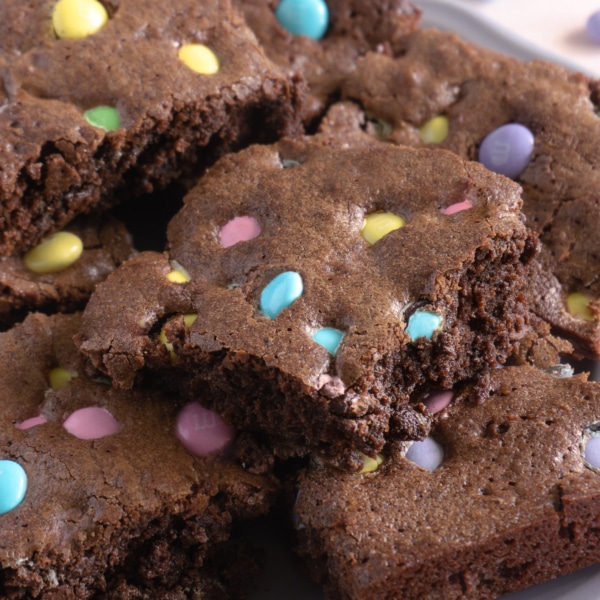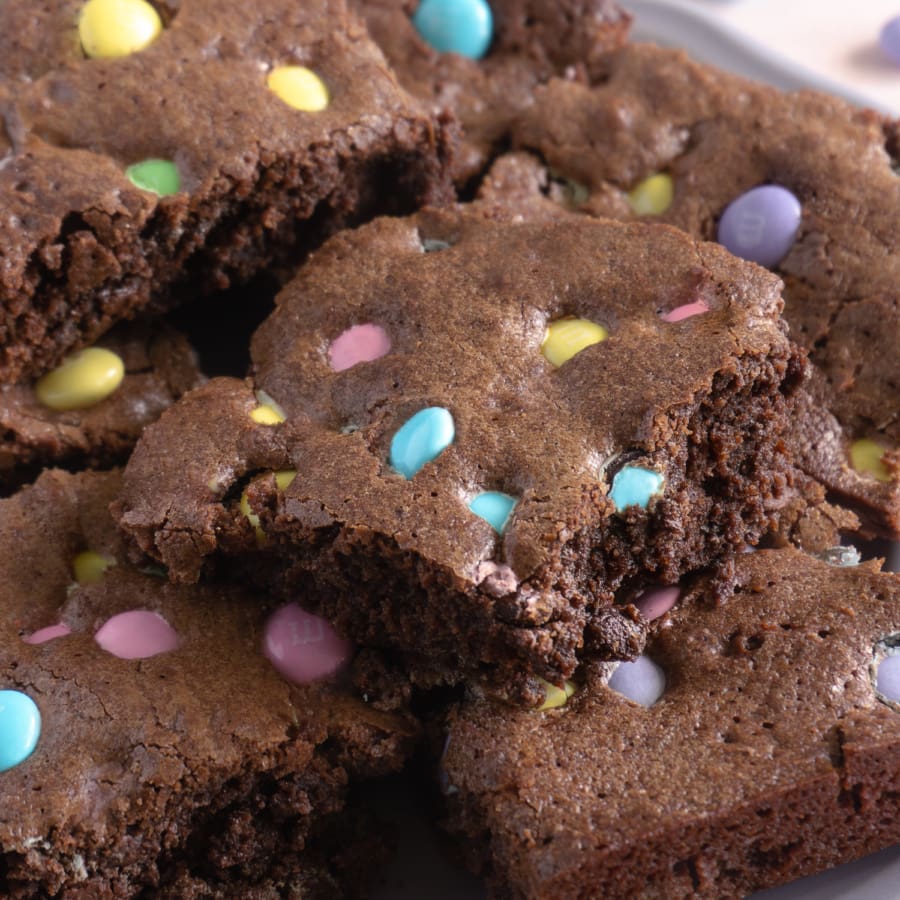 Instructions
Pre-heat oven to 325°.

Melt the butter and mix in the cocoa powder.

In a separate bowl mix together the sugar, eggs, flour, vanilla extract, and salt.

Add the two mixtures together and mix well.

Mix 1 cup of the M&M's into the batter.

Pour the batter into a greased 9×13 pan.

Gently sprinkle ½ a cup of the M&M's over the brownie batter.

Bake for 40 minutes.
Nutrition Facts
Calories: 462kcal | Carbohydrates: 61g | Protein: 4g | Fat: 23g | Saturated Fat: 14g | Cholesterol: 98mg | Sodium: 138mg | Potassium: 86mg | Fiber: 2g | Sugar: 49g | Vitamin A: 610IU | Vitamin C: 0.2mg | Calcium: 49mg | Iron: 1.5mg