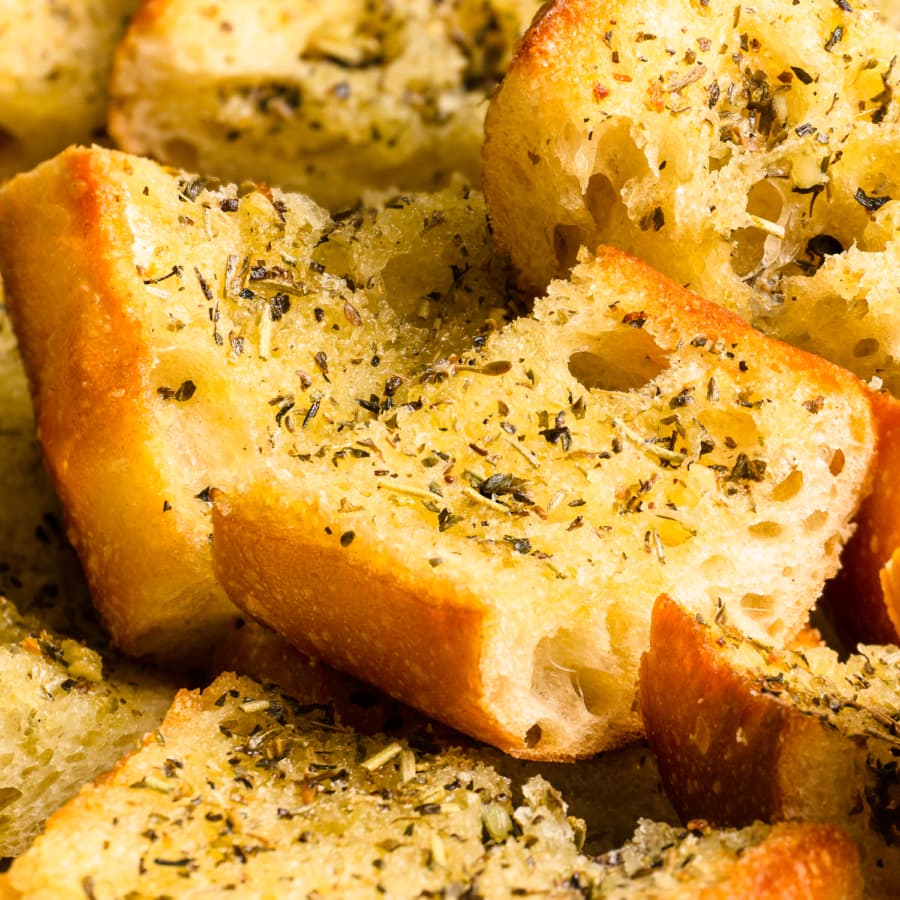 SAVE THIS RECIPE
You are going to love this easy-to-make Homemade Garlic Bread. It is perfectly crispy with a soft buttery center. The garlic spread on it is so incredibly flavorful! You'll want to eat it all day!
This post contains affiliate links. For more information, see my disclosure.
What Do I Serve Garlic Bread With?
Homemade Garlic Bread can be served with so many delicious dishes. In my home, we always serve garlic bread with pasta dishes and soups. It's a must with creamy tomato soup!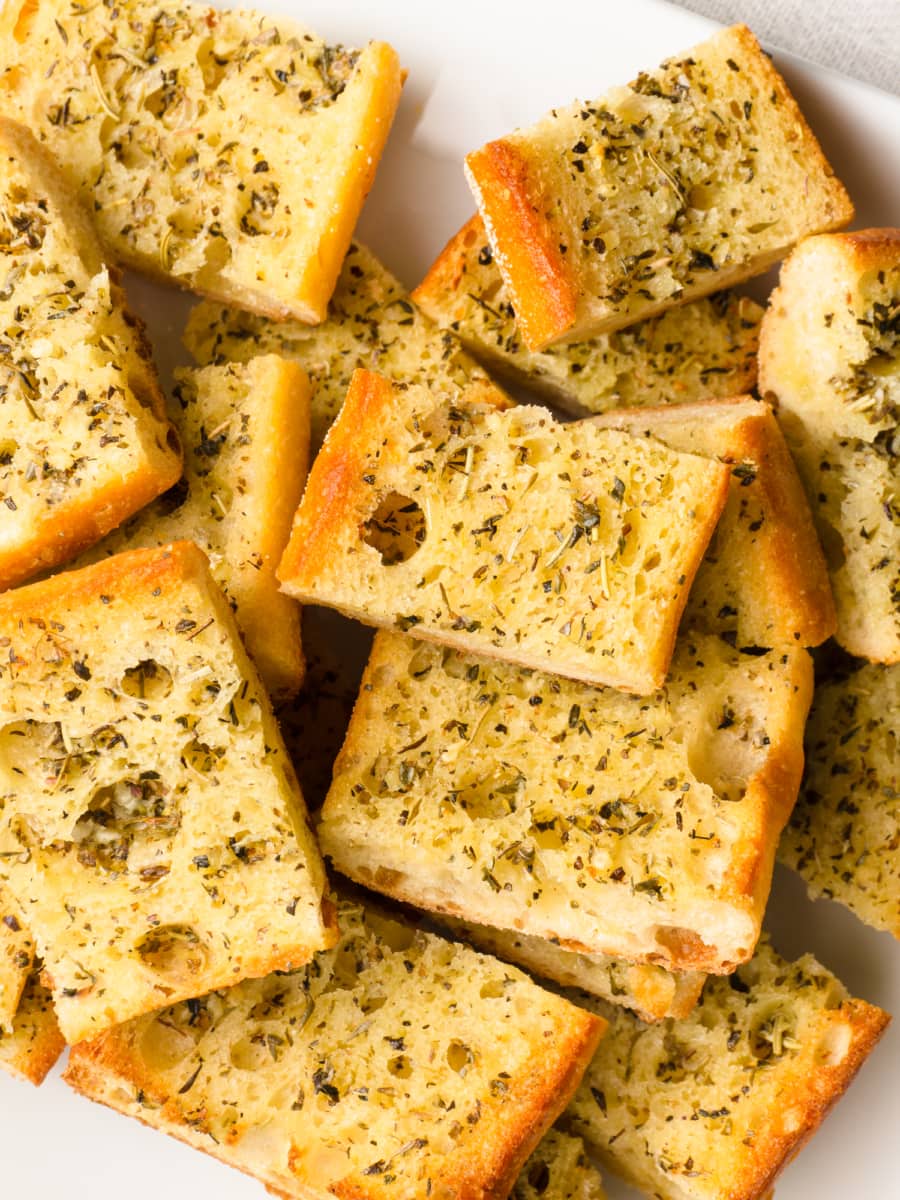 It also pairs perfectly with Butternut Squash Soup or Broccoli Cheese Soup! For more soup ideas, check out my post with many delicious and easy Instant Pot Soup Recipes!
You can serve buttery garlic bread with pasta as well! It's absolutely perfect with my Instant Pot Chicken Tetrazzini. Really, any of my easy Instant Pot Pasta Recipes would be great with garlic bread. You can even eat this delicious and easy Garlic Bread on its own as a snack or with a delicious spinach artichoke dip!
What Bread Is Best for Homemade Garlic Bread?
For this particular recipe and photos, I used a French Baguette. But of course, any French or Italian Bread can be used with wonderful results. You will get the best results from crusty bread. Usually, anything labeled "artisan bread" will be perfect for garlic bread.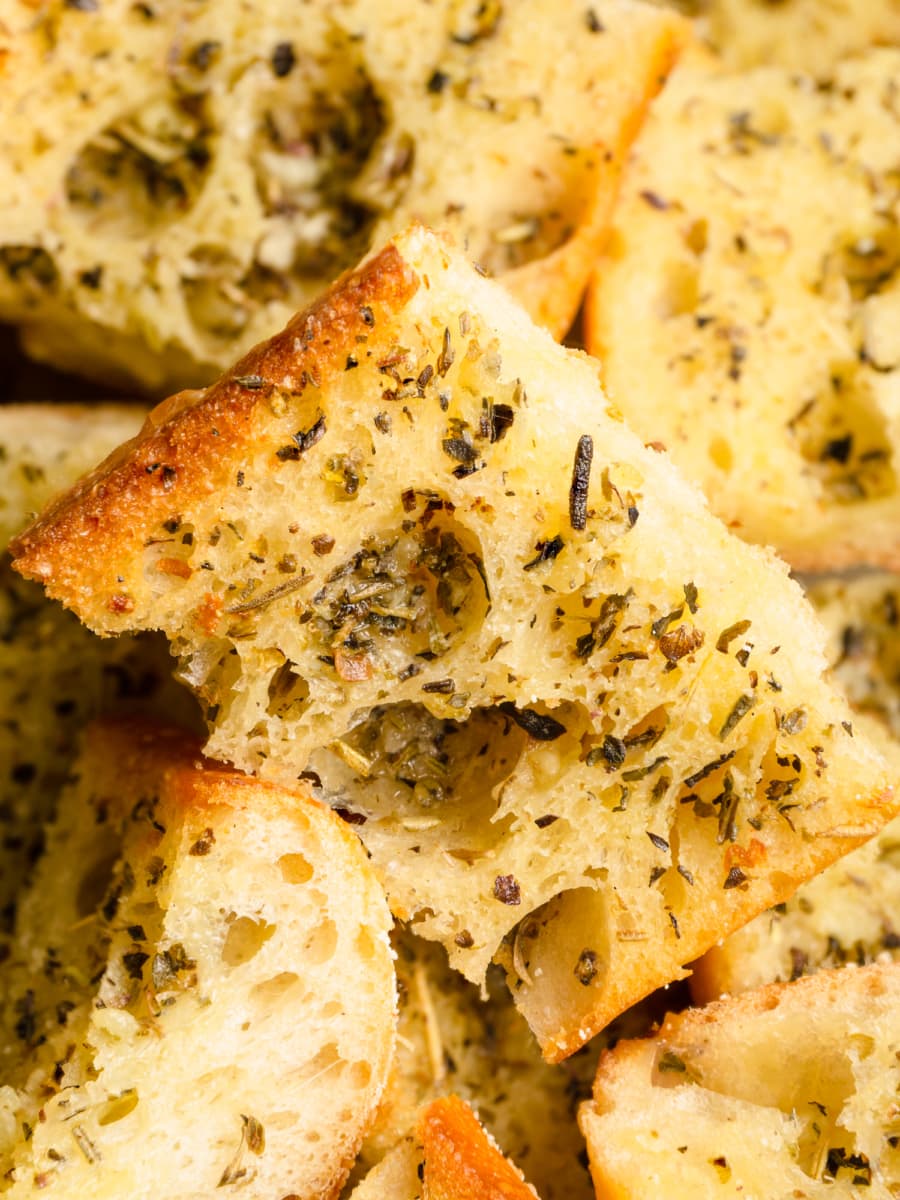 We get our crusty bread at Trader Joe's, H-E-B, Costco, or Kroger. We particularly enjoy the Ciabatta Bread from Trader Joe's and Costco. If you're in a pinch, you can even use this delicious, buttery spread on any regular sliced bread!
How Do I Make Homemade Garlic Bread?
You'll need some fresh French Baguettes, unsalted butter, minced garlic cloves, Italian Seasoning, and salt. Cut the bread loaves in half and then slice the halves lengthwise. Soften the butter in the microwave. You don't want it fully melted, just softened.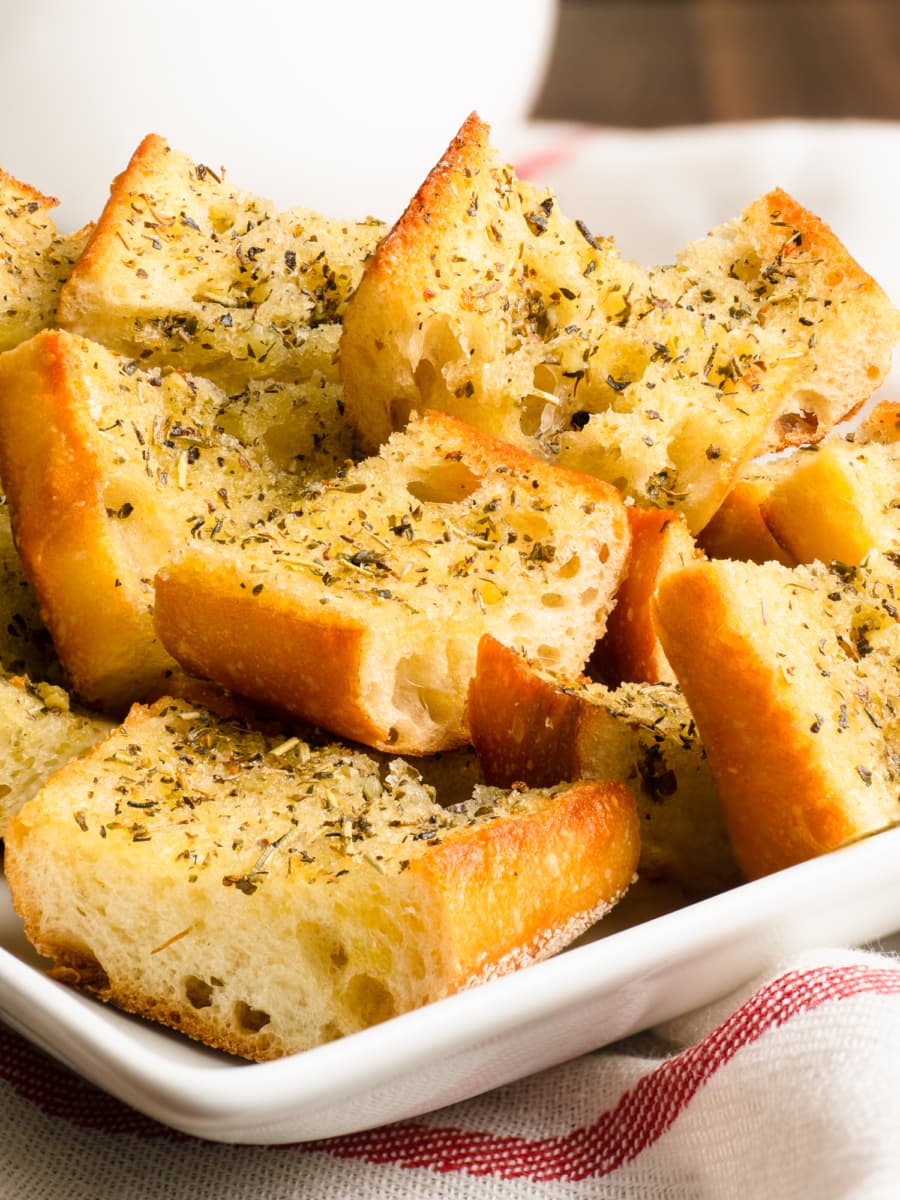 In a small bowl, mix the softened butter with the Italian Seasoning, garlic, and salt. Use a pastry brush to spread the butter mixture onto the bread. Line a baking sheet with parchment paper and place the baguettes on it.
Essential Items
Here are some essential prep tools, utensils, and appliances I used to make this recipe.
Featured Items
Here is a list of the products featured in this post or products similar to those featured in this post:
Bake the bread at 400 degrees on the middle rack of your oven for approximately 6 to 7 minutes. You'll know it's ready when the edges of the baguette begin to brown.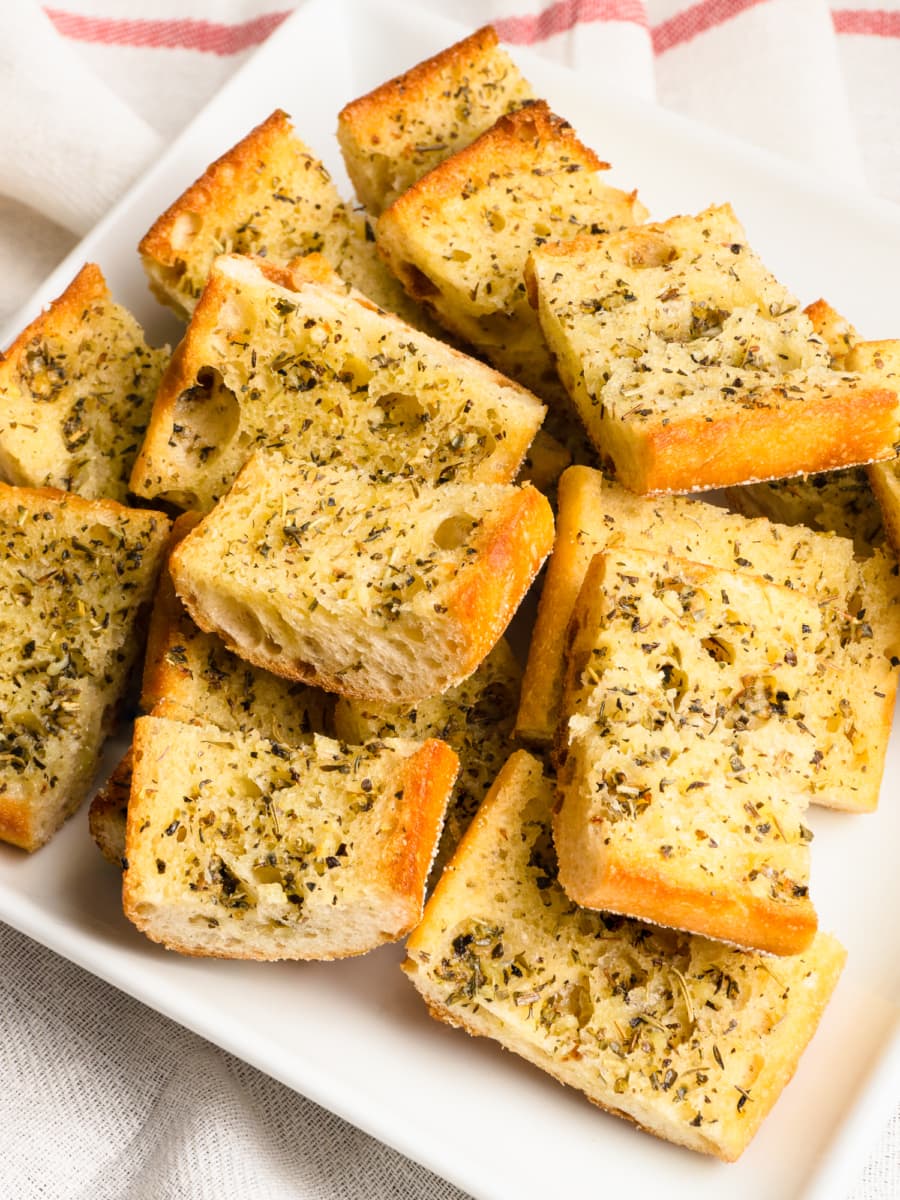 Remove the bread from the oven and allow it to cool down enough for it to be safe to touch. You can cut them into smaller slices at this point. That's it! The easiest and best Garlic Bread ever!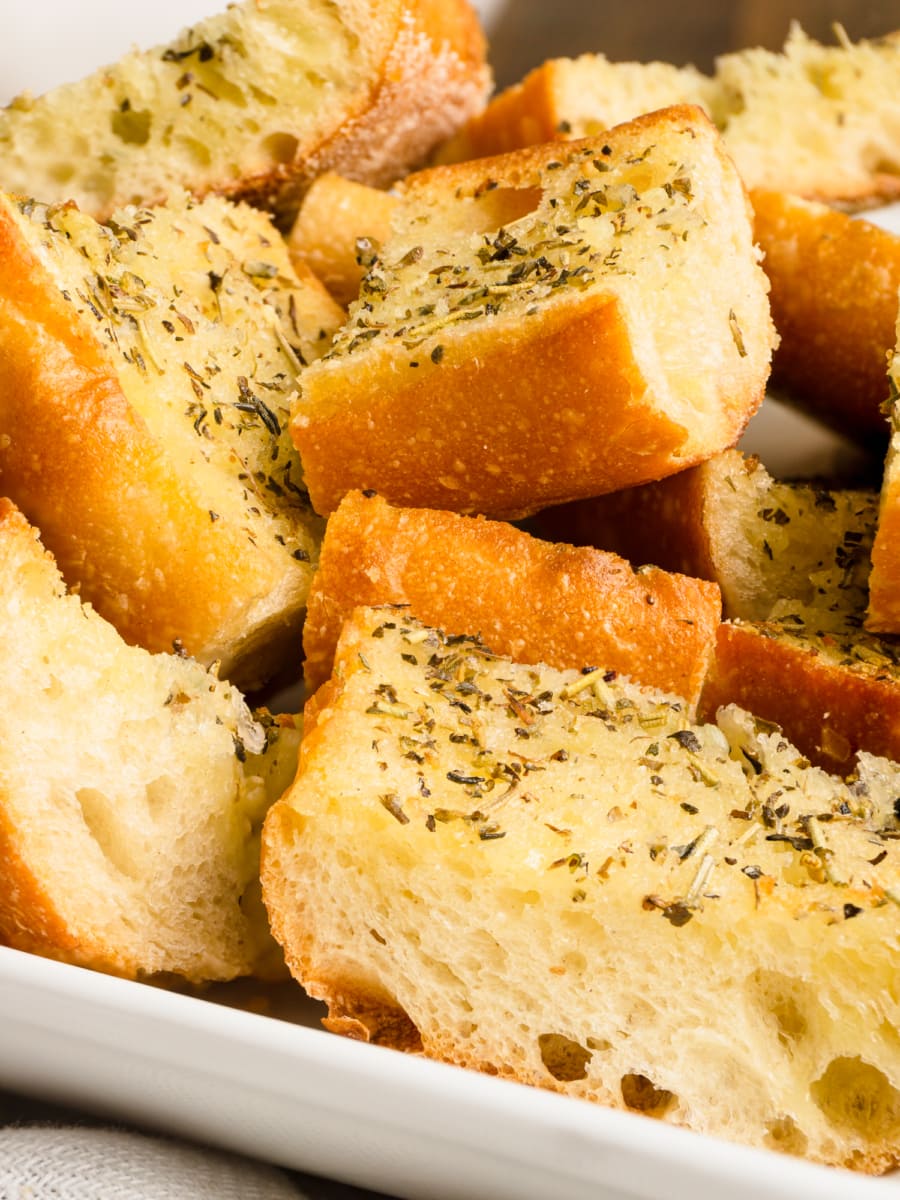 I know you'll love how simple it is to make Homemade Garlic Bread! What do you like to eat garlic bread with? I'd love to hear about it in the comments.
Homemade Garlic Bread
A FRENCH BAGUETTE BAKED WITH A BUTTERY GARLIC & HERB SPREAD
This simple crusty garlic bread is perfect for pairing with your favorite soups, pasta, and Italian dishes. Each slice is packed full of flavor and buttery goodness. It's so good that you'll have to be careful that it doesn't disappear before you serve it.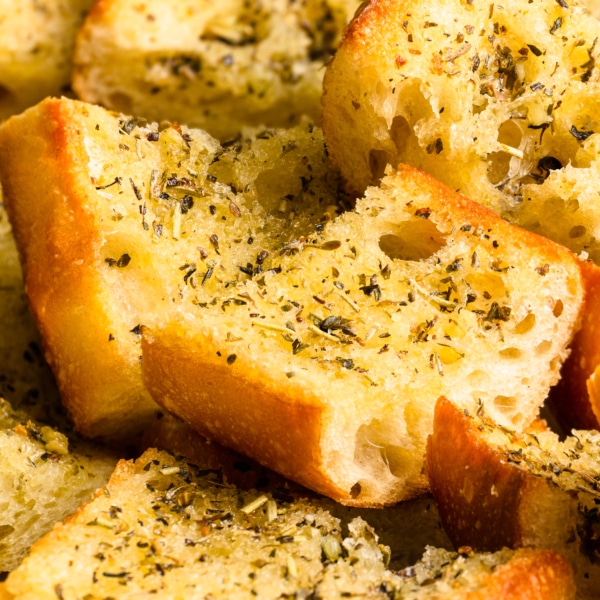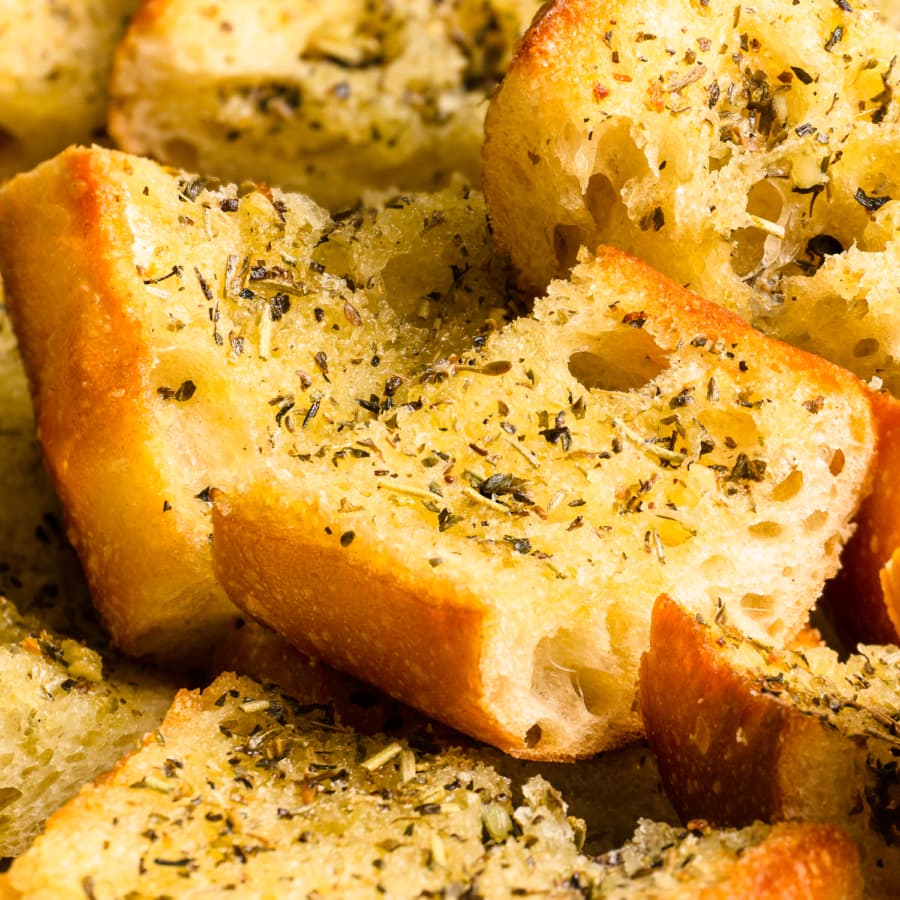 Instructions
Preheat oven to 400° F.

In a small mixing bowl, mix together the softened butter1, Italian seasoning, minced garlic, and salt.

Cut the baguette in half and then slice each half lengthwise (you'll have 4 quarters). Spread the butter evenly on the inside of each quarter of the baguette.

Place the baguette quarters on a baking sheet lined with parchment paper and bake on the middle rack for 6 to 7 minutes or until the edges of the baguette begin to brown.

Remove from the oven, allow to cool to touch, and cut into 1-inch thick slices.

Serve and enjoy!
Nutrition Facts
Calories: 126kcal | Carbohydrates: 11g | Protein: 2g | Fat: 8g | Saturated Fat: 5g | Cholesterol: 20mg | Sodium: 226mg | Potassium: 28mg | Fiber: 1g | Sugar: 1g | Vitamin A: 242IU | Vitamin C: 1mg | Calcium: 26mg | Iron: 1mg
Notes
1. To soften butter in the microwave: Slice the stick of butter into 16 to 18 pieces. Add the pieces to a small glass bowl. Then heat one cup of water in the microwave for one minute and pour the hot water into a larger bowl. Place the small bowl of butter into the larger bowl of hot water, then place the two bowls back into the warm microwave, close the door and let sit for 10 minutes until the butter is soft and partially melted. Remove the bowls from the microwave, mix any unsoftened butter into the melted butter and let sit for another couple of minutes to fully soften.