Summer is here!! School will be out in a few days and that means kids at home all day! Yikes! At least we homeschool 3 out of 5 so it's not too much of a difference for us. But summer also means not so early mornings, and I'm all about that! You'll love the June 2018 Instant Pot Meal Plan. The meal plan is full of easy and delicious meals to keep your family happy during this first summer month. Here's what you can expect: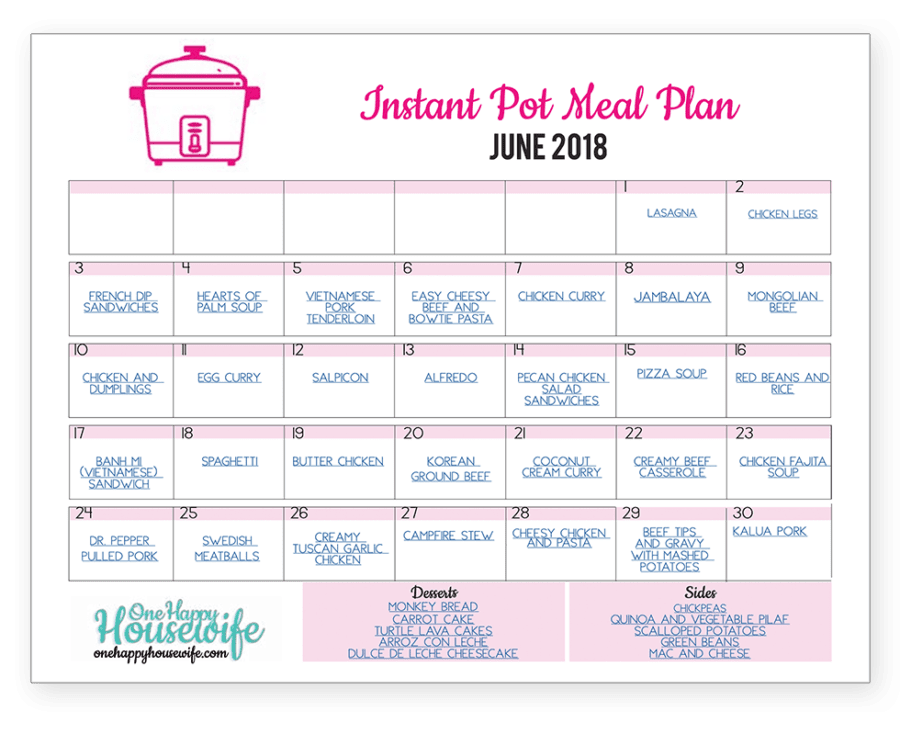 Big Batch Instant Pot Recipes
I've included some big, delicious meals you can enjoy for several days. That way you don't have to worry so much about cooking every day. You'll find the Hawaiian favorite Kalua Pork, which you can eat on its own or stuff into tacos or sandwiches.
You'll also be making a big pot of Chicken and Dumplings. It's the quintessential comfort food and you'll get to enjoy it for a couple of days. The leftovers are always best!
My super popular Dr. Pepper Pulled Pork is also in the June meal plan. This pulled pork recipe is so easy to make, only requires 4 ingredients, and you can use it for so many meals! Sandwiches, quesadillas, nachos, and tacos to name a few!
Instant Pot Pasta Recipes
I also added some very easy pasta meals perfect for those busy weeknights or for when you're tired from wrangling the kids all day! For those days, my Easy Beef & Bowtie Pasta is on point! This pasta dish is kid-friendly and super easy and quick to make.
Some other easy pasta dishes that you'll find on this month's meal plan are a traditional Lasagna, a creamy Beef Casserole, and a wonderful recipe for Swedish Meatballs.
Instant Pot Chicken Recipes
Chicken is my absolute favorite! I've included some wonderful easy chicken recipes for you to enjoy this month. Chicken Curry is an Indian classic that is always delicious. Serve over white rice and you have a complete meal. And the Creamy Tuscan Garlic Chicken is a must-try. It is super quick to make and the results are just as good as anything you'd get at a restaurant.
Side Dish Recipes for the Instant Pot
As usual, I made sure and added some easy side dishes. The Scalloped Potatoes and Macaroni and Cheese are comforting classics that go well with so many meals. If you're looking for something healthier, then try the Quinoa and Vegetable Pilaf.
Instant Pot Desserts
This is my favorite part of any meal, and I have some amazing dessert recipes on my June meal plan calendar. You'll find a fantastic recipe for Monkey Bread. Just serve warm with a scoop of ice cream and you'll be in heaven.
Oh, and how about a Carrot Cake? Enjoy a slice of this timeless classic that's made healthier by using low carb ingredients. Don't worry, the carb count may be lower, but the flavor is all there. It's still delicious!
And if you couldn't care less about cutting out the carbs, then try my favorite Friday dessert, Turtle Lava Cakes. These little decadent cakes are literally oozing with warm, chocolaty goodness. Yum!!
Bring it summer! We're ready for you with meals planned for every day!
Make sure you also check out my latest Instant Pot Meal Plan.
June 2018 Instant Pot Meal Plan
Below the list of recipes, you will find a link to the downloadable calendar and links to all my monthly Instant Pot meal plans.
Download the June 2018 Meal Plan Calendar.
For more Instant Pot Meal Plan ideas for the month of June, check out my archive of June Instant Pot Meal Plans.
Past Instant Pot Meal Plans
Each month I publish a new, updated Instant Pot Meal Plan. So don't miss out on seeing what wonderful dishes I've included in my latest one.
LOOKING FOR A PAST MEAL PLAN?
You can also access all of my previously published Instant Pot Meal Plans through the links below. I handpick the recipes that appear each month, so you will find that each month is unique with its own set of recipes geared specifically toward that month. Plus, on each meal plan page, you can download the printable calendar for that month.