With just one month left in the year, it's time to start planning your next 12 months. With this last Meal Plan for 2021, I have included some easy and delicious holiday favorites that will help make those pesky holiday meals less stressful!
I know that this time of year is always hectic so, I've created this meal plan to help make your holiday season a bit easier. This December Meal Plan includes a special Christmas dinner as well as ideas for New Year's Eve so you can enjoy these important celebrations without worrying about what to make. Here's what you can expect: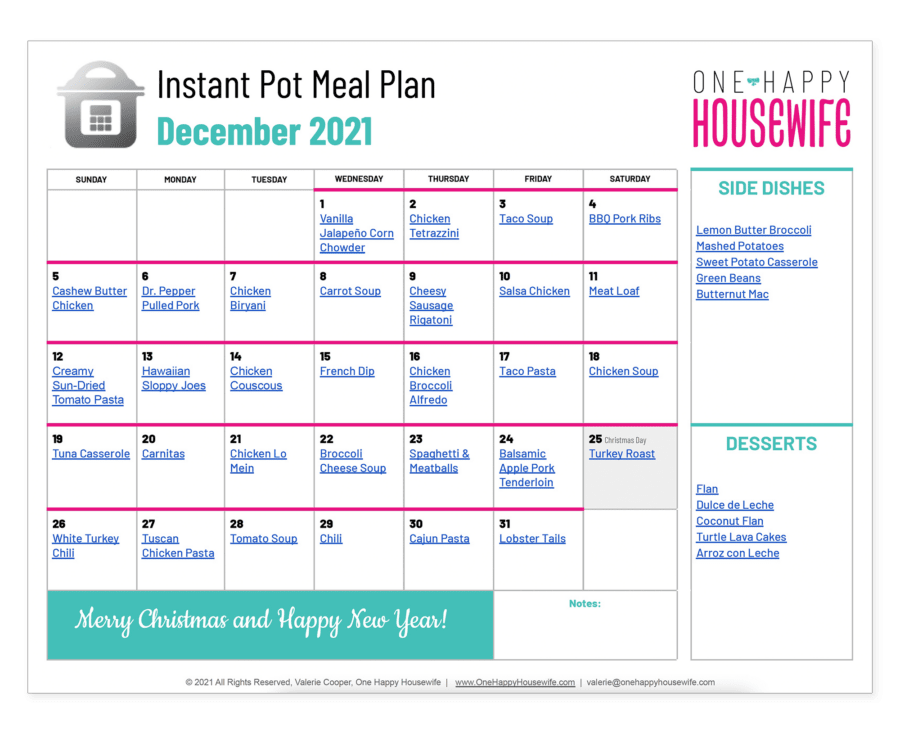 Instant Pot Soup Recipes
Soups are a perfect way to warm up and these soup recipes will keep the warmth coming! The first one, Vanilla Jalapeno Corn Chowder, has a creamy sweetness with just enough spice for good measure, making every sip feel like pure bliss. And using that leftover turkey after Christmas dinner, try something more hearty but still deliciously Christmasy: White Turkey Chili. This recipe will warm you right up.
Instant Pot Pasta Recipes
There are plenty of comforting pasta dishes like my much loved Chicken Tetrazzini, Cheeseburger Mac, and Taco Pasta to choose from. I love making these recipes using the pressure cooker because there's no need for dirtying a strainer! That means more space on your kitchen sink during this time of year when everyone is cooking up some delicious holiday meals together
Instant Pot Christmas Recipes
For Christmas dinner, you'll find a deliciously juicy Turkey Roast with Gravy. I made this recipe specifically for the Instant Pot so that all your Christmas dinner needs are met without needing an oven or stovetop! For a great side dish to go along with it, try some of my Homemade Cornbread Stuffing. It's the perfect complement for the turkey roast. And don't forget dessert: there's nothing better than the sweet tanginess of Ambrosia Salad.
Instant Pot Holiday Side Dishes
The side dishes in this month's Meal Plan are not only delicious but they're perfect for this time of year! The Butternut Mac & Cheese is just… Wow! It's so creamy and has a hint of sweetness from the squash that makes it phenomenal for any time you're craving something cozy-homemade without much effort.
You'll also find more sides perfect for this time of year including Mashed Potatoes, Sweet Potato Casserole, and Lemon Butter Broccoli.
Instant Pot Desserts
Dessert time is finally here! This month you can enjoy my Coconut Flan, Dulce de Leche, and Turtle Lava Cakes. These Instant Pot desserts are so rich and decadent that I just cannot wait any longer to dig into them all at once.
Happy cooking and Merry Christmas!
Make sure you also check out my latest Instant Pot Meal Plan.
December 2021 Instant Pot Meal Plan
Below the list of recipes, you will find a link to the downloadable calendar and links to all my monthly Instant Pot meal plans.
Download the December 2021 Meal Plan Calendar.
For more Instant Pot Meal Plan ideas for the month of December, check out my archive of December Instant Pot Meal Plans.
Past Instant Pot Meal Plans
Each month I publish a new, updated Instant Pot Meal Plan. So don't miss out on seeing what wonderful dishes I've included in my latest one.
Looking for a past meal plan?
You can also access all of my previously published Instant Pot Meal Plans through the links below. I handpick the recipes that appear each month, so you will find that each month is unique with its own set of recipes geared specifically toward that month. Plus, on each meal plan page, you can download the printable calendar for that month.