Looking for a meal plan that will keep you warm during the blustery month of December? Well, my December Instant Pot Meal Plans will do just that.
These meal plans feature handpicked recipes for this very special time of the year. You'll find plenty of soups and holiday dishes perfect for these chilly days. There are even some extra special recipes for Christmas Eve, Christmas Day, and New Year's Eve. I've covered all the bases. Here's exactly what you can expect: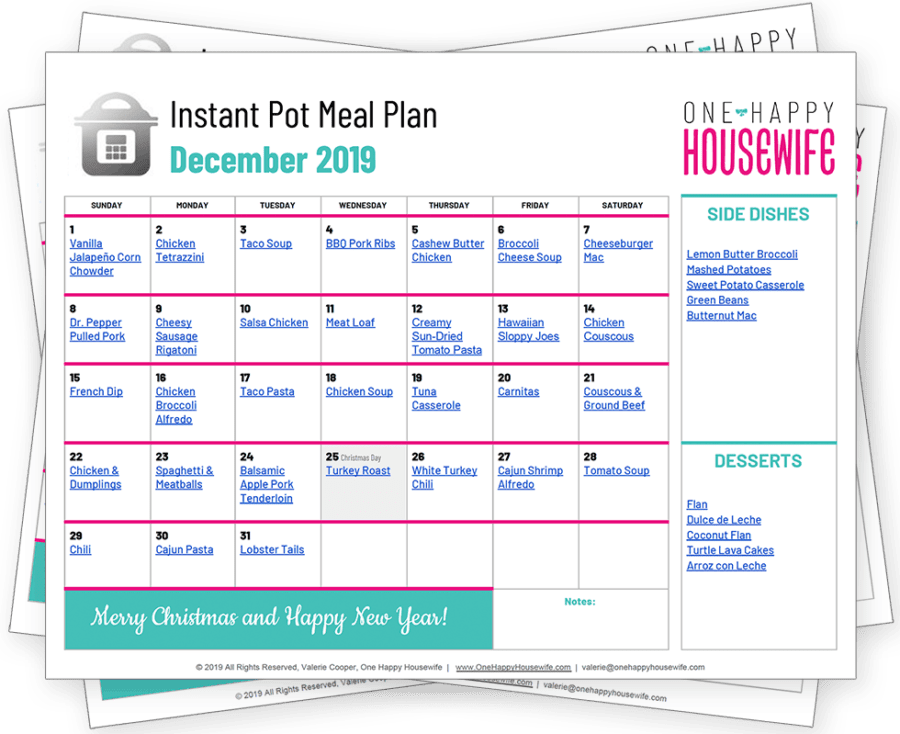 Instant Pot Recipes for Winter
We'll be well into winter by the end of this month, so I've included recipes that are sure to warm your heart and feed your soul on these cold wintery days. And what's more soul-soothing than a bowl of piping hot soup? Just holding the warm bowl in the palms of your hands is enough to suck the frigid cold from your bones. And the aromas can calm the most frayed of nerves.
You cannot miss my Tomato Soup, it's phenomenal. The addition of basil with just a kiss of honey is like magic in a soup bowl. And make a batch of my Crusty Garlic Bread to dip into it. This has to be one of the best winter meals.
There are so many more easy Instant Pot soup recipes in these meal plans. You'll find recipes for Chicken and Dumplings, Butternut Squash Soup, Chicken Soup, and much more.
Instant Pot Holiday Recipes
December is the holiday season, and I have loads of Instant Pot holiday recipes in these meal plans. From Beef Stew to Pork Tenderloin, I've included meals that are sure to make your holidays bright and cheery.
There are even meals specifically selected for Christmas Eve and Christmas Day. And there's something extra special reserved for New Year's Eve. In addition, you'll also find plenty of Instant Pot holiday side dishes to complement your main dishes.
Instant Pot Christmas Recipes
For Christmas Eve, you'll find a tender, moist Pork Tenderloin drenched in a sweet and tangy balsamic apple sauce. And Christmas Day features a wonderfully tender Turkey Roast served with gravy. Now, your holiday meals wouldn't be complete without the side dishes I mention below.
Instant Pot Holiday Side Dishes
What better way to complete a meal than to serve a phenomenal side dish. These meal plans have plenty of great holiday side dishes including Loaded Mashed Cauliflower, Mashed Potatoes, and Green Beans. You'll even find some Christmas side dishes like Sweet Potato Casserole. What did I tell you? I packed these meal plans full of holiday goodies.
Instant Pot New Year's Recipes
I have something extra special for New Year's Eve. Tender, sweet Lobster Tails in a garlic herb butter. When you serve these, your family and friends will love you even more. There's no better way to bring in the New Year than being surrounded by the people you love and enjoying a plate of lobster tails.
Instant Pot Recipes for Desserts
I have some great desserts for the holidays. The Dulce de Leche Cheesecake is fantastic. Every slice of this moist, creamy, and decadent cheesecake is pure heaven. And the Turtle Lava Cakes are a perfect way to warm your sweet tooth on a blustery winter day. You'll also find recipes for Dulce de Leche, Arroz con Leche, and Eggnog Cheesecake. Who knew you could make so many delightful desserts in an Instant Pot?
Have a wonderful holiday season!
Make sure you also check out my latest Instant Pot Meal Plan.
Instant Pot Recipes for December
Here are some recipes you'll find on my December meal plans:
December Instant Pot Meal Plans
I've got some marvelous meal plans for December on my website. Check them out here: