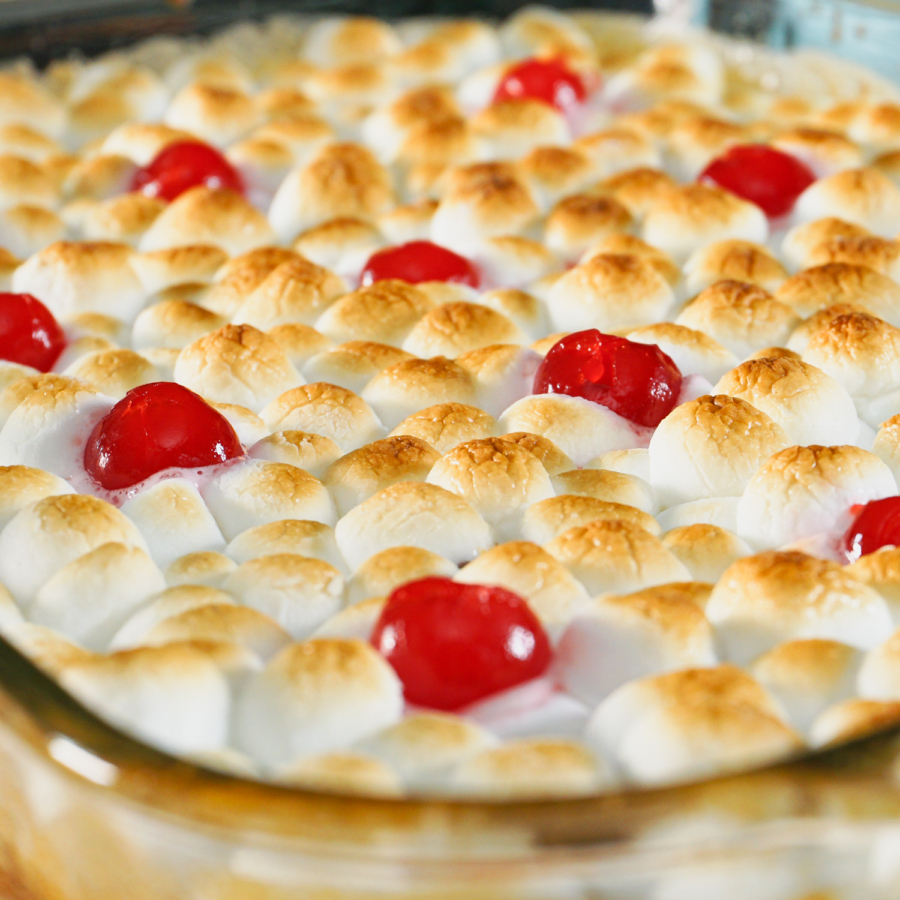 Ryan has been making his sweet potato casserole for almost 20 years now! It's a recipe he came up with and my entire family loves it and looks forward to it every year for Thanksgiving. My mom is a huge fan of it, and she was quite happy to hear she would be getting some early this year since we needed to make a batch for this post.
This post contains affiliate links. For more information, see my disclosure.
Last year, I published Ryan's original Sweet Potato Casserole recipe on the blog. This year, though, we decided to make the sweet potatoes in our Instant Pot! Let me tell you, it was a great decision!
No worries, if you don't have an Instant Pot, you can still find the original recipe here. But seriously, you need an Instant Pot!
This Sweet Potato Casserole Will Be a Family Favorite
We've always hosted a really huge Thanksgiving dinner at our home, until about 2 years ago when we decided to go on our adoption journey. This year, we are probably still keeping it small, but we definitely don't skimp out on the food we serve. Turkey, ham, mashed potatoes, gravy, sweet potato casserole, green bean casserole, deviled eggs, and a whole lot more!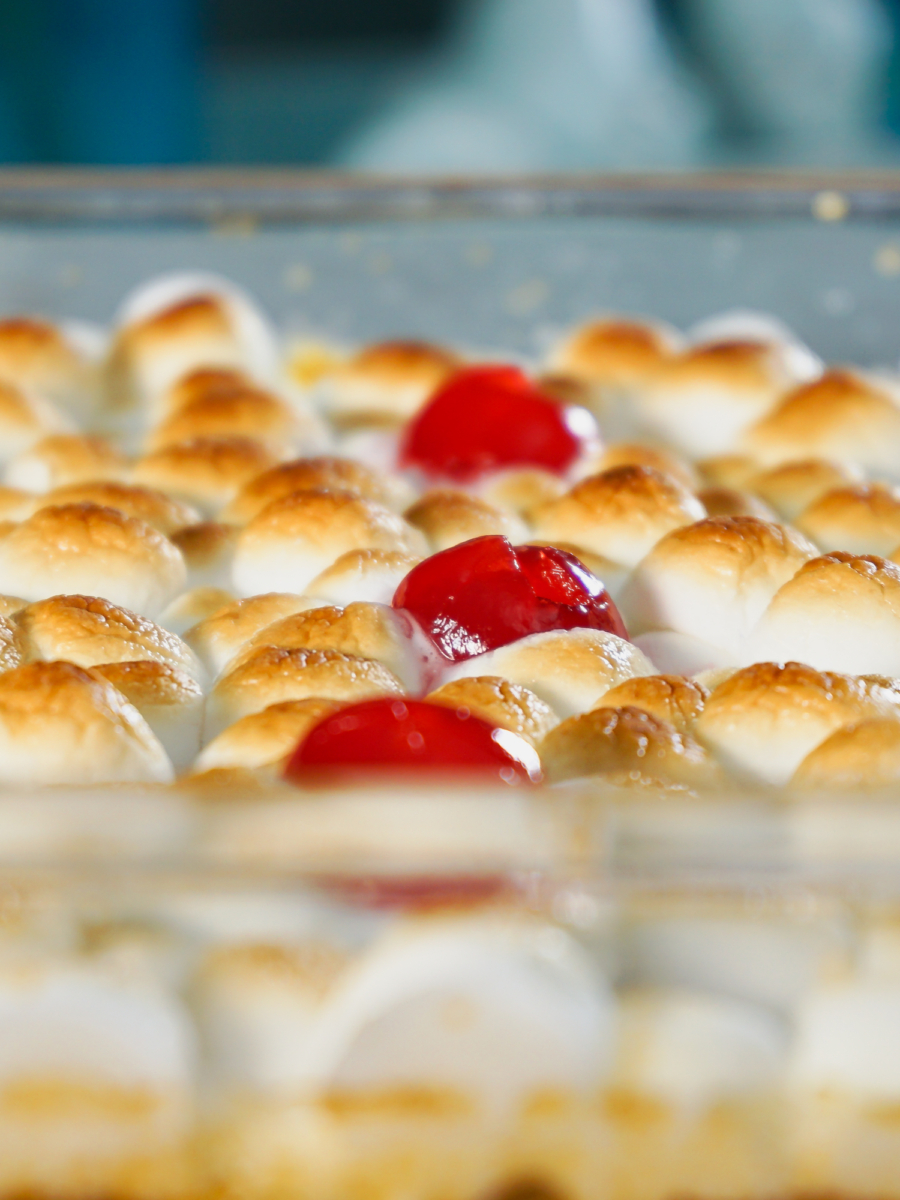 The sweet potato casserole is always a favorite among everything we serve. My complements to my hubby Ryan for coming up with the perfect combination of spices for this dish! It is truly special!
This Is the Perfect Sweet Potato Casserole
I really feel he created a perfect sweet potato casserole. Of course, I may be biased! After so many years, though, my family still asks if Ryan will be making his casserole for Thanksgiving!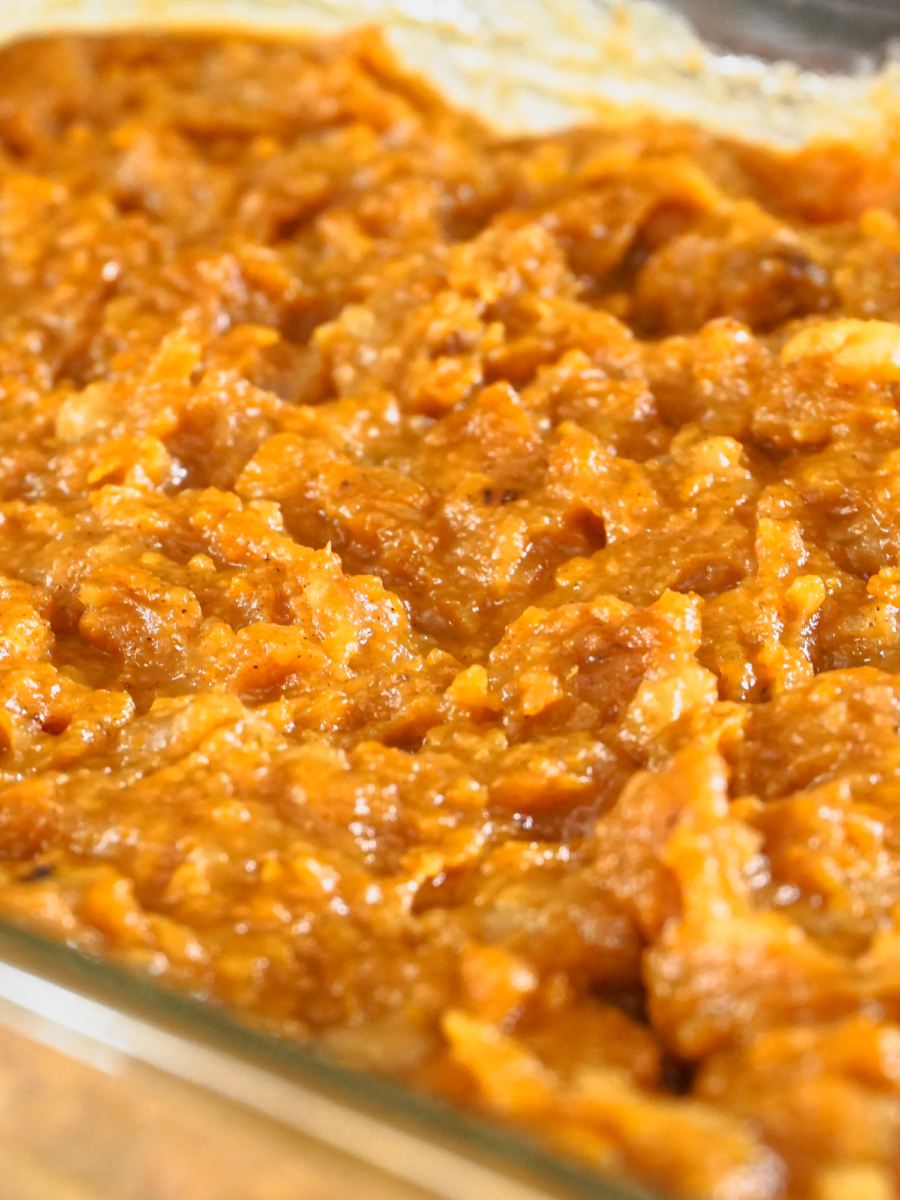 When we lived in Honduras, Ryan used fresh sweet potatoes for his recipe. It was very time-consuming to boil the sweet potatoes and care for the boiling water while trying to make so many other dishes. At one point we decided to start using canned sweet potatoes, and that's what we've been using for many years.
Until now!
The Instant Pot has allowed us to use fresh sweet potatoes again and make them in very little time without having to babysit boiling water or having to drain the sweet potatoes. It couldn't be easier or faster!
Essential Items
Here are some essential prep tools, utensils, and appliances I used to make this recipe.
Appliances & Cookware
These are the appliances and cookware that I used to make this recipe:
Prep Tools & Utensils
Here are the prep tools and utensils that you'll need:
Kitchen Accessories
While not necessary, these accessories will make things quicker and easier. So, if you welcome anything that offers more convenience, then check these items out:
12 Must-Have Instant Pot Cookbooks
If you're looking for a cookbook with easy and reliable Instant Pot recipes, then check out my list of approved Instant Pot Cookbooks.
Making Sweet Potato Casserole Using the Instant Pot
See the steps below to make this perfect Sweet Potato Casserole!
Gather Your Ingredients
You'll need sweet potatoes, crushed pineapple, chopped walnuts, several spices, brown sugar, heavy cream, butter, and milk.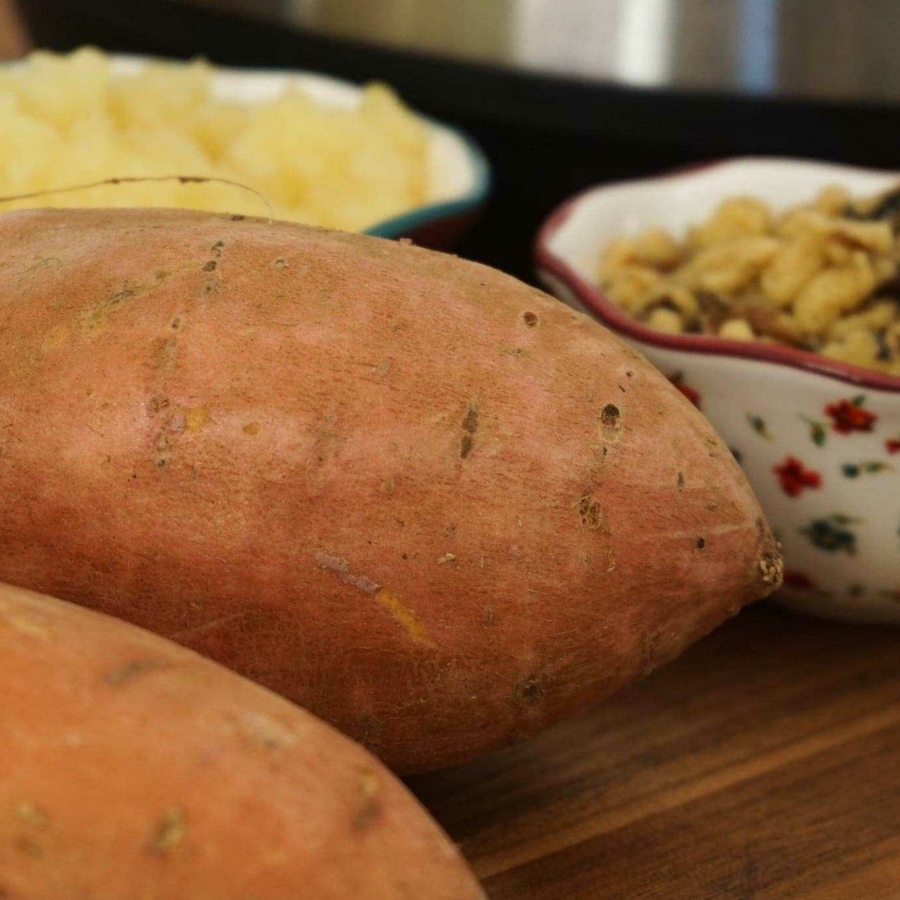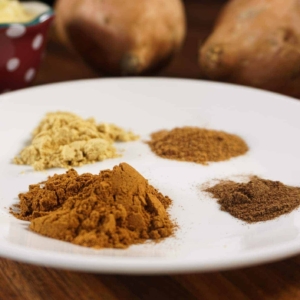 Clean, Peel and Cut the Sweet Potatoes
First, you'll want to clean, peel and cut your sweet potatoes. This is obviously the most time-consuming part of the recipe, but it's got to be done. Maybe they should come up with an Instant Pot that peels!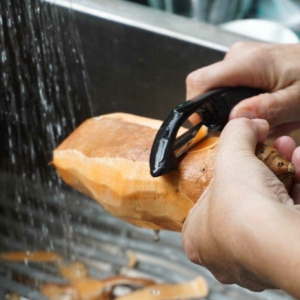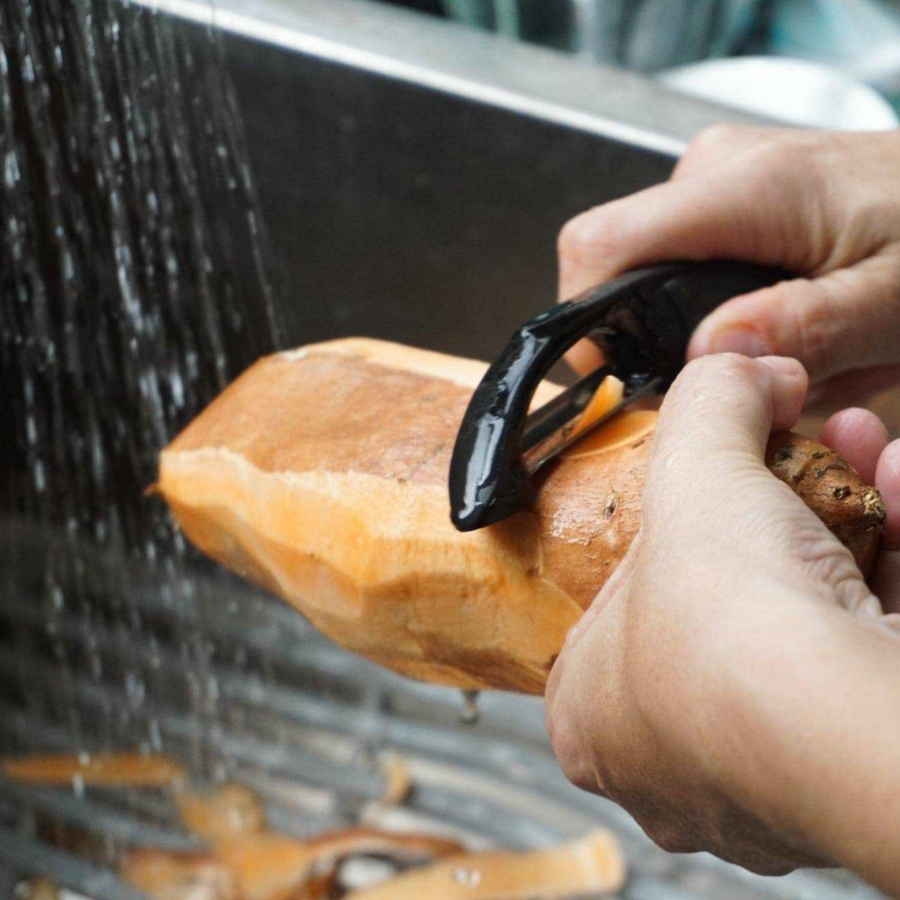 In any case, a good knife makes all the difference when cutting up veggies. I love mine not only because it works so well, but it's also beautiful and the set is priced so nicely!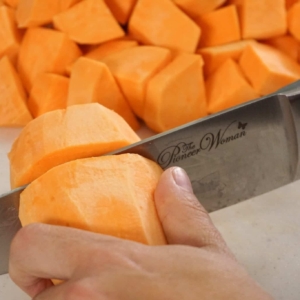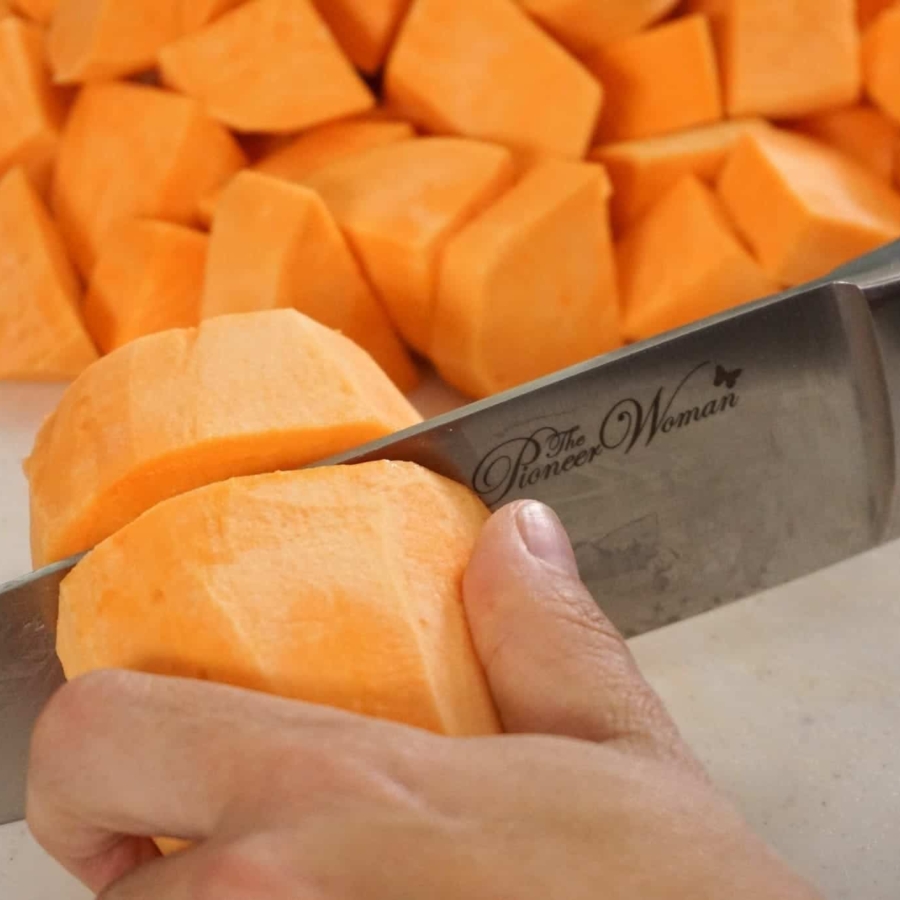 Add the Sweet Potatoes and Water
Add 6-8 heaping cups of the cut sweet potatoes to the pot. 3 to 4 large sweet potatoes should give you enough cut sweet potatoes. I found 6 cups to be our sweet spot, but it will depend on how big you cut up your potatoes and how heaping your cups are.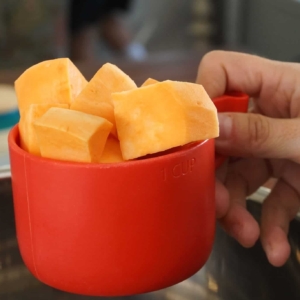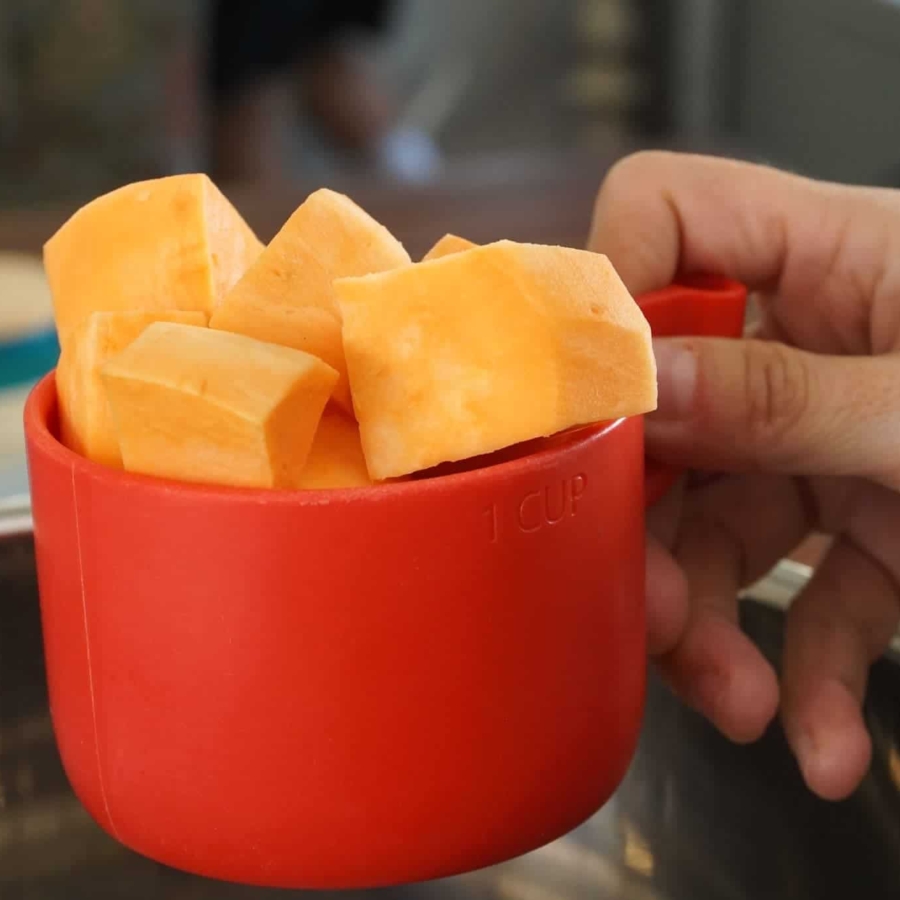 Add 1 cup of water to the pot.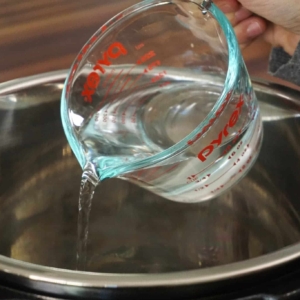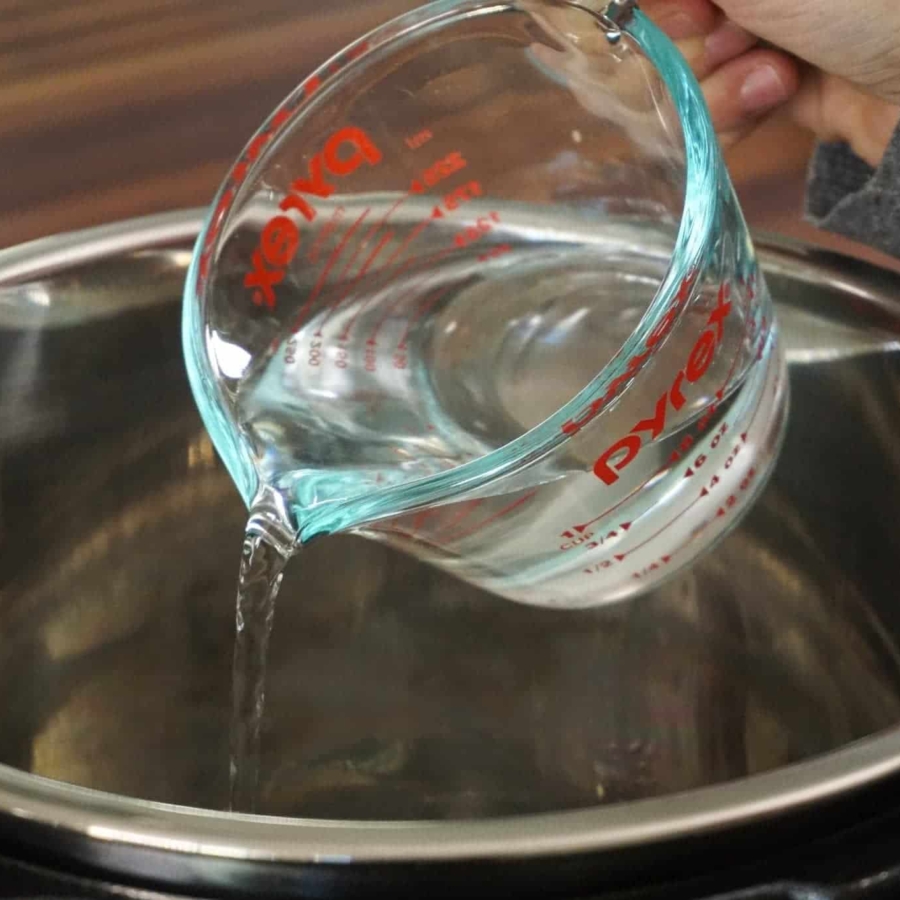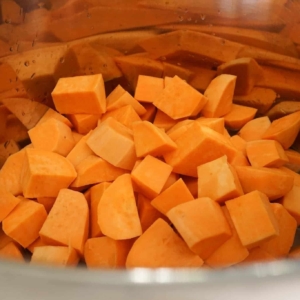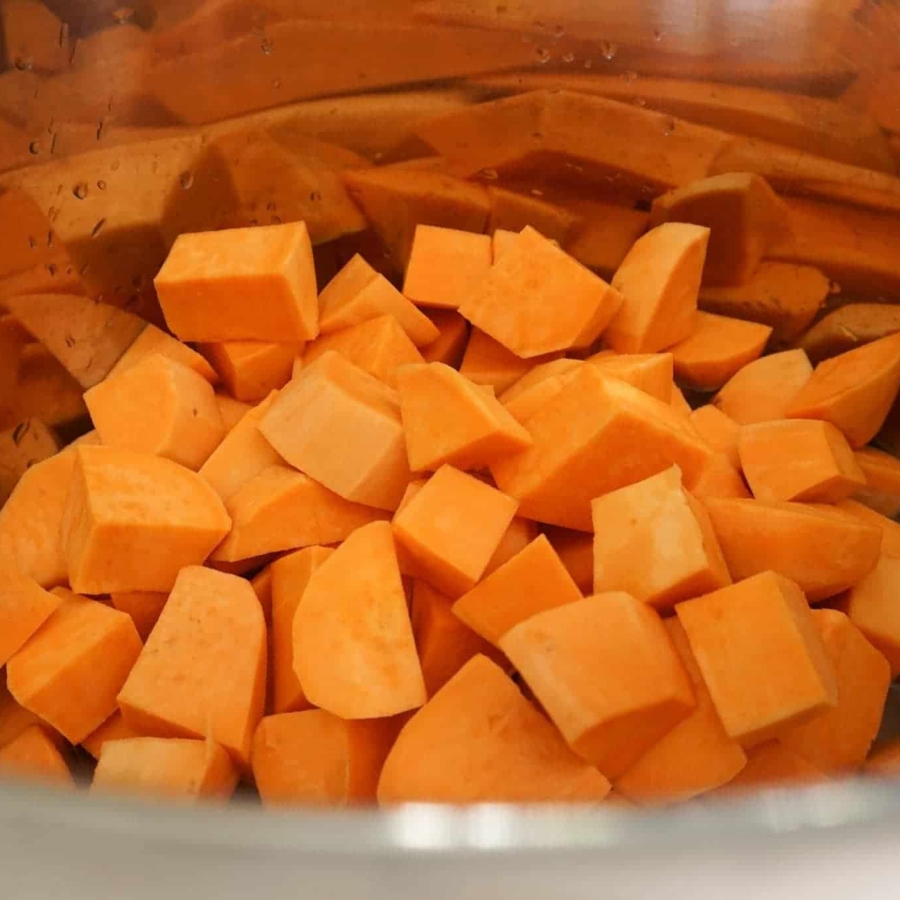 Cook the Sweet Potatoes in the Instant Pot
Close the pot and set to Manual High Pressure for 4 minutes and do a QPR (quick pressure release once cooking has completed). Some newer Instant Pot models don't have a "Manual" button, in which case you would press the "Pressure Cook" button.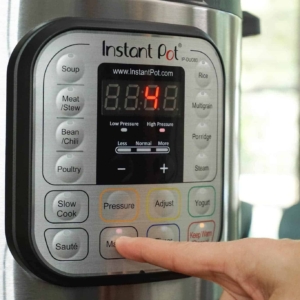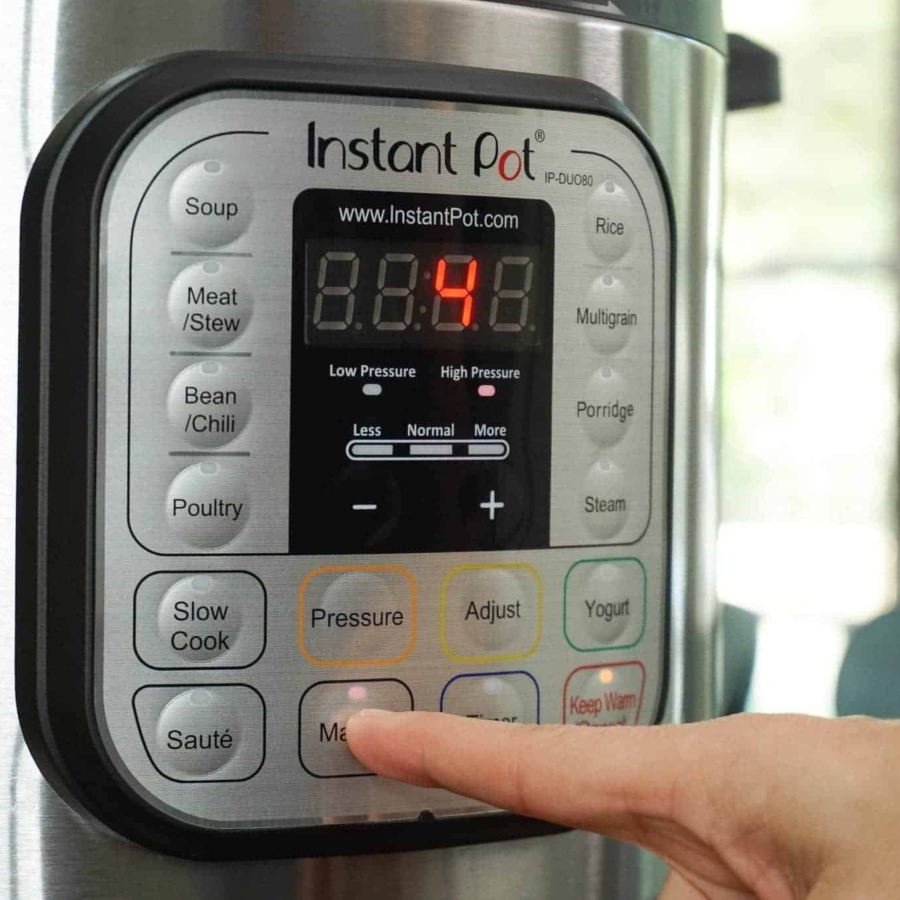 Mash the Sweet Potatoes
Fully mash the sweet potatoes before adding the rest of the ingredients for the casserole.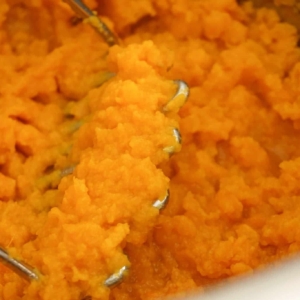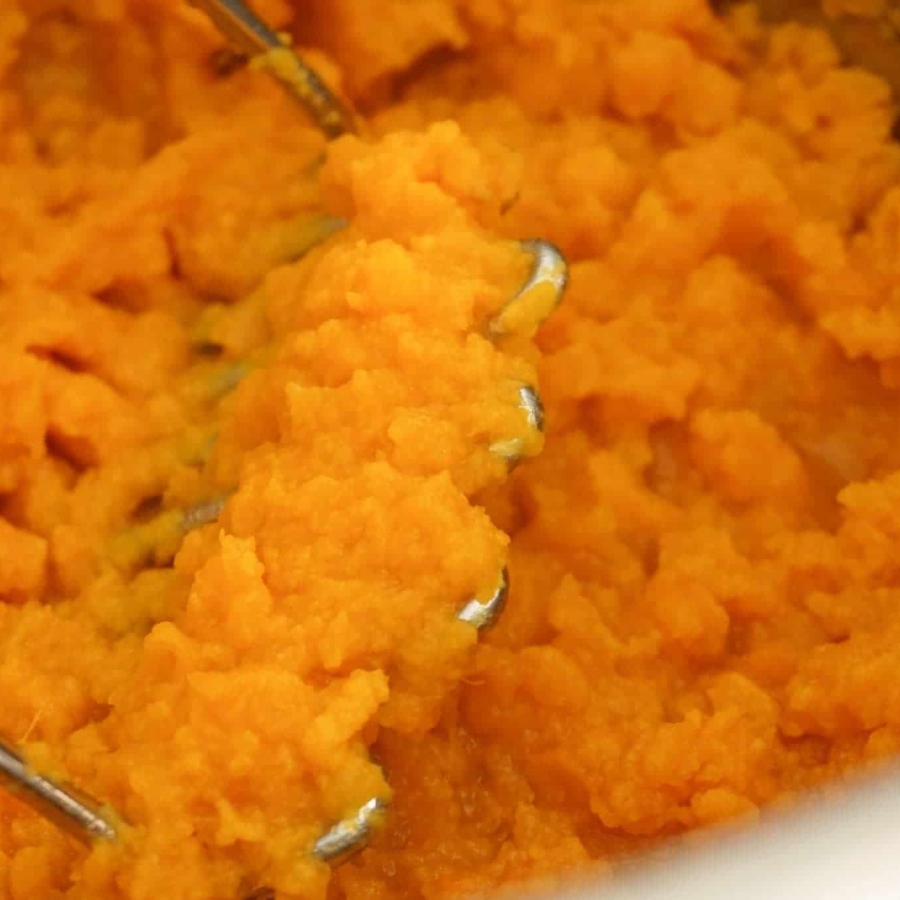 Add the Whipping Cream, Milk and Melted Butter
Now it's time to add the heavy whipping cream, milk (I use whole milk), and the melted butter.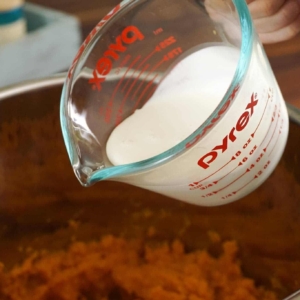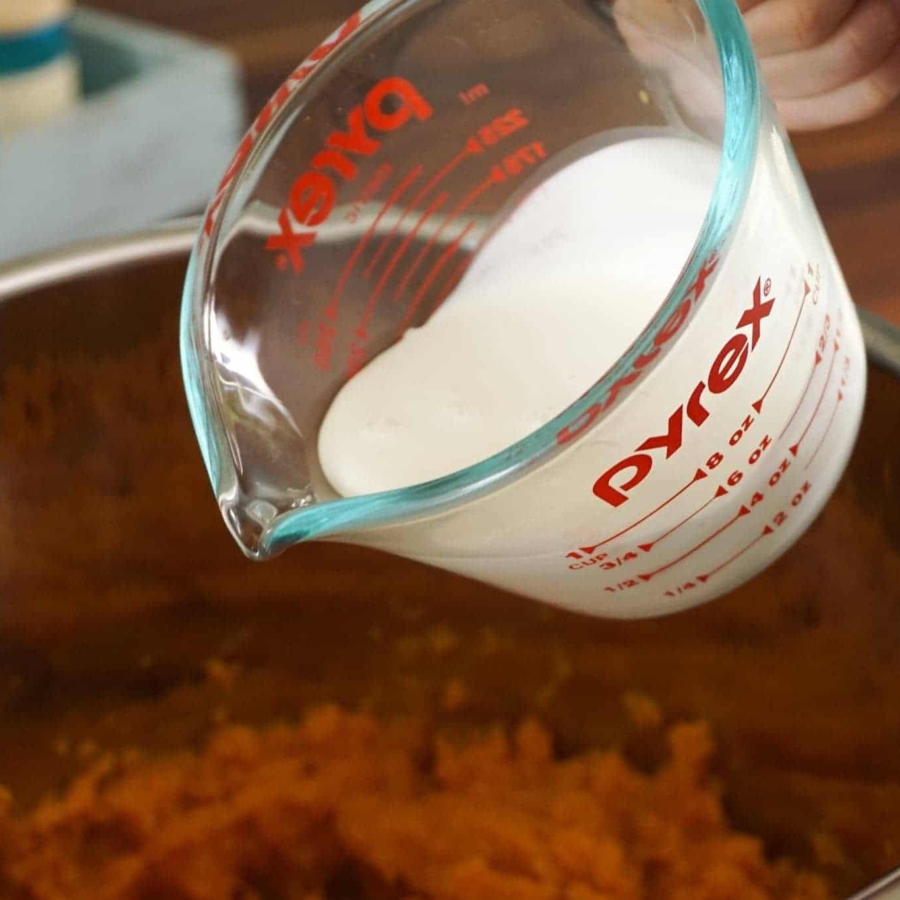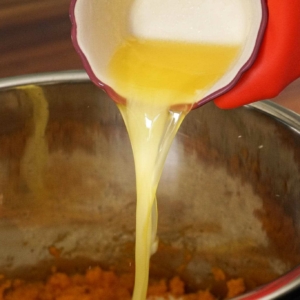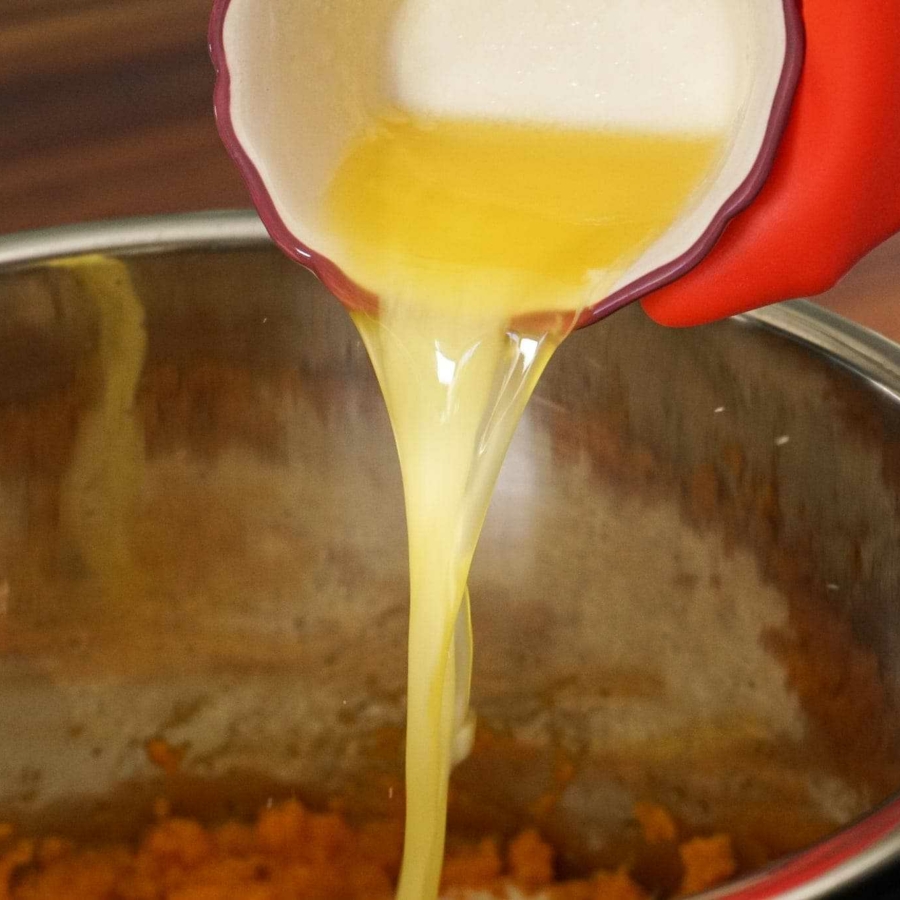 Mix them well into the mashed sweet potatoes.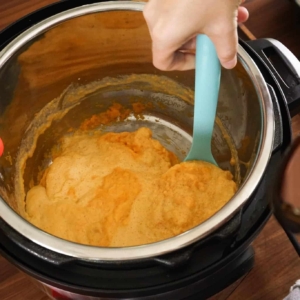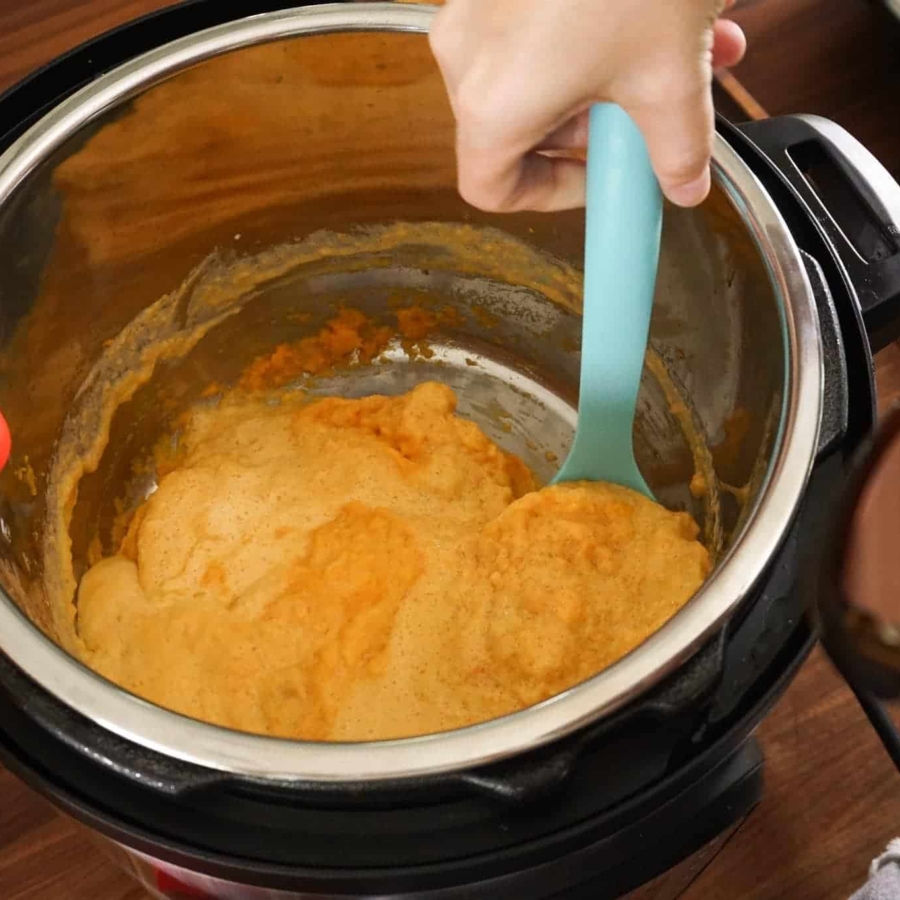 Add the Brown Sugar and Spices
Next, you'll want to add the brown sugar and spices and mix them into the sweet potatoes.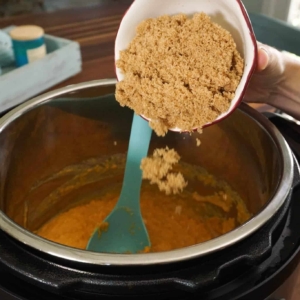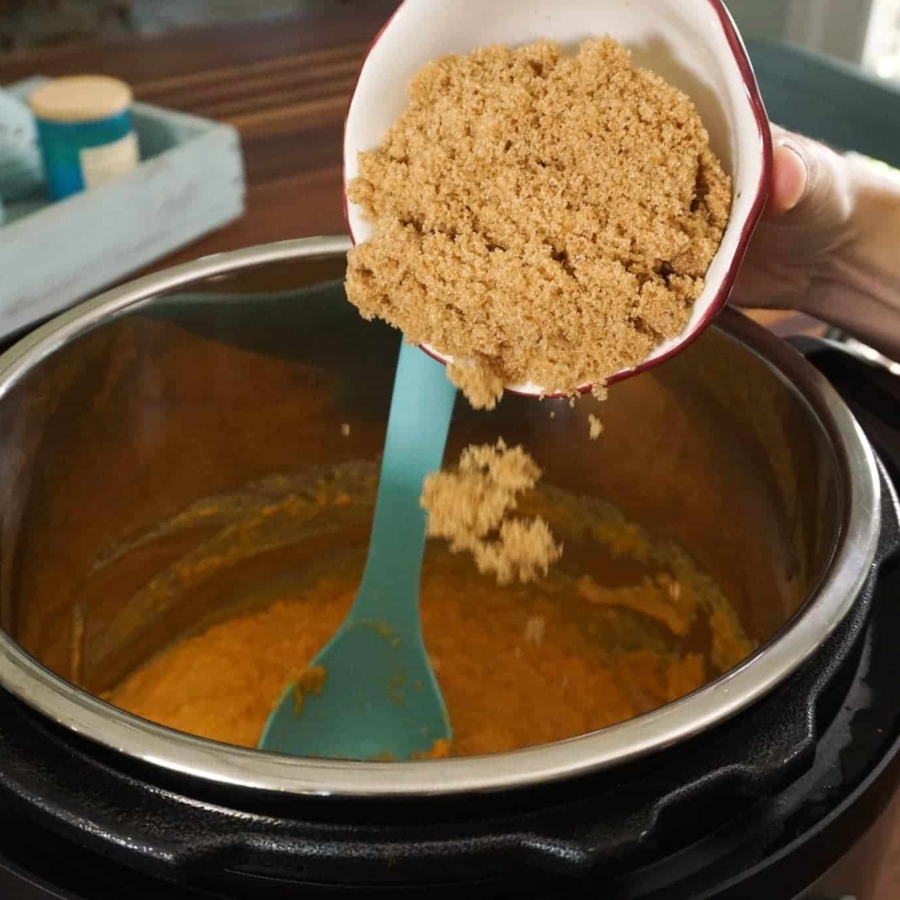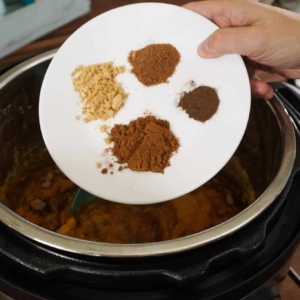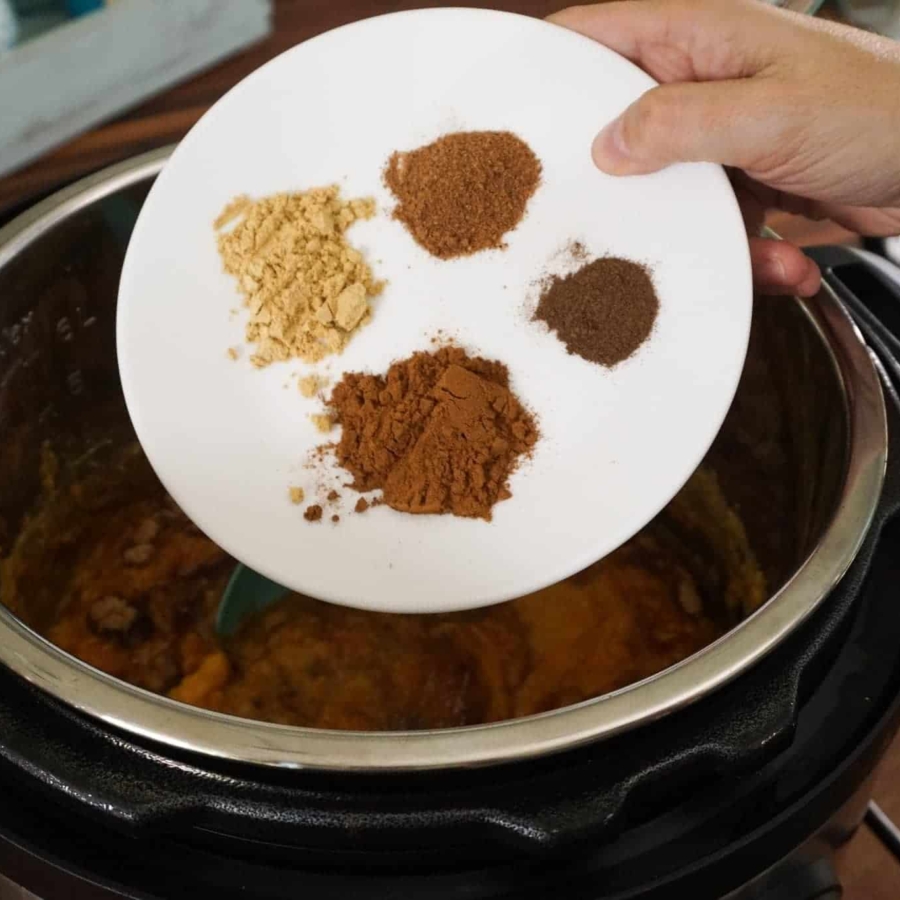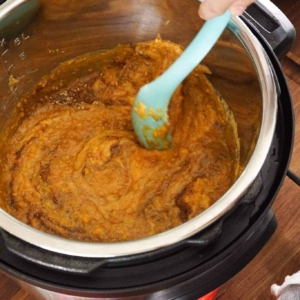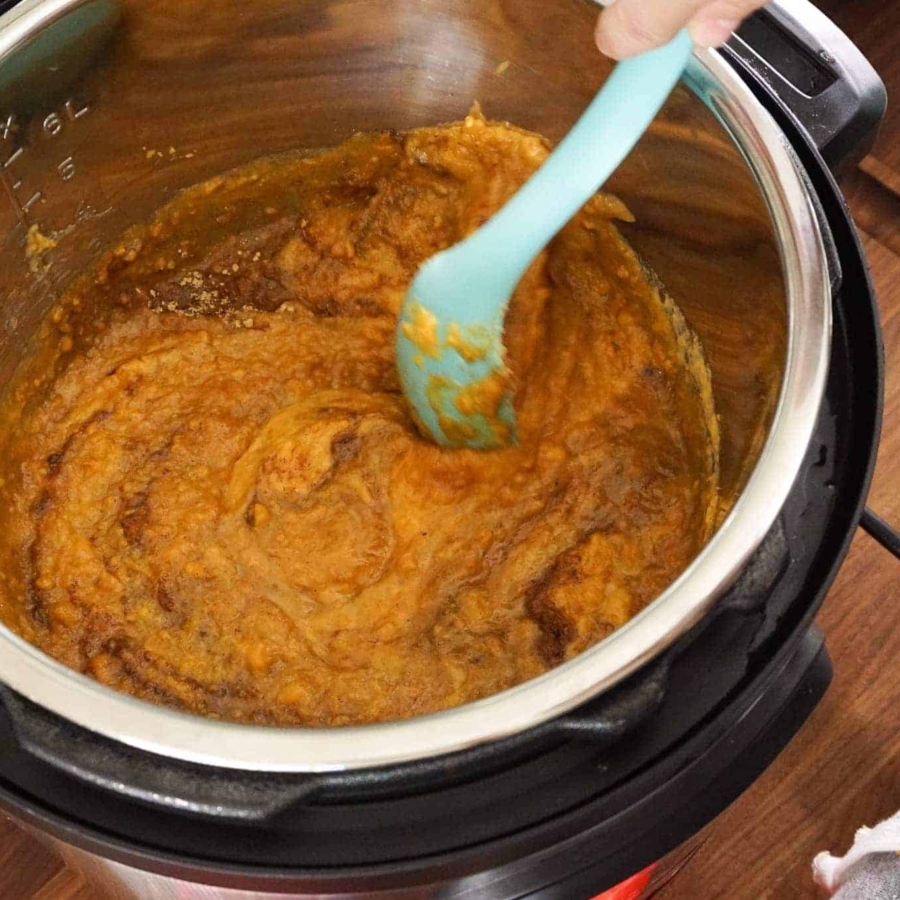 Add the Remaining Ingredients
Finally, you'll add the crushed pineapple and walnuts to the casserole mixture.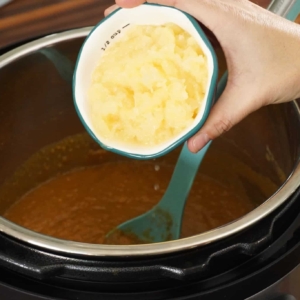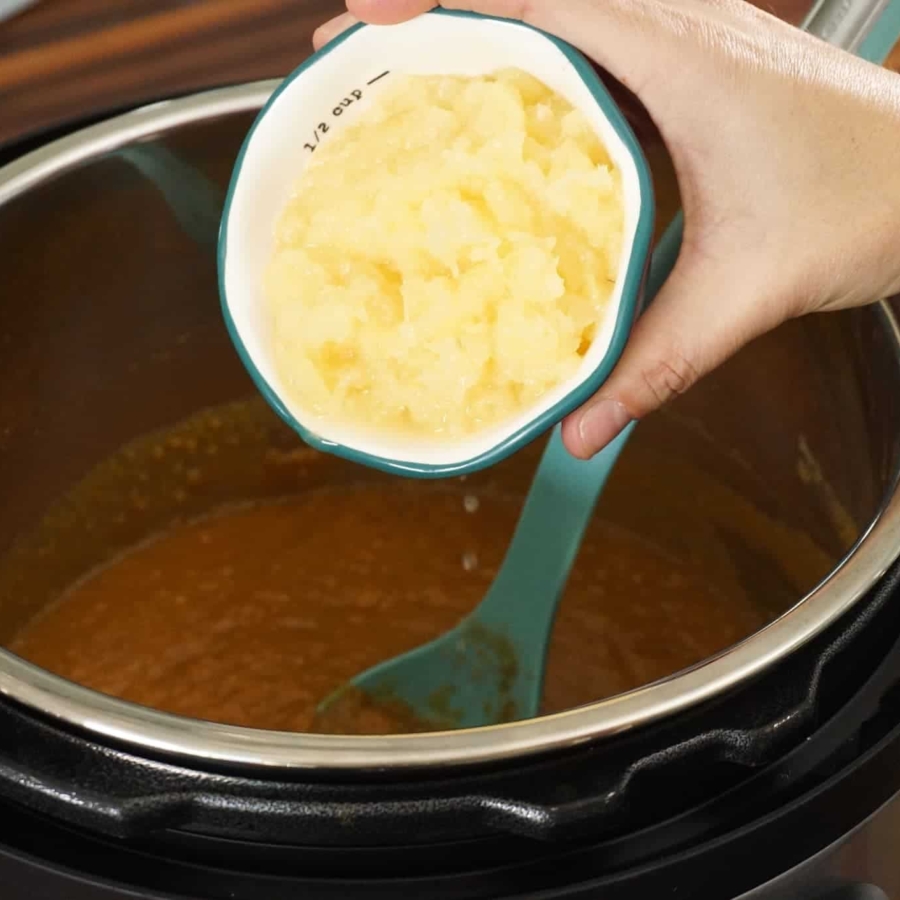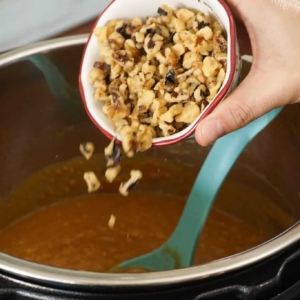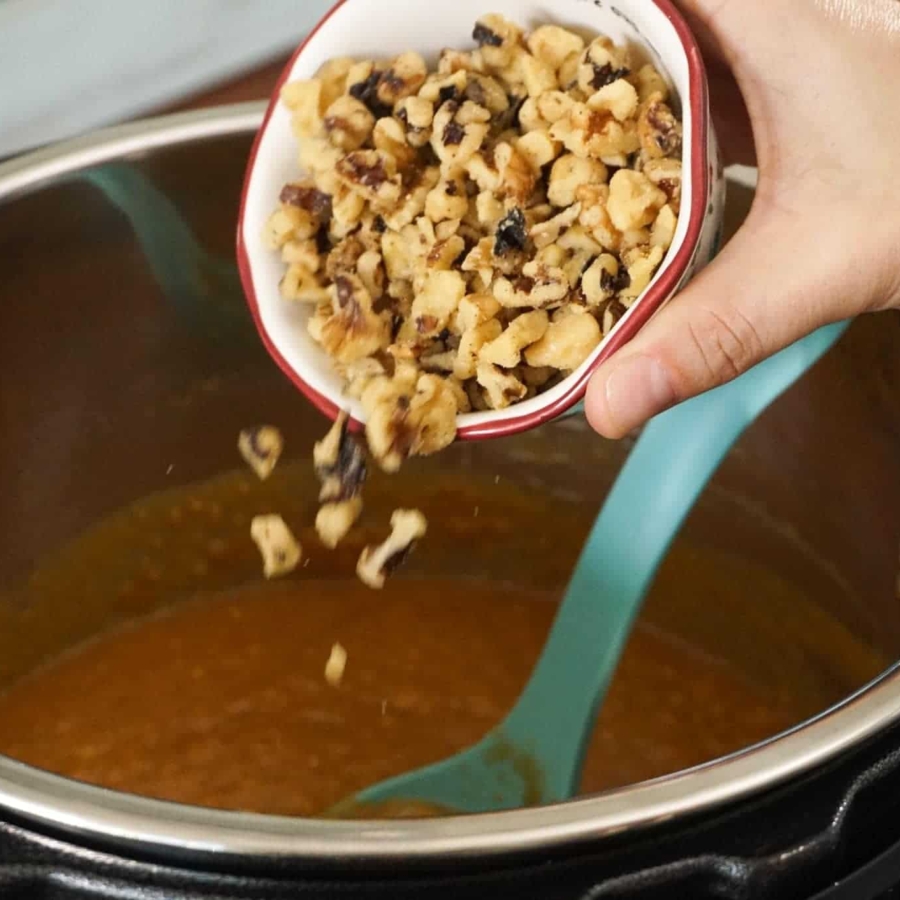 Mix everything together very well.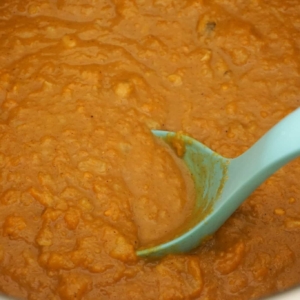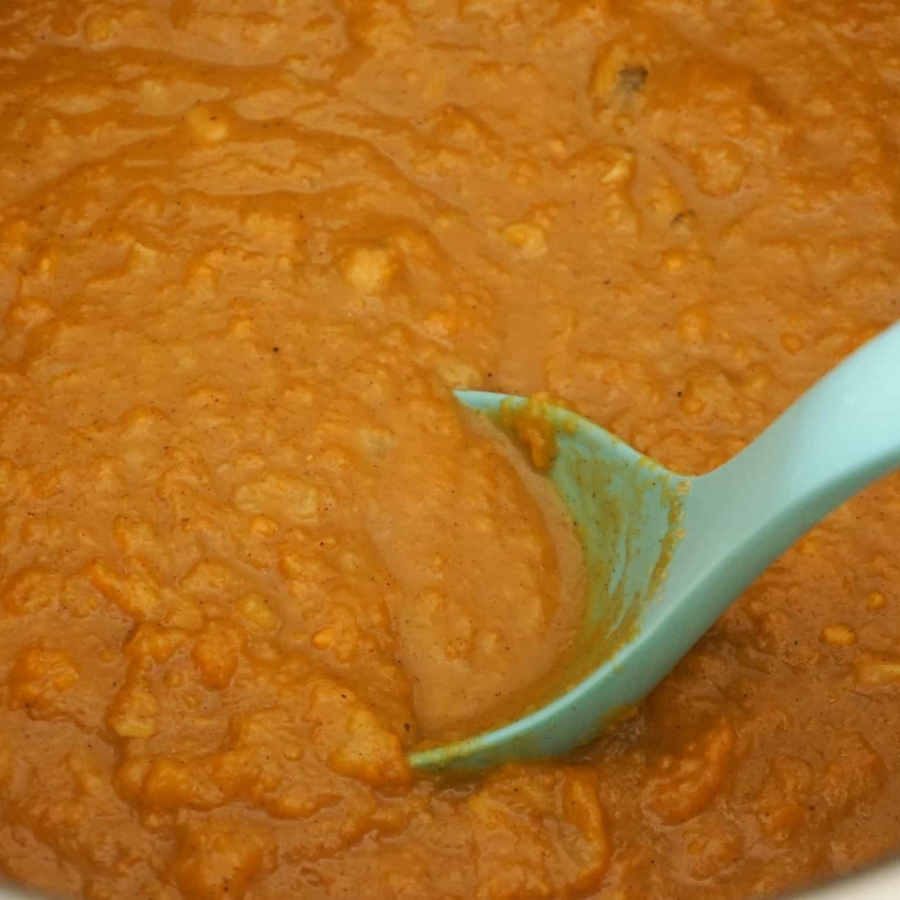 Bake the Sweet Potato Casserole
Pour the casserole mixture into a 9 x 13 baking dish and bake at 375° for 20 to 30 minutes. For a thinner, lighter casserole cook for 20 minutes, and for a darker, thicker casserole bake for 30 minutes. I usually bake mine for 30 minutes.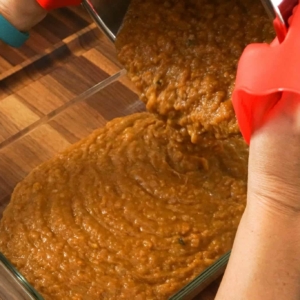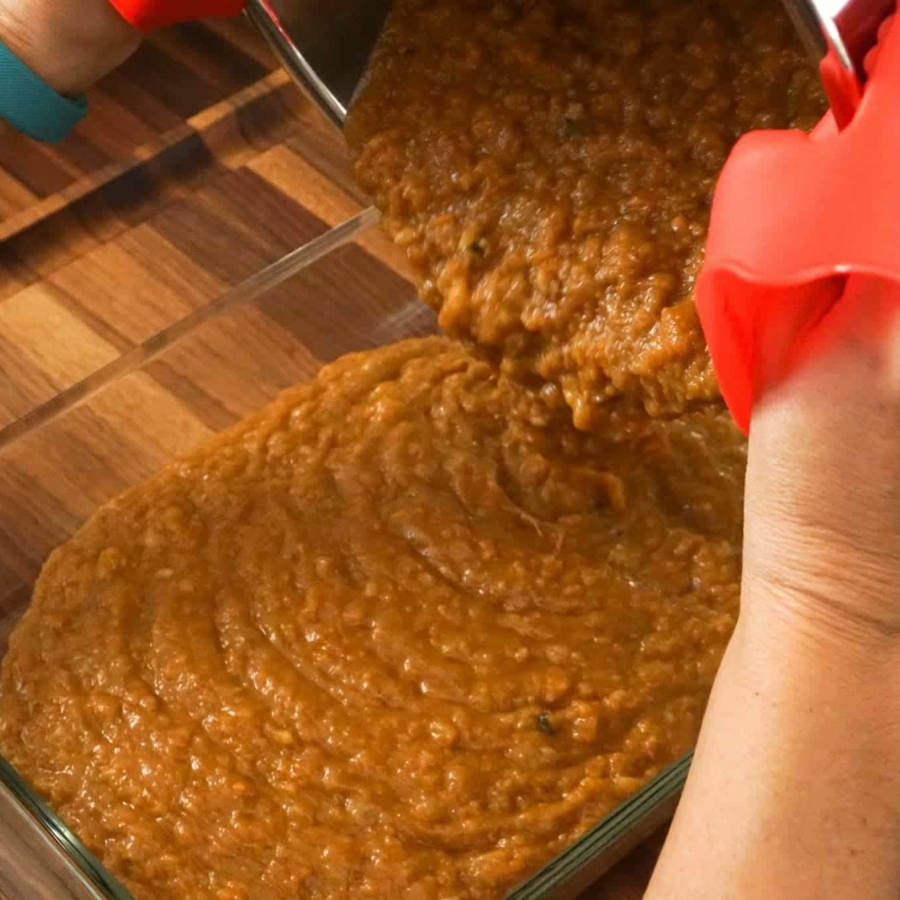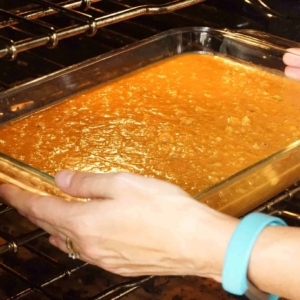 Remove From the Oven and Allow to Cool
Remove the casserole from the oven and fluff it with a fork to release the steam. This will help the casserole cool and thicken faster.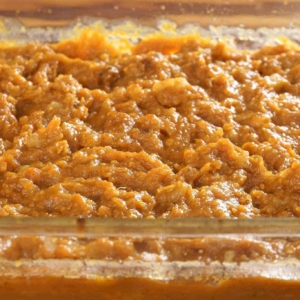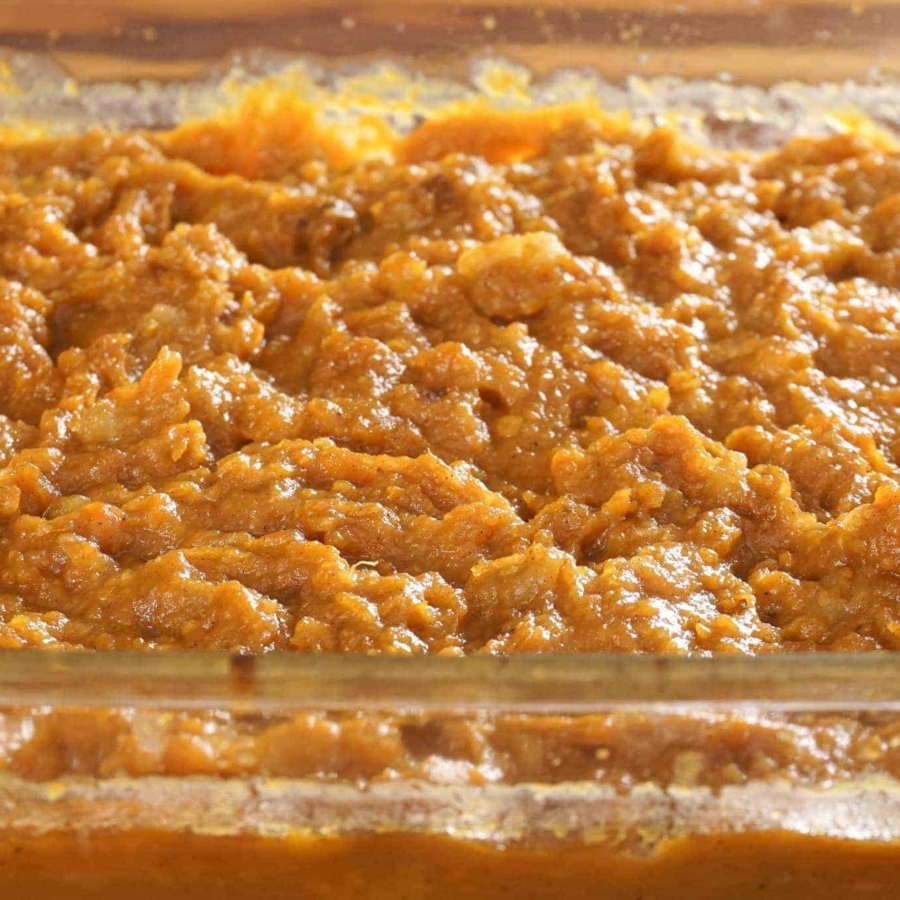 Top With Marshmallows and Cherries
We like to top our casserole with marshmallows and cherries. To do the same, spread an even layer of miniature marshmallows across the top of the casserole and then add the cherries evenly spaced out.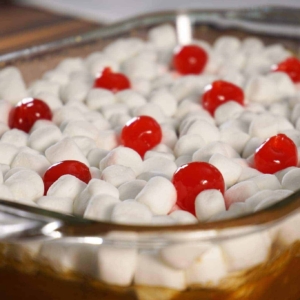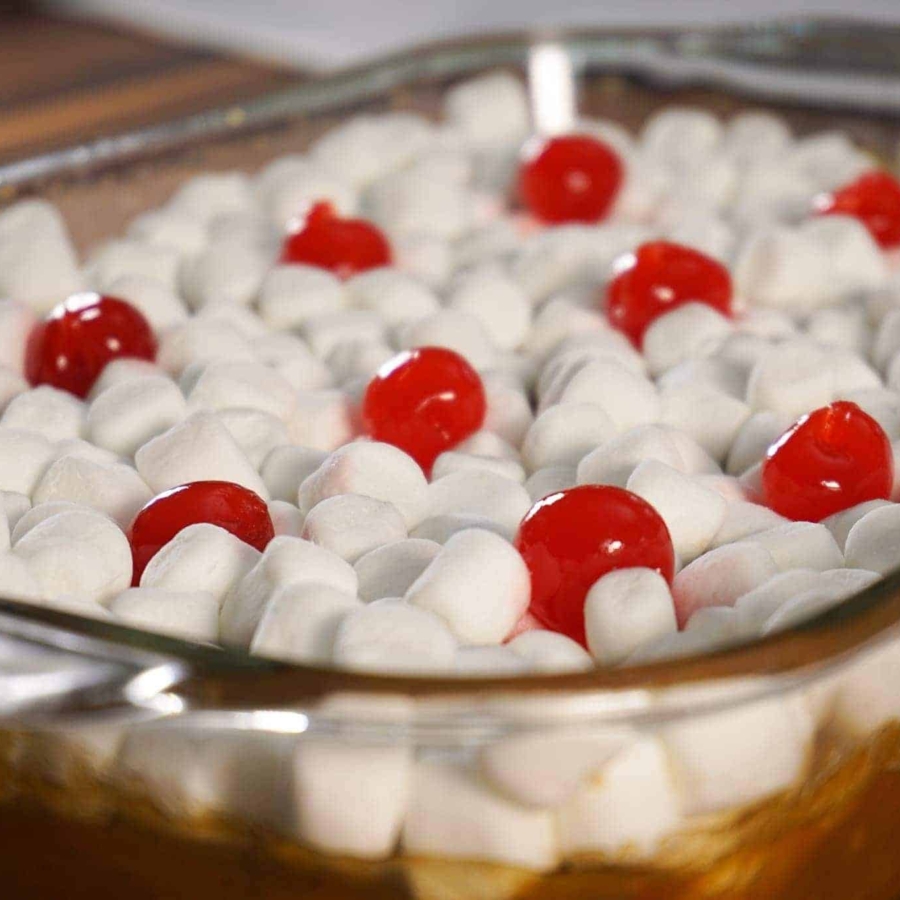 Toast the Marshmallows
Set your oven on the Low Broil setting. Once the oven has warmed up, place the casserole on the center rack. Watch the marshmallows closely because they will begin browning quickly.
Seriously, DO NOT step away from the oven!
You will have a layer of burnt marshmallows in no time, and you'll have to scrape them off and try again. Not that I speak from personal experience or anything like that!😜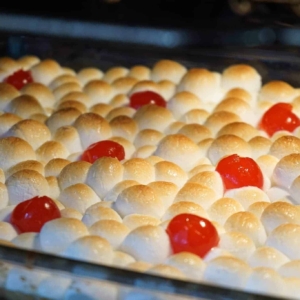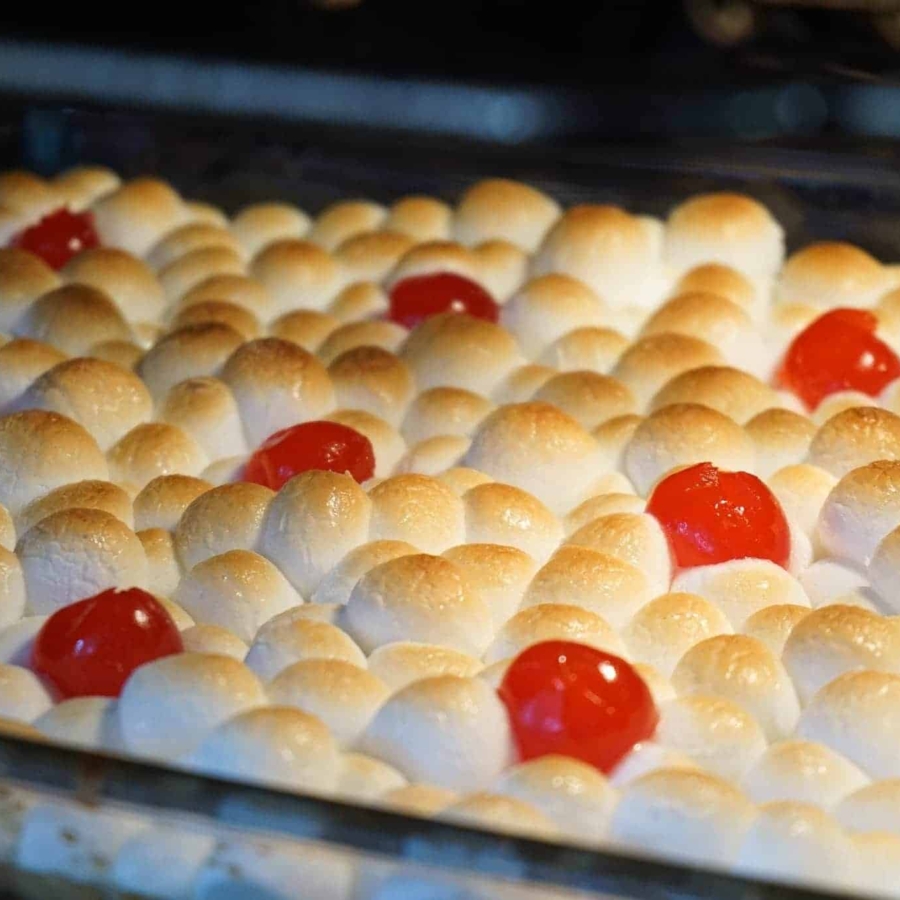 The casserole is usually ready to be removed from the oven within 3 to 5 minutes. As soon as most of the marshmallows are browned on the top, it is time to remove the casserole from the oven.
Serve Your Instant Pot Sweet Potato Casserole
Your sweet potato casserole has the perfect brown and crispy marshmallow topping and is now ready to serve.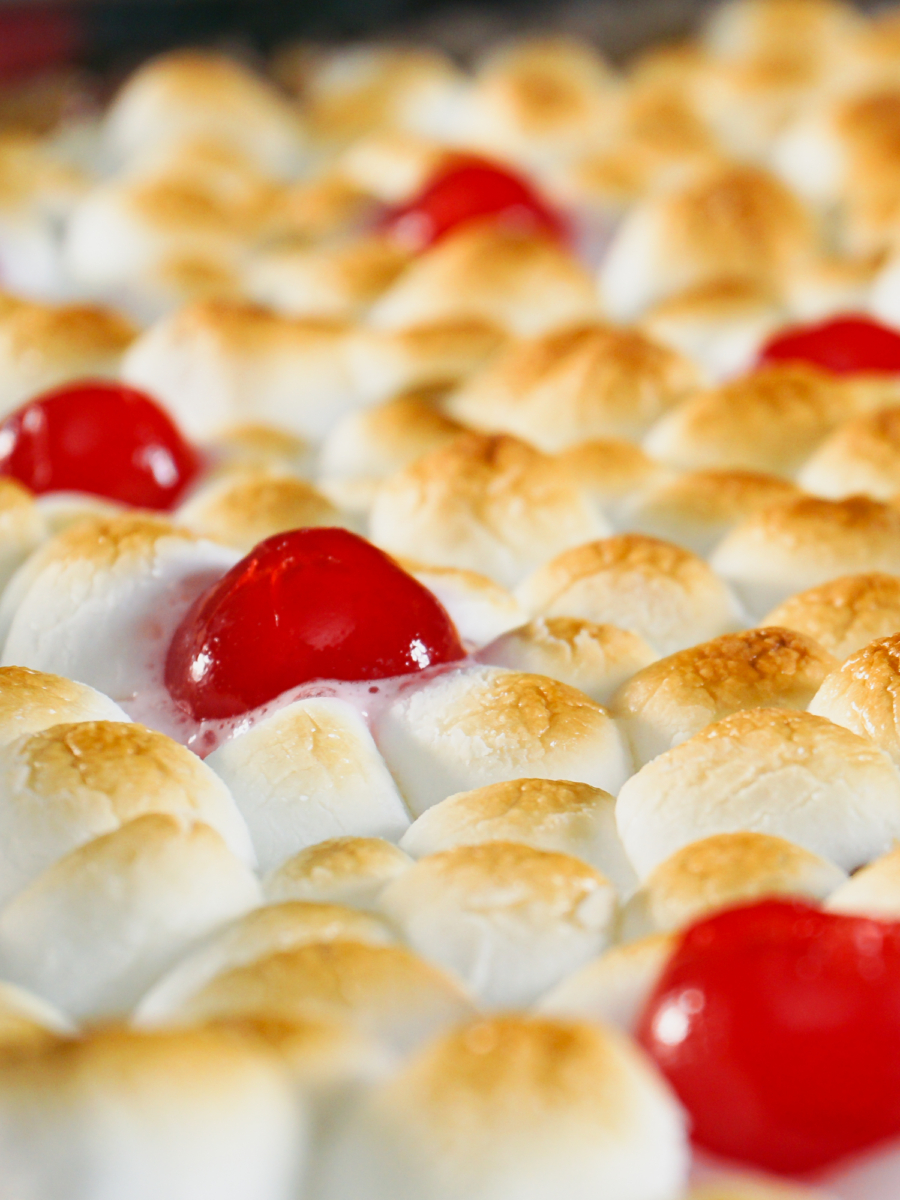 I hope you enjoy Ryan's Sweet Potato Casserole! It's a must for any holiday event!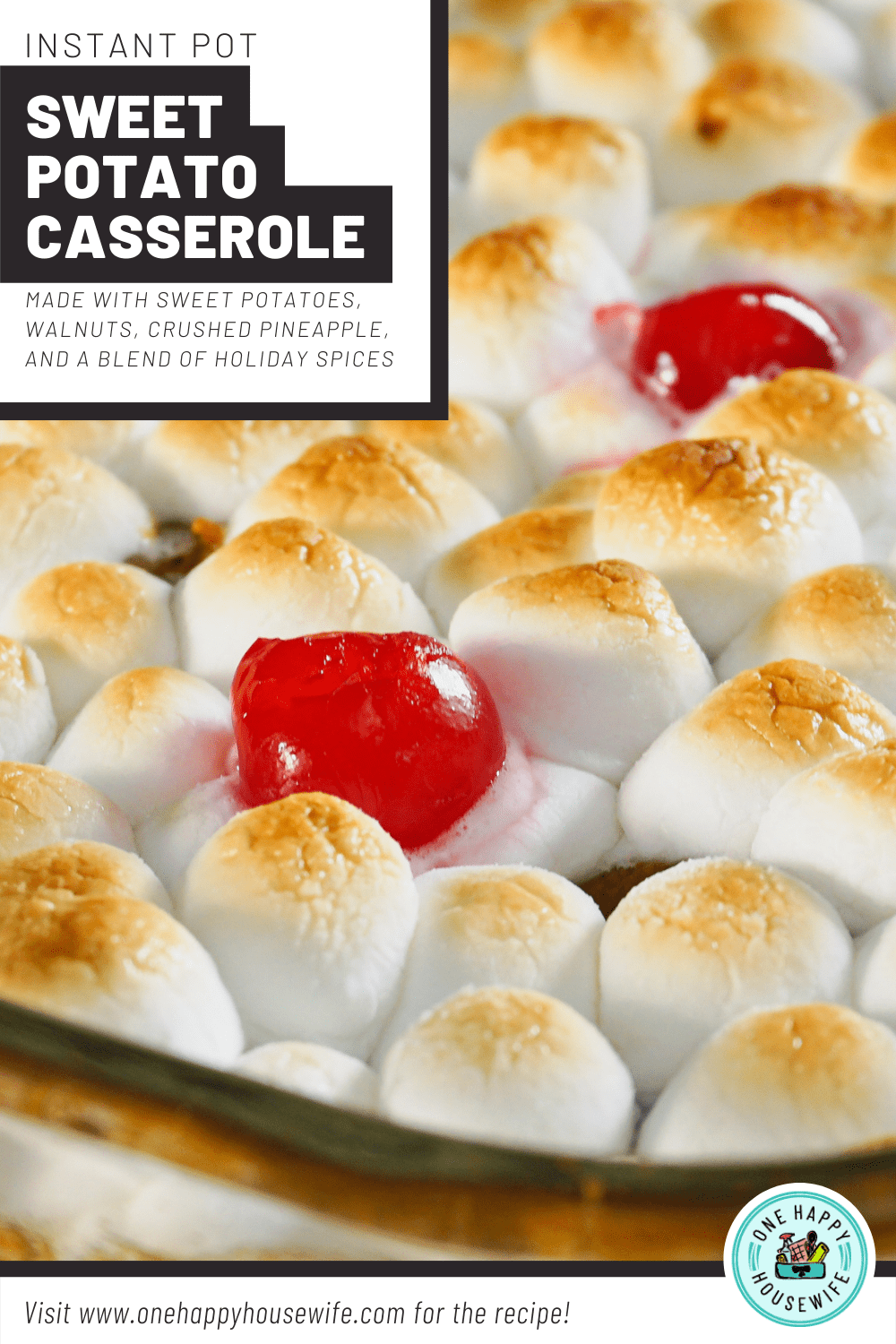 Instant Pot Sweet Potato Casserole
SWEET POTATOES, WALNUTS, CRUSHED PINEAPPLE, AND A BLEND OF HOLIDAY SPICES
Topped with perfectly toasted marshmallows and maraschino cherries, this wonderful sweet potato casserole is always a favorite side dish at every Thanksgiving and Christmas dinner.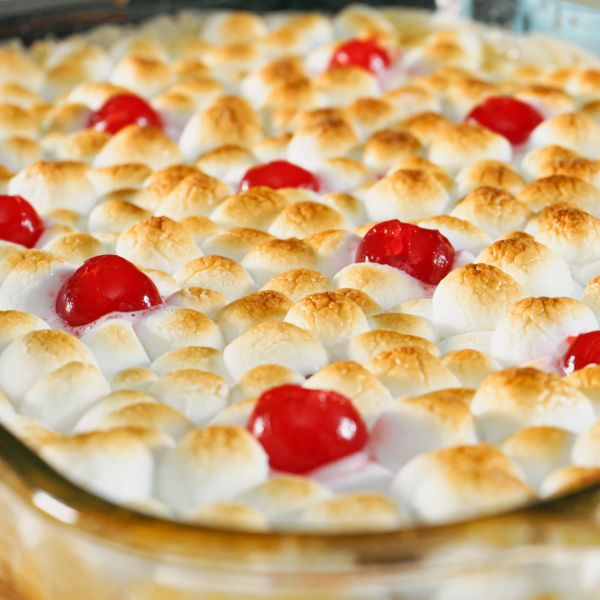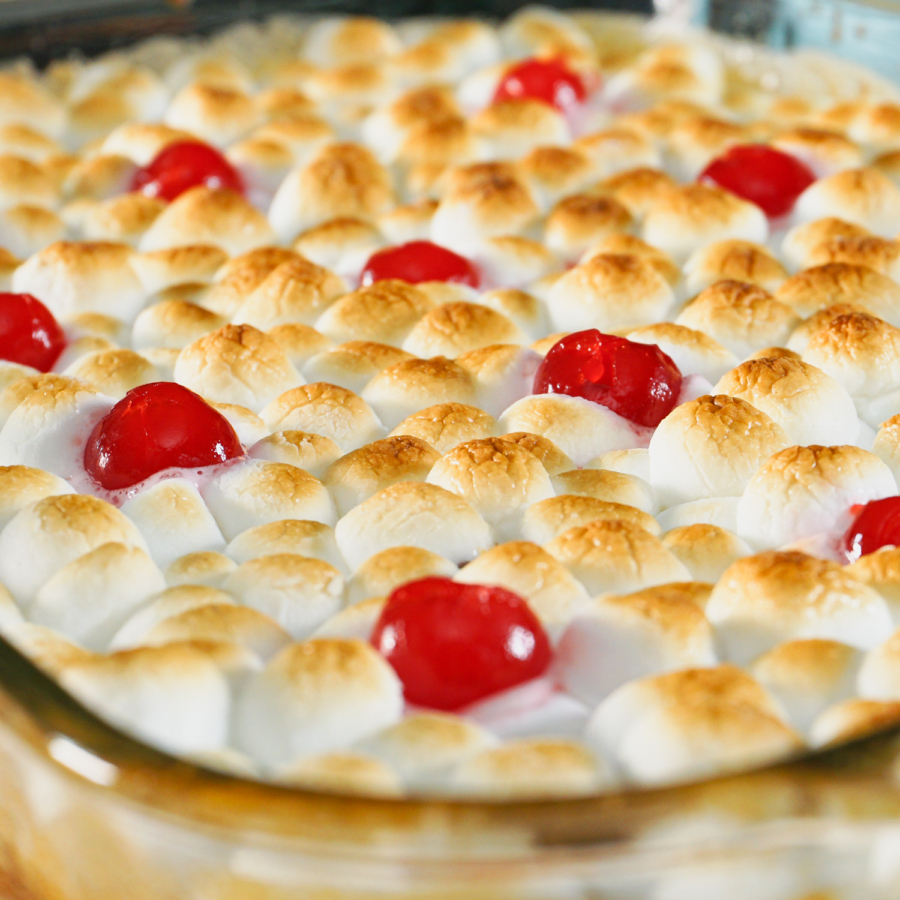 Ingredients
for the Marshmallow Topping
Instructions
make the Sweet Potatoes
Wash, peel and cut the sweet potatoes and then add them to the Instant Pot.

Add 1 cup of water, close the pot and set to Manual / Pressure Cook, High Pressure for 4 minutes.

Once cooking has completed, do a QPR (Quick Pressure Release) and open the pot once all the pressure has been released.

Mash the potatoes and then add the milk, whipping cream and melted butter and mix in well.

Next add the brown sugar and spices and mix in well. Once the spices have been thoroughly mixed in, add the walnuts and pineapple and mix into the casserole.

Spoon the mix into a baking dish and then place in a 375° F oven for 20-30 minutes. This will thicken and darken the casserole. The longer you leave the casserole in the oven, the thicker and darker it will become.

Remove the casserole from the oven and fluff with a fork to release the steam so that the casserole will continue to thicken and cool.
make the Marshmallow Topping
To get the perfect marshmallow and cherry topping, let the casserole cool for 10-15 minutes after taking it out of the oven.

Once cooled, cover the top of the casserole with a layer of marshmallows and then add cherries throughout.

Turn the oven to the Low Broil setting. Place the baking dish back into the oven on the middle rack and broil for approximately 3-5 minutes.

Keep a constant eye on the casserole! The marshmallows will brown quickly and a little distraction could lead to burned marshmallows! As soon as the marshmallows start turning brown take the casserole out of the oven and enjoy!!
Nutrition Facts
Calories: 348kcal | Carbohydrates: 60g | Protein: 2g | Fat: 12g | Saturated Fat: 5g | Cholesterol: 27mg | Sodium: 98mg | Potassium: 344mg | Fiber: 3g | Sugar: 47g | Vitamin A: 9760IU | Vitamin C: 3.8mg | Calcium: 88mg | Iron: 1mg