Summer is officially underway, and though it's not the usual summer, we're still ready for some delicious summer food! So, here is my July Instant Pot Meal Plan.
This month's meal plan has 4th of July in mind with a delicious Dr. Pepper Pulled Pork on that day, plus lots of easy dessert and side dish ideas, including my new Instant Pot Potato Salad that pairs perfectly with the pulled pork! Here's what you can expect: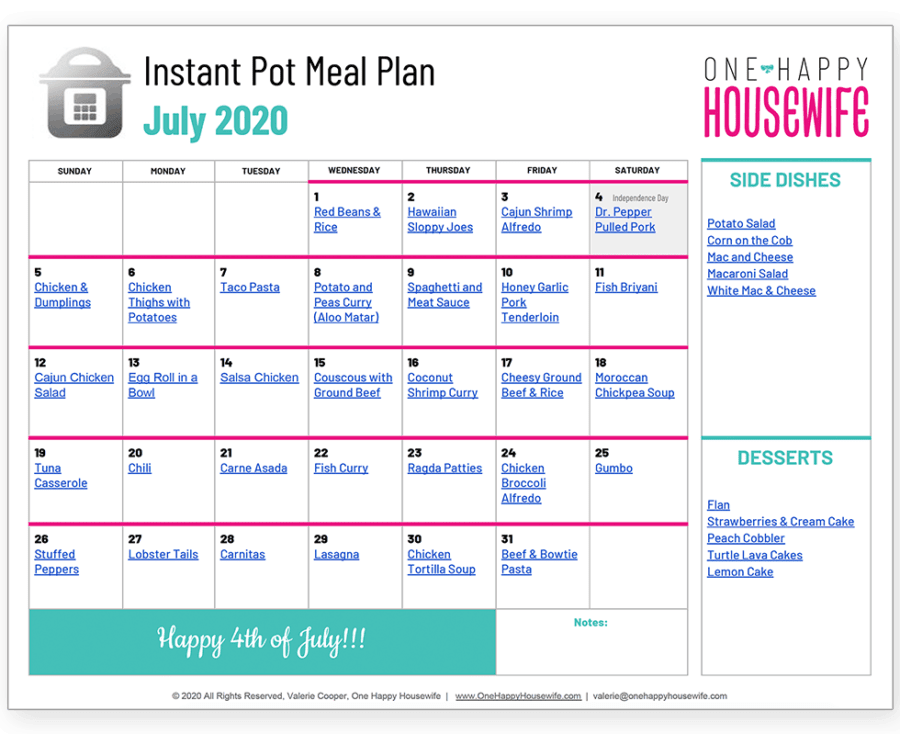 Instant Pot Summer Recipes
We're knee deep into the dog days of summer and I've included lot's of summertime recipes for these feverishly hot months. Some of the deliciousness that I have in store for you are Chicken Thighs and Potatoes, Honey Garlic Tenderloin, Fish Biryani, and Cajun Chicken Salad.
You'll also find some wonderful taco recipes in the mix. There are recipes for Carnitas, Carne Asada, and Chicken Tacos. All delicious and perfect for summer.
Simple Instant Pot Main Dishes
I've also included plenty of pasta recipes, easy chicken recipes, ground beef recipes, and seafood recipes. You'll also find recipes from around the world. I've included Indian recipes, Hispanic recipes, Italian recipes, American recipes, and more. There is no shortage of variety in this month's meal plan.
A few of the great pasta recipes you'll find are Taco Pasta, Cajun Shrimp Alfredo, and Lasagna. For the chicken fans, there is Chicken Tortilla Soup, and Chicken and Dumplings. And if ground beef is your thing then you'll love Hawaiian Sloppy Joes, Couscous with Ground Beef, and Cheesy Ground Beef and Rice.
There are also tons of great seafood dishes in this meal plan. A few that you shouldn't miss are the Coconut Shrimp Curry, Fish Curry, and Gumbo. Yum!
Instant Pot Side Dishes
I've also included plenty of side dishes for the Instant Pot. You'll find some wonderful summertime sides like Potato Salad, Macaroni Salad, and White Cheddar Mac & Cheese. These sides are great with many of the main dish recipes on this meal plan.
Instant Pot Dessert Recipes
We cannot forget dessert! There are tons of splendid Instant Pot dessert recipes to choose from. Desserts like Peach Cobbler, Strawberries and Cream Cake, and Lemon Cake are a few of the wonderful sweet treats that you'll find. There is no shortage of summery deliciousness in this meal plan. So, take out that tub of vanilla ice cream and get ready to enjoy a delicious summer treat.
Have a safe July friends!
Make sure you also check out my latest Instant Pot Meal Plan.
July 2020 Instant Pot Meal Plan
Below the list of recipes, you will find a link to the downloadable calendar and links to all my monthly Instant Pot meal plans.
Download the July 2020 Meal Plan Calendar.
For more Instant Pot Meal Plan ideas for the month of July, check out my archive of July Instant Pot Meal Plans.
Past Instant Pot Meal Plans
Each month I publish a new, updated Instant Pot Meal Plan. So don't miss out on seeing what wonderful dishes I've included in my latest one.
LOOKING FOR A PAST MEAL PLAN?
You can also access all of my previously published Instant Pot Meal Plans through the links below. I handpick the recipes that appear each month, so you will find that each month is unique with its own set of recipes geared specifically toward that month. Plus, on each meal plan page, you can download the printable calendar for that month.