Spring is in the air… and so are the delightful aromas of delicious Instant Pot recipes that you'll make daily following this meal plan. In this April 2019 Instant Pot Meal Plan, you'll find so many delicious dishes. From wonderful pasta dishes to special recipes for Easter. And I have loads of kid-friendly recipes that are sure to make those hungry little rascals happy. Here's what you can expect: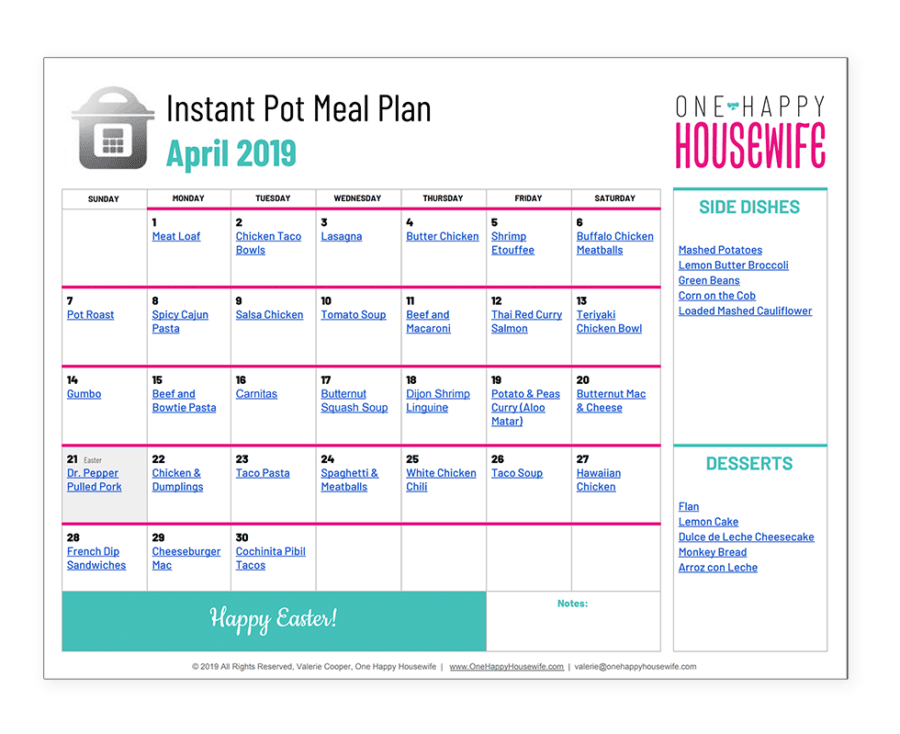 Instant Pot Pasta Dishes
Looking for some fabulous pasta recipes for the Instant Pot? Well, this meal plan has them. If you haven't noticed yet, I love pasta recipes! They seem to be perfect for big families. Plus, they're so quick and easy to make. That makes them especially great for busy weeknights. Here are a few of the pasta recipes that you can expect to see in this month's meal plan.
Spicy Cajun Pasta
The Instant Pot Spicy Cajun Pasta quickly became a family favorite in my home. This pasta recipe uses simple ingredients like pasta, andouille sausage, and cheese mixed with the perfect amount of Cajun spices to make an outstanding meal. You'll find plenty of other outstanding pasta dishes in this April meal plan.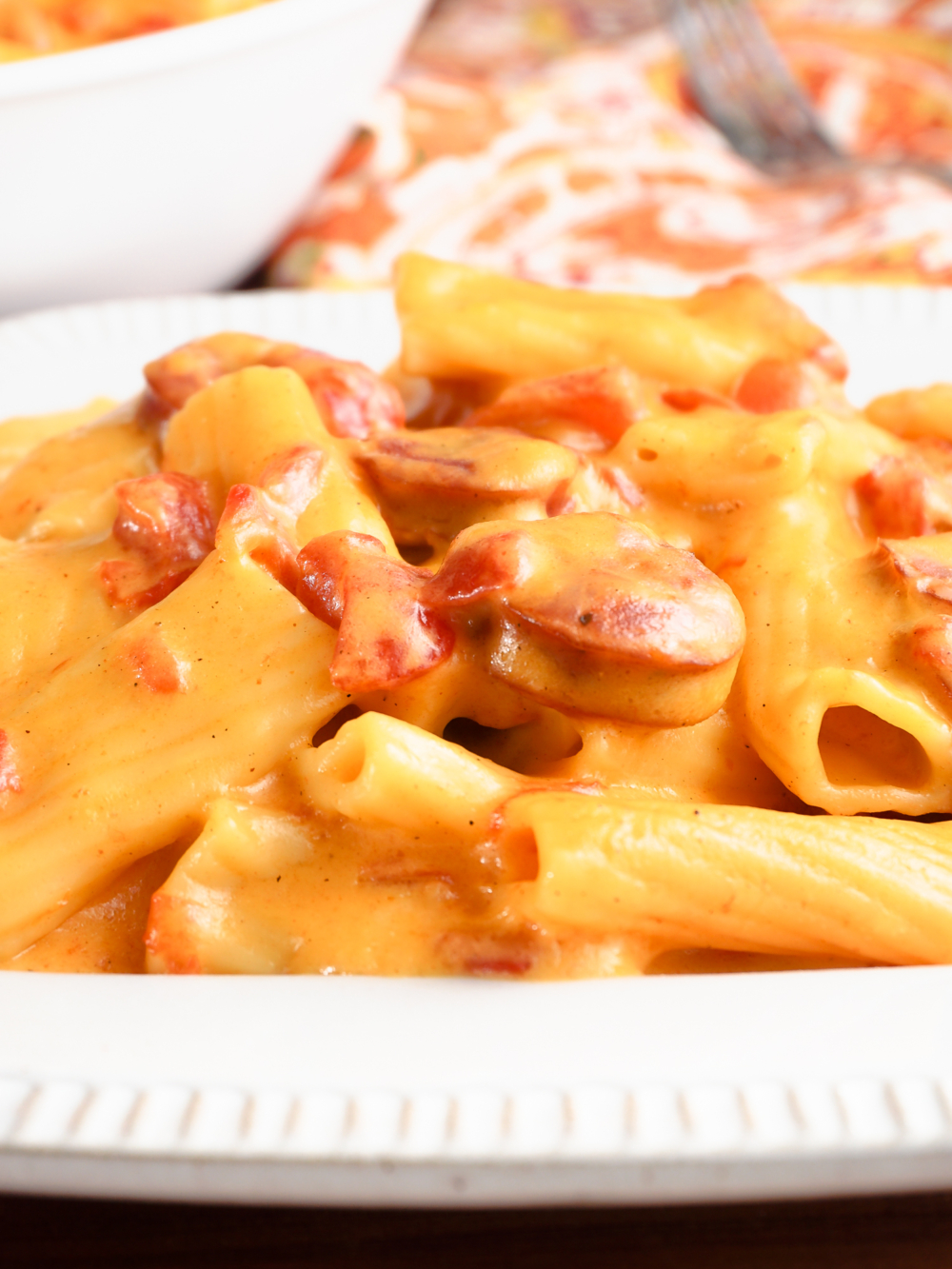 Butternut Mac and Cheese
If you're in the mood for something comforting, then my Instant Pot Butternut Mac and Cheese recipe offers more comfort than fuzzy slippers on a cold winter's day. Seriously, this pasta dish is so amazing. The mixture of the sweetness and nuttiness of the butternut squash along with the sharpness of the cheese is a match made in heaven.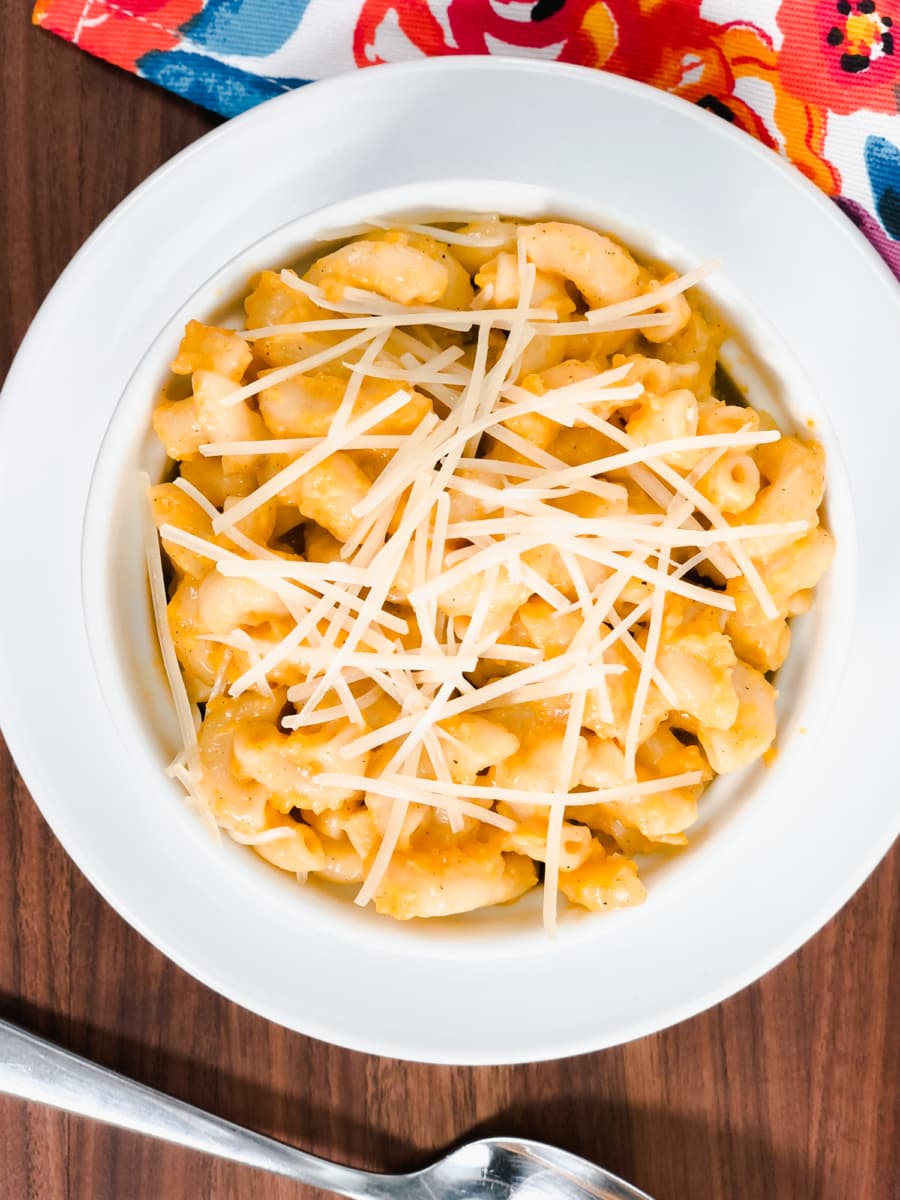 Spaghetti and Meatballs
Looking for a more traditional pasta dish? My Instant Pot Spaghetti and Meatballs recipe is a quick and easy way to make this classic Italian dish using your pressure cooker. Spaghetti and meatballs are always a family favorite. Serve it with a salad and side of garlic bread, and you'll have a feast that everyone will enjoy.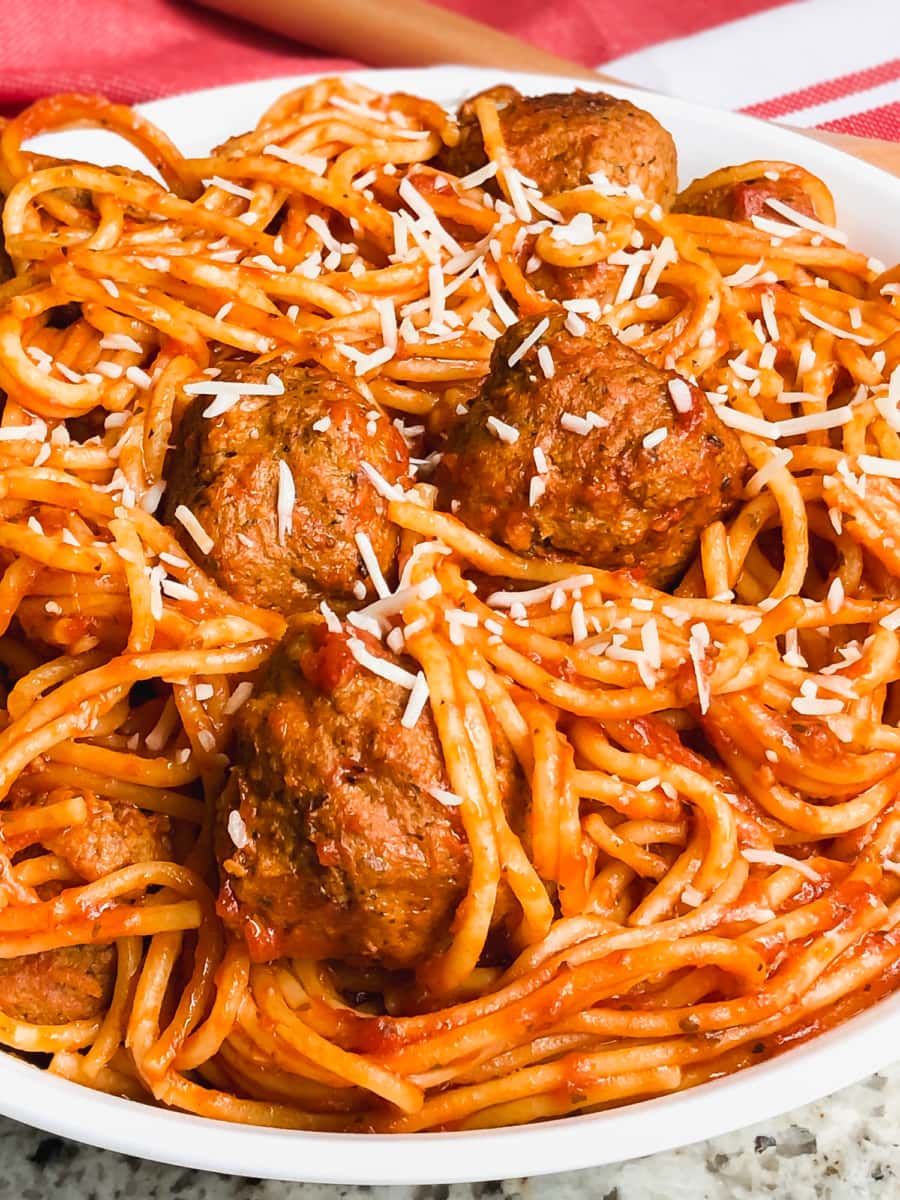 Cheeseburger Mac
Oh, and don't miss the Instant Pot Cheeseburger Mac. My kids are fanatics about this recipe. It's all the taste of a cheeseburger served in a pasta dish. The flavor is spot on and the kids gobble this one up in a flash. And speaking of recipes that kids love…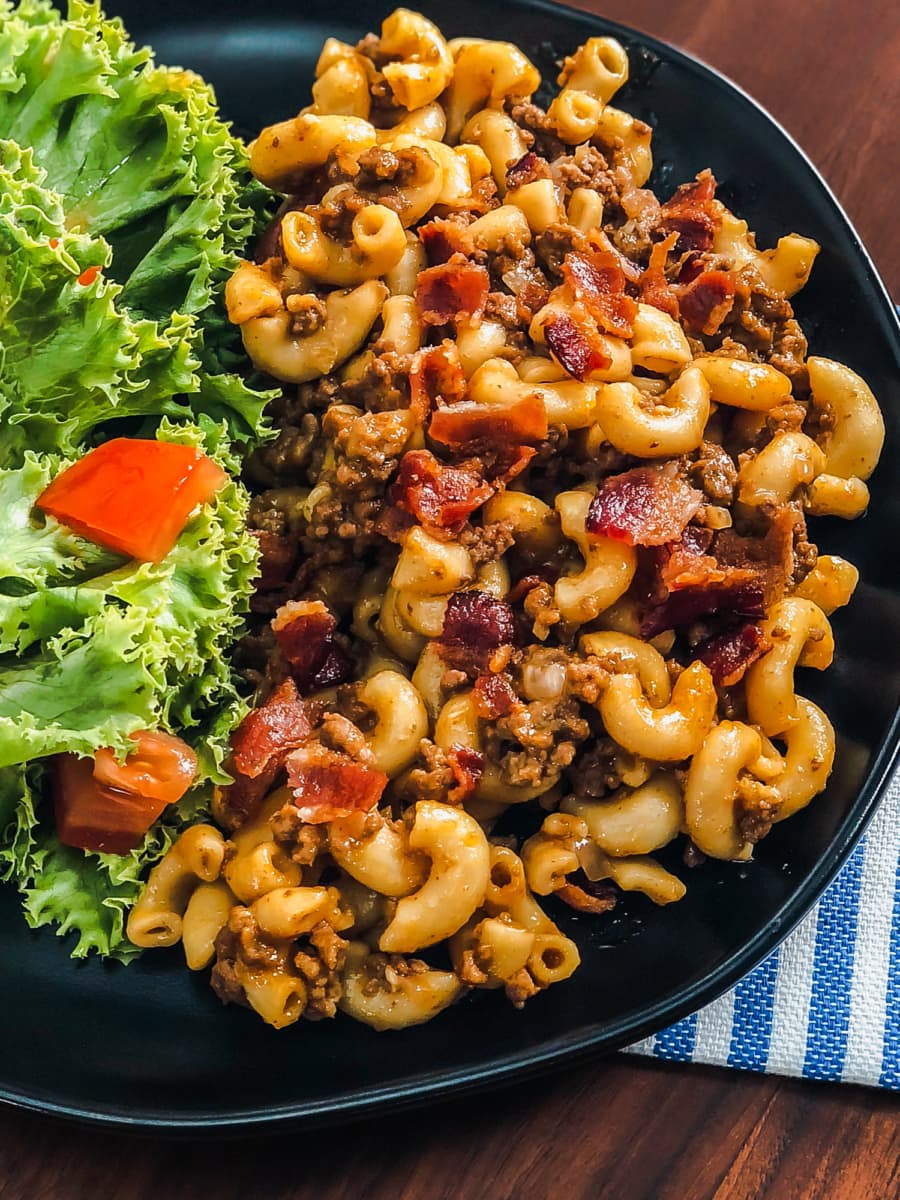 Kid-Friendly Instant Pot Recipes
I always include plenty of recipes that kids love in my meal plans and this month is no exception. I'm happy to share all the recipes that my own kids love so much. I know your kids will love them too!
Beef and Bowtie Pasta
One of my kid's absolute favorite recipes is my Instant Pot Beef and Bowtie Pasta which is made with Farfalle pasta and ground beef in a creamy red sauce with plenty of cheese. The kids always say it's amazing! And so do the adults.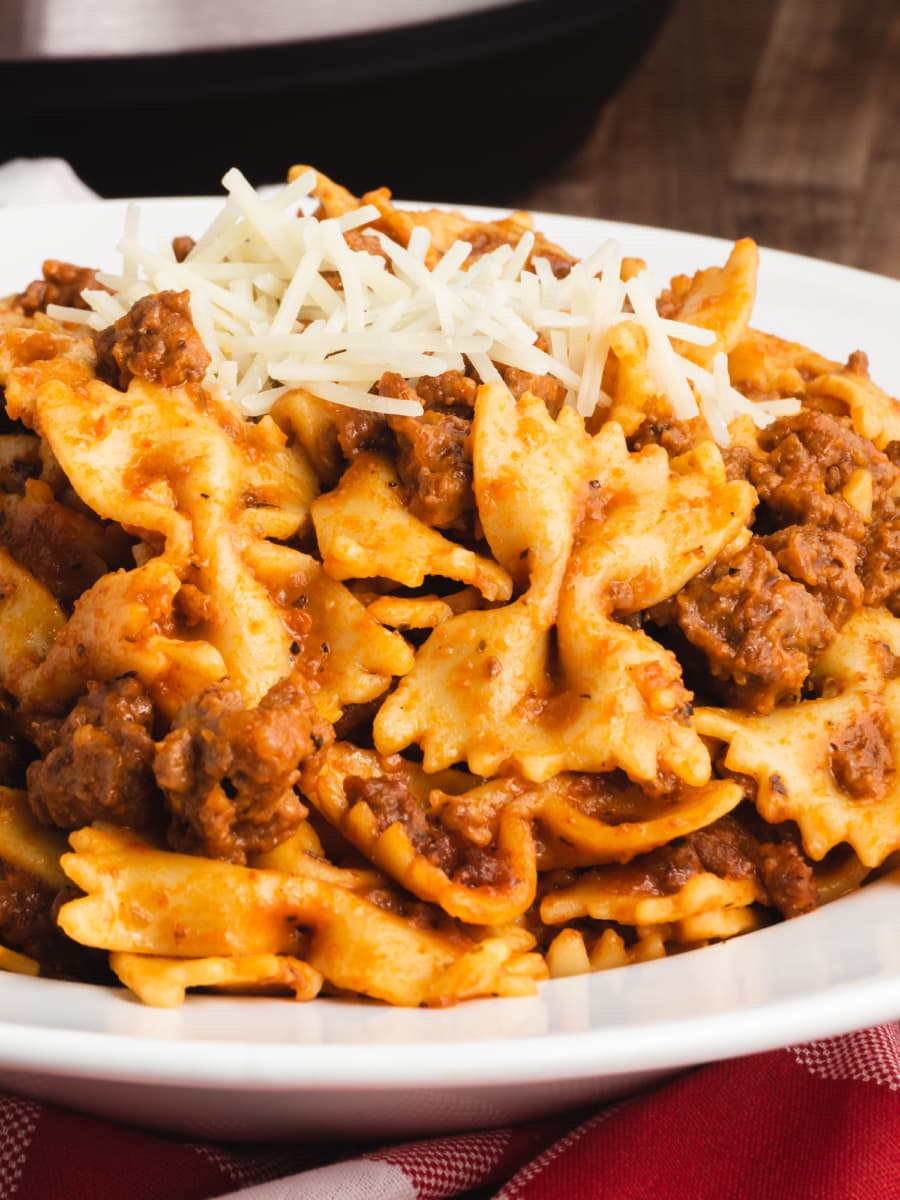 Taco Pasta
Another favorite for the kids is the Instant Pot Taco Pasta. It packs all the Tex-Mex flavor of a fully-loaded taco into a pasta dish. I've caught a kid (or two) licking their plate after finishing this one. Top the pasta with all your favorite taco toppings like sour cream, cilantro, and plenty of cheese.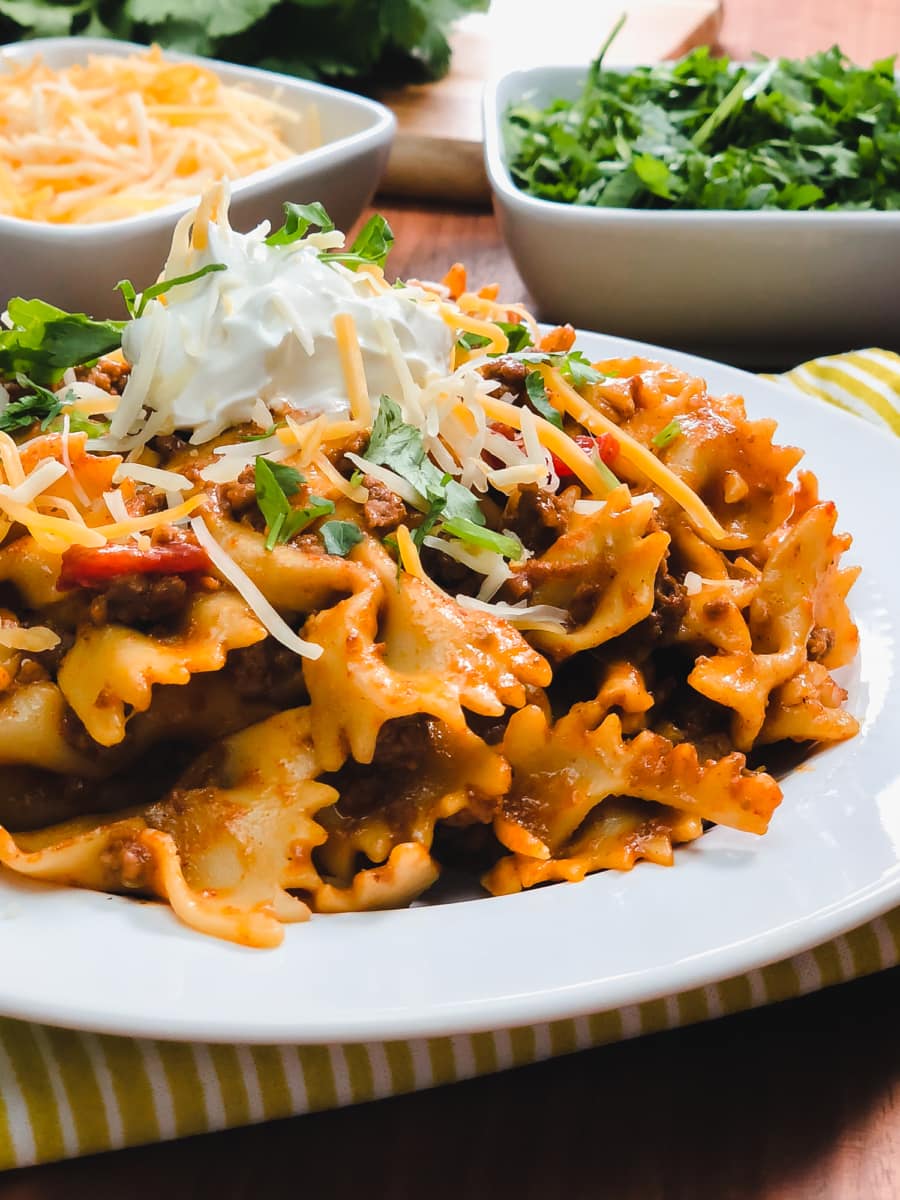 Beef and Macaroni Pasta
Finally, my Instant Pot Beef and Macaroni Pasta is another kid favorite. Kids love pasta! This one is a super quick, easy, and hearty dish that's perfect for any busy day of the week. Loaded with a wonderfully seasoned ground beef, sweet corn, and sour cream, this casserole is super creamy and flavorful!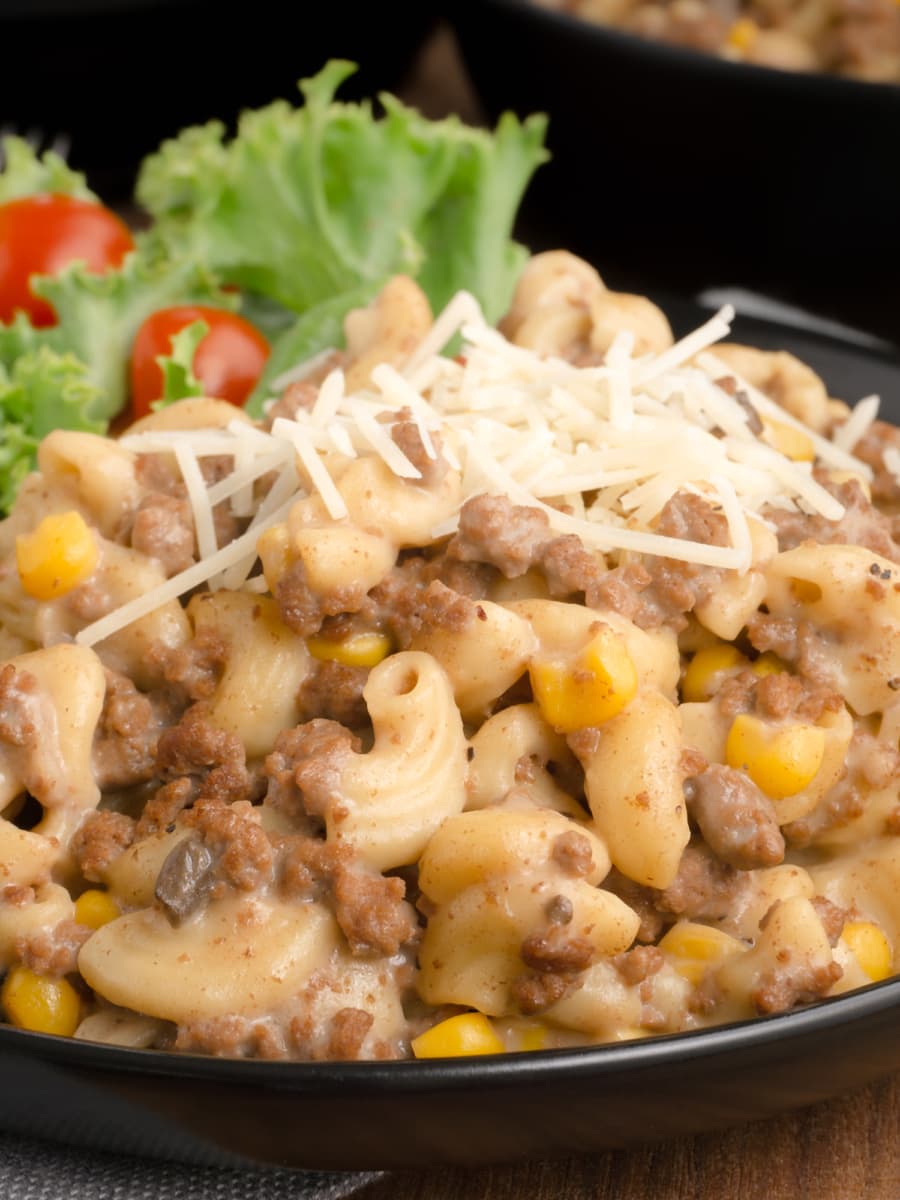 As you can see, there are plenty of recipes on this April Instant Pot meal plan that are quick to make, super hearty, and kid-approved.
Instant Pot Easter Recipes
I've included plenty of meatless options for Fridays as we come into the last stretch of Lent. You'll find some wonderful seafood dishes like Shrimp Etouffee and Thia Red Curry Salmon. There's also a vegetarian curry dish that is so warm and delicious.
Dr. Pepper Pulled Pork
And celebrate Easter Sunday by feasting on my Instant Pot Dr. Pepper Pulled Pork. It makes plenty of meat to serve a gathering of family and friends pulled pork sandwiches to celebrate this special day.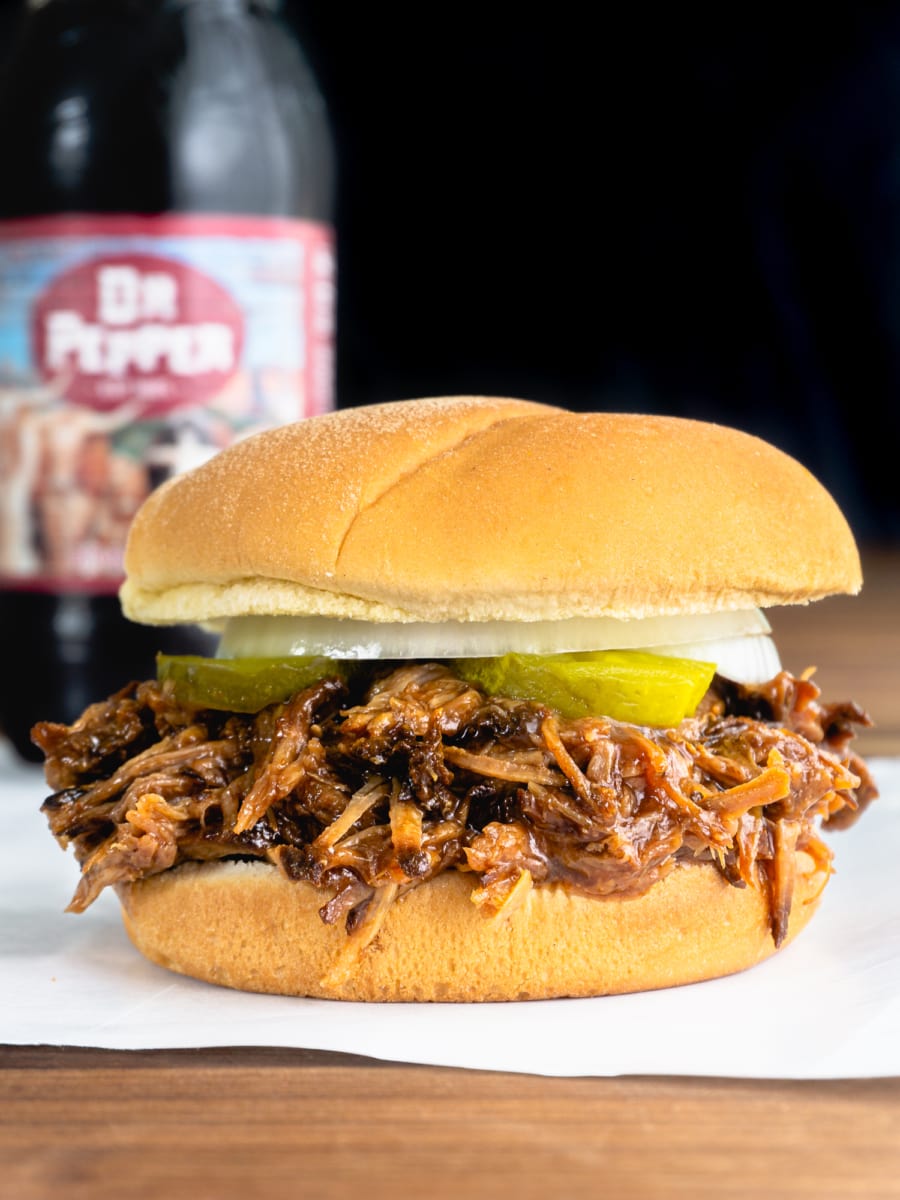 Instant Pot Side Dishes
Serving a delicious side dish is the only way to complete a meal. You'll find some wonderful side dish recipes for the Instant Pot in this month's meal plan. In particular, you'll find some super delicious ways to serve up your favorite vegetables.
Lemon Butter Broccoli
The side dish options include my Instant Pot Lemon Butter Broccoli, which has a creamy fresh flavor and pairs well with any main dish. Just steam the broccoli following my instructions and then whip together the amazing lemon butter dressing, pour over the broccoli, and toss. So quick and simple!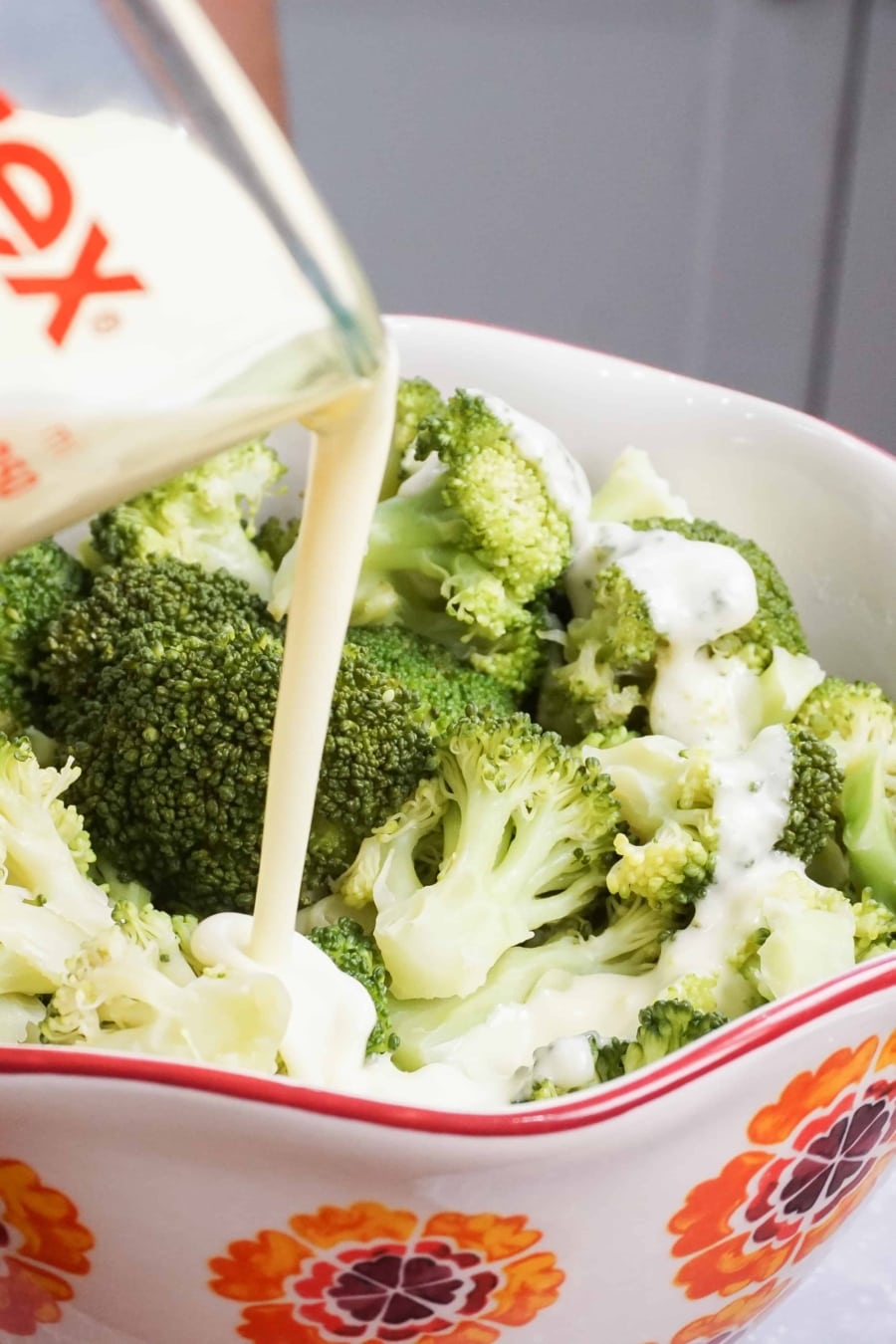 Loaded Cauliflower Casserole
My Instant Pot Loaded Cauliflower Casserole is an absolute must-try side dish. The cauliflower is exquisitely creamy and topped with cheese and bacon. Yes, I said bacon. Yummy!
Seriously, you must-try this recipe. It will let you experience how amazingly delicious cauliflower can be.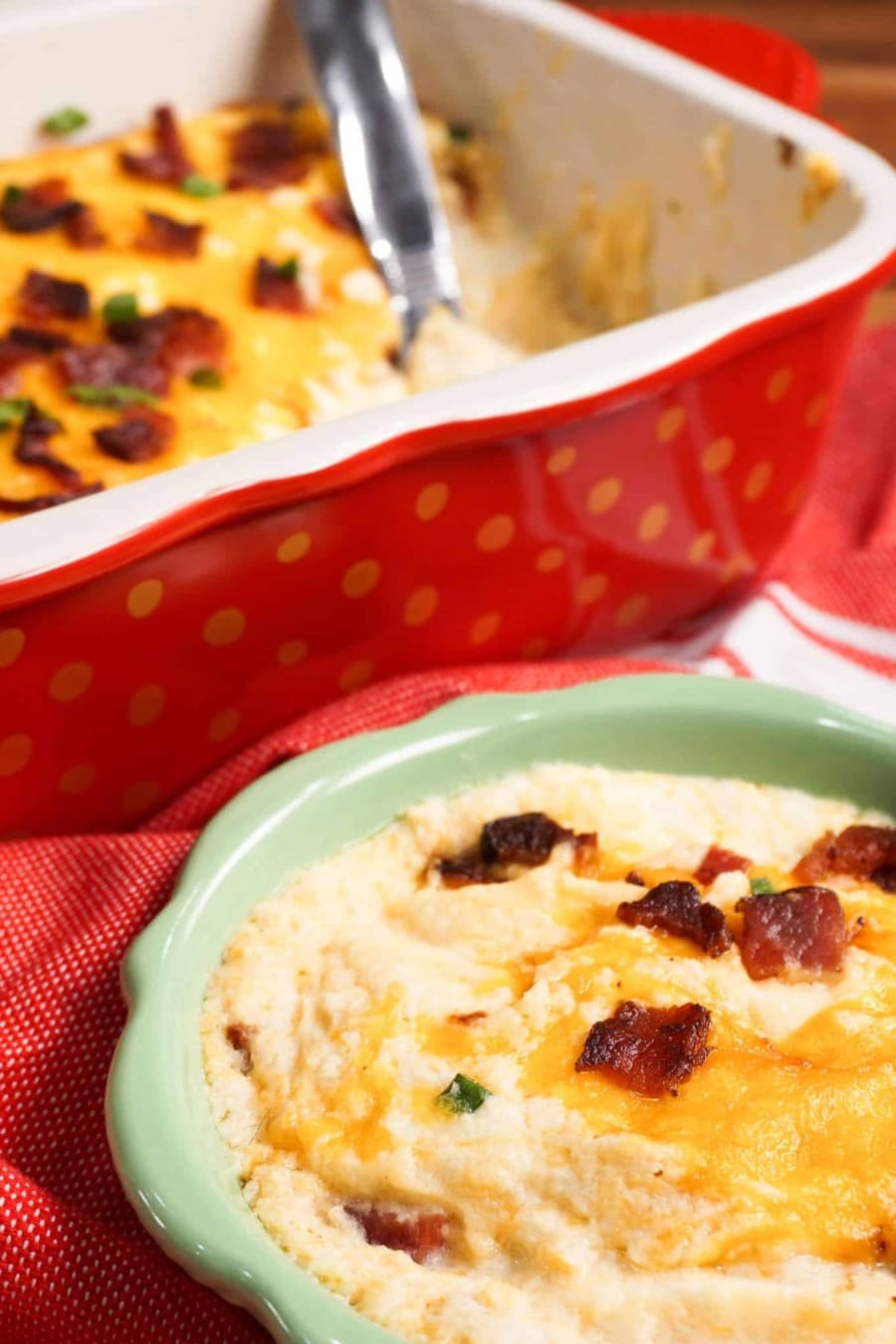 Instant Pot Desserts
For the desserts, I've included some of my readers' favorites. You'll find my Arroz con Leche and Flan recipes in there. If you haven't tried them yet, then you must! They are some of the most popular recipes on my blog. They are so good!
Turtle Lava Cakes
These Instant Pot Turtle Lava Cakes are so good that you'll be dreaming about them for days. The warm, molten chocolate that pours out after your first spoonful is a beautiful thing. These are perfect served with a scoop of ice cream.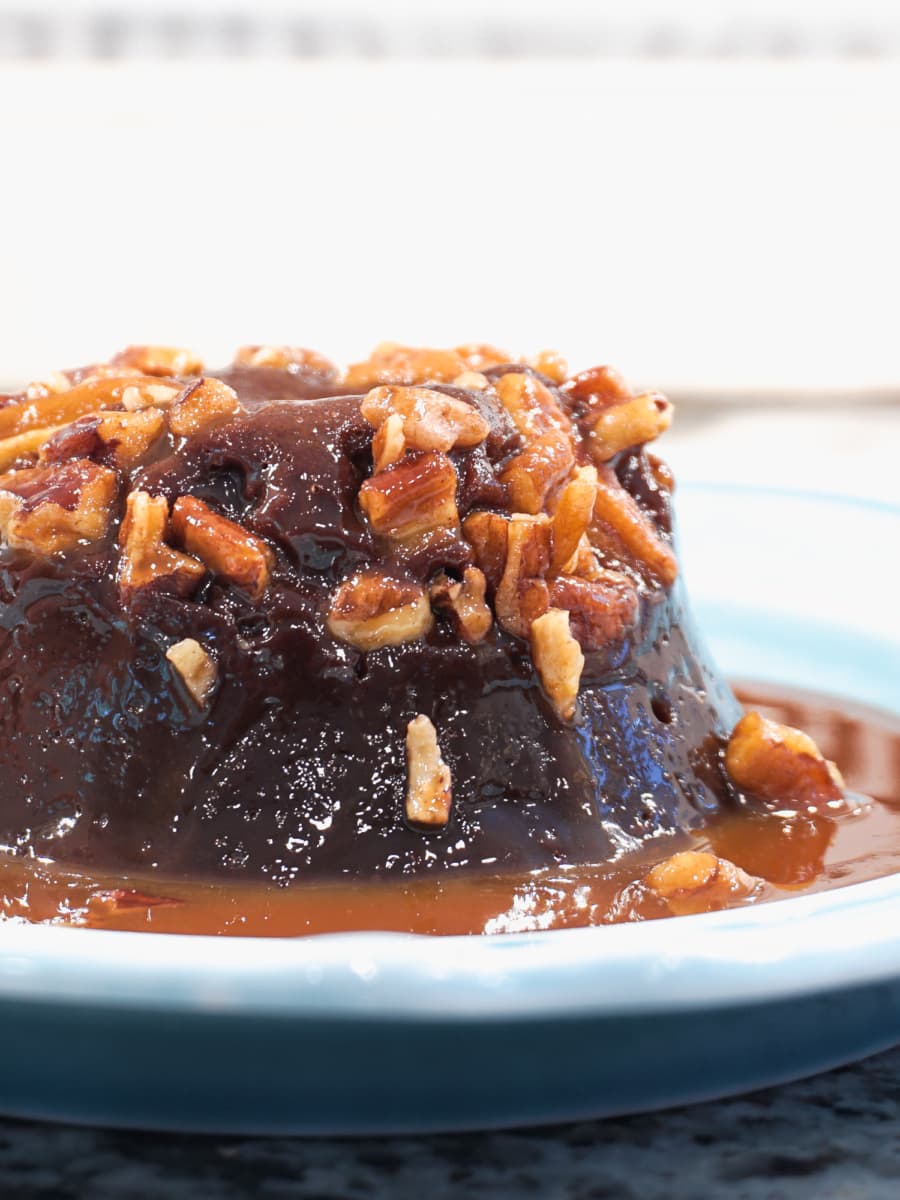 There are even more wonderful Instant Pot Dessert Recipes in the April Instant Pot meal plan, so check them out.
Happy cooking and enjoy the glorious warmer weather of April.
Make sure you also check out my latest Instant Pot Meal Plan.
April 2019 Instant Pot Meal Plan
Below the list of recipes, you will find a link to the downloadable calendar and links to all my monthly Instant Pot meal plans.
Main Dishes
These are the dishes for April.
Download the April 2019 Meal Plan Calendar.
For more Instant Pot Meal Plan ideas for the month of April, check out my archive of April Instant Pot Meal Plans.
Past Instant Pot Meal Plans
Each month I publish a new, updated Instant Pot Meal Plan. So don't miss out on seeing what wonderful dishes I've included in my latest one.
LOOKING FOR A PAST MEAL PLAN?
You can also access all of my previously published Instant Pot Meal Plans through the links below. I handpick the recipes that appear each month, so you will find that each month is unique with its own set of recipes geared specifically toward that month. Plus, on each meal plan page, you can download the printable calendar for that month.