Welcome February, the month of love! There's still a chill in the air and warm, comforting meals sound so good! This month's meal plan includes plenty of comforting and delicious recipes for you and your family to enjoy. I also made sure to include a special meal for Valentine's Day! You won't want to miss that one!
I hope 2021 is off to a great start for you! Enjoy the meal plan and Happy Cooking!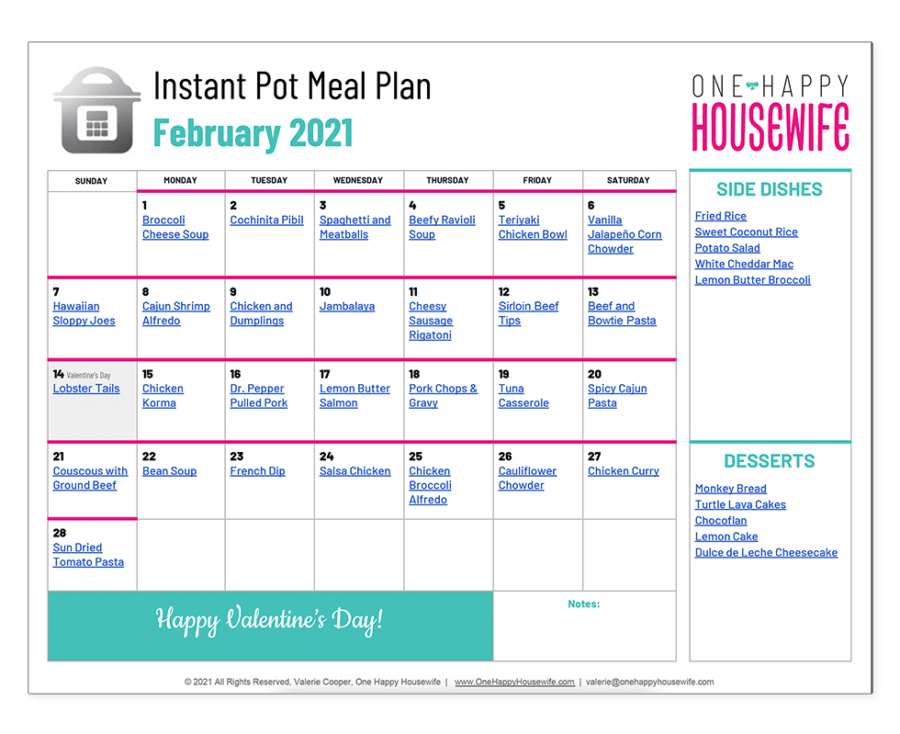 Instant Pot Soups
We still have several wintry days ahead of us, so I have included lots of warm and delicious Instant Pot Soups in this February Instant Pot Meal Plan.
Instant Pot Pastas
These pasta dishes are especially soothing when the weather is unpleasant outside. Plus, they're hearty, filling, and super easy to make. Everyone loves a good pasta dish. That's why I've included plenty of Instant Pot Pasta Recipes in this meal plan.
Instant Pot Valentines Day Recipes
Valentine's Day is this month, and I've included a great option for the special day. This is an amazing seafood dish, and it's made in the pressure cooker. You'll enjoy this amazing meal with your special loved one.
Instant Pot Side Dishes
You can count on the meal plan to have plenty of options for Instant Pot Side Dishes to choose from. In this February meal plan, you'll find lots of delicious side dishes to serve with your meals.
Instant Pot Desserts
You'll find lots of wonderful desserts in this February Instant Pot Meal Plan. All the Instant Pot Dessert Recipes in this month's meal plan are sweet and easy to make.
Enjoy my February 2021 Instant Pot Meal Plan and have a wonderful Valentine's Day!
Make sure you also check out my latest Instant Pot Meal Plan.
February 2021 Instant Pot Meal Plan
Below the list of recipes, you will find a link to the downloadable calendar and links to all my monthly Instant Pot meal plans.
Download the February 2021 Meal Plan Calendar.
For more Instant Pot Meal Plan ideas for the month of February, check out my archive of February Instant Pot Meal Plans.
Past Instant Pot Meal Plans
Each month I publish a new, updated Instant Pot Meal Plan. So don't miss out on seeing what wonderful dishes I've included in my latest one.
LOOKING FOR A PAST MEAL PLAN?
You can also access all of my previously published Instant Pot Meal Plans through the links below. I handpick the recipes that appear each month, so you will find that each month is unique with its own set of recipes geared specifically toward that month. Plus, on each meal plan page, you can download the printable calendar for that month.